Ostatní
PTQ Hollywood v Praze
12:37
Turnaj je v plném proudu a probíhá právě druhé kolo. Turnaj začalo hrát 65 hráčů a tudíž se bude hrát na sedm kol. Hned po prvním kole dropl Dobi. Neprohrál, nýbrž vyhrál a pravděpodobně tak překročil hranici 2000 bodů a bude mít 3 byes na GP Vídeň. Jeho současný DCI ranking je 1999 :-).
O hráče se starají dva rozhodčí - Milan Kosek a Zdeněk Vondráček.
Ze znamych tvari je tu napriklad Adam Koska, Petr Nahodil, Nikola Vavra, Honza Kotrla nebo Franta Techno Zoubal.
Stoly jsou poměrně na těsno a musím poznamenat, že v Brněnské ZŠ Jana Babáka je lépe. Další coverage již nechám na Martinovi, enjoy...
1. kolo Melda (monored Burn) vs Nikola Vavra (Dredge)
Melda vyhrava hod kostkou a oba hraci mulliganuji na 6. Hra zacina Lava Spikem a suspendem Rift Boltu od Meldy. Nikola hraje Tireless Tribe, ve svem upkeepu zahodi Golgari Grave-Trolla a dredguje ho zpatky. Nasleduje Careful Study (dredge 12) a Breakthrough za 0 (draw 4 = dredge milion).
Melda : No to se pokouses hodne vonave (City of Brass + Cephalid Coliseum).
Nikola : No to uz se prave moc kousat nebudu, v tomhle kole koncime.
Dread Retrurn za 3 Narcomoeby na Cephalid Sage znamena dalsich 18 karet do hrobu a hromadu tokenu. Nikolovi zbyva v balicku asi 5 karet. Vsechno potrebne je uz v hrobe a tak nasleduje Dread Return na Flame-kin Zealota a hra konci ve druhem kole.
Idealni draw v podani dredge, bezmoc na strane fritky.
Sideboard
Melda + 4 Crypta, +3 Esnaring Bridge / -4 Flames of Blood Hand, -2 Magma Jet, -1 Shard Volley
Nikola + 4 Needle, +1 Ancient Grudge / -1 Putrid Imp, -1 Therapy, -1 Ichorid, -1 Golgari Thug, -1 Dread Return
Hraci si notuji jak se jim nelibi format zatimco Nikola mulliganuje na 5.
Melda zacina slovy "Tak uz to tam pis" za 3 a pridava Cryptu. Nikola odpovida Pithing Needlem na Cryptu. Melda pridava Keldon Marauders a neskryva sve nadseni kdyz dalsi kolo Nikola plati 3 zivoty (Tarnished Citadel) za Tireless Tribe a pridava druhy Needle na Fanatica. Utok -> Blok a zahozeny Darkblast posiluje Tribe na 1/5. Ve tretim kole Nikola dela threshold a za dalsi 3 zivoty aktivuje Coliseum, nenachazi ale zadnou jinou kartu s dredge a tak hraje jenom flashbackuje Therapy, dostava v reakci Incinerate (6 zivotu) a rika Shard Volley. Melda ukazuje dalsiho Maraudera a druhou Cryptu , ktera je ale dobra tak maximalne jako naboj do Shrapnelu diky Needlu.
Umira Marauder a removuje 2 Bridge, Melda hraje druheho (3) a v dalsim kole lize Incinerate. 1-1
Nikola opet mulligan na 5 a nechava dost pochybnou ruku - Coliseum, Stinkweed Impa, Trolla, Moebu a Putrid Impa. Melda pro zmenu nechava 3 zeme (ani jedna neni artefaktova), 3 Shrapnely a Cryptu.
Nikola lize do druheho kola dalsi Coliseum a zacina pekne z ostra Nacromoebou, ktera nasledujich par utoci, zatimco Melda obcas zahraje doliznuty burn a poklada zeme.
Nikola vsak nelize zadnou 5barevnou zemi a tak zacina hrat jen draw & go. V dalsich 2 kolech Melda lize Bridge a Nexus a konci hru 3 Shrapnelama.
Melda 2 - 1 Nikola
2. kolo Petr Nahodil (Zoo) vs Martin Chudoba (Death Cloud)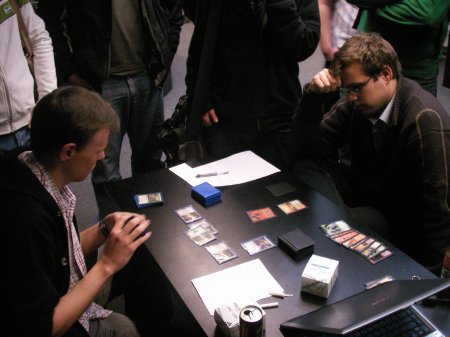 Martin zacina mulliganem na 5 (3 zeme, smother, sakura) a Sakurou ve 2. kole. Petruv Confidant dostava Smother a Martin pridava GB karoo land, ktery dostava presne mirenou Vindikaci.
Martin lize Tarmogoyfa, Petr ho strili Tribal Flames za 5 a pridava sveho. Ma sice vsech 5 typu zemi, ale uz je na 10 zivotech. V dalsim kole utoci, Sakura podskoci a hleda zemi,  prichazi jeste Gaddock Teeg. Utok obema + fecka na konci kola a Martin je na 12 zivotech. Ma 4 zeme ve hre, v ruce dalsi 2, Lilianu a Sakuru, poklada patou zemi a hraje Sakuru (Petr 2 karty).
Chumpblock Goyfa a Petr hraje +5/+5 na Gaddocka (5), Martin lize a vzdava (Teeg mu brani v tom aby mohl zahrat Lilianu).
Sideboard
Petr :  -2 Isamaru -1 Teeg, +3 Terminate
Martin :  -1 Liliana, +1 Damnace
Martin land go, Petr najde R/G dual a zacina opici. V dalsim kole oba pridavaji 1/2 Goyfa a Martin odepisuje 2 za utok. Martin Sakura a Mutavault, Petr Vindicate na Goyfa a utok. Sakura chupmuje a najde zemi a nasleduje Damnation. Stav zivotu 15-12 pro Martina a stul je prazdny. Petr hraje Goyfa a Fanatica s nejhorsim obrazkem ever (z gateway, google.com).
Martin pridava Sakuru a sveho Goyfa a v dalsim kole si je oba vymeni za Vindicate, resp Smother.
Petr uz se feckama dostal na 7 zivotu, ale ma vsech 5 typu a hraje Flames za 5 do hlavy a pridava Confidanta. Stav zivotu je 8-7 pro Martina, ten ma v ruce Damnation a Pernik, Petr v ruce posledni kartu (Tribal Flames).
Martin uklizi Damnaci a utoci za 2 Mutavaultou. Petr Flames go (5-2).
Martin lize Top, kouka na 3 a hned ho meni za Balotha, Petr odpovida v dalsim kole Helixem, Baloth se obetuje a stav zivotu je 6-3. Petr lize Confidanta a ten dostava Pernikem (Top jde na vrsek). Dalsi kolo stejna story - Petr opice, Martin Pernik + utok za 2 zemi.
Martin : Tak co, prisel blesk?
Petr : Ne, ale prisel fetchtutor.
Martin opet utoci Mutavaultou (3-2) a Petr ma tak posledni draw na blesk. Na konci tutoruje (fetchland) a otaci .............. Gaeas Might. 1-1
Hraci si vymenili strany, protoze zatim pokazde hrac na prave strane mulliganoval na 5 (4x z 6 her). Petr obligatni mullgan, ale zastavi se na 6. "Necham" - "6 ? To si delas srandu, ne?".
Petr zacina Fantatic + Confidant, Martin Sakurou. Bob otaci Goyfa, Petr strili Fanaticem Sakuru, ktery hleda zemi a jede Confidantem za 2. Pridava Goyfa a predava kolo.
Stav zivotu 17-13 pro Martina, ktery opet uklizi stul Damnaci. Oba hraci v dalsim kole hraji Tarmogoyfa, Petr utoci prvni a zabiji Martinovo Goyfa Terminaci. 13-13.
Petr 4 zeme, Goyf a 2 karty (2 Flames), Martin 4 zeme (karoo, mutavault) a po draw 6 karet (Cloud, Top, Pernik, zeme).
Prichazi Cloud za 3, po kterem Martinovi zbyva karoo a mutavault + top. Petr R/G dual a nic k tomu. Otaci z vrsku Lavamancera, Martin z topu jenom Sakuru, na konci zamicha a najde Tarmogoyfa, Petr pridava fecku a ma 2 karty. 4/5 Goyf utoci, Petr bez bloku a zivotu sou 4-3 pro Martina, ktery po utoku pridava klicoveho Balotha.
Petr lize, utoci Lavamancerem do Balotha, Martin bloku a Petr mu podava ruku.
Martin Chudoba 2 - 1 Petr Nahodil
3 kolo Adam Koska (UG Heartbeat) vs Breta Lukes (Cephalid Breakfast)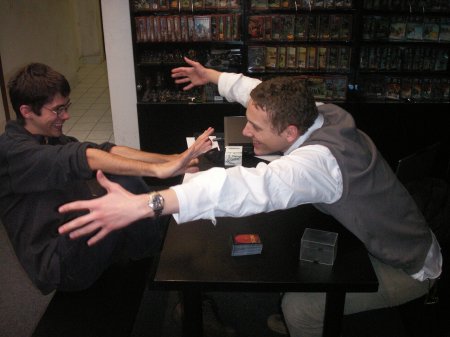 No a mame tu zapas z posledniho stolu. Adam si pred hrou stezuje, ze ze 3 kol potkal dohromady 12 Gaddock Teegu, to jeste nevi, ze kdyz si sednul na pravou stranu, tak ho ceka mulligan. Obvobvobv a Adam zacina na 6 kartach.
Breta nechava na draw ruku bez zeme se vsim do komba, cykluje 2x Street Wraitha, ale zemi nenachazi a tak na konci kola zahazuje Bridge. Adam hraje Sakuru, seka ho pro zem a tim removuje Bridge z hrobu. Breta opet bez zeme, ale dava Mox do ktereho imprintuje Orims Chant. Se slovy ze kdyz Breta nema zeme, tak to asi bude dobry poklada Adam Heartbeat.
Breta ale v dalsim kole konecne lize zemi, ktera tak dava 2 many a hraje z ni Cephalida, za Mox prida Shuko, nasledne si odemila knihovnu a do hry skacou 2 Narcomoeby. Flashbackuje Dread Return na Sutured Ghoula, removuje do nej vsechny prisery z hrobu (Tarmogoyf je i v hrobe X/Y), dostava Dragon Breath a Adam vzdava.
Sideboard
Adam +2 Engineered Explosives, +2 Spell Snare, +3 Tormods Crypt / -4 Remand, -3 Moments Peace
Breta +3 Echoing Truth / -1 Daru Spiritualist, -1 Starlit Sanctum, -1 Outrider En-Kor


Adam zacina zem go, Breta Steelshapers Gift na Shuko. Adam kontroluje, ze Cephalid stoji 2 a hraje Engineered Explosives. Breta odpovida, ze uz je to stejne jedno a hraje land, mox, cephalida, shuko a zabiji bezmocneho Adama.
"Ololo, Ado, vune, gegedo jak vino. To sem si te povodil." :)
Breta 2 - 0 Adam



13:50
3-0 maji ze znamejsich jmen Petr Haka, Vit Cech, Martin Chudoba a Petr Bocak. Na opacne strane s 0-3 se nachazi Adam Koska nebo Nikola Vavra.
4 kolo Blesk (Zoo) vs Mikulas Hrubisko (Counter-top Cheon deck)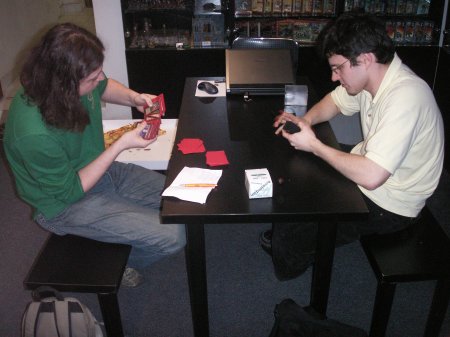 Miki (4 zeme, cspell, explosives, cryptic command) zacina  land go, Blesk hleda R/G dual a dava Kird Ape, dalsi kolo pridava Lavamancera s Fanatikem a Mikulas uklizi stul Explosivama za 1. Blesk reloaduje Gaddock Teegem a dalsi kolo zkousi Vindicate na zemi, dostava ale Counterspellem. Pridava jeste Opici.
Mikulas dalsi kolo opet sklizi stul Pernikem a dostava od Bleska za 5 do hlavy . Stav zivotu 10-7 pro Bleska. Mikulas poklada dalsi 2 Perniky a jednim zabiji Bleskovo Confidanta.
Hra chvili probiha stylem draw-go, draw-go, draw-go a oba hraci setri karty na ruce. Mikulas lize a poklada Tombstalkera, Blesk mi ukazuje 3 zeme v ruce k dalsim 7 ve hre. Dolizava dalsi land a vzdava.
Sideboard
Blesk -2 Fanatic -1 Isamaru / +3 Terminate
Mikulas -1 Crypt, -1 Fact or Fiction / +1 Damnation +1 Smother
Prokleti prave strany pokracuje a Blesk si dava mulligan na 5 (priste budu hrace varovat predem, takze predpokladam nejakou soutez o vyber strany).
Blesk zacina land go a land go. Ne zrovna dobry start pro zoo. Dalsi kolo zkousi Tarmogoyfa a dostava Spell Snare. Treti kolo Opice - Counterspell. Dost nuda. Dalsi kolo Lavamancer - Command, ale to dava Bleskovi prostor protlacit Tribal Flames za 4. Stav zivotu 14-13 pro Bleska, ktery ma 4 zeme a 2 karty, Mikulas ma zemi 7 a plnou ruku. Po "jed", "hraj", "go", "muzes" a "jedes" si v 24871294tem Mikulas transmutuje  Tolarii pro Urzas Factory a hra se konecne stava zajimavejsi. Isamaru dostane Smother, Confidant Spell Snare a Mikulas hraje Fakta, ze kterych si bere Tombstalkera. Blesk lize a vzdava.
Mikulas 2 - 0 Blesk
 A mám pro vás standingy po 4. kole:

| | | |
| --- | --- | --- |
| Name | Points | OMW% |
| Cech, Vit | 12 | 62.5 |
| Hrubisko, Mikulas | 12 | 58.3333 |
| Haka, Petr | 12 | 58.3333 |
| Adler, Patrik | 12 | 47.9167 |
| Pokorny, Richard | 9 | 81.25 |
| Jerabek, Petr | 9 | 75 |
| Bocak, Petr | 9 | 68.75 |
| Marciniszyn, Michal | 9 | 62.5 |
| Chudoba, Martin | 9 | 60.4167 |
| Lauer, Lubos | 9 | 58.3333 |
| Silar, Milan | 9 | 58.3333 |
| De Sio, Jakub | 9 | 58.3333 |
| Kotrla, Jan | 9 | 58.3333 |
| Jahoda, Jakub | 9 | 56.25 |
| Jaklovsky, Lukas | 9 | 56.25 |
| Jezek, Milan | 9 | 47.9167 |
| Hrebejk, Michal | 9 | 47.9167 |
| Rohacek, Jan | 9 | 45.8333 |
| Koranda, Tomas | 7 | 54.1667 |
| Dana, Jakub | 7 | 47.9167 |
| Blazek, Ivan | 7 | 47.9167 |
| Cillik, Karol | 7 | 37.5 |
| Lalak, Jan | 6 | 75 |
| Kralik, Jan | 6 | 69.4444 |
| Trajhan, Matous | 6 | 66.6667 |
| Weber, Antonin | 6 | 64.5833 |
| Gov-ari, Egal | 6 | 60.4167 |
| Zoubal, Frantisek | 6 | 58.3333 |
| Do, David | 6 | 58.3333 |
| Kucera, Vladimir | 6 | 58.3333 |
| Dio, Michal | 6 | 58.3333 |
| Nahodil, Petr | 6 | 54.1667 |
| Starek, Jakub | 6 | 54.1667 |
| Panigada, Igor | 6 | 54.1667 |
| Martinek, Pavel | 6 | 54.1667 |
| Martinek, Petr | 6 | 50 |
| Melichar, Martin | 6 | 47.9167 |
| Kaminek, Petr | 6 | 47.9167 |
| Marcik, Michal | 6 | 47.9167 |
| Lom, Jan | 6 | 43.75 |
| Bina, Frantisek | 6 | 43.75 |
| Ton, Jonathan | 6 | 41.6667 |
| Posolda, Ondrej | 4 | 54.1667 |
| Bazant, Lukas | 4 | 45.8333 |
| Rohla, Martin | 3 | 64.5833 |
| Toth, Jakub | 3 | 60.4167 |
| Spacek, Pavel | 3 | 55.5556 |
| Pastucha, Martin | 3 | 54.1667 |
| Kraft, Lukas | 3 | 54.1667 |
| Vysoky, Josef | 3 | 54.1667 |
| Bilek, Tomas | 3 | 52.0833 |
| Arcimovic, Martin | 3 | 48.1481 |
| Koska, Adam | 3 | 47.9167 |
| Vosahlik, Petr | 3 | 45.8333 |
| Mede, Martin | 3 | 45.8333 |
| Simko, David | 3 | 44.4444 |
| Novotny, Lubos | 3 | 44.4444 |
| Erenyi, Jakub | 3 | 43.75 |
| Lamr, Martin | 3 | 41.6667 |
| Boé?a, Lukeš | 3 | 41.6667 |
| Dobis, David | 3 | 33.3333 |
| Kytka, Petr | 0 | 58.3333 |
| Racocha, David | 0 | 50 |
| Skala, Jakub J | 0 | 45.8333 |
| Vávra, Nikola | 0 | 44.4444 |
 
A protoze komb a aggro decku uz bylo dneska hodne, tak se podivame na to, jak vypada extended, kdyz hra nekonci do 4. kola.
5 kolo Petr Haka (Scepter Chant) vs Mikulas Hrubisko (Counter-top)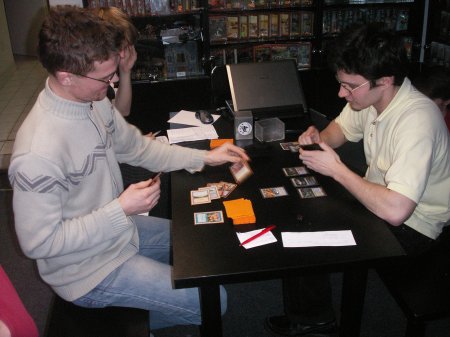 Petr si dobrovolne seda na pravou stranu (!) a zacina topem. Mikulas zkousi Explosives za 2 a dostava Spell Snarem. Petr dava na konci tretiho kola Thirst, ktery prekvapive prochazi, lize 3 a zahazuje Top. Oba hraci maji 5 zemi, z toho 1 Urzas Factory na kazde strane a plnou ruku karet - Petr Scepteru, Chant a 2 kantrovani, Miki 3 kantrovani, pernik, smother a tombstalkera (2 karty v hrobe).
Mikulas zkousi Pernik, Petr rusi Commandem a lize kartu. Dalsi kolo uz je zajimavejsi, Petr  zkousi Scepter, Mikulas odpovida Counterspellem, ale dostava Spell Snare, pridava jeste odtaply dual a predava kolo. V upkeepu hraje chant ze sceptry. Mikulas land go a na konci kola zkousi Petrovi vratit Scepter modrym Commandem, na to Petr reaguje aktivaci Sceptry, coz Mikulas nechava projit a dostava tak na Command Counterspell.
Prechazime do Mikulasovo kola, pocet karet Miki 5, Petr 2, stav zivotu je vcelku irelevantni. Protoze je Sceptra tapla z Petrovo kola a ma jen 2 odtaple zeme, vyuziva Mikulas volneho prostoru a hraje Pernik, ktery prochazi. Pridava jeste zemi a Tombstalkera, taky bez reakce. 
Tombstalker dostava Wratama a na stole tak na sebe kouka Sceptra s Pernikem, Petr ma ale navic Top a tak ma pod kontrolou co si lize za karty. Petr 8 zemi (factory) + 3 karty, Mikulas 7 zemi (factory) + taky 3 karty. Mikulas na konci nachazi Cunning Wishem Fakta a pta se Petra jestli chce neco v upkeepu. Ten se rozhoduje neaktivovat Scepter a evidentne planuje vyrobit token na konci kola. Mikulas hraje ve svem kole Fakta, otaci Cspell, Cryptu, Fakta, Deltu a Spell Snare. Vybira si hromadku Cspell + Spell Snare. Na konci prichazi ocekavany token a konecne se zacne utocit.
Petr utok tokenem (17-14 pro Petra), v Mikiho upkeepu Chant ze Sceptry a na konci kola Thirst, do ktereho zahazuje Chrome Mox. Mikulas ma stale na stole Pernik. V dalsim Upkeep Petr nic nehraje, na konci vyrabi token, utok obema. Miki vyrabi token svuj a utoci zpatky. Dalsi kolo to same a Mikulas dava tokena do bloku. Zivoty 13-4 a Mikulas na konci odpaluje Pernik a sklizi cely stul, krome Topu, ktery jde na vrsek. Na zeme 10-9 a na karty 7-6 pro Petra.
V dalsim Mikulasove upkeepu zkousi Petr Chant z ruky, Mikulas odpovida Commandem counter+draw, resolvuje. Tombstalker taky prochazi, go.  Petr hraje znovu Top a kouka co na nej ceka na vrsku, pak predava kolo. Mikulas utok a suspend Ancestralu, Petr na konci token a utoci zpatky. Zivoty 10-3 pro Petra, ten zkousi Wrata a dostava Counterspellem, predava kolo a Mikulas dela token. Pta se Petra, jestli hraje Helixy a promysli utok, nakonec utoci jen Tombstalker, go. V ruce ma 2 Spell Snary, Petr 2 Chanty, Fire Ice, Force Spike, Thirst.
Petr ma poslednich 5 zivotu a tak dava v upkeepu Chant s kickerem (cc1, takze spell snare je k nicemu). Ancestral jde na 2 kantry a Mikulas pridava Ghost Quarter, coz bude asi dost klicove. Petr na konci zamicha balik fetchkou, koukne topem na vrsek a hraje Thirst, v nich lize Fakta a otaci 3 Cspelly, Spell Snare a Sceptru. Od divaku se ozyva "Hmm, saucy". Bere hromadku Cspell + Scepter. V dalsim kole hraje Scepter - Spell Snare, zkousi druhou - opet Spell Snare a ten uz dostava Counterspellem, Scepter tak prochazi a Petr imprintuje Fire/Ice. V upkeepu dava Chant s kickerem, protoze by ho utok Tombstalkerem zabil, bez reakce. Na konci strili Firem, ve svem znova a Mikulas vzdava.
Na druhou hru zbyva asi 5 minut.
Sideboard
Petr : -4 Force Spike, -4 Isochron Scepter / +4 Exalted Angel, +1 Decree of Justice, +1 Teferi, +2 Counterbalance
Mikulas : -3 Smother, -2 Force Spike, -1 Crypt / +3 Duress, +2 Damnation, +1 Stifle
Druhou hru zacina Mikulas treti kolo Explosives za 2, Petr odpovida Morphem. V dalsim kole Petr otaci Andela a jede za 4. Mikulas transmutuje Tolarii pro B pact a zabiji Andela, ale nema 4 zemi. To se ukazuje jako klicove, kdyz mu dalsi kolo Petr jednu zemi vraci Commandem a Mikulas tak nemuze zaplatit za Pakt a prohrava.

Hadzis 2 - 0 Mikulas 
6 kolo Lubos Lauer (Goblini) vs Blesk (Zoo)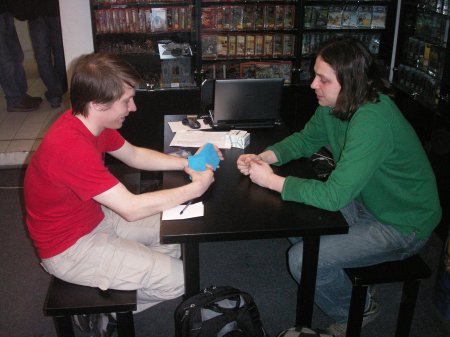 Blesk zacina mulliganem do sesti a Opici pres RG dual. Lobo Mox (Earwig Squad), Mox (Goblin Matron) a dava Piledrivera, nicmene nema zemi.
Blesk utok za 2 a pridava Isamaru a Lavamancera. Lobo lize treti Mox a strili Lavamancera Fanaticem. Blesk ve tretim kole vyprazdni zbytek ruky a pridava Gaddock Teega s Fanaticem.
Zivoty 14-12 pro Loba, ktery pridava druheho Piledrivera, ktery hned umira na Bleskovo Flames z vrsku. Nasleduje utok a Lobo jde na 7. Utoci zpatky za 1 a priklada Earwig Squad a vyndava Bleskovi z decku 3x Helix. Blesk je tak skoro bez blesku :).
Blesk opet tapuje vsechno do utoku, Lobo blokuje Opici a Blesk ji dostreluje Fanaticem. V dalsim kole hraje Warchiefa. Po bloku zbyva Bleskovi Isamaru a Lobovi 2 zivoty, ten lize a vzdava.
Sideboard
Blesk : -1 Isamaru, -2 Vindicate, -3 Gaddock / +3 Terminate, +2 Ronom Unicorn, +1 Kami of Ancient Law
Lobo : +2 Jitte, -2 Earwing Squad


Lobo zacina Piledriverem, Blesk Lavamancer a Fanatic. Treti kolo Warchief a utok obema, Blesk najde zemi a strili Warchiefa Lavamancerem a meni Fanatica za Piledrivera. Zivoty 19-14 pro Loba.
Blesk pridava Ronom Unicorna a Lobo odpovida Ringleaderem (otaci Sparksmitha a Incineratora), ktery zas umira na aktivaci Lavamancera, Blesk utok obema a druhy Lavamancer.
Lobo Mogg War Marshall + token a Incineratorem zabiji Confidanta. Blesk pridava Goyfa, Lobo plati echo a hraje Fanatica (15-11 pro Loba). Sparksmith - Terminate, v reakci se Fanatic obetuje do Lavamancera a druheho zabije Lobo Barbarian Ringem. Blesk utok Unicornem a Goyfem, Lobo blokuje Marshallem a tokenem Unicorna a Blesk jednoho z nich podstreluje Fanaticem. Lobo nici zemi Quarterem (Blesk najde Plan) a druhym Ringem Unicorna, priklada Sharpshootera a utoci tokenem za 1. Blesk jede zpatky Goyfem za 3 a pridava Kird Ape. Lobo opet nici zemi Quarterem (ted uz bez nahrady) a hraje Prospectora. Blesk utoci, Lobo blokuje tokenem Opici a snazi se ji dostrelit Sharpshooterem, Blesk reaguje mysi a Lobo tak musi seknout jeste Prospectora. Odepisuje dmg za Goyfa, lize, ukazuje 2 moxy a vzdava.
Blesk 2 - 0 Lobo

17-00 - standingy po sestem kole :


1  Cech, Vit  16
2  Haka, Petr  16
3  Hrubisko, Mikulas  15
4  Chudoba, Martin  15
5  Marciniszyn, Michal  15
6  Jaklovsky, Lukas  15
7  Jezek, Milan  15
8  Cillik, Karol  13
9  Bocak, Petr  12
10  Pokorny, Richard  12
11  Adler, Patrik  12
12  Lauer, Lubos  12
13  Kotrla, Jan  12
14  Jahoda, Jakub  12
15  De Sio, Jakub  12
16  Nahodil, Petr  12
17  Marcik, Michal  12
18  Ton, Jonathan  12
19  Koranda, Tomas  10
20  Blazek, Ivan  10
21  Jerabek, Petr  9
22  Lalak, Jan  9
23  Zoubal, Frantisek  9
24  Silar, Milan  9
25  Hrebejk, Michal  9
26  Kralik, Jan  9
27  Rohacek, Jan  9
28  Kucera, Vladimir  9
29  Martinek, Petr  9
30  Lom, Jan  9
31  Melichar, Martin  9
32  Boé?a, Lukeš  9
33  Kraft, Lukas

16:50 
7 kolo Milan Jezek (5-1, Goblini) vs Karol Cillik (4-1-1, Counterbalance)

Karol vyhrava hod kostkou a zacina Force Spikem na Prospectora. V dalsim pridava Top a Milan zkousi Piledrivera, dostava ale druhym Force Spikem. Karol v upkeepu kouka topem a hraje Goyfa, Milan odpovida 2x Fanaticem. Karol utoci a Milan jde do vymeny, Karol bez triku a tak Goyf umira. Milan jede za 2 Mutavaultou a go, Karol ji ve svem zastavuje Needlem a pridava dalsiho Goyfa. Milan Fanatic a Matrona, ktera dostava Counterspellem.
Karol hraje Counterbalanci a Milan susi na ruce 3 Moxy, takze to pro nej nevypada ruzove.
V dalsim kole zkousi Karola Moxem, ten nevi jak ma naskladane karty na vrsku a tak zkousi Counterbalanci na blind a otaci Top a Moxu dava zelenou. Milan hraje Warchiefa, Karol micha knihovnu fetchkou, ale 3cc nenachazi. Milan utoci a stav zivotu je 14-11 pro nej. Karol nechava Goyfa do bloku a Milan tak nemuze utocit, v dalsim kole Karol hraje a odpaluje Explosiva za 3 (Warchief) a utoci Goyfem za 4. Milan je tak pod lockem a na stole ma jen Fanatica.
V dalsim kole zkousi Ringleadera, Karol reaguje Thirstem, ale prochazi a Milan otaci Piledrivera, Matronu a Sharpshootera. Utok za 3, Piledriver a go. Zivoty 7-6 pro Karola a najednou se situace obratila. Karol jenom presklada vrchni 3 a predava kolo, na Matronu otaci Trinket Maga v Counterbalanci a Milan utoci vsim (Fanatic, Piledriver, Ringleader). Karol si promysli blokovani a rika, ze bude blokovat Goyfem Piledrivera, nasledne jeste hraje Vensera, vraci Fanatica a blokuje jeste Venserem Ringleadera. To se nelibi Milanovi a argumentuje tim, ze uz Karol urcil blokery. Venser kazdopadne umira cyklovanym Incineratorem, takze situace je vyresena. Na stole zustava Ringleader a na zivoty to je 6-5 pro Milana. Karol opet go, Milan utok a prichazi druhy Venser a meni se za Ringleadera. Milan po utoku Earwing Squad za 5. Karol odpovida Trinket Magem a hleda G art. zemi. Utok a chumpblock Magem. Milan pridava druheho Squada, Karol jeste kouka na vrchni 3, micha knihovnu Trinketem, znovu kouka na vrsek a nachazi Goyfa, ktereho meni za Top ve hre.

V utoku se jeden Squad meni s Goyfem a druhy sezere Trinketa. Do konce kola zbyva asi 15 minut, Topovani kazdy kolo fakt zdrzuje. Karol opet potrebuje najit odpoved, kouka na 3 karty, micha knihovnu fetchkou a kouka na dalsi 3. Nenachazi ale nic a vzdava. 
Protoze do konce zbyva 10 minut, Karol vzdava se slovy, ze Milana zabit nestihne.
Milan Jezek 2 - 0 Karol Cillik
Komentáře
Přispívat mohou pouze přihlášení uživatelé. Pokud chcete vložit komentář, přihlaste se ZDE.