Novinky
Delayed News #16/2018
Dnes se podíváme na turnaje, které se odehrály v rozmezí od releasu M19 až do PT "25 Anniversary". Jelikož už jsem předtím věnoval samostatné vydání standardu, tak se s ním v tomto článku nebudu příliš zaobývat.
1. Čtveřice limited GP - Chiba, Sacramento, Turín a Minneapolis
V období po releasu M19 se na GP hrál pouze sealed jednotlivců. Nejvíce hráčů si přišlo dle očekávání zahrát do Chiby - 2 471. Domácím hráčům vyfoukl výhru Guillem Salvador Arnal, který na GP do Chiby přijel až z Valencie!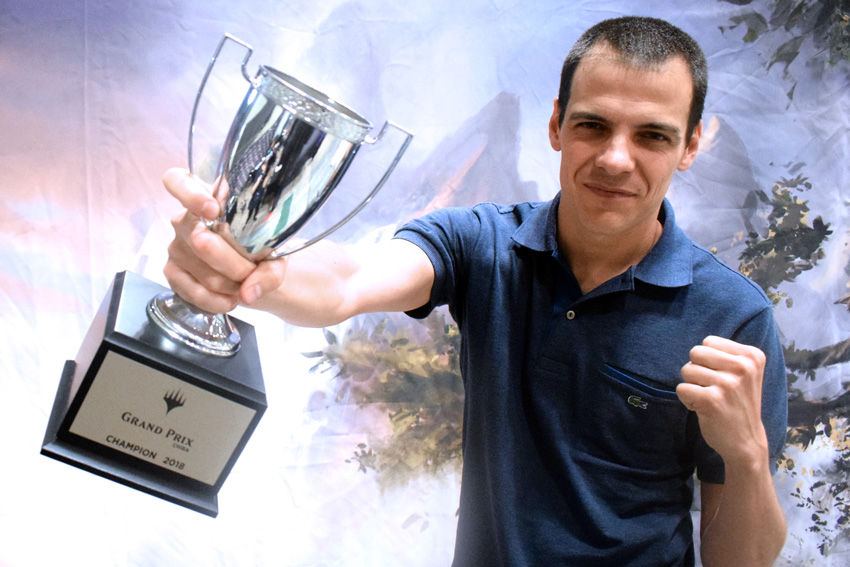 GP se účastnil i Petr Sochůrek, který uhrál skvělé skóre 13:2, což by na drtivé většině GP bez problémů stačilo na top8. Při takhle vysoké účasti byli ale hráči s tímto skóre až do třináctého místa a Petr bohužel skončil na pomocné až jedenáctý.
Na tomto GP se hrál další z prémiových rochester draftů v rámci oslav 25 let MTG. Tentokráte to bylo s Unlimited a v jednom z boosterů se otevřel samotný Black Lotus. Musím říci, že je to snad poprvé, co jsem viděl, že by se Japonci z něčeho takhle radovali :)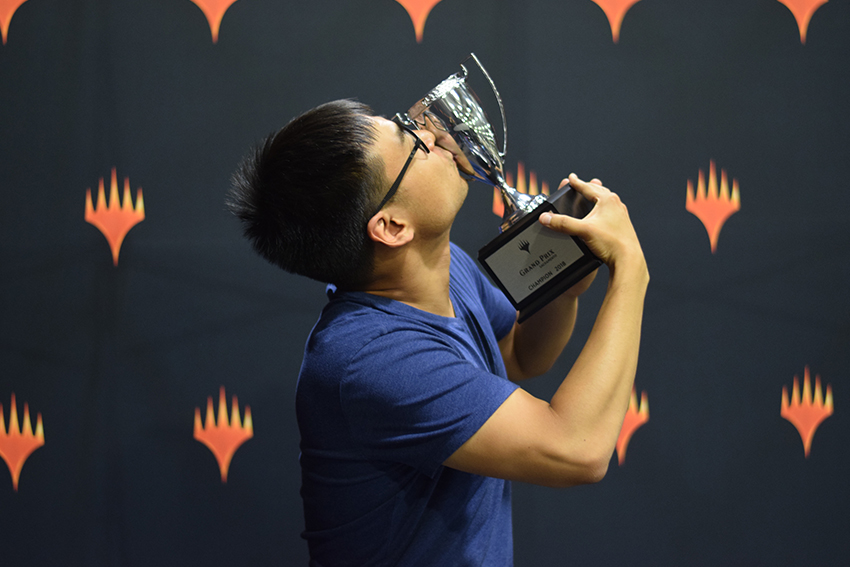 Do Sacramenta si přišlo zahrát 1 270 hráčů. Top8 se obešla bez velkých jmen a zvítězil tu Richard Liu. Shodou okolností byl i tady jeden český zástupce, kterým byl Martin Jůza. Ten se sice dostal do druhého dne, nicméně podle finálního bodového zisku (21 bodů) odhaduji, že se nedostal ani ke druhému draftu...
Další týden se hrálo v Turíně, kde se sešlo 1 028 hráčů, včetně malé české výpravy čítající osm hráčů.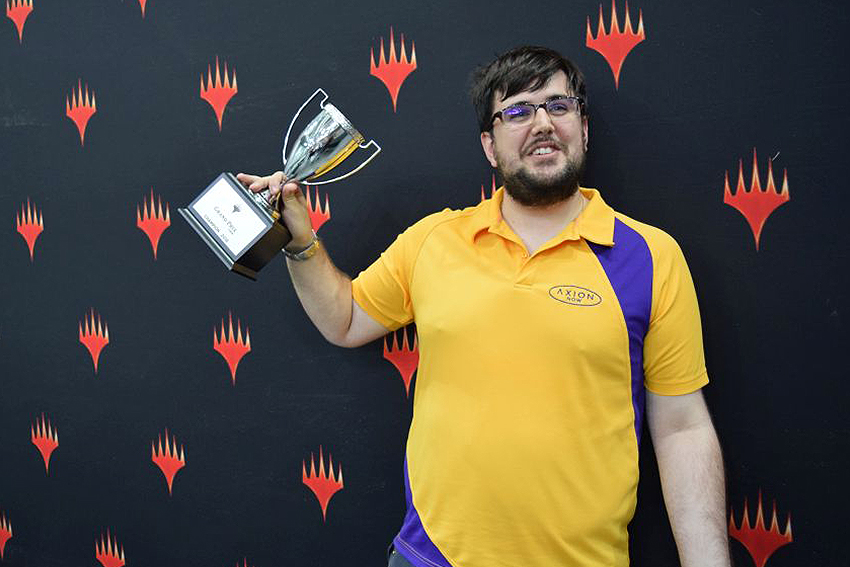 Hráči tu měli výhodu v podobě absence většiny pro hráčů, kteří již touhle dobou byli v Americe, kde se další týden konal PT. A tuhle výhodu naplno využili, jelikož ani tady nebyla v top8 nějaká známější jména. Vítězem se stal Joao Choca, který navzdory lingvistickým předpokladům reprezentoval Velkou Británii.
Z čekých hráčů se nejlépe vedlo dvojici Josef živec a Martin Hrycej. Josef se skóre 11:4 obsadil finančně ohodnocené 46. místo, Martin se se skoŕe 10:3:1 musel spokojit pouze s jedním pro pointem za sedmdesáté místo.
Nejvíce nabité bylo GP Minneapolis, kam si přišla zahrát víceméně celá světová špička. Minneapolis bylo totiž zároveň i místem konání PT.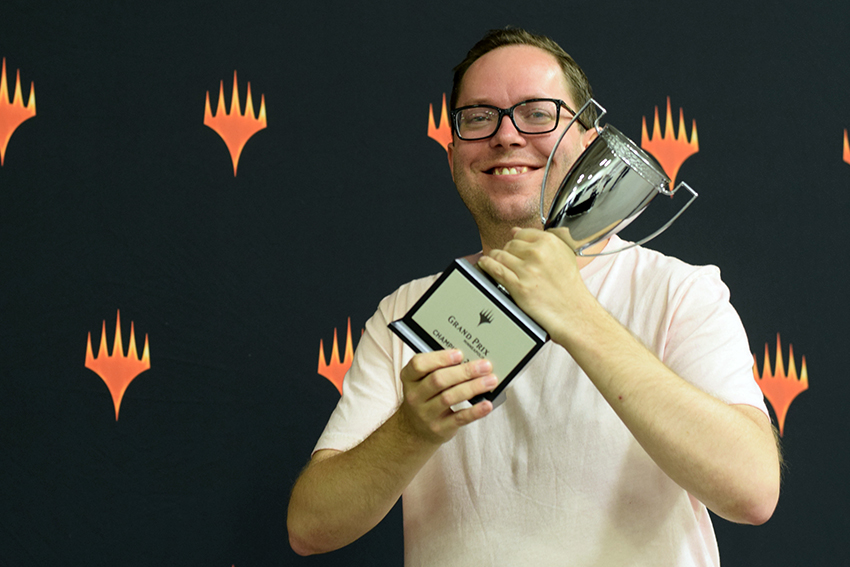 V top8 jsme tu ze známých jmen mohli vidět Kena Yukuhira, Kentara Yamamota a také Magnusse Lantta, který hrál své první GP po roční pauze a hned z toho bylo celkové vítězství!
Zajímavé je, že ve třech ze čtyř vítězných decků byl přítomen Angel of the Dawn, což je common, který je podle mne lepší než většina rare v edici.
GP se účastnili i Petr sochůrek s Martinem Jůzou, ale vůbec se jim nevedlo a ani jeden z nich nepostoupil do druhého dne.
2. SCG Open Series
SCG Open Worcester (Team Constructed)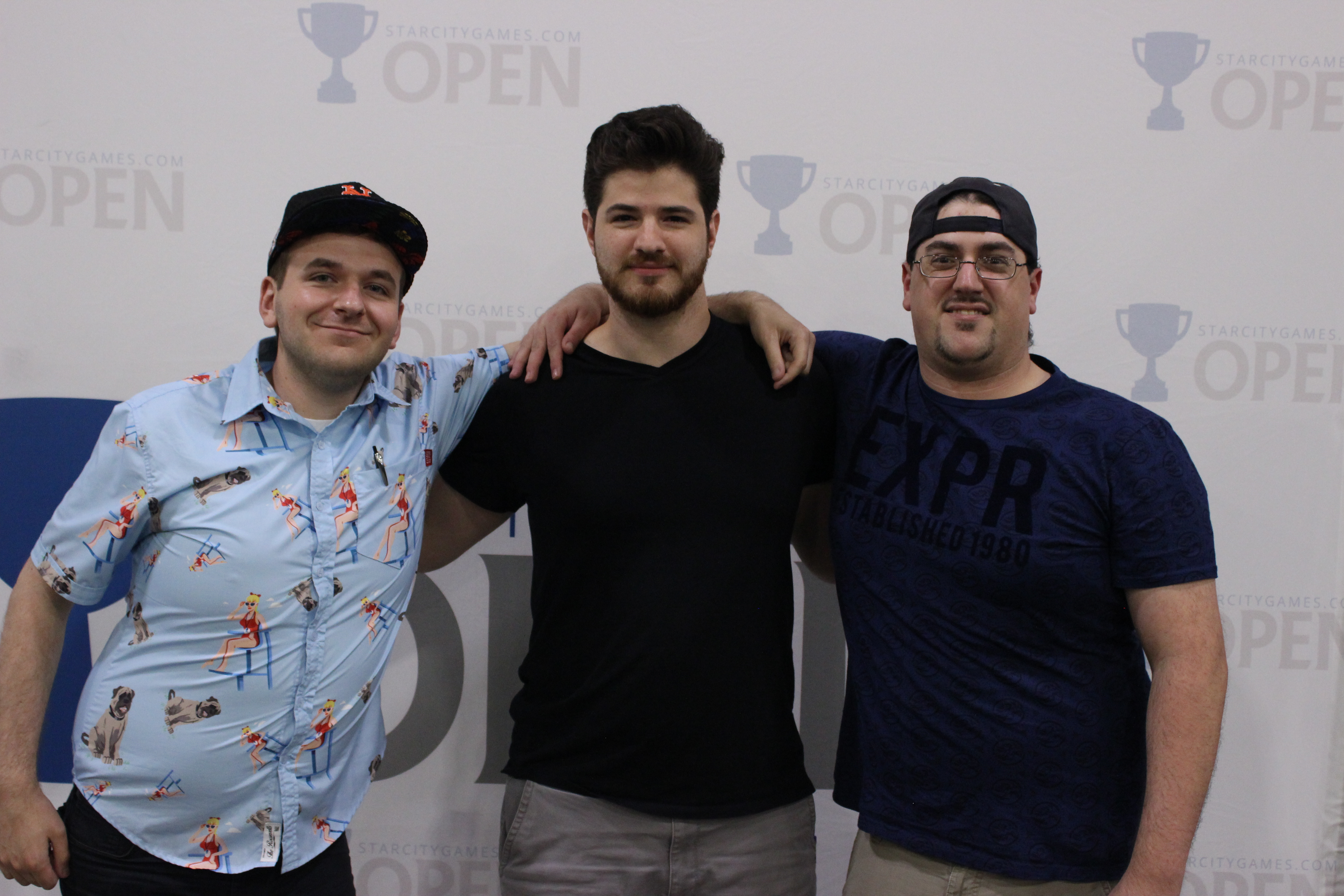 V prvním týdnu s M19 si do Worcesteru přišlo zahrát 270 týmů, z nichž pouze 26 nejlepších postoupilo do druhého dne.
Z výhry se radovala trojice Matthew Cotrupe, Jacobe Saracino a Bryant Cook, která vsadila na kombinaci RB Aggro, Jeskai Control a Storm.
Jeskai byl na modernu vůbec nejúspěšnější deck, když měl v top8 tři hráče. Na předních příčkách jsme měli možnost vidět i jeden z decků, který výrazně posílil díky M19. Byli to podle očekávání Spiriti, které řádně nakopl Supreme Phantom. Bant verzi hrál Zan Syed, jehož tým skončil na čtvrtém místě.
Celá modernová top16 vypadala takto:
1. Jeskai Control
2. Gifts Storm
3. Hollow One
4. Bant Spirits
5. Boros Burn
6. Jeskai Control
7. Jeskai Control
8. Affinity
9. Traverse Death's Shadow
10. Ironworks Combo
11. UW Control
12. Mardu Pyromancer
13. Affinity
14. Ironworks Combo
15. Affinity
16. Hollow One
Nejzajímavější byla netradičně legacy, jelikož šlo o jeden z prvních turnajů po banech Šamana a Proby. Top16 vypydala takto:
1. Storm
2. RUG Delver
3. Grixis Delver
4. OmniTell
5. Death and Taxes
6. Miracles
7. OmniTell
8. RUG Delver
9. Grixis Delver
10. Grixis Control
11. UW Stoneblade
12. Infect
13. Death and Taxes
14. Lands
15. BUG Control
16. RUG Delver
Prakticky v každém decku bylo něco nového - Storm hrál místo Cabal Therapy playset Thoughtseize, RUG Delver oslavil velký comeback, v Grixis Delverovi jsme mohli vidět karty jako Bomat Courier a Grim Lavamancer, Sneak & Show mělo Arcane Artisany v sidu, v Death and Taxes se začal hrát Brightling a Remorseful Cleric, objevily se UW decky se Stoneforge Mysticem, místo Czech Pile se hrály tříbarvy jako Grixis a BUG, a to je jenom začátek...
Hrály se samozřejmě i nedělní klasiky - na modernovou přišlo 242 hráčů a z výhry se tam radoval Bryan Haak s GW Hexproofem.
Jako obvykle jsme tu měli velmi rozamanitou top16, ve které byl dvakrát Grixis Death's Shadow, Cheerios, Eldrazi Tron, Dredge, Affinita s Hardened Scales, UW Control, dvakrát Ironworks Combo, Traverse Death's Shadow, Gifts Storm, znovu i Bant Spiriti, klasická Affinita, Boros Burn a RG Scapeshift
Legacy klasiku si nenechalo ujít 140 hráčů, mezi kterými se nejvíce prosadil Joseph Santomassino, který hrál trochu překvapivě Eldrazi Post.
V top16 jsme opět mohli vidět celou řadu zajímavých decků, ze kterých bych zmínil hlavně Gobliny a legacy verzi Grixis Death's Shadow (byla v top16 dokonce dvakrát).
SCG Open Philadelphia (Team Constructed)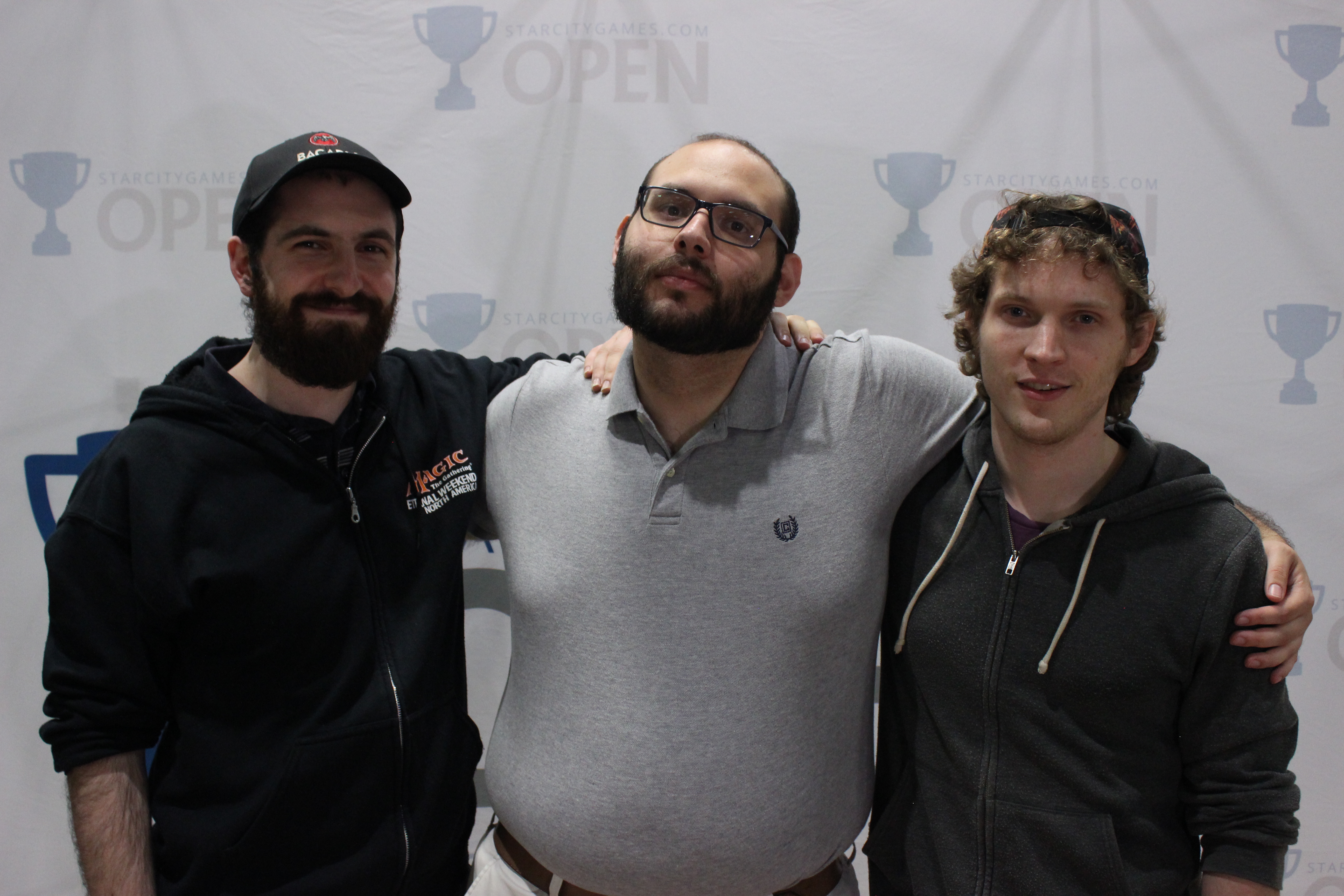 O týden později se hrálo v Philadelphii a opět šlo o týmové constructed. Zahrát si přišlo 244 týmů, z nichž se nejvíce dařilo trojici Daniel Barkon, Kellen Pastore a Steve Noga, která vsadila na kombinaci Gb Aggro, Green Tron a Lands.
V modernové části jsme sice na prvních dvou místech mohli najít dva Trony, ale to bylo do jisté míry i tím, že profitovaly z vysoké popularity UWx kontrolů - v top16 totiž byly hned tři UW a dva Jeskaie.
Nejzajímavější decky v top16 ovšem byly v Grixis barvách - první byl kontrol s playsety Kolaghan's a Cryptic Commandů a druhý byl As Foretold speciál, který obsahoval Kiki Jiki + Exarch kombo, Griselbranda s Goryo's Vengeancí a pro value i Ancestral Vision a Living End. Všechno pak drží pohromadě karty jako Faithless Looting, Izzet Charm a Jace, Vryn's Prodigy (taky už jste zapomněli, že tahle karta vůbec existuje?)
Kromě toho byl v top16 ještě Storm, dvakrát Grixis Death's Shadow, Amulet Titan, Mardu Pyromancer, Humani a Boros Burn.
Legacy část může vyprávět o velmi zajímavé top8 se sedmi různými decky - dva zástupce v ní měly Země, Infect (očividně jde hrát i bez Proby), UB Death's Shadow (s červenou splashí v sidu), OmniTell opět s Arcane Artisany v sidu, Storm (ve kterém se už standardně hraje playset Thoughtseize), UW Stoneblade (červená splash v sidu) a UWr Miracly.
Na dalších místech byl k vidění například pěkný Grixis Delver s Thought Scoury, Gurmag Anglery a grim Lavamancery a také Grixis Control, jenž se snaží navázat na úspěchy Czech Pilu.
Nesmíme opomenout ani nedělní klasiky - modernové se zúčastnilo 284 hráčů a všechny tu překvapil Ozzy Kelly s vlastním brew v podobě Skred Redu s novým Sarkhanem a kusy jako Thunderbreak Regent, Glorybringer, či Draconic Roar.
Jinak v top16 nic extra zvláštního k vidění nebylo. Zmínit by se dali ještě GB Elfové, kteří využívali nového lorda, Elvish Clancallera.
Legačku si zahrálo 168 hráčů a k vidění tu byly opravdu zajímavé věci. Ve finále se totiž stretly BUG Depthsy (modrá byla v decku kvůli Brainstormu) s UW Helm kombem (Rest in Peace + Helm of Obedience). Zvítězil Thomas Hepp s Depthsy.
Kromě toho jsme na předních příčkách mohli vidět třeba tři Eldrazi Posty, Elfy (i bez Deathrita jsou pořád dobří), UG Post (Show and Tell, Primeval Titan + Candelabra of Tawnos), nebo UW Landstill s Emrakul, the Promised End.
SCG Open Indianapolis (Modern)
Konečně se podíváme i na nějaký ten turnaj jednotlivců. Do Indy se vždy sjíždí ohromné množství hráčů, což se potvrdilo i tentokrát, když se účast přiblížila až k tisícovce - 948 hráčů!
Do druhého dne se jich probojovalo třiaosmdesát. Suverénně nejpopulárnějším deckem tu byli Humani se třinácti zástupci:
Humans - 13 hráčů
Green Tron - 7 hráčů
Affinita - 7 hráčů
Burn - 5 hráčů
Jund - 4 hráči
Hollow One - 4 hráči
Toto rozložení pěkně kopírovala i finálová top8, ve které byli dvoji Humani, Burn, Green Tron, Jund, Affunita, Gifts Storm (Caleb Scherer má na modernu opravdu vysoký win rate) a brew v podobě UR Wizardů, které hrál Jeff Hoogland. Ani v jeho šestnácté top8 se mu ale nepodařilo dosáhnout na celkové vítězství, což je docela smutný rekord...
Z vítězství se naopak radoval Michael Olson s Jundem, když dokonce v semifinále porazil 2:0 Tron.
Ze zajímavých decků v top32 bych zmínil například dvoje různé Spirity (UW s Aether Vialy a Bant s Collected Company), další UR Wizardy, Naya Midrange, nebo třeba dvojici Living Endů, což není úplně deck, který bychom v poslední době nějak často vídali na předních příčkách.
Klasiku hrálo trochu překvapivě pouze 231 hráčů, nicméně o zajímavé decky na předních příčkách tu rozhodně nebyla nouze.
Nejúspěšnější deck turnaje byl Infect, se kterým zvítězil John Tatian a třetí místo k tomu přidal Courtland Strodl.
Novinkou byly "dredge" decky se Stitcher's Supplierem a Vengevine. Mohli jsme vidět verzi, která vypadal více jako klasický dredge s Prized Amalgamy a Stinkweed Impy, ale i velmi explozivní verzi, která vsázela na Vengeviny a Bridge from Below v kombinaci s Walking Ballistou a Hangarback Walkerem.
V top8 byla například i RG Ponza a 4C Saheeli, což nejsou zrovna nejhranější decky na formátu, a v top16 bylo zajímavé 5C Multicolor Aggro, které jsem viděl poprvé od doby, co se v něm může hrát Bloodbraid Elf.
Druhou klasikou byl standard, kterého se zúčastnilo 116 hráčů. Nejvíce míst v top16 tu sice obsadilo RB Aggro a Monogreen (4 + 3), nicméně se tu našla i dvě zajímavá brew, z nichž dokonce celý turnaj opanovalo! Byli to Monoblack Zombies pilotovaní Joshuou Statterfieldem. V jeho verzi byli ale z nějakého nepochopitelného důvodu maindeck Walk the Planky, takže vás raději odkáži na verzi, která skončila na osmém místě.
Další zajímavý deck v top16 (de facto to není brew) byl UW Control s Drake Havenem. Šlo o vlastní verzi, která byla opravdu hodně založená na cyclingu a obsahovala ve více kusech karty jako Renewed Faith a Djeru's Renunciation. Zároveň tu ale byl i velmi dobrý plán B s kartami jako Teferi a Torrential Gearhulk.
3. MKM Series Prague (Modern & Legacy)
O standardu na MKM series jsme se již bavili, takže se tentokrát můžeme soustředit pouze na oba main eventy této události.
Na sobotní modernovou výheň (na sajtě bylo během odpoledne okolo 35°C) dorazilo 290 hráčů, což znamenalo devět kol + top8.
Nejhranějším archetypem turnaje byly UWx kontroly (37 hráčů) a BGx Midrange (24 hráčů). Vydatně zastoupen byl i Tron (20 hráčů), různé verze Death's Shadow, či Humani (oboje 19 hráčů).
Za celý víkend byla na sajtě výrazná německá převaha, takže beru tři české zástupce v top8 jako úspěch. Byli to Tomáš Čunderlík (UW Control), Petr Slavíček (zvláštní verze Humanů s Malcontenty, Dark Confidanty a Thalií, Heretic Cathar) a Miroslav Kalina (Jund).
Domácího vítěze jsme se ale bohužel nedočkali. Nejlepší byl nakonec Miroslav Kalina, který se jako jediný z české trojice dostal do semifinále, kde ale prohrál v mirroru Jundů. Jeho soupeř, Sebastian Larsson, pak celý turnaj završil vítězně, když ve finále zvítězil v dalším mirroru.
Zbylé decky v top8 byly Green Tron, Bring to Light Scapeshift a Abzan Company, kde byli nezvykle Relikviáři, což se mi ale zdá jako docela dobrý plán B.
Trochu slabší účast měla legacy, ačkoli je to podle mne po banech velmi zábavný formát, což dokazuje moje celkové 224. místo za 226 účastníků :)
Turnaj byl de facto jedna velká neznámá, očekávat se dalo opravdu leccos. Nejvíce hráčů si nakonec na turnaj vzalo RUG Delvera a Death and Taxes:
RUG Delver - 21 hráčů
Death and Taxes - 18 hráčů
UWx Stoneblade - 16 hráčů
Miracles - 16 hráčů
Reanimator - 15 hráčů
Sneak and Show - 13 hráčů
Storm - 11 hráčů
Elves - 10 hráčů
Převaha v herním poli tady ale vůbec neznamenala jistotu dobrého výsledku - RUG Delver ani Death and Taxes neměly žádného zástupce v top8. Naproti tomu takoví Eldrazi, kteří měli na turnaji pouze sedm hráčů, byli v top8 hned dvakrát...
I tady se do top8 dostali tři domácí hráči, což považuji za velký úspěch, jelikož si myslím, že v Německu se hráči legačce věnují mnohem více, než jak je tomu u nás.
Dva z našich zástupců v top8 byli ovšem ostřílení matadoři s Miracly - Vojta Mráz (verze s Teferim a Back to Basics) a Tomáš Vlček (maindeck Monastery Mentor). Posledním českým hráčem v top8 byl Karel Vápeník s pěkným BUG Controlem, kde byla celkem zajímavá volba v podobě tří Noble Hierarchů.
Ani tady jsme se domácího vítěze nedočkali - všechny překvapil Linus Valdemarsson s Elfy, když v top8 dokázal zvítězit i přes velmi nepříznivé matchupy v podobě OmniTellu a Eldrazi ve finále, kteří dokonce hráli hned tři Walking Ballisty v mainu. Oba dva main evetny tak vyhráli švédští hráči.
Nejlepším našim hráčem byl nakonec Tomáš Vlček na čtvrtém místě, které na něj zbylo po semifinálové prohře s Eldrazi. Perličkou také je, že v top8 hrál skoro dvouhodinový maraton Miracle mirror matche s Vojtou Mrázem...
4. MTGO Weekly Challenges (Modern, Legacy, Vintage, Duel Commander & Pauper)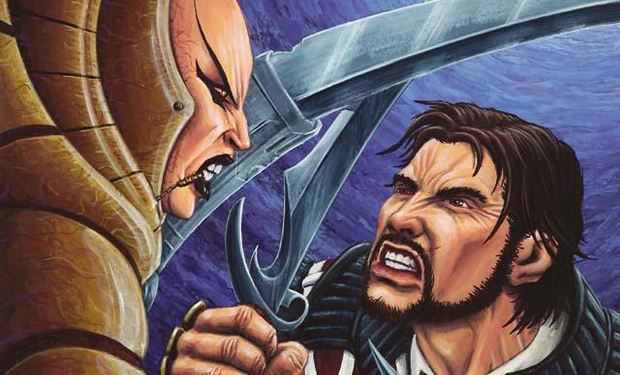 V prvních třech týdnech s M19 byla na modernu určitě nejhranější karta z nové sady Supreme Phantom. K vidění byl i Elvish Clancaller, Remorseful Cleric, Stitcher's Supplier a dokonce i Ajani, který byl jako one-of v Bant Company.
Tři jednotlivé turnaje opanoval UW Control, Humani a Bant Company. Nejzvláštnější deck na nejvyšších příčkách byl rozhodně UB Mill, se kterým obsadil druhé místo "Buur".
Celkově měli ve všech třech turnajích nejvíce umístění v top8 shodně Bant Spiriti a Hollow One, nešlo však o nějakou výraznější dominanci:
3× Hollow One
3× Bant Spirits
2× UW Control
2× Living End
2× UW Spirits
2× 5C Humans
2× Bant Company
1× Jund Midrange
1× Eldrazi Tron
1× Grixis Death's Shadow
1× Boros Burn
1× UB Mill
1× Bridgevine
1× Jeskai Control
1× GW Company
Zajímavé to bylo i na legacy, kde se pomalu začínaly oddělovat tier decky od zbytku herního pole. Mírnou převahu v jednotlivých top8 měla čtvrřice RUG Delver, Death and Taxes, Grixis Control a UWr Miracly. Dva z těchto decků také získaly celkové výhry - RUG a Grixis. Zbylou challengi opanoval Eldrazi Post.
Celkem ale bylo ve všech třech top8 třináct různých decků, včetně méně obvyklých záležitostí jako Merfolci, BUG Aluren, Esper Stoneblade, či UWr Miracly s Brightlingy.
Prosadilo se i několik karet z M19 - kromě očekávaného Remorseful Clerica to byl třeba Mistcaller v Merfolcích, Alpine Moon v sidu Grixis Controlu, Plague Mare v sidu Alurenu, či Stitcher's Supplier v Zombie Bombardmentu.
Sumář všech tří top8:
4× RUG Delver
4× Death and Taxes
3× UWr Miracles
3× Grixis Control
2× Colorless Eldrazi
1× Merfolk
1× Esper Stoneblade
1× Lands
1× Eldrazi Post
1× UW Stoneblade
1× OmniTell
1× BUG Aluren
1× UW Miracles