Novinky
Flash News #31/2017
Grand Prix Metz bylo parádní pro naše hráče, protože zde uhráli nejen skvělý výsledek, ale Martin Jůza skončil na 2. místě a potvrdil svůj titul Limited Mastera. Kromě toho se podívá i na další Limited GP Indianapolis, várku Online turnajů a nechybí ani Commander a Legacy.
1. GP Metz (Hour of Devastation Sealed)
Uplynulý víkend proběhla derniéra Amonkhetu a Hour of Devastation v rámci limited prostředí na GP. Kromě Metz se hrálo ještě v Indianapolis, leč trochu překvapivě bylo více hráčů na evropském GP - 1 483.
Méty byly samozřejmě mnohem zajímavější i proto, že tu bylo spoustu českých hráčů. Třiatřicet je až nezvykle vysoké číslo. A čeští hráči byli i u všech nejdůležitých momentů celého víkendu. Tedy abych byl přesný, byl to hlavně Martin Jůza, který má v posledních měsících na limited opravdu fazónu - druhé místo na GP Bologna v květnu, stejné umístění o měsíc a půl později na týmovém GP v Clevelandu a zisk titulu Pro Tour Draft Master na PT Hour of Devastation.
Proto nebylo vůbec žádným překvapením, když po prvním dni figuroval mezi pěticí hráčů se skóre 9:0. K tomu mu pomohl BR deck s Dreamstealerem a Archfiendem of Ifnir.
Kromě Martina měli po prvním dni turnaj parádně rozehraný i Petr Sochůrek s Jaroslavem Boučkem, jenž měli skóre 8:1. Další čtyři hráči měli 7:2 a celkem do druhého dne postoupilo devátenáct našich hráčů!
Martin Jůza si svoji výbornou formu držel i ve druhém dni, kde si v prvním draftu dal 2:1 a po dvou výhrách ve druhém draftu mohl v posledním kole už v klidu remizovat do top8.
Do té ho mohl doprovodit ještě Jaroslav Bouček, který potřeboval zvítězit v posledním kole, což se mu nakonec nepodařilo. I tak z toho ale bylo pěkné jedenácté místo.
Do peněz se dostali také Petr Sochůrek (34. místo) a Dominik Prošek (38. místo). A alespoň na pro pointy se dostali Jan Ksandr (71. místo), Jan Škramlík (93. místo), Zbyšek Panchratek (154. místo), Jakub Stárka (159. místo) a Michal Brodzák (170. místo).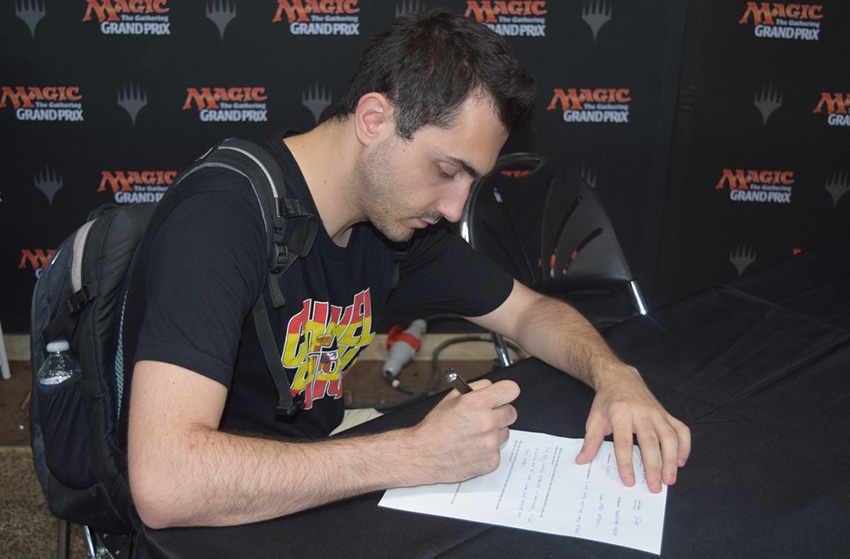 V top8 neměl Martin Jůza nijak velkou konkurenci (jediné známější jméno tam bylo Mitchell Manders, kterého si můžete pamatovat díky tomu, že ve finále GP Bilbao 2013 orazil Lukáše Jaklovského), což byla ideální příležitost jak protrhnout sérii druhých míst (Martin čeká na GP výhru od Bochumi 2012).
Bohužel, v rozhodující finálové hře Martina potkalo mana screw a příhodně pojmenovaný Dreamstealer Francesca Hugonyho hru zvládnul rozhodnout. Zbývá ještě dodat, že pro Martina tu byla už sedmadvacátá top8 na GP. Před ním jsou v all-time tabulkách pouze Olivier Ruel a Shuhei Nakamura s osmadvaceti top8 (Shuhei má ale sedm výher).
2. GP Indianapolis (Hour of Devastation Sealed)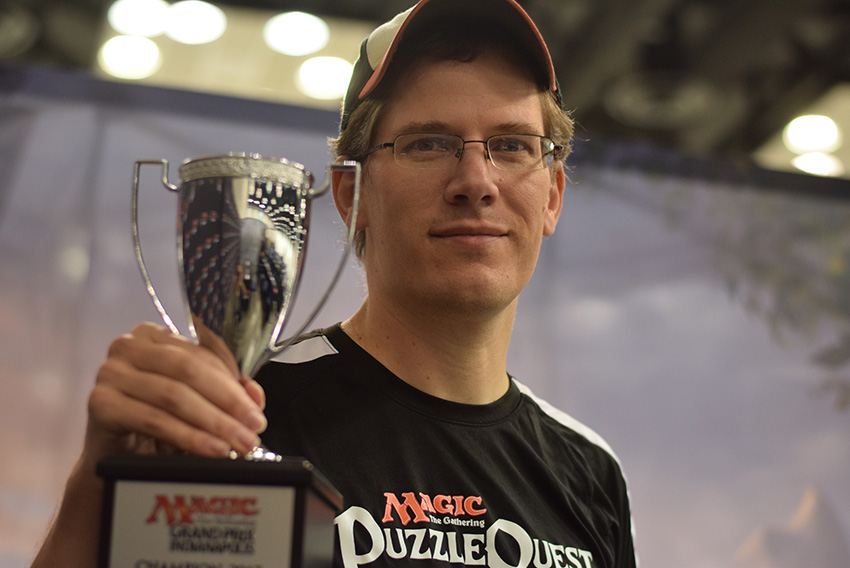 V Indianapolis se potvrdil trend posledních několika měsíců v klesající účasti na severoamerických GP. Se 1 187 hráči zoastal turnaj za Métami skoro o třista hráčů.
Sice tu bylo méně hráčů, ale na předních místech byla o to větší konkurence. Do top8 se probojovali ostřílení hráči jako Kyle Boggemes, Andrew Cuneo, Eli Kasis, nebo Steve Rubin.
V té měl s přehledem nejlepší formu Andrew Cuneo, který nadraftoval UW Control s kartami jako Unesh, Criosphinx Sovereign, Hour of Revelation a hlavně Overwhelming Splendor. S deckem během celé top8 neprohrál ani jednu hru. Musím říci, že Adnrew Cuneo je celkem nenápadný hráč, ale v posledních několika měsících má skvělou formu na limited. Martin Jůza má na svém kontě tři pěkná druhá místa, ale Andrew Cuneo má za poslední půlrok dokonce čtyři top8 na GP (všechno na limited) z toho hned dvě výhry.
3. Online Standard RPTQ & Modern Monthly MOCS
Díky pauze u SCG byly největší eventy po GP dva prémiové turnaje na MTGO. První bylo druhé z dvojici online RPTQ, kterého se zúčastnilo 189 hráčů, kteří v somikolovém turnaji k jistotě kvalifikace na PT Ixalan potřebovali dosáhnout na sedm výher. To se povedlo šesti hráčům a zbylá dvojice musela spoléhat na dobré pomocné hodnocení, jelikož hráčů se skóre 6:2 byli až do šestadvacátého místa.
Jako jediný dosáhl perfektního skóre 8:0 "lalikkumaaaaa" pilotující Mardu Vehicly s Walking Ballisty.
Další decky v top8 byly tři RUG Midrange, čtyřbarevná verze energy midrange se Scarab Godem, Ramunap Red, další Mardu Vehicly a zajímavé RB Aggro, které splashovalo černou zejména kvůli Scrapheap Scroungerům a Fatal Pushi (v mainu byl ale i Dread Wanderer a Cut//Ribbons).
Mimo top8 byla velmi pestrá metagame s decky jako Jeskai Gift, RUG Emerge, UW Approach, RG Ramp, RB Control, nebo UB Control s reanimační tématikou.
Celkový přehled prvních 26 decků vypadá takhle:
5× RUG Midrange
4× Ramunap Red
3× UW Approach
2× Mardu Vehicles
2× 4C Scarab God Midrange
2× RG Ramp
BR Aggro
Jeskai Gift
RUG Emerge
BR Control
Monoblack Zombies
UR Control
UB Reanimation Control
UB Control
Měsíční kvalifikace pro čtvrtletní finálový turnaj MOCS série byl po dvojici GP největší turnaj týdne. Možnost kvalifikace si nenechalo ujít 252 hráčů.
Turnaj měl klasickou podobu, kdy pro kvalifikaci na finálový turnaj bylo nutné v osmi kolech dosáhnout na šest výher. Díky velkému počtu hráčů se jich kvilifikovalo hned třicet pět.
Decklisty byly zveřejněny samozřejmě pouze u prvních dvaatřiceti, mezi kterými bylo jednadvacet různých decků.
Jediný hráč s perfektním skóre 8:0 hrál Abzan Midrange se Siege Rhiny, Tireless Trackery a Grim Flayery. Zvláštní, že formátu s kombodecky zabíjejícími ve třetím kole, plno disrupce a 5/5 bytostí za jednu manu dokáže vládnout férová karta jako Siege Rhino...
Další osm hráčů mělo skóre 7:1. Byl mezi nimi zajímavý Jund Death's Shadow se splashemi na Stubborn Denial a Lingering Souls a Rangerem of Eos v sidu, dva Gifts Stormy (jeden s Merchant Scrolly), dva UW Controly, Amulet Titan, Bant Knightfall a Elfové s Vizier kombem.
Z decků na dalších místech mě nejvíce zaujal RB Moon s Pack Rat a Goblin Rabblemastery, Zoo s Atarka's Commandem, Jund Death's Shadow s Oathy of Nissa a Claim//Fame v sidu a také Death Cloud Rock s Garruky a Utopia Sprawl.
4. MTGO Weekly Challenges (Modern, Legacy, Vintage, Commander & Pauper)
Začneme jako obvykle modernem, kde se tentokráte událo mnoho zajímavých věcí. Z vítězství se radoval Yoshumotto se totžnou verzí RB Moonu, se kterou předtím uspěl na monthly kvalifikaci.
Úspěchy rogue decků dále podtrhl čtvrtým místem "Oderus Urungus" s updatovanou verzí RG Aggra s Hollow One a Vengevinami a také sedmým místem "Jedgi" se zajímavou komboverzí Collected Company v Naya barvách. V decku bylo jednak Vizier kombo s Duskwatch Recruitery a Rhonasem, ale také Nahiri s Emrakulem. Zajímavý kombo rozměr decku dodává i playset Simian Spirit Guide.
Z dalších decků jsme v top16 mohli vidět Eldrazi Tron, dva Gifts Stormy, Affinitu, Boros Burn, Bant Eldrazi (s one-of Nissou, Steward of Elements), Monowhite Death and Taxes se Smuggler's Copterami, Infect, GW Hatebeary s Renegade Ralliery, dvě klasické verze Vizier Company v Abzan barvách, UB Faerie a Gr Tron.
Na legacy se podařilo vylepšit druhou příčku z minulého týdne Sammymu13 s vlastní verzí Dragon Stompy, která hraje více planeswalkerů a více hormadného ničení bytostí.
Za ním se seřadil 4C Control, Grixis Delver, BG Depthsy, Aggro Loam, UWr Mentor, další Grixis Delver a UW Mentor.
Více zajímavých decků bylo možné spatřit ve druhé polovině top16, kde byl například UWR Stoneblade, který hrál navíc Splinter Twin kombo, Grixis "Miracly" s Vial Smasherem, UW Stoneblade s Chrome Moxy a Back to Basics, nebo 4C Control s Punishing Firy a Dack Faydnem.
Vintage se stala kořistí Dmitry Butakova, který hrál mix Stormu, Mentora a Tezzeratora s Paradoxical Outcomem. Zajímavý deck skončil na druhém místě, byly to Shopy s Kuldotha Forgemasterem, ke kterému byla v decku vychytávka v podobě God-Pharaoh's Giftu.
Ve zbytku top16 byl Gifts Storm s Baraly, Paradoxical Mentor, dvakrát UWR Mentor, dvoje Ballista Shopy, Tezzerator s Goblin Welderem, OmniTell, dvakrát Dredge (jeden s Hollow One v sidu), mix Paradoxical Mentora a Tezzeratora, UW Control s Counterbalancí a Terminusy, další Forgemaster Shopy a BUG Fish s Managorger Hydrami.
V Commanderu jsme byli svědky velmi pestrého herního pole s mírnou převahou Breyi a Barala, kteří v top16 obsadili po třech místech.
Zvítězil Anssi A s Breyou, ze kterým se postupně seřadil BUG Midrange s Leovoldem, Mardu Control s Queen Marchesou, dva rocky s Gitrog Monstrem a Meren, UR Partneři s Ludevicem a Kraumem, kombo Animar, BUG Control s Tasigurem, čtyřbarevné tempo s Tymnou a Kraumem, Monoblue Time Walky s Teferim a konečně další Leovold.
Pauper přinesl ve finále souboj kombodecků, když "Mathonical" s GW Soul Sisters (kombo Midnight Guard + Presence of Gond) porazil UR Prowess s Kiln Fiendem.
Na dalších místech byl RW Metalcraft, znovu UR Prowess s Kiln Fiendem, dvě Monogreen Aggra, Tireless Tribe kombo, UB Delver se Stripped Riverwinderem a Exhume, klasický UR Delver, Burn, Monoblue Delver, UR Burn s Delverem a Thermo-Alchemistem, dva UB Controly, GW Hexproof a Atog Affinita.
5. Commander 2017 v Duel Commanderu (French EDH)
Každoročně se stává, že nový commander produkt přinese několik velmi zajímavých generálů pro competitive EDH (a několik z nich se nakonec musí zabanovat, ale to už odbíhám od tématu). Ani letošní commander v tomhle ohledu není výjimkou. Všichni noví generálové mají abilitu, která funguje z command zóny, což je dobrý předpoklad pro to, aby uspěli na competetive poli (máte z nich užitek, aniž byste vyvinuli jakékoli úsilí).
Z nových karet nejlépe vypadají ty agresivní - tedy vampýří Edgar Markov a kočičí Arahbo. Oba generálové jsou ideální do aggra a zejména Edgar vypadá naprosto brutálně do francouzské varianty duel commandera, která se hraje na dvacet životů. Když každý váš jednomanový vampýr přinese do hry další bytost, tak to soupeř rozhodně nebude mít vůbec jednoduché. Tupá síla a karetní výhoda v jednom, to vypadá zatraceně dobře.
Podobně i GW aggro využije bonus zdrama každé kolo. Arahbo je docela zajímavý s jakokoli formou evasion (Rancor apod.) anebo s tuctovými jednomanovkami jako Sacred a Sanctuary Cat. 4/4 lifelink útočník ve druhém kole bude nepřekonatelný problém pro všechny ostatní aggro decky. Otázka jenom je, jestli se po neustálých banech ještě najde dostatek hráčů, které bude french commander stál bavit...
Ve Francii se každopádně hned po releasu C2017 konal první turnaj se sedmadvaceti hráči, kde naprosto dominovali vampýři s Edgarem, kteří obsadili první tři místa. A v top8 nechyběl ani Arahbo.
V top8 kromě toho byly ještě dva anti-creature decky v podobě Mardu Controlu s Queen Marchesou a Monoblack Controlu s Kalitasem. Aggro nezvykle v RG kombinace s Radhou a GB Turbolandy s Gitrog Monstrem, která využívaly nově odbanované karty v podobě Ancient Tomby, Fastbondu a Mind Twistu. Trochu mě překvapuje, že v decku nebyla Glacial Chasm, která do aktuální metagame vypadá hodně dobře.
Celou top8 si můžete prohlédnout zde.
6. Legacy Bonus
Závěrem se dnes podíváme na dvě legacy brew. První je Maverick, který je hodně zaměření na soustavnou landdestrukci soupeřových zemí. K playsetu Wastelandů v něm jsou navíc i dva Ghost Quartery a nekončící přísun zemí zajišťují Knight of the Reliquary a Ramunap Excavator (a one-of Azusa, která je součástí toolboxu s Green Sun's Zenithem). Synergie se zeměmi ještě podtrhuje dvojice Tireless Trackerů.
S deckem obsadil osmé místo Marku Jansson na turnaji s osmačtyřiceti hráči.
Druhý deck je opravdová chuťovka. Musím říci, že tak originální a zajímavé brew už jsem na legacy dlouho neviděl. Jedná se o Nic Fit, který hraje playset Academy Rectorů, ke kterým je v decku Omniscience, ale také pár alternativních možností jako Pernicious Deed, Starfield of Nyx, nebo Primeval Bounty.
Zajímavé je, že v decku je pár originálních způsobů, jak dostat Academy Rectora do hrobu. Kromě klasické Cabal Therapy tu máme Diabolic Intent a Viscera Seera. Seknout Rectora do Intentu, kterým si najdete Emrakula, to je v podstatě sen každého rogue deckbuildera... Deck obsadil čtvrté místo v trialu na MKM series Hamburg, kterého se zúčastnilo dvaatřicet hráčů.
A to je pro dnešek vše. Na viděnou zase udalšího vydání.
Kumano
Komentáře
Přispívat mohou pouze přihlášení uživatelé. Pokud chcete vložit komentář, přihlaste se ZDE.