Novinky
Flash News #8/2016
1. WMCQ Černý Rytíř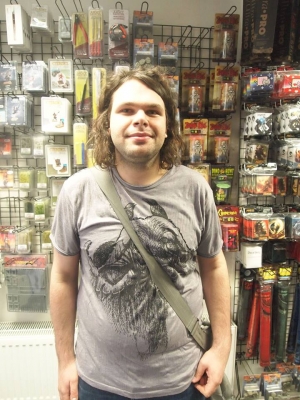 Naše první WMCQ pořádal Černý Rytíř tradičně v dejvické menze. Vidina kvalifikace na MS a velmi pěkného promo Decaye zlákala 126 hráčů, kteří se museli vypořádat s osmi koly základní části.
V té se nejlépe dařilo Janu Brožkovi (RG Rampa) a Martinu Hrycejovi (Bant Humans), kteří měli jako jediní 6:0 a poté si mohli v klidu dát dvě remízy.
Ve zbytku top8 je poté doplnili Lukáš Blohon (BUG Midrange), Ondřej Straka (Grixis), Jaroslav Bouček (UR Eldrazi Control), David Dobiš (Esper Dragons), Dominik Prošek (GW Tokens) a Josef Živec (UR Eldrazi Control).
S top8 si nejlépe poradil Ondřej Straka, když postupně porazil Lukáše Blohona, Jardu Boučka a ve finále Dominika Proška.
2. Ostatní WMCQ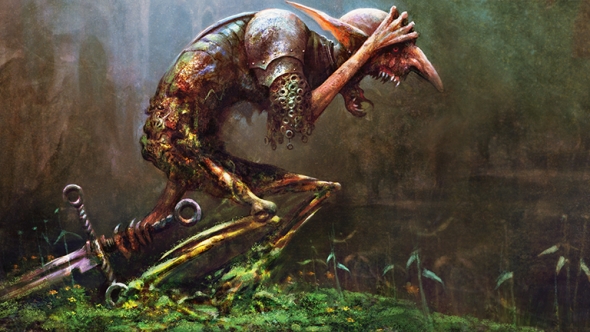 Kromě našeho WMCQ se konalo ještě 72 dalších. Bohužel, většina organizátorů se rozhodla nezveřejnit top8 decklisty, takže se můžeme podívat na pouhý zlomek (15 ze 73). Vzhledem k tomu, že standard bude znovu relevantní (nepředpokládám, že někdo od nás se bude účastnit GP ve Státech a v Asii) až po příchodu Eldritch Moonu, to ale zase tolik nevadí...
Zde je přehled zveřejněných výsledků (jednotlivé archetypy jsou uvedeny podle konečného umístění, deck uvedený jako první tudíž patří vítězi):
Anglie - 162 hráčů
3× GW Tokens

BUG Seasons Past

2× Wr Humans

UR Eldrazi Control

4C Rites (Brood Combo)
Austrálie - 106 hráčů
4× GW Tokens

4C Rites (Brood Combo)

Bant Company

Wr Humans

GB Aurora Ramp
Brazílie - 207 hráčů
4× GW Tokens

Wr Humans

GB Midrange

UW Eldrazi

BW Control
Čína
2× GW Tokens

2× UR Eldrazi Control

2× Bant Humans

Grixis Control

BUG Midrange
Dánsko - 52 hráčů
2× Bant Humans

4× GW Tokens

Abzan Rites (Brood Combo)

BW Control
Filipíny
UR Eldrazi Control

Abzan Eldrazi

2× GW Tokens

Bant Humans

4C Rites (Brood Combo)

Grixis Control

RG Ramp
Francie
2× Bant Humans

2× GW Tokens

Ub Prison

RG Tokens

RW Eldrazi

Wr Humans
Guatemala - 79 hráčů
Bant Humans

3× GW Tokens

RG Ramp

2× Bant Company

UR Eldrazi Control
Indonézie - 125 hráčů
2× Bant Company

2× Bant Humans

Abzan Midrange

BW Control

RG Goggles

Wr Humans
Itálie - 197 hráčů
Bant Humans

6× GW Tokens

Naya Midrange
Japonsko
Wr Humans

GW Tokens

Abzan Midrange

2× Bant Humans

2× Bant Company

Naya Superfriends
Kanada
GW Tokens

Bant Company

Esper Superfriends

2× Wr Humans

Bant Humans

UR Flyers

4C Rites (Brood Combo)
Německo - 147 hráčů
2× GW Tokens

BW Control

Abzan Rites (Brood Combo)

4C Rites (Brood Combo)

GB Eldrazi

Esper Dragons

Naya Superfriends
Rakousko
2× GW Tokens

2× Esper Dragons

RG Ramp

Bant Humans

Bant Company

UR Flyers
Thajsko
BUG Midrange

RG Duskwatch Ramp

2× GW Tokens

2× Grixis Control

BW Control

UR Eldrazi Control
USA - 486 hráčů
BW Control

4× Bant Humans

3× GW Tokens
Z výsledků je vidět, že jasně nejúspěšnějším deckem byli GW Tokeni následovaní Bant Company (ať už šlo o klasickou goodstuff verzi, nebo o Humany). V podstatě to není nic překvapivého, jelikož pro většinu hráčů, kteří chtěli prostě zvítězit bylo nejjednodušší si vybrat tier deck...
Co se týče jednotlivých vítězů, tak ze zajímavých jmen tu najdeme například Owena Turtenwalda, Jeremy Dezaniho, Javiera Domingueze, Jacoba Wilsona, nebo Mattia Rizzi (obhájce loňského vítězství s italským týmem).
A na konec nesmí chybět několik zajímavých decků:
3. SCG Open Orlando (Standard)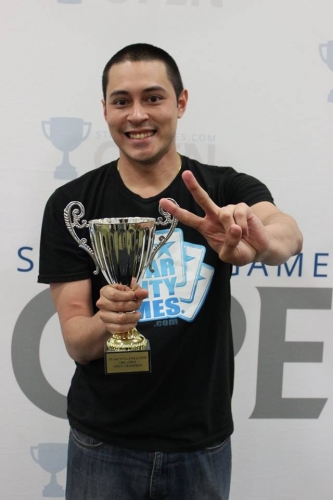 Do Orlanda se sjelo 582 dvojkových nadšenců, ačkoli turnaj probíhal souběžně s WMCQ. Nejúspěšnějším deckem turnaje překvapivě nebyli GW Tokeni, ale Wr Humani, kteří se dostali do top8 hned ve třech kusech.
Jako největší mistr "koníků" se ukázal Tom Ross, který si poctivě lízal Kytheona v každé hře, ačkoli ani nehrál playset... A že mu pokaždé když nasidoval Bushwhackery, přišel poctivě červený zdroj, to je také jasná věc.
Tom také jako první v současném modelu SCG Open (tj. jedno hlavní Open a dva sideeventy v ostatních formátech) dokázal vyhrát dvě Open za sebou a vytvořil tak další rekord (předtím jako první dokázal obhájit vítězství na Invitational)!
V top8 jinak byla i celá řada velmi zajímavých decků. Poražený finalista, David Bollenback hrál velmi zajimavý Naya Midrange. Z her před kamerou bylo ale vidět, že deck by potřeboval upravit manabase (málo červených zdrojů, zejména pro matchupy, kde potřebujete zahrát ve třetím kole Flamy) a osobně bych dal přednost Dromoka's Commandu před Statis Snare (zejména když čtvrtina fieldu jsou GW Tokeni).
Svůj deckbuilding talent znovu prokázal Jeff Hoogland, když dokázal ovládnout základní část s vlastní verzí Seasons Past. Hlavní inovací bylo přidání bílé a Sylvan Advokátů, kteří jsou s osmi manlandy v decku opravdů vynikající. Pěkný metagame tech je samozřejmě i maindeck Virulent Plague.
Jeff má ale i jednu docela smolnou sérii. Letos skončil na všech Open v top32 a celkem má na kontě čtrnáct top8 v rámci Open, ale na premiérovou výhru stále čeká...
S vlastní verzí 4C Rites se do top8 dostal Danny Jessup. Na rozdíl od většiny ostatních verzí z decku vyřadil Brood kombo a hrál místo toho Nahari s Atarkou. Trochu se ale divím, že nedal rovnou do mainu Smashery...
Poslední chuťovkou v top8 bylo UW Aggro Brennana DeCandia. To už v této sezóně hráli na GP okruhu Jacob Wilson, nebo Pascal Maynard, ale tohle je jednoznačně největší úspěch tohoto decku.
Hlavní výhoda decku je, že většina midrangů a decky které často vytváří boardstall (GW, Bant), jsou velmi náchylné na flyery, takže když dobře odhadnete metagame, tak budete mít spoustu free winů. No a karty jako Gideon a Avacyn samozřejmě neurazí v žádném matchupu.
Mimo top8 byl nejzajímavější deck Monowhite Eldrazi midrange, se kterým skončil Adrew Lopez na 12. místě. Deck využívá nejlepší eldrazi dvojku - Smasher a Seer a zároveň nejlepší bílé karty - Gideona, Avacyn a také playset Secure the Wastes s Westwale Abbey.
Vykutálený je v decku také Displacer, který kromě Avacyn může pro value blinkovat třeba Thraben Inspectora a po sidu navíc ještě Linvalu.
4. SCG Classic Orlando (Modern & Legacy)

Modernu se účastnilo 171 hráčů a pro výhru si tu došel Hirotsugu Funatsu s klasickou verzí Jundu, když ve finále porazil agresivní verzi UWRka s Geisty. Zajímavé je, že s deckem se dá stále něco uhrát, ačkoli se od Innistrad bloku vůbec nezměnil (až na pár karet v sidu).
Čtvrté místo obsadil Eduardo Torra se zajímavou verzí Jundu, ve které hrál Boom/Bust a Dark Dwellery.
Nejzajímavější deck v top8 byl ale určitě Esper Midrange Lance Austina, založený kolem dvojky Zun, the Enchanter a Geist of Saint Traft.
Na decku se mi líbí zejména, že se Lance nesnaží hrát žádné obskurní one-ofy, a raději hraje lepší karty ve více kusech. A další výhoda Zura spočívá v tom, že umí hledat silné sidovky jako Stony Silence a Rest in Peace
Legacy zlákala 107 hráčů a stala se kořistí Dana Savage s OmniTellem, když ve finále porazil 4C Delvera Alexe Hona.
Do top8 se dostaly i dvě zajímavé verze Miraclů. Jedna obsahovala kombo Nahiri + Emrakul a druhá hrála maindeck Back to Basics.
Zajímavé také je, jak se hráči pomalu přizpůsubují boji s Eldrazi. Kromě provařeného Back to Basics můžeme stále častěji vidět sidovky jako Moat, Humility, Peacekeeper, nebo Supreme Verdict.
5. MTGO Modern PTQ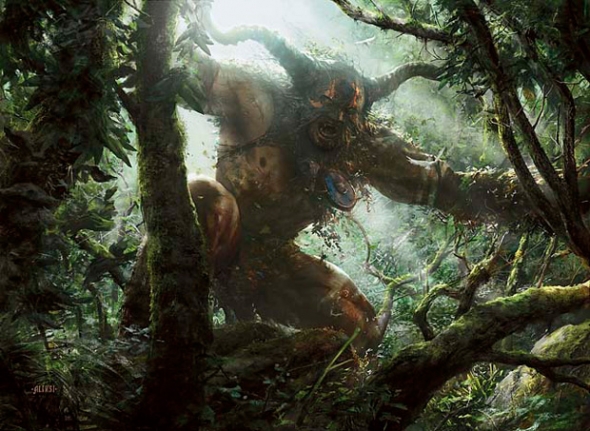 Dalším z řady premiových turnajů na modu tentokráte bylo Modern PTQ, kterého se účasnilo 78 hráčů (což je dost nízké číslo vzhledem k tomu, že narozdíl od reálných RPTQ se na modu kvalifikuje vždy celá top8).
V top16 bylo několik zajímavých decků jako Bant Eldrazi, Dredgevine, nebo Suicide Zoo, ale nejzajímavější deck shodou okolností patřil vítězi, kterým byl hráč s nickem "mmmbop".
Hrál all-in verzi Valakutu s Oath of Nissa, Summoner's Pacty a Though the Breach (a samozřejmě bez Scapeshiftu, aby se to nepletlo). Osobně tuhle verzi nemám moc rád, protože když nenajdete Titána, tak deck skoro nic nedělá, ale evidetně to někomu může fungovat.
6. Eternal Extravaganza (Legacy, Modern, Vintage)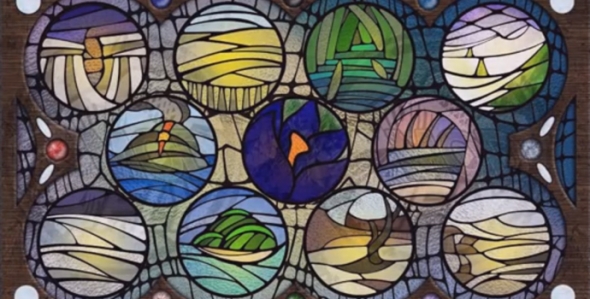 Vedle oficiálního Eternal Championship se Eternal Extravaganza řadí k největším eternal událostem ve Spojených Státech.
Hlavním eventem tu samozřejmě byla legačka, které se zúčastnilo 321 hráčů. Nejlépe se v ní zadařilo Ralphu Bateshovi s klasickou verzí zemí, když ve finále porazil Eldrazi Joshe Taylora.
Zbytek top8 byl pak krasojízdou různých Delver decků (2× UR, 2× 4C a jeden Grixis), které doplnily jedny Miracly a Shadless BUG.
Nejzajímavější z pětice Delverů byla Grixis verze Joe Brennana, což byl takový crossover mezi UR a 4C verzí. Hlavní plus oproti ostatním verzím je samozřejmě přístup k playsetu Cabal Therapií a také možnost hrát v sidu Blood Moon.
Zajímavý je také Ensnaring Bridge, Murderous Cut a Roast v sidu, což je určitě z obavy před Eldrazi. A pěkná sidovka proti Miraclům je Null Rod, ačkoli si nejsem jistý, zdali je účinnější než v poslední době oblíbený Winter Orb.
U modernu bohužel není uveden celkový počet hráčů, ale vítězem se každopádně stal Bryan Raymer s Bring to Light Scapeshiftem, když ve finále porazil Jund Roberta Grasmedera.
Zajímavé decky skončily na pátém a šestém místě. Pátý byl Alan Breitman s UW Controlem, ve kterém bylo několik zajímavých karet, ať už se to týká win kondicí (Gideon Jura, Tamyio, Crucible + Kolonáda), nebo i dalších karet (Think Twice, Logic Knot).
Šestý byl Gerard Fabiano s UW Extra Turns, kde hrál chuťovky jako Karn Liberated, nebo Narset Transcendent (obě karty jsou docela dobré s extra koly).
Na jeho verzi se mi nejvíce líbí Kolonáda jakožto hlavní win kondice a poté sideboard plán s Mentory a flipovacím Jacem.
A konečně se dostáváme k vintage, které se účastnilo 99 hráčů a plně jí ovládli Eldrazi!
Zvítězil Ben Williams s White Eldrazi, což je de facto mix mezi starými Workshopy a Monowhite Hatebeary. Thalia a Though-Knot Seer v kombinaci s playsetem Cavern rozhodně nepotěší žádný modrý deck.
Velmi překvapivý je deck poraženého finalisty, kterým jsou Eldrazi bez Power9. Vlastně jsou to regulérní legacy Eldrazi, do kterých byla přidaná Strip Mine a playset Null Rodů. A pak že je vintage drahá záležitost...
Milovníky modré alespoň potěšil klasický oldschool kontrol v podobě UW Landstillu, se kterým obsadil třetí místo Joseph Graff.
Ve zbytku top8 pak byly tři Workshopy (povětšinou agresivní verze s Ravagery, Thought-Knot Seery a Triskeliony), jeden tuctový UWR Gush Mentor a poté další chuťovka v podobě 5C Humanů!
V decku byly celkem pochopitelné kusy jako Thalia, Dark Confidant, Qasali, nebo Scab-Clan Berserker, ale proč by někdo chtěl hrát na vintage Reflector Mage, Mantis Ridera, nebo Mayora of Avabruck, to tedy opravdu nevím. Evidentně to ale nebylo úplně špatné.
A to je pro tentokrát vše, na viděnou u dalších vydání.
Kumano
Komentáře
Přispívat mohou pouze přihlášení uživatelé. Pokud chcete vložit komentář, přihlaste se ZDE.