Novinky
Představení Commander Anthology
Další Anthology produkt je zde a tentokrát potěší všechny milovníky formátu Commander. Uvnitř této krabice najdete čtyři balíčky, čtyři luxusní počítadla životů a tokeny. Vše uloženo v tomto parádním boxu.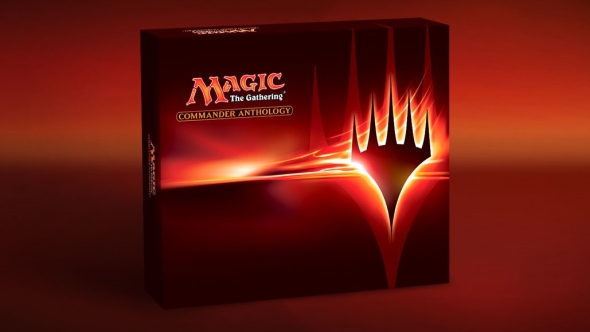 Před několika lety Wizards of the Coast začalo propagovat Commander formát aktivněji a mimo jiné začalo vydávat Commander produkty. Stalo se tak, že před šesti lety vyšel první Commander produkt. Jednalo se o pět Commander decků - Heavenly Inferno v čele s Kaalií of the Vast, Mirror Mastery s Riku of Two Reflections, Counterpunch s Ghave, Guru of Spores, Political Puppets se Zedruu the Greathearted a Devour for Power s The Mimeoplasm. Tyto produkty nejenom přinášejí reprinty starých a špatně sehnatelných karet, ale také nové karty, které jsou legální na Legacy a Vintage. Některé z nich se pak začaly regulérně hrát jako třeba Scavenging Ooze a Flusterstorm.
Teď po šesti letech podobně jako s jinými produkty (např. Duel Decky) vyjde 9.6. 2017 produkt s názvem Commander Anthology.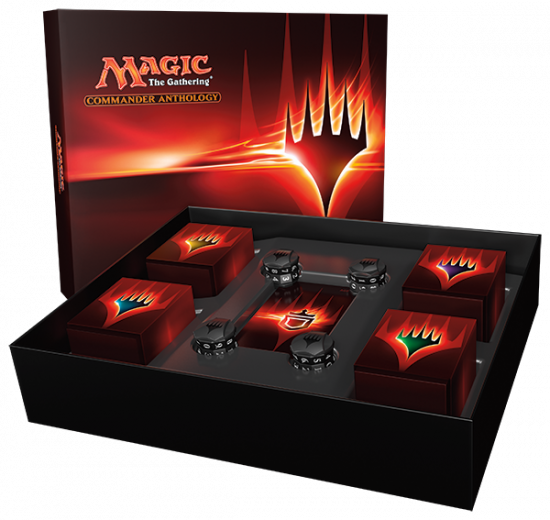 Tento produkt obsahuje čtyři Commander decky z různých Commander setů - Heavenly Inferno (Kaalia of the Vast) z původního Commanderu, Evasive Maneuvers (Derevi, Empyrial Tactician) z Commander 2013, Guided by Nature (Freyalise, Llanowar's Fury) z Commander 2014 a Plunder the Graves (Meren of Clan Nel Toth) z Commander 2015. Dále v balení najdete 4 počítadla životů (podobné těm z Commander's Arsenal). Generálové v decku jsou ve foil provedení a každý deck navíc obsahuje tokeny, které vyrábí.
Heavenly Inferno
Kaalia of the Vast v Mardu barvách je generál andělů, draků a démonů a stala se jedním z nejoblíbenějších generálů. Možná právě proto, že když Kaalia zaútočí může do hry dát nějakého anděla, draka nebo démona a to jsou velmi oblíbené creature typy. Vzhledem k tomu, že je relativně levná (4 many) a lítá, její schopnost si dost často najde nějakého soupeře, který si s ní neumí poradit. Když se u stolu najde hráč Kaalie, tak většinou zbytek stolu se nějak spolčí a Kaalii se snaží opakovaně zabít, aby se nedostala k jedinému útoku. Deck kromě velkých oblud obsahuje akceleraci, zabíjení a občasný life gain.
Evasive Maneuvers
Evasive Maneuvers má v čele Derevi, Empyrial Tactician. Jedná se o Bant generála, který se stal hrozbou na 1v1 Commanderu a byl postupně na těchto formátech zabanován. Derevi v Commander Anthology metě plní roli controlu - deck se snaží udržet jakousi rovnováhu mezi ostatními decky. Jedná se o deck, který vytváří value buď blinkováním vlastních bytostí s comes into play abilitama nebo odtapováním permanentů s nějakými schopnostmi vyžadující tapnutí jako jsou například Azami, Lady of Scrolls, Djinn of Infinite Deceits, Thunderstaff.
Guided by Nature
Guided by Nature je z Commander setu, kde místo legendárních bytostí jako generála máme jednobarevného Planeswalkera. V tomto případě se jedná o Freyalise, Llanowar's Fury. Jedná se o postavu již dříve existující, která však do Commanderu 2014 neměla svoji vlastní kartu. Jedná se o jasného Elfího generála. Za plusovou abilitu vyrábí 'Llanowar Elfy', za -2 boří artefakt nebo enchantment a její ultimátní abilita líže kartu za každou zelenou bytost pod vaší kontrolou. Deck obsahuje spoustu elfů, které spolu spolupracují a následně velké zelené bytosti, které potrápí oponenta, který si poradil s armádou menších bytostí. Někdy však i tyto 'malé' bytosti mohou vyrůst ať už za pomoci lordů jako jsou Imperious Perfect nebo Joraga Warcaller nebo Overrun efektů (Overrun, Ezuri, Renegade Leader, Overwhelming Stampede, Beastmaster Ascension)
Plunder the Graves
Plunder the Graves má v čele Meren of Clan Nel Toth, která má také silnou a velmi unikátní schopnost. Když vám umře bytost dostanete Experience counter. Na konci vašeho kola zacílujete bytost v hrobě a pokud její mana cost je menší nebo roven počtu Experience counterů dáte ji do hry, jinak si ji vrátíte do ruky. Tato schopnost je natolik silná, že je výhodné hrát bytosti, které i sami zemřou nebo sami umí umřít (Shriekmaw) a když se vrátí do hry zase něco udělají. Deck tak obsahuje karty, které nějakým způsobem využívají karty v hrobě nebo mají schopnost, která se spustí při příchodu do hry nebo odchodu ze hry (Eternal Witness, Viridian Emissary, Corpse Augur).
Podívejte se na video unboxing Commander Anthology přímo od Wizards a uvidíte, co vše v této krabici najdete.
Commander Anthology si můžete zakoupit v našem e-shopu zde a určitě by tento produkt neměl chybět žádnému správnému fanouškovi formátu Commander. Přip. pokud s ním chcete začít, tak je to parádní balení do začátku nebo jen tak jako dárek.
Komentáře
Přispívat mohou pouze přihlášení uživatelé. Pokud chcete vložit komentář, přihlaste se ZDE.