Reporty
Report z EDH 15.11.2015 v Ústí
Přečtěte si report od Tomáše Kose z nedávného EDH v Ústí nad Labem. Ten si se svým Sygg, River Cutthroat došel až pro samotné vítězství.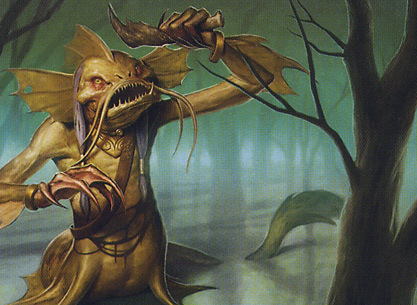 EDH jsme při momentální větší oblibě Tiny Leaders v Ústí nad Labem poměrně dlouho nehráli, takže i když turnaj nebyl do série Lesa páně, na turnaj jsem chtěl zajít. Mé rozhodnutí bylo umocněno skutečně nevlídným počasím, kdy jsem od soboty trpěl na naší chatě ve Velkých Žernosekách. Děti jsou radost, to jistě, ale pokud jste s nimi v jedné místnosti 5x3m od rána do večera, nemůžete díky nepřízni počasí např. pod záminkou rytí záhonu prchnout, začínáte přeci jen trochu pochybovat…
Byl vybojován x-tý wrestlingový duel cikánské férovky dvou mladých divochů proti stárnoucímu seladonovi. Při asi 150-tém pokusu našeho čtyřletého mazlíka tu na Ploce, tu na Parmu přeletět horu z peřin a polštářů a konečně si rozpoltit lebku o skříň, jsem už také nepociťoval to vzrušení jako na začátku (je to čipera, ale jeho dolet se také přeci jen naštěstí pomalu snižoval). Pohled na zamračenou Milešovku v mých očích potom jednoznačně posílil oprávněnost mého rozhodnutí, ponechat, nyní už pološílenou manželku na pospas drahouškům a zbaběle prchnout na nedělní turnaj.
Jelikož nebyl prostor na nějaký testing, ba ani zkušební draw, jal jsem se zvolit mou oblíbenou UB kombinaci. A koho jiného bych si mohl zvolit, než mého favorita Sygga, River Cutthroata. Tento nenápadný pracant není pravda příliš běžně hraným generálem. Pokud se podíváme na nedávný turnaj konaný v aktuálním centru EDH, Hradci Králové, tak tohoto blátošlapa si vybralo slovy nula hráčů. Mé předchozí EDH pokusy na UB téma vycházely především z množství komb, které se v této barevné kombinaci nabízejí. Postupnými kroky v podobě změn pravidel, ban listu a způsobu mulliganu, ovšem tato strategie x-komb, tutorů a kántrování, začala být čím dál tím víc vyčpělá. Pojal jsem to tedy jako agro control, těžící z postupné karetní výhody prostřednictvím pána v modročerné.
Neděle byla vymalována podobně šíleným malířem jako sobota. Nakopnul jsem tedy Stříbrného sršáně a vyjel směr Ústí nad Labem. Dorazil jsem krátce před devátou a klubovna již byla příjemně zaplněna místními matadory a mladými a neklidnými borci z Teplic, kteří toho mají s EDH momentálně nahráno asi podstatně víc, než ústecká komunita. Sešlo se nás krásných čtrnáct. Z balíků se vyndaly pro někoho překvapivě zabanované Sensei's Divining Top a šlo se na to.
Decklisty Commander
Sygg, River Cutthroat
Tomáš Kos
Sideboard
1. kolo, Tomáš Pejša, Geist of Seint Traft (celkově 2.)
Tomík Pejšů je tradiční hvězda EDH turnajů v ÚL, kdy nás v minulosti nemilosrdně drtil svým Zurem. S tímto pašákem jsme se naštěstí již na postu generála rozloučili, takže pro dnešek měl připravenou poněkud kontrolní verzi Geista. Vyhrál jsem hod kostkou a snažil se to rozjet agresivně, ale pro mě celkem překvapivý Force Spike a poctivě natutorovaný Supreme Verdict, mi poněkud pokazil slibnou kombinaci Sygg + TN Nemesis + zamorfovaný Stratus Dancer. Bribery ze strany soupeře na Glen Elandru nevěstil nic dobrého…tedy…pokud by si nechal modrou. Vrátil jsem si faerie férově do ruky a seslal jí. V té době jsem měl již o něco víc karet než Tomík. Když si navíc Ashiok chroupnul v Tomově low creature decku Thassu, nebyl už problém ho upižlat.
Ve druhé hře mulliganuji do šesti, užívám si něco radovánek s mana screw. Tedy až do té doby, než Pejšík v Legacy tempu Brainstormem dá na vršek Entreat the Angels, které se zoufale pokusím z mých omezených zdrojů kántrovat, aby mi nestyda soupeř ukázal ještě přikombený modrý pact. No, nezapomněl ho zaplatit a čtyři andílci to již zvládli.
Třetí hra, opět mulligan, ale tentokrát i se soupeřovou asistencí. Škoda, kdyby mi přišel Bonesplitter o něco dříve, mohlo to být lepší. Takhle mi ho při mé třetí, bohužel taplé zemi, Tomáš kántruje Condescentem a Sygg smutně pižlá po jedničce. Situace se nicméně po chvíli přiklání na mou stranu. Co ale čert nechtěl, Tomášovi se daří díky FoW prosadit Martial Cup i s pěti soldáty, takže se to trochu zvrtlo. Pozici na stole nicméně stabilizuji a naše potýkání ukončí časový limit. Tak třeba příště…
0:0:1
2. kolo, Jakub Major, Thalia, Guardian of Thraben (celkově 9.)
Kuba se na turnajích vyskytuje zřídka, takže jsem doufal, že bych mohl něco vytěžit ze své magicové sukovitosti. Thalia ale pro mě není příliš příznivý match up, když navíc prohrávám hod kostkou a mulliganuji do šesti, je mi jasné, že to bude ještě pěkně napínavé. Balíček mě ale nenechal ve štychu. Thalia se sice mocně ohání Bonesplitterem, ale tuto nepříjemnou kombinaci alespoň na chvíli uklidní Sygg za pomoci Urborgu. Kombinace Bitterblossomu, poctivě položeného ve druhém kole a Umezawa's Jitte, ovšem postupně z nepříjemně narostlé soupeřovi armády udělá fašírku. No, zastavil jsem se na devíti životech. Druhou hru, je mi to trapné, opět rozhodla Jitta. Nebylo to ale zcela snadné. Soupeř tradičně sázel potvoru jednu za druhou, a když mi Fiend Hunter schoval mého jediného blokera Sygga (plánovaně jsem ho nedal command zone), šel jsem na 11 životů. Měl jsem totiž připravenou past v podobě Go for the Throat, který v příštím soupeřově útoku sundal Huntera, vyskočivší Sygg popravil Thalii a dál už tu písničku znáte… Kuriozitou v této partii byla v obou hrách vyložená Boseiju (to bylo proti agru radosti…), která při mém drobném mana screw, především v první hře, nepříjemně umenšovala šance na vítězství. Naštěstí to nestačilo ;)
1:0:1
3. kolo, Petr Moudrý, Thalia, Guardian of Thraben (celkově 4.)
Petr je známý svou náchylností ke všemu blýskavému, takže i značná část jeho Thalie je ve foilu. Balíček má celkem nahraný, co do příznivosti match upu viz výše. Opět prohrávám hod kostkou, ale Petr mi vrací barvu do tváří mulligenem do pěti. Jak se v zápětí ukázalo, bylo to ovšem celkem vydařených pět karet. Sekvence Mother of Runes, Stoneforge Mystic a Mirran Crusader mi dala jasně najevo, že to i přes startovní výhodu bude pěkná fuška. Asi zlomový okamžik přišel, když útočil Crusader, poprvé konečně vybavený Sword of Feast of Famine. Petr se úplně zatapoval a jelikož jsem díky Master of Waves pořídil celkem vydatnou armádu blokerů, jal se dát matkou protekci na modrou před jejich deklarací. Na to už ale číhal můj přichystaný Cyclonic Rift, který křižáka vrátil pěkně na ručičku (do overloadu mi bohužel chyběla jedna mana). V protiútoku to bylo z mé strany za 16, nebylo co řešit. Ve druhé hře, jaké překvapení, opět ve druhém kole Stoneforge Mystic a volba opět padla na Sword of FaF (kdyby to byl v první hře Sword of Fire and Ice, nerozdýchal bych to…). Meč se ale stále ne a ne podívat do hry, takže ho nakonec zahazuji Thoughtseize. Když potom Stratus Dancer kántruje Enlightened Tutor a přes Sygga přihraje pár karet, cítím se docela v pohodě. Petr pro mě trochu nepochopitelně dává Prison Term na Sygga, což pochopitelně lízací radovánky nepokazilo. Když se ale snaží kombinovat Skullclamp s Precinct Captainem, nezbývá mi, než zavčasu kapitána zmermomocnit Treachery (podřadnější cíl jsem s ním asi nikdy neukradl ;). Hra je tím v podstatě rozhodnuta a já mohu slavit druhé, pro mě trochu překvapivě snadné vítězství (samozřejmě i díky soupeřově smůle).
2:0:1
4. kolo, Zbyněk Barták, Doran, the Siege Tower (celkově 5. Místo)
Zbyněk hraje Dorana již celkem dlouho a vykazuje s ním stabilně velmi dobré výsledky. Před posledním kolem jsme na tom stejně i on utrpěl v prvním kole remízu a další duely zvládl uvítězit. Vyhrávám hod kostkou, Zbyněk mulligenuje, nesportovně se po Syggovsku zaraduji. Nedorazí mu do prvního kola ani jeden z deseti manových akcelerantů (Šmarjá, že by to i soupeřům občas nepřišlo? No, jen aby to vydrželo…), takže chvíli blbnu s kántrováním a získávám čas, než mi konečně dorazí černá mana (nechal jsem si úvodní ruku s dvěma ostrovy a Academy Ruins). Nejde mi to ale bůh ví jak. Jelikož mám na ruce Sword of War and Peace, kradu Qasali Pridemage pomocí Treachery. Radost mi ale o chvíli později pokazí Reclamation Sage, který rozhodne o smutném osudu Qasaliho, jenž sežere Treachery. No, dvou "disenchantů" jsem se zbavil, byl nejvyšší čas, začít Zbyňka trápit prostřednictvím Oona's Prowlera a meče. Jelikož se ale k mé nelibosti dostal na stůl Doran, jezdil Prowler jen na půl plynu. Situace se nám poněkud zamotala, když dal soupeř na stůl Titanii, Protector of Argoth. Jelikož měl na stole Dust Bowl a na mé straně dost cílů, čuchal jsem problémy. Víla to ale pižlala tu po čtyřce, tu po trojce, přidala mi něco životů, a když jsem nakonec poněkud pozměnil tempo pomocí Vensera a Silumgar's Commandu, mohli jsme jít na další.
Tentokrát již bez mulliganu oba necháváme, ale Zbyněk opět nemá manovou akceleraci do prvního kola. Do druhého opět posílá discard v podobě Scullera (v prvním to byl kántrovaný Brain Maggot) a bere mi mé jediné zabíjení (Dismember). Chvíli živím naději s kombinací Sygg + vzlétnuvší Coralhelm Commander, ale korálovec mi přihraje jen jednu kartu, než bídně zhyne na Hero's Downfall. Situace není nic moc. Zbyněk přidává Dorana, Scavenging Ooze a především opruzlého Gadock Teega. Jaká radost, když si nemohu zahrát ani jednu ze čtyř karet na ruce. "Přilepší" mi ještě Tangle Wire a situaci drží jen TN Nemesis. Tedy pouze do té doby, než soupeři dorazí Council's Judgment. Čas nám ale vypršel a my se dostali do nastavených kol. Jsem na 15 životech a konečně si líži kouzlo, které mohu zahrát. Sesílám díky Gadockovi zmrzačený Far/Away, který vrací Scullera, získávám Dismember, abych zabil Gadocka, díky čemuž mohu prostřednictvím Desertion ukrást znovu přicházejícího Scullera a následně již značně odleželou Misdirekcí přecílovat jinak problematický Abrupt Decay. Na vítězství to asi stále nebylo, ale k ustání tlaku do konce nastavených kol to stačilo…
Pozn. Jen pro pobavení, chvíli jsem si ve druhém kole pohrával s myšlenkou, zabít soupeře Hatredem. V duchu jsem se rozčiloval, jaká je to smůla, že má na stole Gadocka. Ještě že mi nedorazilo zabíjení zbytečně brzy, protože bych si nejspíš včas neuvědomil, že s Doranem na stole, opravdu není Hatred to pravé ořechové ;)
3:0:1 … Vítězství ;)
Jako další byli k vidění např. generálové Thrun, the Last Troll, Teferi, Mage of Zhalfir (3. Místo), Radha, Heir to Keld, Niv-Mizzet, the Firemind, Cromat. Všem díky za účast, po delší době zahrané EDH mi udělalo radost a vítězství mi umožnilo konečně sepsat nějaký ten report ;)
Úplné konečné pořadí: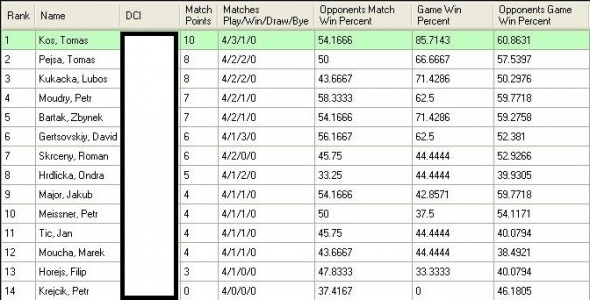 Tak zas někdy, Tomáš Kos
Komentáře
Přispívat mohou pouze přihlášení uživatelé. Pokud chcete vložit komentář, přihlaste se ZDE.