Commander
Představení formátu French Duel EDH
Zdravím všechny čtenáře CMUSu, dnes jsem si pro vás připravil jistou specialitu. Chci vám představit formát, o kterém pravděpodobně mnozí z vás nevědí: French Duel EDH. Jedná se o variantu klasického Commanderu, uzpůsobenou pro competitive hry mezi dvěma hráči, která se, i přes notné krize a pády popularity, hraje s jistou pravidelností už od roku 2010.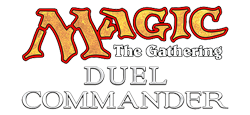 Foto: Wizards of the Coast
Představení formátu French Duel EDH
Hlavní rozdíly oproti multiplayer Commanderu spočívají ve dvaceti startovacích životech a mnohem rozsáhlejším banlistu, který po dlouhé a trnité cestě konečně v současnosti nabyl určitou formu a zajistil relativně stabilní a vyvážené prostředí, ve kterém jsou zhruba stejnou měrou hratelná aggra, kontroly i komba. Změna z původních třiceti životů na dvacet tehdy vyvolala obrovskou kontroverzi a velmi vyostřené reakce. Z toho chaosu povstaly dvě odlišné varianty Duel Commanderu: Leviathan a posléze i MTGO Duel Commander. Obě se na popularitě přiživovaly hlavně zachováním původních třiceti životů a tehdy French varianta zažila největšího propadu popularity. Monored aggro-burn se stal velmi levným a efektivním strašákem, se kterým se musely ostatní stávající balíky nějak popasovat. Situace se však časem ustálila (Leviathan tak trochu umřel), červenou zchladila prudká sprška banů a konečně se rozbouřené vody metagame jakžtakž ustálily.
To bylo trochu z historie formátu, abych jej představil o něco lépe, neznám lepší variantu než představit pár typických decklistů. Vybral jsem schválně protentokrát jen ty jednobarevné, které bývají díky absenci drahé manabase nejlevnější a plán jejich hry bývá nejpřímočařejší. Jsou tedy ideální volba pro začátečníky, kteří chtějí obstát proti top deckům formátu za relativně malou investici. Taky poznačím, že oba decklisty jsou z webu mtgtop8.com.
A čím jiným začít než samotnou babou jagou, červená barva má v tomto formátu celkem zajímavou historii. Monored balíky ve formátu zpočátku (tedy alespoň v top8 umístění) prakticky neexistovaly. Červená se hrála pouze jako podpora v agresivních decích, jako je Rakdos aggro a různých midrange zaměřených na bytosti jako Marath, Will of the Wild a Alesha, Who smiles at Death. To bylo poněkud stigma z multiplayer Commanderu, kde se obecně považovala červená jako nejslabší barva. Teprve v roce 2015 se čistě rudé decky začaly turnajově umisťovat a jejich boom nastal záhy v roce následujícím, přesněji v září 2016 s již zmíněním přechodem na dvacet startujících životů.
Mnoho hráčů pilotující v té době dominující balíky byli záplavou rudé celkem zaskočeni. Formát se velice zrychlil, vyloženě kontrolním deckům nastaly tuhé časy a bylo jasné, že je potřeba udělat pár úprav, aby dokázaly takovou agresi přežít. Největší síla červené však nebyla pouze rychlost, ale hlavně konzistence, nejen že měly vždy k dispozici jistý one-drop (generál Zurgo Bellstriker), ale také se jejich stavba poněkud lišila od většiny ostatních decků. Tím, že každá non-basic karta může být v decku pouze jednou, mají vícebarevné decky jen omezené množství těch nejlepších karet podporujících jejich strategii. Červená však naopak těžila z faktu, že jí po celé dlouhé historii Magicu vyšlo ohromné množství karet, které za dvě a méně many dokáží udělit tři zranění a řada jednomanových, co způsobí zranění dvě. Postavit něco takového tedy nedá až tolik práce a prakticky to ve hře znamená, že je téměř jisté, že takový balík bude mít vždy k dispozici dostatek karet podporujících jeho strategii. Pamatuji si, jak jsme se s mými pravidelnými spoluhráči v době největšího nárůstu červené bavili, že člověk mívá už na úvodní ruce dostačující množství karet na ubrání téměř všech dvaceti soupeřových životů.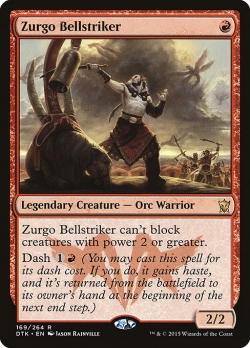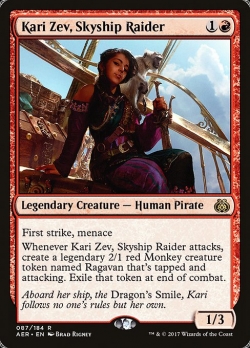 Bylo nad slunce jasné, že i se soustředěnou obranou není moc fér být čtvrté kolo mrtvý, proto tuto strategii potkala v posledních pár letech pořádná řádka banů: Eidolon of the Great Revel, Fireblast, Price of Progress, Sulfuric Vortex a poslední ránou byl ban samotného generála Zurga. Nicméně v jeho funkci ho v současnosti srdnatě zastoupila Kari Zev, Skyship Raider.
K decklistu samotnému toho není mnoho co dodat, velmi nízký počet zemí, extrémně nízká manová křivka (většina za jednu nebo dvě many) a velký důraz na to být konzistentně agresivní. Co se týče financí, nejedná se o nic zvlášť drahého: Fetchlandy nejsou téměř zapotřebí, jelikož v balíku slouží jen pro nepatrné snížení šance líznout si zemi v pozdějších fázích hry, ani Chandra není nijak nepostradatelná. Vysoce účinný balík je tedy téměř za hubičku. Plán hry je jasný: zničit soupeře co nejrychleji. Co nezvládne vykonat prvotní nápor agresivních bytostí, to dodělají blesky.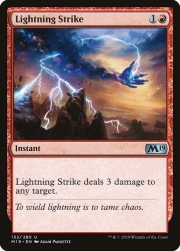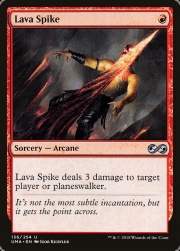 Další představený balík je mi jako hráči o poznání bližší, vždyť je to generál, kterého už pár let velmi rád hraji: Titania, Protector of Argoth. Ta již není tolik přímočará a dá se hrát na pár rozdílných způsobů. Může se postavit jako agresivní zelený deck plný silných levných bytostí a hrát Titanii jako zaručený pětimanový drop, který většinou přináší dohromady deset síly ve dvou bytostech. Můj oblíbenější způsob je ovšem hra se zaměřením na rampu, synergie kolem landfall mechaniky, obětování zemí, vše vylepšené několika drahými finishery, jako je třeba Karn Liberated a Ugin, the Spirit Dragon. Obě varianty se však shodují v potřebě mít Titanii ve hře co nejdříve, proto se hraje hodně manových elfů a dalších způsobů, jak dostat rychle co nejvíc zemí z ruky na stůl (Exploration nebo Burgeoning). Titania ve třetím kole přinášející na stůl další dvě 5/3 těla dokáže soupeři velice zatopit.
V této strategii se hraje zemí o poznání více, také tu hrají Fetchlandy podstatnou roli, protože díky nim má Titania karty na tahání z hrobu a vyrábění jednoho tokenu za druhým. I tenhle deck dokáže velmi rychle vyvinout na soupeře tlak, agresivnější decky přetlačí často jak počtem, tak i silou bytostí (Primeval Titan nebo Wurmcoil Engine), proti těm kontrolním zase výrazně pomáhá fakt, že Titania ve většině případů úspěšného seslání přijde i se zemí, která pomůže jejímu dalšímu seslání. Často je tak soupeř vystaven nutnosti zbavovat se jí každé kolo. Jedna z nejdůležitějších karet je Zuran Orb, který v kombinaci s generálem dokáže za každou vyloženou zemi vytvořit token na konci soupeřova kola a v tomto formátu je jen malé množství instantních odpovědí na takovou armádu.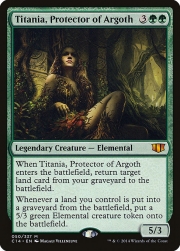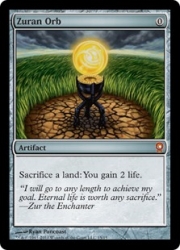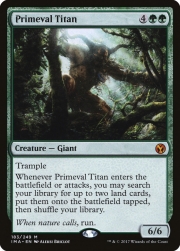 A to je pro tento článek vše. Další informace o formátu se dají nalézt na stránkách duelcommander.com a doufejme i v mém příštím článku. Děkuji, jestli jste dočetli až sem a těším se na příště.
Komentáře
Přispívat mohou pouze přihlášení uživatelé. Pokud chcete vložit komentář, přihlaste se ZDE.