Modern
Budget Modern: Mono Red
Mono Red neboli celočervený balíček patří mezi nejčastější volby pro Magicové začátečníky a mírně pokročilé hráče. Jeho dalším vylepšováním můžete vytvořit například Naya Burn, který se řadí mezi to nejlepší, co na formátu najdeme.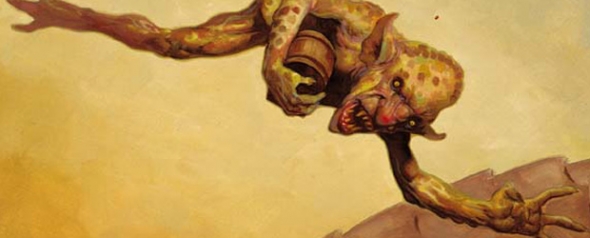 Milé čtenářky, vážení čtenáři, druhý článek ze série Budget Magic začneme (stejně jako v předchozím díle) představením nejlevnější verze.
Mono Red deck na Modern s cenou do 400 Kč
Jak jsem již nastínil v úvodu, Mono Red Burn (RDW) patří mezi ty jednodušší balíčky na pilotování. Červená obecně zaručuje jeden z nejrychlejších možných nástupů a možných vítězství v prvních pěti kolech hry.
Rozbor karet


Pro hru s RDW je vždy jedno-manový slot tím nejdůležitějším. Nejlevnější verze neobsahuje blesky typu "Bolt", ale pouze typu "Shock". Za jednu manu jsme schopni dát pouze 2 damage a to ve dvou variantách (Shock a Forked Bolt).
Mezi potvory patří oblíbený Mogg Fanatic a Spark Elemental, který jako jediný umí za manu tři zranění.


Kromě dříve na dvojce oblíbené Incinerate (a její méně povedené kopie Lightning Strike) jsme schopni v 2. kole "castit" clashový Lash Out nebo Magma Jet s pro nás velmi cennou "abillitou" Scry.
Creatures zastupuje pouze Keldon Marauders, který nám kromě 3/3 čísel poskytne dvě "zaručená" zranění.


Třetí a zároveň poslední slot má mezi blesky jediného zástupce – a to Flame Javelin, který je  jako jediný schopný dát 4 damage kamkoliv.
Mezi Creatures jsou čtyři "outy" – Hell´s Thunder a Countryside Crusher, dříve populární karta původem z Morningtide, která nás od 4. kola zbavuje přebytečných landů z vršku knihovny.
Hra s balíčkem
Mono Red Burn je jednoduchý na pilotování – Vaším jediným úkolem je sypat blesky do soupeřovy hlavy, kouzlit potvory a těmi způsobovat další damage. Potenciální karetní/damage výhodu nám může zaručit Lash Out (který však obsahuje podstatný prvek náhody). Manová křivka končí na třech, a proto balíku dochází rychle dech a jedinou kartou, která tomu alespoň trochu zamezuje, je Countryside Crusher.
Vzhledem k rozpočtovému omezení v decku zcela chybějí Bolty a podobné karty, které nás podstatně urychlují, ale i přesto nám balík může poskytnout několik hodin zábavy a je vhodný i pro další vylepšování.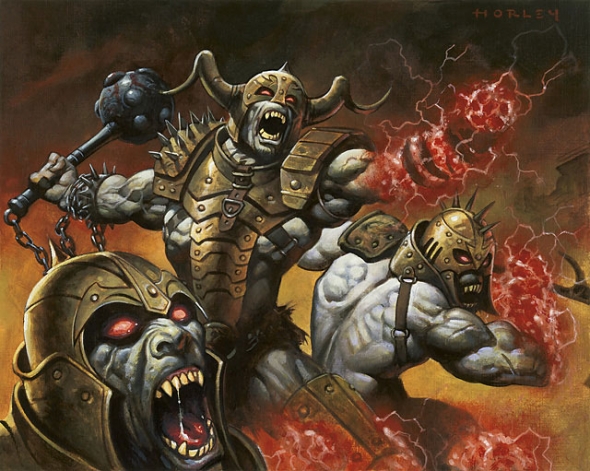 Mono Red deck na Modern s cenou do 900 Kč
Druhá varianta RDW stále obsahuje řadu rozpočtových omezení. Jak z decklistu sami poznáte, tou nejzásadnější změnou je přidání Boltů a podobných blesků, které zvyšují Vaše šance na rychlé vítězství.
Nové karty


Na jedné maně přibyly blesky typu "Bolt" - ve čtyřech kopiích Lightning Bolt a Shard Volley, , čímž je tedy nahrazen původní Shock.


Lash Out je střídán Searing Blaze. Další novinkou je Skullcrack, který soupeři dočasně zakáže přidávání životů, což pro nás může být důležité.

Mono Red deck na Modern s cenou do 1 500 Kč
Poslední variantou RDW je balíček, který obsahuje téměř všechny karty, ve fritě hrané. Tato verze je ideální pro případné rozšíření na Naya Burn.
Nové karty


Balíček obsahuje 24 jedno-manových "outů", každý s potenciálem udělit 3 zranění. Novinkou oproti předchozím verzím se stává Lava Spike a suspend Rift Boltu. Novou potvorou je Monastery Swiftspear.


Hlavní změnou je přidání Flames of the Blood Hand ve třech kopiích. A samozřejmě i Rift Bolt můžeme hrát od třetího kola teoreticky "za plnou."
Hra s balíčkem
Koncept hry je stejně jako u první verze velice jednoduchý. Téměř všechny karty se kouzlí za jednu či dvě many, tudíž nám jednoduchá logika velí střílet "vše do hlavy soupeře." To samé platí i o Creatures, elementálové mají Haste a jsou schopni pouze útočit, Swiftspear je také do rychlého tlaku.
Důležitou schopnost nám poskytuje Skullcrack a Flames of the Blood Hand. Díky oběma si můžeme být jisti, že spoustě "gain lifů" zamezíme v samém zárodku a i díky tomu se nám může povést soupeře dorazit již ve 4.-5. kole, teoreticky i v kole třetím.
Sideboard
Sideboard se vždy odvíjí od daného fieldu. Pro ilustraci přikládám některé "possible" karty:
Flame Slash
Rending Volley
Combust
Guttural Response
Smash to Smithereens
Leyline of Punishment
(Flames of the Blood Hand)
Molten Rain
Dismember
Forked Bolt
Pyroclasm/Volcanic Fallout
Největší slabina Mono Red
Leyline of Sanctity je karta, která dává Mono Red Burnu definitivní a neodvratitelnou stopku. Červená zkrátka nemá na tento bílý enchantment žádnou odpověď.
Něco podobného platí samozřejmě i u Kor Firewalkera či Dragon´s Claw, ale v tomto případě můžeme po odpovědi sáhnout do sideboardu (Dismember; Smash to Smithereens).
Další vylepšení
Do balíčku určitě můžete přidat Goblin Guide popřípadě Vexing Devil. Za zvážení by stálo i zařazení Grim Lavamancera, z levnějších alternativ se pak nabízí i čtvrtá kopie Monastery Swiftspear. Na dvou manách bych se nebál zařadit Eidolon of the Great Level.
Kostra decku je základem na Modernu hrané Naya Burn. Decklist, tak jak ho hrál na Grand Prix Guangzhou 2016 Wu Kon Fai (umístěný na 2. místě) je k nahlédnutí zde:
Slovo závěrem
Mono Red Burn je opravdu rychlý balíček, který soupeře teoreticky zabíjí v prvních 5 kolech hry. Pilotování je snadné a může proto posloužit i úplným začátečníkům. V případě dalších investic ho lze přetvořit na červeno-zeleno-bílý Naya Burn, jak jsme si ukázali výše.
Tímto bych se s vámi rád rozloučil a příště se budu těšit u rozboru Budget Mono Black.
Matouš Voldřich
Komentáře
Přispívat mohou pouze přihlášení uživatelé. Pokud chcete vložit komentář, přihlaste se ZDE.