Modern
New Modern Deck - Mono Green Nykthos
Petr Brožek is quite a know player and above all, very capable deck builder. This time, on GP Prague, he has built the following deck. Besides that we have interviewed him to find out what he thinks about the deck after the GP. Enjoy..
Modern MonoG
Copyright of Petr Brozek
Main Deck
Sideboard
4

Misty Rainforest


4

Verdant Catacombs


2

Temple Garden


6

Forest


4

Nykthos, shrine to Nix


4

Arbor Elf


4

Birds of Paradise


4

Utopia Sprawl


4

Burning Tree Shaman


2

Lotus Cobra


4

Knight of the Relinquary


4

Wistful Selkie


3

Craterhoof Behemoth


1

Terastodon


4

Garruk Wildspeaker


4

Summoners Pact


2

Tooth and Nail

3

Seal of Primodium


2

Sword of Body and Mind


1

Obstinate Baloth


1

Thrun, the Last Troll


2

Rest in Peace


2

Stony Silence


4

Leyline of Sanctity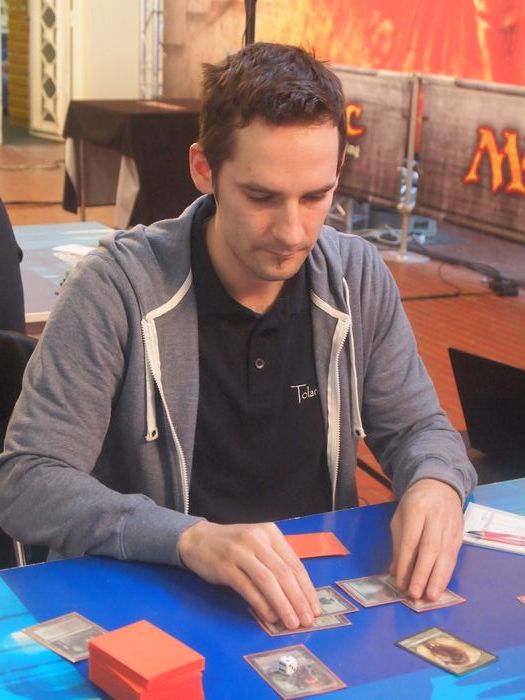 Hi Petr, first obvious question:  how is it going today?
It's actually quite bad, my opponents always seem to have the best draws today. I'm 8:6 at the moment after the 7:2 in the day 1.
 
What were you playing against?
Affinity, Jund, Twin, Living End a some crazy Monoblack Pox – the only win was against Affinity.
 
How did you come up with the idea of playing monogreen? No one really played it before and it didn't seem much exciting at all...
I saw some decklists on the internet with cards like Genesis Wave and Primeva Titan. But the key card is Nykthos. I really love it, I started to test with it as soon as Theros spoiler was introdused and I tried to come up with a deck that can really abuse it!
My first version of the deck has stuff like Titans, Tooth and Nail and Kessig Wolf Run, but the deck just really didn't work together. It's really important to have Nykthos in each game as soon as possible, so I came up with idea of splashing Knight of the Reliquary and it was much better than Titans. Than I saw some deck with the 4/5 creature for GGG, so i tried it, but it wasn't really that exciting. Finally I saw Wistful Selkie, which was the card deck really needed, because it's all pretty much about devotion and this is "free" three points of devotion .
 
How does play deck performs? Is it consistent, like casting T3 Behemoth?
Well, I think I actually cast three times T3 Behemoth during the tournament. But most of my opponents have lots of removal, so they usually screw up my plans. But the possibility of casting T3 Behemoth is almost in each game!
 
How about your good/bad matchups?
The best matchups are with deck that doesn't have many cards that interact with opponents, like Kiki Pod, it just playes some small creatures and I'm usually faster than they are. Really rough matchup is Twin, becasou it can tap my mana dorks and plays a lot of Burn spells. The Jund matchup depends on how much removal he has in his opening hand. I guess UWR is rough matchup too, but I didn't play a single game against it... 
 
How do the opponents react when they find out what deck are playing against?
In the first game, they usually don't know what's going on, so I catch them unprepaired with Tooth and Nail for double Behemoth and so on :) But after sideboard, they already know that they are facing and kill my mana dorks...
 
Moving to sibeboard – I noticed you have a pair of Swords of Body and Mind. Why did you choose to play them?
It improves the Jund and UWR matchup, because it creates more threats they have to answer. But i'm not too happy with my sideboard at all...
 
So you which changes would you make?
As I already mentioned – more cards against Jund and UWR. Maybe something like Defense Grid or Fecundity. I'm even thinking of cards like Thorn of Amethyst and Thalia right now.
 
Do you have some funny situation from GP you want to share with us?
Yop, day 1 I played against the green-white hatebear deck. My opponent started the game like T1 tapped shockland and T2 Leonin Arbiter, so I just hardcasted Hoof and killed him on turn three :)
 
Are you looking forward to playing  more tournaments with the deck?
Unfortunately not, because pretty much all european GP are going to be limited, so there will be no big opportunity...
 
OK, so thank you very much for the interview and crush your next opponent with some T3 Hoof!

For CMUS.cz, Jakub Havelka and Petr Brožek.

Komentáře
Přispívat mohou pouze přihlášení uživatelé. Pokud chcete vložit komentář, přihlaste se ZDE.