Modern
Rozbor Dredge na Modern
Máme zde rozbor dalšího balíčku na Modern a tentokrát se mrkneme na Dredge. Pokud holdujete hřbitovu a rádi si zakombíte, tak tento balíček určitě nepřehlédněte. V tomto článku sis jej pěkně rozebereme, řekneme si, jak jej hrát a jak zvládnout matchupy.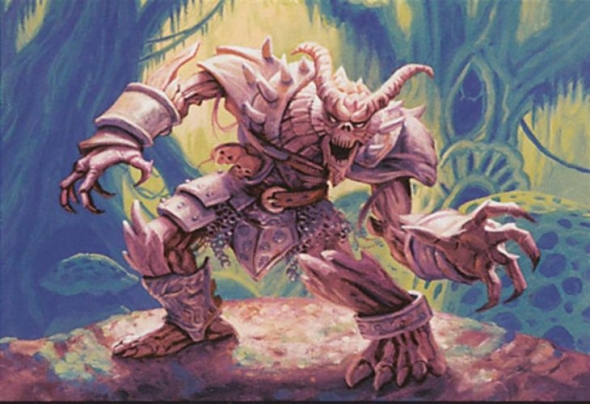 Idea balíku existuje už od první Ravnicy, kdy se samotná ability objevila. Balík je v několika variacích (Ichorid, Manaless a další) oblíbený tier 2 až tier 3 na Legacy a Vintage (zde těží z opravdové bomby – Bazaar of Baghdad), nicméně v Modernu má dle mého možnost probojovat a usadit se mezi stálicemi formátu. Tomuto scénáři nasvědčuje i to, že Wizardi evidentně mají k balíku pozitivní vztah, jelikož i přes spoustu diskusí o tom, že balík postihnou bany, není tomu tak.
První pokusy o Dredge byly už v roce 2013, ačkoli nešlo o Dredge klasický, nýbrž o jeho variaci s Vengevine. Balík ačkoliv má docela jiný styl i způsob hraní, zaslouží si v tomto článku podle mě objevit:
Upřímně nevím, jestli bych měl odvahu hrát cokoli propojené s graveyardem v době, kdy byl legální Deathrite Shaman :o).
Balík funguje zcela jednoduše, zahodit do hřbitova potvory, které z něj umějí vyskakovat (včetně All-star Vengevine), a poté je, klidně víckrát, vyslat do boje. V pozdějších podobách balíku se objevuje více enablerů – Grisly Salvage, Hedron Crab, Satyr Wayfinder a další.
Pokusy o vytvoření úspěšného Dredgevinu ovšem skončily, když se začal objevovat Dredge v klasičtější formě. Stalo se tak po odbanování nejdůležitější karty balíku: Golgari Grave-Troll, ačkoli pokusy byly, balíku chyběla konzistence a dostatečný počet potvor, co umí efektivně skákat ze hřbitova. Tento problém vyřešili Wizardi vydáním ideální karty, zapadající do naší strategie – Prized Amalgam. Tímto hráči Dredge získali dostatečný počet creature, aby balík mohl úspěšně fungovat.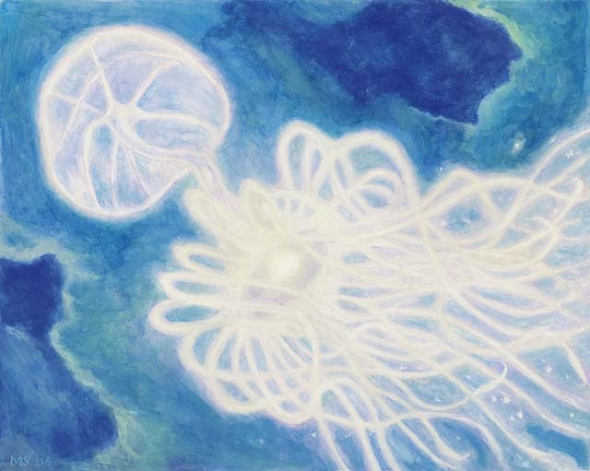 Představení balíku Dredge na Modern

Všechny karty v balíku bych rozdělil na několik skupin, na které se mrkneme.
První skupinou jsou samozřejmě země. Manabase se u různých verzí balíku liší, někdo dává preferenci pětibarevným zemím, jakožto Gemstone Mine, Mana Confluence a jim podobné. Klasičtější přístup ovšem je v zařazení osmi kopií fast landů – Blackcleave Cliffs a Copperline Gorge, 2 až 3 Dakmor Salvage (která je jednou z nejdůležitějších zemí v balíku, jelikož se umí vracet z hrobu), čtyř až osmi fetch landů – Wooded Foothills a Bloodstained Mire, a nakonec dva až čtyři shock landy a basicy – Stomping Ground, Blood Crypt, Mountain. Důležité je pamatovat si, že hlavní barvou v balíku je rozhodně červená, a dbát na to při sestavování manabase.
Další skupinou karet jsou grave enableři, tedy způsoby, jak dostat karty, které chceme mít v gravu tam, kam patří. Zcela nejlepší je bezesporu Faithless Looting, v prvním kole nám pomáhá dostat do hřbitova naše winkondice nebo karty s Dredge mechanikou, v pozdějších kolech oceníme možnost zahrát kartu podruhé, kdy by měla aktivovat Dredge a přenést klidně i 1/5 balíku z knihovny do hřbitova. Dalším novým přínosem pro balík je Insolate Neonate, který umí sám zahodit a rovnou i dredgnout kartu z ruky (ideálně Trolla). Další výbornou kartou je Conflagrate, který umožňuje nejen zahodit potřebné karty do hrobu, ale také odstřelit soupeřovo potvoru/y nebo ho rovnou ''dostřelit'' do hlavy. Určitě se nestyďte jí hrát za R s X = 0, je to zcela klasické použití. Dále tu máme široké spektrum karet, co umí stejně věci buď hůře, nebo přinášejí více randomu, z nichž si každý vybírá to, co mu vyhovuje více dle složení balíku a osobních preferencí: Shriekhorn, Collective Brutality (nový přínos, který v tomto balíku umí spoustu věcí, ale občas je docela pomalý), Tormenting Voice, Lightning Axe, Goblin Lore, Burning Inquiry (tato věcička umí opponentu buď hodně poškodit plán hry, nebo mu to naopak zlepšit, záleží na vašem luckpoolu :o)).
Nejdůležitější skupinou karet jsou samozřejmě ty, co na sobě mají to kouzelné slovíčko Dredge, jimiž jsou: Golgari Grave-Troll, Stinkweed Imp a Life from the Loam. Občas se hrajou i slabší verze, které mají Dredge pouze 4, ale to bych nedoporučoval, jelikož by nám mělo stačit 8 kopií těchto karet + Loam. U těchto karet se dá něco říct jen o Loamu, jelikož Troll i Imp nepotřebují komentář, snad jen ten, že se může občas stát, že je budete muset zahrát z ruky. Není to úplně obvyklé, ale určitě se toho nebojte, kolikrát vám v protáhle hře nějaký 8/8 Troll vyhraje hru sám o sobě. O Loamu ovšem je potřeba zdůraznit několik věcí. To totiž zdaleka není jen karta s Dredge, umí taky vracet potřebné země ze hřbitova → spouštět Bloodghasta (i s Prized Amalgamem), nebo nabrat potřebné množství karet pro Conflagrate. Celkově způsobů použití této karty je obrovské množství a budete je postupně objevovat v určitých situacích, když s balíkem budete hrát. Pokud očekáváte větší množství creature-based strategií, dá se zařadit i Darkblast.
Lust but not least, máme tu skupinu winkondicí – Prized Amalgam, Bloodghast, Narcomoeba jsou ty klasické. Při hraní balíku musíte uvažovat o tom, co může mít soupeř a jak to obehrát, takže určitě není vždy správné vysypat z hrobu všechno, co se dá, pak totiž může přijít například Anger of the Gods a jdete ''na párek'' :). Mezi další se dají zařadit Bridge from the Below a Haunted Dead, první si zaslouží článek sám o sobě, ale z důvodu většího množství removal spellů a také většího množství hraných potvor na Modernu, než ostatních Eternal formátech, já Mostu moc nevěřím a osobně bych vám nedoporučoval začínat hrát tento balíček s nim, jelikož s nim se deck stává několikanásobně těžší záležitostí na správné ovládání. Až budete mít balík nahraný, usoudíte sami, jestli tuto kartu potřebujete. Co se týče Haunted Deadu toho nelže říci mnoho, umí se sám vytáhnout z hrobu, ale je vcelku pomalý. Ovšem pokud budete mít pocit, že winkondicí nemáte dostatek, zvažte, zařazení této karty do balíku.
Sideboard
Co se týče sideboardu – musíme si pamatovat na to, že při výměně karet po první hře nejde zdaleka o to, co přidáme my, nýbrž o to, co přidá náš protihráč. Naše matchupy se odvíjejí mnohem více od toho, co na nás má přichystaného soupeř v záloze, než od jeho samotného balíčku, jelikož první hru bychom měli umět vyhrát proti čemukoli (samozřejmě, občas prohrajete vlastnímu balíčku, ale o tom se teď nebavíme). Takže při sideboardu musíte správně přidat odpovědi na hate od protihráče (nejklasičtějšími z nich jsou: Leyline of the Void, Rest in Peace, Relic of Progenitus). Takže sestavování sidu začíná především zařazením 3-5 Nature's Claim/Natural State. Poté přidáme 3-4  Leyline of the Void proti mirorům a 2 Gnaw to the Bone proti nejrůznějším agresivním balíkům, kde primární je Naya Burn (protože umí být rychlejší než my). Pokud Gnaw jednou zahrajete ve správnou chvíli, proti většině agresí to znamená výhru. Doporučuji aktivně obehrávat soupeřův Skullcrak/Atarka's Command, aby vám nezmařil všechnu snahu. Také by se v sidu mělo objevit několik kopií Ancient Grudge, jako ideální (pro náš balík) odpověď na artefakty. Po tomto všem nám nezbývá mnoho slotů, a většinou je zaplní následující karty: Abrupt Decay (další odpověď na hate proti nám a nejen to), Collective Brutality (proti Burnu i kontrolům), Spellskite (Suidice Zoo, Infect), Darkblast/Lightning Axe (aggro decky). Někdo (včetně mě) má rád v sidu discard, protože umí narušit plány jak kontrolům, tak combo balíku. Hlavní pravidlo při sestavování sideboardu je následující: Jelikož chceme hrát tak, že po úvodní ruce si nelízneme žádné karty (jelikož je budeme Dredgovat), karty, které sidujeme, musí být možné zahrát z hrobu, nebo zařadíme 3-5 kopií, aby nám přišly na úvodní ruku!
Jak hrát Dregde?
Dredge ve své podstatě funguje v celku jednoduše, v prvních kolech se snažíme zahodit do hrobu dredgery nebo creature, co se umí z hrobu dostat na battlefield. V dalších kolech místo draw karet (nejen za kolo, ale například za Looting a další obdobné karty) karty dredgujeme, čímž se do hrobu dostávají další dredgery a další creatury co pak skákají na bojiště. Tímto způsobem soupeře utlučeme. Nekoukejte na to, že potvory jsou 3/3, 2/1 a 1/1, jelikož většinou se jich na bojišti ocitne tolik a takovou rychlostí, že se to stihnout skoro nedá + oni se pak z toho hrobu umějí i vracet. Případně nám ke killu pomůže Conflargate nebo Rally the Peasants.

Decklisty balíčku

Tady je několik už sestavených decklistů:
Rozbor matchupů
Jak už je psáno výše, není takový rozdíl, proti čemu konkrétně hrajeme, protože si vždycky jedeme svoje. Samozřejmě, že se to přeci jen trochu liší, a máme logický horší matchup proti: Tronu (jelikož má grave-hate i v první hře v podobě Relic of Progenitus) a také balíkům, které umějí být rychlejší než my: Infect, Suicide Zoo, občas Affinity a Burn – ve všech těchto případech je to opravdu hodně o hodu kostkou. Také to nemáme úplně jednoduchý proti balíkům, co umí rychle ukončit hru a do toho zasahují do našeho plánu, jimiž jsou například Scapeshift (klasický nebo RG) a Abzan Company. To co se týče první hry. Druhá a případně třetí hra se odvíjí od toho, jestli soupeři přišel hate, jestli na ten hate máme odpověď a jestli ho stíháme zabít rychleji než on nás. Já osobně mám rád v main-decku jednu Steam Vents, abychom mohli proti pomalejším balíkům hrát Moeby a Amalgamy z ruky, pokud nás oponent zalockoval hatem.
Moje myšlenky
Pokud budu mluvit za sebe, mě se tento balík při testování líbil natolik, že po XY hodinách odehraných s ním online, jsem si ho vzal na PPTQ a uhrál s ním třetí místo. Není to rozhodně žádná obrovská zásluha, jelikož na turnaj dorazilo něco kolem 20 lidí, nicméně pokud bereme v potaz obtížnost na správné hraní, měl jsem docela radost. Deck, ačkoli se to nezdá, je docela zábavný a příjemný na hraní a rozhodně ho doporučuji lidem, co chtějí zkusit něco nového a neobvyklého.
Příště se podíváme na to, co nového nám přinesl Kaladesh, a že toho je kopec vážení :o).
Magicu zdar a nezapomínejte na triggery!
David Gertsovskiy
Komentáře
Přispívat mohou pouze přihlášení uživatelé. Pokud chcete vložit komentář, přihlaste se ZDE.