Standard
Abzan Midrange - stálice nového Standardu?
První týdny po rotaci je zpravidla nejvíce pozornosti věnováno novým kartám, nicméně jedno je jisté - i po rotaci bude Siege Rhino skvělá karta, kterou není radno podceňovat.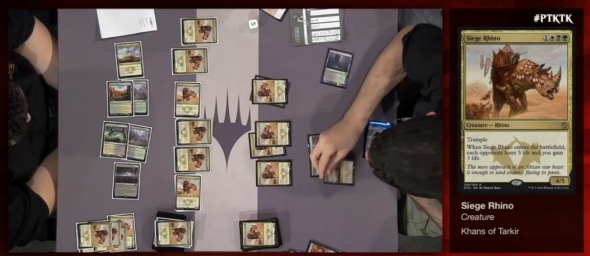 Ještě před samotným začátkem se hodí uvést několik odkazů, díky kterým si můžete připomenout, jak se Abzan vyjíjel za poslední dva roky (ani se mi nechce věřit, že už ho hraju tak dlouho):

Na začátek mi přijde ideální připomenout, jak vypadala poslední verze před rotací, k čemuž asi nejlpe poslouží kontrolní verze Setha Manfielda, se kterou vyhrál titul mistra světa:
Když pominu země, tak z maindecku odrotovalo šest karet, což není nijak velké číslo. V sideboardu to pak je dalších pět karet. Celkově to je 17 karet z mainu a osm sidovek.

Z toho jsou ale pouze dvě karty, které v Battlu for Zendikar nemají žádnou adekvátní náhradu. Je to samozřejmě Thoughtseize a Elspeth. Hlavně Elspeth byla velmi specifická karta, kterou přímo nic nenahradí. Samozřejmě máme ale k dispozici několik nových karet, které jsou skvělé v lategamu a umí vyhrát hru samy o sobě. Thoughtseizu budeme nejvíce postrádat proti kontrolům a v grindy matchupech, ale na druhou stranu to můžeme vyřešit přidáním většího počtu karet jako Duress do sidu. Bez Thoughtseize se také otevírá více prostoru pro zajímavé karty, které se předtím neměly šanci prosadit. Ideálním příklad takové karty je třeba Valorous Stance.

Pojďme se teď podívat, jaké nové karty máme k dispozici:


Tahle dvojice nových planeswalkerů je do Abzanu jako dělaná. Oba jsou skvělí do lategamu, poskytují dlouhodobou karetní výhodu a budou výborní proti kontrolům a jiným midrangům.


Jediné dvě zajímavé bytosti jsou dva zelení pašíci. Greenwardenka má podle mě tak velkou value v lategame, že je naprosto jasné, že se uchytí. Šest man je ale docela dost, takže dva kusy by měly být akorát. 

Wanderer sice umírá na každý removal a nepřináší žádnou extra value, ale splashe jsou teď doslova free, takže by nemělo být těžké mít pravidelně 6/6 tramplera za čtyři many. To je sice skvělý poměr, nicméně kvůli tomu, že proti removalu je úplně bezbranný, bych dal přednost verzi s více planeswalkery.


Po odchodu Hero's Downfallu musíme hledat nový instatní removal, který nás zbaví hrozeb jako Dragonlord Ojutai, Mantis Rider, nebo Shabling Vent. To sice nejlépe splňuje Stasis Snare, ale z myšlenky, že bych měl hrát de facto horší verzi Murderu, rozhodně nejsem nadšený. Osobně beru jako hlavní instant-speed removal Abzan Charm a další podmíněné removaly hraju v méně kusech. Pokud ale bude hrozit zvýšený výskyt haste bytostí, tak dost možná u toho Stasis Snaru stejně skončím...

Ruinous Path je sice sorcery, ale stačilo pár testovacích her a bylo hned jasné, jak silný je v lategame Awaken 4. Často se stane, že dá soupeř flashback Jacem a nechá si jednu bytost do bloku, a v takovýchto situacích je Path přímo ukázková výměna dva za jedna. A i kdyby Path neměl awaken, tak stejně bude schopnost zbavit se planeswalkerů velmi potřebná.

Poslední novinkou je Quarantine Field, což je karta, která bude podle mne hodně závislá na metagame. V lategame může vyhrát hru při boardstallu, ale musíte mít jistotu, že se jí soupeř nedokáže zbavit, jinak se může snadno otočit proti vám. Pokud se bude hrát hodně Dromoka's Commandů a Utter Endů, tak bych Field rozhodně nehrál. V opačném případě bych dal pár kopií do sidu pro grindy matchupy.


Sice nám odrotovaly Temply, ale nová dvojka nám jako náhradu přináší hned několik zajímavých utility landů. Největší pecka je bezpochyby Shambling Vent, které bych se nebál přirovnat ke Creeping Tar Pit. Často se totiž stane, že dáte Languish a pak Ventou doťuknete soupeřova planeswalkera. Nebo tušíte, že soupeř drží kántrspell, tak nic nezahrajete a projedete ho... Další skvělé použití bude jako stabilizace proti aggrům. Největší chuťovka je ale spolupráce s Ruinous Pathem.

Další dvě zemky jsou na první pohled docela nenápadné, ale dokáží udělat spoustu černé práce. Blighted Fen je geniální odpověď na Silumgara. Dříve bylo nutné dát do sidu Crux of Fate, nebo Foul-Tongue Invocation, ale teď máme možnost se de facto for free zbavit jedné z nejlepších karet proti našemu decku. Mortuary Mire má relativně nepříjemný drawback v podobě taplého příchodu do hry, ale byl by hřích nehrát v decku se Siege Rhinem a Den Protectorem alespoň jednu.


Na začátku jsem psal o tom, že se nám otevřel prostor pro pár karet, které se dříve do decku nevešly, ačkoli šlo o kvalitní kousky. První taková karta je Utter End - instantní removal je potřeba proti Ojutaiovi (a proti Havenu je exile velmi relevantní), ale hodí se i na Hangarbacka, planeswalkery a další permanenty, kterých se jinak špatně zbavujeme, například Sphinx's Tutelage, nebo Outpost Siege. Nevýhoda je, že je špatný na červená aggra a že nemůže zničit oživenou zemi.

Valorous Stance je další pěkná odpověď na Ojutaie, ale i na další velké hrozby jako Wingmate Roc, Siege Rhino, nebo další dragonlordi. Schopnost ochránit bytost před zabíjením je také velmi užitečná, zejména pokud se soupeř zatapuje do sorcery speed removalu typu Crux of Fate, nebo Ruinous Path.

Dále je tu Sorin, který je samozřejmě nejlepší proti agresivním deckům, ale zajímavý je například i v mirroru, kde zaručí, že naši nosorožci mohou projít přes soupeřovy. Kontroly jako Esper Dragons zase skoro nemůžou porazit ultimátku.

Mezi další možnosti patří ještě Murderous Cut a Reave Soul. Cut bych hrál v případě, kdy nehrajete Sandsteppe Citadely a máte alepoň osm feček. Reave Soul je pak spíše metagame call. Pokud očekáváte hodně aggra a Jaců, pak bych ho klidně dal do mainu, v opačném případě bych ho nechal v sidu.


Velmi složité nyní bude postavit správnou manabase. První důležitá věc je, že nejlepší fetchland v Abzanu už není Windswept Heath, ale Wooded Foothills, který teď umí fixovat všechny tři barvy, zatímco pomocí Heathy nelze najít černý zdroj. Další složitá otázka je, jestli má cenu hrát Sandsteppe Citadely, nebo je lepší hrát více feček a pár offcolor duálů. Pokud se rozhodnete pro druhou možnost, tak se navíc otevírá možnost hrát v sidu Radiant Flames, což by mohl být rozhodující faktor.

Na závěr si ukážeme dvě možné verze, v závislosti na složení manabase:

A to je pro tentokrát vše. Příště se můžete těšit na Flash News, ve kterých se podíváme na výsledky prvních turnajů s novými kartami.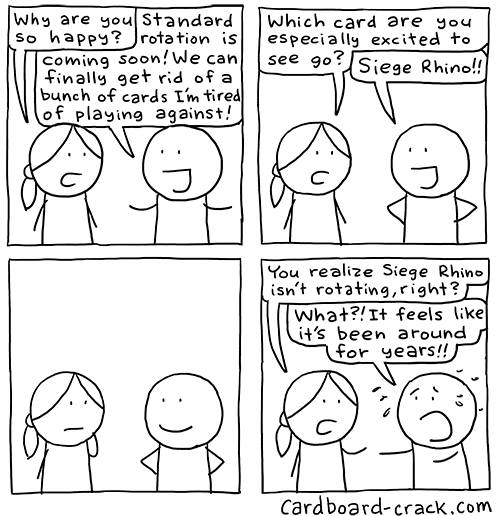 Komentáře
Mohu se zeptat co znamená rotace?
0 hlasů
Rotace je termín, který označuje proces, kdy při vydání nové edice odchází z daného formátu jiná edice (nebo více edic) a již na něm nejsou legální. Více informací např. zde http://www.gatheringmagic.com/news-...
0 hlasů
Přispívat mohou pouze přihlášení uživatelé. Pokud chcete vložit komentář, přihlaste se ZDE.