Standard
Brewing s Eldritch Moonem
Pro začátek tu mám desítku standardových brew a poté čtyři modernové. Mějte také na paměti, že většina decků jsou pouze hrubé náčrty a zejména v manabázích mohou být nedostatky.
1. Vampires
Po zveřejnění spoileru SOI zkouela spousta hráčů postavit Vampýry, leč žádného velkého úspěchu se s nimi nikdo nedočkal.
Nyní ale dostali několik nových posil a zejména jednotlivé madness synergie nyní vypadají konečně dobře. Když všechny karty, které discardnete do Heira a Stromkirk Condemned zároveň zahrejete, tak deck působí velmi silně. Kvůli madness synergiím a maximální agresivitě jsem zařadil i Alms of the Vein, ačkoli nevím, jestli je to lepší než třeba Lupine Prototype.
Z nových karet mě v decku také pozitivně překvapila Collective Brutality, což je parádní madness enabler a zároveň velmi uřitečná karta. Klidně bych si dokázal představit, že bych hrál více kopií.
2. UW Flash
UW Flash byla vždycky populární strategie a pokud vám tento herní styl vyhovuje, tak máte určitě velkou radost ze Spell Quellera, který v kombianci s Avacyn a Wandererem tvoří ideální základ pro deck. V podstatě už k tomu stačí přidat jenom pár removalu a kántrování...
Interakce, která určitě stojí za zmínku, je Avacyn + Selfless Spirit, což je nejsnažší způsob, jak porazit creature decky typu Bant Company a White Weenie. Vzhledem k tomu, jak jsou dominantní, by možná nebylo od věci hrát Spirita také v playsetu, nebo případně hrát Planar Outburst/Tragic arrogance maindeck.
3. Evolution Rites
Deck, který se původně objevil na PT Shadows over innistrad jako skvělá odpověď na Company decky, které neměly moc způsobů, jak zastavit Nantuko Huska v kombianci se Zulaport Cutthroatem.
Postupem času se v decku začalo hrát kombo s Displacerem a Brood Monitorem a dokonce i Dragonlord Atarka s Nahiri a Reality Smasher.
Aktuálně tu máme dvojici nových karet, které bych v decku velmi rád vyzkoušel. První je Decimátor, což by měl být hlavní trumf v souboji Company a druhá je Eldritch Evolution, díky kterému můžeme hrát pěkný toolbox s kartami jako Liliana, Nissa, TKS, Smasher a taky Sidisi, která v kombianci s Evolucí představuje trochu kostrbatější způsob toho, jak si najít Decimátora (přijde mi to lepší než hrát dva, protože to je karta, kterou opravdu nikdy nechcete na úvodní ruce). A s Evolucí je zároveň skvělý Reshaper, kvůli kterému jsem do decku přidal více bezbarvých zdrojů.
Největší nevýhoda bohužel je, že Evoluce je opravdu mizerná proti proti Spell Quellerovi, kterého se deck zároveň neumí nijak rozumně zbavit.
4. Zombies
Z dřívějška jsem tak nějak zvyklí, že Zombie jsou agresivní deck, nicméně v aktuální podobě jde spíše o kontrol, který má velmi silnou lategame díky kartám jako Cryptbreaker a Gisa and Geralf.
Zajímavé je, že většina bytostí je velmi dobrá sama o sobě, ale navíc je mezi nimi spoustu fajn synergií, které nejlépe enabluje Gisa s Geraldem, ať už jde o zakopání Prized Amalgámů, nebo nekonečná smyčka s Fleshbag Marauderem.
5. RG Tokens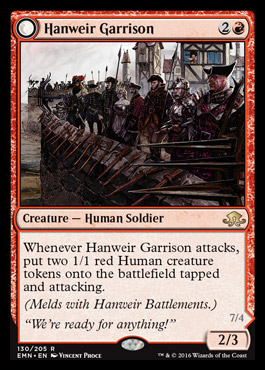 RG verze tokenů získala velké posily v Hanweir Balltements a Hanweir Garrison, ale osobně si myslím, že úplně nejlepší z nových karet by v decku mohl být Ishkanah, jelikož díky Hangárům by mělo být snažší dosáhnout deliria. A decku se také výrazně zlepšil removal.
Jediné, co mě trochu mrzí je, že Hanweir Garrison se příliš nedoplňuje s Arlinn a Nissou.
6. Bedlam Red
Jedna z mých nejoblíbenějších karet pro brewing je Bedlam Reveler. A jeden ze způsobů, jak ho dobře využít na standardu, je ho zkombinovat s burn spelly, kterých už teď máme na standardu relativně dostatek, ačkoli většina z nich jsou sorcery, což není zdaleka ideální.
Tenhle deck má velmi přímočarý plán, zezačátku ubrat soupeři pár životů za pomocí malých bytostí a poté ho dorazit blesky, které nám ideálně pomůže nalízat Reveler.
Otázka samozřejmě je, jestli by Reveler nebyl lepší ve více midrange verzi s Pyromancer's Goggles, Tormenting Voicem apod...
7. BUG Emerge
Pěkná build-around mechanika je samozřejmě emerge. Nejlepší dvojice emerge bytostí je Elder Deep-Fiend a Distended Mindbender.
Ideální je podle mě spárovat je se zelenou, která nabízí mana akceleraci v podobě Dearthcap Cultivatora a nejlepšího enablera v podobě Foul Emissary (emerge bytost vám pomůže najít a poté se do ní obětuje a ještě udělá token!).
A abychom mohli hrát emerge bytosti po křivce, tak tu jsou ještě další třímanovky v podobě Skyspawnera a Reshapera. K tomu pak stačí přidat další disrupci v podobě Transgressu a Pathů a máme hotovo.
Za zmínku ještě stojí Sanctum of Ugin, které pomůže nachainovat Deep-Fiendy a popřípadě může najít i Drownera s Thought-Knot Seerem.
8. Esper Superfriends
Další nová karta, kterou bych velmi rád vyzkoušel, je Oath of Liliana. Kombinace planeswalkerů a Languishe je pořád dobrá, ačkoli si nyní musíme dávat větší pozor na Spell Quellera.
Upřímně si nejsem jistý, jestli stojí za to hrát Jace, nicméně kromě toho, že dodává větší konzistenci, přináší modrá možnost hrát kántrování v sidu, což mi přijde jako velké plus. A pěkná interakce je také mezi Jacem a Lilianou, která může odemlít karty pro Jacůvflashback, což se může hodit například pokud potřebujete nutně zahrát Languish, nebo Ruinous Path.
9. UR Prowess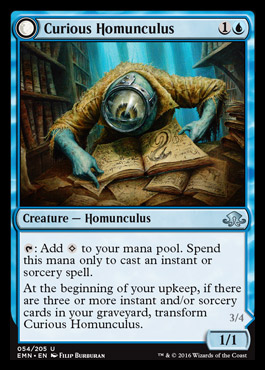 Deck, který využívá nových karet opravdu na 100%. Největší otazník vidím nad Věcí v Ledu, která se vůbec nedoplňuje s osatními bytostmi, ale na druhou stranu je dost dobrá proti Bantu. Jako připadnou alternativu bych viděl Abbota.
Velmi podceňovanou kartou jsou také Fevered Vision, které dokáží vyhrávat hry samy o sobě, ačkoli jsou ale jinak slabší proti Dromoka's Commandu.
10. GB Aggro
Už jsem zmiňoval, že delirium by šlo hrát i jako čistokrevné aggro a tady je první náčrt toho, jak by to mohlo vypadat. V podstatě hrajeme ty nejagresivnější bytosti v barvách a k tomu nejlepší removal.
Věřím tomu, že v decku by mohl být o něco lepší Noose Constrictor, než Sylvan Advocate, jelikož může pomoci aktivovat delirium, což může být použito například i jakožto kombat trik s Flayerem a Dryádou.
11. GW Company
Teď se přesuneme na modern, kde bych začal s jedním z mých pet decků, což je GW company, konkrétně pak verze, která se snaží hrát maximální množství hatebearů jako Thalia, Voice a Vryn Wingmare.
V minulosti jsem hrával build hodně zaměřený na Relikviáře, ale to se změnilo s vydáním Duskwatch Recruitera, který umožňuje hrát dlouhé grindy partie. Jako hlavní karta, která by vás měla odměnit za hraní nepřeberného množství bytostí, je tu Gavony Township, kterou bych v takové verzi decku hrál rovnou v playsetu.
12. Werewolf Affinity
Affinita patří od nepaměti mezi modernové stálice a v posledních letech do ní stále vycházjí zajímavé karty, ať už to byl třeba Ensoul Artifact, Ghirapur Aether Grid, nebo Hangarback Walker.
Aktuálně nám na tenhle seznam přibyl Lupine Prototype, který je podle mě lepší, než všechny předchozí kusy. Je totiž poměrně jednoduché deck upravit tak, aby křivka končila na dvou manách a Prototype bude v takové verzi regulérní 5/5 za dvě many.
Super mi na něm přijde zejména, že neprotřebuje žádné další karty k tomu, aby byl super v kombatu a také že obchází Stony Silence, což je aktuálně asi nejhranější artefakový hate. No a v neposlední řadě pak můžete svůj deck názývat Werewolf Affinitou, což mi přijde jako super jméno :)
13. Bant Eldrazi
Novým směrem se můžou vydat i Eldrazi, kteří do vínku dostali Deep-Fienda, což je skvělá interaktivní karta, která bude nekompromisní zejména s Cavernou, která toho v kombinaci s tím, že Fiendův trigger vyresolvuje ještě dříve, než se dostane do hry, soupeři nedovolí příliš udělat. Pokud zahrajete všechno po křivce a zakončíte to Fiendem, tak by to ve většině případů mělo bez problémů stačit k výhře.
Deck ale není nafukovací, takže je potřeba něco vyhodit (a mírně upravit manabase). Osobně bych k Fiendovi chtěl ještě další třídrop, který mi nebude vadit obětovat, takže bych zařadil i Skyspawnera a vyřadil bych Spellskity a displacer/Drowner kombíčko.
Je pravda, že Displacer je v nětkerých matchupech k nezaplacení (například proti Infectu), ale podle mě by nebyl problém hrát pár extra kousků v sidu.
14. RG Tron
Přiznám se, že Tron z hloubi duše nesnáším, protože se v podstatě jedná o antimagic (hrajete si v podstatě to svoje a chcete soupeři znemožnit jakoukoli interakci), nicméně přišlo mi divné sem nedat ani jeden deck s Emrakulkou.
Ta bude bez Eye of Ugin mnohem lepší finisher než původní Emrakul (stejně se v poslední době vyměnil za Ulamoga). K tomu, abychom jí mohli stabilně zahrát bych zkusil hrát více Sanctum of Ugin a Traverse the Ulvenwald, která by s Lightning Bolty a fečkami měla v pohodě fungovat jako tutor.
A to je pro dnešek vše. Příště se můžete těšit na pořádnou porci Flash News!
Kumano
Komentáře
Přispívat mohou pouze přihlášení uživatelé. Pokud chcete vložit komentář, přihlaste se ZDE.