Standard
Pohled na Standard s Ravnica Allegiance
Lukáš Paugsch si pro vás připravil rozbor raného Standardu s novou sadou Ravnica Allegiance a vytipoval adepty na Tier 1 decky.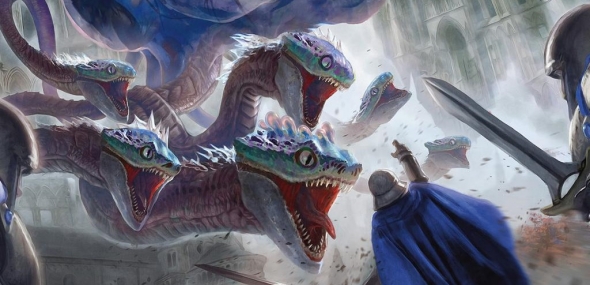 Pohled na Standard s Ravnica Allegiance
Máme za sebou release novej sady a prvé výsledky. Poďme sa pozrieť, ktoré decky sa pravdepodobne zaradia do Tier 1 nového formátu.
Sultai Midrange
Čo sa stane keď do najlepšieho balíku z minulého formátu nasplashujeme najlepší mythic z novej sady?
Vďaka tomuto samcovi sa Golgari už nemusí obávať floodu. Midrange matchupy budú definované tým, kto zahrá viacej a väčších Krasisov. A proti controlu sa možno na board nedostane, ale counterspell jeho polovičnú Sphinx's Revelation nezastaví. Aj proti agresívnym balíkom, kde takéto karty zvyčajne nie sú veľmi dobré, vie aspoň stabilizovať a nastaviť rýchly clock.
Splash modrej okrem toho ešte trochu doladí sideboard. Ku Duressu pribudne aj Negate/Disdainful Stroke a ešte viac zlepší matchup s controlom a combom. Aggra sa tiež netreba obávať, playset Wildgrowth Walkerov vie podržať, naviac máme lifegain z Krasisa a Contemptu a veľa lacných príšer na podhodenie. Myslím, že tento balík sa nikam nechystá a budeme mať tú radosť hrať s ním a proti nemu po dĺžku celého formátu.
Esper Control
Nielen Golgari dostal nové hračky. "Esper Mana Symbol Tribal" síce vyzerá že by nemal fungovať, no zrejme je mana proste tak dobrá, že UUW a WWBB spelly v jednom balíku nepredstavujú žiadny problém.
Absorb je veľmi silný Cancel. 3 životy sa nezdá ako veľa, ale keď je kontrol pod tlakom, často sa dostáva do situácií, kde musí robiť neoptimálne playe aby prežil. Vďaka Absorbu môže liberálnejšie využívať svoje životy. 4-manový Wrath of God tiež poteší. Teferi sa stal už Modern a Legacy staple kartou, čiže na standarde tiež ujde. Mortify ponúka decku poistku proti otravným enchantmentom ako Experimental Frenzy alebo nový Wilderness Reclamation.
No ale okrem týchto kariet si môže Esper doplniť zvyšných 20 ako chce. Na doplnenie removalu máme Cast Down, Moment of Craving, Eldest Reborn, Vraska's Contempt. Counterspelly ako Negate a Syncopate. Card Advantage karty ako Chemister's Insight, Notion Rain, Azcanta, Dawn of Hope, dokonca niektorí blázni skúšajú aj Precognitive Perception. Každý si môže tieto ingrediencie namiešať podľa vlastnej chuti, správna odpoveď zatiaľ neexistuje.
Som si takmer istý, že tieto dva balíky uvidíme na top stoloch počas celého formátu. Naviac sa im v prvých turnajoch formátu (MTGO Standard PTQ a SCG Standard Open) najviac darilo. Nasledujúce balíky sú buď úplne nové, a tým pádom ešte nedopečené, alebo sa im darilo trochu menej.
Mono Red
Chainwhirler tiež dostal posily. Najmä ide o nový bolt, Skewer the Critics, a červený ancestrál (alebo Thoughtcast) Light up the Stage. Ale aj keď tieto karty sú fakt silné, výsledky Mono Redu boli prvý týždeň netradične slabé. Väčšinou na začiatku dominuje, keďže ostatné balíky sú ešte nedostavané. No príde mi že tentoraz robí zvyšok formátu veľmi silné veci, a náhodou pri tom získava ešte veľa života. Esper má Absorb, Moment of Craving a Vraska's Contempt. Golgari/Sultai má Wildgrowth Walkera a Krasisa. Ostatné balíky sú na tom podobne, skoro v každom nájdete life gain v main decku.
Myslím si, že Mono Red je príliš silný a populárny na to, aby sa nehral vôbec, ale nemám pocit že bude top voľbou pre tento formát.
Wilderness Reclamation
Sada poriadne ešte ani nevyšla, a mnoho ľudí si už myslí, že táto karta dostane ban. Ak viete hrať instantne, je prakticky zadarmo, a každé ďalšie kolo je to free untap step naviac. No je tu jeden problém - postaviť okolo nej balík je dosť ťažké. Ak radi robíte nefér veci a tešíte sa, keď sa váš oponent nemôže zapojiť do hry, teraz je váš čas ukázať svetu svoj geniálny deckbuilding, lebo s touto kartou sa dá robiť všeličo.
Bant Nexus
Toto je Nexus deck aký sme už videli, iba vylepšený novou dvojmanovou rampou Growth Spiral a samozrejme s Reclamation. Inovácia a fantázia sa však lepšie prejavuje v tomto deckliste:
Nexus of gates
V tomto balíku nám netreba nejakého špatného Teferiho a fogy. Miesto toho hráme Guildgates! Gates Ablaze je prakticky 3 manový Wrath of God. Guild Summit ťahá kartu za každú položenú Gate - čiže aj tie položené cez Growth Spiral alebo Circuitous Route.
Plán balíku je vyrampiť sa na 7 many, a potom vďaka mane z Wilderness Reclamation a kartám z Guild Summitu a Arch of Orazca už oponenta nepustiť na kolo. Keby náhodou došlo palivo, hráme 7 manové instantné Timetwistery (Emergency Powers). Keďže tá karta zamieša celý hrob do balíka, nemusíme sa obávať, že by nám došli win conditiony. Tie sú v tomto balíku 2 - sfinga z Warrant // Warden a Hydroid Krasis.
Tento balík má ešte ďaleko od hotového - treba nájsť správny mix rampy, card drawu, survivalu a win conditionov. Ale ten kto na to príde, by nejaký ten turnaj vyhrať mohol!
Bant Midrange
Veľmi zaujímavý nový balíček. Tento midrange balík mi trochu pripomína Bant Company - keď bola Avacyn, Spell Queller atď. Snaží sa dobre začať - Growth Chamber Guardian a History of Benalia, a potom hrať už iba instantne. Nechcel by som hrať proti tomuto balíku, keď ma v 5. kole pustí hrať s 5 manami. Reprezentuje tým asi 8 rôznych kariet, a ak sa ich budem snažiť obohrať, tak na mňa vyskočí 5/4 flyer. Som zvedavý ako sa tento balík vyvinie ďalej.
Toto sú teda balíky ktoré sa dobre ukázali prvý týždeň. To však neznamená, že sa budeme hrať iba s nimi do ďalšej rotácie. Na záver ukážem nejaké balíky, ktoré ešte môžu preraziť:
Mono Blue
Izzet Drakes
Esper Midrange
White Weenies
Lukáš Paugsch
Komentáře
Přispívat mohou pouze přihlášení uživatelé. Pokud chcete vložit komentář, přihlaste se ZDE.