Standard
Sultai Dreadhorde na Magic 2020 Standard
Nová edice Magic 2020 Core Set vtrhla na současný Standard a Jánko pro vás připravil rozbor Dreadhorde balíčku ve dvou verzích. Nechybí ani záznam hry na Magic Arena.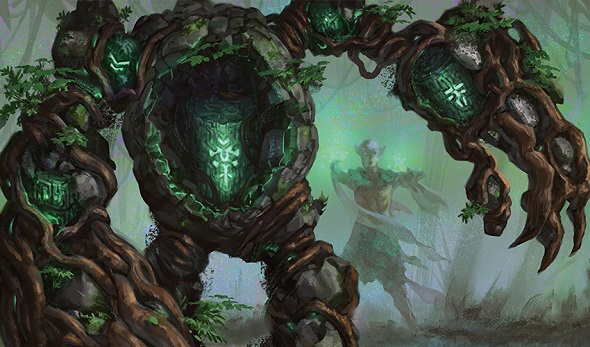 Foto: Wizards of the Coast
Rozbor Sultai Dreadhorde na Magic 2020 Standard
Minulá sezóna štandardu bola na hranie opäť super. Metagame bola pestrá, každý si mohol nájsť balík, či stratégiu, ktorá mu vyhovuje a ak ho dobre ovládal, mohol sa s ním baviť a aj vyhrávať. Najlepším príkladom je víťaz Mythic Championshipu, ktorý mal SImic Nexus skutočne dobre zvládnutý. Okrem tohto balíka by sa medzi Tier 1-2 v minulej sezóne dali zaradiť Esper Hero (tiež Esper bez Hera :o)), Izzet Phoenix, Gruul Midrange, Sultai (4C) Dreadhorde, Bant Ramp, SImic Manipulation a stále aj MonoRed. Pritom celkom dobre hrateľných bolo aj niekoľko ďalších balíkov ako napríklad Grixis Control, Boros Feather, alebo GW Midrange.
Čo sa týka organizovaného hrania profesionálov v minulej sezóne, bol v ňom (aspoň pre mňa) chaos. Nebolo mi jasné, ktoré turnaje sú dôležitejšie, ktoré menej. Z Grand Prix bola coverage slabá, MPL na Aréne mala dobrú coverage, ale slabú sledovanosť. Zrejme nejaký čas potrvá, kým sa situácia utrasie a aj WIzardi si ujasnia možnosti a priority. Možno aj tento chaos však prispel k pestrosti metagame. Keby bol Mythic Championship na začiatku sezóny a hneď by profesionáli odhalili, že Esper Hero sa dá dobre vyladiť a naučiť pilotovať, zrejme by sme sa s ním stretávali oveľa častejšie.
Je tu však nová sada – Core 2020 a nová sezóna. Sada Core 2020 (M20) je na pomery základnej sady opäť veľmi silná, podobne ako predošlé sady (DOM, GRN, RNA, WAR), len M19 bola o niečo slabšia. Pre štandard je to možno dobre a zrejme aj pre predaje kariet, avšak už sa začína zmenšovať metagame Modernu, ktorý bol dlhé roky známy svojou pestrosťou a bol to aj jeden z hlavných dôvodov, prečo ho mali hráči radi. Snáď sa podarí vyvážiť Wizardom silu kariet a pritom udržať hrateľnosť starších formátov.
Nové balíky, ktoré v tejto sezóne stretávam sú najmä agrá. Neviem, či je to tým, že je začiatok sezóny, alebo tým, že agrá budú naozaj dobré. Avšak je ich dosť – Gruul DInos, Jund agro, Orzhov Vampires, MonoRed sú častými súpermi. Orzhov Vampires sa vylepšili najmä novým Sorinom a Knightom (of the Ebon Legion.) Knighta je od tretieho kola ťažké brániť a ak ho nebránite, súper ho nedopuje, ale zošle niečo iné. Tak berie životy bez toho, aby stratil tempo. Sorin (Imperious Bloodlord) pridal ku sile aj konzistencii balíka. Obľúbené je napríklad vyloženie Champion of Dusk už v treťom kole za mínusovanie Sorina, ak sú na stole hoci aj dvaja iní malí upíri. Doplní sa tak ruka a zároveň sa pridá silná bytosť na stôl.
Nový MonoRed išiel na moje prekvapenie ešte nižšie s krivkou ako doteraz. Hrá veľa bytostí so silou 1 a kartu Cavalcade of Calamity, ktorá ich robí nebezpečnými. Táto karta má pritom dobrú synergiu s novou Chandrou, (Acolyte of Flame) ako aj novou bytosťou Chandra´s Spitfire. Na doplnenie kariet je samozrejme naďalej Light Up the Stage a Experimental Frenzy.
Okrem agro balíkov sa hrá nový kombo balík Grixis DrakuSeth. Najprv za pomoci kariet Chart a Course, Tomebound Lich a podobných zahodí do hrobu kartu Drakuseth, Maw of Flames a tú potom pomocu kariet Blood for Bones, alebo Bond of Revival reanimuje. V piatom kole tak schytávate 17 damage a v ďalšom kole hra končí, ak s tým nič neurobíte.
Ďalším novým populárnym balíkom je Simic Flash. Je to synergicko – kontrolný balík. Snažíte sa hrať počas súperových kôl (najmä counterspelly) a naplno tak využívate bytosti Nightpack Ambusher a Brineborn Cutthroat.
Nových kariet, ktoré zaujali je veľa. Ja som skúsil kartu Risen Reef. Je to Elemental a prvým nápadom, ktorý som videl na iných stránkach, bol balík Temur Elementals. Ten hrá ako hlavnú bytosť Omnath, Locus of the Roil. Je to klasický midrange. Mne sa však viac páčilo zaradiť Risen Reef do balíka Sultai Dreadhorde, keďže má dobré synergie s Wildgrowth Walkerom a potom aj s Command the Dreadhorde. Sultai Dreadhorde je pomalý midrange, ktorý však dokáže získať dosť životov, aby predĺžil hru a záver má potom silnejší ako Temur Elementals.
Balík 1 – Sultai Dreadhorde
Základom balíka je "Explore package" – Wildgrowth Walker, Merfolk Branchwalker, Jadelight Rider, ku ktorému sa pridal "Elemental package" – Risen Reef, Leafkin Druid, Cavalier of Thorns, Yarok, the Desecrated. Keďže Wildgrowth Walker je elementál, tieto dve časti balíka dobre spolupracujú. Risen Reef je netradičná bytosť. Po príchode na stôl potiahne kartu (alebo rovno položí tapnutú manu do hry) a potom je sám slabá 1/1, avšak nechcete s ním chumpblokovať. Pretože vďaka nemu ťaháte karty s každým ďalším elementálom. Blokujete s ním až keď je to nutné. Upozorňujem, že niekedy je výhodné potiahnuť s Risen Reefom aj manu (a nie ju rovno položiť do hry tapnutú.) A to vtedy, ak ste inú manu ešte nehrali a máte možnosť za položenú netapnutú manu niečo zahrať.
Zvyšok balíka je removal a silné karty do neskorčej fázy hry, pričom najväčší dopad na hru má Command the Dreadhorde. Tamyo plní hrob a pritom hľadá odpoveď. Malá Vraska je najmä ako removal a neskôr ťahá karty, pretože mán na obetovanie je zvyčajne neskôr dosť. Pritom jej ultimátka je tiež nebezpečná. V balíku je aj mana Field of the Dead, ktorá tiež v neskorších fázach hry pomáha a potiahnutá mana v top-deck móde nie je vďaka nej tragédia.
S balíkom som odohral 7 hier na Aréne na Gold kompetitívnom leveli so skóre 5:2. Postupne som hral proti MonoRed (výhra), UW flyers (výhra), Sultai Horde (prehra), Naya Feather (prehra), Grixis Control (výhra), Orzhov Vampires (výhra) a Orzhov Vampires (výhra). (Hru proti Grixis Control som omylom nenahral). Teda okrem mirroru proti iným balíkom je skóre 5:1, čo je fajn. Tiež som balík stále ladil a nakoniec som upustil od etb synergií, ktoré som mal na začiatku a skončil som pri klasickejšom Dreahorde builde, kde sú pridané len synergie s elementálmi.
Odohral som s tým balíkom viac hier na nižších leveloch aj nekompetítívne hry, kde boli nejaké výhry aj prehry, ale tých výhier bolo viac a tak myslím, že je to celkom dobrý balík pre súčasný štandard.
Balík 2 – 4C Dreadhorde
Skúsil som aj 4C Dreahorde verziu, pretože ako sa hovorí – Teferi robí každý balík lepším a myslím že aj táto verzia je fajn. Na konci videa je jedna hra na Gold leveli so 4C verziou proti JeskaiBlack Superfriends (výhra).  Do základu som pridal len Teferiho (2x malý, 1x veľký) a do sideboardu Sorina a Oath of Kaya. Kvôli manovej náročnosti som však musel z mán vyhodiť Field of the Dead.
Ján Bábeľa
Komentáře
Přispívat mohou pouze přihlášení uživatelé. Pokud chcete vložit komentář, přihlaste se ZDE.