Standard
Vliv Shadows over Innistrad na Standard a Modern
Zdravím všechny čtenáře CMUSu, vítám vás u mého dalšího článku! Dnes se budu věnovat kartám z nové edice SOI, které zazářily na víkendových turnajích a jejich potencionálnímu budoucímu využití. Přeji příjemné počtení. Pokud budete mít nějaké otázky či komentáře, zanechte je dole pod článkem a já se na ně budu snažit co nejdříve odpovědět.
Nejprve se podíváme na standard, turnaj SCG v Baltimore. Turnaji dominovala bílá barva, která byla v různých kombinacích hned 7x v top8. Díky kartám jako Avacyn a Declaration in Stone se prosadily balíčky jako mono white Humans s různou splashí. První variantou byla splash na modrou pro Reflecotr mage + counterspelly na sideboardu, decklist potom vypadal následovně:
Druhou variantou byla splash na zelenou na Tireless Trackera, který je velice brutální v lategame, jelikož prakticky cycklíte landy. Decklist se potom moc neliší od U/W verze.
Turnaj ovládl balíček Jima Davise, Bant Company (decklist najdete níže), který ukazuje krásnou sinergii levných, ale brutálních potvor s Collected Company. V decklistu se mimo jiné objevil Sylvan Advocate, který je v podstatě novým Tarmogoyfem standartu. Bant Company se objevil i v těsném pozadí za top8, takže ho podle mne budeme vídat dále stejně jako Humans.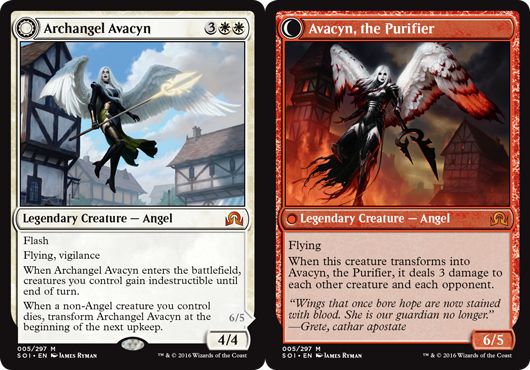 Velice zajímavým balíčkem, který se umístil na čtvrtém místě. Je balíček Todda Andersona, UR control. V balíčku se mimo jiné objevilo mnoho karet z SOI, jako třeba hlavní winkondice balíčku- Thing in the Ice nebo Lightning Axe. Mimo jiné vyšly na povrch také karty z Oath of the Gatewatch, které se dříve nehrály, jako třeba Jori en, Chandra, Fall of the Titans nebo Pyromancers Goggles. Osobně jsem se díval na stream a flipnutí Thing in the Ice ve čtvrtém kole není nic příjemného :-).
Posledním Standardním balíčkem, na který bych se chtěl podívat je BW midrange (mimochodem, jedná se o nejlacinější balíček na Standardu z uvedených)
Jak můžete vidět v decklistu tak balíček získává value v podobě planeswalkerů. Pěkné je tu také kombo s obětováváním tokenů pro value. Objevily se zde karty z nové edice jako Avacyn, Sorin a Anguished Unmaking. Také ,,vypluly,, na povrch nějaké kousky z OTG, které se dřív nehrály. Například Linvala, Aily nebo Ob Nixillis (velice silná karta, která by se mohla konečně prosadit).
Na závěr bych rád shrnul poznatky o novém standardu. Ze standardu úplně vymizely balíčky jako Abzan aggro/control, jakékoliv formy Mardu nebo Jeskaie. Naopak přetrvaly balíčky jako Esper dragons, Bant Company či RGg rampa, které si pouze osvojily nějaké karty z nové edice nebo jen doplnily balíček kartami ne tolik hranými před rotací. Pro další vývoj bude klíčový Pro Tour ve Španělsku, kam si Pro Tour hráči budou schovávat svoje nápady.
Na modernovém SCG open skoro žádné nové přírůstky, jedinou změnou je všemi očekávané hraní Ancestral Visions, která se hraje prakticky ve všem, co hraje modrou barvu. Jeden hráč zařadil do svého grixis controlu Thing in the Ice, se kterým se umístil na krásném desátém místě. Na decklist se můžete podívat tady:
Bohužel žádné další neznámé karty se na modernu neobjevily, ale časem by se mohli prosadit karty jako Anguished Unmaking či Sin Prodder, které mají velký potenciál oživit některé nehrané balíčky. Také karty jako Relentless Dead nebo Olivia by mohli oživit dlouho zapomenuté balíčky, Zombies a Vampires. Jen čas ukáže, jakým směrem se bude modern pohybovat, zatím ale bude dle mého názoru dominovat modrá barva díky kartám jako Ancestrall Vision, Snapcaster, Jace a counterspellům.
Formát legacy zatím nezaznamenal po příchodu SOI žádné změny.
A jsme zase na konci, doufám, že se vám článek líbil. Pokud máte nějaké otázky či námitky, zanechte je pod komentářem a já se na ně budu snažit co nejrychleji odpovědět.

Martin Benda
Komentáře
Přispívat mohou pouze přihlášení uživatelé. Pokud chcete vložit komentář, přihlaste se ZDE.