Novinky
Flash News #1/2017
1. GP Louisville (Legacy)
Po prosincové okurkové sezóně nám wizardi na začátek roku připravili legacy GP na americkém území, což je vždy záruka kvalitní podívané. Bohužel, na Twitchi se místo toho vysílalo finále SSS (Super Sunday Series), což bych označil za fiasko...
Ale zpět ke GP - účastnilo se ho 1 607 nadšenců (bez českých hráčů), což je pro mne osobně trochu zklamání, vzhledem k tomu, že například v Japonsku bylo na posledním legacy GP přes 2 500 hráčů.
Díky tomu, že GP bylo v dostatečném předstihu před vydáním Aether Revolt, se velká spousta pro hráčů rozhodla mezi svátky pořádně potestovat a na výsledcích to bylo velmi patrné. Po prvním dni byli mezi neporaženými hráči Brian Braun-Duin (Miracles) a Craig Wescoe (Death and Taxes). Oba pokračovali ve vítězném tažení i ve druhém dni a bez problémů postoupili do top8, kde je mimo jiné doplnili Reid Duke (BUG Control vlastní konstrukce) a Michael Majors (BUG Delver).
V top8 jsme tak mohli vidět zápasy jako BBD vs. Craig Wescoe a Reid Duke vs. BBD. Nejvíce se nakonec dařilo Reidu Dukovi, který ve finále dokazil porazit BR Reanimator Andrewa Sullana. Zajímavé je, že i loni zvítězil Reid hned v prvním GP kalendářního roku, i když tenkrát to byl standard...
Reid hrál zároveň velmi neobvyklý deck, kterým byl BUG Control, jenž si zakládal na silných třídropech v podobě True-Name Nemesis a Leovold, Emissary of Trest, které se snažil díky osmi manovačům pokaždé zahrát ve druhém kole. True-Name Nemesis byla beze sporu nejlepší karta decku a spousta decků ji zahranou ve druhém kole prostě nedokázala porazit (byla překvapivě vynikající i proti Miraclům).
Pozažený finalista, Andrew Sullano, hrál pěknou verzi BR Reanimatoru, ve které mne zaujal hlavně perfektně postavený sideboard, ve kterém byly ty nejpřímočařejší odpovědi na hate karty typu Rest in Peace, Deathrite Shaman a Leyline of the Void. Velmi efektivní odpověď je Reverent Silence, která se zbaví RIPka i Leyliny, což jsou asi dva nejhranější graveyard hosery.
Pokud se podíváme na celou top8, tak ta se skládala z BUG Controlu, BR Reanimatoru, Mentor Miraclů, dvou 4C Delverů, BUG Delvera, Sneak and Show a Death and Taxes.
Kromě vítězného brew to celkem pěkně vystihuje všechny současné tier decky a zároveň to pěkně koresponduje s top100 metagame ze druhého dne, kde byly nejhranějšími decky 4C/BUG Delver a Miracly (oba se sedmnácti kusy v top100), za kterými následovaly Sneak and Show a Death and Taxes. Další úspěšné archetypy byly Komboelfové, Infect a s trochu větším odstupem za nimi například OmniTell, 4C Control, BR Reanimator, nebo Shardless BUG.
Z dalších decků se v top32 umístily například Země (Lands), UB Reanimator s Chancellory of Annex, Food Chain s Leovoldy, RUG Delver s True-Name Nemesis, nebo BG Turbo Depthsy.
Za zmínku také stojí speciální verze BUG Delvera, se kterou byl v top8 Michael Majors. Byl to deck z dílny Brada Nelsona (ten sám s deckem obsadil dvanácté místo). Šlo o jakousi flashback verzi, která byla hodně podobná "Teamu America". V decku bylo více disrupce, než je obvyklé, v podobě Liliany a Hymn to Tourach a také one-of Tombstalker, který se od vydání Gurmag Anglera prakticky nikde nehrál...
2. Super Sunday Series Championship (Draft + Modern)
Poslední tečkou za SSS byl tento finálový turnaj, kterého se účastnilo 45 hráčů, mezi nimiž byl i Petr Sochůrek. Z dalších známých jmen tu nechyběli Sam Black, Andrea Mengucci, Jason Chung, nebo Michael Bonde.
Turnaj se skládal z velmi neobvyklých formátů - začínalo se draftem Kaladeshe, který poté nasledovala čtyři kola modernu. Druhý den už byla rovnou top8, která měla opět neobvyklý formát v podobě draftu Eternal Masters. V něm si nejlépe vedl Shin'ya Saito, jenž nadraftoval UB Reanimaci, se kterou ve finále porazil Jasona Chunga, jenž hrál dost přísný Grixis Control, ve kterém měl hned šest rare, mezi kterými byly pecky jako Mystical Tutor, Toxic Deluge, nebo Duplicant.
Petru Sochůrkovi se bohužel vůbec nedařilo. Po 1:2 na draftu následovaly dvě další prohry na modernu, pok terých se rozhodnul dropnout. Našim největším úspěchem na SSS tak zůstalo čtvrté místo Dominika Proška z roku 2015.
Z hlediska Flash News byla nejzajímavější část turnaje modern. Mezi 45ti hráči se našlo 23 různých decků, nicméně mezi nejúspěšnějšími decky byly spíše samé konzervativní záležitosti.
Nejhranější decky byly Jund a Dredge, které si shodně vzalo pět hráčů. Další decky s alespoň třemi hráči byly Affinita, Bant Eldrazi a UR Prowess.
4:0 jako jediní uhráli Michael Bonde s Jundem a Mark McGovern s Lantern Controlem (verze s Glint-Nest Crane a Cruciblem). Neporažený byl také Alan Breitman s UW Controlem, který měl tři výhry a remízu.
Dalších dvanáct hráčů mělo 3:1. Mezi nimi bylo dokonce deset různých decků. Dva hráče tu měl UR Prowess a Infect. Další decky byly Abzan, Jund, Dredge, UWR Tempo, Grixis s Jacem, Affinita, Suicide Zoo a Jund Delirium, které mělo bílou splash pro Lingering Souls.
3. Hareruya God of Frontier (Frontier)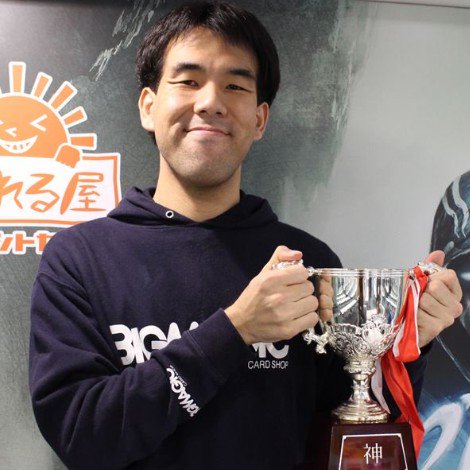 Další z velkých turnajů japonské série "God of" byl tentokráte ve formátu Frontier. Účastnilo se ho 236 hráčů, kteří si to rozdali v devíti kolech základní části, po kterých následovala top8.
V té byl nejhojněji zastoupeným deckem Atarka Red se třemi zástupci. Zbylé decky tu byly po jednom - Jeskai Aggro, Elfové, BUG Delirium, UR Ensoul Artifact a 4C Humani.
Nejlépe si s konkurencí poradil Yuki Matsumoto s BUG Deliriem, když ve finále porazil 4C Humany Takahita Suzuki. Vítězný BUG určitě potěší všechny milovníky tradičních kontrolů, jelikož dvě ústřední karty v něm jsou Torrential Gearhulk a Dig Through Time. Jako nejdůležitější karta mi v něm ale vždycky přišel Satyr Wayfinder, který enabloval delirium, plnil hrob pro Dig a zároveň se staral o to, že v úvodních kolech nemisnete land drop.
Velmi zábavní mi v top8 přišli ještě Elfové, kteří překvapivě nehráli Collected Company, ale vsadili na jinou chuťovku - Panharmonicon. Ten vypadá naprosto fenomenálně se Shamanem of the Pack a Sylvan Messengerem. A ke všemu máte samozřejmě ještě playset Chordů.
Zde je přehled celé top32:
BUG Delirium
4C Humans
Jeskai Aggro
Panharmonicon Elves
Atarka Red
Atarka Red
Atarka Red
UR Ensoul Artifact
Atarka Red
Abzan Aggro
Atarka Red
Monogreen Eldrazi Ramp
Mardu Artifact Aggro
4C Rally
GW Hardener Scales
Atarka Red
Grixis Control
4C Rally
Esper Control
Bant Company
Dark Jeskai
Abzan Aggro
Mardu Artifact Aggro
4C Rally
Grixis Zomb-Emerge
Abzan Aggro
Atarka Red
Bant Company
Temur Aetherworks
Jeskai Tokens
Jeskai Aggro
URb Prowess
Všechny decklisty z top32 si můžete prohlédnout zde.
4. JK Entertainment End-Year Event (Standard, Modern, Legacy, Vintage, Highlander)
Německý JK Entertainment patří mezi největší tamnější organizátory (zaštítuje například i MKM Series) a tohle byl speciální event ku příležitosti ukončení roku 2016. Osobně se přiznám, že vůbec netuším, jestli to je vyvrcholení nějaké dlouhodobější série, nebo jenom jednorázová záležitost, ale to zase není tolik důležité.
Turnaj trval tři dny a měl pětici main eventů, leč bohužel, decklisty byly zveřejněny pouze ze Standardu, Legacy a Highlanderu.
Největší účastí se mohla pochlubit legačka, které se zúčastnilo 132 hráčů. Nejpopulárnější deck tu byly Death and Taxes se šestnácti hráči. Dále následoval 4C Delver (15 hráčů), Reanimátor (11 hráčů), Storm (10 hráčů), Miracly, Eldrazi, Shardless BUG a 4C Loam (všechno 9 hráčů).
Velkou popularitu v top8 nejlépe zúročily Reanimatory, které se tam dostaly hned ve třech. Jenom jeden z nich se dokázal dostat do semifinále, kde ale jeho cesta turnajem skončila.
Finále patřilo jiným kombodeckům - Sebastian Bartl s Elfy (velmi přímočará verze, kde jediné zajímavé one-ofy byla Scavenging Ooze a Jitta) dokázal porazit Infect Daniela Schuha.
Zbylé decky v top8 byly Miracly, Team America a RUG Delver.
Klasický novoroční event je v "německém Highlanderaru", který každoročně atakuje stovku hráčů, což z něj dělá jeden z největší highlander turnajů vůbec. Tentokráte se ho účastnilo 95 hráčů, mezi kterými se nejvíce dařilo Dionu Sabelovi s Monoblue Tempem (s malou černou splashí pro Demonic Tutor a Toxic Deluge).
Formát se hraje na dvace životů a očividně jsou na něm velmi obávaná červená aggra, což je tu dobře vidět díky Chillu, což v jednokarťácích není zrovna bězně hraná karta.
Na turnaji se celkově velmi dařilo blue-based kontrolům, jelikož na druhém místě máme čistý Monoblue Control, třetí byl BUG Midrange a čtvrtý UWR Planeswalker Control.
V top8 byl dále 4C Control se Scapeshiftem, 5C Zoo, Abzan Midrange a UR Tempo. Všechny decklisty si můžete prohlédnout zde.
Standard zmíním jenom okrajově, jelikož to bylo ještě před banem. Tři nejhranější decky turnaje byly Mardu/4C Vehicly (7 hráčů), UW Flash (6 hráčů) a RG/Temur Aetherworky (5 hráčů).
Z vítězství se radoval Lucas Brausch se 4C Vehicly, když ve finále porazil velmi zajímavé Esper Control Maxe Schultze. Další v top8 byly GW Humans, RG Energy Aggro, GB Delirium Aggro, dvojice UW Flashů a BR Aggro.
5. Modern MOCS
Úspěšně jsme se dostali k online eventům, kterým na začátku ledna kralovaly Modern MOCS, jichž se zúčastnilo 110 hráčů.
S čistým štítem (8:0) jimi prošel "stainerson" hrající Abzan Delirium. Na jeho verzi bylo zajímavé, že jako artefakt pro delirium nehrál obvyklou Mishra's Bauble, místo které hrál Nihil Spellbomb, což je určitě o dost užitečnější karta.
Celkem patnáct decků dosáhlo na skóre 6:2 a lépe, a ty nejzajímavější z nich byly Bant Retreat, se kterým byl druhý "Hyper" a BG Death Cloud, se kterým byl dvanáctý "echecetmat35".
Bant Retreat je podle mě jeden z nejpodceňovanějších decků na formátu. Navzdory tomu, že není příliš populární, tak má na svém kontě top8 na GP, nebo výhru na SCG Open.
Celá top15 vypadala takto:
Abzan Delirium
Bant Retreat
RG Scapeshift
Death's Shadow Jund
Eldrazi Tron
Affinity
Infect
Grixis Control
UW Control
Dredge
Grixis Control
Death Cloud Rock
UW Control
Gw Tron
Jund Midrange
6. MTGO Legacy Challenge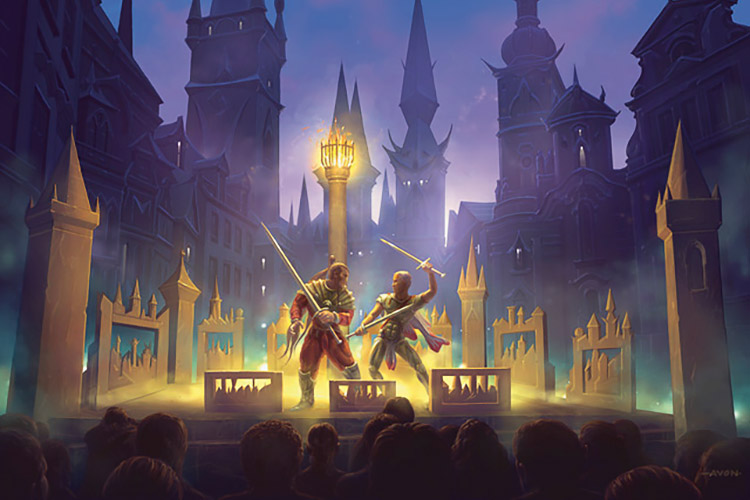 Lednová legacy challenge byla velmi neobvyklá, jelikož se tu příliš nedařilo tier deckům a naopak tu velký úspěch zaznamenaly extrémní strategie.
Jako jediný uhrál 7:0 v základní části "lllllll" s Manaless Dredgem (suveréně nejlacinější deck v celé top16). Se zcela opačnou strategií se naopak dostali do top8 dva hráči - Turbo Depths decky s BG a BUG kombinaci.
V top8 ale měly hlavní slovo "fun police" decky. Finále bylo soubojem dvou klasických tier decků - Miracly a Death and Taxes (paradoxně díky těžké dostupnosti karet z Conspiracy a Rishadan Portu suverénně nejdražší legacy deck na MTGO). Z vítězství se radoval "EronRelentless" s Death and Taxes.
Třetí místo nakonec připadlo Manaless Dredgi, které v top4 porazil vítězný Death and Taxes. Na tomhle decku se mi líbil sideboard s Forsážemi a Disrupting Shoaly, což je poměrně často k vidění na vintage.
Na čtvrtém místě byl první z Turbo Depths decků. Šlo o klasickou přímočarou BG verzi, která také měla pár zajímavých vychytávek v sidu, v podobě Garuka Relentless a Sylvan Library, které tu byly hned tři kusy.
Další z Dark Depths decků obsadil šesté místo. Tady šlo o verzi s modrou splashí, jejíž hlavní benefit spočíval v playsetu Brainstormů (tím nikdy nic nezkazíte) a poté v sidovkách jako Flusterstorm a Stifle.
Sedmý byl "Momsen" s BUG Controlem Reida Duka, ve kterém udělal jednu změnu, když místo druhé Thoughtseize hrál Green Sun's Zenith. Osobně jsem spíše proti, jelikož deck je trochu náchylnější proti kombům.
Na osmám místě skončila dost zvláštní verze Reanimátoru, která hrála playset Hapless Researcherů a poté one-of Jace, Vryn's Prodigy, Archetype of Endurance a Misdirection.
Desáté byly do třetice Turbo Depthsy, které měly poměrně ambiciózní sideboard plán s Cabal Coffers, Eye of Ugin a Emrakul (v mainu byly tři Urborgy).
Opravdová chuťovka byl deck, který skončil na jedenáctém místě. Šlo o hybrid Reanimátoru a Esper Controlu. Základ decku byl Monastery Mentor, Baleful Strix, Gitaxian Probe a Cabal Therapy. K tomu tu ale byl i playset Entombů a Reanimací. K Entombům tu navíc byly některé "fancy" kusy jako Lingering Souls, Bloodghast, nebo Dread Return. A aby toho nebylo málo, tak v sidu byli ještě Delveři a Vendilion Clique. Navzdory tomu, že deck vypadá dost divoce, tak už se nemůžu dočkat, až ho vyzkouším!
Zbylé decky v top16 byly 4C Delver, 4C Loam, dvoje Komboelfové, Esper Stoneblade, RUG Delver a Death and Taxes.
7. LCV 2016 - Series Finals (Vintage)
Budeme pokračovat v trendu finálových turnajů celoročních serií. Tentokráte se podíváme do španělské Barcelony, kde se sešlo třicet pozvaných hráčů, aby si zahráli o titul nejlepšího vintage hráče roku. Hrálo se pět kol a top8.
Top8 bylo soubojem mezi Stax decky a Mentor/Pyromancer decky. A ačkoli tam byli Stax decky v přesile (3× Eldrazi, 2× Car Shops), tak do finále se nakonec dostali Alex Delgado s Grixis Pyromancerem a Eduard Castro s Vryn's Mentorem, přičemž Alex zvítězil hladce 2:0.
U obou finálových decků stojí za povšimnutí zvýšené množství reaktivních karet proti Eldrazi a Shopům. Vítězný Grixis hrál celý playset Cabal Therapií a maindeck Strixu a dva Snuff Outy (ty jsou dost fajn i na Mentora). Zajímavý byl i jeden Bedlam Reveler.
U druhého finálového decku jsme pro změnu mohli vidět celý playset Jaců (Vryn's Prodigy), ke kterému tu byl celý playset Swordů. Eduard si dokonce flipovacích Jaců cenil tolik, že nehrál žádné Snapcastery, ani velké Jace.
Z dalších zajímavých decků v top16 bych zmínil Esper Mentora, který hrál černou pro Demonic Tutor, Cabal Therapy a Notion Thiefa, WR Eldrazi, kde byla červená splash pro Ingot Chewery (ti mají pěknou interakci s Displacerem), Paradoxical Storm s Oath kombem v sidu, nebo Delvera nezvykle v UW barvách, jenž hrál Mana Drainy a True-Name Nemesis.
8. God of Vintage Final Tournament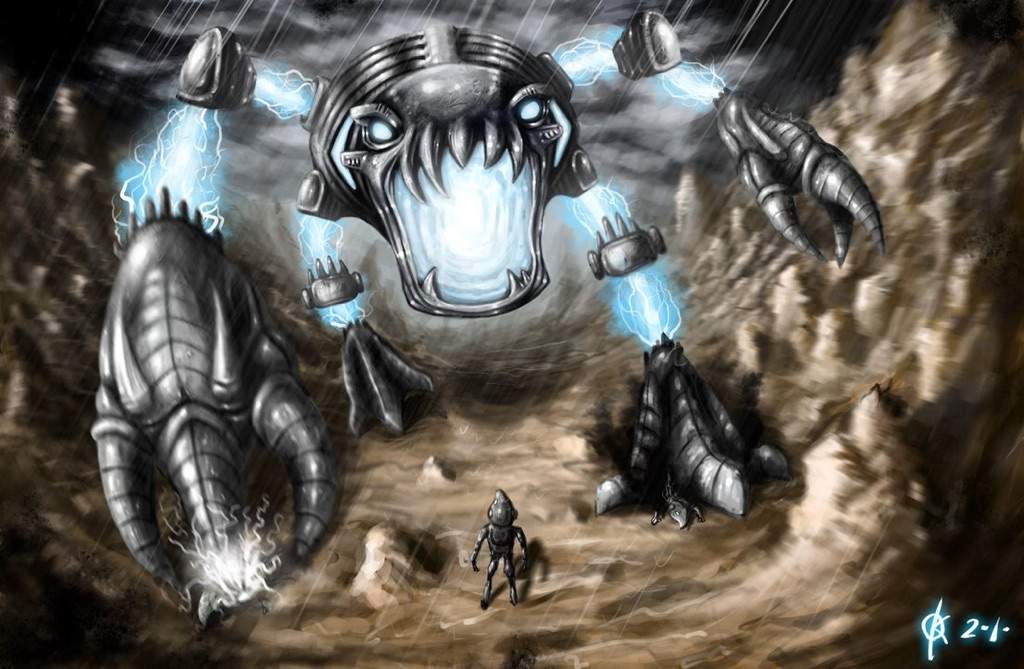 O vítězi celoroční série se rozhodovalo i v Japonsku, kde se finálového turnaje zúčastnilo 68 hráčů.
Narozdíl od Španělska se tu vůbec nedařilo Mentor/Pyromancer deckům, které se vůbec nedostaly do top8. V té byly dvoje Oathy, Ravager Shops, EmraStill, Paradoxical Storm, Stax a dvoje White Eldrazi.
Ve finále se utkali Daiki Sano s Ravager Shopy a Shirou Kawakita se Stormem. Zápas proběhl podle papírových předpokladů, když Storm nedokázal překonat všechny zdražující efekty Shopů. Shirou Kawakita zároveň hrál pár méně obvyklých karet, jako Expedition Map (pro Akademii), nebo Thoughtcasty.
Ve zbytku top8 bylo k vidění plno zajímavých věcí. Pátý skončil Masakazu Matsushita s White Eldrazi, ve kterých nehrál Reality Smashery, místo kterých měl v decku Palace Jailery a Razomane Masticory. Za ním skončily dvoje Oathy, z nichž první hrály package s Loamem a Punishing Firem a druhé hrály větší počet Show nad Tellů, Tinker s Inkwell Leviathanem a Sphinx of the Steel Wind a zároveň také kontrolnější věci jako Swordy, Balanci, nebo Moat.
Až na devátém místě byl nejúspěšnější Mentor deck. A v top16 byl dále k vidění například Dredge s maindeck kántrováním a Dark Depths kombem v sidu, Merfolci, Ravager Shops se Steel Overseerem, nebo další Oathy, tentokráte se Standstillem.