Novinky
Flash News #10/2018
V těchto Flash News náš čeká ohlédnutí za modernovým Grand Prix Phoenix a zajímavé decky na Modern jsou i součástí bonusu. Dále si zrekapitulujeme blízké MKM Series Rome a várku turnajů z Magic Online.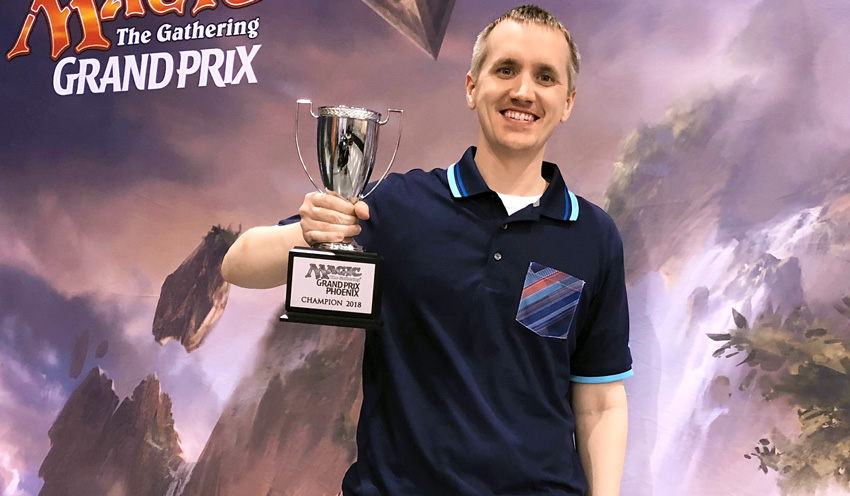 1. GP Phoenix (Modern)
Modern s Jacem a Bloodbraidem už byl součástí MTGO Championship, týmového GP, či SCG Open, ale jako hlavní formát na GP se hrál až ve Phoenixu. Osobně mě trochu zarazilo, že účast na GP byla pouze 1 332 hráčů (bez našich hráčů) - přece jenom, když na SCG Open přijde tisíc lidí, tak bych čekal, že na GP přijdou alespoň dva...
Na druhou stranu jsou GP rok od roku drazší, což je asi pro spoustu hráčů limitující faktor (nemám tušení, jaký je poměr startovné/ceny na SCG Open).
V coverage nám WoTC výjimečně nabídli metagame rozbor druhého dne. Do něj postoupilo 258 hráčů, mezi kterými bylo k vidění dvaašedesát různých decků.
Nejhranějším deckem byl trochu překvapivě Boros Burn, který výrazně předčil očekávané číslo jedna v podobě Jundu. Zde je přehled devíti nejhranějších decků ve druhém dni:
28× Boros Burn
22× Jund Midrange
16× BR Hollow One
16× 5C Humans
13× Green Tron
12× Affinity
10× RG Eldrazi
8× Eldrazi Tron
8× RG Ponza
Zajímavé je, že všechny tyhle decky se umístily v top32, až na jednu výjimku, kterou byl paradoxně Burn.
V top8 jsme měli osm různých decků, z čehož shodně dva hrály Jace a dva Bloodbraida. Obavy o zničení velké rozmanitosti formátu se tak zatím ukazují jako liché.
Další zajímavost je, že dva z decků v top8 měly ve druhém dni pouze jednoho pilota. Byly to WG Death and Taxes (či GW Hatebears) a Bring to Light Scapeshift.
Překvapením turnaje bylo Ironworks kombo, které hráli Matt Nass a Sam Pardee, přičemž Matt se s ním dostal až do top4, kde prohrál s Jundem, o čemž rozhodl až reveal z Dark Confidanta v posledním kole třetí hry :)
O tom, jak se dá s deckem provést infite loop, si můžete přečíst zde, rozhodně to ale není nic pro slabší povahy!
Bloodbraid Elf si ale na první vyhrané GP zatím musí počkat. Ve finále totiž Jund nestačil na 5C Humany pilotované Stevem Lockem, pro kterého to byla už druhá výhra na GP v sezóně 2017/18.
Celá top32 vypadala takto:
1. 5C Humans
2. Jund Midrange
3. Ironworks Combo
4. Bant Company
5. Bring to Light Scapeshift
6. WG Taxes
7. Green Tron
8. RG Eldrazi


9. UR Breach Moon
10. UW Control
11. UR Breach Moon
12. 5C Humans
13. 5C Humans
14. Affinity
15. Gifts Storm
16. Affinity
17. UW Control
18. BR Hollow One
19. BR Hollow One
20. Dredge
21. Blue Moon
22. Mardu Pyromancer
23. RG Ponza
24. Green Tron
25. Jund Elves
26. Jund Midrange
27. Affinity
28. Madcap Moon
29. RG Scapeshift
30. Uw Extra Turns
31. 5C Humans
32. 5C Humans
Kromě WG Taxes a Bring to Lightu v top8 tu není příliš překvapivých decků. Mírně mne zaskočil úspěch UR Blood Moon decků (možná nejlepší archetyp pro Jace) a jinak bych zmínil zejména Jund Elfy, kde se místo Chordů hrají Bloodbraidi, který decku dodávají zajímavý úhel útoku, což oceníme zejména v midrange matchupech.
Mírné překvapení jsou i Uw Extra Turns, ovšem tenhle deck se docela pravidelně objevuje na onlinu, takže už dnes asi nikoho příliš neoslní (ačkoli mi Jace + Terminus pořád na modernu přijde jako velmi pěkná a do jisté míry i originální interakce).
2. MKM Series Řím (Standard, Modern & Legacy)
Druhá letošní zastávka v rámci MKM Series se uskutečnila v Římě. Opět se hrálo s novou strukturou, kdy je v sobotu na programu modern a sealed a v neděli legacy a standard.
Limited tentokráte nedopadlo tak katastofálně jako ve Frankfurtu, když si přišlo zahrát zhruba čtyřicet hráčů. Hlavní pozornost byla ale upřená na modern, kterého se zúčastnilo 195 hráčů.
Nejhranějšími decky byly Green Tron (22 hráčů), Jund (20 hráčů), Boros Burn (18 hráčů), UW/Jeskai Control (14 hráčů), různé verze Scapeshiftu, či Dredge (obojí 9 hráčů).
Opět jsme se dočkali top8 s osmi různými decky a finále byl konečně pořádný souboj mezi Bloodbraid Elfem a Jacem, ačkoli v obou decích hrály tyto karty spíše podpůrnou roli. David Peretti s Ponzou se na celkovou výhru příliš nenadřel, jelikož jeho finálový soupeř Raul Avoscan, hrál Scapeshift, konkrétně více kontrolnější RUG variantu.
Zajímavostí je, že vítězný deck byl do poslední karty přesnou kopií Ponzy, se kterou triumfoval Andrew Wolbers na SCG Open Dallas.
Další decky v top8 byly Blue Living End, Infect, Ad Nauseam, klasický Living End, Green Tron a RG verze Hollow One.
Nedělní turnaje pro mne byly docela zklamáním, zejména co se účasti týče. Legacy se účastnilo 111 hráčů a standardu devětapadesát.
Na legacy byla celkem rozmanitá metagame a Grixis Delver dokonce ani nebyl nejhranějším deckem. O tenhle primát se podělil Sneak and Show spolu s RG Lands (po devíti hráčích). Grixis byl ale hned za nimi. Sedm hráčů měly Death and Taxes, Miracly a Monored Stompy. Šest potom Elfové, Colorless Elrazi a Czech Pile.
Různorodá metagame dala za vznik i velmi zajímavé top8, kde bylo osm různých decků. Byly to stálice jako UWr Miracly, Elfové, OmniTell a Czech Pile, které doplnily decky z pomyslné druhé výkonostní vlny - Dredge, Jund Midrange, RUG Delver a Infect.
Ve finále se nakonec utkali Nicolas Crepelle s Czech Pile a Marco Pacilio s OmniTellem. Vítězem se stal Nicolas Crepelle, který tak navázal na předchozí výhru Tomáše Mára z Frankfurtu, který samozřejmě také triumfoval s Czech Pile.
Všechny decklisty z top8 si můžete prohlédnout zde.
Standardu se zúčastnilo již zmiňovaných devětapadesát hráčů, mezi kterými měly velký náskok před ostatními BUG Constrictor a Monored Aggro, které hrálo shodně jedenáct hráčů.
Grixis Energy a RG Monstra na dalších místech hrálo pouze pět hráčů...
Navzdory tomu jsme i tady měli velmi rozmanitou top8, kde bylo sedm různých decků - BW Vampýři, RG Monstra, UW Approach, Monored Aggro, BUG Constrictor, UW Gift a dvakrát UB Midrange.
Do finále se nakonec probojoval Adriano Moscato s Monored Aggrem a Kine Thorvaldsen s UW Approachem, která se mohla stát první ženskou vítězkou main eventu na MKM Series. Uřadující italský šampion, Adriano Moscato byl ale proti a ve dvou rychlých hrách přesvědčivě zvítězil.
Všechny decky z top8 si opět můžete prohlédnout na stránkách MKM.
3. MTGO Weekly Challenges (Modern, Legacy, Vintage, Duel Commander, Pauper)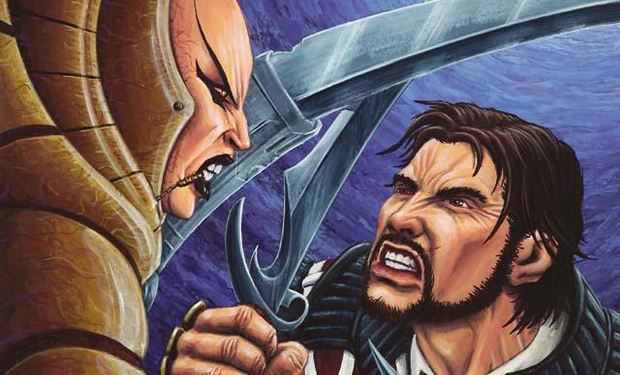 Modern challenge byl dalším z turnajů, které ovládla RG Ponza, když ve finále porazila Living End. Docela změna oproti předchozímu týdnu, kde bylo finále 5C Humans vs. BR Hollow One.
Na dalších místech bylo Ad Nauseam kombo, Colorless Eldrazi, Gifts Storm, Mardu Pyromancer, Affinita a BR Hollow One. Nejzajímavější z toho byl určitě Storm, jelikož šlo o poměrně nestandardní verzi s Jacem a Blood Moonem v mainu.
Z decků mezi devátým a šestnáctým místem mne nejvíce zaujala netradiční Affinita s Myr Enforcery a Frogmity, ve které bylo kromě toho i více neobvyklých karet - například playset Welding Jarů v mainu, či dvě Chalice of the Void v mainu.
Také na legacy jsme měli velmi rozmanitou top8 se sedmi různými decky. Ve finále Ecoscuro s OmniTellem porazil UWr Miracly i přesto, že šlo o verzi, která měla po sidu přístup k playsetu Flusterstormů.
Za nimi skončil Grixis Delver, WR Taxes, Aggro Loam, Monored Stompy a dva 4C Controly, které se od sebe ale celkem lišily (jedna klasická verze a druhá s Dackem a Punishing Firy), takže vlastně můžeme říci, že v top8 bylo osm různých decků.
Horší to ale bylo ve zbytku top16, kde byly hotové delveří orgie. Grixis Delverů tam bylo hned pět a zbylá místa vyplnilo Monored Stompy, Men of Steel a Czech Pile.
Vintage už podruhé v řadě ovládly Ravager Shopy, které byly tentokrát i nejvíce početným deckem v top16 s pěti zástupci.
Rozhodně se ale nedá říci, že by byla vintage nějak jednotvárná. Paradoxně bych řekl, že se v ní pravidelně na předních příčkách objevuje nejvíce brew ze všech formátů, které jsou ve weekly challengích zahrnuty.
Tentokrát jsme v top16 mohli vidět například 4C Mentora, který měl UWR základ a zelenou splash pro Sylvan Library a Managorger Hydru, Storm s Baralem a Gifts Ungiven, oldschool Storm s velkým počtem discardu v mainu a s Yawgmoth Bargainami, nebo 4C Control (bez zelené) s velkým množstvím zajímavých one-ofů, jako například Breya, Sen Triplets, či Notion Thief.
Samozřejmě tu byly i více konvenční decky jako Dredge (2× v top8), Goodstuff s Paradoxical Outcomem (Mentor a Tezzeret kombo), Paradoxical Storm, Arlinn Oath (Brain Kelly se svým speciálnem opět v top8), klasický UWR Mentor, či v poslední době oblíbený UR Control, který splashuje bílou pro Mentora a hate karty v sidu.
Duel Commander byl pěknou přehlídkou nejúspěšnějších modrých decků za poslední rok. Podruhé za sebou zvítězil Teferi (s Grindstone kombem) a v top8 byly i dva 4C Goodstuffy (Thrasios s Tymnou a Brucem), Grixis Control s Kess, dokonce hned třikrát Breya a Jace (kontrolní verze bez komb).
V top8 vyjímečně nebyli žádní vampýři, ovšem mezi devátým a patnáctým místem měli rovnou čtyři hráče. Kromě nich tam byla i stax verze Leovolda, další Kess, 4C Control s Tymnou a Kraumem, a konečně ještě jeden deck bez modré, Naya Midrange s Marathem.