Novinky
Flash News #11/2017
1. GP Orlando (Aether Revolt + Kaladesh limited)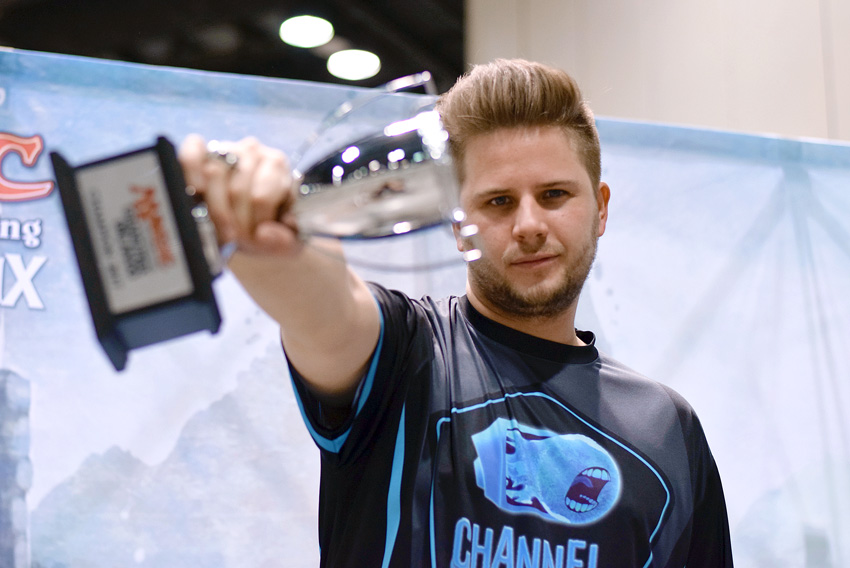 GP Orlando bylo první zastávkou ze severoamerického trojbloku Orlando, San Antonio a Mexico City. Účastnilo se ho 1 284 hráčů, mezi nimiž byli minimálně dva čeští hráči - Martin Jůza a Ondřej Stráský. Oba se plánovali zúčastnit všech třech GP.
Další čeští hráči se bohužel dají ve standincích dost těžko dohledat, jelikož u amerických GP je u všech hráčů automaticky uvedená americká národnost...
Turnaj byl ve znamení velkých comebacků, když se do top8 dostali Joel Larsson a Chris Pikula. Joel Larsson čekal na podobný výsledek od svého triumfu na PT Vancouver v roce 2015 a pomalu mu hrozilo vypadnutí z pro player's clubu.
Oproti Chrisi Pikulovi je to ale slabá káva. Ten totiž čekal na podobný výsledek od listopadu 2005! Možná si vzpomenete, že Chris Pikula svého času těsně neuspěl v hlasování do Hall of Fame a právě tenhle výsledek by mu mohl konečně zajistit zvolení do ní. Pikantní také je, že Chris dostal speciální pozvánku na PT Theros v Dublinu v roce 2013, kde velice smolně skončil na pomocné jako třiatřicátý, čili mu o jednu příčku utekla možnost, jak získat výsledek, který by mu umožnil dostat se do Hall of Fame...
Kromě těchto dvou hráčů byla v top8 ještě další známá jména v podobě Noaha Walkera a Alexandera Haynea, pro něhož už to byla jedenáctá top8 na GP.
Z vítězství se nakonec radoval Joel Larsson, když ve finále porazil Naoha Walkera. Zajímavé je, že jeho deck byl UB Improvise, ve kterém nebyla žádná vyložená bomba a spoléhal se pouze na artefaktové synergie.
Velmi dobře se dařilo i naší dvojici hráčů, když Martin Jůza se skóre 12:3 obsadil 21. místo, které mu vyneslo finanční prémii 500$ a tři pro pointy. Ondřej Stráský skončil se skóre 10:5 stosedmý, což stačilo alespoň na jeden pro point.
2. Modern Monthly MOCS
Na magic online proběhla další z kvalifikací na hlavní čtvrtletní MOCS turnaj (20.5.), která byla tentokráte ve formátu modern.
Zúčastnilo se jí 211 hráčů, z nichž jich 31 dosáhlo na skóre 6:2 a lépe, což byla hranice pro kvalifikaci na hlavní turnaj.
Turnaji dominovaly tři decky, které dohromady obsadily osmnáct postupových míst. Úplně nejvíc zástupců mezi nejúspěšnějšími decky měly různé verze Death's Shadow, z nichž byla nejhranější klasická Jund verze s bílou splashí v sidu. Další verze byly čistě Abzan, čistě Jund a zajímavá 4C verze bez zelené, která hrála karty jako Orzhov Charm a Stubborn Denial.
I v dalších verzích jsme ale mohly vidět zajímavé kusy. Některé verze hrály one-of Varolze a Grim Flayery. Jiné verze zase Oathy of Nissa a Lightning Bolty místo Tarfirů. Nejzajímavější mi ale přišlo, že většina verzí sáhla po větším počtu Temur Battle Ragů, což je karta, díky které získáte spoustu free winů. Celkově se mi ale líbí, že deck je velmi snadno kustomizovatelný a že je ho možné hrát takřka ve všech možných barených kombinacích.
Ostatní dva úspěšné decky byly Dredge a klaiskcý Abzan Midrange (to byl zároveň jediný deck, jenž dosáhl na perfektní skóre 8:0). A ačkoli jsem říkal, že tři nejúspěšnější archetypy zabraly sedmnáct míst v top31, tak celkem bylo mezi kvalifikovanými hráči hned sedmnáct různých decků:
6× Dredge
5× Abzan Midrange
4× 4C Death's Shadow
2× Affinity
2× Grixis Control
Abzan Death's Shadow
Melira Company
Jund Death's Shadow
Naya Burn
White Eldrazi
RG Scapeshift
Boros Burn
UW Control
GW Eldrazi
Grixis Death's Shadow
Gifts Storm
Mardu Nahiri
Kromě zmiňovaných zajímavých verzí Death's Shadow byly nejzajímavější decky White Eldrazi, což byla kombinace Death and Taxes a Bant Eldrazi, ve které byly navíc Simian Spirit Guidy a Chalice of the Void. A poté další Eldrazi deck, tentokráte v GW barvách a s toolboxem postaveným kolem Eldritch Evolution.
Poměrně netradiční deck byl i Mardu Control s Nahiri, což je další z decků, kterému pomohlo vydání Fatal Pushe.
3. Vintage Power Nine Challenge
Bžeznové (Flash News nabraly mírný skluz) Vintage Challenge se zúčastnilo 74 hráčů, kteří si to rozdali v šesti kolech základní části, po kterých následovala finálová top8.
Nejhranější decky turnaje byly samozřejmě Ravager Shops a Mentor decky, které představovaly zhruba 40% metagame. To se promítlo i do finálové top8, kde tyto decky obsadily pět míst. Naštěstí se ale jednotlivé varianty lišily, takže v top8 nebyly žádné dva decky úplně stejné.
Všechny navíc zaskočil "ravager101", což je dost závádějící nick, protože hrál Blue Dredge s populárním alternativním sidem, jenž obsadoval Dark Depths kombo.
Poražený finalista byl "wappla" se zajímavou verzí UWR Mentora, která hrála Balanci a one-of Nahiri a Chandru (Torch of Defiance). Perlička je, že šlo o jediného hráče, který do top8 postoupil se skóre 4:2.
Ve zbytku top8 jsme mohli vidět klasickou verzi UWR Mentora s maindeck Stony Silence, Grixis Pyromancera, White Eldrazi, dvoje Shopy (jeden klasický a druhý super agresivní s Fleetwheel Cruisery) a Sylvan Mentora.
Mimo top8 jsme z měné obvyklých decků mohli vidět Merfolky, Paradoxical Mentora (bez Storm karet a Timetwister efektů) a hodně šílený 4C Control s Green Sun's Zenithem, Jacem a Inferno Titanem.
Kompletní top16 vypadala následovně:
1. Blue Dredge
2. UWR Mentor
3. UWR Mentor
4. Grixis Pyromancer
5. White Eldrazi
6. Ravager Shops
7. Car Shops
8. Sylvan Mentor
9. Merfolk
10. Ravager Shops
11. 4C Zenith Control
12. Car Shops
13. Car Shops
14. Paradoxical Mentor
15. Ravager Shops
16. Ravager Shops
4. Online PPTQ (Standard)
Jednoho z posledních dvojkových online PPTQ před příchodem Amonkhetu se účastnilo 90 hráčů, kteří si to rozdali v sedmi kolech základní části, po které následovala finálová top8, ve které bylo 4× 4C Saheeli, 3× Mardu Vehicly a jedny RUG Aetherworky.
Celkem tu bylo devatenáct hráčů se skóre 5:2 a lépe, z nichž hrálo osm hráčů Mardu, sedm hráčů 4C Saheeli, dva RUG Aetherworky a po jednom hráči mělo BG Energy Aggro a RUG Tower.
Z vítězství se tu nakonec radoval "kaname" se 4C Saheeli, což byl zároveň také jediný neporažený hráč v základní části.
Pokud bychom se pohlédli po nějakých zajímavých decklistech, tak bych zmínil snad pouze zajímavou verzi 4C Saheeli s Bristling Hydrami a Verdurous Gearhulky, se kterou obsadil šesté místo "Jaberwocki".
5. Hareruya Modern Mania
V Japonsku se konal docela zajímavý modern, kterého se účastnilo 81 hráčů, kteří si to rozdali v sedmi kolech základní části (trochu nezvykle bez finálové top8).
Zvítězil tu Hiroki Kageyama s Living Endem, kterého následoval Akira Oshikawa s mou oblíbenou Grixis verzí Death's Shadow hrající delve bytosti a Stubborn Denialy.
Opravdová chuťovka byl Esper Midrange s flipovacími Jacy, Monastery Mentorem a Gideony, se kterým byl čvrtý Kousuke Takashima.
Zajímavý byl i Lantern Control s playsetem Leyline of Sanctity, Storm s Madcap Experiment kombem v sidu, nebo Uw Tron s novými Emrakuly.
Celá top16 vypadala takhle:
1. Living End
2. Grixis Death's Shadow
3. Abzan Death's Shadow
4. Esper Mentor
5. Lantern Control
6. Affinity
7. UWR Nahiri
8. Gb Tron
9. Gifts Storm/Madcap Experiment
10. Jund Death's Shadow
11. Naya Burn
12. Bant Eldrazi
13. Uw Tron
14. RG Scapeshift
15. Jund Death's Shadow
16. Nahiri Breach
6. Bonusové decklisty
Na úplný závěr tu máme pětici zajímavých decků. První je modernový UR Prowess s Thing in the Ice, jenž má zajímavý alternativní side s Pyromancer's Ascension.
Zbytek už jsou všechno legacy záležitosti - BUG Delver zmixovaný se True-Name Nemesis kontrolem Reida Duka, hodně zajímavý SmokeStax s playsetem Cruciblů, Tezzerator s Helm of Obedience/Leyline of the Void kombem a UR Delver se zelenou splashí pro Become Immense.
A to je z dnešního vydání Flash News vše, na viděnou zase příště.
Kumano
Komentáře
Přispívat mohou pouze přihlášení uživatelé. Pokud chcete vložit komentář, přihlaste se ZDE.