Novinky
Flash News #11/2018
V dalších Flash News nás čeká ohlédnutí za týmovými turnaji, a to Grand Prix Kyoto a SCGO Cincinnati. Na Magic Online proběhlo velké PTQ, které opět přilákalo hodně hráčů, ale i klasické týdenní turnaje a na vše se mrkneme.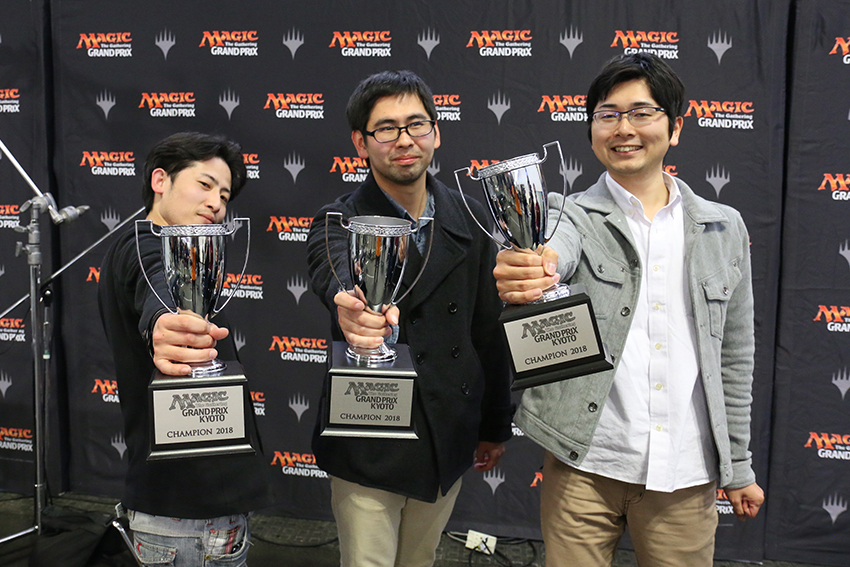 1. GP Kyoto (Team Conctructed)
V japonském Kyotu se konalo další z týmových GP ve formátu team constructed (hrají proti sobě tříčlenné týmy, kde jedna dvojice hraje standard, druhá modern a třetí legacy). Zúčastnilo se ho 757 týmů, což je zatím letošní největší návštěva na GP.
Bohužel, coverage na stránkách WoTC je velmi skoupá a o moc víc, než metagame druhého dne a decklisty top4 týmů, se toho v ní nedozvíme.
Mohu vám proto rovnou prozradit, že ve finálové top4 nebyla žádná známá jména a z výhry se radovala trojice Ryouichi Yamamoto, Yuusuke Matsubara a Kazuki Takamura, která hrála trojkombinaci UB Midrange (standard), Affinita (modern) a OmniTell (legacy).
Jednotlivé formáty vypadaly ve druhém dni následovně:
Standard
Nejhranější deck byly patrně díky výhře na GP Memphis RG Monstra, která trumfla všechny Scarab God decky. A hodně populární byly i decky s Winding Constrictorem:
13× RG Monsters
11× Grixis Energy
11× UB Control
10× Hadana Constrictor
8× UB Midrange
7× BR Aggro
7× BG Constrictor
6× God-Pharaoh's Gift
5× Monored Aggro
4× UW Approach
V top4 jsme mohli vedle vítězného UB Midrange vidět právě RG Monstra, BR Aggro a trochu překvapivě i Big Red, který nehrál Hazoret a raději se spoléhal na playsety Fenixů a Glorybringerů.
Modern
Na modernu jsme mohli vidět opravdu širokou škálu decků, přičemž úplně nejhranější byl RG Scapeshift a Boros Burn. Úplně nejvíc mne ale překvapil UW Control, který v poslední době nedosahuje nějakých úchvatných výsledků, ale i přesto ho ve druhém dni hrálo sedm hráčů...
8× RG Scapeshift
8× Boros Burn
7× UW Control
7× Affinity
7× BR hollow One
6× 5C Humans
6× Green Tron
5× Grixis Death's Shadow
5× Living End
5× Jund Midrange
V top4 jsme mohli vidět dva klasické zástupce agresivních decků - Affinitu a 5C Humany a také dva rogue decky s Jacem. Prvním byly UB Extra Turns, kde byla černá splash pro Fatal Pushe a Collective Brutality. Druhý deck byl dost nestandardní UW Control s Dragonlord Ojutaiem a celkově vlekým počtem dražších (4+ many) karet. úplně nejzvláštnější je tu absence Snapcasterů, místo kterých je v decku Wall of Omens.
Legacy
Tady měl podle očekávání výrazně navrch před ostatními Grixis Delver, ačkoli se nakonec ale do finálové top4 vůbec neprobojoval.
19× Grixis Delver
9× Czech Pile
8× Sneak and Show (OmniTell)
6× Monored Stompy
6× Death and Taxes
5× Miracles
5× UR Delver
5× 4C Delver
4× Colorless Eldrazi
V top4 jsme měli pěkný souboj kontrolů s kombodecky. Dva nejlepší kontroly v podobě Czech Pile a UW Miraclů (verze s Mentory a Back to Basics) poměřily síly s již zmiňovaným OmniTellem a také s komboverzí Alurenu, která hrála Rucruitery of the Guard.
2. SCG Open Cincinnati (Team Constructed)
I v rámci SCG Open se hrálo týmové constructed, kterého se zúčastnilo 341 týmů. Po druhé za relativně krátkou dobu tak SCG Open překonalo hranici tisíce hráčů.
Na turnaji byl tradičně velmi přísný postupový klíč, když bylo potřeba pro postup do druhého dne získat alespoň sedm výher z devíti kol, což se podařilo pouze šestadvaceti týmům.
Z nich se nejvíce dařilo ostříleným harcovníkům, Matt Hoey, Joe Bernal a Andrew Tenjum, která vsadila na trojici osvědčených decků - Grixis Energy (standard), Gifts Storm (modern) a Grixis Delver (legacy).
Dále se opět podíváme podrobně na všechny tři formáty:
Standard
Jasnou převahu měly Scarab God decky, kterých bylo ve druhém dni šestnáct (8× Grixis, 6× UB Control, 2× UB Midrange). V top8 jsme naštěstí ale mohli vidět i dva originální decky v podobě BW Vampýrů (doporučuji v nich vyzkoušet Sanctum Seekera, který je dost dobrý se všemi token generátory) a Monowhite Approache, což bylo dost divoké brew.
Modern
Na modernu jsme klasicky měli velmi pestrou metagame, kde pouze dva decky hráli více, než dva hráči. Byl to Jund se čtyřmi a RG Scapeshift se dvěma. Celkem jsme ve druhém dni mohli napočítat sedmnáct různých decků.
V top16 byl nejoriginálnějším deckem BUG Midrange v klasickém Jund stylu s discardem a planeswalkery jakožto hlavní karetní výhodou.
Zajímavé byly také dva Company decky, value Bant verze bez komb a GW speciál Todda Stevense s maindeck Worshipem...
Legacy
Nikoho nepřekvapí, že i tady byl Grixis Delver s obrovským náskokem nejhranější deck, když si ho vybralo devět hráčů, zatímco na druhém místě měl Sneak and Show a Miracly pouze po třech hráčích.
Jediný neobvyklý deck v top16 byl 4C Delver, což byl takový mišmaš mezi klasickým Grixisem a oldschool verzí v RUG barvách.
3. SCG Classic Cincinnati (Standard, Modern, Legacy)
Dvojková klasika mne velmi pozitivně překvapila, jednak svou vysokou účastí (141 hráčů, osm kol základní části), ale zejména velkou rozmanitostí decků v top16, kde jsem mohli vidět:
3× Monored Aggro
2× UB Midrange
RB Aggro
Esper Gift
GW Tokens
Esper Approach
UB Control
Monogreen Aggro
Hadana Constrictor
Big Red
Grixis Energy
WB Vampires
Jeskai Gift
Ve finále se střetly dva agresivní červené decky. Daniel Gillette s klasikou verzí Monoredu v něm porazil variantu s malou černou splashí.
Z dalších decků mne nejvíce zaujalo Monogreen Aggro s Rhonas's Monumentem, ale celkem neobvyklé a zajímavé decky byly i Esper Gift, Esper Approach, či Jeskai Gift s Combat Celebranty.
Největší z klasik byla jako obyčejně ta modernová s účastí 303 hráčů, což znamenalo devět kol základní části. Na předních příčkách jsme mohli vidět víceméně samé tier decky, z nichž žádný neměl nějakou větší převahu - v top16 skončilo patnáct různých decků, dva zástupce v ní měli pouze 5C Humani.
Z vítězství se radoval Brent Clift s Vizier Elfy, když ve finále porazil Affinitu.
Nejzajímavější decky v top16 byly BUG Midrange - s pěti různými planeswalkery, což je ještě o dva více oproti verzi z Open, a Bring to Light Scapeshift, který fikaně hrál už v mainu jeden Madcap Experiment jakožto alternativní cíl pro Bring.
Jinak jsme v top16 mohli vidět i UW a Jeskai Control, RG Scapeshift, Bogly, Grixis Death's Shadow s Lingering Soulsy v sidu, Dredge, Kiki Moon, Boros Burn a BR Hollow One.
Legacy se zúčastnilo slušných 157 hráčů, což zanemenalo osm kol základní části.
Nejúspěšnější deck turnaje byl podle očekávání Grixis Delver, který obsadil hned čtyři místa v top8. Žádný z jeho pilotů se ale nakonec neprobojoval do finále - tam si to  rozdali Daniel Duan s Czech Pile a Adam Cozort s BG Depthsy. Zvítězil Daniel, možná i díky one-of Diabolic Edictu, což je jedna z lepších karet proti Marit Lage...
Na dalších místech jsme mohli vidět například dvoje Elfy, UR Delvera (podle mě dost divnou verzi se Stormchaser Magem a Bedlam Revelery), UW Miracly (s Mentory a Back to Basics), Death and Taxes, Eldrazi Rampu, Dark Bantblade, RG Země, Monored Stompy, či Storm.
4. Online PTQ (Standard)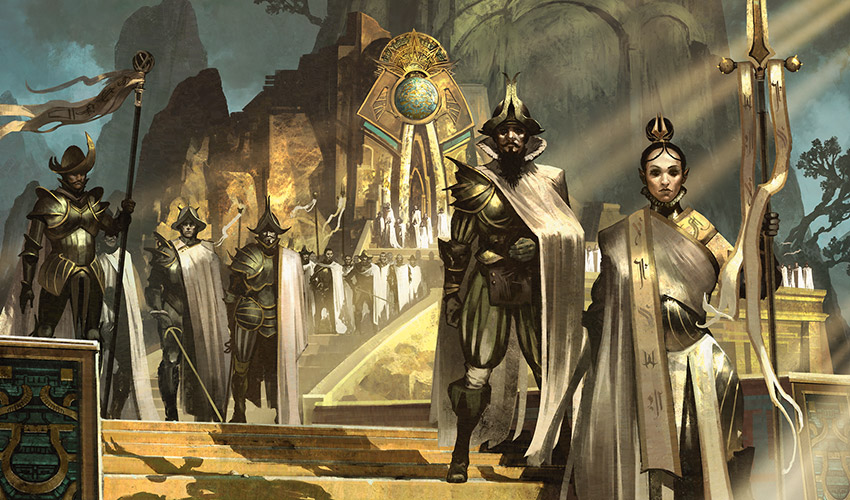 Velkých dvojkových turnajů je na MTGO pomálu a hráči jsou hladoví, o čemž svědčí i návštěvnost posledního PTQ, jenž opět přesáhla hranici tříset hráčů (konkrétně 303).
I přesto se hrálo pouze osm kol, ve kterých hned čtyřiadvacet hráčů dosáhlo na sedm a více výher.
Povzbudivé je, že jsme tu měli velmi zajímavou top8, s několika brew, z nichž jedno dokonce slavilo celkové vítěztví. Šlo o WR Aggro z dílny Sama Blacka, se kterým zvítězil "madcaPopeye", když dosáhl na perfektní skóre 11:0.
Ve finále porazil Grixis Control ve verzi, kterou osobně nemám příliš rád kvůli velké barevné náročnosti (Sweltering Suns, Disallow, Vraska's Contempt).
Na dalších místech byly klasiky jako Grixis Energy, Monored Aggro, či dvakrát BUG Constrictor.
Sedmé a osmé místo ale obsadila dvojice brew. První byl UW Cycling, který hrál ale navíc Approache, a druhé bylo New Perspectives kombo se zajímavým sideboardem, který zahrnoval alternativní winkondice jako Drake Haven, Archfiend of Ifnir, nebo The Scarab God.
Ve zbytku decků se skóre 7:1 jsme mohli vidět tři Monoredy, dva UW Gifty, dva UB Midrange, dva UB Controly, dva BUG Constrictory, RB Aggro, RG Monstra, a z méně obvyklých decků agresivní verzi GB Constrictora, WU Aury a GW Tokeny s minikombem v podobě Sram's Expertise + Growing Rites of Itlimoc.
5. Modern Online PTQ & Weekly Challenge
Nejen, že na MTGO byly dvě PTQ v jednom týdnu, ale navíc se obě dvě přeháněly v návětěvnosti. Obecně platí, že modern má vždycky o něco vyšší návětěvnost než standard, a to se potvrdilo i zde, když se modernového PTQ zúčastnilo 391 hráčů, což dokonce znamenalo deset kol základní části.
Do top8 ale některým hráčům stačilo i 8:2, ovšem hráčů s osmi a více výhrami bylo dohromady dvacet.
S konkurencí si pohrál jako kočka s myší CharLy, který s 5C Humany za celý turnaj nenašel přemožitele, což znamená celkové skóre 13:0.
Mezi nejlepšími decky nebylo k vidění nic příliš neobvyklého. Nejúspěšnější decky byli 5C Humani, Gifts Storm a BR Hollow One, když měly shodně tři hráče v top20.
Celé to na nejvyšších příčkách vypadalo takhle:
1. 5C Humans
2. Green Tron
3. 5C Humans
4. Abzan Company
5. Eldrazi and Taxes
6. Living End
7. Ad Nauseam
8. Gifts Storm
9. Gifts Storm
10. UR Breach Moon
11. Grixis Death's Shadow
12. 5C Humans
13. BR Hollow One
14. Bant Knightfall
15. Gifts Storm
16. BR Hollow One
17. Boros Burn
18. BR Hollow One
19. Affinity
20. UW Control
Podobné rozložení decků na předních příčkách jsme mohli vidět i v pravidelné challengi, ale s tou výjimkou, že nejvíce hráčů v top16 měly Bogly, a to konkrétně tři.
Ve finále ale trochu nečekaně prohráli s Hollow One, ačkoli ten v decku kromě jedněch Engineered Explosives v sidu neměl žádné karty, které by tenhle matchup nějak vylepšovaly. Zřejmě měl vítězný "vandrwll" explozivní draw s větším počtem rychle zahraných Hollow One, nebo se dobře trefil s Burning Inquiry.
V top16 jsme mohli vidět i několik méně obvyklých decků - na šestém místě bylo Ironworks Combo, osmí byli BW Tokeni a šestnácté prazvláštní Monored Aggro s kartami jako Bomat Courier, Rampaging Ferocidon, či Ramunap Ruins (zřejmě podle teorie, že karty moc silné pro standard by se měly prosadit alespoň na modernu).
6. Ostatní Weekly Challenge (Legacy, Vintage, Duel Commander, Pauper)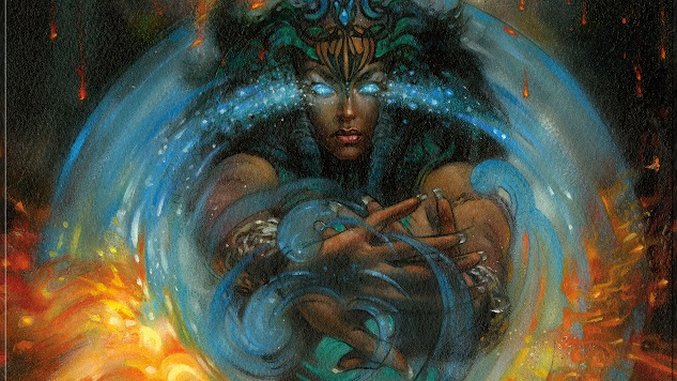 Nejúspěšnější deck v legacy challengi byl Czech Pile, který měl tři zástupce v top8 (jedním z jeho hráčů byl sám Tomáš Már) včetně celkového vítěze, kterým byl Moseco. Ve finále porazil Elfy Juliana Knaba, což je normálně výborný matchup pro Elfy, nicméně Moseco shodou okolností hrál verzi, která měla po sidu dva Toxic Deluge.
Na předních příčkách byla k vidění i dvojice nepříliš obvyklých decků. První byl Nic Fit v BG kombinaci (s velkým počtem discardu) a druhý byly Goblin Stompy, což je další z řady Chalice of the Void//Blood Moon decků, který se spoléhá na finishery jako Goblin Rabblemaster či Moggcatcher, což zároveň umožňuje hrát one-ofy jako Goblin Settler, či Tutuk Scrapper...
V top16 jsme dále mohli spatřit tři Grixis Delvery, OmniTell, 4C Control s Dackem a Punishing Firy, další dva Czech Pily, zajímavý BUG Aluren s minikombem Leovold + Lore Broker, BR Reanimator se zajímavým sideboardem, kde byly kusy jako Pack Rat či Sylvan Library, a konečně i UW Miracly s Mentorem a Back to Basics.
Vintage se nesla v duchu soubojů mezi Shopy a Paradoxical Outcome decky, které dohromady zabraly deset míst v top16. Shodou okolností ale byla finálová top8 celkem rozmanitá.
Zvítězil Paradoxical Outcome s Mentorem a Vault//Key kombem, když ve finále porazil klasickou verzi Dredge.
Na dalších místech byl UR Mentor, Paradoxical Outcome s Mentorem, Vault//Key kombem a navíc i Tendrils of Agony, UR Delver, dvoje Ravager Shopy a kontrolní verze Oathů.
Mimo top8 ale obsadily hned šest míst z osmi Shopy a PO decky, za zmínku z nich stojí Shopy vytechované na mirror, tj. s Null Rody a Metamorphy, a také Paradoxical Outcome s Night's Whispery.
Zbylé dva decky v top16 byly 4C Control (vintage verze Czech Pile, kterou hrál opět čirou náhodou Tomáš Már) a White Eldrazi.