Novinky
Flash News #12/2017
1. GP San Antonio (Team Unified Modern)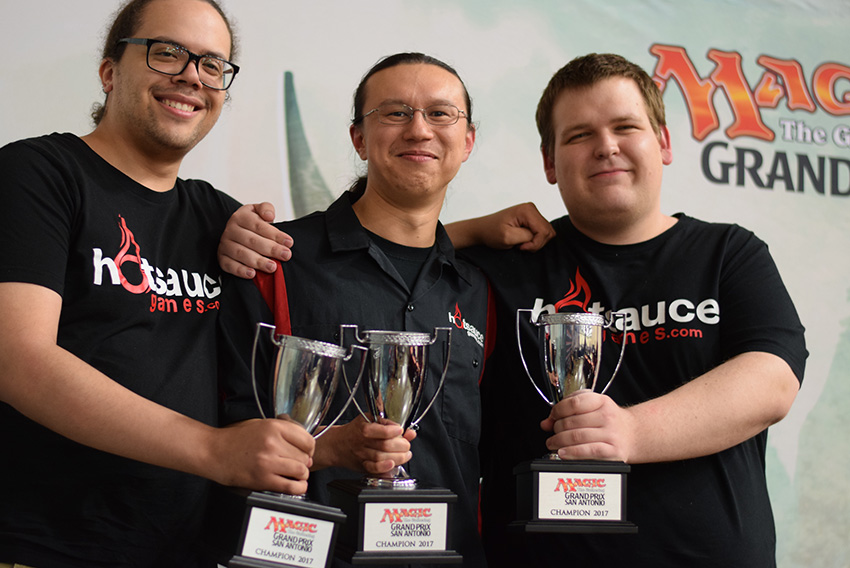 Kombinace populárního týmového turnaje a neméně populárního modernu (ačkoli zde platilo unifikované pravidlo - tedy žádní dva hráči v týmu nesmí hrát stejnou kartu, kromě basic landu) přilákala do San Antonia 556 týmů (1 668 hráčů).
Týmové turnaje jsou obzvláště oblíbené u pro hráčů, takže jsme tu mohli vidět celou řadu velmi silných týmů, jako například Owen Turtenwald, Reid Duke & William Jensen, Eric Froehlich, Ben Stark & Andrew Cuneo, nebo Mike Sigrist, Alexander Hayne & Steve Rubin.
Účastnili se samozřejmě i Martin Jůza s Ondřejem Stráským - Martin ve společnosti Shuheie Nakamury a Joela Larssona a Ondřej s Oliverem Tiu a Jasonem Chungem.
Po celou dobu turnaje jsme na předních příčkách mohli vidět plno známých hráčů, což nakonec vygradovalo ve velmi nabitou finálovou top4, kde byly týmy Gregory Orange, Adam Jansen & Andrejs Prost, Gerard Fabiano, Eli Kassis & Ben Lundquist, Owen Turtenwald, Reid Duke & William Jensen (alias Peach Garden Oath) a David Ochoa, Matt Severa & Andrew Baeckstrom.
Největšími favority byli samozřejmě Peach Garden Oath, kteří mimochodem mezi sebou mají 11 top8 na PT a 61 GP top8. Ve finále ale nakonec nestačili na trojici Gregory Orange, Adam Jansen & Andrejs Prost, kteří hráli UW Control, Jund Midrange a Affinitu.
Zajímavé je, že Chris Pikula tu uhrál druhou top8 na GP v řadě, když spolu s Jarvisem Yu a Benem Seckem skončil na pátém místě. V týmovém GP ale získávají pozvánku na PT pouze čtyři první týmy, takže to není tolik prestižní, jako u klasikého GP.
Co se týče našich hráčů, tak ti si opět nevedli úplně špatně. Tým Martina Jůzy skončil na osmadvacátém místě a tým Ondřeje Stráského na devětatřicátém. Finanční prémie ale byla bohužel pouze pro prvních 24 týmů...
Teď se koněčně můžeme podívat na to, co byly nejúspěšnější decky turnaje. Takhle vypadaly decky v prvních osmi týmech:
1. UW Control - Jund Midrange - Affinity
2. Grixis Control - Eldrazi Tron - Abzan Death's Shadow
3. Madcap Moon - Bant Company - 4C Death's Shadow
4. 4C Death's Shadow - Bant Company - Affinity
5. Melira Company - Affinity - Grixis Death's Shadow
6. RG Breach - Abzan Midrange - Affinity
7. Affinity - Bant Eldrazi - 4C Death's Shadow
8. RG Scapeshift - Bant Eldrazi - Affinity
Vidíte, že skoro ve všech úspěšných týmech byla nějaká varianta Death's Shadow, která je stále považována za nejlepší deck na formátu, a poté Affinita, což je velmi vděčný deck pro unified formát, jelikož "nekrade" karty z ostatních decků.
Jedním z nejzajímavějších decků byl UW Control ve vítězném týmu, jenž byl zaměřený specificky proti Death's Shadow. Crucible s playsetem Ghost Quarterů a Spreading Seasů trestáte greedy manabase decku a Condemn je efektivní a navíc vtipný způsob, jak se zbavit více Death's Shadow naráz.
Další méně obvyklé decky v top8 byly Madcap Moon a Eldrazi Tron. Upřimně řečeno příliš nevím, proč si Gerrard Fabiano zvolil zrovna Madcap Moon, jelikož je to deck, který v podstatě neumí dostat ze stolu Tarmogoyfa ani Death's Shadow (pouze s výjimkou Commandu). Na druhou stranu ale Death's Shadow (kromě pár Kolaghan's Commandů) neumí zabít Platinum Emperiona a dobře zahraný Blood Moon je také konečná...
Zaujalo mne také, jak pomalu stoupá popularita nové Chandry, kterou jsme mohli v top8 vidět v Jundu a ve Scapeshiftu, kde byla hned ve třech kusech.
Mimo top8 byly na turnaji k vidění i další zajímavé decky. Pascal Maynard, jehož tým skončil na osmnáctém místě hrál Krark-Clan Ironworks kombo založené na interakci mezi Hangarback Walkerem a Scrap Trawlerem.
Vlastní verzi Amulet Titana hrál Samuel Black, který byl se svým týmem pouze o jednu příčku za Pascalem Maynardem. V decku byly chuťovky jako Tireless Tracker, Bonfire, nebo Walking Ballista, což je pěkný one-of pro Tolarii West.
2. European Eternal Weekend 2017 (Legacy, Vintage, Duel Commander, Oldschool)
Bazaar of Moxen pořádal další z premiových eventů v podobě oficiálního evropského mistrovství v Legacy a Vintage. Kromě toho se tu pořádaly i dva menší eventy v podobě duel commanderu a oldschoolu.
Nejvíce hráčů přišlo na legačku - 448, přičemž maximální kapacita 450 hráčů byla naplněna již během předregistrace (trochu překvapivě byl turnaj bez českých hráčů). Navzdory tomu, že organizátoři věděli o velkém zájmu ze strany hráčů, tak turnaj nebyl pořadatelsky zvládnutý úplně na jedničku a místo posledního kola hrála extra zápasy pouze top16, jelikož by se jinak nestihlo dohrát ani do půlnoci...
Nejpopulárnější deck výjimečně nebyly Miracly, nýbrž různé varianty 4C Controlu, které hrálo 49 hráčů. Miracly si zvolilo 38 hráčů a dále následovaly Death and Taxes (33), různé varianty BUGu (28), 4C Delver (27), Turbo Depthsy (25), Reanimator (25), Eldrazi (21) a Show and Tell (20).
V top8 obsadil hned tři místa ale zcela jiný deck - Elfové. To bych přisuzoval tomu, že se spousta hráčů snaží metagamovat proti Miraclům a různým kombům, a mají tak málo specifických hate karet proti Elfům.
Rozhodně ale stále platilo, že Elfové mají velmi špatný matchup s Miracly, což se potvrdilo během finálové top8, kde všichni tři piloti elfů ztroskotali právě na Miraclech. Ty si nakonec střihly miror ve finále, kde byl úspěšnější domácí Thomas Mechin.
Top8 pak zkopletoval 4C Loam (s chuťovkou v podobě Centaur Vinecrashera), Burn (bez Swiftspearů) a Dark Bant.
Velmi pěkou účast měl i vintage main event, který si přišlo zahrát 152 nadšenců. Nejpopulárnější deck tu podle očekávání byl klasický UWR Mentor, kterého hrálo 30 hráčů. Další populární archetypy byly Ravager Shopy (20), White Eldrazi (12), Oathy (12), nebo BUG Control (11).
Turnaj se nesl ve znamení španělské nadvlády, když Španělé obsadili pět míst v top8 a nakonec si to rozdali i o titul šampiona, který získal Joaqiun Solis s White Eldrazi, když ve finále porazil Ravager Shopy Aurelia Crespa.
Španělskou dominanci podtrhl ještě třetím místem Javier Rodriguez se zajímavým BUG Controlem, který stavěl na trojici bytostí Deathrite Shaman, Dark Confidant a zejména Leovold, Emissary of Trest, který je opravdu brutální proti všem modrým deckům na formátu. A proti nemodrým deckům byly v decku pro změnu maindeck Null Rody...
Ve zbytku top8 byly k vidění dva další Shopy (jeden klasický, jeden s Fleetwheel Cruisery), UWR Mentor, Grixis Control s Notion Thiefy a Tinker-Colossus kombem a konečně zvláštní verze Mentora s černou splashí na Vampiric a Demonic Tutor (a s Kambalem v sidu) a také s kontrolními kartami jako Balance, Mystic Remora, nebo Mana Drain.
Ze zbylé dvojice turnajů byl větší Duel Commander, který zlákal 99 hráčů. Nejvíce se tu dařilo Grixis Controlům s Vial Smasherem a Kraumem, kteří hráli mirror ve finále, ze kterého vzešel vítězně Mattew Dolganov.
Další úspěšný generál byl Baral hraný jako Polymorph kombo, jenž také zabral dvě místa v top8.
Vůbec nejhranější genrál v top8 byl ale Bruse Tarl, který tam byl hned ve třech decích - jednou v kombinaci s Reyhanem a dvakrát  Boros Aggru s Akiri. Lifelink s double strikem je holt v agresivním formátu hraném na dvacet životů ohromně silná zbraň. A abych nezapomněl, tak poslední deck v top8 byl klasický Geist of Saint Traft.
V Oldschoolu si to o vítězství rozdalo čtyřicet hráčů, přičemž nejúspěšnější deck turnaje byl 5C Control s UW základem, který bývá označován jednoduše jako "The Deck". Oproti předchozím verzím se v něm přestaly hrát Serra Angelové a jako hlavní winkondice tu jsou Fireball a Braingeysir.
Vítěz byl ale z jiného soudku - všechny Kontroly zaskočil Christian Rivoire s Esper Tempem s Hypnotic Spectrami a Serendib Efreety.
Celkem byl v top8 pětkrát The Deck, dvakrát Esper Tempo a jednou UR Tempo se Serendib Efreety.
3. Online PPTQ (Modern)
Trochu nezvykle se na onlinu konalo modernové PPTQ, kterého se zúčastnilo 77 hráčů, jenž změřili síly v sedmi kolech základní části, po které následovala top8.
Osmnáct hráčů dosáhlo na skóre 5:2 a lépe a byla mezi nimi celá řádka rozdílných decků, mezi nimiž žádný nijak zvlášť nedominoval, ačkoli v top8 byly tři Death's Shadow decky (jeden z nich byl nezvykle v Esper barvách).
Celkovým vítězem se stal "BReal2" s Jund Midrangem, ve kterém nehrál Lightning Bolty. O myšlence, že Bolt není ve stávající metagame příliš dobrý, už jsem tu před časem psal a teď se to konečně potvrdilo. Místo Boltů byl v decku playset Fatal Pushů. A zajímavý mi přijde i celý playset Kolaghan's Commandů, které napak zajišťují, že bytosti, které zemřou na soupeřův Push, budeme moci v lategamu znovu použít.
Zajímavé je, že v top8 byl ještě jeden další Jund, který také neobsahoval žádné Lightning Bolty.
Nejzajímavější deck v top8 byl zcela jednoznačně Esper Control využívající Goryo's Vengeanci jakožto karetní výhodu v kombianaci s flipovacím Jacem a Obzedatem. Deck si od té doby získal celou řadu příznivců a články (a videa) o něm se objevily na většině velkých zahraničních webech.
Celkem vypadala top18 takhle:
1. Jund Midrange
2. Eldrazi and Taxes (s Dark Confidanty)
3. Jund Midrange
4. Esper Death's Shadow
5. Esper Goryo's Vengeance
6. Bant Eldrazi
7. 4C Death's Shadow
8. Abzan Death's Shadow
9. UW Control (verze s Kitchen Finks)
10. Gb Tron
11. Abzan Midrange
12. Gw Tron
13. GW Hatebears (s Collected Company)
14. Affinity
15. Eldrazi Tron
16. Gifts Storm
17. Dredge
18. Dredge
4. Stockholm Modern League Playoff
Přes sto hráčů (104) se sešlo ve Stockholmu, aby se utkali o v pořádí už devátou trofej z tamní modernové série.
Do finálové top8 se tu dostalo osm naprosto rozdílných decků - Scapeshift, Jund Midrange, RG Ponza, Saheeli Moon, Affinita, Boros Burn, Pyromancer's Ascension Control a Blue Tron.
Celkovým vítězem se stal Lukas Horosiewicz se Scapeshiftem, když ve finále porazil Jund Viktora Gaerdeho. Nebyla to ovšem jen tak obyčejná verze Scapeshiftu - splashovala totiž černou kvůli Fatal Pushům a Decayům. Hlavní důvod téhle splashe byl zcela určitě Death's Shadow. Lightning Bolt už to má pomalu spočítané...
Když pominu non-tier decky jako RG Ponza, Pyromancer's Ascension Control (verze s Thing in the Ice - už jsem ji tu párkrát ukazoval) a Blue Tron, tak další zajímavý deck byl Saheeli Moon. Šlo o deck, který měl základ v kontrolních UR kusech, ale navíc obsahoval Saheeli kombo. Je trochu škoda, že v decku není žádný Path, který je super na Death's Shadow, ale je jasné, že když hrajete Blood Moon a Spreading Seas, tak zrovna dvakrát nechcete dávat soupeři do hry basicy...
5. Bonusy (Modern & Legacy)
Závěr dnes patří dvojici bonusových decklistů. Oba jsou z Japonska, což je země brewingu zaslíbená...
První je modernový Bant Midrange založený na interakci mezi Aether Vialem, Eternal Witnessou a Cryptic Commandem. Deck vychází z původního decku Shoty Yasooky z MS 2012, který byl ale v RUG barvách.
Tahle verze decku má ale ještě mnohem lepší lategame a to zejména díky playsetu Eldrazi Displacerů, ke kterým tu kromě Witnesky jsou kusy jako Renegade Rallier, Spell Queller, nebo Reflector Mage. Vypečený je v decku také Venser, který kromě další synrgie s "blink" efekty také díky neblokovatelnosti nabízí způsob, jak rozpinkout boardstall.
I poslední dnešní deck je opravdu pěkná a originální kreace. Jedná se o legacy obdobu Bomberman komba, což je, pokud náodou nevíte, kombo s Auriok Salvagery a Black Lotusem pro nekonečnou manu. Na legacy musíme místo Black Lotusu hrát Lion's Eye Diamond.
Nekonečnou manu ideálně zkombinujete s Walking Ballistou, který je ale v decku dobrý i sám o sobě díky osmi "Sol landům". Deck má zároveň ale i dost dobrý plán B, který spočívá v Monastery Mentorovi a celé řadě free artefaktů. Pěkný je v decku i Trinket Mage, který může hledat chybějící části komb, ale ve správném matchupu (rozumějte 80% všech legacy decků) jistě oceníte i Chalice of the Void.
S deckem obsadil pěkné druhé místo Mikito Tanaka na turnaji z pravidelné legacy série KMC (Known Magician's Clan).
A to je z dnešního vydání Flash News vše, na viděnou zase příště.
Kumano
Komentáře
Přispívat mohou pouze přihlášení uživatelé. Pokud chcete vložit komentář, přihlaste se ZDE.