Novinky
Flash News #12/2018
V těchto Flash News si pořádně rozebereme nedávný Pro Tour Dominaria, který pro naše hráče nedopadl nejhůř. Dále se podíváme na modernové SCG Regionals (které může být inspirací pro nadcházející GP Barcelona) a nejrůznější online turnaje.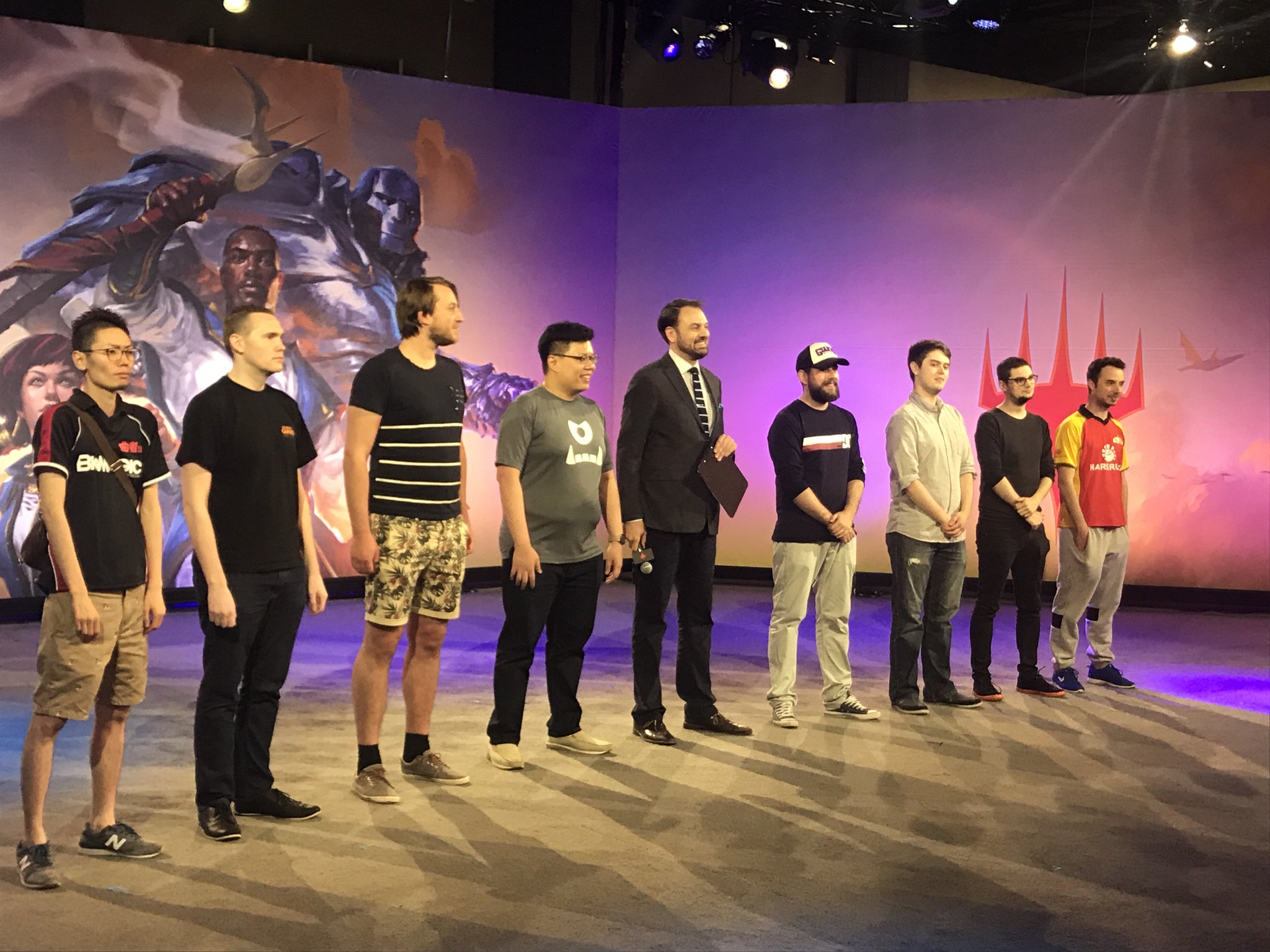 1. PT Dominaria (Draft + Standard)
Tentokráte se PT konal v USA, konkrétně v Richmondu a po modernovém PT Rivals of Ixalan jsme se klasicky vrátili ke standardu, kde byly papírově největšími favority červená aggra s Goblin Chainwhirlerem.
Pro Tour Dominaria se zúčastnilo 460 hráčů, přičemž česká výprava čítala osm jmen - Martin Jůza, Petr Sochůrek, Lukáš Blohon, Ondřej Stráský, Jan Ksandr, Dominik Prošek, Pavel Matoušek a Jonáš Vlček.
V první dni nás nečekala žádná překvapení - nejhranější decky byly různé varianty RB s Chainwhirlerem, Monored Aggro a UW Control. dobrá zpráva je, že hned třináct decků mělo v prvním dni alespoň deset hráčů - nejzajímavější volby byly Monoblack Midrange a UG Midrange s Karnem, který hráli někteří členové týmů CFB a UltraPro.
RB Aggro

-

65 hráčů

(

14,1%)
RB Midrange

-

57 hráčů (12,4%)
Mono-Red Aggro

- 51

hráčů (

11,0%)
UW Control - 48 hráčů (10,4%)
Gx Aggro

-

40

hráčů (

8,7%)
BG Constrictor

-

34 hráčů (7,4%)
WB Aggro

-

30

hráčů (

6,5%)
Esper Control

-

20 hráčů (4,3%)
UB Midrange

-

14

hráčů (

3,0%)
Esper Midrange

-

14 hráčů (3,0%)
UG Karn

-

11 hráčů (2,4%)
UB Control

-

10 hráčů (2,2%)
Monoblack Midrange

-

10 hráčů (2,2%)
Po prvním dni vévodili pořadí brazilský Lucas Berthoud a Ernest Lim ze Singapuru. Zajímavé bylo, že ani jeden z nich nehrál deck s Chainwhirlerem - Lucas hrál GB Constrictora a Ernest Esper Control (respektive UB se splashí na Teferiho).
Našim hráčům se v prvním dni příliš nevedlo - čtyřem chyběla na postup jedna výhra, Ondřej Stráský a Jan Ksandr měli skóre 4:4. Naději na top8 měla pouze dvojice Petr Sochůrek a Dominik Prošek, která měla skóre 6:2. Oba šli opět proti porudu, když Petr hrál UW Approach a Dominik Monogreen Aggro s modrou splashí.
Co se týče metagame ve druhém dni, tak za pozornost stojí především neúspěch hráčů s UW Controly, WB Aggrem a Monogreenem. Úplně nejhůř ale dopadli ti, kteří vsadili na inovaci, tedy piloti UG Karna a Monoblacku (procenta v závorkách ukazují, kolik hráčů postoupilo s daným deckem do druhého dne).
RB Midrange - 43 hráčů (75,4%)
RB Aggro - 41 hráčů (63,1%)
Mono-Red Aggro - 40 hráčů (78,4%)
UW Control - 27 hráčů (56,3%)
BG Constrictor - 23 hráčů (67,7%)
Gx Aggro - 23 hráčů (57,5%)
Esper Control - 15 hráčů (75,0%)
WB Aggro - 14 hráčů (48,3%)
UB Midrange - 9 hráčů (64,3%)
Esper Midrange - 9 hráčů (64,3%)
UB Control - 7 hráčů (70,0%)
UG Karn - 5 hráčů (45,5%)
Monoblack Midrange - 4 hráči (44,4%)
Ve druhém dni se pořadí na špici neustále přelévalo a o většině postupujících se rozhodovalo až v posledních dvou kolech. Jako první měli jistotu postupu Owen Turtenwald a Thomas Hendriks, ke kterým se dále přidali Ernest Lim, Goncalo Pinto, Wyatt Darby a Manuel Lenz.
V posledním kole si zbylá dvě místa vybojovali Kazuyuki Takimura a Marcio Carvalho.
Smolíkem turnaje byl Kevin Jones, který byl díky neúmyslné remíze v posledních kolech dvakrát napárován dolů (hrál vlastní verzi UB Midrange). Nejprve nestihl o kolo zabít Marcia Carvalha a poté vedl 1:0 nad Kazuyuki Takimurou, ale nakonec prohrál a skončil na nepopulárním sedmnáctém místě...
Metagame v top8 byla navzdory pestrému hernímu poli dost jednotvárná - čtyřikrát RB Aggro, dvakrát Monored, jednou RB Midrange a jednou Esper Control. Ještě zajímavější to je v porovnání s předchozím dvojkovým PT (PT Ixalan), kde RUG/4C Energy a Ramunap Red tvořilo skoro 70% herního pole, ale do top8 se nakonec dostalo sedm různých decků.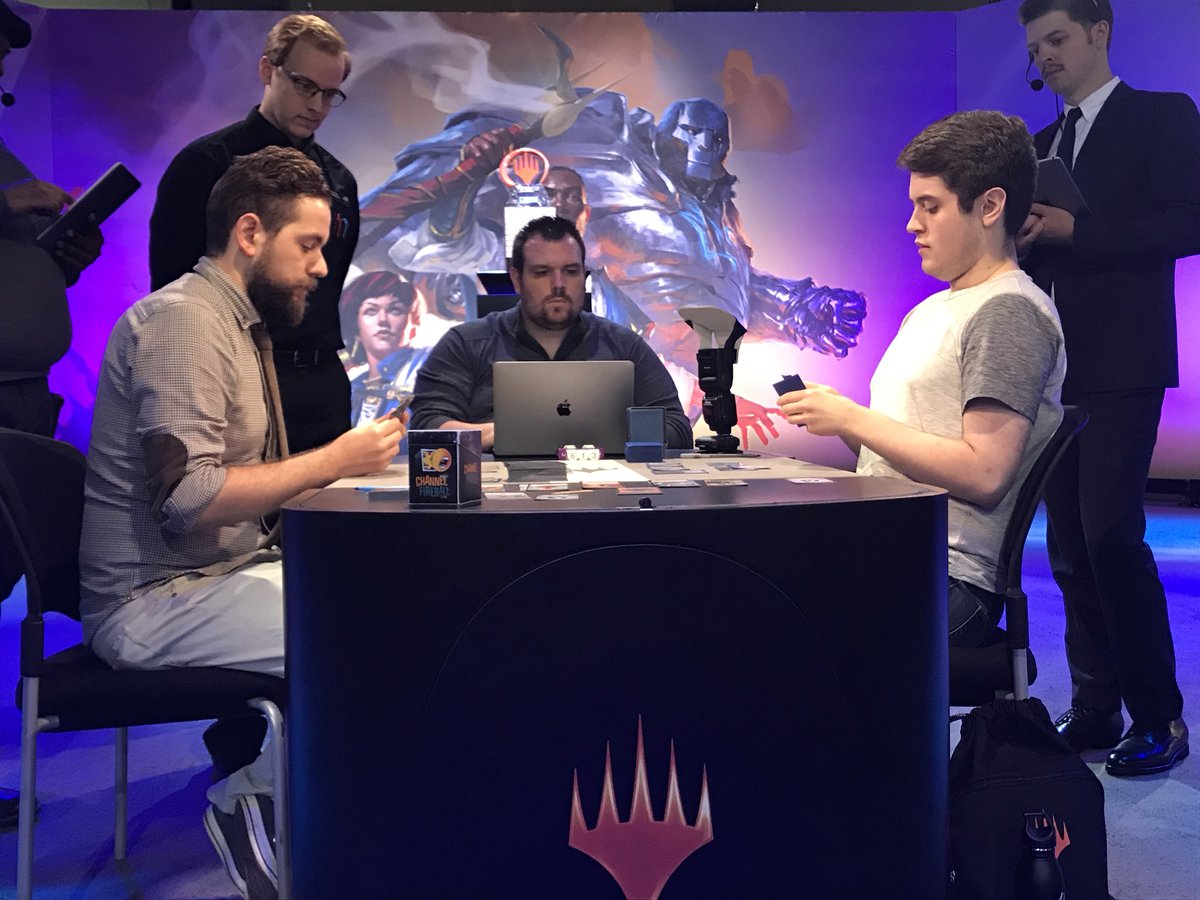 V top8 se nejlépe dařilo Goncalu Pintovi s RB Aggrem (s deckem byl v top8 i v GP Birmingham) a Wyattu Darbymu s Monoredem. Ve finále se rozhodovalo až páté hře, kde si Wyatt Darby na jednom životě topdeckl jediný možný out v podobě Glorybringera pro přesný lethal útok. Tomu říkám stylově vyhraný PT!
Z našich hráčů se nakonec jako jediný do honorovaný top64 dokázal dostat Petr Sochůrek, když obsadil 55. místo se skóre 10:6. Stejné skóre měl i Dominik Prošek (83. místo), a dvojka Ondřej Stráský a Jan Ksandr skončila ve druhé stovce se skóre 9:7. Za pozornost stojí, že Dominik patřil se skóre 8:2 se svým Gu Aggrem mezi nejúspěšnější standardové hráče v celém PT!
Na PT se ale nehrálo pouze o titul šampiona. Ve hře byly i dvě vstupenky na letošní MS (sezóna sice ještě nekončí, ale další PT bude ve formátu team constructed) - jedna pro "PT Draft Mastera" a druhá pro "PT Constructed Mastera".
Draft Masterem se stal s velkým náskokem švědský Elias Watsfeldt. Souboj o constructed mastera byl mnohem vyrovnanější - rozhodovalo se až v posledním kole a tím šťastnějším byl nakonec Matt Severa.
Pokračovala samozřejmě i soutež týmů, kde šel do trháku tým Ultimate Guard (Andrew Cuneo, Reid Duke, Jon Finkel, William Jensen, Paul Rietzl a Owen Turtenwald), který má náskok 28 bodů na Hareruya Latin (Lucas Berthoud, Márcio Carvalho, Sebastian Pozzo, Carlos Romão, Luis Salvatto a Thiago Saporito).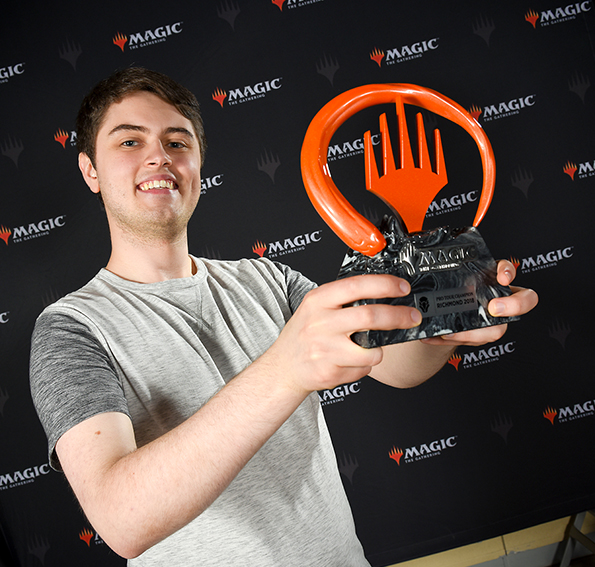 Nejúspěšnější decky & karty z Dominarie
Na závěr nesmí chybět přehled nejúspěšnějších decků a nejhranějších karet z Dominarie.
Následující decky uhrály ve standardové části PT skóre 6:4 a lépe:
28× RB Aggro
22× Monored Aggro
17× RB Midrange
13× UW Control
10× Gx Aggro
9× WB Aggro
8× Esper Control
7× GB Constrictor
5× UB Control
4× Esper Midrange
3× BG Ramp
3× UG Karn
2× GW Midrange
2× UB Midrange
1× Monoblack Midrange
1× GB Midrange (bez Constrictora)
1× UB Gift
1× GU Climb
1× UG Gift
1× BUG Midrange
1× UWR Control
1× UW Gift
Jako nejzajímavější brew mi přišla GB Rampa z dílny Kena Yukuhira a také UG Gift Jasona Chunga, ve kterém bylo plno zajímavých karet, jako třeba Multani, který poskytuje zajímavou value při selfmillu.
Na úplný závěr se podíváme na deset nejhranějších karet z Dominarie (celkem bylo mezi nejúspěšnějšími decky 42 různých karet z Dominarie, což je například o jednu méně, než tomu bylo v případě Ixalanu).
10. Syncopate (61 + 0)
Ačkoli nespolupracuje s Torrential Gearhulkem, tak si cestu do kontrolů našla.
9. Fight With Fire (0 + 63)
Nejhranější sidovka edice, nejlepší odpověď na Lyru Dawnbringer v Monoredu.
8. Isolated Chapel (67 + 0)
Osobně bych tipoval na nejhranější zemi z Dominarie Woodland Cemetery, nicméně Chapel hrál Esper a BW Knighti, což byly celkem populární decky.
7, Knight of Malice (46 + 27)
V Knightech je to lepší z dvojice uncommon knechtů (v podstatě je to Monowhite se splashí), ale hrál se i jakožto sidovka, která zastaví aggro (popřípadě jako překvapivá karta v mirroru kontrolů).
6. Cast Down (49 + 26)
Na formátu je docela dost legendárních bytostí, nicméně je to ideální odpověď na Chainwhirlera a Glorybringera.
5. History of Benalia (56 + 29)
Hlavní payoff karta v BW Aggru, ale také zajímavá sidovka pro kontroly.
4. Teferi, Hero of Dominaria (86 + 3)
Jedna z nejdůležitějších karet pro kontrol, která umí všechno, co takový deck potřebuje - odpověď na problematické permanenty, karetní výhoda a winkondice v jednom.
3. Llanowar Elves (104 + 0)
Jeden z hlavních pilířů formátu. Klasika, která nikdy nezestárne...
2. Karn, Scion of Urza (101 + 29)
Karetní výhoda pro každý deck, která zároveň umí i sama o sobě vyhrát hru. Zcela jednoznačně nejflexibilnější karta edice.
1. Goblin Chainwhirler (268 + 0)
S ohromným náskokem nejhranější karta edice. Nemyslím si, že je nějak extra broken, ale červená aggra neměla žádný pořádný třídrop a shodou okolností se zcela vysmívá Whirler Virtuosovi, což doteď byla jedna z nejlepších karet proti červeným aggrům. Snad jenom ten first strike mi tam přijde zbytečně navíc...
2. SCG Regional Championships (Modern)

Kromě PT se hrálo například i v rámci SCG. Nešlo ovšem o Open Series, nýbrž o menší modernové regionals, které se hrály ve čtrnácti destinacích.
Nejúspěšnější decky byly Hollow One a Humani, což je dvojice decků, která má v posledních několika měsících nejvyšší winrate na velkých turnajích s mírným náskokem na zbytek fieldu. Nejvíce vítězných trofejí ovšem získali hráči Stormu.
Dva aktuálně velmi populární decky jsou také Jeskai Control, který ohromně boostnul Teferi, a Mardu Pyromancer, který těží z karet jako Blood Moon a Collective Brutality.
V jednotlivých top8 se samozřejmě našlo i několik zajímavých brew, jako třeba Saheeli kombo s Eldritch Evolution, UR Aggro s Wizard's Lightning, či UW Miracly s kombinací Opt + Terminus.
Přehled všech decků v top8 (čárky za názvy decků značí počet vyhraných regionals):
11× BR Hollow One I
11× Humans I
8× Jeskai Control II
8× Affinity
7× Mardu Pyromancer I
6× Grixis Death's Shadow
5× Gifts Storm III
5× Green Tron
5× Boros Burn
4× Blue Moon
4× RG Scapeshift
3× Ironworks Combo
3× Colorless Eldrazi
3× Bogles
2× RG Ponza
2× Eldrazi Tron I
2× UW Miracles I
2× Eldrazi and Taxes
2× UW Control
2× Elves I
Living End
Grishoalbrand
UR Wizards
BUG Midrange
RUG Scapeshift
Amulet Titan
GW Company
Atarka Zoo
Big Naya
4C Saheeli
Dredge I
Bant Company
Kiki Chord
Jund Midrange I
Abzan Company I
3. Online PTQ (Standard)
Novinky z PT si hráči mohli ihned vyzkoušet na online PTQ, které si jich přišlo zahrát hned 343!
Hrálo se devět kol, ve kterých hned 28 hráčů dosáhlo na sedm a více výher. Výsledky ale ovšem PT příliš nekopírovaly.
Zvítězil "_goblinlackey" s GB Constrictorem, když ve finále porazil UB Midrange. Na dalších místech byl dvakrát UW Gift, další BG Constrictor (ovšem se Servantem of the Conduit a Bristling Hydrami), druhý UB Midrange a do třetice GB Constrictor (verze podobná vítěznému decku). Jediný deck v top8, který byl zároveň v top8 na PT, bylo Monored Aggro.
Mimo top8 už ale bylo přece jenom více Monoredu a BR aggro decků, ačkoli metagame byla i přesto rozmanitá. Nejzajímavější novinkou byl Monored s nižší křivkou a playsetem The Flame of Keld.
6× Monored Aggro
5× BR Aggro
4× GB Constrictor
2× UW Gift
2× UB Midrange
2× UW Control
2× Keld Red
1× BR Midrange
1× Gb Aggro
1× UG Karn
1× BUG Midrange
1× UB Control
4. MTGO Weekly Challenges (Modern, Legacy, Vintage, Duel Commander & Pauper)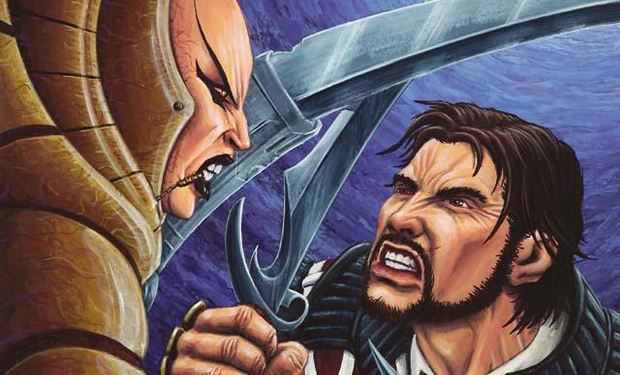 V modernové challengi byli nejúspěšnějším deckem Humani s pěti hráči v top16. Celkové výhry se však nedočkali, tu získal "Sodeq" se zvláštní verzí Dredge, ve které byl playset Shriekhornů.
V top16 jsme také mohli vidět Affinitu s maindeck Karnem, Bogly, dva UW Controly, netradičně pouze dvoubarevnou verzi Death's Shadow (UB), GB Elfy, Green Tron, RG Scapeshift, Jeskai Control a Mardu Pyromancera.
Legačku si podmanil Clashed se svým obvyklým pet deckem v podobě 4C Controlu s Dackem a Punishing Firy.
Na dalších místech jsme mohli vidět Aggro Loam (souboj Punishing Fire decků ve finále), BR Reanimator, OmniTell (celkem třikrát v top16), trojici Grixis Delverů (jeden z nich hrál zajímavý tech v podobě Bitterblossomu), Dark Maverick (pěkná přímočará verze bez Dark Depths komba a s nejlepšími kartami v playsetech), Eldrazi Rampu (verze s Cloudposty), dvojici Monored Stompy, dvojici Stormů a jeden klasický Czech Pile.
Vintage nám nabídla velmi rozmanitou top8 se sedmi různými decky. Zvítězil tu "IamActuallyLvL1" s Paradoxical Outcomem (verze s Mentorem, Vault/Key kombem a playsety Seat of the Synod a Thoughtcastů), když ve finále porazil UR Pyromancera.
Další místa obsadily Ravager Shopy (s několika zajímavými kartami jako Lupine Prototype a Traxos), mix Oathů s Paradoxical Outcomem, White Eldrazi, dva Dredge a BUG Control.
I ve zbytku top16 byla docela rozmanitá metagame - Grixis Thieves, další dva Dredge, Ravager Shops, dva Goodstuffy s Paradoxical Outcomem, Paradoxical Storm, a konečně UWR Mentor s chuťovkami jako Search for Azcanta a Teferi.
Commander challenge ovládly zcela drtivě partner decky, které zabraly deset míst v top16. Nejhranější byl čtyřbarevný goodstuff s Tymnou a Thrasiosem, který byl v top16 sedmkrát a také si střihnul mirror match ve finále. Dva hráči dále hráli Thrasiose s Tymnou a jeden nezvykle Krauma s Ikra Shidiqi (víte z paměti, co tahle karta dělá?).
Malé plus je, že mezi zbytkem decků nebyl žádný generál dvakrát - třetí byl BUG Midrange s Leovoldem, čtvrtá Monogreen Rampa s Azusou (62 zemí), pátá rampa s Maelstrom Wandererem, sedmý Terefi "Do Nothing" Control, poté až patnáctá Breya (midrange verze s planeswalkery) a šestnáctá Kess (také zajímavá verze s více planeswalkery a netradičně bez Time Walk efektů).