Novinky
Flash News #14/2018
V těchto Flash News se mrkneme na velké Grand Prix Las Vegas 2018. Z Online turnajů stojí za pozornost kromě Challenges i modernové Online PTQ. Na závěr nás čeká velký French Commander turnaj.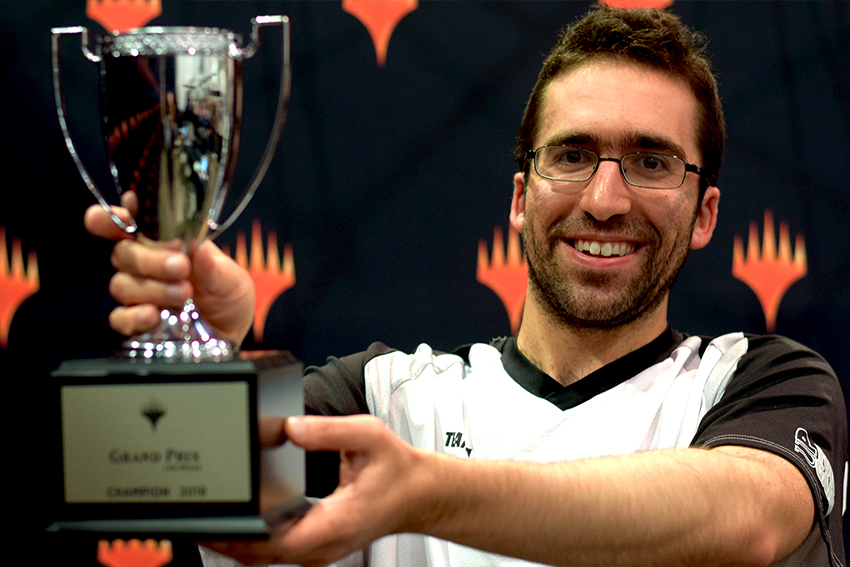 1. GP Las Vegas (Modern + Limited)
Na Grand Prix Las Vegas 2018 se již tradičně hrálo více main eventů, ačkoli letos to byly pouze dva, zatímco loni to byly tři a v roce 2015 se díky hypu kolem Master 2015 zúčastnilo dvojice maineventů přes 7 000 hráčů...
Jako první se hrál modern, kterého se zúčastnilo 2 776 hráčů, což je i tak letošní největší účast na GP.
Turnaj byl ve znamení dominance Krark-Clan Ironwork komba, se kterým na GP triumfoval Matt Nass, jenž má s deckem na GP v řadě za sebou top4 finish a dvě výhry!
Díky Mattovi začali deck hrát i další výborní hráči jako Eli Kassis, Zac Elsik, nebo Shaheen Soorani, který se nejvíce zasloužil o zpopularizování decku hned po vydání Scrap Trawlera (tentokrát hrál vlastní verzi, která měla v mainu Emrakul a dvojici The Antiquities War).
Celkem měl deck pět zástupců v top32, což je podle mne alarmující číslo, jelikož proti decku se hraje velmi obtížně a hlavně je to dost deprimující zážitek, jelikož provést celé kombo trvá hrozně dlouho a vy se na to musíte smutně dívat... V minulosti se po takovýchto úspěších "Eggs" decků banovalo a nepřekvapilo by mne to ani tentokrát (update banlistů bude zítra navečer).
Další dva decky, které měly výrazně více zástupců v top32, než zbytek světa, byli Green Tron (ten má ale hrozný matchup s KCI) s osmi hráči a Humani taktéž s osmi hráči.
Na GP byl pokořen i jeden zajímavý milník, o což se postaral Martin Jůza. Ten skončil s Humany na krásném třetím místě, což znamenalo, že jako první hráč v historii dosáhl na třicátou top8 na GP. To je pro obyčejné smrtelníky, jenž se radují z postupu do druhého dne, těžko představitelné číslo...
V top8 jsme také mohli vidět zajímavou verzi Grixis Death's Shadow s Mishra's Bauble a Faithless Lootingy, Bant Company s Vizier kombem a Jeskai Control v obvyklé verzi s Teferim.
Ve zbytku top32 bylo dále třikrát BR Hollow One, dvakrát Mardu Pyromancer, Abzan Company a dvojice zajímavých brew - UB Toolbox s Whir of Invention s primární winkondicí v podobě Thopter//Sword komba a Esper Control s Gifts Ungiven.
Limited GP se zúčastnilo 2 077 hráčů, z nichž se nejvíce dařilo Michaelu Bernatovi, který si nejen při své třetí top8 v GP přupsal premíérovou výhru, ale také přitom stihnul v top8 vyřadit dva největší favority - Stevea Rubina a Andrea Cunea.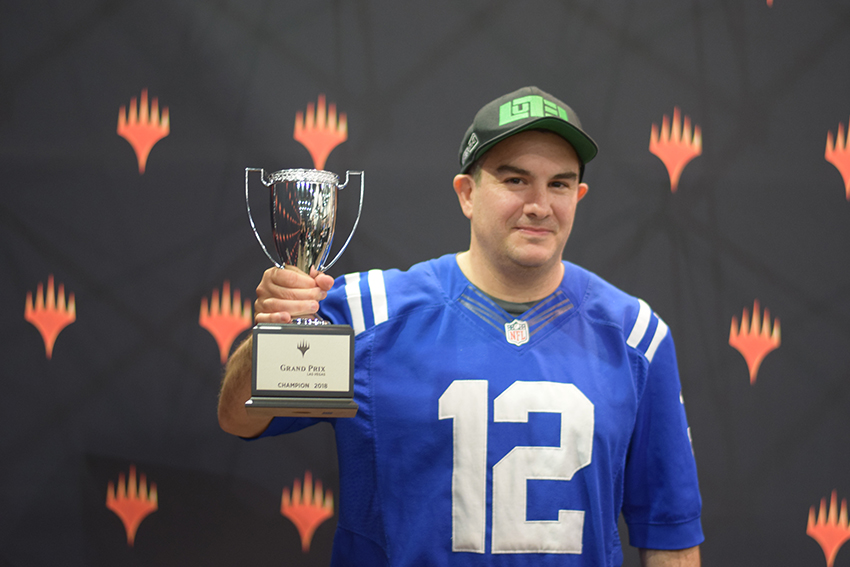 V top8 nadraftoval Esper Historic s kartami jako Raff Capashen, Rona, Disciple of Gix či Arvad the Cursed.
Mnohem větší pozornost médií na sebe ale přitáhla zcela jiná limited událost. V neděli se hrál velice exkluzivní Beta Rochester draft, do kterého se bylo možné kvalifikovat pouze výhrou v jednom z osmi kvalifikační Dominaria turnajů, ve kterých se hrálo pět kol sealedu a poté draft.
Mezi osmičku kvalifikovaných se mimo jiné dostali LSV, Ben Stark a také Martin Jůza, jenž měl v jednom z boosterů Time Walk.
Vítězem draftu se stal Tim Rivera, když ve finále porazil LSVho. Oba pánové si domluvili split alpha starter kitu, což byla hlavní cena za výhru. Neformálním vítězem se ovšem stal Ben Stark, který ve svých boosterech měl Underground Sea a Mox Emerald!
Na celý rochester draft (což byla podle mě skvělá záležitost pro coverage) se pro zajímavost můžete podívat tady. A fajn čtení je i report LSVho z celého víkendu.
Pro zajímavost se mi podařilo najít i foto vítězného decku:
2. Online PTQ (Modern)
Modern se hrál i na onlinu, tamního PTQ se zúčastnilo krásných 333 hráčů, což znamenalo devět kol základní části a top8.
Pokud by někdo čekal top8 plnou Humanů, Hollow One, či Tronů, tak by byl asi hodně překvapený. Jak přímo v top8, tak i mezi dalšími hráči se skóre 7:2, bylo k vidění opravdu hodně netradičních záležitostí.
Stačí se podívat na samotné finále, kde se utkali Goblini (8-Whack) s GB Infectem. Zvítězil "rizer" s Gobliny, ve kterých měl několik zajímavých techovek, ať už šlo o trojici Devastating Summons, playset Grim Lavamancerů, či playset Burning-Tree Emissary, kteří umožňují opravdu explozivní starty v kombinaci s Reckless Bushwhackerem.
Druhý finálový deck je v podstatě brew, ačkoli už jsme podobné experimenty mohli v minulosti vidět. Od té doby ale decku přibyly Blossoming Defense a Fatal Pushe, což je trochu sporná karta, ale je skvělá třeba proti Thalii.
V top8 byl dále Dredge se Shriekhorny, obvyklá verze Grixis Death's Shadow, hodně neobvyklá verze Affinity s Frogmity, Myr Enforcery a playsetem Welding Jarů, UR Moon s playsetem Thing in the Ice, další GB Infect (pět let o něj nezavadíte a najednou je dvakrát v top8 na turnaji se 300 hráči, to je prostě modern...) a Amulet Titan.
Rozhodně se jedná o jednu z nejzvláštnějších top8, co jsem kdy u podobně velkého turnaje kdy viděl.
Zajímavé decky a techy byly ale k vidění i mimo top8. Desáté místo patřilo Green Tronu, který byl upravený do metagame plné Humanů a Hollow One, což znamenalo, že v něm nebyl Karn a hlavní pay-offy byly playset Wurmcoil Engine, tři Ugini a playset Oblivion Stonů.
Jedenácté místo obsadil Jund Death's Shadow, s malou splashí na Stubborn Denialy v sidu a dvanácté (a osmnácté) byly UW Miracly s kombinací Opt + Terminus.
Celkem to v top32 vypadalo následovně:
4× Boros Burn
3× Dredge
3× Green Tron
3× UW Control
2× GB Infect
2× Affinity
2× Mardu Pyromancer
2× Jeskai Control
1× 8-Whack
1× Grixis Death's Shadow
1× Blue Moon
1× Amulet Titan
1× Jund Death's Shadow
1× Gifts Storm
1× BR Hollow One
3. Online Weekly Challenges (Modern, Legacy, Vintage, Duel Commander, Pauper)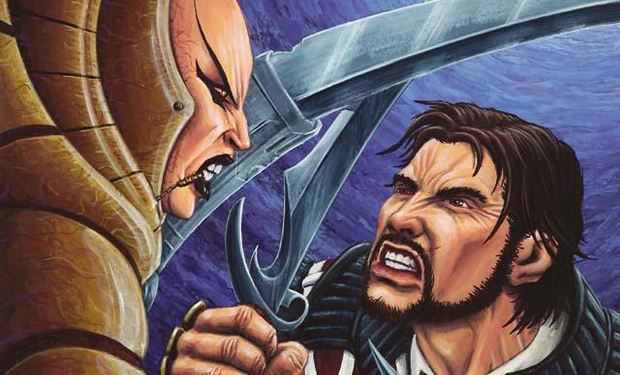 U modernu ještě chvilku zůstaneme, protože se samozřejmě hrál i v rámci pravidelných online challengí. Výsledky tady ovšem nebyly ani zdaleka tak zajímavé, jak tomu bylo u PTQ.
Z vítězství se radoval "adamherby" s Mardu Hollow One, kde byla bílá výhradně kvůli Lingering Soulsům, když ve finále porazil další graveyard deck v podobě Shriekhorn Dredge.
Zbylá místa v top8 obsadily v podstatě samé tier decky - Burn, Jeskai Control, Ironworks Combo, klasický BR Hollow One, tradiční Affinita s Karny v mainu a Green Tron.
O moc zajímavější to nebylo ani na dalších místech, ačkoli jsme tam mohli vidět alespoň pár mémně obvyklých decků jako Saheeli Kombo (s Eldritch Evolution), Monowhite Death and Taxes, nebo RG Ponzu.
Legacy byla ve znamení souboje Grixis Delvera s Czech Pile. Oba decky totiž dohromady obsadily hned sedm míst v top8. Úspěšnější byli nakonec hráči Delvera, kteří zúročili převahu 4:3 a rozdali si to mezi sebou ve finále.
Z výhry se radoval "AntzzzOnALog", který měl v decku nejnovější techovky v podobě one-of Bitterblossomu a Wild Slashe, který v kombinaci s Gurmag Anglerem umožňuje zabít v kombatu True-Name Nemesis.
Mezi dalšími decky v top16 stojí za větší zmínku snad jenom Eldrazi Post s playsetem Karnů. Kromě nich totiž byli ve zbytku top16 pouze dvoji Elfové, další tři Grixisy, BG Depthsy, Storm a Miracly (UW s Back to Basics), což jsou všechno obyčejné tier decky.
Zajímavou top8 s osmi různými decky jsme měli na vintage - zvítězil tu Scabs s Paradoxical Mentorem, když ve finále porazil UR Delvera (který měl pouze jeden Null Rod v sidu).
Ve zbytku top8 jsme měli Blue Dredge, Ravager Shops, BUG Control, Stax verzi Shopů s větším počtem Tangle Wirů a Null Rodů, Esper Control s chuťovkami (rozumějte s kartami, které mi na vintage nepřijdou moc dobré) jako Kaya a Tasigur, a konečně stále populárnější Jeskai Control s one-of Teferim.
Podobná rozmanitost byla i mezi decky na devátém až šestnáctém místě, kde byly dva Jeskai Controly a potom po jednom od Ravager Shopů, BUG Controlu, Paradoxical Stormu, Paradoxical Mentora, UW LandStillu a 4C Controlu (BUG základ s Dackem a Pyroblasty na splash).
Duel commander se stále nedokázal vymanit z nadvládly dvojice Thrasios + Tymna. Partneři si došli pro další celkovou výhru, ale hlavně tvořili celou polovinu z top16. Jestli si tohle nevyslouží ban, tak už nevím...
Zbylou polovinu top16 vyplnily v podstatě sámé tier2 decky. Měli jsme tu dva Leovoldy, dvě Azusy, kombo verzi Teferiho se Stází a Painter//Grindstone kombem, Breyu, RUG Midrange s Thrasiosem a Kraumem a 4C Control s Tymnou a Kraumem.
Na závěr tu máme pauper, kde se jako obvykle nejvíce dařilo Delver deckům a "Boros Monarchovi".
Ve finále se čirou náhodou uktal zrovna UR Delver s Borosem. Zvítězil Delver navzdory tomu, že v Borosu jsou karty jako Squadron Hawk a Battle Screech, které jsou proti malým poletuchám teoreticky velmi dobré...
Celkem byly v top16 čtyři Delverové (2× UR a 2× Monoblue), čtyři Borosy, UW Control s Ghostly Flickerem, Thermo-Alchemist Burn, Elfball, dvakrát Tireless Tribe//Inside Out kombo, dvě Monogreen Aggra a zajímavá verze Teachings Tronu, která obsahovala kombíčko Mnemonic Wall + Ghostly Flicker.
4. ZAP Masters (French Commander)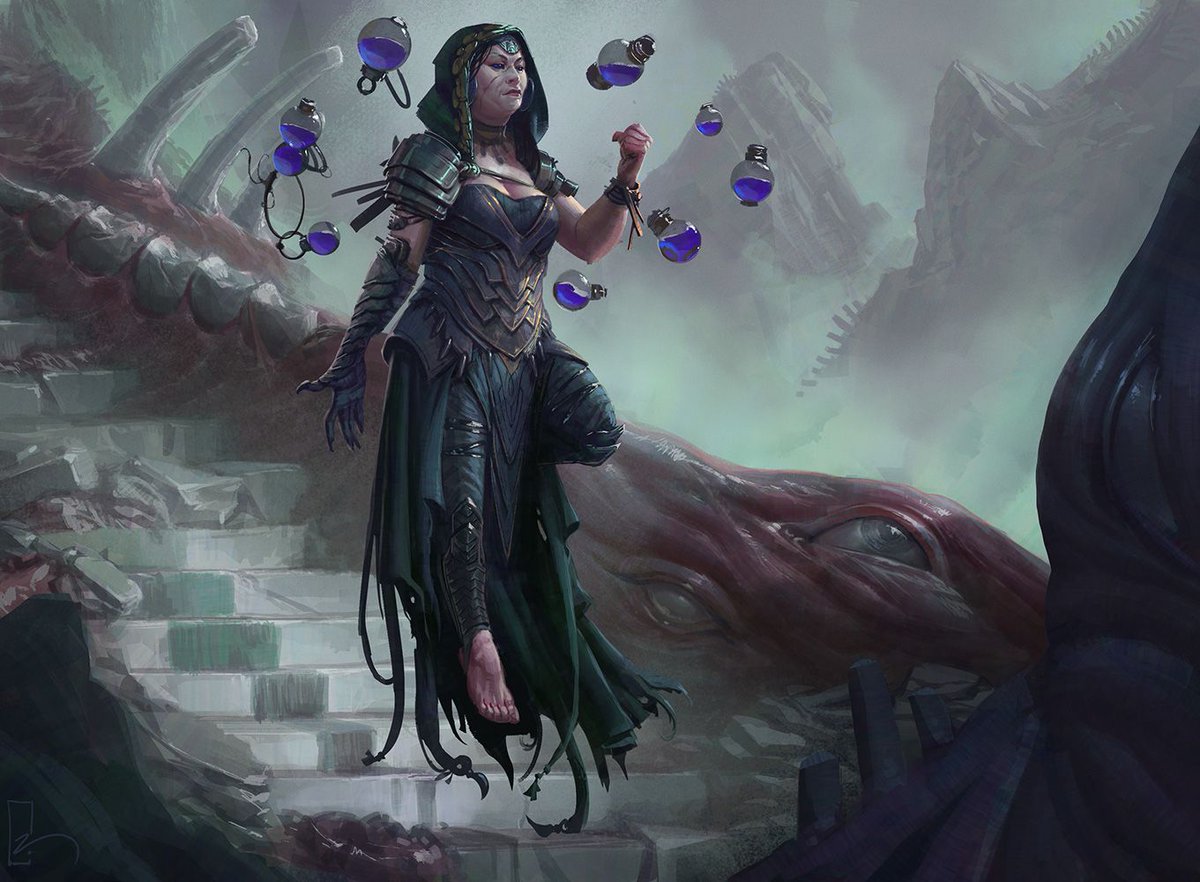 Pravidelná měsíční francouzská série "Tornoi des ZAPs" nám koncem června vygradovala prostřednictvím ZAP Masters, kterých se zúčastnilo krásných 176 hráčů.
Byl to první velký turnaj po banu Zurga a na metagame to mělo určitě pozitivní vliv. Celkem bylo na turnaji možné spatřit šedesát různých generálů či kombinací partnerů. Mohli jsme vidět i dvě novinky z Battlebondu - hned čtyři hráči vsadili na dvojici Will + Rowan Kenrith a jeden odvážlivec hrál 5C warriory s Najeelou.
Tady je přehled generálů, které si vybrali alespoň čtyři hráči:
12× Baral, Chief of Compliance
10× Saskia the Unyielding
8× Queen Marchesa
8× Tymna + Thrasios
6× Atraxa, Praetors' Voice
6× Kytheon, Hero of Akros
6× Titania, Protector of Argoth
5× The Gitrog Monster
5× Karlov of the Ghost Council
5× Tymna + Kraum
4× Adeliz, the Cinder Wind
4× Doran, the Siege Tower
4× Kess, Dissident Mage
4× Narset, Enlightened Master
4× Prossh, Skyrider of Kher
4× Teferi, Temporal Archmage
4× Will + Rowan Kenrith
4× Yisan, the Wanderer Bard
Dvojice Baral a Queen Marchesa se paradoxně vůbec nedostala mezi nejlepších šestnáct. Celkovým vítězem se stal Kilian Boulhais s pěknou kontrolní verzí Kess, založené pouze na levné disrupci a value kartách. Tolik oblíbené Time Walk efekty byste tu hledali marně...
V top8 dále byly dvoje Turbolandy s Gitrog Monstrem (pořád nechápu, proč ve Francii nikdo nehraje Dark Depths kombo), které mají ohromnou výhodu v tom, že většina decků není připravená odpovědět na karty jako Exploration, Crucible of Worlds, či Life from the Loam.
Dvakrát byla v top8 i Saskia coby nejúspěšnější aggro deck formátu. A shodou okolností také dvakrát byla v top8 čtyřbarva s Thrasiosem a Tymnou. Oba její piloti hráli velmi zajímavé verze. Jedna byla zaměřená na komba s Vizierem of Remedies a obsahovala třeba i chuťovky jako Opposition, zatímco druhá byla koncipovaná jako kontrol s reanimační subtématikou.
Poslední deck v top8 byla novinka v podobě UR Controlu s dvojicí partner planeswalkerů z Battlebondu (Will & Rowan Kenrith).
Zveřejněny byly i decklisty od devátého do šestnáctého místa, kde byla dvojka Akiri + Silas Renn (postavená jako 4C Control), Big Red s Darettim (toho hrál na turnaji jenom jeden hráč), Monored Aggro s Kari Zev (i po vícenásobném banování je Monored stále konkurenceschopný), BW "Death and Taxes" s Karlovem, netradiční kombinace partnerů Reyhan + Kraum (4C Aggro), další 4C Aggro - tentokrát se Saskií, Monoblue Control s Teferim a do třetice BG Turbolandy s Gitrog Monstrem.
Všechny decklisty z top16 si můžete prohlédnout zde.
A to je pro dnešek vše, na viděnou zase u dalšího vydání.
Kumano
Komentáře
Přispívat mohou pouze přihlášení uživatelé. Pokud chcete vložit komentář, přihlaste se ZDE.