Novinky
Flash News #15/2018
V těchto Flash News dožeme několik restů z období okolo releasu M19. Ohlédneme se mimo jiné za čtveřicí GP (Singapore, Pittsburgh, Barcelona & Sao Paulo), několika národními mistrovstvími, či modernovým SCG Open.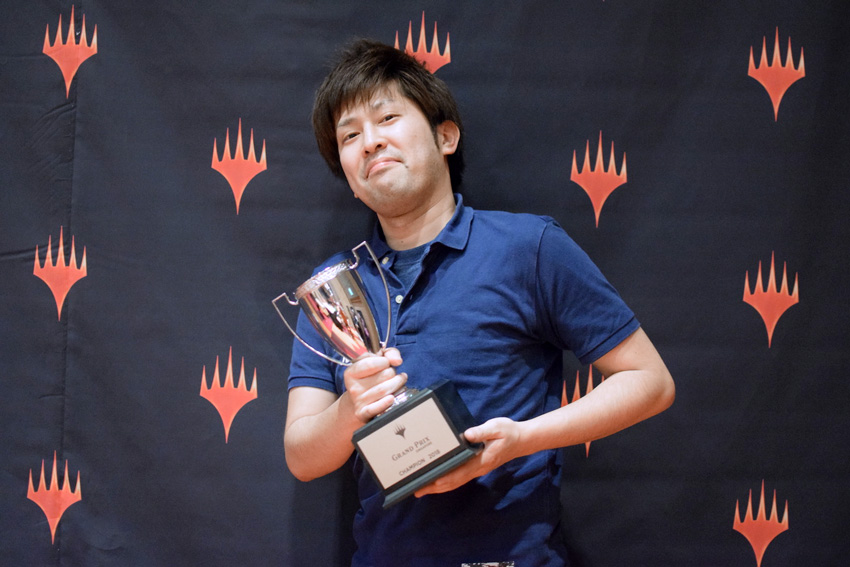 1. Grand Prix (Singapore, Pittsburgh, Barcelona & Sao Paulo)
GP Singapore (Standard)
Jedno z poslední dvojice standard GP před releasem M19. Klasicky tu byla trochu menší účast (682 hráčů) a opět tak trochu očekávaně tu zvítězil non-tier deck. Své čtvrté vítězství na GP tu ukořistil japonský pro player Yuuki Ichikawa s UW Giftem.
V top8 byly i další méně obvyklé decky jako Jeskai Control, nebo UB Midrange s playsetem Karnů.
Pro zajímavost se podíváme i na BG Midrange Kena Yukuhira, se kterým obsadil 33. místo se skóre 11:4 (s deckem se mu dařilo i na PT Dominaria).
GP Pittsburgh (Standard)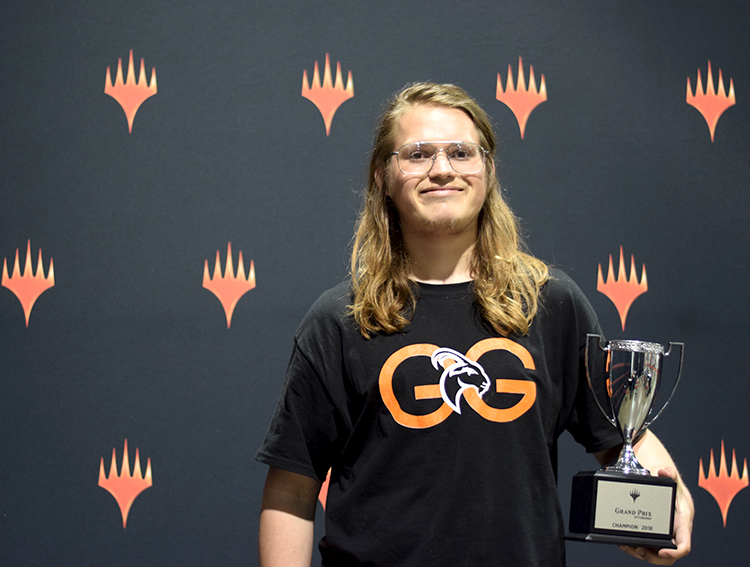 Úplně poslední dvojkové GP před příchodem M19 se hrálo v Pittsburgu, kam si přišlo zahrát 935 hráčů, což je mírné zklamání. Dominance Chainwhirler decků zřejmě plno hráčů znechutila...
A ačkoli byly v top8 decky jako UB Control, UB Midrange, UW Gift, UW Control a Esper Control, tak se celkovým vítězem stal Braham Thomas s Monored Aggrem, které bylo v podstatě identickou kopií decku, jenž vyhrál PT Dominaria. Za zmínku také stojí, že druhou hru ve finále vyhrál stylově díky Fight with Fire s kickerem.
Zase tak úplně špatné to se standardem ale není, což dokazují i dvě brew v top16 - UW Midrange a dost podezřele vypadající Abzan se spoustou saga enchantmentů.
GP Barcelona (Modern)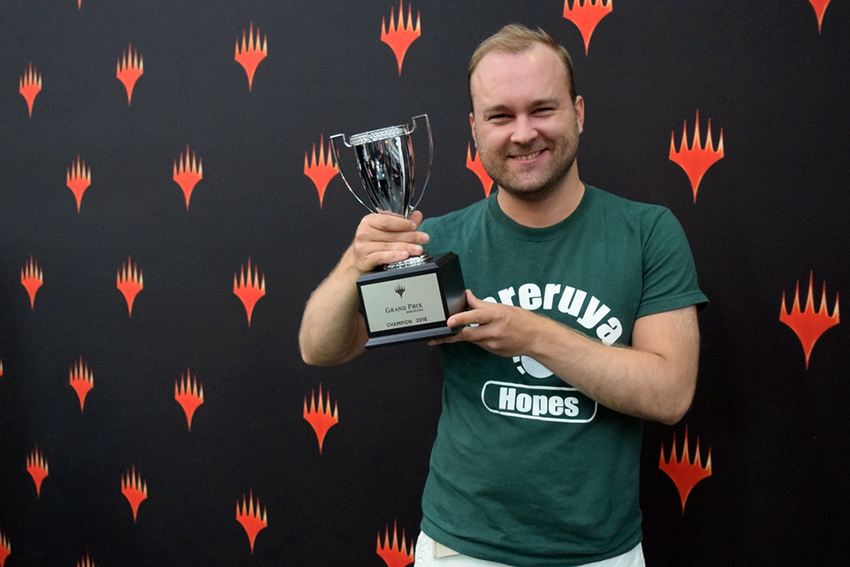 O dost lepší to s návštěvností bylo v Barceloně, kam si přišlo zahrát 1 546 hráčů, včetně šestnácti hráčů reprezentujících český magic.
GP byl zajímavý souboj mezi extrémně interaktivními kontroly a přímočarými kombo decky, kterým se nakonec v top8 dařilo lépe, ačkoly v ní kontroly měly převahu - hned tři UWčka a navíci jeden Jeskai (zbylé dva decky byly Grixis Death's Shadow a Burn).
Do finále se ale probojovala Dredge a Ironworky. Netroufnu si odhadnout, pro koho je to papírově lepší matchup, nicméně zvítězil s přehledem 2:0 Matti Kuisma s Dredgí.
Podobné složení decků bylo i v top16 - dvě UWčka, Dredge, Ironworky... Ostatní decky byly ale výrazně zajímavější - Affinita s Hardener Scales (kde byla i zajímavá chuťovka v podobě Throne of Geth), WR Death and Taxes (s Kiki-Jiki kombem), Mardu Pyromancer a na závěr speciáln Amanda Dosimonta v podobě Naya Kiki-Chordu s playsetem Blood Moonů. Na papíře vypadá deck všelijak, avšak tohle není zdaleka první Amandův dobrý výsledek s tímhle deckem.
Co se týče našich hráčů, tak těm se ve druhém dni příliš nedařilo, pouze s jednou výjimkou, kterou byl Václav Vencl s Jeskaiem. Ještě dvě kola před koncem měl šance na top8, ale nakonec z toho bylo "pouze" smolné sedmnácté místo. Druhý nejlepší český výsledek bylo až 101. místo Lukáše Blohona...
GP Sao Paulo (Modern)
Tohle GP byl zajímavý experiment, jelikož se nezvykle konalo o prerelease víkendu M19, což je obvykle víkend, kdy se nekonají žádné velké turnaje. A je třeba říci, že to byl rozhodně dobrý tah, jelikož si přišlo zahrát 1 457 hráčů, což je rekordní účast na GP v jižní Americe!
Na GP byla velmi rozmanitá top8 se sedmi různými decky - Amulet Titan, Ironworks Combo, zajímaví RG Eldrazi s techovkou v podobě Boreal Druida, Green Tron, Abzan Traverse, Affinita a dvakrát Mardu Pyromancer, což byl zároveň nejhranější deck turnaje a nakonec i vítězný deck, když s ním Jose Echeverria ve finále porazil Traverse Abzan.
Za zmínku také stojí, že mimo top8 už metagame tak rozmanitá nebyla - v top16 byly dva Burny a čtyři RG Scapeshifty.
2. Národní mistrovství - první vlna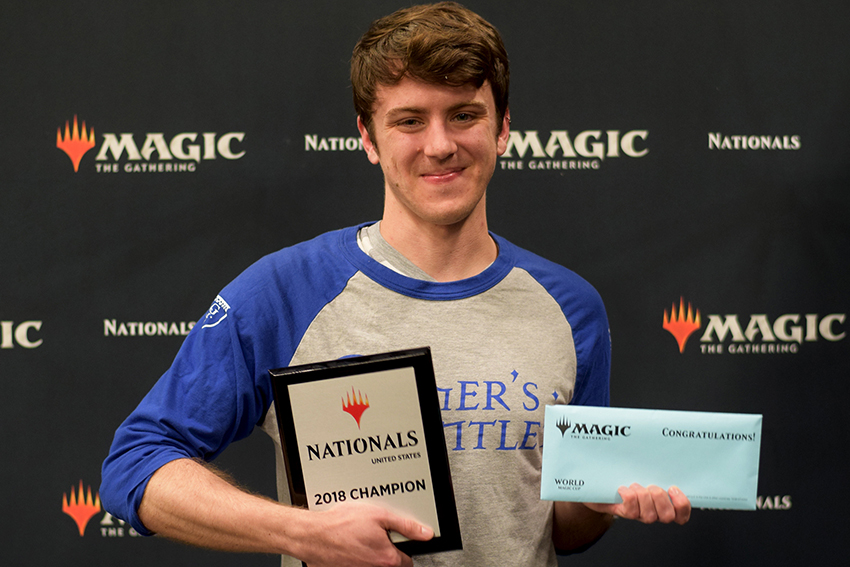 Koncem června se odehrála první vlna národních mistrovství. Hrálo se sice jenom v šesti státech, ale byla mezi nimi Kanada a Spojené Státy, kde byly dvoudenní turnaje s dvanácti, respektive třinácti koly.
V Kanadě turnaj zcela ovládla RB Aggra, když kompletně obsadili top4. Vítězem se stal Micah Hewer s více midrange verzí decku.
Nejzajímavějším deckem v top8 tu byl UB Improvise s více kusy The Abtiquities War.
Ve Státech si přišlo zahrát úctyhodných 737 hráčů, mezi nimiž byly snad všechny největší hvězdy, kterým se na turnaji celkem dařilo. Do top8 se dostali Owen Turtenwald (RB Aggro), Kevin Jones (Jeskai Control), Chris Andresen (UW Gift), či Joe Bernal (UB Control).
Do finále se ale tito velikáni neprobojovali. Dylan Brown s UB Midrangem v něm porazil Justina Andruse s vlastní verzí decku, kde byla splash na Teferiho a zajímavá kombinace Yahenni's Expertise + Doomfall.
Na turnaji se také poprvé dostala do povědomí diváků rampa se Sifter Wurmem díky top16 finishi Erica Fairchilda.
3. SCG Open Series
V rámci SCG se toho díky pořádání nationals a release víkendu M19 příliš neodehrálo - pouze jediné modernové Open v Atlantě, kam si přišlo zahrát 711 hráčů.
Jak se pro modern typické, byla tu velmi rozmanitá metagame (mezi nejhranějšími archetypy ve druhém dni bylo deset decků se třemi či čtyřmi hráč), což se potvrdilo i v top8, kde bylo sedm různých decků - dvakrát Green Tron, Ironworks Combo, UW Control, Burn, Infect, Scapeshift a Hollow One.
Ve finále porazil Zan Syed s Infectem Draka Sassera se Scapeshiftem, pro který to je jeden z nejhorších matchupů...
Z méně obvyklých decků v top32 bych zmínil dvě tribal záležitosti - Bant Spirity a UB Faerie (zajímavá tapout verze s velkým množstvím různých planeswalkerů).
V nedělních klasikách se z výher radovali na modernu Robert Benson s klasickou verzí Jeskai Controlu a na legacy Zachary Koch s Grixis Delverem (byla to jedna z posledních legaček před banem).
Zmínku si rozhodně zaslouží zajímavá verzí zemí v BG barvách, se kterou byl sedmý Bradley George. Byl to takový mix mezi Aggro Loamem a BG Depthsy. V decku je playset Chalice of the Void, Moxy, ale také třeba Liliana, Hymn to Tourach, Smallpox a Living Wish.
4. MTGO - Premium Turnaje (Modern)
Na onlinu se samozřejmě každý týden konaly obvyklé challenge, ale kromě toho tu byla i dvojice velkých modernů.
První bylo monthly MOCS, kterého se zúčastnilo 217 hráčů. Monthly MOCS je vždy osmikolový turnaj, na kterém se všichni se skóre 6:2 a lépe kvalifikují do čtvrtletního finále (kde se mimo jiné hraje o místo na online mistrovství).
To se tentokráte povedlo jednatřiceti hráčům, mezi kterými nebyl nikdo se skóre 8:0. Nejlépe na tom byla osmička hráčů se 7:1. Zajímavé na tom bylo, že mezi nimi byly hned dva UR decky s Thing in the Ice. Další decky byly Affinita, Green Tron, dvakrát Mardu Pyromancer, Jeskai Control a Bogles.
Mezi decky se skóre 6:2 byly k vidění mimo jiné dvě zajímavosti v podobě Naya Burnu s Wild Nacatlem a Atarka's Commandem, což hrál Brandom Burton (sandydogmtg) a UB Faerie v draw-n-go verzi, které pilotoval samotný Shota Yasooka.
Druhý zajímavý modern bylo PTQ s účastí 369 hráčů. Ve finále se v něm utkalo Ironworks Combo s Green Tronem, přičemž zvítězily Ironworky pilotované užitavatel s nickem "tangrams".
Na dalších místech bylo Grixis Death's Shadow, znovu UR Control s Thing in the Ice, další Green Tron, GB Elfové, Humani a UW Control (verze s Opty a Terminusem). Těsně za top8 pak byly dva 8-Whacky (Goblini) s Devastating Summons, kteří před nedávnem jedno PTQ opanovali.
V top16 byl také jeden velmi neobvyklý deck v podobě Monowhite Midrange s Proclamation of Rebirth.
5. MTGO Weekly Challenge (Modern, Legacy, Vintage, Commander, Pauper)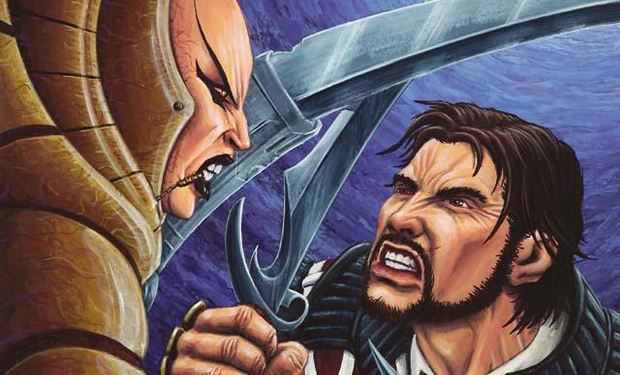 Jelikož se pohybujeme v období tří týdnů, tak to vezmu co nejstručněji.
Na modernu jsme nejdříve mohli sledovat triumf Humanů, kteří ve finále porazili Jeskai Control, týden na to bylo finále mirrorem Mardu Pyromancerů a konečně, ve třetím týdny si to ve finále rozdaly Trony, přičemž zvítězil Shoktroopa se svou specialitou v podobě Blue Tronu. Na modernu lze opravdu uspět s kdečím :)
Zajímavostí také je, že žádný deck se nedokázal dostat do top8 třikrát za sebou. Nejvíce umístění v top8 měl Jeskai Control, UW control, Green Tron a Mardu Pyromancer. Na proti tomu jsme v top8 měli i non-tier decky jako UR Madcap Experiment, nebo Abzan Company (a samozřejmě vítězný Blue Tron).
Legačka příliš zajímavých výsledků nenabídla. Ne, že by v top8 chyběla rozmanitost, nicméně se jednalo o období před banem, takže jsme sledovali dvě výhry Grixis Delvera (nejprve porazil ve finále Czech Pile a o týden později Monored Stompy) a ve třetím týdnu dost neobvykle mirror Show and Tellu ve finále, kde zvítězila oldschool verze bez Omniscience.
Pokud bychom se poohlédli po nějakých zajímavostech z top8, tak bychom zjistili, že tam byla jenom jedna, ale rozhodně stála za to! Šlo o RW Paintera s playsety Ethersworn Canonistek a Smuggler's Copter.
Vintage byla ve znamení mírné nadvlády Paradoxical Outcomu, ale i navzdory tomu tu výsledky byly tradičně velmi rozmanité.
První týden jsme mohli vidět finále, kde Dredge porazil klasický Paradoxical Outcome Goodstuff, kde mne torchu překvapil asi jenom Night's Whisper (deck hrál sám LSV). V top8 jsme tu měli zajímavé brew v podobě vintage verze legacy Zemí. Hlavní rozdíly jsou v tom, že můžete hrát Null Rody a že Ghost Quarter je ve většině matchupů de facto Strip Mine.
Další týden ve finále UWR Control porazil Ravager Shopy. V top8 mne tu nejvíce zaujal oldschool Storm s Bargainami a Dark Petition.
Ve třetím týdnu se to trochu zvrtlo a finále byl mirror dvou Outcomů - vítěz měl v sidu Kambaly, poražený (Reid Duke) nikoli. Náhoda? Nemyslím si... Na CFB je z toho komentované video od Reida, kde je právě vidět, jak druhou hru prohraje na Kambala.
V duel commanderu stále dominovala dvojice Thrasios + Tymna, jenž byla ve všech třech turnajích ve finále. Dvakrát se ji ale podařilo porazit - nejprve Monoblack Reanimatoru se Sidisi a poté 4C Controlu s Breyou.
Velká dominance partnerů ale hráče stále od hraní spíše odrazovala, pročež se WoTC rozhodli radikálně změnit formát, o čemž si ale povíme více až příště...