Novinky
Flash News #19/2018
Flash News jsou zpátky a jsou nabité až k prasknutí! Podíváme se na GP Montreal a Mexico City, SCG Open Columbus, dvojkové online PTQ, obvyklé online challenge a dojde i na francouzský duel commander.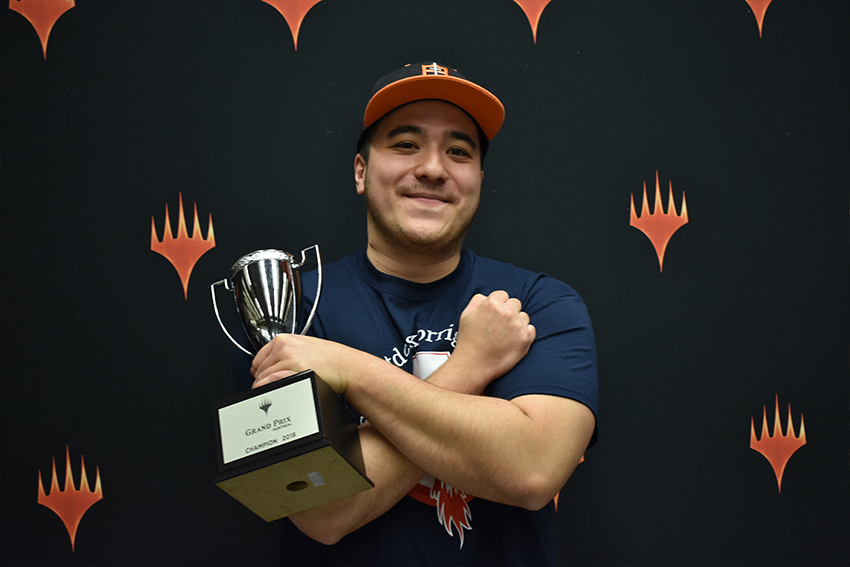 Foto: Wizards of the Coast, StarCity Games, Internet

1. GP Montreal (GRN Sealed)
Během release víkendu Guilds of Ravnica se konala dvojice limited GP, kde byl formátem sealed deck.
První GP bylo v kanadském Montrealu, kam si přišlo zahrát 1 086 hráčů, což je na Kanadu celkem solidní číšlo.
Top8 se tu obešla bez známějších jmen (ačkoli v top16 jsme mohli vidět hráče jako Ari Lax, Eli Kassis, Alexander Hayne, či Lucas Siow) a z celkového vítězství se radoval Christopher Leonard Huu Nguyen, který vůbec poprvé postoupil na GP do druhého dne. V top8 vyhrál hned několik her (včetně rozhodující hře ve finále) díky kombinaci Sure Strike + Gravitic Punch.
V coverage mne mimo jiné zaujalo i několik velmi zajímavých cosplayů, například Venerated Loxodon a Piston-Fist Cyclops. S Karnem (kterého jsme mohli vidět i na GP v Praze) se to ale samozřejmě nedalo srovnat :)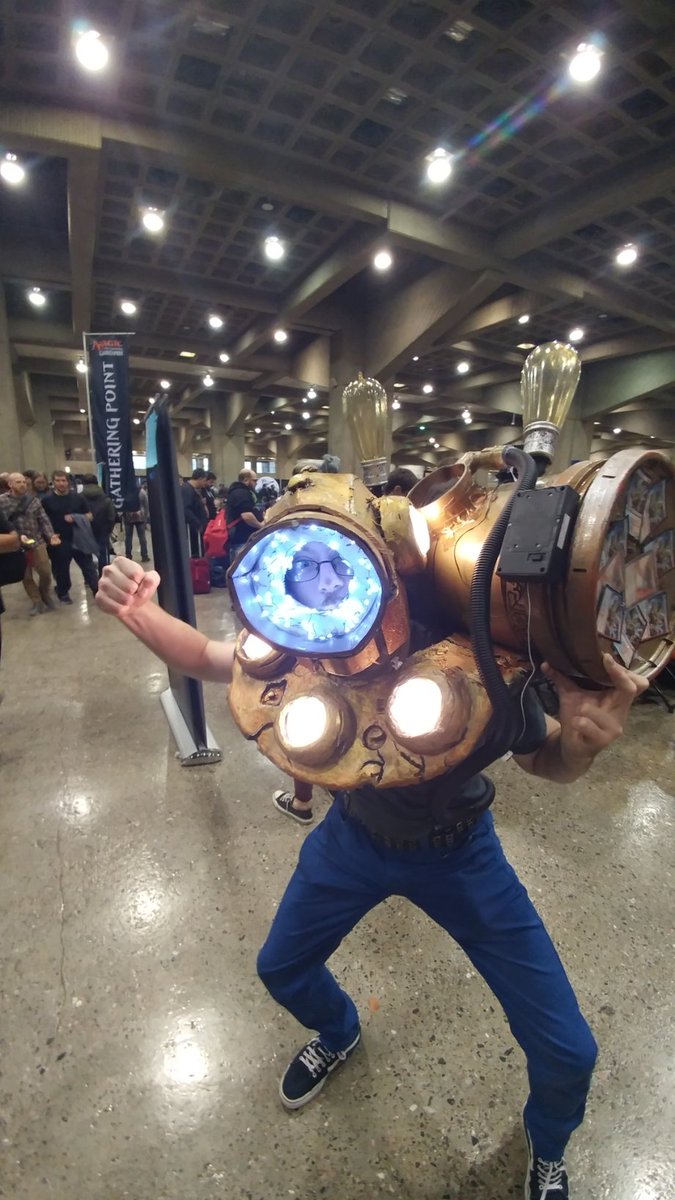 2. GP Mexico City (GRN Sealed)
Druhé z dvojice limited GP se hrálo v Mexico City, kde se ho ale domácí hráči díky drahému vstupnému rozhodli ignorovat. Výsledná účast v main eventu byla 413 hráčů, z nichž většinu tvořili pro playeři z USA.
Poslední GP s účastí menší než 500 hráčů bylo shodou okolností týmové GP Mexico City 2017, kterého se zúčastnilo 444 hráčů. Myslím si, že v budoucnu sem GP asi dlouho nezavítá...
Hojná účast pro playerů (byl tu i Martin Jůza) samozřejmě znamenala, že dostat se tu do top8 nebylo vůbec jednoduché (a to i přesto, že někomu stačilo i skóre 12:3).
V top8 byla opravdu nabitá konkurence - Logan Nettles, Jason Chan (Amaz), Steve Rubin, Mark Jacobson a hlavně i Martin Jůza, který tak posunul rekord v počtu GP top8 na číslo 31.
Do finále se nakonec probojovali Logan Nettles a Mark Jacobson. Zvítězil Mark Jacobson se zajímavým BUG Controlem, ve kterém bylo jenom osm bytostí, z čehož byli navíc tři Hired Poisoneři. K úspěchu mu ale určitě pomohlo Find // Finality, co je na limited celkem fajn karta. Pro Marka to bylo první vyhrané GP, přičemž se dočkal až ve své páté top8.
3. SCG Open Columbus (Team Constructed)
První velký turnaj, kde si mohli hráči zahrát s Ravnicou standard a modern, bylo SCG Open v Columbusu. Zahrát si přišlo 819 hráčů, respektive 273 týmů.
Opět jsme tu byli svědky dost přísného postupového klíče pro druhý den, kam postoupily týmy s devatenácti a více body. To znamenalo, že jsme ve druhém dni měli pouze osmadvacet týmů.
Nejlépe se nakonec dařilo trojici Victor Logan, Lukas Parson a Eric Shoopman, která triumfovala s kombinací Grixis Control, Humani a GW Tokens.
Jednotlivé formáty vypadaly při bližším pohledu takto:
Standard
V prvním týdnu vsadila většina hráčů na osvědčeného Goblin Chainwhirlera a Monored se stal jasně nejhranějším deckem ve druhém dni.
9× Monored Aggro
4× GW Tokens
3× GB Midrange
2× RW Midrange
2× Monogreen Aggro
2× BUG Control
Jeskai Control
Esper Control
UB Control
Grixis Control
BUG Midrange
Abzan Midrange
V Monoredu byly hlavní novinky Runaway Steam-Kin a Experimental Frenzy, což jsou karty, které spolu velmi dobře spolupracují. V menších počtech jsme mohli vidět i Risk Factor, Lava Coil a Legion Warbosse.
Za zmínku také stojí, že se v sideboardech začalo objevovat Fiery Cannonade, coby skvělá odpověď na March of the Multitudes.
Největší novinkou byl GW Midrange založený na convoku a token producerech. Deck je založený výhradně na nových kartách - máme tu Trostani, Emmaru, Venerated Loxodona, Conclave Tribunal a jako hlavní payoffy March of the Multitudes a Flower // Flourish.
Na konci kola zahraný March, po kterém následuje Troistani či Flourish, může vyhrát hru i ze zcela prázndého boardu.
Zajímavou kartou je i Saproling Migration, což je parádní kus pro enablování všech convoke karet.
Nejvíce se mi líbila verze Todda Stevense, ve které je playset Thorn Lieutenantů, což je skvělá karta proti monoredu, a také jenom dva kusy Legion's Landingu, což je podle mě příliš low-impact karta, která je dost špatná na monored a také kdykoli v late-gamu jde o dost podprůměrné draw.
V top16 (více decklistů nebylo zveřejněno) byl dále Boros Midrange se zajímavým minikombem Resplendent Angel + Aurelia, UB control se splashí na Teferiho a Chromium, kde byla z nových karet k vidění Sinister Sabotage, Chemister's Insight, Ritual of Soot a Disdainful Stroke. Jeskai Control bez bytostí, který vyhrával na Teferiho a popřípadě one-of Ral Zareka a Expansion // Explosion a konečně celá řada BG/BUG midrangů/kontrolů, ve kterých byly pro mne mnohdy nepochopitlné karty jako Burglar Rat, Dryad Greenseeker, nebo Walk the Plank.
Jako zajímavé myšlenky mi přijdou kombinace Golgari Findbroker + The Eldest Reborn (což je ale celkem k ničemu na Monored i GW), Izoni + Vraska, Golgari Queen a také samozřejmě Karn + Treasure Map (Andrew Tenjum hrál obojí v playsetu).
Modern
Na modernu byly nejúspěšnější decky ve druhém dni Jeskai Control, Humani, UW Control, Green Tron a Burn. Celkem pak bylo ve druhém dni k vidění čtrnáct různých decků.
Nové karty jsme mohli vidět hned ve vítězných Humanech, kde byl v mainu one-of Tajic a v sidu navíc dva Knighti of Autumn.
Zajímavou techovku jsme mohli vidět i v Burnu, který obsadil druhé místo. V sidu tam byli Satyr Firedanceři, kteří by papírově měli excelovat právě v tomhle matchupu.
Z dalších zajímavostí bych zmínil například Knighty of Autumn v sidu Elfů, Mardu Pyromancera a Hollow One v top8 (v posledních měsících jim metagame není příliš nakloněná), Dredge s playsetem Creeping Chillů (a s Assassin's Trophy v sidu), Risk Factor v sidu Boros Burnu, BG Rock bez Dark Confidantů (a samozřejmě s playsetem Assassin's Trophy), či Archangel Avacyn v sidu UW Controlu.
Legacy
Na legacy byly dva nejúspěšnější decky Grixis Control a UW Miracly. Ve druhém dni bylo ale v menším počtu k vidění ještě dvanáct různých decků.
První z nich byl Eldrazi Post Jodyho Keitha, kde byla netradičně zelená kvůli Crop Rotacím a Ancient Stiringů (a one-of From Beyond).
V top16 byl dále k vidění Grixis Delver s Bitterblossomy, Death and Taxes, Monored Stompy, 4C Loam se zajímavými one-ofy jako Queen Marchesa, Knight of Autumn, či Assassin's Trophy, tradiční verze Eldrazi Postu, BUG a 4C Control s Assassin's Trophy, UB Death's Shadow a zajímavý UW Control bez Terminusů či Monastery Mentorů, který hrál Joe Lossett.
4. SCG Classic Columbus (Standard, Modern, Legacy)
Již tradičně v neděli doprovází týmové open trojice "klasik", z nichž byla určitě nejzajímavější ta standardová, jelikož to byl konečně větší turnaj čistě věnovaný novému postrotačnímu formátu.
Zúčastnilo se ji 146 hráčů a měli jsme tu velmi zajímavou a rozmanitou top16:
4× Monored Aggro
2× Boros Midrange
2× Jeskai Control
2× BG Midrange
2× Monoblue Tempo
Grixis Control
Boros Aggro
Esper Control
GW Tokens
Výsledek a složení finále by asi tipoval málokdo - utkali se v něm Brian Cooper s Boros Midrangem (stejná verze jako výše zmiňovaná v main eventu) a Andrew Jessup se zajímavým Grixisem s Dream Eatery a Nicolou Bolasem. Šlo spíše o midrange tap-out strategii s kartami jako Notion Rain, Thought Erasure a Ritual of Soot. Zajímaví byli i Thiefové of Hope v sidu. Na Boros si s tím ale nepřišel a z celkového vítězství se nakonec radoval Brian Cooper.
Nejhranějším deckem byl ale i zde Monored, u kterého se jednotlivé verze lišily hlavně v počtu Risk Raftorů a Experimental Frenzy. Jedinou výjimkou byl Eric Hawkins, který hrál verzi s nižší křivkou, ve které byl playset Flame of Keldů a Risk Factorů.
K vidění byly i dva další Borosy, jeden s menší token strategií, ve kterém byli Benalish Marshalové v kombinaci s Goblin Instigatorem a Siege-Gang Commanderem. Druhý byl pro změnu agresivnější a zaměřený na mentor synergie se Swiftblade Vindicatorem.
Dále jsme tu měli i dva Jeskai kontroly. Jeden byl opět bez bytostí a spoléhal se na dvojici planeswalkerů, zatímco druhý hrál Niv-Mizzety a dokonce i Crackling Draky, kteří mohou snadno hru ukončit jedním útokem, zvláště pak, když si je ochráníte pomocí kántrspellu.
Překvapením turnaje bylo Monoblue Tempo s evasion bytostmi v kombinaci s levnými kántrspelly a karetní výhodou v podobě Curious Obsession a Chart a Course. Jeden z hráčů se s ním probojoval až do top8 a další skončil na desátém místě. Pozitivní je, že deck je finančně snadno dostupný - žádná karta tu nestojí více, než 80Kč.
Poslední archetypy v top16 byly BG Midrange, GW Tokeni a Esper Control. GW Tokeni a Esper byly v podstatě totožné s verzemi, které jsme viděli během sobotního open.
V případě BG tu byly opět dvě různé verze, které mi ale opět přijdou ne zcela optimálně zkonstruované. První hrála hodně selfmillu a více kusů Molderhulka, Memorialu to Folly a Find // Finality, zatímco druhá vsázela na explore package s playsetem Wildgrowth Walkerů a také Plaguecrafterů, což se zajímavě kombinovalo s playsetem Gruesome Menagerie. Nechápu ale, proč v decku nejsou Stitcher's Supplieři, což je k Menagerie snad nejlepší enabler.
I přes to, že standard byl v prvním týdnu velmi atraktivní formát, tak nejvíce hráčů měla opět modernová klasika. Zahrát si přišlo 203 hráčů, což stejně jako u standardu znamenalo osm kol základní části + top8.
Měli jsme tu tradičně velmi rozmanitou top16 a hlavně dost neobvyklé decky ve finále, kde Peter Oaks s Amulet Titanem porazil Artefaktový Stax Michalela Coylea.
V top16 byly celkem dva Amulety a zajímavé je, že v obou byla maindeck Zacama. Hůře umístěná verze také hrála Trinket Mage, což jsou de facto další kopie Amuletu, i když občas může najít i Ballistu. Ve vítězné verzi se mi pro změnu hodně líbí Tormod's Crypta v sidu, což je hodně efektivní sidovka proti nové verzi Dredge s Creeping Chillem.
Artefaktový Stax založený na kombinaci Whir of Invention + Ensnaring Bridge už jsem tu v poslední době několikrát zmiňoval díky dobrým výsledkům na MTGO, a teď se poprvé prosadil i na turnaji mimo online. V podstatě se dá hovořit o tom, že je to evoluce Lantern Staxu, který už se dnes takřka nehraje. Osobně bych ale nechtěl hrát deck, který před sidem umí vyhrát jenom na Pyrite Spellbombu v kombinaci s Academy Ruinami, nebo Ipnu Rivulet s Cruciblem :)
Na dalších místech jsme měli Burn s černou splashí na playset Rakdos Charmů v sidu (je evidentní, že hráči připravující se na MTGO, se hodně zaměřovali na hate proti Dredgi), klasický Boros Burn, dva Jeskaie, z nichž jeden byl agresivní se Spell Quellery a Geisty v mainu, dva Dredge (oba samozřejmě s playsety Creeping Chillů), dvě Bridgeviny, Bant Spirity, Hardened Affinitu, Traverse Death's Shadow v Jund barvách (s Assassin's Trophy), tradiční Grixis Death's Shadow a Jund Midrange, samozřejmě také s Assassin's Trophy.
Nejskromnější účast měla legacy se 103 hráči. Hrálo se tak pouze sedm kol základní části + top8.
Na turnaji byla velmi rozmanitá metagame, což vygradovalo v top8, kde bylo sedm různých decků. Jediný deck se dvěma zástupci v top8 byl Eldrazi Post, což bych ještě před půl rokem považoval za takřka nemožné...
Ve finále se utkali Stephen Seliskar s RB Reanimatorem (přímočará verze bez alternativních winkondicí v sidu) a John McDermott s populárním Grixis Controlem. Z výhry se nakonec radoval Stephen.
Další místa patřila Omni-Tellu, prvnímu z Eldrazi Postů, RUG Delverovi s Bomat Couriery, Mavericku (pěkná verze bez Dark Depths komba a s playsetem Zenithů, ke kterému tu byl i Knight of Autumn), Goblinům (verze s bílou splashí na Thalie - a i s novinkou v podobě Goblin Cratermakera) a druhému Eldrazi Postu.
Mimo top8 mne nejvíce zaujalo UW Tempo se Stoneforge Mysticy a Delvery. Zajímavé je, že hned v mainu mělo playset Spell Pierců.