Novinky
Flash News #2/2018
1. GP Indianapolis (Team limited)
Týden po releasu Rivals of Ixalan se hrálo první limited GP s novou edicí a opět šlo o turnaj v populárním týmovém formátu. Zahrát si přišlo 514 týmů (1 542 hráčů), mezi kterými nechyběly hvězdné trojice jako Eric Froehlich, PV a Ben Stark, Matt Nass, Sam Pardee a John Utter-Leyton, nebo Steve Rubin, Alexander Hayne a Mike Sigrist.
Nechyběla ani obáváná trojice Owen Turtenwald, Reid Duke a William Jensen, která je se sedmi top4 finishi a dvěma výhrami na týmových GP oficiálně nejlepším týmem v historii MTG (tentokrát skončili na devátém místě).
GP se účastnil i Martin Jůza, který byl v klasickém týmu se Shuheiem Nakamurou a Corey Burkhartem. Na své úspěchy z loňského roku ale tentokráte nenavázali, když se skóre 5:3 skončili už v prvním dni...
Přední příčky po celý víkend patřily již zmiňovaným ostříleným týmům. Trojice Eric Froehlich, PV a Ben Stark měla 8:0 po prvním dni a dokonce to dotáhla až na 12:0, čímž su jako první zajistila účast v top4. Do té je doprovodili další týmy se známými hráči - Oliver Tiu, Shahar Shenhar, Eric Severson, Ben Weitz, nebo Neal Oliver.
V takto nabité konkurenci se ale překvapivě nejvíce prosadili čínští mladíci Fei Xinyu, Yeh Chih-Cheng, and Zhou Zirui, kteří se GP účastnili díky studijnímu pobytu v USA. Ani jeden z téhle trojice neměl předchozí zkušenosti s top8 na GP, zatímco ostatní tři týmy v top4 jich dohromady mezi sebou měly 84!
2. SCG Open Dallas (Team Constructed)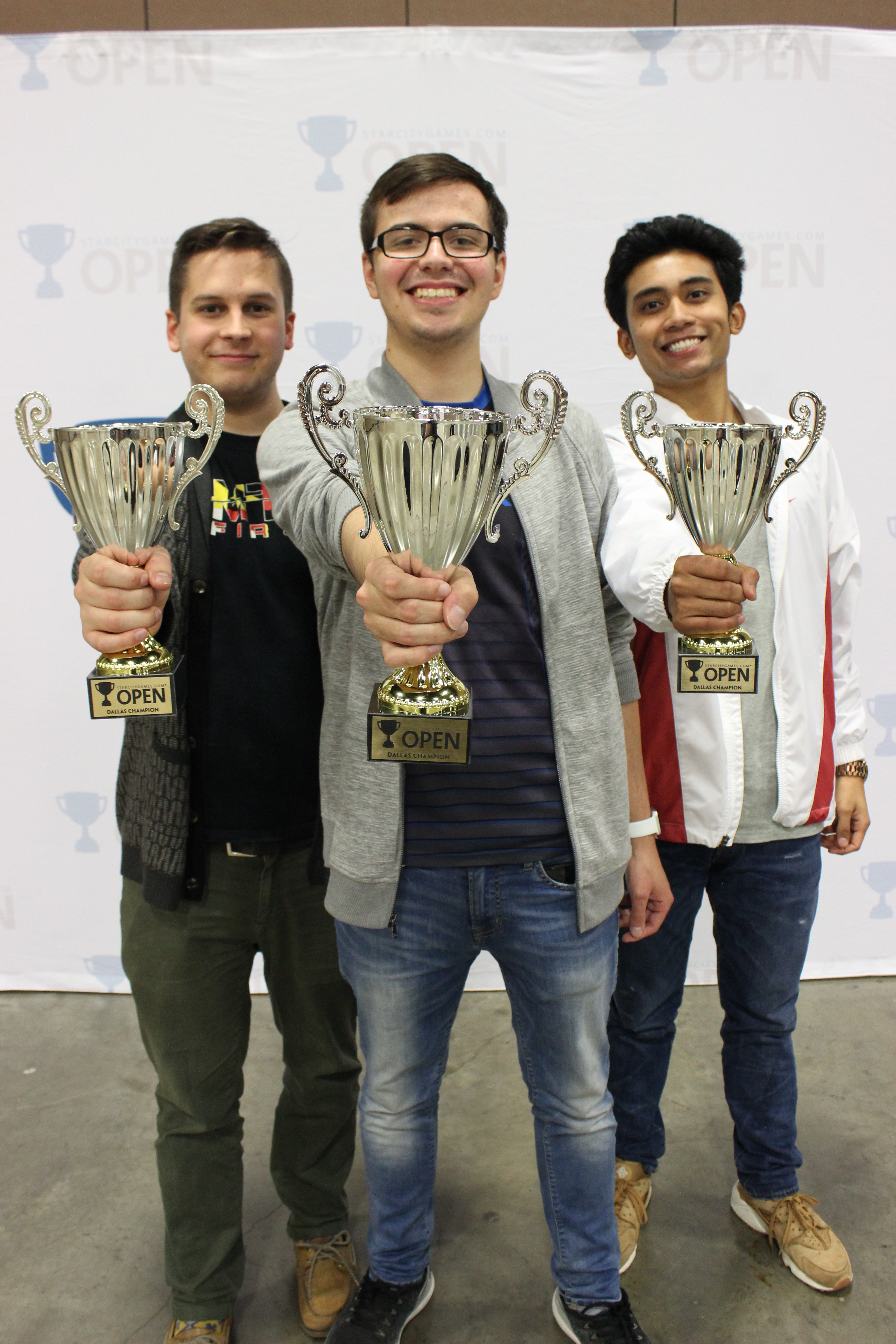 I v rámci SCG Open se hrálo v týmech, ale nešlo o limited, nýbrž o constructed, kde se klasicky hrál standard, modern a legacy.
Zahrát si přišlo 206 týmů, z nichž si s konkurencí nejlépe vypořádala trojice známých hráčů na okruhu SCG - Julian John, Jonathan Rossum a Kevin King, kteří hráli Mardu Vehicly, 5C Humany a RG Lands.
Více týmových eventů zařadily SCG do svého programu na úkor standardu, který koncem roku nebyl příliš divácky atraktivní. Teď toho ale paradoxně mohli litovat, protože po banech byl standard určitě nejzajímavější ze všech třech formátů.
Mezi 42 týmy ve druhém dni byly na standardu k vidění následující decky:
4× Mardu Vehicles
4× Merfolk
3× Mono-Red Aggro
3× G/B Constrictor
3× U/B Control
2× G/R Monsters
2× U/B Gift
2× Esper Gift
2× Sultai Energy
2× R/W Aggro
2× Grixis Control
2× Esper Approach
2× U/W Approach
Temur Monsters
B/W Tokens
Abzan Tokens
Esper Tokens
R/B Midrange
R/B Aggro
U/W Cycling
Esper Cycling
Grixis Energy
Mardu Vehicly ve vítězném týmu neměly nijak překvapivé složení, jedino novinkou v nich byl Angrath v sidu. Za nimi už to ale bylo mnohem zajímavější. Druhé místo obsadil GB Midrange, které dostal velké posily v podobě Jadelight Rangera a Ravenous Chupacabry, třetí byl BUG Midrange hodně založený na Scarab Godovi (ani tady nechyběl Ranger s Chupacabrou), páté bylo Monored Aggro s černou splashí na Scroungera a Unlicensed Disintegration, jenž z nových karet hrálo playset Fanatical Firebrandů, šesté místo patřilo RG Monstrům s modrou splashí v sidu, kde bylo hned několik nových karet. Jadelight Ranger a Rekindling Phoenix asi příliš nepřekvapí, ale rovný playset Thrashing Brontodonů je docela zajímavý a pramení nejspíše ze strachu před Vehicly. Top8 zkompletovaly dva kontroly, Grixis zcela bez nových karet a UBčko s Chupacabrami a také Momentem of Craving.
Za top8 byl první z nových tribal decků v podobě Merfolků, kteří byli hodně zaměření na Kumenu a také další trojici "lordů" v podobě Metallic Mimica, Deeproot Elite a Merfolk Mistbinder. Ty následovalo RW Aggro s Path of Mettle, UW Approach, kde byly novými kartami Baffling End a Arch of Orazca, další Merfolci, RG Monstra tentokráte s černou splashí na Scrapheap Scroungera, Grixis Midrange s energy tématikou, Monored Aggro se splashí na Scroungery v sidu a Mardu Vehicly.
Z dalších decků v top32 mě zaujal ještě BR Midrange s Rekindling Pheonixem a Tetzimocem, Esper Approach s Azorem a Esper Gift s Chupacabrami a Dusk Legion Zealoty.
V modernové části jsme mohli ve druhém dni vidět dvacet různých decků, přičemž nejhranější byl Grixis Death's Shadow se šesti hráči, který následoval Burn s Affinitou (pět hráčů), Jeskai Control a RG Scapeshift (čtyři hráči).
Z decků v top8 mne nejvíce zaujalo Scrap Trawler // Krak-Clan Ironworks kombo, kde byl nově Myr Retriever a také Lingering Souls v sidu coby alternativní winkondice.
V top32 se mi ještě líbil zajímavý Grixis, který zkombinoval Death's Shadow s UR Kiln Fieldem a Jeskai Aggro s Delverem a Geisty.
Na legacy byly dva suverénně nejhranější decky Grixis Delver s deseti hráči a Death and Taxes se sedmi. Třetí nejhranější byl BUG Delver, který měl ve druhém dni ale pouhé tři zástupce. Celkem bylo ve druhém dni k vidění dvaadvacet různých decků.
Zajímavé je, že na prvních dvou místech byly dvoje země, které jsou známy pro svůj fantastický matchup s Delver decky. Kevin King z vítězného týmů hrál klasickou RG verzi, zatímco na druhém místě byly BG Turbo Depthsy.
Z méně obvyklých decků byl v top8 Monored Sneak Attack pilotovaný Zackem Elsikem a ještě BUG Delver v trochu více midrange verzi s Leovoldy a Lilianami.
Ve zbytku top32 mne zaujaly například Death and Taxes s červenou, které hrály Dire Fleet Daredevila, 4C Maverick s Leovoldy, Jeskai Stoneblade, BUG Nic Fit, Dredge, či klasický UB Reanimator.
3. SCG Classic Dallas (Standard, Modern, Legacy)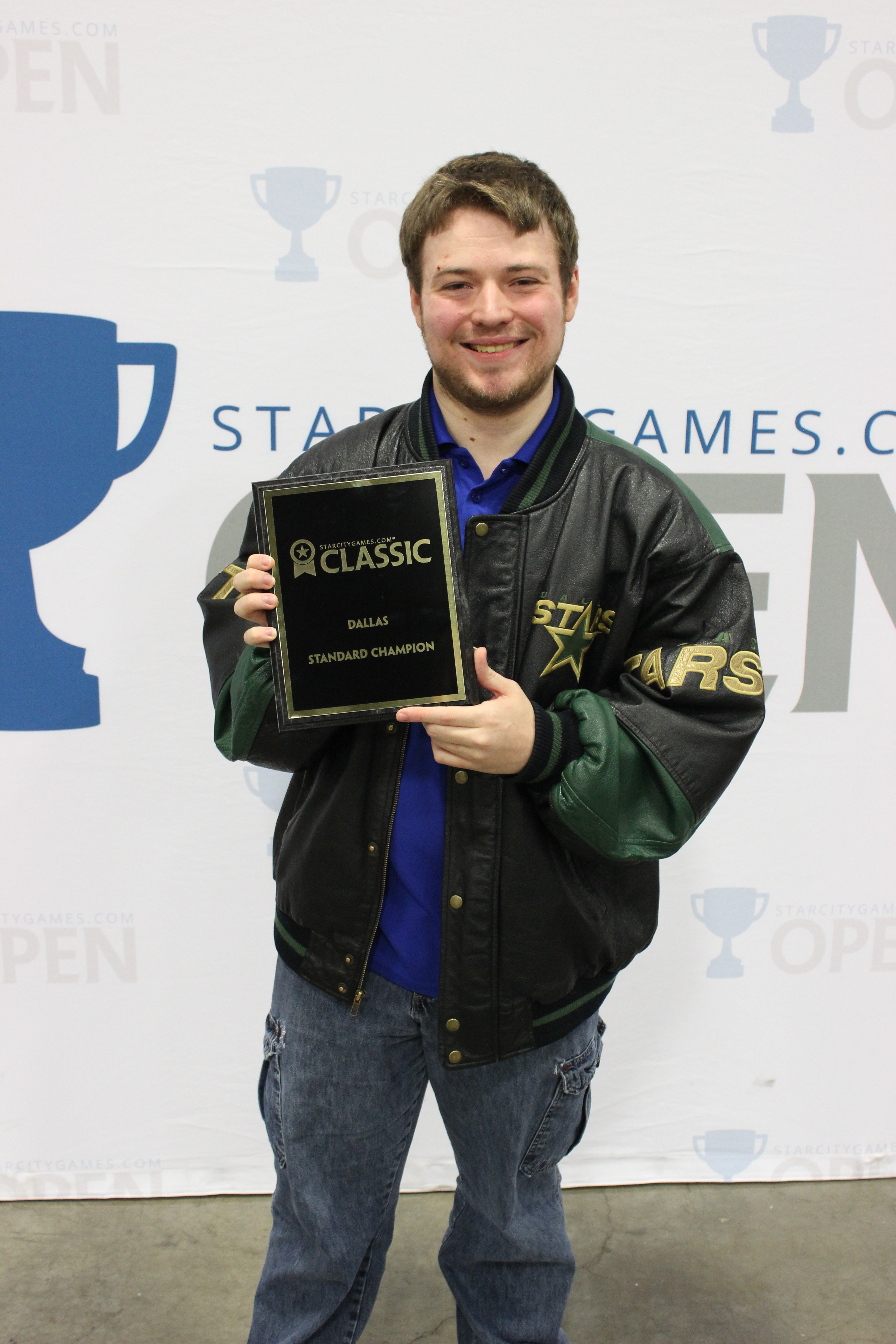 Týmové Open má samozřejmě za následek to, že je v neděli hned trojice klasik, což třeba někomu může přidělat spoustu práce...
Standardu se zúčastnilo 89 hráčů, což znamenalo sedm kol základní části. Na turnaji kraloval Tristen Loob s Monored Aggrem, ve kterém měl jako tajný tech playset Invigorated Rampage. S deckem si dal pět výher, dvakrát remízu do top8 a poté tři výhry v topce.
Veškerou pozornost na sebe však strhnul Jim Davis, který skončil třetí s velmi unikátním UW Aggrem založeným kolem Srama a nejrůznějších aur, z nichž velmi zajímavě vypadala novinka v podobě Curious Obsession. Deck se často přirovnává k Heroicu za časů Theros bloku...
Velmi zajímaví byli i RUG Dinosauři na šestém místě, ve kterých byl playset Ghalty, která je hodně přísná po křivce s Regisaurem. Jako dvě nejzajímavější karty mi tu přijdou Sweltering Suns a Nissa, Steward of Elements, což byla jediná modrá karta v mainu (v sidu potom bylo kántrování)
Posledním originálním deckem v top16 bylo UR Aggro s Favorable Winds, které těžilo z novinky v podobě Warkite Maraudera.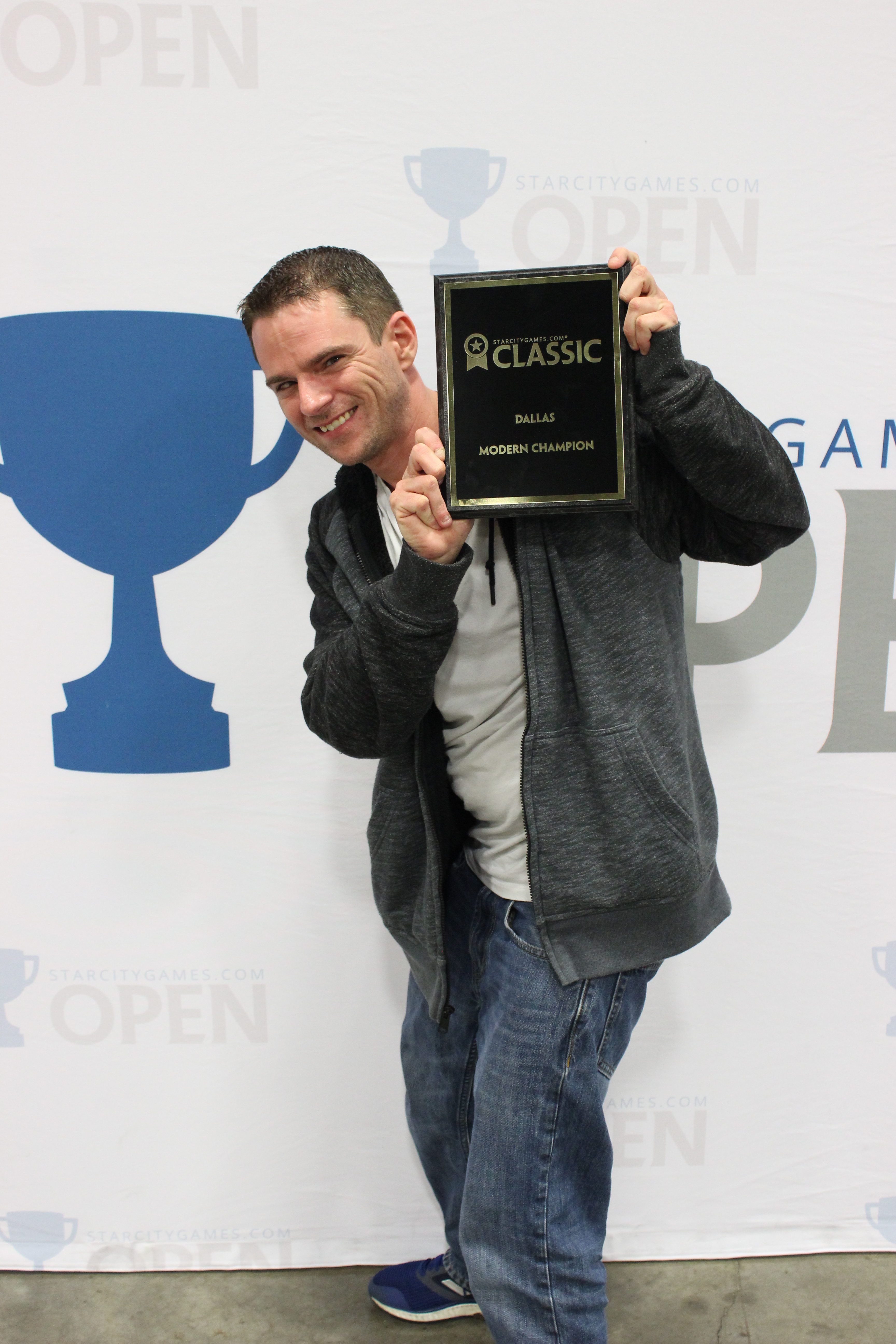 Nejvíce hráčů jako obvykle přilákal modern. Bylo jich 152, což stačilo na osm kol. Výhry se dočkal Tristal Jones s Boros Burnem, když ve finále porazil Affinitu.
Na poměry klasiky bylo docela nezvyklé, že v top16 byly pouzé samé tier decky. Jedinou inovací byly Blood Suny v sidu u Gr Tronu. Jinak jsme na předních příčkách měli čtyři Boros Burny, dvě Affinity, Infect, Gr Tron, Grixis Death's Shadow, dvakrát Jeskai Control, Gifts Storm, Jeskai Tempo, 5C Humany a UW Control.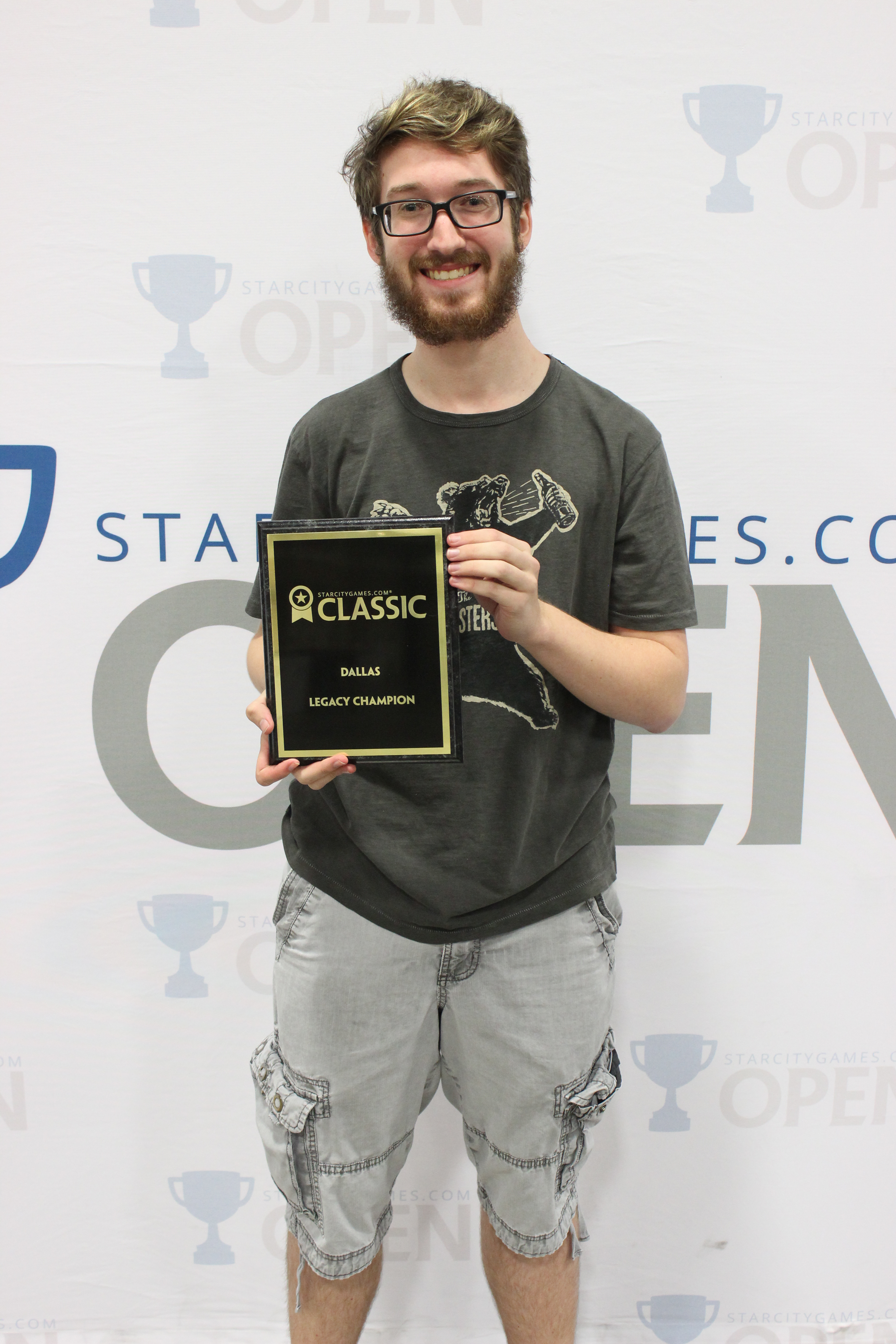 Nejmenší ze trojice klasik byla ta legačková, které se zúčastnilo osmašedesát hráčů. Hrálo se sedm kol, ve kterých díky menšímu počtu hráčů pouze prvních třináct dosáhlo alespoň na pět výher.
Přemožitele tu marně hledal Chris Dunn, jenž hrál OmniTell ve verzi Cunning Wishi a kombo killem ze sidu.
Podobně jako u modernu tu platilo, že v top16 byly téměř samé tier decky. Výjimkou je možná dvojice Monored Stompy, z nichž se mi více líbila verze, se kterou skončil William Yowell na čtvrtém místě. Walking Ballista vypadá jako skvělá adice do decku, zejména když jsou dva nejhranější decky Delver a Death and Taxes.
Kromě OmniTellu a Death and Taxes jsme v top16 mohli vidět dvakrát RG Lands, Grixis Delvera, dvojici BUG Delverů, dvojici Miraclů, do třetice dvojici, tentokráte Stormů, Burn a dvoje Death and Taxes.
4. Standard na MTGO
Na hraní s fyzickými kartami si hráči standardu museli počkat až na víkend, ale na MTGO se hrálo už od pondělí. Za celý týden se v competitive ligách podařilo dosáhnout na perfektní skóre 5:0 více než dvacítce různých decků (i když WoTC publikují jen náhodný vzorek decků, takže je to zavádějící), z nichž měl překvapivě nejvíce hráčů Esper Gift, za kterým následoval UB Midrange a Grixis Energy.
Ze zajímavých decků tu byli vidět RG Dinosauři s playsetem Ghalty, UB Midrange s Tetzimocem, RG Aggro s Insult//Injury, postban verze RUG Energy, BR Midrange s Fénixy a Azor's Gateway, či dost odvážný Jeskai Gift s Madcap Experimentem, ve kterém byl i playset Combat Celebrantů, kteří s Giftem mohou dodat hned několik kombatů naráz.
5× Esper Gift
4× UB Midrange
4× Grixis Energy
3× GB Constrictor
2× BUG Midrange
2× BR Midrange
2× Merfolk
WU Auras
UW Cycling
UW Eternalize
Monored Aggro
UW Gift
Jund Monsters
RB Aggro
RG Aggro
RUG Energy
Mardu Vehicles
RG Dinos
Abzan Tokens
RW Aggro
Jeskai Gift
Vrcholem prvního týdne nového standardu na onlinu bylo PTQ, kterého se zúčastnilo 290 hráčů, ze kterých třiadvacet v devíti kolech základní části dosáhlo na skóre 7:2 a lépe.
Turnaj sice ovládly Mardu Vehicly, ale nejúspěšnějším deckem byl Grixis Midrange, který měl mezi nejlepšími sedm zástupců. Nejvíce se mi líbila agresivnější verze s Fénixy, se kterou byl pátý PigNorton.
K vidění byla například i agresivnější verze s Dire Fleet Poisoner a Gifted Aetherborny, kterou hrál Matsukasa10. Moc ale nechápu, proč měl v decku tak divné one-ofy, jako třeba Kari Zev a Nicola Bolase...
Z decků mimo top8 mne zaujal originální Big Red s malou černou splashí pro Hour of Glory a Scroungery v sidu, a opravdu pěkná verze Jund Dinosaurů, která chytře vyměnila slabší kusy jako Ripjaw Raptor či Drover of the Mighty za všeobecně silné karty jako Fénix, Rhonas, či Scrounger, přičemž ale stále hrála tribal kusy jako Commune with Dinosaurs, Regisaur Alpha a také playset Thrashing Brontodonů.
Všech třiadvacet decků se skóre 7:2 a lépe vypadalo takto:
6× Grixis Energy
3× Mardu Vehicles
2× Monored Aggro
UB Control
Grixis Tempo
Big Red
RW Aggro
RB Aggro
Esper Approach
Esper Gift
UW Cycling
Monoblack Aggro
Grixis Control
BUG Midrange
Jund Dinos