Novinky
Flash News #20/2018
V těchto Flash News se podíváme na Grand Prix Nagoya a Denver, online dvojkové PTQ, obvyklé Weekly Challenge a jako bonus si dáme netradiční 5C záležitost na Standard.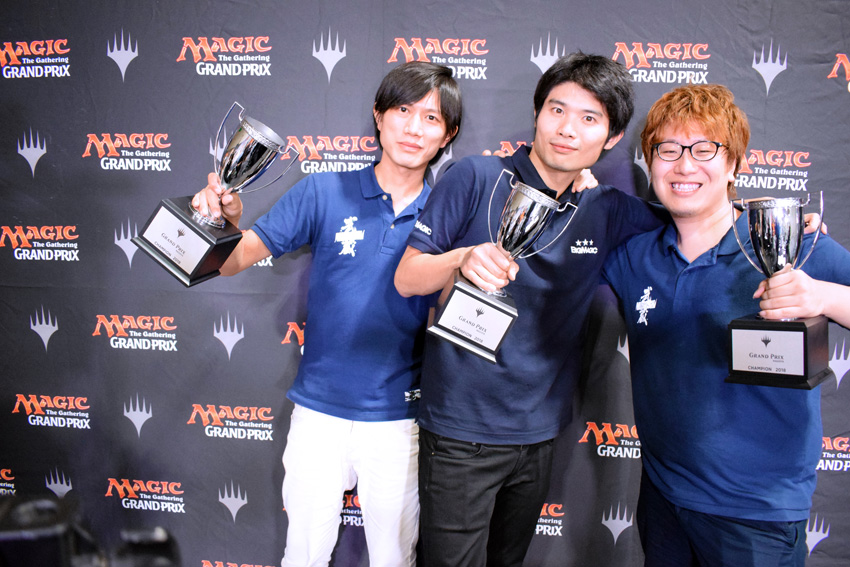 Foto: Wizards of the Coast, StarCity Games, Internet
Flash News #20/2018
1. GP Nagoya (Team Sealed)
Asijská GP jsou pověstná svoji vysokou návštěvností, což platilo i v Nagoye. Sice se teštně nepřekonala hanice 2 000 hráčů, ale 664 týmů (respektive 1 992 hráčů), to hravě strčí do kapsy většinu evropských a amerických GP.
Přítomna byla většina asijských pro playerů, kterým se na turnaji velmi dařilo. Finálová top4 byla plná velkých jmen - dohromady mezi sebou měli 80 top8 a 17 předchozích GP vítězství!
Z výhry se radovala trojice Ken Yukuhiro, Rei Sato a Kentaro Yamamoto, která byla překřtěna na japonský "Peach Garden Oath".
V top4 byl také Shuhei Nakamura, který se po Martinu Jůzovi stal druhým hráčem v historii, jenž dosáhl na metu třiceti top8 na GP.
Druhou zajímavostí z GP je smutný osud týmu Guillem Salvador, Toshiya Kanegawa, a Shin Tomizawa. Tito hráči měli jako jediní po jedenáctém kole skóre 11:0 a k postupu do top4 jim stačila jedna taktická remíza. V týmových turnajích je ale ve druhém dni relativně málo týmů, takže byli třikrát za sebou napárovaní dolů a všechny tři zápasy prohráli. Občas je holt i šesté místo na GP velké zklamání...
2. GP Denver (Team Sealed)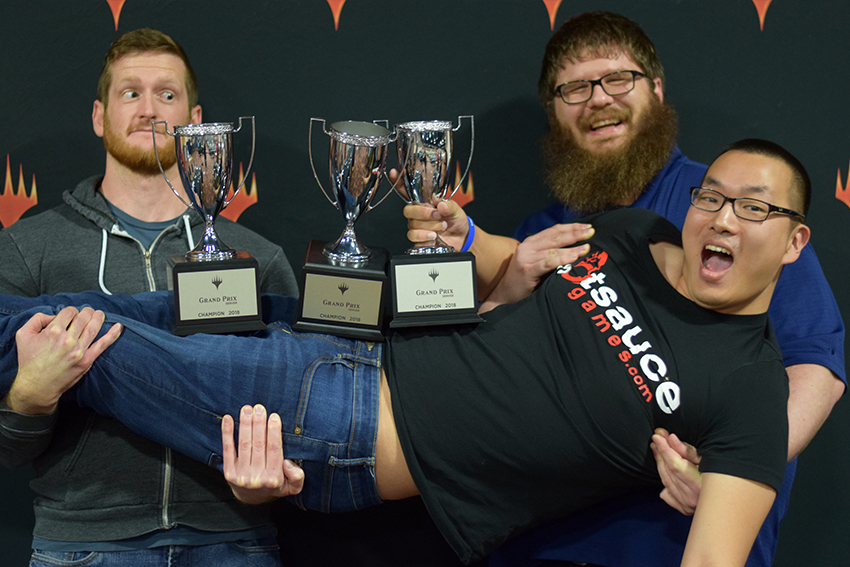 I druhé týmové GP mělo slušnou účast, když si do Denveru našlo cestu 506 týmů (1 518 hráčů - bez české účasti).
Na předních příčkách bylo opět k vidění plno hvězdných týmů, ačkoli pravý tým Peach Garden Oath (na rozdíl od toho japonského) dropoval se skóre 4:3...
Ve finále jsme viděli souboj týmů, kde měli všichni hráči předchozí zkušenosti z GP top8. Trojice Andrew Tenjum, Jacob Baugh a Jack Dobbin porazila Brandona Ayerse, Johna Rolfa a Petera Yeha.
3. Online PTQ (Standard)
Zatímco v prvním týdnu byly výsledky online PTQ velmi rozmanité, tentokráte to vypadalo, že se celý field smrsknul na dva decky.
Turnaje se zúčastnilo 343 hráčů, z nichž v devíti kolech základní části uhrálo devětadvacet výsledek 7:2 a lépe. Hned osmnáct z nich ale hrálo GB Midrange, či Jeskai Control a to včetně sedmi hráčů v top8.
Ve finále jsme měli mirror GB Midrangů, ve kterém zvítězil "Tixis", v jehož verzi je zajímavý celý playset Doom Whispererů. Je pravda, že tenhle archetyp nemá žádný ustálený decklist a v něm opravdu hodně "flex" sltoů, ale Whisperery hrál už pouze jeden další hráč.
Co se týče těch flex slotů, tak jsme mohli vidět například Karny, Vivien Reid, Wildgrowth Walkery, Plaguecraftery, Eldest Reborny, Midnight Reapery, či Deathgorge Scavengery...
Druhý nejhranější deck, Jeskai Control, aké nemá žádný ustálený decklist. K vidění ale byly v podstatě dvě varianty - jedna bez bytostí, která hraje Ral Zareka a Expansion // explosion a druhá s Crackling Drakem či Niv-Mizzetem.
Jediný deck, který v top8 narušil nadvládu těchto dvou oligarchů, bylo hodně agresivní White Weenie s velkým množstvím onedropů a s Benalií, Benalish Marshalem a Vnerated Loxodonem coby hlavními payoffy.
Mimo top8 jsme měli možnost vidět ještě monored Aggro s malou splashí na Justice Strike a pár sidovek (což je podle mne dost zbytečné, Lava Coil a Fight with Fire si s velkými hrozbami poradí), GW Tokeny, Big Red s Treasure Mapami a Seige-Gangy, zajímavé RG Dinosaury s minikombem Experimental Frenzy + Wayward Swordtooth, UR Control s Goblin Electromancery a Crackling Draky, Monored Aggro s Keld Flamem a Risk Factory, pěkný UR Prowess s Arclight Fénixy (které dostával do hrobu pomocí Chart a Course a Discovery // Dispersal) a hodně neobvyklý Jeskai Midrange s kartami jako Karn, Teferi, Goblin Chainwhirler či Rekindling Phoenix.
4. MTGO Weekly Challenges (Modern, Legacy, Vintage, Duel Commander, Pauper)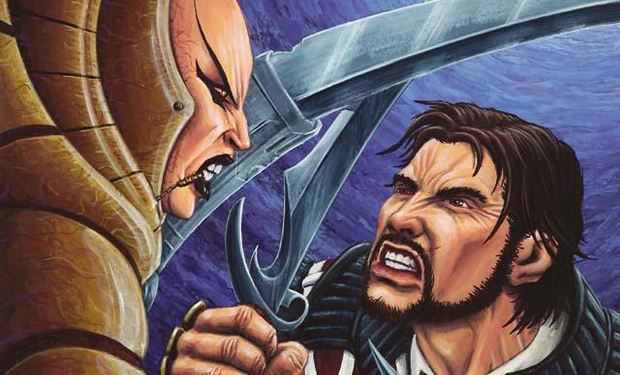 I tentokrát byl na modernu deckem s nejvíce zástupci v top16 Dredge, který tam měl čtyři hráče, z nichž byl ovšem pouze jeden v top8.
Ve finále se odehrál souboj mezi klasickým Grixis Death's Shadow a Ad Nauseam kombem, z výhry se radoval "Polikasoll" s Grixisem.
Na dalších místech bylo Hollow One, Ironworks Combo (s maindeck Spine of Ish Sah), Dredge, neobvyklý BW Midrange s dvojicí Sorinů, Bant Spiriti a dost zvláštní GR Aggro s Eldritch Evolution, ve kterém byly dost divoké karty jako třeba Ghalta, Impervious Greaterwurm a hlavně Cragganwick Shaman, který tam byl hned v playsetu. Samozřejmě mi přijde vtipné discardnout do něj Ghaltu, ale nevidím jediný důvod, proč na modernu hrát podobnou kartu. Na decku se mi líbí snad jenom sideboard, ve kterém jsou dobré hate karty, které hledá Fauna Shaman a samozřejmě hlavně Eldritch Evolution.
Zajímavé decky byly i mimo top8 - dvanácté místo patřilo Affinitě, která hrála Karny, Ensoul Artifacty a k tomu playset Stubborn Denialů, čtrnáctý byl UB Control s Bitterblossomy a šestnáctý UR Control s Thing in the Ice. Zajímavé je, že v sidu měl "tajnou" bílou splash pro Timely Reinforcements, Stony Silence a Rest in Peace.
Na legacy nám podruhé v řadě triumfoval Orim67 s Dredgí, když ve finále opět porazil UWr Miracly s playsetem Accumulated Knowledge (upřímně řečeno jsem se musel ujistit, jestli se dívám na správné výsledky :) ).
Ve zbytku top8 byly dva eldrazi decky (Post a klasická agresivní verze), další Dredge, Elfové (s Assassin's Trophy v sidu), Grixis Control a Grixis Delver.
Mimo top8 mne zaujal například Storm, který hrál více kusů Past in Flames a Tendrillů, přičemž nehrál Ad Nauseam, BR Reanimator s playsetem Grave Titánů (bez obvyklých Chancellorů) coby solidním plánem B (v sidu byli také Cryptbreakeři a playset Trofejí) a hlavně RW Painter se Smuggler's Copterami, což bylo jednoznačně nejzajímavější brew v top16!
Vintage challenge ovládl "darkquarterer" s Paradoxical Stormem (dnes poměrně vzácná událost - dokonce hrál i Timetwister a Mind's Desire) a to i přesto, že jeho finálový soupeř se Survivalem měl maindeck Thalie a Stony Silence.
Na dalších místech byl dva UWR Controly, dva klasické Paradoxical Outcomy se všemi možnými komby (jedno byla dost divná verze se zelenou, ve které byl Leovold, Managorger Hydra a Sylvan Library) a dvoje Ravager Shopy.
Mezi devátým a šestnáctým místem byly kontrolní Oathy s trojicí karet z GRN (Niv-Mizzet, Parun; Mission Briefing a Assassin's Trophy), UR Control s Young Pyromancery, UW Landstill s Teferim, Paradoxical Outcome se zajímavou chuťovkou v podobě Mnemonic Betrayalu, Ravager Shopy, BUG Control s Thiefy of Sanity, klasický Paradoxical Outcome a Survival Combo.
V duel commanderu přišla po zajímavých výsledcích z předchozího týdne opět klasická bída, když se v top16 objevilo pouze pět různých decků.
Jako pomyslná velká trojika by se dala označit Breya, Kess a Leovold. Všechny tři decky zabraly třináct míst v top16.
Z výhry se radoval "Gretorp", když ve finále v souboji kontrolů porazil Kess. V top8 byly hned tři Breyi, dva Leovoldové (nejpopulárnější verze je aktuálně s Flash/Hulk kombem), Kess a dvakrát 5C Goodstuff s Najeelou.
Na dalších místech byla dvakrát Breya, třikrát Kess, dvakrát Leovold a jeden Keranos.