Novinky
Flash News #21/2017
1. SCG Open Charlotte (Modern)
Během GP přestávky bylo vrcholem SCG Open v populárním modernu, který přilákal 742 hráčů.
Díky přísnému cutu, který pouští do druhého dne pouze hráče se skóre 7:2 a lépe, z nich postoupilo pouze 66, mezi kterými bylo 27 různých decků, což zní celkem fajn, ale oproti předchozím turnajům začíná mít mírný náskok před ostatními Grixis Death's Shadow, což je deck, který ve druhém dni hrálo 13 hráčů. Druhý nejpopulárnější deck byly různé verze Abzan Midrnge, které hrálo sedm hráčů. Třetí místo obsadil Dredge s pěti.
Nadvláda Grixisu byla ve druhém dni hodně znát, když se s ním čtyři hráči dostali do top8 a další dva do top16.
V top8 ale začaly narážet na horší matchupy jako Living End, Eldrazi Tron, nebo Dredge. V top4 tak s Grixisem zbyl pouze Andrew Jessup, a to jenom proto, že hrál mirror. Poté ale nestačil na Eldrazi Tron Todda Stevense, který byl na tento matchup vyzbrojen playsetem Reliců of Progenitus a Chalice of the Void.
To se mu vzápětí hodilo i ve finále, kde ho čekal Living End Chrise Castro-Rappla. Ten v top8 dokázal v tomto souboji zvítězit, když dokonce vyhrál hru, kdy jeho soupeř začal s touhle obávanou kombinací v prvním kole. Ve finále už se mu to ale nepodařilo zopakovat a Todd Stevens tak konečně získal svoje premiérové vítězství na SCG Open.
Zajímavé decky se seřadily hned za top8. Devátý byl Joel Sukhram s UWR Controlem, ve kterém měl Nahiri a Kiki-Jiki kombo, desáté místo patřilo Michaelu Bravermanovi s BW Eldrazi (verze z GP Kobe), kteří díky playsetu Reliců, Pathům a Pushům vypadají velmi dobře stavění proti Death's Shadow (v sidu měl Michael ještě speciálně na tento matchup Knighty of Glory), jedenáctý skončil Casper Schaefer s Big Nayou, která hrála Relikviáře, Loxodon Smitery a Tarmogoyfy, a konečně dvanáctý byl Daniel Keigans s vlastní verzí Grixis Death's Shadow, kde nehrál Gurmag Anglery, Street Wraith a Stubborn Denialy, které vyměnil za Delvery a Countersquall.
Z ostatních decků v top32 bych ještě rád zmínil UWR Draw-n-Go Control s Torrential Gearhulky, Skred Red a čtyřbarevné humany s Collected Company, kteří o sobě už dali vědět o týden předtím v online challengi.
2. SCG Classic Charlotte (Modern & Standard)
Na modernovou klasiku zavítalo 181 hráčů, což znamenalo osm kol základní části a top8. Ta byla velmi rozmanitá, když jsme v ním mohli vidět White Jund a Grixis verzi Death's Shadow, dvakrát Vizier Company, oldschool GB Rock, Abzan Delirium, Boros Burn (se zajímavou sidovkou v podobě Harsh Mentorů) a konečně speciál Aliho Aintraziho v podobě Bant "kolované", která byla koncipovaná jakožto kontrol s obrannými midrange bytosti a planeswalkery, mezi kterými vyčnívala zejména nové Nissa. Zajímavá je i interakce mezi Season's Past a Sphinx's Revelation, což je v podstatě nepřekonatelný value engine do pozdních fází hry.
Ve finále se nakonec utkali James Jordan s Grixis Death's Shadow a Sol Malka se svojí srdcovkou v podobě BG Rocku. A zatímco v hlavním turnaji se Death's Shadow podařilo v top8 eliminovat, tak zde ho nikdo zastavit nedokázal.
Mimo top8 byli k vidění další dva Grixisy s Death's Shadow, GW Hatebeaři (verze bez Collected Company a s Restoration Angely), UWR Control s Nahiri, draw-n-go Esper Control, Affinita, Eldrazi Tron a bláznivé brew s Dubious Challengí a Through the Breachem, které se snažilo dostat do hry Emrakula nebo Griselbranda tak, že je zkombinovalo s Dubious Challengí a blink efektem typu Flickerwisp.
Dvojková klasika se nesla ve skromném duchu, když na ni dorazilo pouze 93 hráčů. V souboji Vehiclů proti Aetherworkům se lépe dařilo Vehiclům, když v top4 vyhrály oba zápasy právě proti Marvelům.
Ve finále se utkali Brad Carpenter s UWR Verzí decku (s lehkou splashí na jednu Disintegraci a Cut//Ribbons v sidu) a Joseph Sprouse s agresivnější UWR verzí, která hrála Inventor's Apprentice a v sidu Reckless Bushwhackery. Zvítězil Brad hladce 2:0.
Kromě Vehiclů a Aetherworks Marvelu byl v top8 ještě RUG Midrange, RUG Control s Dynavolt Towerem, trochu netradiční UB Control s Dynavolt Towerem a Monoblack Zombies.
Mimo top8 bych ještě vypíchnul 4C Midrange (RUG s malou bílou splashí pro Nahiri a Declaration in Stone) a zajímavý, leč poněkud chaoticky působící BUG Midrange, což byla jakási kombinace GB Energy Aggra a UB Controlu.
3. Ovinodeggon Spring Edition (Legacy, Modern Vintage)
V Italském Miláně se konala jeden z nejpopulárnějších evropských pravidelných eternal akcí, Ovinogeddon.
Hlavními formáty tu byla legacy, modern a vintage a dále se během víkendu hrál oldschool, leviathan, nebo třeba pauper. Zvláštností bylo, že jak modern, tak i legacy měly hned dva main eventy.
V posledních pár letech bývá obvyklé, že nejvíce hráčů na eternal akcích chodí na modern, což se potvrdilo i zde, když na první turnaj dorazilo 160 hráčů a na druhý 120.
V konkurenci 160 hráčů se nejvíce dařilo Bruno Raguccimu s Naya Burnem, kde měl v mainu dva Deflecting Palmy coby techovku proti Death's Shadow, což rozhodně ocenil ve finále, kde porazil Grixis verzi decku.
Na dalších pozicích skončila Affinita s Glint-Nest Crane, Jeskai Saheeli, Living End, Gifts Storm, klasická Affinita a Eldrazi and Taxes s Dark Confidanty.
Druhá várka modernu se 120 hráči měla dost odlišné výsledky. Nejlépe se v ní vedlo Nicola Zenimu s Merfolky, ve kterých jako extra interakci (proti Death's Shadow) hrál Vapor Snagy a v sidu Threads of Disloyalty.
Na dalších místech byl Eldrazi Tron, dvakrát Grixis Death's Shadow, dvakrát Affinita, další Merfolci a Naya Company s Vizier kombem a Knightem of the Reliquary (červenou hrála kvůli Wolf Runu, Magusovi of the Moon a pár dalším kartám v sidu - například Harsh Mentor, který je super v mirroru).
Po modernu byla druhým vrcholem víkendu legacy, které se účastnilo 108 a 61 hráčů.
U většího turnaje z této dvojice jsme na předních příčkách bohužel příliš inovace neviděli, ačkoli v top8 byly poměrně různorodé decky.
Ve finále porazil Audrer Boulic se Stormem klasickou verzi 4C Delvera pilotovanou Alfonsem Zarzosou. Třetí byli Elfové, za kterými skončil další 4C Delver, Death and Taxes s několika zvláštními kartami (Gisela a Eight-and-a-Half-Tails), 4C Control, který hrál v sidu lišácky Blood Moony, Monored Prison a BG Turbo Depthsy.
Druhou legacy trochu překvapivě vyhrál Timur Böse s Dark Maverickem, ve kterém měl zajímavý package pro Green Sun's Zenith, který obsahoval i méně hrané karty jako Voice of Resurgence a Tireless Tracker.
Ve finále porazil Sneak and Show Johannese Gutbroda, k čemuž mu jistě pomohly karty jako Thalia, Heretic Cathar a Karakas.
Další decky v top8 byly BUG Delver, 4C Control (opět s Blood Moonem v sidu), Esper Stoneblade, Lands, Infect a Storm.
Vintage hrálo 25 hráčů a z vítězství se v ní radoval Luca Meregalli s White Eldrazi, který ve finále porazil zajímavý Dredge se Sun Titany a Fatestitchery, kteří představují zajímavou možnost, jak docílit extra aktivací Bazaaru.
Na dalších místech byl Paradoxical Mentor s Auriok Salvagers kombem (Salvageři + Black Lotus = libovolné množství many), UW LandStill s Emrakulem, Car Shops, Paradoxical Storm zkombinovaný s Tezzeratorem, klasický UWR Mentor a zajímavý deck s mixem několika komb, jenž obsahoval komba Oath of Druids + Griselbrand, Paradoxical Outcome s Tendrills of Agony a samozřejmě i Time Vault s Voltaic Keyem.
Z ostatních eventů je dostupné pouze kusé info - oldschool opanoval Michele Bargiacchi s Bant Zoem a pauper Alessandro Saponara s GU Elfy s techovkou v podobě Distant Melody.
U Leviathanu nebyly zveřejněné decklisty, ale hrálo ho 25 hráčů a v top8 byly následující decky (seřazeno od prvního po osmého): Geist of Saint Traft, Teferi, Temporal Archmage, Bruse Tarl + Kraum, Vial Smasher + Kraum, Selvala, Heart of the Wilds, Vial Smasher + Thrasios, Vial Smasher + Kraum a Maelstrom Wanderer.
4. MTGO Weekly Challenges (Modern, Legacy, Vintage, Commander, Pauper)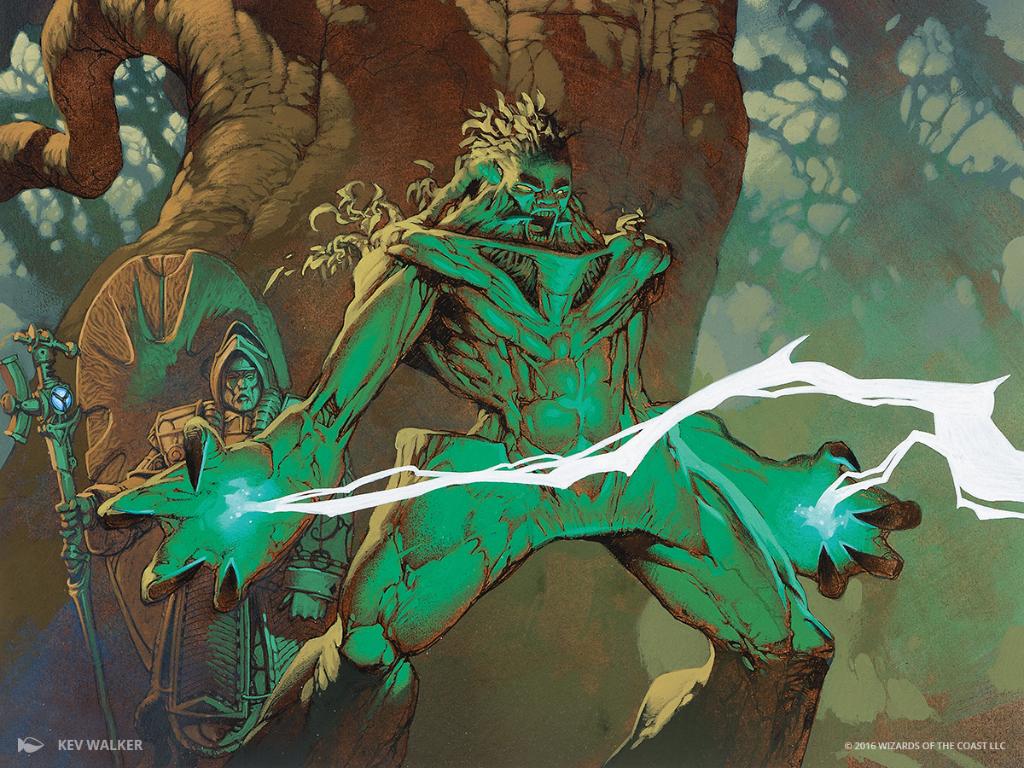 Pravidelnou várku online challengí jako vždy načneme modernem, který ani tentokráte nezklamal.
Z vítězství se tu radoval "cyaso" s BR kontrolem, ve kterém hrál Blood Moony a Demigody of Revenge. Za zmínku stojí i jeho sideboard, kde měl Madcap Experiment a playset Leyline of the Void, což je jedna z nejlepších sidovek proti Death's Shadow Grixisu.
Poraženým finalistou byl "penips" s víceméně standardní verzí Eldrazi and Taxes, ve které byla jediná trochu neobvyklá karta Dark Confidant.
Třetí místo obsadil "Meltiin" se zajímavou verzí Tezzeratora, ve které měl velký toolbox s Trinket Magem a jako hlavní winkondici měl přímo Tezzerety, což je velký rozdíl oproti verzím s Thopter-Sword kombem.
Další zajímavé decky v top16 byly BW Smallpox s velkým planeswalker packagem, Boros Burn s Bedlam Revelery, nebo Merfolci se Smuggler's Copterami.
Kromě toho byl v top16 ještě dvakrát Dredge, Amulet Titan, pětibarevná verze Death's Shadow s Jund základem, Grixis verze Death's Shadow, Abzan Midrange, RG Scapeshift, Eldrazi Tron, Gr Tron a UWR Control se Spell Quellery.