Novinky
Flash News #22/2016
1. World Magic Cup (Team Sealed & Unified Modern)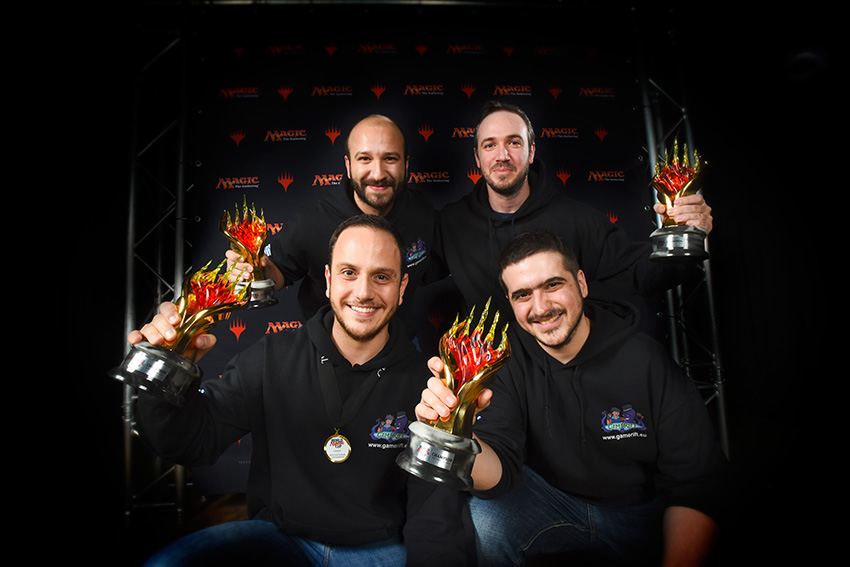 Letošního týmového MS se účastnili hráči ze 73 států včetně České Republiky, která zde byla ve složení Lukáš Blohon, Ondřej Straka, Alexander Rossijčenko a Pavel Zůna.
Turnaj měl trochu zvláštní strukturu - první den byl ještě docela jednoduchý, když po třech kolech sealedu následovaly čtyři kola modernu a cut pro druhý den, kam postoupilo 48 týmů. Pro jistotu postupu bylo potřeba získat alespoň deset bodů (3:3:1), což s odřenýma ušima splnil i náš tým, když postoupil ze 46. příčky.
Druhý den začal soubojem týmů na 17-48. místě. Vítězové postupovali do další fáze, zatímco poražení byli z turnaje nadobro vyřazeni, což je trochu divné, když i přes postup do druhého dne můžete vypadnout hned po jednom zápase... V tomhle kole skončily naděje českého týmu, který nestačil na Švédsko. A stejně si vedlo i Slovensko, které na feature matchi podlehlo Rakousku.
V další fázi turnaje vznikly čtyřčlenné skupiny, ve kterých se hrálo systémem double elimination, tedy druhá prohra ve skupině znamená vyřazení z turnaje. Po třech kolech následoval cut pro top16.
Ta byla opět rozdělená do skupin po čtyřech, a opět se tu hrálo systémem double elimination, ale nebyl byl to WMC, aby tu nebyla nějaká výjimka - kdo měl po dvou kolech dvě výhry, tak automaticky postoupil do top8 a poslední kolo už hrát nemusel.
Do top8 nakonec postoupili Australané, Belgičané, Bělorusové, Finové, Italové (obhájci loňského vítězství), Panamci, Řekové a Ukrajinci.
Nejvíce se dařilo Belgičanům a Řekům, kteří se střetli ve finále. Tam jsme mohli vidět souboje mezi Naya Burnem a Abzan Midrangem, Grishoalbrandem a Dredgem a také mirror Infectů.
Zajímavé bylo, že kapitánem řeckého týmu byl Bill Chronopulos, který už byl v týmu před dvěma lety, když ve finále podlehli Dánsku (díky topdecku one-of Duneblastu). A právě Bill Chronopulos s Dredgem byl ten, kdo nakonec ve finále získal vítězný bod, když porazil Grishoalbrand Jeroma Bastogne.
Řekové jsou tak mistry světa pro sezónu 2016/17!
Kromě samotných vítězů je samozřejmě zajímavé se i podívat na to, co byly nejúspěšnější decky turnaje. Důležité je zmínit, že oproti předchozím ročníkům byly změněny pravidla. Dřívě platilo, že jednu kartu mohlo mít v decku více hráčů, pokud dohromady nehráli více, než čtyři kusy. Letos ale platilo, že jednu kartu mohl hrát pouze jeden hráč, a to i v případě, že by jí hrál pouze jako one-of.
To v praxi znamenalo, že byly trochu populárnější decky jako Infect, Affinita, nebo Lantern Control, protože "nekradly" příliš mnoho karet (problematické byly zejména fetchlandy) z ostatních decků.
Metagame byla následující:
36× Infect
31× Dredge
19× Affinita
17× Abzan Midrange
16× RG Valakut
11× Lantern Control
11× Bant Eldrazi
10× Naya Burn
8× Jund Midrange
7× Ad Nauseam
5× Merfolk
5× UR Prowess
4× Bogles
4× Death's Shadow Zoo
3× Eldrazi and Taxes
3× GW Tron
3× Grixis Delver
25× Other
Pokud se podíváme pouze na top8, tak v té to vypadalo následovně:
4× Bant Eldrazi
3× UR Prowess
3× Dredge
3× Infect
2× Lantern Control
2× Affinity
Jund
Grishoalbrand
Naya Burn
Abzan
Ad Nauseam
RG Valakut
Merfolk
Velká popularita Infectu a Dredge měla za vinu, že během celého víkendu bylo k vidění spoustu neinteraktivních her, které často končily ve druhém a třetím kole.
Největším překvapením turnaje byl UR Prowess s Kiln Fieldem a Thing in the Ice, se kterým se hned tři týmy dostaly do top8! Deck byl překvapivě resilientní a díky jeho rychlosti dělal spoustě soupeřů velké problémy Temur Battle Rage, o čemž se můžete přesvědčit například zde.
Zajímavé také je, že UR Prowess byl vůbec deck s nejvyšším winratem (statistika byla uvedena pouze u decků, které hrálo alespoň pět týmů):
UR Prowess 67,6%
Bant Eldrazi 64,9%
Naya Burn 59,7%
Affinity 53,9%
Ad Nauseam 53,8%
Lantern Control 52,5%
Merfolk 51,7%
Jund 51,2%
Infect 50,7%
Dredge 49,7%
RG Valakut 48,2%
Abzan Midrange 48,1%
Kromě UR Prowessu byly v top16 přítomny ještě dva zajímavé decky. První byl Jeskai Ascendancy speciál, který hrál německý tým, jenž ve svém středu měl odborníka na tenhle deck, Marca Tobiasche. Na decku se mi líbí, že oproti jiným verzím může vyhrát i bez komba díky kartám jako Monastery Mentor a Snapcaster Mage a že může hrát dlouhé hry jako čistokrevný kontrol.
Druhý originální deck hráli makedonští hráči. Šlo o agresivní verzi Abzanu, která hrála Elves of Deep Shadow a Smuggler's Coptery (kvůli Coptéře jsou elfové lepší, než Noble Hierarch). A v decku samozřejmě nechyběl ani starý dobrý Siege Rhino.
2. SCG Open Knoxville (Standard)
Zatímco na onlinu pomalu začínala dominance RG Aetherworků, tak 479 hráčů v Knoxville zůstalo věrné klasické trojici BG Delirium, UW Flash a RW/Mardu Vehicles. Nejhranější z téhle trojky bylo Delirium, které ve druhém dni hrálo 37 hráčů z celkových 111.
Dohromady tahle "velká trojka" obsadila 83 míst ve druhém dni. V top8 byl pouze jeden jiný deck a v celé top32 jich bylo šest, z čehož byly ještě navíc dvoje BG Aetherworky.
Pro výhru si došel Brad Nelson s BG Deliriem. Bylo to teprve jeho druhé vyhrané SCG Open, což je možná trochu překvapivé. Na druhou stranu už má ale dva tituly z Invitationals a také titul SCG šampiona z roku 2014.
Poraženým finalistou byl Bradley Hill, který s Jeskai Controlem jako jediný dokázal prolomit dominanci Deliria a Flashe v top8.
Z dalších decků byly v top16 ještě Boros Midrange Andrewa Tenjuma, Zombie Madness Andrewa Shrouta a WR Humani Zana Syeda.
3. SCG Classic Knoxville (Modern & Legacy)
Modernu se zúčastnilo 140 hráčů, kteří zde byli svědky prvního vítězství Todda Stevense v jednom z hlavních turnajů SCG série (Open/Classic), když zvítězil se svým RW Prisonem, což je deck, na kterém pracoval několik posledních měsíců. Bylo velmi zajímavé sledovat jeho progress s deckem (Todd navíc docela často streamuje na Twitchi), který vygradoval až k této výhře.
Další zajímavý deck v top16 byl Skred Red, který se veze na vlně popularity díky vyhranému GP. S pěknou, updatovanou verzí skončil čtvrtý Chance Brown.
Zajímavé je, že Chance oproti verzi z GP ještě přidal jednoho Eternal Scourge. Další změna bylo nahrazení Manželů (Pia & Kiran) šestimanovou Chandrou a výměna Mind Stonů za Coldsteel Heart. Heart jde sice otočit do Scrying Sheetů, nicméně Mind Stone mi pořád přijde lepší, jelikož v lategamu určitě oceníte možnost prolíznutí. I tak je tu pěkně vidět, že Skred Red je hratelný deck a vyhrané GP určitě nebyla náhoda.
Poslední neobvyklý deck v top16 byl Gu Tron. V klasickém Tronu obvykle vídáme vedle zelené červenou, nebo bílou splash, tak si možná říkáte, jakou výhodu poskytuje modrá.
Pravda je, že tahle splash nebyla ani tak o modrých kartách, jako o Academy Ruins, které tu byly spolu s dvojicí Mindslaverů. V decku byly taky Remandy, ale ty mi tu přijdou dost divné (většinou nemáte modrou manu nazbyt v úvodních kolech) a raději bych hrál nějakou levnou interakci, která pomůže proti agresivním deckům jako Infect a Death's Shadow Zoo (Vapor Snag, Cyclonic Rift).
Legacy se účastnilo pouhých 53 hráčů, což znamenalo jenom šest kol a 4:1:1 na top8.
V té se nejvíce dařilo Draku Susserovi s Omni-Tellem, když ve finále porazil Storm Jiana Duana. Na něm bylo zajímavé, že hrál v sidu jakožto plán B playset Monastery Mentorů.
Páté místo obsadil Jacob Hagen s nezvyklou verzí Miraclů, kde hrál trojici Wastelandů a Crucible. Další kusy měl navíc v sidu.
Ze zajímavých decků jsme dále v top16 mohli vidět kombo-reanimator s Griselbrandem/Child of Korlis a Necrotic Ooze/Phyrexian Devourer/Triskelionem, dále Nic Fit zamřený na Green Sun's Zenith package, který obsahoval chuťovky jako Leovold, Atraxa a playset Siege Rhinů! A konečně také klasické GW Enchantressky s Emrakul a Rest in Peace/Helm of Obedience kombem.
4. Online PTQ (Modern)
Nebyly by to Flash News, kdybychom se nepodívali alespoň na jeden online turnaj. Tentokráte to je PTQ ve formátu modern, kterého se zúčastnilo 96 hráčů.
Hrálo se sedm kol a díky nemožnosti ID v posledním kole bylo k postupu do top8 (na MTGO získává slot celá top8) potřeba 6:1, s výjimkou dvou šťastlivců, kteří postoupili se skóre 5:2 díky dobrému pomocnému hodnocení.
Jedním z těchto šťastlivců byl i "RandomDrooler" s Grixis Controlem podle Coreyho Burkharta, který si nakonec v top8 došel pro celkové vítězství, když ve finále porazil Gw Tron, což je trochu překvapivé, jelikož kromě rychlého Tasigura nemá Grixis moc dobrých způsobů, jak Tron porazit.
V top8 dále bylo Death's Shadow Zoo se Steppe Lynxami, agresivní verze Abzanu s Birds of Paradise a Anafenzami (anti-dredge package obsahoval ještě Scavenging Ooze a maindeck Nihil Spellbomby), Dredge s Burning Inquiry, "oldschool" verze Grixisu s Jacem a playsetem Kolaghan's Commandů, Jund Midrange (bez Grim Flayerů) s one-of Midnight Oil v sidu a RW Prison.
Mimo top8 mě nejvíce zaujali Elfové s Essence Wardenami, se kterými obsadil dvacáté místo "melancio".
5. Bonus: Legacy Brews
Dnešní bonus bude zcela zasvěcen legacy a podíváme se hned na trojici zajímavých decků.
První je UR Prison se Splinter Twinem, se kterým skončil v top4 finálového turnaje Bazaar of Moxen Nicolas Crépelle.
Šlo o turnaj, kterého se účastnilo 14 vybraných hráčů, jenž měli nejlepší výsledky v celoroční sérii. Turnaj byl kombinací standardu, modernu a legacy, nicméně finálová top8 byla právě legacy a top4 tu nakonec splitla ceny, takže je tohle de facto jeden z vítězných decků.
V decku jsou klasické prison elementy v podobě rychlé many, Chalice of the Void a Blood Moonů, ale narozdíl od jiných prison decků tu jsou i Forsáže, Jace a možnost kombo-killu. Zajímavé také je, že po sidu se otevírá možnost do decku přidat Helm of Obedience kombo.
Další dva decky jsou shodně z top8 japonské měsíční legacy série, která má na internetu označení KMC (nevím, co zkratka znamená a jestli to nějak souvisí s KMC obaly). Tohoto konkrétního turnaje se zúčastnilo 96 hráčů a zmiňované decky obsadily čtvrtou a šestou příčku.
Lepší z tohoto dua decků byl čtyřbarevný Tezzerator, což je opět deck s prison elementy (Chalice of the Void, Crucible + Wasteland, Blood Moon v sidu), který má navíc k dispozici Forsáže, ovšem tnhle deck není tak přímočarý, jako Twin kombo.
V decku jsou hned čtyři různí planeswalkeři, včetně novinky v podobě Darettiho, Ingenious Iconoclasta. Hlavní je tu ale samozřejmě Tezzeret (Agent of Bolas), který pomáhá sestavit Thopter/Sword kombo.
Kromě Darettiho tu máme i dvě další nové karty v podobě Inventor's Fair a Breya, Etherium Shaper, což je dokonce jediná bílá karta v mainu. Breya je zajímavý cíl pro Transmute Artifact, ale jinak vypadá velmi nahraditelně. Osobně bych kvůli ni rozhodně nepřidával do decku další barvu.
A dnešní poslední deck je BW Pox. To je klasický disrupční deck s tunou discardu, který ale na legacy nikdy nepatřil mezi tier decky. Bílá je v decku kvůli Lingering Soulsům a Vindikacím, což decku dodává zajímavý reach.
Oproti dřívějším verzím, které obvykle hrávaly pouze Nether Spirita, je tu i více bytostí v podobě Bloodghastů a Tombstalkerů (je ale potřeba dodat, že v Monoblack verzi jsou Mishrovky, které ve dvoubarvě už nejsou tak dobré).
Osobně mi docela zajímavé přijdou i Bitterblossomy v sidu, které bych klidně zkusil v základu. A na druhou stranu vůbec nerozumím tomu, proč jsou v sidu dva Armageddony, jelikož na čtyři many se v decku dostanete opravdu velmi zřídka...
A tím jsme se dostali na konec dnešního vydání Flash News. Užívejte si vánoční pohodu a u dalších Flash News na viděnou.
Kumano
Komentáře
Přispívat mohou pouze přihlášení uživatelé. Pokud chcete vložit komentář, přihlaste se ZDE.