Novinky
Flash News #22/2017
V dnešních Flash News se dočtete o GP Las Vegas, prvních dvojkových turnajích bez Marvelu, Online PTQ, Online Weekly Challengích, Duel Commanderu z Valence, nebo Frontier Showdownu z Toronta.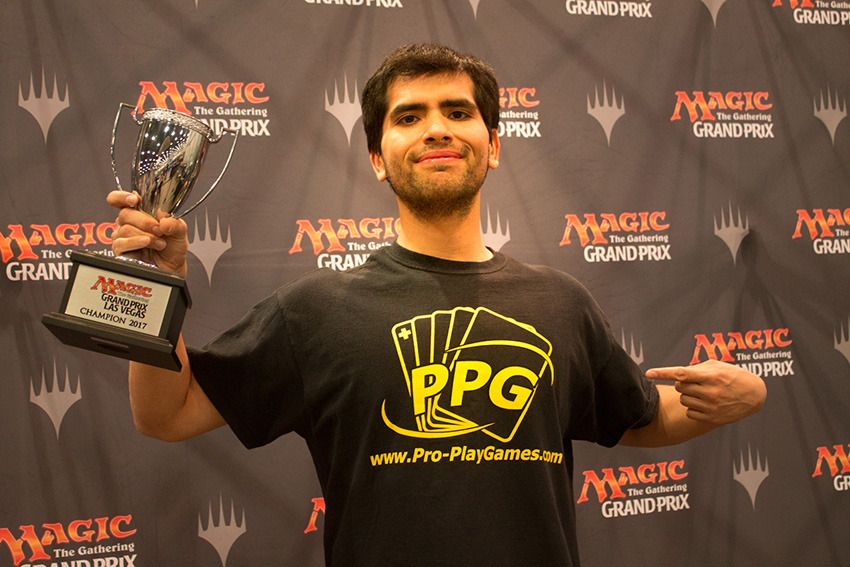 1. GP Las Vegas (Legacy, Amonkhet Sealed, Modern)
Pravděpodobně největší event v celé historii MTG, to bylo GP Las Vegas. Na rozdíl od ostatních GP to byla čtyřdenní záležitost se třemi maineventy - ve čtvrtek se začínalo legačkou, v pátek se pokračovalo sealedem a v sobotu modernem. Jenom tyhle tři main eventy dohromady přesáhly účast 8 500 hráčů!
Během celého víkendu samozřejmě proběhlo i neuvěřitelné množství sideeventů, mezi kterými se našly i takové chuťovky jako Chaos Sealed (sealed deck s boostery ze zhruba 25 různých setů, kde byl garantovaný minimálně jeden booster modern masters), nebo Box Sealed (sealed deck z celého booster boxu).
Legacy GP
Prvním vrcholem byla již zmiňovaná legačka, která se mohla pochlubit účastí 2 644 hráčů, mezi kterými byli i Martin Jůza a Lukáš Blohon.
Díky velkému počtu hráčů u všech main eventů platilo, že druhá prohra znamená ztrátu šancí na top8. To si vzal evidentně k srdci Lukáš Blohon, který spolu s dalšími devíti hráči v první dni dosáhl na perfektní skóre 9:0.
Byla mezi nimi k vidění trojice 4C Delverů, dvoje Topless Miracly, které byly agresivně pojaté - s menším množství Terminusů a s více Monestery Mentory. Oba měly v sidu červenou splash, ve které nejvíce vyčníval Blood Moon. Další neporažené decky zahrnovaly dva 4C Controly (jeden z nich hrál Lukáš Blohon, který hrál jenom minimum zelené a trochu netradičně vsadil na Young Pyromancery a Cabal Therapy), Infect a RUG Delver.
Ve druhém dni jsme byli svědky mírné dominance 4C Delvera, ale jinak byla metagame stále velmi rozmanitá, když jsme v top16 mohli vidět hned třináct různých decků.
V top8 byla vesměs neznámá jména, když jediní známější hráči byli Jody Keith a Samuel Tharmaratnam.
Finále byl souboj mezi Death and Taxes Andrew Calderona a UR Delverem Jonathana Semeyna. Zvítězil 2:0 Andrew, ale spíše než jeho přesvědčívá výhra, všechny zaujal očividný podvodný úmysl Jonathana ve druhé finálové hře, kdy zahrál Bedlam Revelera v momentě, kdy neměl v hrobě dostatek instantů a sorcery. Zarážející na tom je, že ačkoli to bylo ve finále a před kamerami, tak to nevypadalo, že by to rozhodčí či komentátoři nějak více řešili.
To bohužel nebyla jediná černá kaňka legacy části GP. V prvním dni byl diskvalifikován Marco Cammilluzzi za úmyslnou misinterpretaci svých karet. Hrál Monored Prison, který měl celý v italštině a snažil se získat výhodu špatným výkladem textu u Goblin Rabblemastera. Ne že by mě nějak hodně překvapovalo, že hráči bezostyšně cheatují i na tak velkých turnajích, ale pokaždé, když je usvědčen z podvádění nějaký pro hráč, tak si říkám, kolik známých jmen si ve skutečnosti k dobrým výsledkům pomáhá takovými drobnými podvody...
Musím ale říci, že UR Delver je jedním z mých oblíbených legacy decků, jelikož je snadno kustomizovatelný a v podstatě pořád do něj vycházejí nové, zajímavé kusy. U Jonathana jsme mohli vidět one-ofy jako Vapor Snag, Thunderous Wrath, ale bohužel to dost znevážil Stormchaser Magem :)
Zbylé decky v top8 byly 4C Delver (2×), Lands, RUG Delver, 4C Control a Omni-Tell.
Zveřejněny byly také decklisty z top16 (upřímně řečeno mě zklamalo, že to nebylo z celé top32), kde byly ještě další Landy, Sneak and Show, zajímavý Grixis Control Pierra Dagena s playsetem Gurmag Anglerů, tři různé Stoneforge Mystic decky (UW, Dark Bant a UWR), 4C Delver a velmi originální BUG Control s velkým Life from the Loam packagem, ke kterému se pojily i karty jako Crop Rotation, Intuition a nechybělo ani Dark Depths kombo.
Jako bonus se ještě podíváme na zajímavý UWR Control s Blood Moony a Monastery Mentorem, se kterým vyhrál jeden z pátečních trialů Joe Brennan.
Na závěr se ještě sluší dodat, jak se vedlo dvojici našich hráčů. Lukáš Blohon bohužel ve druhém dni dosáhl pouze na dvě výhry. Martin Jůza měl skóre 4:2, ale v kombinaci se sedmi výhrami v prvním dni to také nestačilo na nějaký extra výsledek (což je trochu smůla, protože na jiném GP by skóre 11:4 dost pravděpodobně stačilo na top64). Oba se museli spokojit se dvěma pro pointy a umístěním na konci první stovky.
Limited GP
Limited main event přilákal takřka stejný počet hráčů, jako tomu bylo u legacy. Mezi 2 692 byl z našich hráčů tentokráte pouze Martin Jůza, který si dal magicový maraton, když se později účastnil i modernu (to bohužel trochu dopředu prozrazuje, že se mu na limited příliš nevedlo).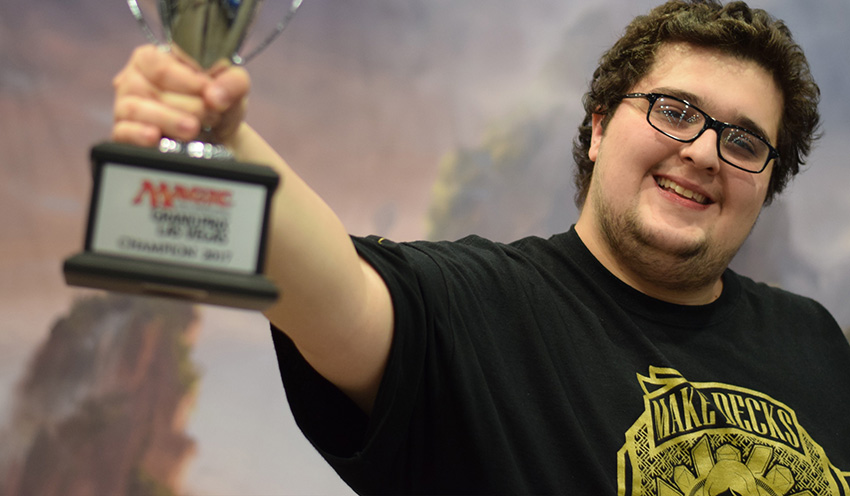 Na turnaji bylo dobře vidět, jak limited odměňuje hráče, kteří se důkladně připravují. Zatímco na sealedu jde menší familiarita s formátem zachránit tím, že si to prostě "dobře otevřete", tak ve druhém dni na draftu excelovala známá jnéma.
V prvním dni mezi devíti 9:0 hráči příliš známých jmen nebylo (výjimkou byl Andrew Cuneo), ale finálová top8 byla přehlídkou hvězdných jmen - Steve Rubin, Thiago Saporito, Sam Pardee, již zmiňovaný Adrew Cuneo a Mike Sigrist, ti všichni se postarali o skvělou top8.
Finále bylo soubojem o premiérové vítězství na GP mezi Stevem Rubinem a Thiagem Saporitem. Z výhry se nakonec mohl radovat Thiago, který měl pěkný BR Control s Arfiendem of Ifnir a Liliana's Mastery. Pro Steva to smolně byla druhá porážka v řadě v GP finále.
Velkou dávku kreativity předvedl ve druhém dni kanadský hráč, Marc Lalague, když na draftu nasbíral celý playset Approachů of the Second Sun, které mu pomohly k celkovému skóre 12:3, které mu vyneslo celkové 38. místo. Bohužel v coverage není zmíněno, zdali to byl první, nebo druhý draft, takže není jasné, jestli měl s deckem 3:0. Každopádně měl ale ve druhém dni 5:1, čili to byl úspěch tak jako tak.
Modernové GP
Největší účast měl dle očekávání modern, který se s 3 401 hráči stal s velkým náskokem letošní největší GP.
Suverénně největší favorit na výhru bylo Grixis Death's Shadow, které ale doplatilo na to, že se speciálně na něj většina hráčů připravovala.
Naopak z očí všem sešla Affinita, která byla i podle slov jejích největších příznivců v posledních měsících opravdu špatná. Menšího množství hate karet v sidech většiny hráčů ale dokázala patřičně využít.
Ale pěkně popořádku - v prvním dni dosáhlo třináct hráčů na perfektní skóre 9:0. Velkou rozmanitost modernu potvrdilo hned deset různých decků, které tito hráči hráli. Z klasik to bylo dvakrát Grixis Death's Shadow, dvě Affinity, dva Burny, Vizier Company, Abzan Midrange a UWR Control.
Z méně obvyklých decků jsme tu měli GW Hatebeary s Collected Company (Craig Wescoe speciál), Monowhite Death and Taxes (deck založený na speciálu Craiga Wescoa) a UB verze "Time Walk" decku.
Do druhého dne prošli i Martin Jůza s Lukášem Blohonem. Martin se skóre 8:1 a Lukáš se 7:2.
Druhý den byl velmi překvapivě krasojízda Affinity, která nakonec obsadila tři místa v top4 a pět v top16!
V top8 dále byly Monowhite Death and Taxes, GW Hatebeaři (skoro, jako by tam Craig Wescoe byl dvakrát), Eldrazi Tron, Boros Burn a velmi překvapivě i UB Extra Turns.
Co se týče jednotlivých hráčů v top8, tak kromě Craiga Wescoe jste mohli znát maximálně tak Allena Wu, který v loňském roce vyhrál jedno limited GP.
Finále bylo úplně bez známých jmen a dokonce i bez amerických hráčů, když se v něm utkali Mani Davoudi (Kanada) s Affinitou a Theau Mery (Francie) s Death and Taxes. Velmi hladce v něm zvítězil Mani, když měl v první hře brutální draw se čtyřmi manami v prvním kole a ve druhé hře vyhrál po mulliganu do čtyř, když Theau nemohl zahrát Stony Silence, jelikož by si tím "vypnul" dvojici Aether Vialů.
Jak už jsem zmiňoval, tak v top8 byl zajmavý GW speciál Craiga Wescoa, ve kterém hrál oproti předchozím letům playset Collected Company a playset Mirran Crusaderů, coby skvělou bytost proti Fatal Pushi a Death's Shadow.
Nejzajímavější deck v top8 byly ale suverénně UB Extra Turns Daniela Wonga. V mainu byla jediná černá karta Fatal Push, který je skvělý do aktuální metagame. Ta pravá síla jeho decku ale podle mě spočívala v sideboardu, kde měl Tasigura, Thing in the Ice a hlavně Chalice of the Void, kterou musel zaskočit spoustu soupeřů. Já osobně bych takovou kartu od Time Walk decku určitě nečekal.
V decku zároveň byly i některé zajímavé "fun-of" karty jako Censor, Commandeer, nebo Snapback. Jak je vidět, tam uspět lze na modernu opravdu s lecčím...
Za top8 se umístily následující decky:
9. Titan Breach
10. Abzan Midrange
11. Grixis Death's Shadow
12. BW Smallpox
13. Grixis Death's Shadow
14. Affinity
15. Eldrazi Tron
16. Affinity
17. Vizier Company
18. Boros Burn
19. 4C Humans Company
20. UWR Control
21. Eldrazi Tron
22. Grixis Death's Shadow
23. Naya Zoo
24. UB Faeries
25. Grixis Death's Shadow
26. Mardu Burn
27. Bant Eldrazi
28. Grixis Death's Shadow
29. Boros Burn
30. Grixis Death's Shadow
31. Dredge
32. Affinity
Zajímavý byl například Abzan na desátém místě, který hrál Siege Rhiny (nic moc v souboji s Death's Shadow), BW Smallpox, který převedl dobré výsledky z onlinu do reálných turnajů, 4C Humani s Collected Company, což je v posledních týden jedna z nejzajímavějších novinek na formátu, Naya Zoo s Collected Company a s playsetem Renegade Raliierů (ke kterým tu byl pro value Seal of Fire), UB Faerie s jejich specialistou, Yutou Takahashim, a nebo třeba Burn s černou splashí pro Bump in the Night a Painful Truths.
Nutno také dodat, že Bant Eldrazi na 27. místě patřili Martinu Jůzovi, který už si definitivně zajistil platinu pro příští sezónu. A výborně si vedl i Lukáš Blohon, který díky perfetnímu výkonu 6:0 ve druhém dni poskočil až na 42. místo.
V coverage byla zmíněna i trojice zajímavých decků, z nichž nakonec všechny tři skončily se skóre 10:5 a lépe. Bylo to Monoblue Aggro s Grand Architektem z dílny Zaca Elsika, Esper Goyo's Vengeance Marca Tobiasche (oproti předchozí verzi s celým playetem Griselbrandů) a GW Aury Marie Bartholdi.
2. Standard bez Aetherworks Marvelu
Je trochu škoda, že až do PT Hour of Devastation není žádný velký standard, jelikož po banu Marvelu by byl jistě mnohem pestřejší, než byl posledních několik měsíců (podobně jako legacy po banu Senseie).
Ve fyzické podobě si mohli hráči bez Marvelu zahrát teprve týden, ale na MTGO platil ban s okamžitou platností, takže se můžeme podívat na výsledky prvních tří dnů, kdy se hrál tenhle nový formát.
Jako tři nejlepší decky se podle očekávání tváří Monoblack Zombies, různé varianty BG s Winding Constrictorem a RUG Energy Midrange.
Bez Marvelu se samozřejmě otevírají téměř nekonečné možnosti pro stavbu midrange decků, čehož hned plno hráčů využilo a mezi 5:0 decky jsme mohli vidět Bant Midrange s Tamiyo, Monowhite Midrange s Oketra's Momumentem a Westvale Abbey, Mardu Walkery, nebo UGr Crush of Tentacles.
7× Monoblack Zombies
5× RUG Midrange
4× BG Aggro
3× BG Delirium
3× Mardu Vehicles
2× Mardu Midrange
Bant Midrange
Monowhite Midrange
BW Zombies
Abzan Tokens
RUG Crush
3. Online PTQ (Modern)
Modernové online PPTQ se mohlo pochlubit krásnou účastí 242 hráčů, kteří změřili síly v devíti kolech základní části, ve které bylo na jistotu top8 potřeba uhrát 8:1.
Celkem dvacet hráčů mělo skóre 7:2 a lépe a trochu překvapivě mezi nimi nebyl žádný Death's Shadow.
Vítězný deck byl překvapivě úplně obyčejný Gifts Storm, který hrál všechno v playsetu.
Dále byl mezi prvními dvaceti čtyřikrát Eldrazi Tron, třikrát Dredge, dvakrát Elfové, Affinita, další Storm, WR Prison, BW Eldrazi, UW Control, Ad Nauseam, As Foretold Control, RG Scapeshift, Abzan Midrange a Living End.
Co se týče zajímavostí v jednotlivých decklistech, tak ve druhém Stormu, který obsadil třetí místo, jsme v sidu mohli vidět dvě komba v podobě Madcap Experimentu a Platinum Emperiona a Empty the Warrens s Reckless Bushwhackerem.
Dále jsme v Elfech mohli vidět Throne of the God-Pharaoh, v Abzanu Traverse the Ulvenwald jakožto value kartu a v Living Endu maindeck Blood Moony.
4. MTGO Weekly Challenges (Modern, Legacy, Vintage, Commander, Pauper)
Modernová challenge se tentokráte nesla v poklidném duchu, když v ní triumfoval UW Control (mana denial verze se Spreading Seasem a Ghost Quartery), který ve finále porazil Grixis Death's Shadow, což tu byl nejhranější deck se čtyřmi hráči v top16.
Další decky na předních příčkách byly Eldrazi Tron, dvakrát Affinita, GB Rock, Naya a Boros Burn, RG Scapeshift, Goblini, Abzan Midrange, Vizier Company a Gifts Strom.
Když pominu nontier decky jako BG Rock a Gobliny (oba decky jsem tu nedávno představoval), tak byly nejzajímavější karty v top16 Hazoret v sidu Affinity a Runed Halo v sidu Naya Burnu (primárně asi proti Death's Shadow).
V top32 se ale našla jedna specialitka - Turbo verze Vizier + Devoted Druid komba. Šlo o čistě GW verzi, která hrála všechny free cantripy a další manipulaci s vrškem knihovny, aby co nejrychleji našla celé kombo. Za turbo v názvu mimo jiné může i playset Hall of the Bandit Lord, což je docela dobrá možnost, jak celé kombo o kolo uspíšit. Jako protekce byl navíc v decku ještě Pact of Negation.
Legacy challenge měla tentokráte nižší účast, díky čemuž mimo jiné po šesti kolech neměl nikdo skóre 6:0. Zajímavější ale je, že se na prvních místech objevily celkem zvláštní decky, což je ale způsobeno tím, že někteří hráči hrají challenge pravidelně a pokaždé se svým speciálním deckem.
Vítězem se stal "DNSolver" s vlastní verzí BG Depthsů se Sylvan Safeekepery, kterou jsem tu ukazoval minulý týden. Stejně tak je i poražený finalista "ItIsUnfair" známý pro pilotáž stále stejného decku, kterým byly dlouhé měsíce Miracly. Po jejich banu přesedlal na UW Control s Monastery Mentorem.
Obdobné případy jsou i čtvrté místo Negatora77, který již delší dobu hraje BG Depthsy s modrou splashí pro Brainstorm a J.A.Eliso, jenž hraje bezbarvou variantu 12Postu s velkým množstvím mana rampy jako Thran Dynamo a Grim Monolith.
Nejhranější deck v top16 byl 4C Control se čtyřmi hráči, ze kterých obsadil ale nejlepší pouze osmé místo. Další decky v top16 byly 4C Delver, Elfové, Lands, BR Reanimator, Colorless Eldrazi a také 4C Control s Dackem a Punishing Firy, který zopakoval dobré umístění z minulého týdne.
Specialitou v top32 byly UB Faerie s Landstillem, se kterými skončil na 24. místě "Whitefaces".