Novinky
Flash News #22/2018
Dnes se ve Flash News podíváme na GP Lille a New Jersey, SCG Open Charlotte, pravidelné onlinové challenge a francouzský commander z Hradce Králové.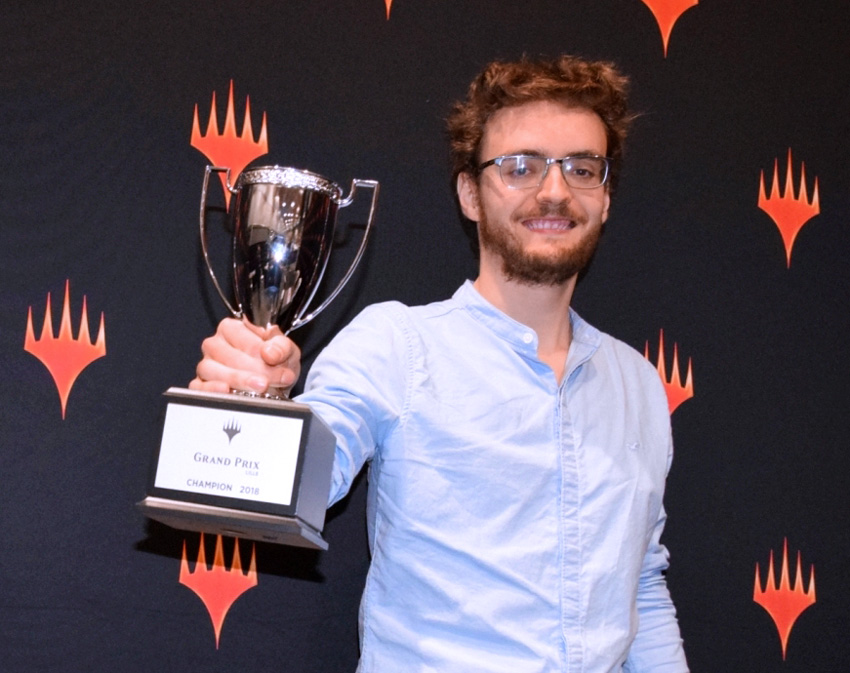 1. GP Lille (Standard)
První constructed GP s novou edicí se hrálo v Lille, kam vyrazilo 1 339 hráčů.
V prvním dni to vypadalo, že tři nejúspěšnější decky budou GB Midrange, Jeskai Control a UR Phoenix, jejichž devět pilotů mělo po prvním dni skóre 8:0 (další dva decky se skóre 8:0 byly Monoblue Tempo a trochu překvapivě i Esper Control, jehož pilot ale vedruhém dni zcela propadl).
GB bylo ve druhém dni suverénně nejhranějším deckem a tvořilo skoro 40% herního pole. Za ním následoval již zmiňovaný Jeskai a UR Phoenix:
GB Midrange - 110 hráčů
Jeskai Control - 46 hráčů
UR Phoenix - 23 hráčů
Monored Aggro - 12 hráčů
Boros/White Weenie - 12 hráčů
Monoblue Tempo - 10 hráčů
GW Tokens - 10 hráčů
Boros Angels - 9 hráčů
Turbo Fog - 8 hráčů
Ostatní - 37 hráčů
V top8 ale tahle velká převaha nebyla příliš znát, naopak byla velmi rozmanitá se šesti různými decky - dvakrát Jeskai a GB a po jednom GW Tokeni, Monoblue Tempo, Monored Aggro a UR Phoenix.
Co se týče jednotlivých hráčů v top8, tak tu bylo přítomno několik velkých jmen - Gabriel "Yellow Hat" Nassif, Christoffer Larsen a také uřadující mistr světa, Javier Dominguez.
Překvapivě dobře si vedl právě Gabriel Nassif, jehož Monoblue mělo se třemi hlavními decky celkem dobré matchupy. To se ovšem rozhodně nedalo říct o jeho finálovém souboji s Monoredem - rychlý clock a spousta levného zabíjení, to Monoblue vůbec nesvědčilo a z pohodlné výhry se tak mohl radovat Švýcar Etienne Busson. Každopádně se mi ale líbilo, že v multicolored prostředí Ravnicy bylo první velké finále ve znamení souboje dvou monocolored agrro decků :).
V coverage byly publikovány všechny decky se ziskem 34 a více bodů, což dohromady dělalo sedmatřicet decklistů. Jejich souhrn vypadá takto:
13× GB Midrange
7× UR Phoenix
7× Jeskai Control
2× Monored Aggro
2× GW Tokens
1× Monoblue Tempo
1× GW Midrange
1× Boros Aggro
1× Steal Leaf Stompy
1× Boros Angels
1× Naya Ramp
Vzhledem k poměrům v zastoupení v metagame druhého dne měl určitě nejlepší výsledky UR Fénix, který se zde představil v novém kabátě, když spousta hráčů hrála Maximize Velocity a Enigma Draky, díku čemuž mohl deck občas vyhrát i když začínal kolo s prázdným boardem a soupeř měl dvacet životů...
Další zajímavost byly například verze GB Midrange s playsety Druidů of the Cowl a Carnage Tyrranty, což bylo fajn proti Jeskai, ale nic moc proti Fénixům. Proti těm se osvědčilo zejména více kusů Vivien a Cast Downů v mainu, což v decku měli oba účastníci top8.
Z méně obvyklých decků bych zmínil zejména trojici Boros Weenie s Heroic Reinforcements, Jeskai Control s playsetem Rekindling Phoenixů (ten byl dokonce po prvním dni mezi 8:0 decky) a Naya Rampu se Star of Extinction coby jedním z hlavních payoffů. Dovedu si představit, že kolem toho nikdo nehrál a nejednou to způsobilo pořádný "blowout".
GP se samozřejmě účastnili i čeští hráči, avšak nedařilo se jim úplně podle představ. Z celkových 23 hráčů do druhého dne postoupilo devět, z nichž se "do cen" vyšli pouze Pavel Matoušek a Zbyšek Panchartek na 51. a 52. místě. A alespoň na pár pro pointů si přišli Jan Marek, Jaroslav Bouček a Roman Frnka.
2. GP New Jersey (Standard)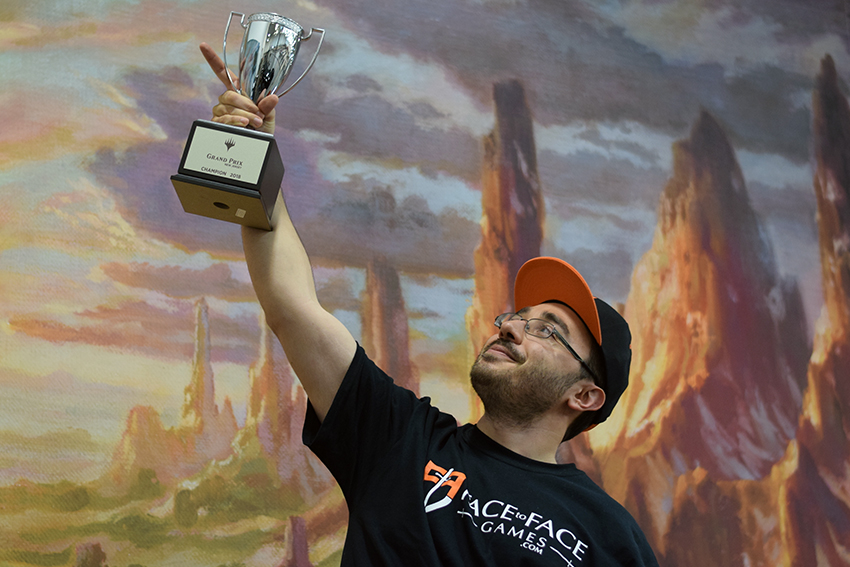 Do New Jersey si překvapivě přišlo zahrát pouze 1 212 hráčů, což bylo méně, než v Lille...
Stejně jako v Lille, tři nejhranější decky ve druhém dni byly GB Midrange, UR Phoenix a Jeskai Control. V coverage je bohužel pouze letmá statistika decků se skóre 6:1:1 a lepší po prvním dni, která vypadala následovně:
GB Midrange - 21 hráčů
UR Phoenix - 16 hráčů
UWx Control - 12 hráčů
GW Midrange // Tokens - 10 hráčů
White Weenie - 8 hráčů
Boros Angels - 6 hráčů
Monored Aggro - 4 hráči
Boros Aggro - 4 hráči
Ve finále se ale výsledky oproti Lille hodně lišily - z velké trojky byl suverénně nejúspěšnější Jeskai a UR Phoenix s výjimkou jednoho hráče v top8 zcela propadl.
Dobře se dařilo i jiným midrangům, než bylo GB. Hodně vidět byli Boros Andělé (Toccatli Honor Guard je skvělý na GB a kontrol má zase velké problémy s Adanto Vanguardem a Rekindling Phoenixem) a překvapivě i GW midrange, který tu sklízel úspěch hned v několika různých verzích.
Celkem to v top32 vypadalo následovně:
7× Jeskai Midrange
5× Boros Angels
5× GB Midrange
4× GW Midrange
3× Boros Aggro
2× GW Tokens
2× GW Explore
2× White Weenie
1× UR Phoenix
1× Jeskai Midrange
Jeskai měl také nejvíce zástupců v top8 (konkrétně tři), což vygradovalo v celkové vítězství Eliho Kassise, i přes nepříznivý finálový matchup s Boros Anděly Brada Nelsona. Pro Eliho to bylo první vítězství na GP, což se mu povedlo až při jeho šesté top8.
Zároveň to bylo i s celkem zajímavým deckem. Eli hrál totiž verzi Jeskaie bez bytostí a s playsety Azor's Gateway a Expansion // Explosion. V mainu měl také zajímavé one-ofy jako Banefire a Star of Extinction.
Další decky v top8 byly Boros Aggro využívajícím Militia Buglera jako hlavní value engine (může dokonce najít i Aurelii), GW Midrange s kartami jako Tocatli Honor Guard, Resplendent Angel a Lyra Dawnbringer, klasičtní GW Tokeni a již zmiňovaný UR Phoenix v zajímavé verzi s maximem jednomanových cantripů (playsety Optů, Crash Through a Warlord's Fury).
Z decků ve zbytku top32 mne dále zaujal GW Midrange s hexproof bytostmi (Vine Mare, Carnage Tyrrant) a On Serra's Wings, Boros Midrange s modrou splashí na Teferiho a countermagic (v první dni byl mezi 8:0 decky), GW Explore s playsetem Path of Discovery a více kusy The Immortal Sun a také ještě další GW, tentokrát v agresivní variantě s více kusů Ajani a playsetem Militia Buglerů.
3. SCG Open Charlotte (Modern)
Další modernové open zlákalo 452 hráčů, z nichž hned 112 uhrálo v prvním dni skóre 6:3 a lépe, potřebné k postupu do druhého dne.
Dvojice nejhranějších decků s velkým náskokem před zbytkem herního pole byla Humani a Green Tron. Humani měli ve druhém dni třináct zástupců a Tron dokonce patnáct.
Naopak, na opačném konci se ocitl Dredge, který po předchozích výborných výsledcích spousta hráčů zavrhla už jenom proto, že po takovém úspěchu se dalo čekat spoustu graveyard hatu, což byla nepochybně pravda. Trony hrály playsety Reliců v mainu a i jiné decky sáhly například po Nihil Spellbombě, či Remorseful Clericovi. I přesto ale skončil Ross Meriam s Dredgem na šestnáctém místě.
Ironií ale nakonec bylo, že velká převaha Tronu a Humanů se v celkových výsledcích vůbec neodrazila. Ani jeden deck se nedostal do top8, která byla i zcela jiné kartě. Dovolte, abych vás seznámil s Primeval Titanem. Ano, už je to tak. Tento nehostinný formát, kde slaví úspěch rychlé kombodecky a extrémně levná interakce, pro jednou ovládla šestmanové bytost.
Ve finále jsme byli svědky mirroru Amulet Titanů (ve kterém zvítězil Will Pulliam) a všechno to podtrhl ještě třetím místem RG Scapeshift.
Samozřejmě, že za tímto úspěchem stálo i trochu toho pověstného štěstíčka. Kdyby byl jeden z těchto decků napárován ke Stormu Caleba Scherera, asi by to dopadlo trochu jinak. Caleb ale shodou okolností narazil na UW Control, který byl nad jeho síly...
V top8 jsme také měli klasický Jund, Bant Spirity a UR Wizardy.
Ve zbytku top32 nebylo nic výrazně neobvyklého, zmínku by zasloužily snad jenom dva Monored decky s Arclighty Pheonixem a Bedlama Revelerem.
Celkově to v top32 vypadalo takhle:
3× Amulet Titan
3× 5C Humans
3× Boros Burn
3× Dredge
2× UW Control
2× Jund Midrange
2× Bant Spirits
2× Infect
2× Green Tron
2× Whir Stax
2× Runaway Red
1× RG Scapeshift
1× Gifts Storm
1× UR Wizards
1× Abzan Company
1× RG Ponza
1× Ironworks Combo
4. SCG Charlotte Classic (Standard & Modern)
Už podruhé za sebou měla standardová klasika více hráčů než modernová, a to navzdory tomu, že by jeden řekl, že většina standardových hráčů byla na GP. Obě klasiky ale byly velmi skromné a ani jedna se nehrála na osm kol...
Standardové klasiky se zúčastnilo 107 hráčů a z vítěství se tu radoval Ali Aintrazi se svou specialitou v podobě Rainbow Liche, který jsem už zmiňoval v jednom z předchozích dílů.
Ali na decku samozřejmě stále pracuje, takže se tahle verze bude od předchozích lišit. V top4 porazil dva Jeskaie, k čemuž mu rozhodně pomohl side, kde byly karty jako Thief of Sanity a Carnage Tyrant. To dobře dokumentuje výhodu brewingu - je hrozně těžké dobře odhadnout, co může mít takovýto deck v sidu.
Na dalších místech nebylo takřka nic, co bychom už předtím neviděli na GP. Jedinou výjimkou byl UB Midrange s Disinformation Campagn s malou červenou splashí na Nicola Bolase. Jinak byly v top16 tři Jeskaie, Boros Angels, GW Tokeni, dvě Monored Aggra, čtyři GB Midrange, dva UR Fénixové a Boros Aggro.
Modernové klasiky se zúčastnilo pouze 95 hráčů a byla tu k vidění zcela jiná metagame, než tomu bylo v main eventu.
Ve finále jsme byli svědky souboje mezi RG Ponzou a Mardu Pyromancerem, ze kterého vzešel jako vítěz Braxton Leddon.
Další místa obsadila dva Green Trony, Spiriti netradičně pouze v UW kombinaci a s Curious Obsession, Humani, tři Dredge, GB Elfové, zajímavé GW Death and Taxes s playsetem Knight of Autumn, klasická Affinita, dvojice UG Infectu, Jeskai Control a GW "Turbo Vizier", což byl deck, který se co nejrychleji snažil složit jedno z komb s Vizierem of Remedies.
5. MTGO Weekly Challenges (Modern, Legacy, Vintage, Duel Commander, Pauper)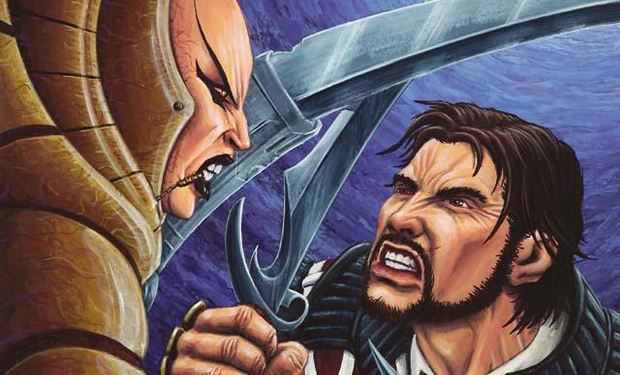 U modernu ještě chvíli zůstaneme, jelikož tu máme pravidelnou rekapitulací online challengí.
Po minulé výhře bláznivého RG Aggra tu tentokráte byla poměrně standardní top8 se sedmi různými decky, kde se za sebou postupně seřadil Green Tron, UR Control, Dredge, Hollow One, Grixis Death's Shadow, Boros Burn, znovu Dredge a RG Scapeshift.
Na dalších místech mne zaujal především netradiční Burn s černou splashí na Bump in the Night a také s kartami jako Ball Lightning a Spark Elemental.
V top16 byl také Monored s Arclight Phoenixem a Bedlam Revelerem a opět i BW Eldrazi s playsetem Reliců v mainu. Zajímavé bylo také, že jsme u nich mohli vidět split mezi Fatal Pushi a Cast Downy.
Legacy challenge už byla opravdu solidní deja vu, protože ve finále byl už počtvrté za sebou souboj mezi Dredgí a Miracly. A po tomhle souboji je skóre 3:1 ve prospěch dredge. Hráči Miraclů stále nesáhli po Rest in Peace a souboj sidovek v podobě Silent Gravestonu vs. Surgical Extraction dopadá jasně ve prospěch dredge...
V top8 byly ještě další dvoje Miracly a dvakrát Grixis Control, ale zbylé decky v top8 byly alespoň o něco zajímavější. První byl UR Delver s novinkou v podobě Risk Factoru (ovšem jeho pilot si to dost pokazil zařazením Stormchaser Mage) a druhý byly Turbo Deptsy, ve kterých bylo více reache v podobě Dark Confidantů a také Bitterblossomů a Liliany, the Last Hope v sidu.
Mimo top8 jsme mohli vidět třeba Aggro Loam, Manaless Dredge, který zabíjel stylově Lothless Giantem, nebo další UR Delver, který hrál dokonce tři kusy Risk Factoru (ale opět bohužel i Stormchaser Mage).
Vintage po minulém vítězství Shopů tentokráte ovládly modré kontroly, když ve finále UR Pyromancer zvítězil nad obvyklým UWR Controlem (který pilotoval Aleš Seidler).
Na top8 mi ale přišlo nejzajímavější, že tam byly tři Dredge, které se od sebe navzájem docela dost lišily. První byla víceméně obvyklá verze, druhá nehrála Hollow One a vsázela na Fatestitchery a Sun Titany. Třetí byla určitě nezvláštnější, obsahovala playset Creeping Chillu a taky playset Leyline of the Void, což je samozřejmě brutální na mirror, ale taky to zaručuje, že soupeř nemůže třeba zahrát Walking Ballistu za nula, aby vám exilnul Bridge from Below.
Další decky na předních příčkách byly White Eldrazi s velkým množstvím taxing efektů, což zahrnovalo i playset Glowriderů, Oath v kontrolní verzi s Niv-Mizzetem, Ravager Shopy s Ankh of Mishra, dva Paradoxical Outcomy a dvoji Grixis Thiefové, Survival, 4C Control (opět pilotovaný Tomášem Márem), další Dredge a neobvyklá verze Shopů s Null Rody, která místo Ravagerů a Ballistů hrála karty jako Chief of the Foundry a Thraxos.
O duel commanderu se nebudu příliš rozebírat, jelikož je to prostě příliš monotónní. Drtivou většinu top16 obsadila čtveřice Kess, Breya, Leovold a Najeela (ve finále porazila Kess Breyu).
Jedinými výjimkami bylo UB s Lazavem (Necrotic Ooze kombo, ale potecnálně i rychlý Griselbrand, či Lazav s Phyrexian Dreadnoughtem), Rock s Gitrog Monstrem a trochu zvláštní Abzan Rock s Ghavem, u kterém mi přijde, že má hrozně vysokou křivku a hraje také dost "clunky" karet. V decku mi také chybí nějaké to kombíčko (když nepočítám Ghave + Cathars' Crusade).