Novinky
Flash News #24/2016
1. GP Madrid (Standard)
Poslední evropské GP v tomto kalendářním roce navštívilo 1 450 hráčů, včetně osmi českých.
Hlavním znakem GP byla změna vyvolaná velkou popularitou RG Aetherworků, které po dlouhé době rozbily dominanci velké trojky UW Flash, BG Delirium a Vehicly.
Po prvním dni jich bylo mezi top100 hned dvacet a jejich dobré výkony pokračovaly i ve druhém dni, což nakonec vygradovalo až v top8, kde byly hned čtyřikrát. Z toho byly dokonce tři různé verze - dvě klasické RG, jedna s Nahiri na splash (což byla asi nejlepší karta na miror) a konečně trochu neobvyklá verze s maindeck Linvalami a playsetem Negaček v sidu.
Ve zbytku top8 byly dva UW Flashe (jeden s techovkou v podobě one-of Key to the City), Zombie Madness a klasické BR Aggro. A co se známých jmen týče, tak jsme v top8 mohli vidět dva hráče s předchozími zkušenostmi z GP top8 - Marca Cammilluzziho a Alexandera Hottmanna (oba hráli Aetherworky).
Ani jeden ale na celkovou výhru nedosáhl. Tu si pro sebe ukořistil další hráč Aetherworků, Carmine D'Aniello.
Ostudu neudělali ani naši hráči - výborné třinácté místo obsadil Ondřej Stráský s BG Deliriem a na pro pointy dosáhli i Petr Sochůrek (92. místo), Martin Jůza (130.), Jan Ksandr (145.), Tom Ristovský (154.) a Pavel Matoušek (182.).
Pokud bychom se poohlédli po dalších zajímavých decích, tak dvanáctý byl Przemyslaw Knocinski s Bw Weenie, osmnáctý Matija Vlahovic s Bant Aggrem, devatenáctý Peter Vieren s UR Controlem, dvaadvacátý Valentin Roman s Jund Aggrem, čtyřicátý Valerio Martino s UW Controlem, dvaapadesátý Daan Puijt s GB Zombie Aggrem (nejoriginálnější deck v celé top64) a konečně pětapadesátý Goncalo Oliveira s Grixis Zomb-Emergem.
2. GP Denver (Standard)
Do Denveru se sjelo 1 567 hráčů (bez české účasti), aby poměřili síly v posledním letošním dvojkovém GP.
Stejně jako v Madridu, i zde byla narušena dominance velké trojky, když po prvním dni bylo mezi decky se skóre 7:2 a lépe hned 37 RGx Aetherworků. Oproti Madridu tu byla mnohem populárnější Temur verze, která hrála jako value kartu Whirler Virtuosa. Tu hrálo ve druhém dni hned deset hráčů.
Největším překvapením byl ale UW Panharmonicon, který sice ve druhém dni hráli pouze čtyři hráči, ale dva z nich byli Seth Manfield a Pascal Maynard. Seth se nakonec z deckem dostal až do top8 a dva další hráči byli v top64.
Kromě Setha Manfielda byli v top8 i další známí hráči, například Steve Rubin (Temur Aetherworks), Matt Severa (4C Vehicles), Rob Pisano (UW Flash), nebo Ben Hull (RW Vehicles).
Z výhry se nakonec radoval Matt Severa, když ve finále zdolal Steva Rubina. A ačkoli se to nezdá, tak za letošek už to byla Mattova čtvrtá GP top8, a z toho třetí výhra. Předchozí dvě výhry byly ale z týmových GP.
V top8 bylo také jedno zajímavé brew (kromě Panharmoniconu), které měl na svědomí Andrew Wolbers. Byla to agresivní verze UR Zomb-Emerge s maindeck playsetem Fevered Vizí. Zajímavostí také je, že deck skoro nic nestojí a nebýt Kozilek's Returnů, tak by se jistě vešel do 2 000Kč i se sidem.
Mimo top8 nejvíce zaujal UB Control s Metallurgic Summonings, se kterým obsadil jedenácté místo Bobby Fortanely. A z dalších decků můžeme zmínit například UR kontrol se zelenou splashí na Tireless Trackery a pár dalších sidovek, který hrál Paul Dean (15. místo) a Wg verzi White Weenie, kterou byli v top64 Craig Wescoe a Sam Black (zajímavé je, že v top64 byli Humani ve všech možných barevných kombinacích - WG, WB, WU i WR).
3. SCG Invitational Atlanta (Standard + Modern)
Letošní závěrečný SCG Invitational byl pro 431 hráčů poslední možnost, jak si ukořistit jedno ze zbývajících míst na SCG Player's Championship, které se konalo dva týdny poté.
Jako obvykle se hrálo dvakrát po čtyřech kolech standardu a modernu, po čemž následovala top8, kde už se hrál pouze standard.
Breakout deckem turnaje, alespoň co se standardu týče, byly Naya Aetherworky s Nahiri a také packagem pro Traverse the Ulwenwald, který obsahoval Sigardu, jenž byla opravdu excelentní v miroru (nemůžete dostat Mindslaver od Emrakul).
Na kameře jsme během turnaje mohli vidět i veselý 4C creature deck s Cryptolith Rite a Eldritch Evolution, který dokázal hrát dlouhé grindy partie, ale zároveň obsahoval i "Brood kombo". Osobně jsem měl tu možnost si deck vyzkoušet a hraní s ním je opravdu zábava, rozhodně doporučuji ;)
Už v prvním dni se na turnaji velmi dařilo dvojici Ben Friedman a Jacob Baugh, která hrála Naya Aetherworky (Ben nehrál Nahiri, ale měl v decku Traverse a Sigardu). Ben byl dokonce bez ztráty bodu. A jejich dobré výkony pokračovaly i ve druhém dni, kde se oba pohodlně dostali do top8. Tam se jim dařilo tak dobře, že se nakonec střetli ve finále. Tam se projevila výhoda Nahiri na straně Jacoba Baugha, která mu přinesla snadnou výhru 3:0.
Zajímavý deck se objevil i v modernové části turnaje, byl to agresivní Jeskai s bytostmi jako Monastery Swiftspear, Stormchaser Mage, nebo Mantis Rider. A v decku byl například i playset Mutagenic Growthů. Zach Kanner s ním v modernové části dosáhl na výkon 7:1, ale bohužel díky špatnému standardu skončil až na 66. místě...
4. SCG Open & Classic Atlanta (Standard + Modern)
Dvojkové open bylo posledním letošním velkým SCG turnajem, čehož využilo 335 hráčů.
Nejúspěšnjším deckem turnaje bylo staré dobré BG Delirium, které bylo šestkrát v top32 a také celý turnaj ovládlo, když s ním Brennan DeCandio ve finále porazil zajímavý Bant Eliho Kassise.
Eli je známý pro svou oblibu v brewingu a nezklamal ani tentokrát. Hrál GW Aggro s malou modrou splashí (Reflector Mage v mainu a další karty v sidu) a v decku měl několik méně obvyklých kusů jako Loam Dryad, Always Watching, nebo Blossoming Defense.
Modernové klasiky se účastnilo 156 hráčů, a nejlépe si z nich vedl Caleb Scharer s Dredgem, když ve finále porazil GW Tron Maxe Olszacka navzdory tomu, že měl v decku Relic of Progenitus, Rest in Peace a Grafdigger's Cage.
V top16 byly k vidění dva zajímavé tribal decky v podobě 5C Sliverů a UB Faerií a ještě zajímavá verze WR Prisonu s Wall of Omens a Restoration Angel/Kiki-Jiki kombem.
Druhá klasika byla znovu ve formátu standard (legacy klasiky už budou pouze během legacy open, kterých bude bohužel jako šafránu), což patrně nebyl úplně nejlepší tah, jelikož se jí zúčastnilo pouhých 62 hráčů.
Zvítězil zde Lee Steht s agresivní verzí UW Flashe, jenž místo karet jako Avacyn a Gideon hrála Scrapheap Scroungery a Toolcraft Exemplary.
Zajímavé bylo, že tu byla velmi rozmanitá top8, ve které nebyl žádný deck dvakrát - UW Aggro, WR Vehicly, Bant Aggro, WR Humani, BG Delirium, RG Aetherworky, UW Flash a Jeskai Control.
5. Bonus: GP Chiba Vintage side event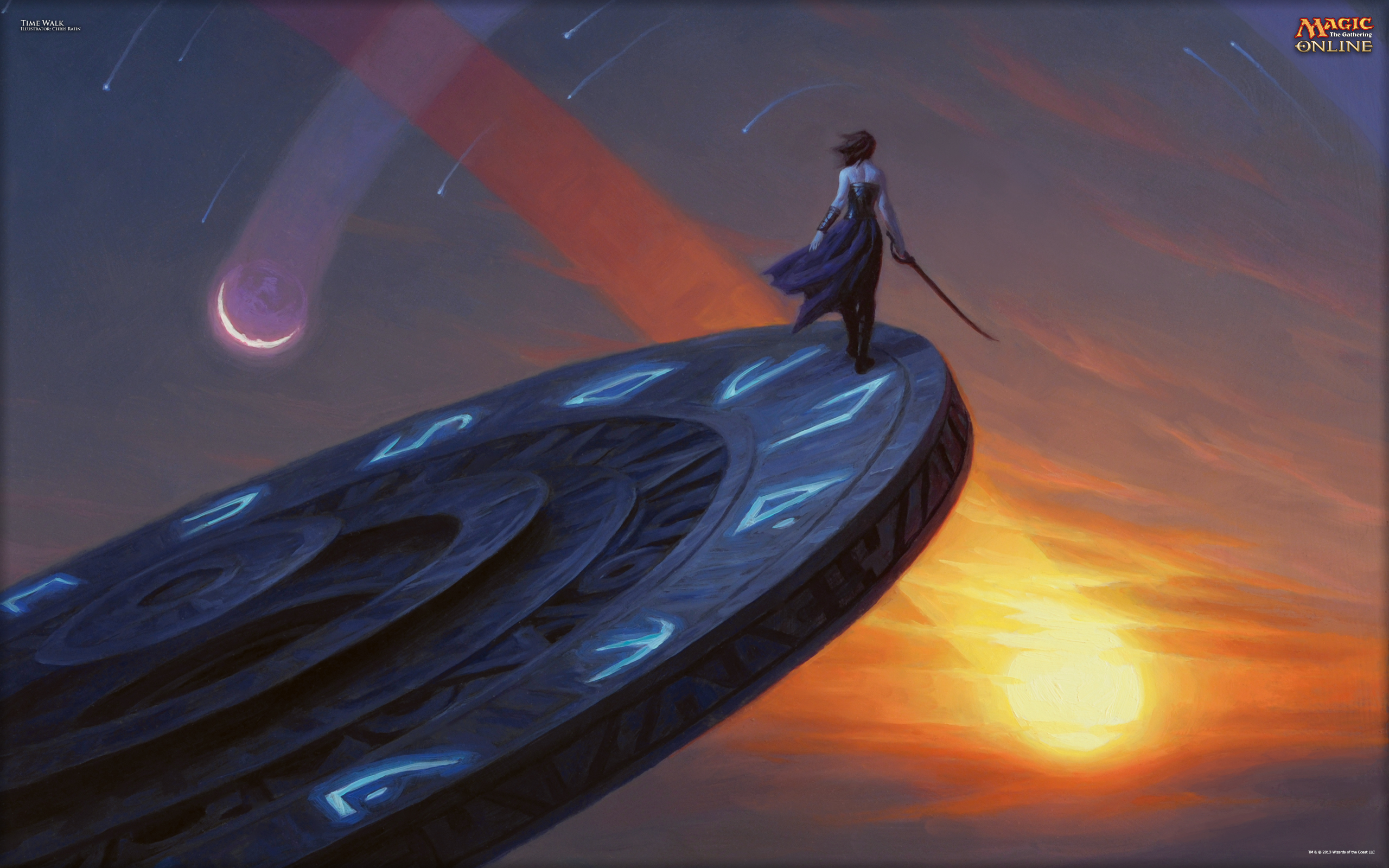 Jako bonus pro vás tentokrát mám vintage z Japonska, konkrétně ze side eventu GP Chiba, kde se sešlo velmi pěkných 72 hráčů.
Zvítězil zde Makoto Nagashima s UWR Mentorem, ve kterém hrál maindeck Stony Silence. Zajímavé také je, že hrál tři Bolty a žádný Sudden Shock, což poukazuje na nízkou popularitu Mentor decků v Japonsku.
Poraženým finalistou byl Naoto Watabe se zajímavou verzí Tezzeratoru, ve kterém hrál Gifty, ke kterým hrál jakožto one-of například i Torrential Gearhulka. Trochu divný mi tu přijde Thought-Knot Seer v sidu, ke kterému tu je jenom pět bezbarvých zdrojů. Osobně bych raději hrál Thoughtseizu...
V top8 dále byli dvakrát White Eldrazi, UR Delver (se Skullclampou), klasická verze Dredge, Dark Petition Storm a Oathy s oldshool kombem Emrakul + Dragon Breath.
A to je pro tentokrát vše, u dalších Flash News na viděnou.
Kumano
Komentáře
Přispívat mohou pouze přihlášení uživatelé. Pokud chcete vložit komentář, přihlaste se ZDE.