Novinky
Flash News #24/2017
Dnes se ve Flash News dočtete o SCG Invitational weekendu z Cincinnati a celé řadě online turnajů jako Modern PTQ, Modern Monthly MOCS a dvojici Weekly Challengí.
1. SCG Invitational Cincinnati (Modern & Standard)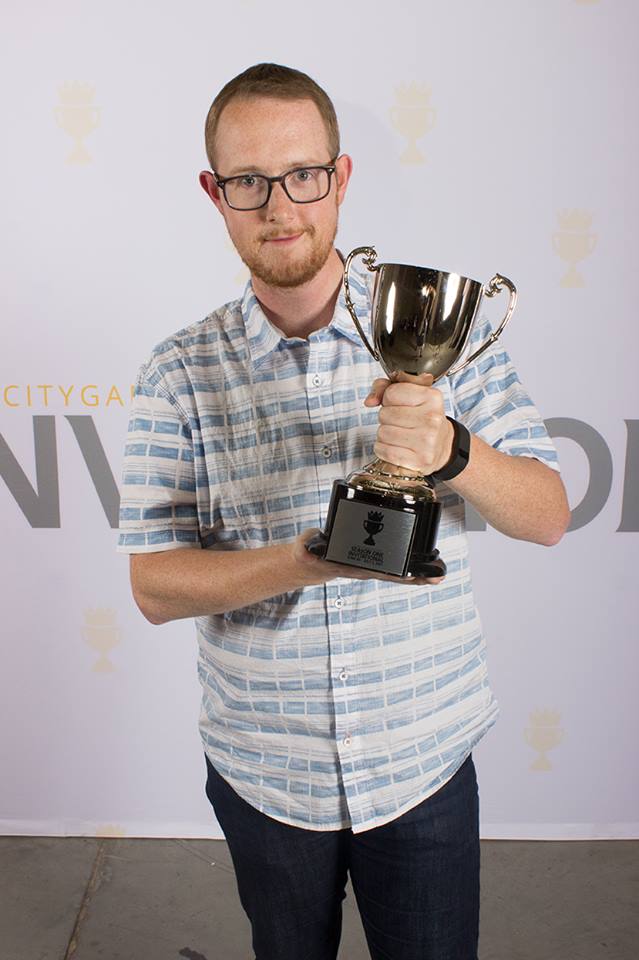 Po nezvykle dlouhé době (od letoška jsou místo čtyř pouze dvě) bylo na programu SCG Invitational, ve kterém byl hlavním formátem modern.
Tohoto třídenního maratonu se zúčastnilo 547 hráčů, kteří dva dny hráli čtyři kola modernu následované čtyřmi koly standardu. Třetí den se hrála finálová top8, kde byl formátem modern hraný na tři vítězné hry.
Zatímco na modernu se nejvíce očekávaly klasiky jako Grixis Death's Shadow, Eldrazi Tron, nebo Affinita, tak standard byl v trochu zvláštní situaci, jelikož šlo de facto o formát, který byl specifický pouze pro tenhle jeden turnaj (po banu Marvelu, ale před příchodem Hour of Devastation).
Ve standardové části dosáhlo čtrnáct hráčů na skóre 7:1 a lépe a dva nejhranější decky mezi nimi byly Monowhite/WU Oketra's Monument a RUG Midrange.
Monument hráli čtyři hráči, z nichž dva hráli čistě bílou verzi s Aviary Mechanicem (když máte monument a dva Mechanicy, tak můžete za manu průtokově vyrábět tokeny) a dva verzi s modrou, která hraje Cloudblazery, Spell Quellery a případně kántrspelly jako Metallic Rebuke či Negate.
U RUG Midrange byla nejzajímavjěší verze s Baral's Expertise v mainu. Další dva hráči hráli v podstatě standardní goodstuff verzi.
Další úspěšné decky byly UR Control, RUG Monstra (s Heart of Kiran), GB Energy Aggro, 4C a Mardu Vehicly, Monoblack Zombies a RUG Pummeler (s Flingy).
Modern se nesl v duchu velmi rozmanitého herního pole, když se mezi patnácti hráči se skóre 7:1 a lépe našlo hned dvanáct různých decků. Nejúspěšnější byl Eldrazi Tron se třemi hráči a Grixis Death's Shadow se dvěma.
Ze zajímavých decků bych zmínil Esper Death's Shadow, což může být aktuálně lepší volba, než Grixis. Lingering Souls jsou skvělé v attrition-based soubojích a Path je skvělý proti deckům, které se snaží metagamovat s kartami jako Wurmcoil Engine a Mirran Crusader.
Další zajímavý deck byl Abzan Midrange s Bitterblossomy a Knightem of Reliquary. Plán s tokeny a Gavony Township vypadá skvěle proti jiným midrange deckům.
Nejoriginálnější deck bylo all-in Eldrazi Aggro s kartami jako Gemstone Cavern, Eldrazi Mimic a Simian Spirit Guide. Zajímavá interakce je také mezi Eternal Scourge a Serum Powderem.
Další úspěšné modernové decky byly RG Ponza, Jund Midrange, Lantern Control, BG Rock, Affinita, Living End a RG Breach.
Samotný turnaj přinesl celou řadu známých hráčů na předních příčkách. V základní části se nejvíce dařilo Jamesovi Wohlmacherovi, který s dvojkombinací Abzan a RUG Midrange nepoznal porážku s celkovým skóre třináct výher a tři remízy.
Ze známých jmen byli v top8 Todd Anderson, Frank Skarren, Daniel Fournier, nebo Adrian Sullivan, který hrál pěknou kombinaci decků - vlastní verzi RUG Controlu na standardu a Lantern Control na modernu.
Vítězem se ale nestal nikdo z nich. Všechny zaskočil Brian Coval, jinak specialista na eternal formáty, také s velmi nezvyklou kombinací decků - Grixis Colossus na standardu a Monowhite Death and Taxes na modernu. Mirran Crusadeři byli ve finále proti Grixis Death's Shadow opravdu výborní.
2. SCG Open Cincinnati (Modern)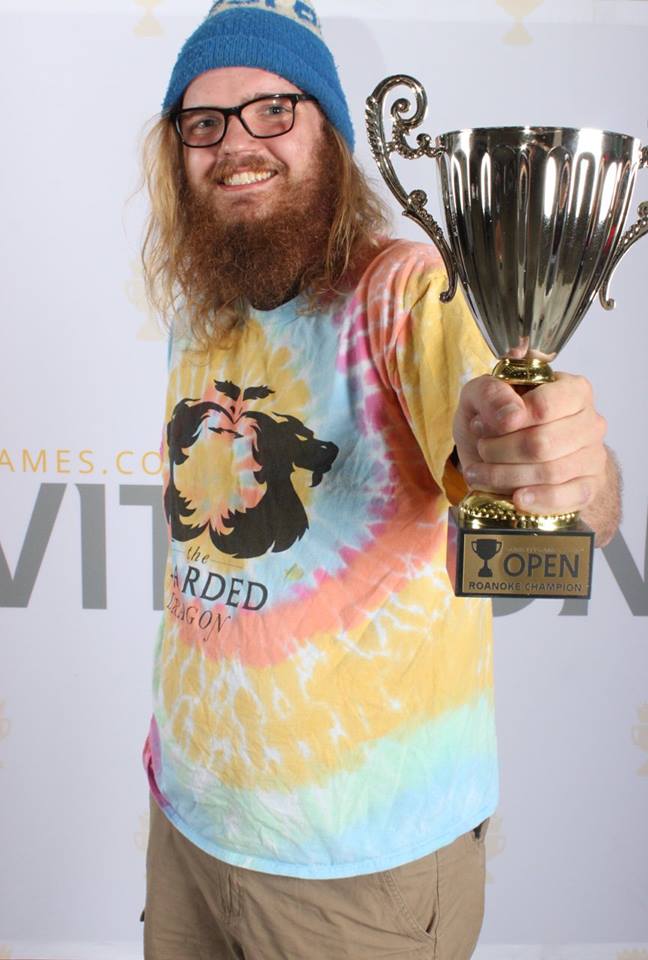 Druhou hlavní událostí víkendu bylo modernové open, kterého se dokonce zúčastnilo více hráčů, než Invitational (konkrétně 561). Veškerou pozornost v coverage na sebe ale strhl Invitational, takže jsme byli ponecháni pouze s decklisty prvních dvaatřiceti hráčů.
V top8 byly zastoupeny čtyři tier decky - dvakrát Grixis Death's Shadow, dvakrát Affinita, dvakrát Vizier Company a Eldrazi Tron, které doplnili Merfolci (s párem Smuggler's Copter). Všechny decky byly s minimem inovací, jediná zajímavější věc byl maindeck Dispatch v jedné z Affinit (patrně proti Death's Shadow).
Ve finále se utkali Pieter Tuberger s Affinitou a Eli Kassis s Grixisem. V poslední době podceňovaná Affinita opět ovládla další velký turnaj.
Mimo top8 jsme mohli vidět hodně kontrolů s UW základem - pokud sečtu všechny varianty, tak jich bylo dokonce devět! Z toho byly tři čistě UW (všechny hráli Gideona of the Trials), tři UWR Tempo-based se Spell Quellery a po jednom verze s Nahiri, Saheeli kombem a draw-n-go verze UWR Controlu.
Z méně obvyklých decků bych zmínil zejména GW Hatebeary s Collected Company (Craig Wescoe speciál) a Gr Devotion s Oath of Nissa a Summoner's Pacty, která měla narozdíl od většiny verzí, které jsem až doposud viděl, celkem rozumnou křivku a pěkný plán s planeswalkery.
Celá top32 vypadala takhle:
6× Grixis Death's Shadow
4× UWR Control
3× Affinity
3× UW Control
2× Merfolk
2× Vizier Company
2× Eldrazi Tron
UWR Nahiri
RW Prison
Death and Taxes
Boros Burn
Gr Devotion
Esper Death's Shadow
Living End (s Archfiendy of Ifnir)
Ad Nauseam
Jeskai Saheeli
GW Hatebears
3. SCG Classic Cincinatti (Standard & Modern)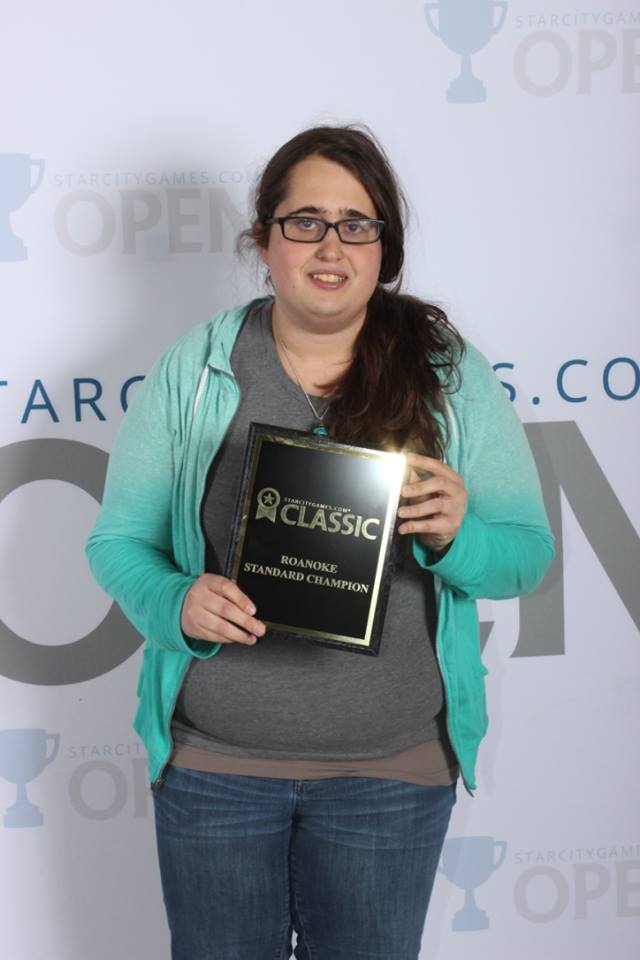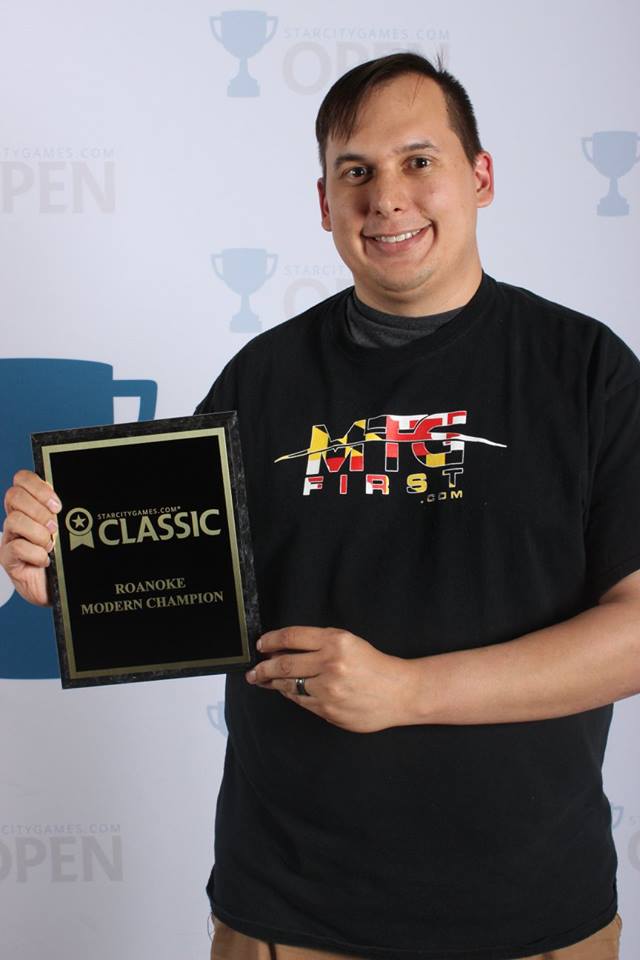 V nedělních klasikách bylo vidět, jak u hráčů stoupl v oblibě standard po banu Marvelu. Se 156 hráči dokonce těsně porazil modernovou klasiku, což se podle mě letos stalo poprvé.
Na předních příčkách byly zastoupeny jak všechny tier decky, tak i několik zajímavých brew. Hned čtyřikrát byl v top16 RUG Midrange, ale všichni čtyři hráči byli až za top8. Další decky byly troje Monoblack Zombies, dvakrát BG Energy Aggro, dvakrát Mardu Vehicles a po jednom WU Monument, UR Control, UW Control, RUG Emerge a Bant Rampa.
Ve finále se utkali Jadine Klomparens s BG Aggrem a James O'Shaughnessy s pěkným RUG Emergem, který měl podobný základ jako RUG Midrange, ale navíc hrál selfmill karty jako Grapple with the Past a Vessel Nascensy, které zkombinoval s Traverse the Ulvenwald a Elder Deep-Fiendy. Navzdroy tomu, že originalita byla na straně Jamese, ale zvítězila Jadine Klomparens.
Třetí skončil Jody Keith s dost divokou verzí UW Controlu, ve které byl třeba jenom jeden Censor, ale hned playsety Fumigate a Blessed Alliance.
S pěknou verzí Zombáků skončil čtvrtý Brian Braun-Duin. Hodně se mi líbí jeho midrange plán po sidu s playsetem Lilian the Last Hope a kartami jako Kalitas, Ob Nixilis a Skysovereign.
Nejdivočejší deck v top8 byla bezpochyby Bant Rampa s delirium tématikou. Jako hlavní ramp spelly tu byly Primal Druid a Spring//Mind. Jinak se deck snažil přežít dost dlouho za pomocí karet jako Cast Out a Fumigate, aby pak mohl ovládnout lategame Ulamogem.
Nutno dodat, že součást package pro Traverse the Ulvenwald bylo i Brisela kombo, které už jsem na standardu také nějaký ten pátek neviděl.
Ačkoli měl modern vyjímečně nižší návštěvnost než standard, tak se ho přesto zúčastnilo pěkných 151 hráčů.
Nejvíce se tu dařilo Peterovi DeBorja s klasickými Merfolky, když ve finále porazil Gb Tron.
Ten byl vůbec nejúspěšnějším deckem turnaje, když obsadil hned tři místa v top8, z čehož dvě byla v top4 (dvě Gb verze decku). Zbylý Tron splashoval červenou, což mi přijde jako nesmysl, jelikož Fatal Push je aktuálně mnohem lepší karta, než Pyroclasma (i když Grove of the Burnwillows je ok proti Death's Shadow).
Kromě toho byl v top8 ještě UB Control s Faerie tématikou (přijde mi divné deck se čtyřmi faeriemi označit jako tribal), Bant Eldrazi, UWR Control (draw-n-go verze) a Abzan Delirium s Traverse the Ulvenwald.
Mimo top8 stojí za zmínku zajímavý Tezzerator, který hrál minimum interakce a soustředil se plně na Ensnaring Bridge a Thopter/Sword kombo. Také se mi líbí, že většina důležitých karet je v decku v playsetu a one-ofy k Whir of Invention jsou jenom opravdu karty s velkým dopadem na hru jako Grafdigger's Cage a Relic of Progenitus.
Ještě zajímavější ale je, že do top16 se dokázal dostat Enchantment Control s Enduring Idealem. Pokud deck neznáte, tak vězte, že za cíl má zahrát v úvodních kolech soft-lock karty jako Runed Halo, Suppresion Field, Leyline of Sanctity, nebo Ghostly Prison, které poté následuje Enduring Ideal pro Dovescape (nebo Phyrexian Unlife) a další kolo Form of the Dragon.
4. Online Modern PPTQ
Díky absenci větších turnajů (s výjímkou SCG Invitational) před vydáním Hour of Devastation zažily online turnaje rapidní nárůst hráčů. V důsledku toho se obyčejného modernového PTQ zúčastnilo 291 hráčů. To znamenalo devět kol a nutnost uhrát 8:1 k jistotě postupu do top8.
Turnaji dlouho vévodil "Grantfly" s Monogreen Tronem (s malou splashí na Pyroclasm v sidu), který jako jediný dosáhl na skóre 9:0 v základní části. V top4 ale prohrál s Bant Eldrazi, na které ve finále čekal RG Scapeshift pilotovaný "mRichi". Ten nakonec celý turnaj vyhrál.
Zajímavé je, jak přítomnost Death's Shadow ovlivňuje téměř každý deck na formátu. Ve vítězném decklistu jsme například mohli vidět maindeck Relic of Progenitus a v sidu Chameleon Colossuse.
Celkem dosáhlo třiadvacet hráčů na skóre 7:2 a lépe. Zde je přehled decků, které hráli:
1. RG Scapeshift
2. Bant Eldrazi
3. Gr Tron
4. Mardu Burn
5. Grixis Death's Shadow
6. Dredge
7. Gifts Storm
8. Affinity
9. Vizier Company
10. Esper Death's Shadow
11. Gifts Storm
12. Dredge
13. Gb Tron
14. Affinity
15. Gw Tron
16. Lantern Control
17. RG Scapeshift
18. Lantern Control
19. RG Scapeshift
20. Eldrazi Tron
21. Gifts Storm
22. UW Control
23. Grixis Death's Shadow
Nejzajímavější z těchto decků byl zřejmě Mardu Burn, který hrál černou kvůli Bump in the Night a pár sidovkám (Rain of Gore, Nihil Spellbomb). V decku byla také zajímavá karta v podobě Burst Lightningu, který spolu s Bump in the Night dává šanci na comeback v případě, že vás postihne mana flood.
Zajímavý byl ještě Tron s bílou, kvůli maindeck Pathům a Blessed Allianci. Podobně jako v černé verzi Fatal Push a Collecive Brutality, i tady tyhle dvě karty vylepšují dva špatné matchupy v podobě Death's Shadow a Burnu. Bílá na tom je možná o něco lépe, protože má lepší možnosti v sidu. V tomto konkrétním případě jsme mohli vidět ale pouze Leyline of Sanctity, což nemůžeme tak úplně považovat za bílou sidovku :)
Z dalších decků bych ještě zmínil Abzan Aggro, které skončilo na 26. místě.
5. Modern Monthly MOCS
Jelikož jsou monthly MOCS zpřístupněny pro všechny hráče, tak i zde byla obrovská návštěvnost - 274 hráčů.
Naštěstí je tu pevně daná struktura, kdy se hraje osm kol základní části bez top8 a všichni se skóre 6:2 a lépe se kvalifikují do čtvrtletního finále. Pokud by se hrála top8, tak by tu totiž byli dva smolaři, kteří by se do ní nedostali ani se skóre 7:1...
Takhle se naopak kvalifikovalo hned 38 hráčů, což je bohužel více, než kolik je zveřejněných decklistů z turnaje (to jest 32), takže se zaměřím hlavně na top16.
Jediný hráč s celkovým skóre 8:0 byl "noesmitipo" s Gifts Stormem, ve kterém měl možná trochu nezvykle 2:2 split mezi Peer Through Depths a Remandem.
Top16 byly orgie různých verzí Death's Shadow, kterých tam bylo hned šest. Čtyři z toho byly Grixisy, ale k vidění byla vidět i Jund verze s bílou splashí v sidu a originální domain verze s Tribal Flamy, Boros Charmy a Might of Alara. Shodou okolností byla zrovna tahle verze nejlépe umístěná - druhé místo.
V top16 byly dále dvě Affinity, dva RG Scapeshifty, UW Control a dále méně obvyklé decky v podobě BW Smallpoxu, Amulet Titana, 4C Humanů a GW Hexproofu.
Zajímavé decky byly k vidění i dále v top32 - 5C Sliveři s Collected Company, Krark-Clan Ironworks kombo, UB Control s Faerie tématikou, další 4C Humani a Mardu Burn pilotovaný stejným hráčem jako na PTQ (v decku byly pouze dvě změny v sidu).
6. MTGO Weekly Challenges - 1-2. července (Modern, Legacy, Vintage, Commander, Pauper)
Modernu už tu bylo opravdu hodně, takže ho zestručním - ve finále porazil Dredge Abzan Midrange (verze se Siege Rhinem a Grim Flayerem).
Ze zajímavých decků byl v top16 Skred Red, BW Tokeni (pouze s one-of Bitterblossomem - těžko říci, jestli to bylo kvůli omezenému budgetu) a hlavně Jund Scapeshift s velkou porcí disrupce a playsetem Dark Petiton. Jako zajímavý alternativní plán po sidu měl navíc k dispozici hned celý playset Grave Titanů.
Ostatní decky v top16 byly Affinita, 2× Boros Burn, UW Control, Lantern Control, 2× Grixis Death's Shadow, Gifts Storm, UWR Draw-n-Go Control, 4C Humani a RG Scapeshift.
V legacy challengi jsme ve finále mohli vidět souboj dvou velmi podobných decků se Stoneforge Mysticem. První byl čistě UW a hrál některé zajímavé one-ofy jako Back to Basics, Gideon, nebo Supreme Verdict. Druhý hrál navíc červenou kvůli Lightning Boltům a sidovkám jako Pyroblast. Úspěch nakonec slavila konzervativnější UW verze.
Za nimi skončil zajímavý Jund, který nehrál obvyklé kombo Punishing Fire + Grove of the Burnwillows a namísto toho hrál více discardu, Grim Flayery a Kolaghan's Commandy. Paradoxně si ale myslím, že teď je ideální čas pro Punishing Fire, jelikož v top8 byly jinak jenom Stoneblady, 4C Delver a Death and Taxes.
Od čtvrtého do devátého místa byly tři Delveři a tři Death and Taxes. Nejzajímavější bylo zařazení Orzhov Pontiffa coby cíle pro Recruitera of the Guard v decku, který ho jinak uměl do hry dostat jenom přes Cavernu a Aether Vial.
V závěru top16 jsme mohli vidět Storm, Esper Deathblade, BR Reanimator, dalšího 4C Delvera, Topless Miracly a také dvě brew - první byl Esper Midrange s Mentorem a Erayo, ke kterým byly v decku karty jako Gitaxian Probe a Urza's Bauble. Druhý deck byly Soldier Stompy, což je bílá varianta Dragon Stompy. V tomhle konkrétním decku ale chyběly Chalice of the Void, takže příliš nerozumím tomu, jak s tím autor dosáhl skóre 5:2.
Mimo top16 byla k vidění ještě zajímavá verze Monoblack Reanimatoru, která zároveň hrála i Dark Depths kombo. V decku bylo i Lake of the Dead, které v kombinaci s Dark Ritualy umožňovalo relativně spolehlivě zahrát z ruky Grave Titana.