Novinky
Flash News #24/2018
Dnešní Flash News jsou opravdu vyčerpávající. Konečně se ohlédnem za pro tourem a dostane se i na MKM series, SCG modern regionals, dvojici online PTQ, klasické online challenge, či francouzský duel commander.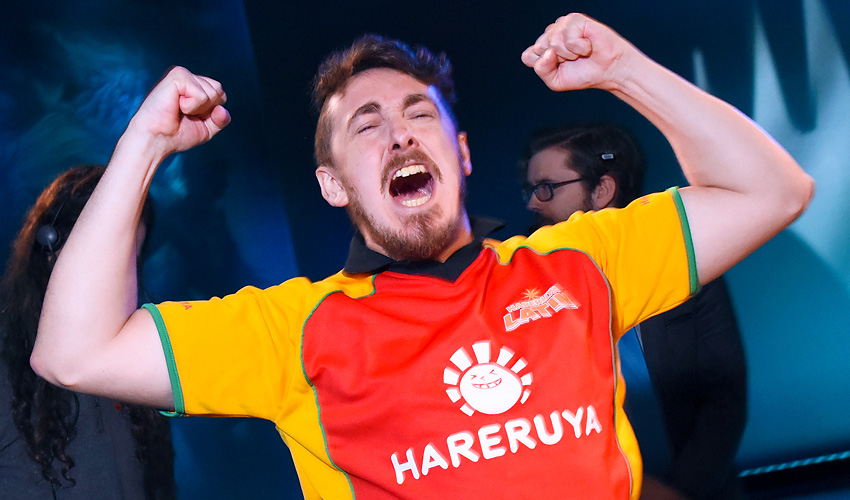 1. Player of the Year Playoff (Standard)
Ještě, než se rozběhl pro tour, byla na programu takhle speciální bitva mezi Sethem Manfieldem a Luisem Salvattem. Bylo to poprvé od roku 2010, co jsme byli svědky remízy v souboji o tento titul (který mimo jiné zajišťuje účast na MS) a i tenkrát se o titulu rozhodovalo podobným způsobem.
Každý z hráčů si musel připravit čtyři standardové decky bez sideboardu, se kterými se hraje až do té doby, než jeden z hráčů s každým deckem získá alespoň jednu výhru.
To ale nebylo vše, při stavbě decků totiž platilo dost svazující omezení - kromě osmi nonland karet nemohly být v žádných dvou decích stejné karty. Díky tomu byly snadnými volbami decky jako Monoblue Tempo a Monored Aggro. Seth si k tomu vybral Boros Weenie a UR Phoenixe, zatímco Luis hrál čistě White Weenie a Jeskai Control.
Více stěstí měl nakonec Luis Salvatto, po první prohrané hře v mirroru Monoblue utekl hrobníkovi z lopaty, když ve druhé hře Seth Manfield po nástupu Goblin Chainwhirler into Experimental Frenzy našel na vršku knihovny pouze země a neměl odpověď na Tempest Djinna. Luis poté dokázal vyhrát i tři další hry v řadě a k titulu Player of the Year mu stačilo pouhých pět her a méně než dvě hodiny.
Nutno ale říci, že to bylo velmi zasloužené, jelikož Luis tomu obětoval opravdu hodně - v posledním týdnu sezóny letěl z Argentiny až do Švédska, aby se mohl účastnit GP Stockholm, ačkoli jeho šance na vyrovnání Setha byla opravdu minimální. Potřeboval bezpodmínečně postoupit do top8, což se mu nakonec podařilo. Myslím si, že před sezónou málokdo čekal, že by titul hráče roku mohl získat někdo z Argentiny... Skvělý příklad toho, že jít si za svým snem se prostě vyplatí!
2. PT Guilds of Ravnica (Standard + Draft)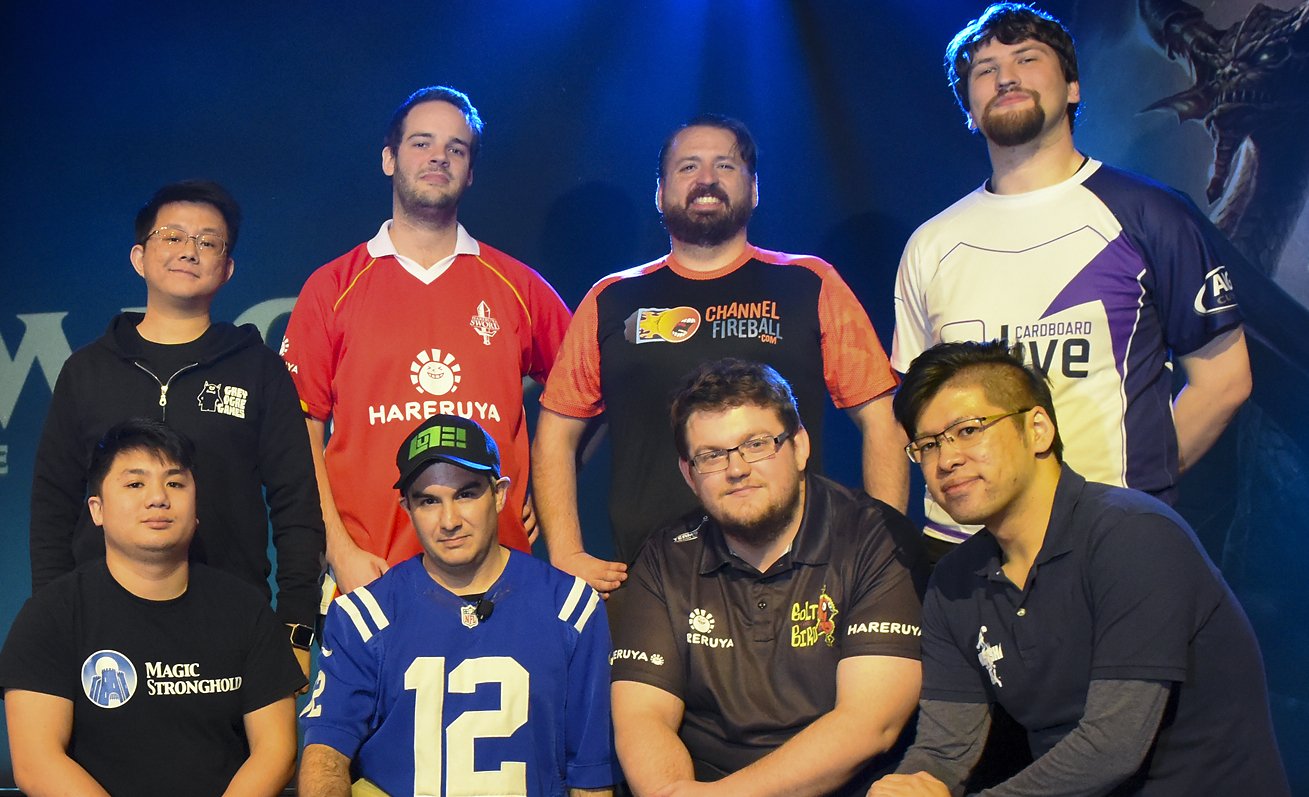 Před turnajem panoval všeobecný názor, že aktuální standard je jeden z nejlepších za opravdu hodně dlouho dobu a možná právě proto měl turnaj rekordní účast 510 hráčů.
Podílelo se na tom i osm českých hráčů - Martin Jůza, Lukáš Blohon, Petr Sochůrek, Ondřej Stráský, Martin Hrycej, Dominik Prošek, Jan Ksandr a Josef Živec.
Začalo se tradičně draftem, kde se našim hráčům celkem dařilo. 3:0 měl sice jenom Martin Hrycej, ale šest dalších hráčů mělo 2:1 a nejhorší český výsledek byl 1:1:1 Jana Ksandra.
Následoval standard, kde byl tak trochu podle očekávání nejhranějším deckem GB Midrange se 113 hráči. A hned devět decků mělo v prvním dni alespoň deset zástupců:
GB Midrange - 113 hráčů (22,2%)
White Weenie (s červenou splashí) - 89 hráčů (17,5%)
UR Phoenix - 66 hráčů (12,9%)
Monored Aggro - 64 hráčů (12,5%)
Jeskai Control - 56 hráčů (11,0%)
Boros Angels - 19 hráčů (3,7%)
Boros Aggro - 18 hráčů (3,5%)
Monoblue Tempo - 16 hráčů (3,1%)
GW Tokens - 13 hráčů (2,5%)
Po standardové části prvního dne byli neporaženi pouze dva hráči - Jun Hao Tay ze Singapuru a Jérémy Dezani. Oba vsadili na agresivní stretegie - Jun Hao hrál White Weenie se splashí na Heroic Reinforcements a Jérémy hrál zajímavý Boros s token tématikou a taktéž Heroic Reinforcementy.
Z českých hráčů na tom byla nejlépe trojice Lukáš Blohon, Petr Sochůrek a Dominik Prošek, se skóre 6:2, což je stále dobrá šance na pěkný výsledek. Do druhého dne nepostoupili pouze Martin Jůza a Jan Ksandr a všichni ostatní šli do druhého dne alespoň se skóre 5:3, což je velmi solidní bilance.
Druhý den začal taktéž draftem, po kterém se na čele vytvořila trojice hráčů se třiceti body (skóre 10:2), když se k Jun Haovi a Jérémymu přidal Michael Bernat. V podstatě to znamenalo, že šanci na top8 měl stále prakticky kdokoli se čtyřmi prohrami. Z českých hráčů to ovšem byli už pouze Lukáš Blohon a Petr Sochůrek...
Rozložení herního pole na standardu se ve druhém dni prakticky nezměnilo. Z nejhranějších decků měl trochu horší konverzi do druhého dne Jeskai Control, zatímco se celkem dařilo GW Tokenům, z jejichž třinácti hráčů postoupilo do druhého dne hned deset. Vyloženě se nedařilo pouze Monoblue, kde si dovedu představit, že je to díky špatnému matchupu s White Weenie a Monoredem.
GB Midrange - 71 hráčů (62,8%)
White Weenie (s červenou splashí) - 62 hráčů (69,7%)
UR Phoenix - 45 hráčů (68,2%)
Monored Aggro - 43 hráčů (67,2%)
Jeskai Control - 32 hráčů (57,1%)
Boros Angels - 12 hráčů (63,2%)
Boros Aggro - 12 hráčů (66,7%)
GW Tokens - 10 hráčů (76,9%)
Monoblue Tempo - 7 hráčů (43,8%)
V top8 byla nakonec obrovská převaha Weenie decků - čtyři verze s červenou splashí, jeden monowhite, potom token speciál Jérémy Dezaniho a zbytek světa zastupoval pouze jeden Jeskai Control a jeden UR Phoenix.
Nutno ovšem říci, že to do velké míry byla pouze náhoda - chybělo málo a v top8 jsme mohli mít GB Midrange, GW Tokeny, další Jeskai Control a UB Midrange. Všechny tyhle decky totiž v posledním kole prohrály souboj o top8 právě s White Weenie...
Dominance White Weenie v top8 nakonec byla opravdu drtivá, jelikož jediné dva non-weenie decky vypadly hned ve čtvrtfinále. Ve finále jsme byli svědky mirroru a především souboje zkušeností s dravým mládím. Finálovými soupeři si byli Luis Scott-Vargas ve své deváté PT top8 a Andrew Elenbogen při své první účasti v top8.
Jsem přesvědčen, že drtivá většina hráčů a diváků fandila LSVmu (který předtím zajímavě "vytrikoval" Jérémy Dezaniho na one-of Settle the Wreckage), nicméně ten v rozhodující hře smolně muliganoval do čtyř a neměl tak příliš šancí. Jeho jediným vyhraným PT je tak stále Berlín 2008, což byla také jeho vůbec první účast v top8 :)
Šampionem PT Guilds of Ravnica je tedy Andrew Elenbogen s Boros Weenie!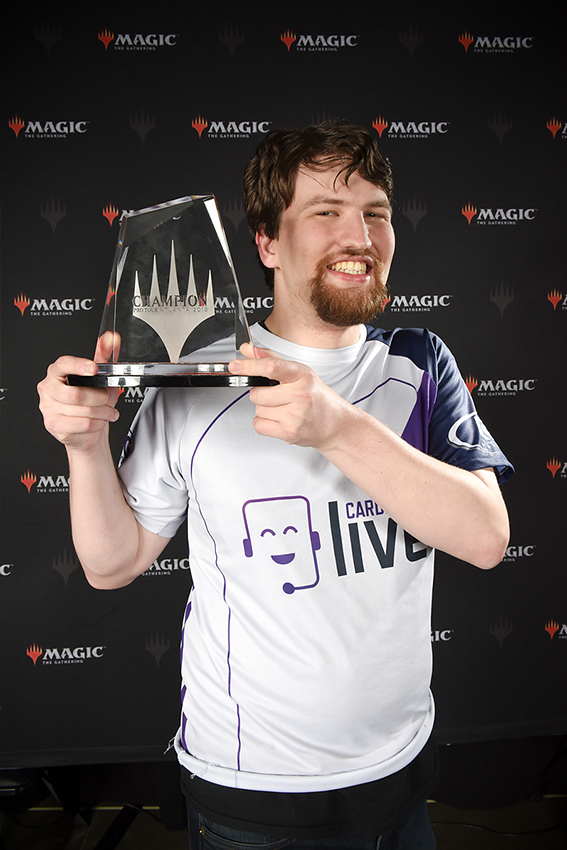 Z našich hráčů si nakonec udržela nejlepší postavení dvojka Lukáš Blohon a Petr Sochůrek, která obsadila 58. a 59. místo se skóre 10:6, za což dostali šest pro pointů a 1 000$.
Tři další hráči turnaj zakončili se skóre 9:7 - Dominik Prošek, Martin Hrycej a Ondřej Stráský. Posledním českým účastníkem druhého dne byl Josef Živec, který skončil se sedmi výhrami a v polovině třetí stovky...
Součástí PT byla samozřejmě i týmová soutěž. Jelikož to byl první PT sezóny, tak jsou na prvních místech pochopitelně týmy, jejichž členové se umístili v top8. První je zatím Cardboard Live, jehož členem je Andrew Elenbogen a na dalších místech je Hareruya Sword (s Jérémy Dezanim), Musashi (Yuuya Watanabe) a Channel Fireball (LSV).
Závěrem se podíváme na nejúspěšnější decky ze standarové části PT. Celkem dvaasedmdesát hráčů mělo skóre 7:3 a lepší. A zde je přehled decků, které hráli:
16× Wr Weenie
14× GB Midrange
11× UR Phoenix
10× Monored Aggro
7× Jeskai Control
2× Monoblue Tempo
2× GW Tokens
2× Boros Angels
1× Boros Aggro
1× Jeskai Midrange
1× Jeskai Phoenix
1× UB Midrange
1× Esper Control
1× White Weenie
1× Big Red
1× Grixis Control
Několik méně obvyklých decků se našlo i mezi hráči, kteří měli na standardu skóre 6:4:
3. MKM Series Zaragoza (Modern, Legacy & Standard)
Během PT víkendu si odbyla poslední letošní zastávku MKM Series, kterážto byla ve Španělsku.
Ačkoli jsou Španělé známi pro svou oblibu legacy a vintage, tak nejvíce hráčů si sem přišlo zahrát modern, konktrétně jich bylo 222, což znamenalo devět kol základní části.
Nejhranější archetypy byly překvapivě BGx Midrange (22 hráčů) a UWx Control (19 hráčů), kterým dýchal na záda Green Tron (17 hráčů) a Humani (15 hráčů).
A byli to právě Humani, coby nejúspěšnější deck turnaje. Jako jediní měli dva zástupce v top8 a pro celkovou výhru si s nimi došel Asier Bilbao, jenž zvolil verzi s Mayorem of Avabruck (alternativou je Militia Bugler).
Mnohem zajímavější byl poražený finálový deck. Šlo o Eldrazi and Taxes, ve kterých ale nebyly Viály, jenž byly nahrazeny playsetem Chalice of the Void (ke kterým tu byl i playset Simian Spirit Guide). Dalo by se říci, že šlo vlastně o modernovou verzi vintage White Eldrazi.
Další decky v top8 byly Jund Midrange, Bant Spiriti, Hardened Affinity, Bogles s Open the Armory a Hollow One.
Druhým vrcholem víkendu byla již zmiňovaná legačka, kterou si přišlo zahrát 159 hráčů, což stačilo na osm kol základní části + top8. Nejhranější decky byly dva populární modré kontroly - Grixis a Miracly s osmnácti a dvanácti hráči. Herní pole bylo ale velmi rozmanité - deset a více hráčů už měl pouze Sneak and Show.
Turnaj byl naprosto skvělý pro českou výpravu, jejíž tři členové se probojovali do top8! Z prvního místa po základní části postupoval Tomáš Már, který i bez Deathrite Shamana stále věří 4C Controlu, alias Czech Pile. Další dva Češi v top8 byli Martin Šiling se svým oblíbeným UG Postem a Ondřej Vodsloň s agresivní verzí Eldrazi.
Ve finále si to ale nakonec mezi sebou rozdali domácí borci s různými variantami Delvera. Pablo Abejer s RUG verzí porazil Joela Lusaretta s Grixis verzí.
Nejlepší český zástupce byl nakonec Martin Šiling, když skončil na pěkném čtvrtém místě.
Možná už jste si všimli, že v top8 byla opravdu hodně velká rozmanitost, když jsme tu měli osm unikántních decků. Již zmíněné decky ještě doplnil Esper Stoneblade, Storm a Lands (Země). Žádný ze tří nejhranějších decků se tak do top8 vůbec nedostal. Jestli tohle není indikátor dobrého formátu, tak už opravdu nevím...
Nejmenší z constructed main eventů byl standard, kterého se zúčastnilo 105 hráčů.
Na rozdíl od PT tu nebylo příliš populární White Weenie, které hrálo pouze sedm hráčů. Nejpopulárnější byla trojice Jeskai Control (22 hráčů), BG Midrange (20 hráčů) a Monored Aggro (16 hráčů), která také obsadila většinu top8 (šest míst).
Celkovým vítězem se stal Juan Fresnedu Atienza s Jeskaiem, když ve finále porazil Philippa Kriegera s Monoredem.
Podrobný pohled na top8 odhalí, že v ní byly dva Jeskaie, dvakrát UR Phoenix, Monored Aggro, dvakrát tradiční BG Midrange a jednou zvláštní verze BG s kartami jako Journey to Eternity, Ritual of Soot a dokonce modrou splashí pro Unmoored Ego v sidu, což je pravděpodobně techovka proti Arclight Phoenixům.
4. SCG Regional Championship (Modern)

StarcityGames vyplnily pauzu během PT prostřednictvím regionálních šampionátů, které se konaly celkem ve čtrnácti destinacích.
Asi vás příliš nepřekvapí, když vám řeknu, že výsledky byly opravdu rozmanité a úspěch slavily opravdu rogue strategie, ale dařilo se například i fair deckům jako Jund a Mardu Pyromancer.
Zde je přehled všech decků, které se dostaly do finále v jednotlivých šampionátech. Čárky za názvy v závorkách značí počet získaných celkových výher.
3× Grixis Death's Shadow (II)
2× Jund Midrange (II)
2× Hardened Affinity (I)
2× Affinity
2× Humans
1× Green Tron (I)
1× Boros Burn (I)
1× UR Kiln Field (I)
1× Mardu Pyromancer (I)
1× GW Company (I)
1× Cheerios (I)
1× Abzan Midrange (I)
1× UR Phoenix (I)
1× Bant Spirits (I)
1× Dredge (I)
1× RG Scapeshift
1× GB Midrange
1× Jeskai Control
1× Bridgevine
1× Arclight Red
1× Bant Midrange
1× UW Control
Je opravdu neuvěřitelné, jak ohromná je na modernu rozmanitost. Ještě pozoruhodnější ale je, s čím vším dokázali hráči zvítězit. Cheerios, GW Company, UR Kiln Fiend, to jsou opravdu obskurní decky. Za překvapení se dají ale koneckonců označit i výhry Abzanu a Mardu Pyromancera, což jsou decky, kterým se v posledních měsící zrovna moc nedaří...
V jednotlivých top8 bylo samozřejmě k vidění i plno nejrůznějších brew, z nichž jsem vybral pár zajmavějších pro potěchu oka. Zajímavé ale je, že hráči s úspěchem experimentovali i v zaběhlých decích. Vidět jsme mohli například Humany s osmi manovači a Collected Company, nebo Affinitu s Tempered Steelem a Sai v mainu...
5. Online PTQ (Standard)
Komu nestačilo se na PT jenom dívat, ten si mohl zahrát online PTQ, čehož využilo 333 hráčů.
Nejúspěšnějším archetypem turnaje bylo červené aggro, které mohlo profitovat z toho, že Chainwhirler je opravdu vynikající na White Weenie a také z dobrého matchupu proti UR Phoenixům.
S neobvyklou verzí nakonec celý turnaj ovládl "ProTourFreddie" - v mainu nehrál Experimental Frenzy a měl nižší křivku s playsetem Risk Factorů a třemi kusy The Flame of Keld. Ve finále porazil právě UR Phoenixe.
Na třetím místě byli neméně neobvyklí Naya Dinosauři, kteří vlastně splashovali dvě barvy hlavně kvůli Regisaurům a Deafening Clarionu. V decku byly i jiné méně obvyklé kusy jako Runic Armasaur a The Immortal Sun.
Ve zbytku top8 bylo možné najít klasický GB Midrange, další Monored s Flame of Keld (tentokrát ale i s maindeck Experimental Frenzy), Boros Weenie, druhého UR Phoenixe a klasickou verzi Monored Aggra.
Na dalších místech mne zaujal zejména zajímavý UR Control s Goblin Electromancery a tribal Goblini s playsetem Vanquisher's Bannerů. Jinak bylo mezi 7:2 opravdu spoustu UR Pheonixů a Boros Weenie...
6. Další Online PTQ (Modern)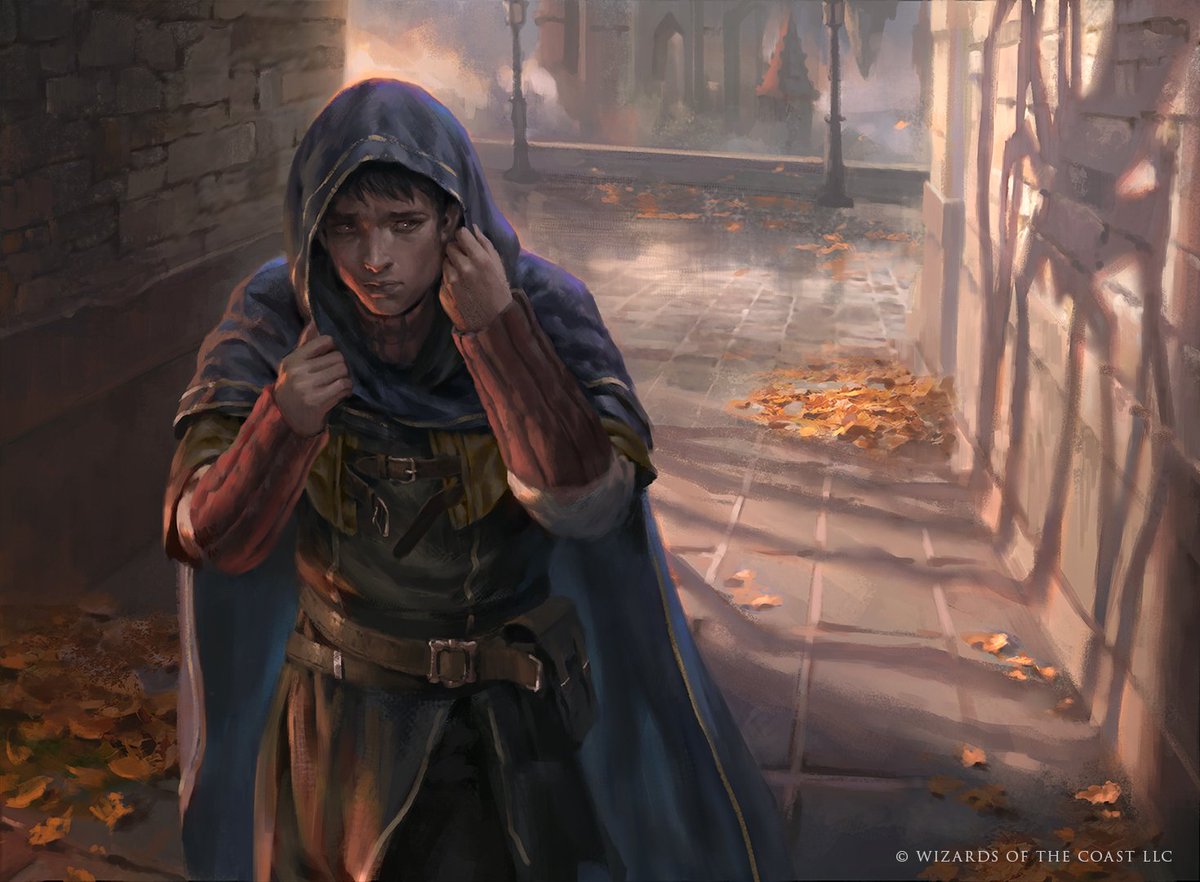 Po delší době bylo na onlinu i modernové PTQ, které si nenechalo ujít 342 hráčů. Celkem devětadvacet jich v devíti kolech základní části získalo sedm a více výher a nejvíce zástupců mezi nimi měli Bant Spiriti, UW Control a Hardened Affinita, což byly nakonec i decky, které jsme mohli vidět ve finálové top8.
Vítěz byl ale nakonec ze zcela jiného soudku - byl to Dredge pilotovaný hráčem s nickem "manoah". Pikantní na tom je, že v top4 ho nedokázal zastavit ani UW Control, který byl speciálně stavěný na takovéto matchupy, když hrál Rest in Peace v mainu. Manoah měl dokonce s Dredgem 100% zisk bodů se skóre 12:0!
V top8 jsme mohli vidět také BG Rock (verzi bez Confidantů), Humany a méně tradiční UW verzi Spiritů s kartami jako Thalia, Smuggler's Copter a také s playsetem Mutavaultů.
Z ostatních decků se skóre 7:2 bych rád zmínil UR Wizardy, UR Phoenixe, zajímavou agresivní verzi Jund Death's Shadow s playsety Temur Battle Rage a Mutagenic Growthů, a jako největší chuťovku Monoblue Mill s playsetem Sanity Grinding (schválně kolik z vás zpaměti ví, co tahle karta dělá).