Novinky
Flash News #25/2016
1. GP Milwaukee (Kaladesh Sealed)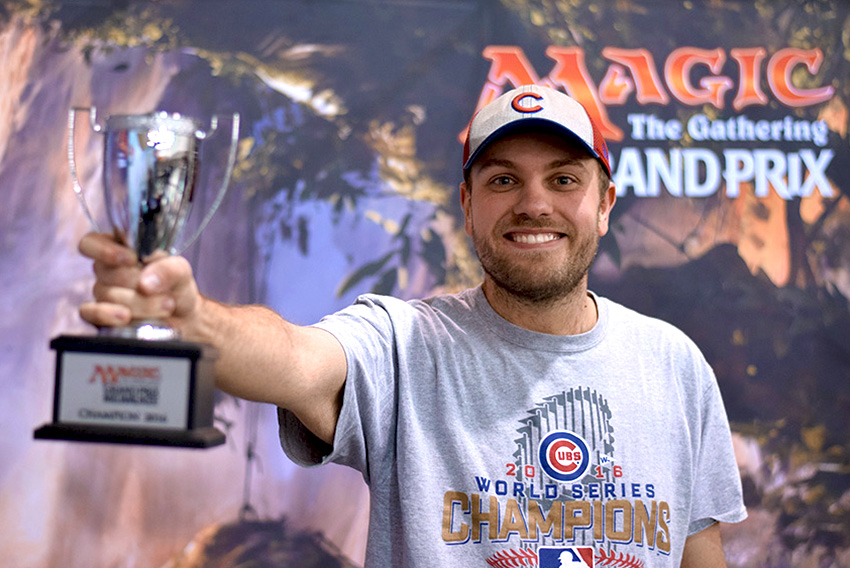 Poslední GP roku 2016 zlákala 1 326 hráčů, mezi nimiž byl i náš Martin Jůza (nikoho dalšího jsem v coverage neodhalil, jelikož u všech hráčů je uvedená americká národnost...).
První příčky patřili po celý víkend pro hráčům. V prvním dni na seb největší pozornost poutal Matt Severa, který uhrál 9:0 a úspěšně tak útočil na rekordní čtvrté vyhrané GP v jednom kalendářním roce. Ve druhém dni ale zaznamenal pouze dvě další výhry a nakonec se musel spokojit až s 38. místem.
Do top8 postoupili vesměs samí pro hráči - sedm z osmi hráčů už mělo zkušenost z top8 na GP: Ari Lax (8 předchozích GP top8 s jednou výhrou), Eric Severson (tři předchozí GP top8), Toshia Kanegawa (také tři top8 z předchozích GP), Brandon Fischer (finalista letošního GP Kostarika), Evan Petre (vítěz letošního GP Pittsburgh), Benjamin Weitz (tři GP top8) a Corey Burkhart (finalista nedávného GP Dallas, pět předchozích GP top8).
Jediný hráč v top8, bez předchozích větších úspěchů byl Steve Carter. Ale jak už to tak bývá, tak občas se nejvíce daří outsiderům a tak se Steve Carter nakonec radoval z celkového vítězství, když v top8 nadraftoval BG deck s +1/+1 tématikou, který mimo jiné obsahoval Verdurous Gearhulka.
A vítězství to bylo určitě zasloužené, jelikož Steve měl 9:0 v prvním dni a v posledním kole základní části si dával remízu, která mu zaručila i celkové první místo před top8.
2. Nebraska's War 4 (Modern, Legacy, Vintage)
Nebraska's War je jednou z největších eternal událostí v Evropě, přičemž je pro ni typické, že tam jako host bývá nějaká opravdu velká osobnost. V roce 2015 to byl sám Richard Garfield a tentokráte to byl Mark Tedin, což je jedn z původních ilustrátorů, který ilustroval ikonické kusy jako Timetwister, Time Vault, Mana Crypt, Mana Drain, a etc...
Hlavními eventy zde byla dvojce modernů, legacy a vintage. Největší účast měla legacy se 250 hráči, takže začneme s ní.
V top8 tu bylo osm různých decků a většina z nich obsahovala nějaké zajímavé techy. Celkovým vítězem se stal Nicola Marchetti s klasickou (UB) verzí Reanimátoru. V jeho verzi byly už klasické dva kusy Collective Brutality, coby skvělá maindeck odpověď na Deathrite Shamana.
Nicola se také držel přímočaré strategie po sidu v podobě Abrupt Decayů, Show and Tellů, Thoughtseize a Pithing Needlů. Zajímavý byl Keranos, u kterého je plus, že se dá i zahardcastit. A díky velké popularitě BR verze decku zařadil Nicola do sidu i dvě Surgical Extrakce.
Poraženým finalistou byl Nicolo Pensa s OmniTellem. Šlo o takřka Monoblue verzi, která splashovala červenou jenom kvůli několika sidovkám (Through the Breach, Sudden Shock).
Ve zbytku top8 byly Miracly (méně hraná verze se dvěma Entreaty a s Mentorem a Klikami v sidu), Elfové s Nissami v mainu (dá se říci, že Nissa je v decku staple), Shardless BUG s maindeck Leovoldy, RUG Delver, který hrál Lavamancery a True-Name Nemesis místo dříve hrávaných Nimble Mongoose, Eldrazi s Mishrovkami a Smuggler's Copter a konečně tuctová verze RUG Delvera s Mongoosami.
Zajímavé decky byly k vidění na modernu. Prvního se účastnilo 127 hráčů a z vítězství se tu radoval Fabrizio Leuzzi s Dredgí. Jednalo se o obvyklou verzi, u které byly nejzajímavější asi Engineered Exploziva v sidu.
Druhé místo obsadil zajímavý UW Midrange s flipovacími Jacy. V decku bylo více pomalejších kusů jako Ojutai's Command a Sphinx's Revelation, ale také více bytostí v podobě Vendilion Clique a Dragonlord Ojutai, ke kterému tu bylo i Minamo do komba.
Třetí bylo Naya Zoo s Collected Company. Deck bylo v podstatě GW Aggro, které splasovalo Bolty, Kessig Wolf Run a pár sidovek.
Nejdivočejší deck v top8 byl jednoznačně Bant Control s Doubling Season, Tamiyo a Jace, Architect of Thought. Takové decky se většinou hrají s velkým množstvím manovačů a Nahiri/Emrakul kombem, ale tady tomu bylo úplně jinak. Základ decku byl UW s kartam jako Path to Exile, Remand, Cryptic Command, Wrath of God a z nějakého zvláštního důvodu i Vedalken Shackles. A na chuť tu byly i dva Time Warpy... Co ale opravdu nechápu, to je absence Emrakul, která je skvělá s ultimátkou Tamiyo i Jace.
Ve zbytku top8 ještě byla Affinita, UWR Control s Nahiri, Skred Red a Living End (to je docela překvapivé, protože teď má každý k dispozici nebývalé množství graveyard hatu).
Druhého modernu se účastnilo 136 hráčů, a ani tady nebyla nouze o zajímavé decky.
A začneme hned samotným vítězem, což byl Nicola Conato s Bant Spirity. Finále byl dokonce souboj Collected Company decků, když na druhém místě skončila Melira Company, což v jeden čas býval jeden z tier decků, ale byl vytlačen rychlými agresivními decky jako Infect, Dredge, nebo Death's Shadow Zoo...
Třetí byl Riccardo Baiva, který zopakoval svůj úspěch s UW Jace Controlem, ve kterém oproti prvnímu turnaji nezměnil ani jednu kartu.
Dále bylo v top8 možné spatřit Abzan s Grim Flayery, Dredge, Elf Company s některými zajímavými one-ofy jako Duskwatch Recruiter a Westvale Abbey, Merfolci a Jund (odlschool verze bez Flayerů).
Na závěr jsem si nechal vintage, které se účastnilo 61 hráčů. V top8 tu byly k vidění dva UWR Vryn's Mentoři, Ravager Shops, Car Shops, Grixis Control, White Eldrazi, Paradoxical Storm a Paradoxical Grindstone.
Shodou okolností se stalo, že dva z nejzajímavějších decků se spolu utkaly ve finále. První byly velmi agresivní Ravager Shops s playsetem Fleetwheel Cruiserů, Triskelionů a trojicí Hangarback Walkerů.
Druhý deck, se kterým nakonec triumfoval Daniele Santucci, byl opravdový majstrštyk. Šlo o Grindstone kombo, ve kterém byl ale zároveň Paradoxical Outcome (ten obvykle vídáme jako Storm, nebo s Mentorem) a Mind's Desire. Deck ale dokázal hrát i delší patrie díky kartám jako Tezzeret the Seeker a Jace, Vryn's Prodigy.
Celkem  zajímavý byl i Grixis Control Samuele Sdruboliniho. Deck měl Monoblue základ s Tinkerem a Colossus/Time Vault kombem, ale zároveň v něm byly i kontrolnější kusy jako Jace, Mana Drain, nebo Lightning Bolty. A jako plán B tu byl ještě playset Dark Confidantů, což je v podstatě fajn, ale na druhou stranu je to s playsetem Forsáží, Colossusem, Treasure Cruisou a Digem zároveň i taková ruská ruleta.
3. RPTQ Aether Revolt Najada (Modern)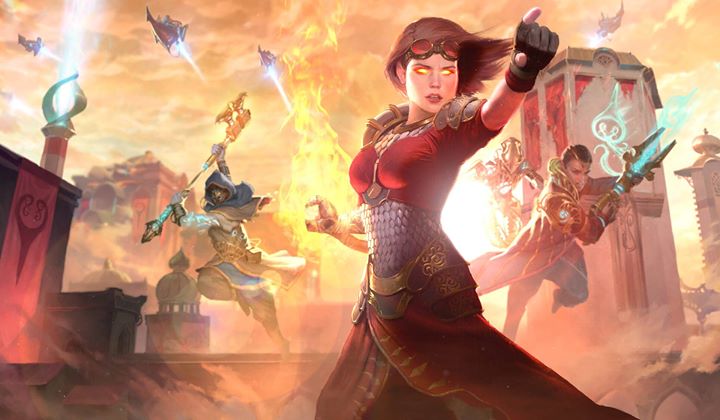 68 hráčů se přijelo poprat do Najady o čtyři místa na PT Aether Revolt, který se bude konat v irském Dublinu.
A po delší době můžeme RPTQ hodnotit jako úspěšné, jelikož se našim hráčům podařilo ukořistit hned dva sloty!
První slot získal Martin Hrycej, jenž hrál Abzan s Grim Flayery, a druhý Pavel Tvrzník s Grixis Controlem. Pro Pavla to bude jeho debut na PT. Velká gratulace oběma.
Také se sluší doplnit, že jenom o kousek utekl PT Jaroslavu Boučkovi, který skončil v top8 s RW Prisonem.
4. Ostatní RPTQ (Modern)
Vedle pražského RPTQ bylo ještě dalších 32, včetně jednoho online, kam se RPTQ vrací po velmi dlouhé době.
Pro zajímavost - největší RPTQ byly v Madridu (118 hráčů) a v Tokiu (113 hráčů), MTGO využilo 91 hráčů a nejmenší RPTQ bylo v Moskvě, kam dorazilo úsměvných 24 hráčů.
Z jednadvaceti destinací byly zveřejněny decklisty, takže je možné si udělat pěkný obrázek o tom, které decky slavily největší úspěch. Osobně mě nejvíc překvapila popularita a úspěchy Grixis Delvera a také RW Prison, které se v posledních měsících dere mezi tier decky. Zajímavé je, že tenhle deck zviditelnil zejména Todd Stevens, který má očividně na modern dobrý nos, jelikož už dříve stál u zrodu Bant Eldrazi.
10× Bant Eldrazi
8× Infect
8× Dredge
7× Grixis Delver
5× Jund
5× Gx Tron
5× Affinity
4× RG TitanBreach
3× RW Prison
3× Naya/RW Burn
2× UR Prowess
2× Death's Shadow Aggro
2× Melira Company
2× Abzan Midrange
2× Merfolk
12× Other
Podíváme se i na pár decklistů, mezi kterými bych vypíchl zejména zajímavou Grixis verzi Suicide Aggra, která našla mezi Death's Shadow a Kiln Fieldy pěkné uplatnění pro Stubborn Denial.
5. God of Modern Challenger Finals (Modern)
Do třetice tu máme modern, tentokrát velký turnaj z Japonska, kterého se zúčastnilo 285 hráčů.
Celkovým vítězem se tu stal Yuuya Hosokawa se stock verzí Dredge (verze s fečkami a Steam Vents), kde jediná méně obvyklá karta bylo of one Collective Brutality.
Poraženým finalistou byl Chiharu Tani se zajímavým Tronem, kde byla vedle zelená jako hlavní splash "bezbarvá". V mainu měl hned playset Though-Knot Seerů a také Thragtusky a World Breakery. Oproti ostatním verzím nehrál žádné Wurmcoily. Další méně obvyklé volby byly tři maindeck Warping Waily a hned trojice Uginů.
Jeden z cutů pro všechny tyhle karty byl bohužel i Relic of Progenitus, což je podle mě chyba, protože je skvělý nejen proti Dredgi, ale i na Snapcastery, Goyfy, Become Immense, Grim Flayery, a etc...
Z turnaje byla zveřejněná celá top16, která vypadalo takhle:
1. Dredge
2. Monogreen Tron
3. Jund
4. Living End
5. Jund
6. Ur Time Walks
7. Gr Tron
8. RG Breach
9. Dredge
10. RG Scapeshift
11. Jund
12. Merfolk
13. RW Burn
14. Infect
15. Bant Eldrazi
16. Death's Shadow Zoo
Nejzajímavější byl samozřejmě Ur Time Walk deck, ve kterém trochu nezvykle nebylo Part the Waterveil, což bývá nejčastější winkondicí podobných decků. Jako jediná winkondice tam byl playset Snapcasterů (a Bolt), ke kterým tu navíc byl playset Exhuastion. Zajímalo by mě, kde hráči chodí na takovéhle nápady...
Myslím si, že jediná dobrá věc na tomhle decku je transformační sideboard, jelikož Thing in the Ice, Blood Moon, nebo Keranos jsou karty, které po první hře asi málokdo čeká.
Další zajímavosti jsou například, že žádný z Jundů nehrál Grim Flayery - v Jundu se tak jednoduše nedostanete na delirium a bez Soulů Flayer nepřináší žádnou přímou karetní výhodu. Stejně tak nikde nebyl Kalitas, před nímž dali všichni přednost Huntmasterům. Z nových karet se drží pouze Chandra, kterou jedna verze hrála dokonce dvakrát v mainu.
V Bant Eldrazi jsme mohli vidět dva Snapcastery v mainu, kteří byly na slotu, jenž obvykle okupuje Spellskite. A ačkoli vypadá celkem cool s Displacerem, tak v mainu je pouze deset spellů, kterým můžete dát flashback (v sidu jsou navíc dvě Alliance), což je dost málo na to, aby se to vyplatilo. Pokud bych chtěl hrát nějakou "fringe" bytost k Displacerovi, tak bych raději zvolil třeba Witnessku.
Poslední věc, která mě zaujala, byl Tireless Tracker v RG Scapeshiftu. RG Scapeshift/Breach je obvykle velmi přímočarý deck, který se snaží o co nejrychlejší kill, nicméně pokud nějak přijdete o Titány, tak mi Tracker přijde jako fajn záložní plán, zejména když uvážíme, že většina verzí hraje playset Summoner's Pactů.
6. Duel Commander Manila & Palaiseau
Na závěr tu máme dvojici turnajů v Duel Commanderu. První, větší z této dvojice, se konal ve filipínské Manile a zúčastnilo se ho 74 hráčů.
Nejhranější a zároveň i nejúspěšnější decky turnaje byly Zurgo (8 hráčů) a Vial Smasher s Kraumem (7 hráčů). Oba decky dohromady obsadily šest míst v top8.
Mezi další nejhranější decky patřila Titania (5 hráčů), Geist (4 hráči), Dragonlord Ojutai, Jenara, nebo Radha (všechno po třech hráčích). Celkem bylo možné na turnaji spatřit 41 různých generálů (či kombinací partnerů).
V top8 dominovaly Grixisy s Vial Smasherem a Kraumem, jenž tam postoupily ve čtyřech a z toho tři skončily v top4. Jediný, kdo prolomil jejich dominnanci, byl Edizon Tanyag s Titanií, který skončil na třetím místě. V podstatě šlo o klasický elfball s Behemothem jakožto hlavní winkondicí.
Na decku je také pěkně vidět, jak se hráči pomalu přizpůsobují hraní na 20 životů. Karty jako Wurmcoil Engine, Thragtusk, nebo Arborback Stomper by se při hře na třicet životů do decku nejspíš nedostaly. A opravdová chuťovka s Titanií je samozřejmě Zuran Orb, což je nejenom skvělá karta proti Vial Smasherovi, ale zároveň i dost dobrá winkondice.
Další nongrixis v top8 bylo White Weenie s Thalií, což je další skvělá karta proti "free" spellům v Grixisu. Je vidět, že i tady se hodně metagamovalo, jelikož bez Smashera by se asi v decku nehrály kusy jako True Believer a Worship.
Osobně bych ale v decku ubral pár čtyřmanovek a hrál bych více karet ve stylu Savannah Lions, které jsou na 20 životů celkem fajn.
Jak jsem zmiňoval na začátku, tak v top8 byli i dva Zurgové, kteří obsadili páté a sedmé místo. Ani jeden z decků se mi ale příliš nelíbí, jelikož si myslím, že na dvacet životů je mnohem lepší hrát deck čistě jako burn s minimem bytostí. Kusy jako Grenzo, Hanweir Garrison, nebo Flametongue Kavu bych rozhodně nedoporučoval (osobně si nejsem ani moc jistý, jestli se vyplatí hrát Blood Moon)...
Všechny decklisty z top8 můžete najít zde.
Druhý turnaj byl ve francouzském Palaiseau (předměstí Paříže) a zúčastnilo se ho 63 hráčů. Nejhranější deck tu byl Vial Shasher s Kraumem, kterého hrálo sedm hráčů.
Druhé místo trochu nečekaně obsadila Saskia, kterou hrálo šest hráčů, ovšem bez výraznějšího úspěchu. Myslím si, že největší slabina decku je hrozně náročná manabase a že bych kvůli tomu raději hrál nějaké dvoubarevné aggro, jako třeba Radha.
Nejúspěšnější deck turnaje byla Breya, kterou hrálo pět hráčů, z čehož se tři dostali do top8 a Kaourintin Le Guiban s ní celý turnaj vyhrál.
Další populární decky byly Geist (4 hráči), Jace, Vial Smasher s Thrasiosem, Queen Marchesa a Kytheon (všichni po třech hráčích). A celkem tu bylo 33 různých generálů. Zajímavé je, že na turnaji nebyl ani jeden Zurgo Bellstriker.
Dvě Brey v top8 (včetně vítězné) byly koncipovány jako 4C Control, jehož výhoda je zejména v tom, že zabudovaný lifegain je vynikající proti Smasherovi.
Poslední Breya v top8 byla postavená jako "Vajíčka" a obsahovala kombo Auriok Salvagers + Lion's Eye Diamond, dvojici Tezzeretů, nebo třeba Winter Orb, který má s Breyou přímo ukázkovou synergii. Zajímavé je, že v decku nebylo ani jedno z dvojice komb Grindstone + Painter a Thopter Foundry + Sword of the Meek.
Do Brey navíc vyjde plno zajímavých karet v Aether Revolt (Scrap Trawler, Whirl of Invention, Trophy Mage), až se skoro bojím, jestli nezačíná bruslit na příliš tenkém ledě...
Dále byli v top8 tři Vial Smasheři s Kraumem, Jace postavený jako klasické High Tide kombo (hrál navíc Emrakul, the Promised End) a Griselbrand - kontrol s Helm of Obedience/Leyline of the Void kombem.
Decklisty z top8 si můžete prohlédnout zde.
7. Bonus - Standard Monogreen Decimator
Jako bonus pro vás mám zajímavé dvojkové brew (sice bohužel s Coptérami). postavené kolem synergií s plusovými countery (Nissa + Armorcraft Judge) a Decimatorem of the Provinces.
S deckem obsadil druhé místo Jan Švach na PPTQ v Najadě, což sice nemá moc velkou výpovědní hodnotu, ale osobně musím říci, že takhle zajímavé a zároveň konkurenceschopné brew už jsem na standardu neviděl, ani nepamatuji.
A to už bylo opravdu vše, na viděnou u dalšího vydání.
Kumano
Komentáře
Přispívat mohou pouze přihlášení uživatelé. Pokud chcete vložit komentář, přihlaste se ZDE.