Novinky
Flash News #26/2017
Ve Flash News se dnes podíváme na GP Kyoto a Toronto, SCG Open Atlanta, Online PTQ a pravidelné online challenge.
1. GP Kyoto (Hour of Devastation Sealed)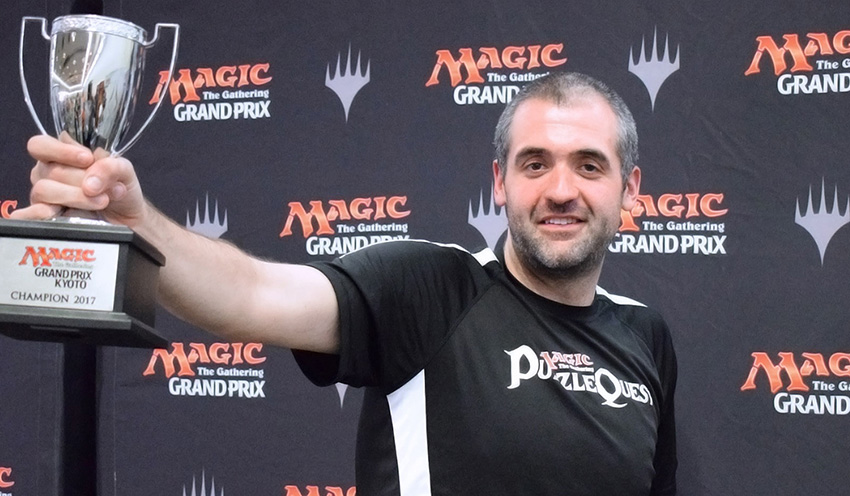 Dvojice posledních GP v sezóně 2016/17 nebyla tentokráte divácky tolik zajímavá, jako loni, poté co bylo z MS vyřazeno místo pro hráče s nejvíce pro pointy z GP (což je zároveň torchu ironické, protože aktuální mistr světa, Brian Braun-Duin, se na MS kvalifikoval právě díky výsledkům na GP).
Bylo ale zajímavé sledovat GP Kyoto, jelikož se konalo v lokaci PT Hour of Devastaion, takže tu hrála většina největších hvězd, včetně těch našich. Ke stálicím jako Martin Jůza, Lukáš Blohon, Petr Sochůrek a Jan Ksandr se tentokráte přidali PT debutanti Pavel Zůna a Michal Brodzák.
Celkem se GP zúčastnilo 2 395 hráčů. A jak už jsem předznamenal, tak dění na hlavních příčkách určovali zejména známí pro hráči. Po prvním dni byl sice průběžně první domácí Toshiki Okai, ale za ním následovali William Jensen, Marcio Carvahlo (který byl na dobré cestě, aby si zajistil titul hráče roku), nebo Martin Müller.
Martin Müller byl nakonec po dvanáctém kole jediný neporažený hráč a o kolo později si jako první zajistil postup do top8. Díky top8 na PT Amonkhet a GP Kodaň tak během pár měsíců nasbíral přes třicet pro pointů!
V top8 ho postupně doplnili další známí hráči jako Pascal Maynard, William Jensen a také Jon Finkel, pro kterého to byla první individuální top8 na GP od roku 1999!
Našim hráčů se bohužel tolik nedařilo, na honorované příčky se žádný z nich nedostal. Alespoň pár pro pointů si připsali Martin Hrycej (153. místo), Martin Jůza (190. místo) a Pavel Zůna (323. místo).
Trofej pro celkového vítěze získal William Jensen, když v semifinálovém souboji těžkých vah porazil Jona Finkela (jednu hru vyhrál díky kombu Nest of Scarabs a Archfiend of Ifnir) a ve finále poté domácího Atsuki Kiharu. Zároveň to znamenalo, že se mu povedl málo vídaný kousek, když vyhrál dvě GP v řadě. Jeho poslední GP totiž bylo týmové v Clevelandu, kde vyhrál s Peach Garden Oath.
Pokud si vzpomínám, tak před ním jako poslední předvedl poslední kousek jeho týmový kolega, Owen Turtenwald na konci roku 2013. Že by byl příště na řadě Reid Duke?
2. GP Toronto (Hour of Devastation Sealed)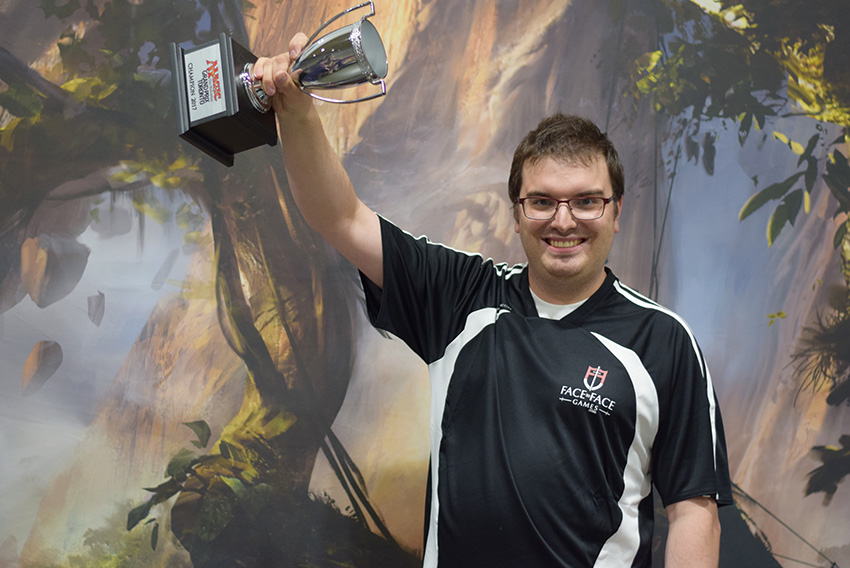 Podstatně skromnější bylo GP v Torontu, kde se sešlo 1 393 hráčů (bez české účasti). Menší konkurenci využili někteří hráči k nasbírání bodů potřebných k zisku pro player statusů pro příští sezónu. To byl například Anrdew Cuneo, pro kterého to byla už sedmé GP top8 a zároveň druhá limited top8 ve dvou týdnech.
Dalším známým hráčem v top8 byl Ben Weitz, který i přes čtyři top8 na svou první výhru stále čeká.
Vítěznou trofej udžel na domácí půdě Robert Andreson, který zvítězil hned při své první GP top8.
Zajímavá momentka byla zachycena během top4 při zápase Allena Suna s Benem Weitzem. Oba měli ve svém decku docela dost silných rare a v jeden moment bylo možné na stole spatřit Hazoret, The Scarab Goda a God-Pharaoh's Gift (a Archfiena of Ifnir).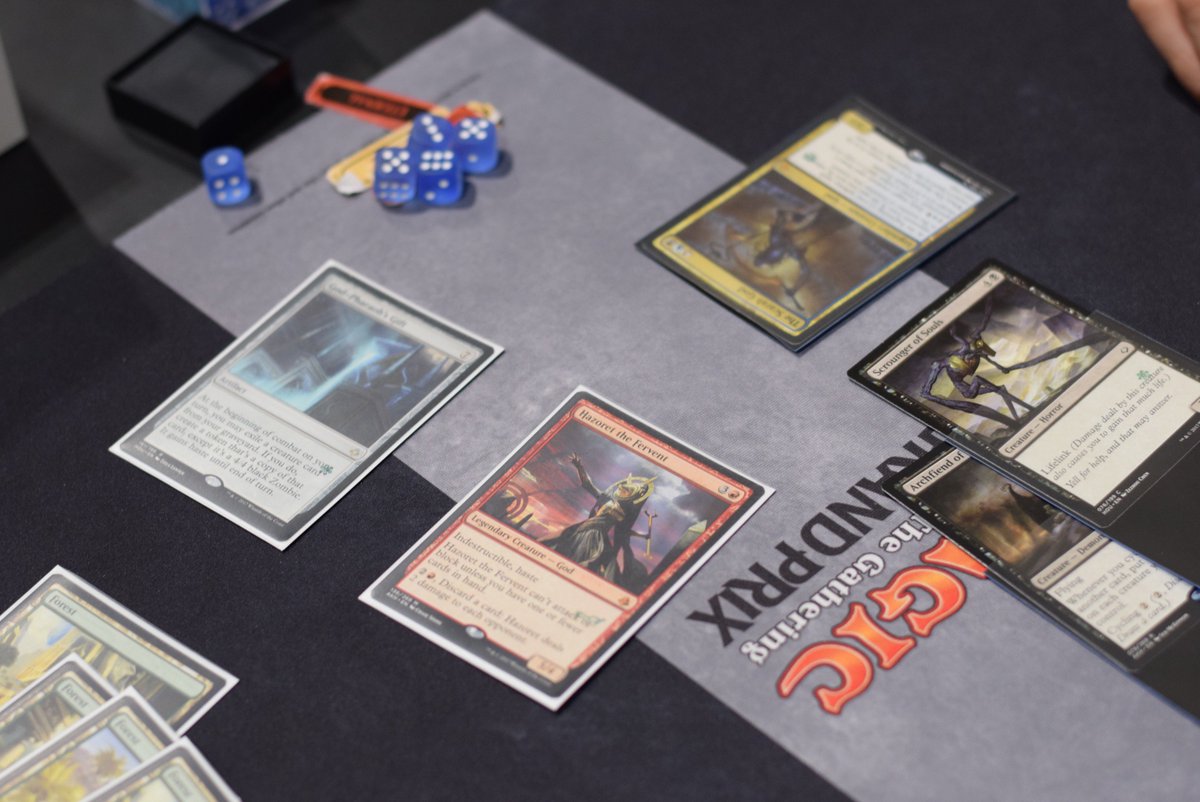 3. SCG Open Atlanta (Team Constructed)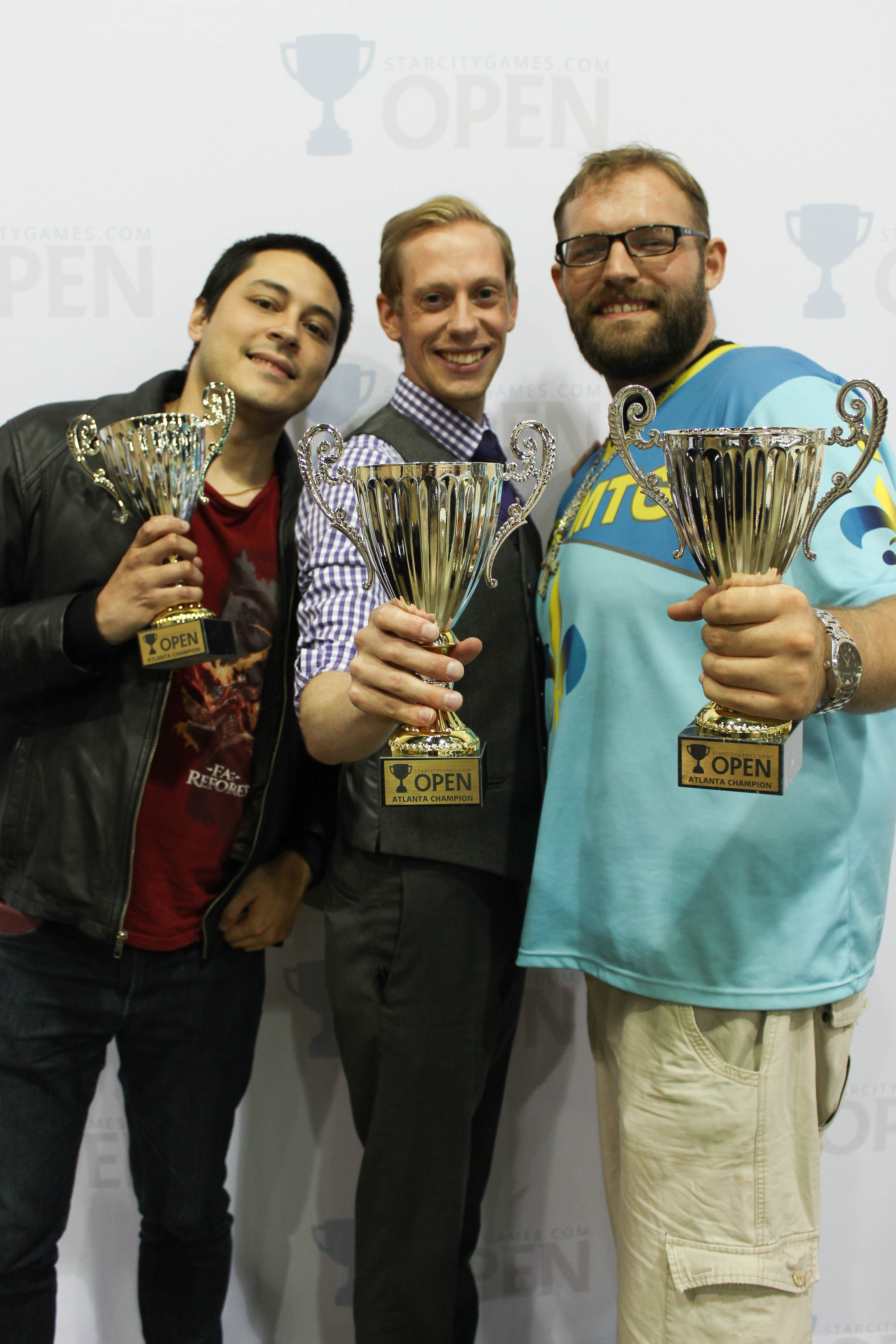 SCG pořádaly další turnaj v oblíbeném formátu team constructed, kdy tříčlenné týmy hrají stndard, modern a legacy. Chválihodné je, že oproti předchozím team constructed zlepšili strukturu druhého dne, kam nyní postupovalo více týmů a finálový cut byl pro prvních osm týmů, namísto obvyklých čtyř.
Turnaj suverénně ovládla trojice Tom Ross, Todd Stevens a Jody Keith, která za celý víkend poznala pouze jednu porážku. Po základní části měla o dvě výhry více, než zbytek fieldu a ve finále si hladce proadili s další silnou trojicí - Jim Davis, Danny Jessup a Kevin King (zajímavé, že oba vítězné týmy měly v legacy části dlouholeté hráče Zemí (Lands)).
Výkon vítězného týmu byl zavíc okořeněný tím, že Todd Stevens hrál vlastní verzi Collected Company, která si zakládala na zcela nové kartě v podobě Ramunap Excavatora, který se tu kombil s Knightem of the Reliquary a Azusou.
Když se podíváme blíže na jednotlivé formáty, tak zjistíme, že na standardu byla nejpopulárnější různá červená aggra, kterých bylo v top28 osm (z toho byli tři verze s Eldrazi). I vítězný Tom Ross hrál Monored Aggro - zajímavou verzi se Scrapheap Scroungery a Built to Smash.
Další populární decky byly UR control, WU Monument, RUG Midrange, nebo Mardu/Esper Vehicly. Kompletní osmadvacítka vypadala takto:
5× Monored Aggro
3× Red Eldrazi
3× UR Control
3× WU Monument
2× RUG Midrange
2× Mardu Vehicles
RG Ramp
Esper Vehicles
4C Zomb-Emerge
RUG Emerge
BG Midrange
Monoblack Zombies
Grixis Control
UR Zomb-Emerge
BUG Delirium
BG Aggro
Na modernu byla nejpopulárnější Affinita, za kterou následoval Grixis Death's Shadow (ovšem čtyři jeho piloti skončili v top8), Boros Burn, Eldrazi Tron a UWR Control.
Kromě vítězného GW Comapny byl nejzajímavější deck Mardu Control s trojicí planeswalkerů Liliana, Chandra a Nahiri. A docela pěkný byl i UWR Control, který zařadil novinku v podobě Nimble Obstructionisty.
8× Affinity
5× Grixis Death's Shadow
3× Boros Burn
2× UWR Control
2× Eldrazi Tron
GW Company
Vizier Elves
Jund Midrange
Abzan Midrange
Dredge
Mardu Walkers
Naya Company Zoo
UWR Tempo
Legacy již tradičně vévodil Grixis Delver se sedmi hráči, za kterým následovaly Death and Taxes, různé varianty Show and Tellu, Země a UWR Stoneblade.
Nejzajímavější byly dvě verze "Lands". První byla více konvenční s RG základem, ale navíc hrála Burning Wishe. Druhá byla v Jund barvách a byly v ní karty jako Entomb, Smallpox, nebo Liliana of the Veil.
4. SCG Classic Atlanta (Standard, Modern, Legacy)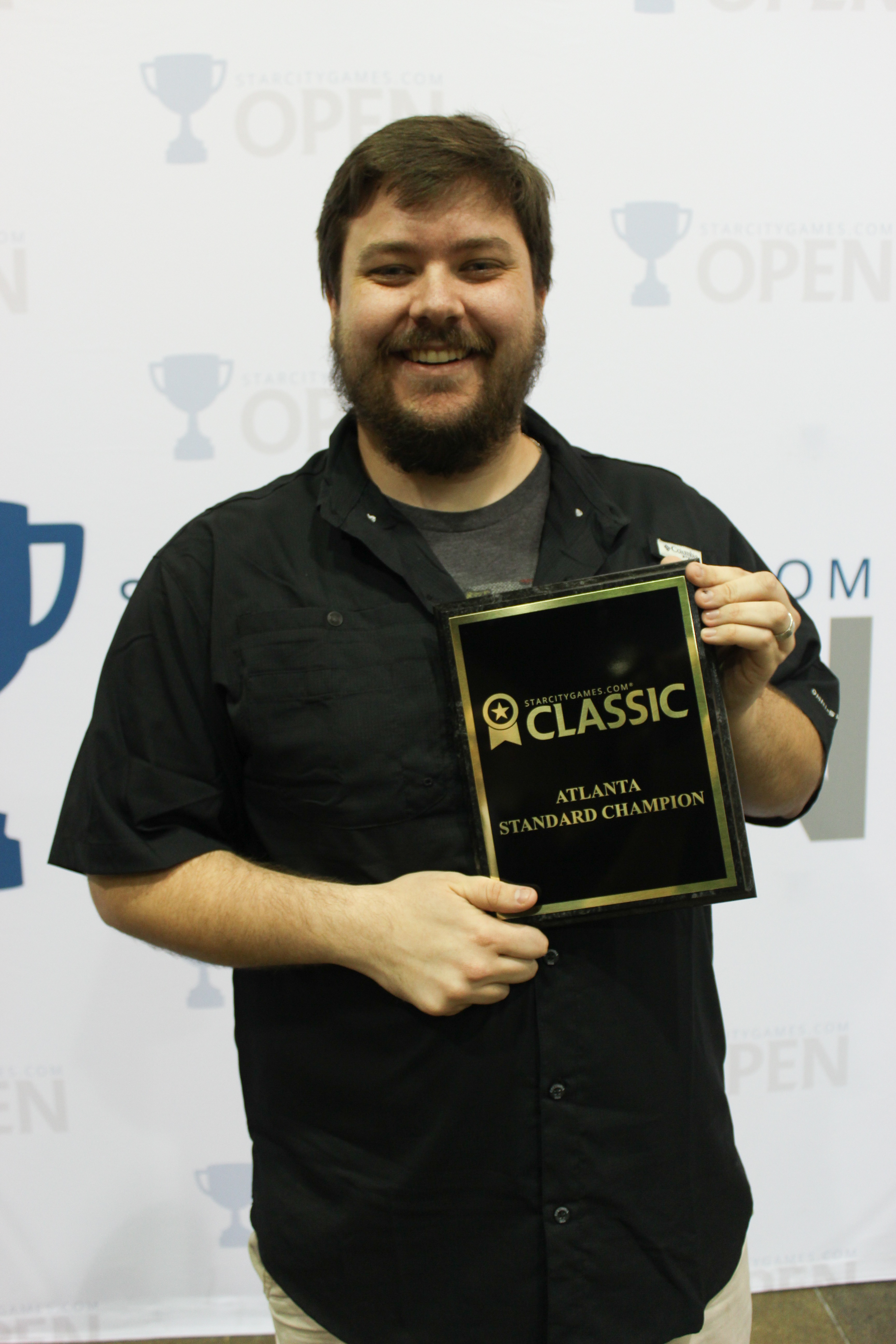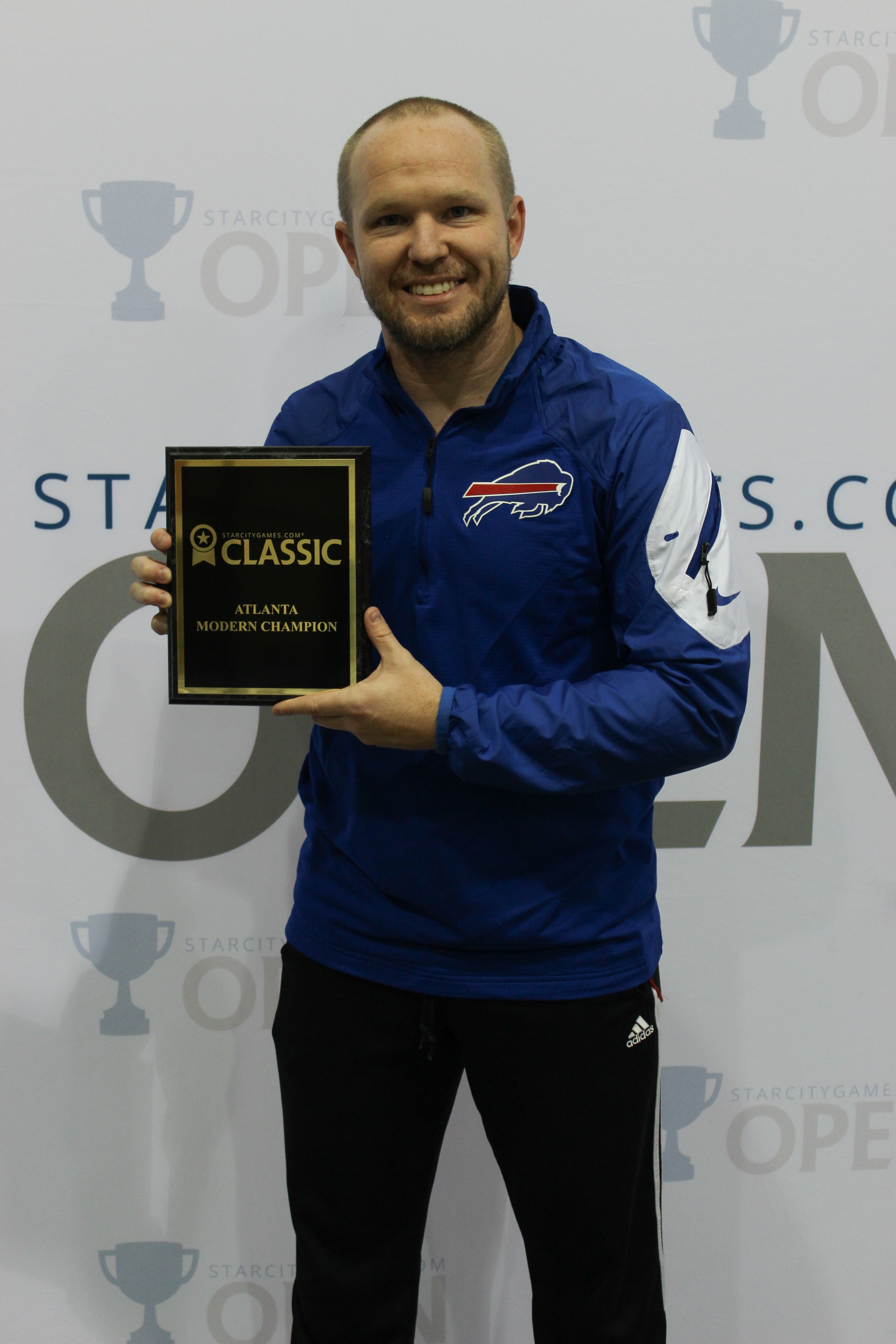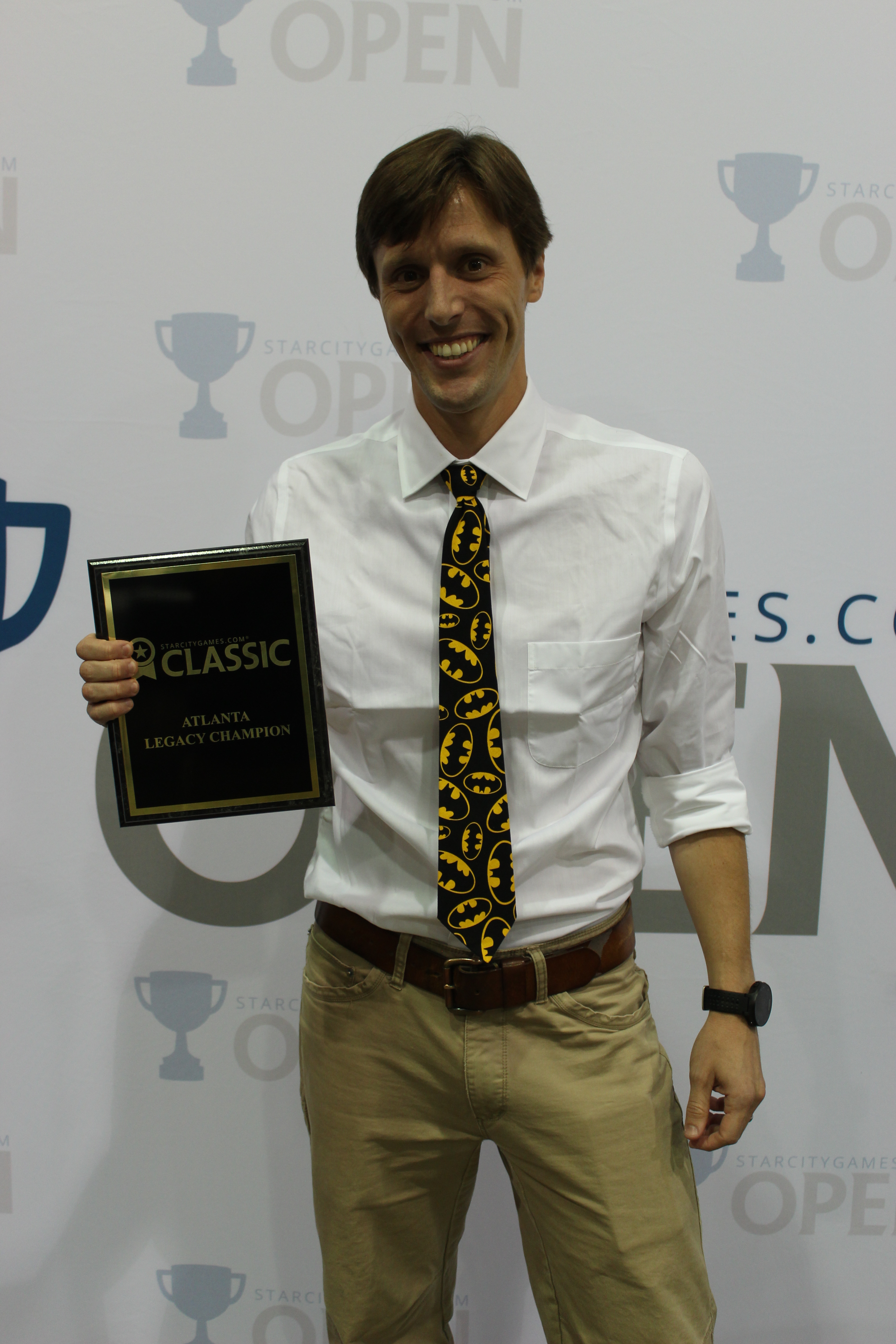 U "team open" turnajů je zvykem, že se v neděli konají klasiky ve všech třech formátech.
Je to trochu překvapivé, ale o všechny tři formáty byl takřka stejný počet zájemců - 151 na standard, 182 na modern a 141 na legacy. Osobně bych čekal, že modern s přehledem zastíní ostatní formáty, nicméně nová edice udělala standard pro mnoho hráčů celkem atraktivní a milovníci legačky si zase nemohli nechat ujít jednu z mála příležitostí, jak si zahrát v rámci SCG Open víkendu.
Na standardu jsme měli velmi pestrou top16 s mírnou převahou UR Controlů, jehož nejlepším výsledkem bylo ale "pouze" páté místo.
4× UR Control
2× Monored Aggro
2× Monoblack Zombies
2× GR Pummeler
WU Monument
GR Ramp
UW Gift
GB Aggro
Mardu Vehicles
RUG Planeswalker Midrange
Zvítězil Travis Ryder s Monored Aggrem, které hrálo Cartouche of Zeal a Reckless Bushwhackera, když ve finále porazil klasickou verze WU Monumentu.
V top8 mě dále zaujaly dva decky - RG Rampa s velkým množstvím levné interakce (Sweltering Suns, Abrade), Traverse the Ulvenwald a eldrazi v sidu. Druhý deck byla novinka v podobě UW selfmillu s Gate to the Afterlife.
Modern se také mohl pochlubit velkou rozmanitostí, když v top16 bylo hned patnáct různých decků (pokazily to dvě Affinity):
2× Affinity
Death's Shadow Zoo
Grixis Delver
GB Rock
UWR Control
RG Ponza
UW Control
Boros Burn
Vizier Company
Lantern Control
Amulet Titan
Monogreen Elves
GB Elves
4C Humans
Mardu Rites
Z vítězství se radoval Daniel Keigans s Death's Shadow Zoo spoléhajícím se na domian karty v podobě Tribal Flames a Might of Alara. Ve finále porazil jednu z Affinit.
Zajímavé decky byly Grixis Delver na třetím místě, který měl "oldschool" přístup ke hře s kántrspelly a Lightning Bolty, Mardu Midrange s reanimační vložkou v podobě Faithless Lootingů a Unburial Rites a také zajímaví budget Elfové, ve kterých kromě Collected Company nebyly žádné drahé kusy.
Na legacy jen tak tak zabránil invazi Death's Shadow Zachary Koch s Infectem, když ve finále porazil BUG verzi decku, která kromě Death's Shadow hrála ještě Delvery, Gurmag Anglery a Deathrite Shamany. Oproti modernu má deck také mnohem efektivnější způsoby ubírání vlastních životů s Gitaxian Probami a Snuff Outem.
Další pěkný deck v top16 byla originální verze Grixis Controlu s Young Pyromancerem, ve které bylo více midrange karet do lategamu jako Night's Whisper a Kolaghna's Command. Zajímavé jsou také hned tři Fatal Pushe v mainu, což je dobrá karta, pokud čekáte hodně Delverů a Stoneforge Mysticů.
Zaujal mne také zajímavý UR Delver v hodně kontorlní konfiguraci s playsety Snapcasterů a True-Name Nemesis, ke které byly v mainu hned dvě Umezawa's Jitty.
Co se týče metagame, tak největší zastoupní v top16 měly Lands s trojicí hráčů. A celkem bylo v top16 hned jedenáct různých decků:
3× Lands
2× Storm
2× Grixis Delver
2× Omni-Tell
Infect
BUG Death's Shadow
BG Depths
Grixis Control
Eldrazi
UR Delver
BR Reanimator
5. Online PPTQ (Standard)
Posledního velkého standardu před pro tourem se zúčastnilo 181 hráčů, kteří mezi sebou změřili síly v osmi kolech základní části a následující top8.
Musím říci, že turnaj měl rozhodně velmi nečekané výsledky. Asi nikdo nečekal, že zvítězí UW Selfmill s Gate to the Afterlife, když ve finále porazí BU Zombie s maindeck Ammit Eternaly a Scarab Godem.
Další zajímavé decky na předních příčkách byly RB Midrange s Glorybreakery a Glint-Sleeve Siphonery, UR Eldrazi, nebo GB Aggro s playsetem Dreamstealerů.
Celkem mělo pětadvacet hráčů skóre 6:2 a lépe a našly se mezi nimi následující decky:
4× Monored Aggro
3× GB Aggro
3× Mardu Vehicles
3× UR Control
2× RG Pummeler
2× RUG Midrange
UW Gift
BU Zombies
RUG Pummeler
RB Midrange
UR Eldrazi
Monoblack Zombies
WU Monument
GB Delirium
6. MTGO Weekly Challenges (Modern, Legacy, Vintage, Commander, Pauper)
Jako vždy začneme modernem, kde nám tentokráte triumfoval UW Control. Jedná se o vcelku standardní verzi, jejíž síla podle mě spočívá zejména v kombinaci Spreading Seasů a Ghost Quarterů.
Na druhém místě skončil RG Scapeshift s Manžely (Pia and Kiran) a Roasty, což je fajn karta proti Eldrazi s delve bytostem z Death's Shadow declů.
V top8 dále byl Lantern Control, Boros Burn, Bant Spiriti, další Burn, Abzan Midrange a Blue Living End se specialitami v podobě As Foretold a Curator of Mysteries. To byl zároveň nejzajímavější deck v celé top32, ve které bychom jinak marně hledali nějaké větší inovace.
Na legacy se z vítězství radoval Dark Bant, který ve finále porazil Grixis Control, který v podstatě nemá rozumnou odpověď na vyresolvovanou True-Name Nemesis.
Třetí místo patřilo Staxu s oldschool "kombem" Smokestax + Crucible of the Worlds. Úplně nový rozměr tomuhle kombu dala nová karta, Dunes of the Dead.
Na dalších pěti místech se poctivě srovnali různé verze Grixis Delvera. Je zajímavé si všímat, že stále více hráčů v poslední době přestává hrát Young Pyromancera. Ten je sice fajn, ale čast ose stává, že vám ruce překážejí přebytečné kopie.
Za top8 jsme ze zajímavých decků mohli vidět hned dva Monoblack Reanimatory s Dark Depths kombem a také Elfy s novou chuťovkou v podobě Driven//Despair.
Vintage byla svědkem dalšího vítězství specialisty na Ballita Shopy, jménem "Jazza". Ballista Shopy a UWR Mentor obsadily prvních pět míst v poměru 3:2.
Na dalších místech se ale rozmanitost začala zlepšovat a mohli jsme vidět zajmavý deck s několika dvoukaretními komby - Leyline of the Void a Helm of Obedience, ale hlavně Dark Depths s Mirage Mirrorem, Paradoxical Mentora s Magusem of the Future s Tinker komby (Colossus a Vault/Key), dva Esper Mentory, Dredge, White Eldrazi, BUG Fish s novým kombem Ramunap Excavator + Fastbond, UW Stoneblade, nebo zajímavý Esper Control s Tinker komby (Sphinx of the Steel Wind a Vault/Key).
Commander sice po banu Vial Smashera na chvíli zaznamenal zvýšený zájem ze strany hráčů, ale dominance Breyi má opět negativní dopad na účast. Například v této challengi mělo pouze čtrnáct hráčů skóre 4:2 a lépe...
Průlomovým deckem turnaje bylo 4C Tempo s Tymnou a Kraumem, které se radovalo z vítězství a ještě mělo další dva hráče mezi nejlepšími čtrnácti.
Další úspěšné decky byly samozřejmě tři Breyi, dvakrát Bruse s Thrasiosem (jedno z toho bylo Splinter Twin kombo), Sidisi s Necrotic Ooze kombem, Jace, Monogreen rampa s Nissou, Baral Polymorph, Leovold Control a dost divoká pětibarva s Horde of Notions.