Novinky
Flash News #28/2017
V dalším vydání Flash News se mrkneme na standardové Grand Prix Minneapolis, které bylo trošku skromnější a zastínilo jej souběžné SCG Open Syracuse. Nebude chybět ohlédnutí na Magic Online - finále třetí sezóny a pravidelné týdenní challenge a připraven je i bonusový deck.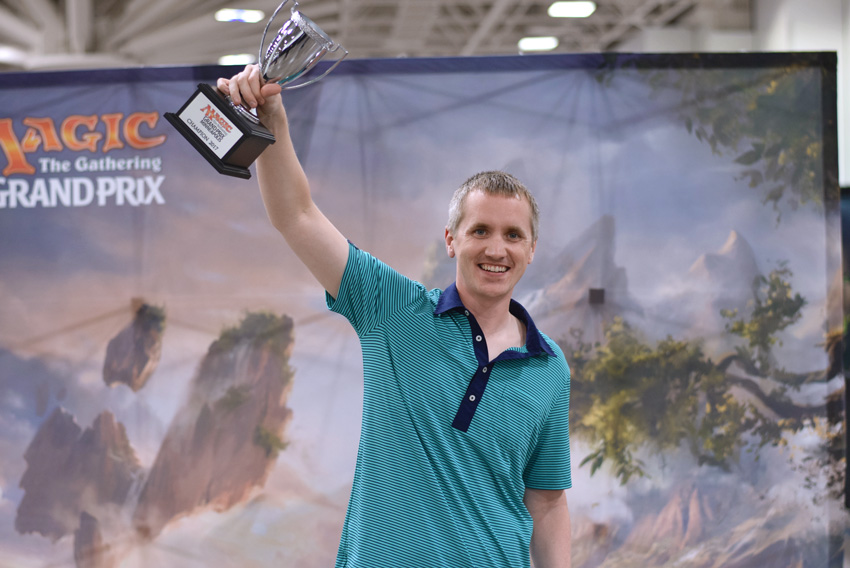 1. GP Minneapolis (Standard)
První GP po pro touru je vždy zajímavé v tom, že všichni sledují, jak si vede nejlepší deck z PT a popřípadě se čeká, jestli se prosadí nějaký opomenutý deck.
1 150 účastníků (což je dost malé číslo, vzhledem k tomu, že je standard po dlouhé době opět rozmanitý a interaktivní) s napětím sledovalo, jak si povede Ramunap Red.
Nakonec se probojovalo do top8, ale deckem turnaje byli rozhodně Monoblack Zombies, což byl vítězný deck turnaje a také deck s největším zastoupení v top32, kde ho pilotovalo hned dvanáct hráčů (i když většina z nich byla až ve druhé polovině).
Výsledky GP byly zároveň velmi rozmanité - v top8 bylo šest různých decků a v top32 dokonce deset.
Po Zombie byly další úspěšné decky turnaje Mardu Vehicly (4× v top32), GB Aggro (4× v top32), BG Delirium (3× v top32) a Ramunap Red (2× v top32).
K vidění na předních příčkách byly také méně obvyklé decky jako BR Control s chuťovkami v pdobě Goblin-Dark Dwellers a The Scorpion God, agresivní Black Eldrazi s kartami jako Gifted Aetherborn s Drana, UW Control s Approachem of the Second Sun, BW Planeswalker Control a White Eldrazi.
Zbývá ještě doplnit jméná nejúspěšnějších hráčů. Celkovým vítězem se stal Steve Locker, když za celý víkend nepoznal hořkost porážky.
Zajímavý příběh byl první společná top8 pro Brada Nelsona a Coreyho Baumeistera (nevlastní bratři), kteří se do ní dostali s BG Aggrem, které spolu předtím navrhli (hráli Catacomb Siftery a Sylvan Caryatidy, což jsou dobré obranné bytosti proti agresivním deckům). Brad dokonce musel vyhrát posledních pět kol v řadě...
2. SCG Open Syracuse (Modern)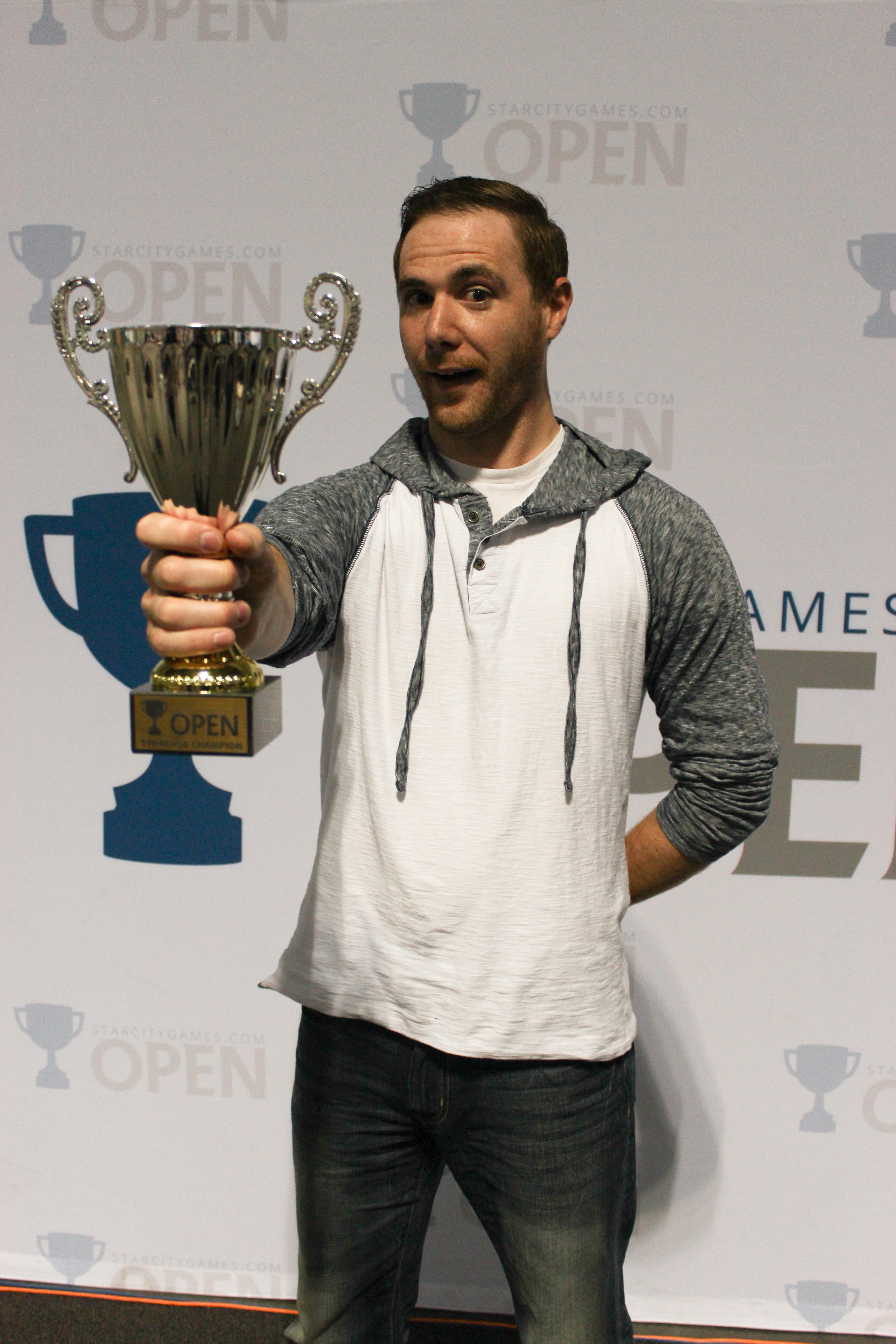 Zatímco účast na GP byla spíše zklamáním, tak SCG Open se 917 hráči rozhodně nezklamalo - modern pořád táhne.
Herní pole bylo klasicky velmi rozmanité, když se mezi osmdesáti hráči ve druhém dni našlo devětadvacet různých decků. Dvojice nejpopulárnějších decků byla Affinita (11 hráčů) a Grixis Death's Shadow (8 hráčů), nicméně jejich průnik na přední příčky nebyl zase tolik úspěšný.
Velmi dobrou statistiku měl naopak Gift's Storm, jehož čtyři hráči ve druhém dni skončili mezi sedmým a jedenáctým místem. Ještě lépe na tom byl Eldrazi Tron, který měl tři hráče v top16 a dva z toho rovnou ve finále, kde Dan Musser porazil Jeffreyho Wrighta.
Další decky v top32 byly RG Scapeshift (včetně zajmavé verze s playsetem Hour of Promise), Boros Burn, UWR Control, Dredge, Merfolci, Sliveři, Eldrazi and Taxes, Gb Tron, GW Company, Vizier Knightfall, Ad Nauseam, Vizier Company a Amulet Titan.
Velkou pozornost vzbuzoval i Julian Grace-Martin se zajímavým RG "Madnessem" s Vengevimani a Hollow One, se kterým měl dokonce po jedenácti kolech skóre 10:1. Další čtyři kola ale bohužel prohrál a nakonec se ani nevešel do top32. Rozhodně se ale jednalo o nejoriginálnější deck turnaje.
3. SCG Classic Syracuse (Modern + Standard)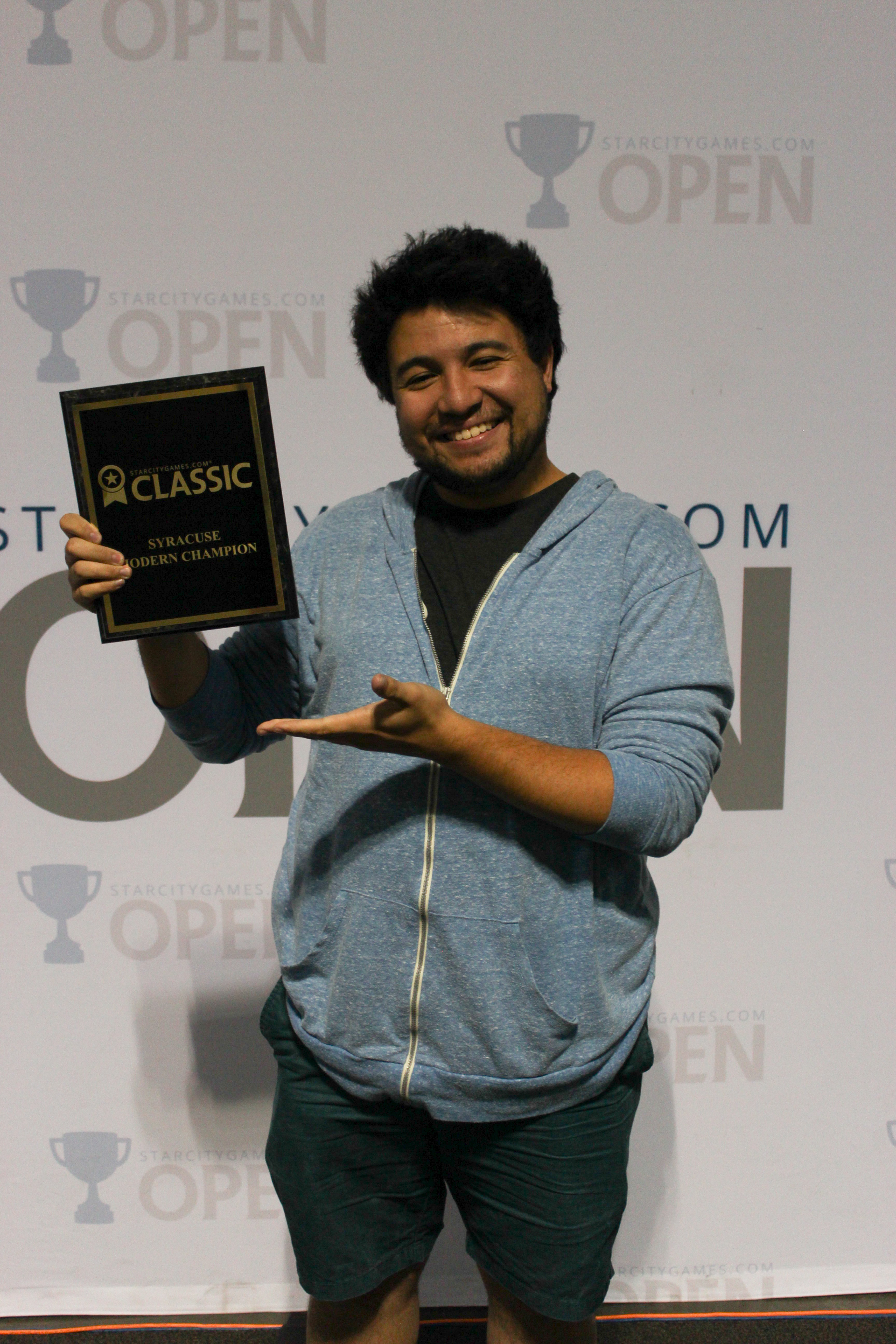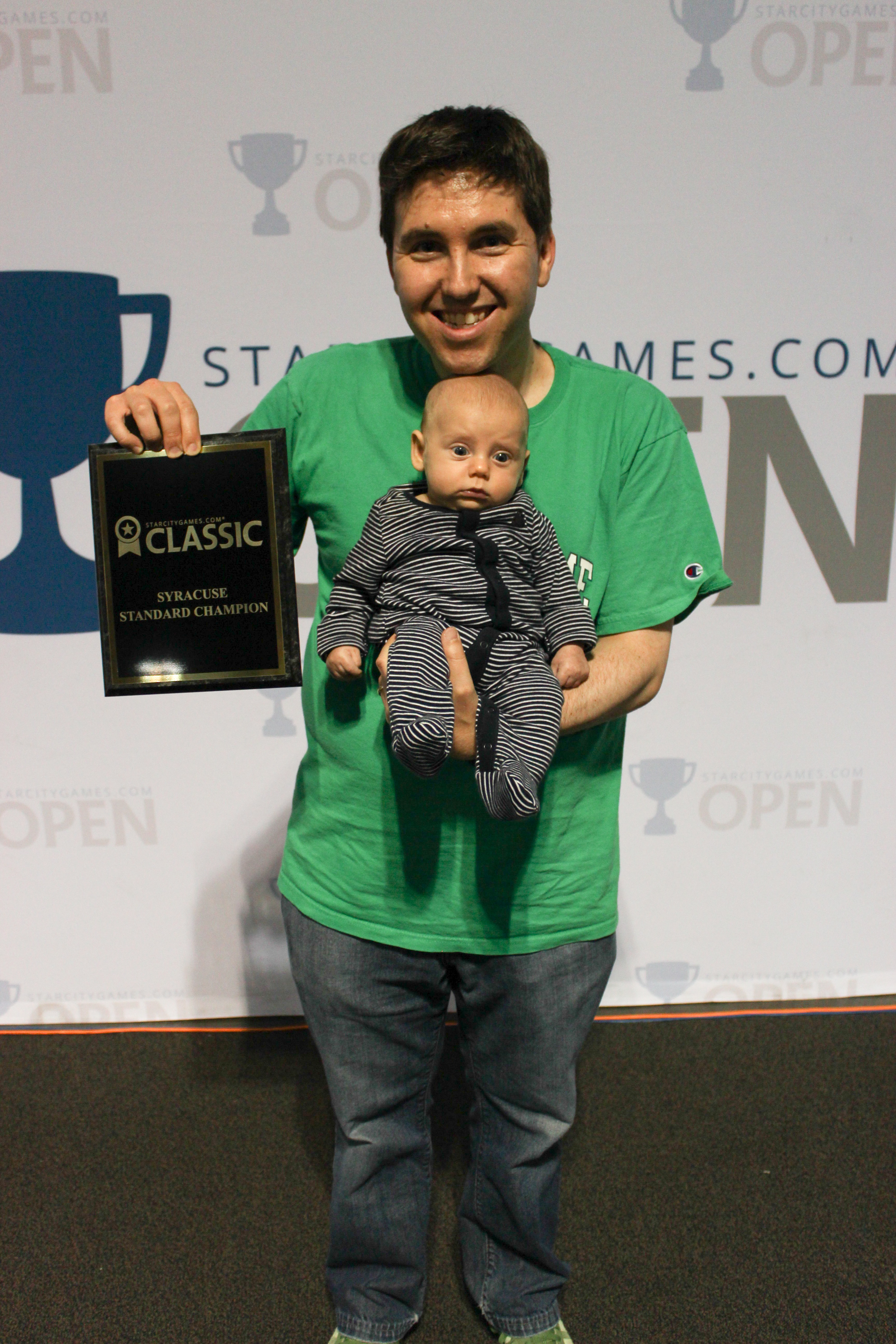 Modernová klasika přilákala 263 hráčů, což znamenalo devět kol v základní části. Top16 se tu víceméně skládala z tier decků jako Eldrazi Tron, Boros Burn, Grixis Death's Shadow, Affinita, nebo Gifts Storm.
Celkovým vítězem se stal Dan Benipayo s klasickou verzí RG Scapeshiftu, když ve finále porazil Boros Burn.
Obvyklé okénko s méně obvyklými decky nám poodhalí Ad Nauseam s novým kombem v podobě Phyrexian Unlife + Solemnity a také a pěkný build Monogreen Devotion s rozumně nízkou křivkou a planeswalker packagem a Oath of Nissa. Za zmínku také stojí červená v sideboardu kvůli kartám jako Blood Moon, Kozilek's Return, nebo Sudden Shock. Pokud máte dobrou pamět, tak si možná vzpomenete, že Monogreen Devotion pilotovaný tímtéž hráčem jsem tu zmiňoval už před několika měsíci...
Standard měl o poznání komornější atmosféru, když se ho účastnilo pouze 101 hráčů. Celý turnaj se nesl ve znamení souboje mezi Ramunap Redem a Monoblack Zombies, ze kterého nakonec díky Michealu Siemborovi vzešel vítězně Ramunap Red. Oba decky zabraly hned jedenáct míst v top16.
Zbytek světa představoval UW Approach Control, Black Eldrazi, BG Delirium, Grixis Colossus a zajímavé brew v podobě Naya Humanů.
4. MOCS Quarterly Playoff (Standard)
Finále letošní třetí MTGO sezóny si nenechalo ujít 168 hráčů, kteří kromě dvou slotů na MTGO Championship bojovali také o dvě místa na PT a další ceny jako digitální playsety celých edic.
Je zajímavé, že online metagame je výrazně odlišná oproti metagame na velkých turnajích typu GP či SCG Open. Zombies i Ramunap Red tvoří podstatně menší část fieldu a ani jeden z těchto decků se nedostal do finále, kde byl dost atypický matchup v podobě souboje RUG Midrange vs. RG Rampa. Zvítězil Gerschi s RUGem a na MTGO mistrovství ho doplní kuroro.
Základní část turnaje čítala osm kol, ve kterých 24 hráčů dosáhlo na skóre 6:2 a lépe. Zde je přehled decků, které hráli:
5× Monoblack Zombies
4× RUG Midrange
4× BG Delirium
4× Ramunap Red
2× RG Ramp
1× UR Tower Control
1× GB Aggro
1× RW Midrange
1× UW Gift
1× White Eldrazi
5. MTGO Weekly Challenges (Modern, Legacy, Vintage, Commander, Pauper)
Modern se mohl pochlubit velkou účastí, která stačila na sedm kol základní části a dvacet hráčů se skóre 5:2 a lépe.
Vítezem se stal "Matedge" s UWR Controlem, když porazil Lantern Control s maindeck playsetem Leyline of Sanctity. V decku byla také jedná nová karta v podobě Bontu's Last Reckoning v sidu.
V top8 jsme dále mohli vidět dva neobvyklé decky - první bylo unikátní brew v podobě Green Devotion, která ale navíc hrála modrou splash pro Gifts Ungiven, ke kterým tu byla Elesh Norn a Unburial Rites.
Druhý deck byl Esper Midrange se Zurem, ke kterému tu byly karty jako Spreading Seas, Detention Sphere a Steel of the Godhead, které se ideálně doplňovalo s playsetem Geistů.
Top20 byla již klasicky velmi rozmanitá a mohli jsme v ní vidět hned patnáct různých decků. Kromě již zmíněných to byl Gifts Storm, UW Control, Death and Taxes, Vizier Knightfall, Amulet Titan, Eldrazi and Taxes, Gb Tron, Ad Nauseam, Blue Tron, RG Scapeshift a Eldrazi Tron.
Na legacy se příliš zajímavých věcí neudálo. Dva nejúspěšnější decky turnaje byly Grixis Delver a 4C Control, které dohromady obsadily šest míst v top8 a rozdali si to spolu i ve finále, kde zvítězil WinRyder se 4C Controlem.
Nejzajímavější decky v top16 byly 4C Loam se spoustou zvláštních one-ofů jako Ajani Vengeant, Ramunap Excavator, nebo Gaddock Teeg a Grixis Control, což byl vlastně 4C Contorl bez zelené, ve ktrém bylo více klasických konrolních kusů jako Counterspell, Kolaghan's Command, nebo Diabolic Edict.
Kromě toho jsme v top16 mohli vidět BUG Delvera, Mentor Miracly (verze s Dazami), dva Burny, Death and Taxes, Colorless Eldrazi a UWR Stoneblade.
Vintage nabídla ve finále souboj vintage fanatiků - Niels Thiim s atypickou verzí Shopů, která namísto Ravagera a Walking Ballisty hrála Eldrazi, porazil Rachel Agnes s Esper verzí Mentora (s Night's Whispery).
Nejhranější deck turnaje byly ale i tak klasické Ballista Shopy s pěti hráči v top16. Dále jsme na předních příčkách mohli vidět agresivního UWR Mentora (verze hrající navíc i Young Pyromancery), kontrolní verzi stejného decku (s Jacem TMS a Tinker/Colossus kombem), Storm s Gifts Ungiven a Baraly, White Eldrazi, dalšího Esper Mentora, Tezzerator, BUG Fish s kombem Ramunap Excavator + Fastbond, UW Control se Standstilem, který zároveň hrál Derk Depths kombo a Paradoxical Tezzerator.
V Commanderu patrně hrstka hráčů, kterou ještě neunudila k smrti dominance Breyi, litovala, že se turnaje vůbec účastnila...
Třináct hráčů dosáhlo v šesti kolech zíkladní části na skóre 4:2 a lépe a hned sedm z nich hrálo Breyu.
Vítězství se ale podařilo ukořistit hráči s nickem _Shatun_, který hrál čtyřbarvu s Tymnou a Kraumem, což je deck specifický postavený proti Breye.
V top8 bylo také zajímavé UR Tempo s partnery Ludevic + Kraum, jenž využíval Ludevica v kombinaci s různými "pingery" (bytosti, které z tapnutí udílí obvykle jeden damage).
Dále jsme v top13 mohli vidět dva Mardu Midrange (s Marcheesou a zajímavou kombinací Tymna + Bruse Tarl), Barala s Polymorph kombem, a BUG Control s Leovoldem.