Novinky
Flash News #3/2017
1. GP Praha (Aether Revolt Limited)
Kombinace zbrusunové edice a ideálního testingu na PT přilákala na letošní GP Praha nejenom velké množství tuzemských hráčů, ale i velkou část světové špičky, jelikož PT se hrál další týden v Dublinu, což z Prahy zase není tak daleko.
Původní kapacita 1 500 hráčů byla poměrně s předstihem vyčerpaná, takže organizátoři nakonec nabídli k dispozici ještě dalších 500 míst, což nakonec znamenalo rekordní účast (na naše měřítka) 2 003 hráčů.
V prvním dni nikdo z našich hráčů sice neuhrát plných 27 bodů, ale sedm hráčů mělo skóre 8:1: Lukáš Blohon, Jan Švach, Jaroslav Bouček, Michal Hříbek, Jan Hanzálek, Jakub Vojta a Michal Hájek.
Ve druhém dni se jim už bohužel příliš nedařilo, po prvním draftu na top8 útočili ještě Michal Hříbek a Michal Hájek, ale ani jednomu z nich se ve druhém draftu nezadařilo. Smolná série pražských GP bez domácích hráčů v top8 tak stále pokračuje...
Ze známých jmen byli v top8 hned tři hráči, kteří už se mohli pochlubit vítězstvím na GP - Paulo Vitor Damo da Rosa, Ivan Floch a Florian Koch. Nejblíže dalšímu vítězství z nich byl PV, který ale ve finále podlehl tureckému veteránovi Yusufu Kemal-Vefovi. Byla to vůbec první turecká výhra na takto prestižním turnaji!
Na závěr pro vás jako perličku mám all-rare sealed deck, který v prvním dni hrál Angličan Steve Bains. Kromě toho, že měl plno rare do barev, tak měl i většinu nejlepších uncommon, takže se mu do decku nevešel ani Longtusk Cub, to prostě naštve... S deckem ale na 9:0 nedosáhl, jedna prohra šla na vrub rychlému decku s větším počtem flyerů.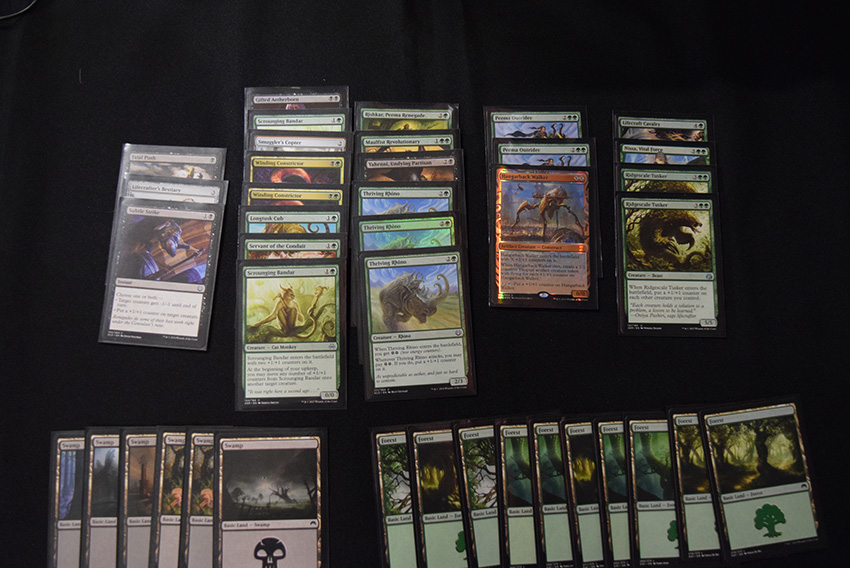 Sluší se ještě připomenout výsledky našich hráčů. Do druhého dne jich postoupilo 49, z čehož jich sedmnáct dosáhlo na 30 a více bodů, což je hranice potřebná pro zisk pro pointů:
33. Michal Hříbek (36 bodů)
67. Jan Švach (33 bodů)
81. Adam Štencl (33 bodů)
96. Petr Sochůrek (33 bodů)
106. Michal Hájek (33 bodů)
154. Ivo Kratěna (31 bodů)
155. František Shindler (31 bodů)
161. Ondřej Baudyš (31 bodů)
168. Jaroslav Bouček (30 bodů)
195. Jakub Vojta (30 bodů)
216. Matěj Malý (30 bodů)
221. Radek Krejčí (30 bodů)
229. Matěj Mantuch (30 bodů)
248. Lukáš Kraft (30 bodů)
251. Jan Sakalík (30 bodů)
278. Miroslav Hajfler (30 bodů)
303. Lukáš Dvořák (30 bodů)
2. GP San Jose (Aether Revolt Limited)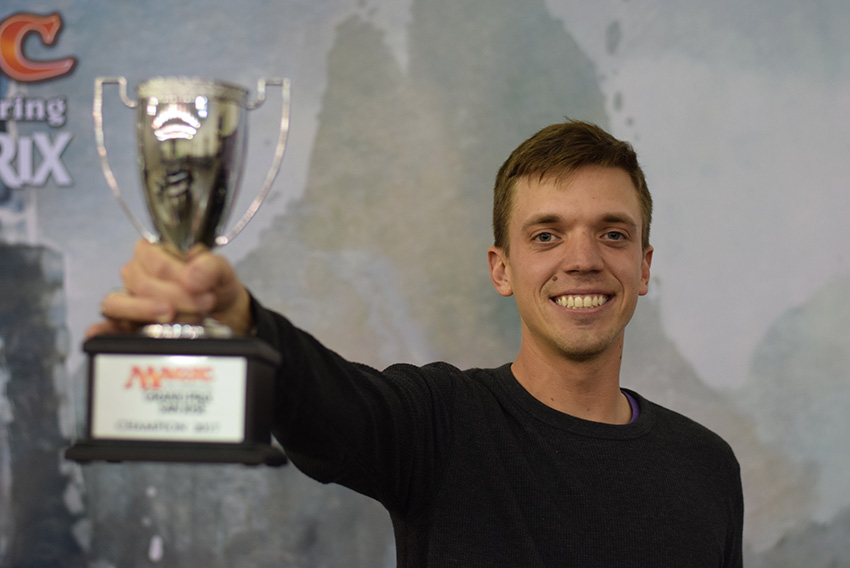 Díky PT v Evropě se stala málo vídaná věc, kdy GP Praha mělo větší návštěvnost než americké GP, na které zavítalo 1 908 hráčů.
O něco menší konkurence, než je obvyklé, využili méně známí hráči, kteří tvořili většinu top8. Ostřílené harcovníky v ní zastupovali pouze Jiachen "JC" Tao a Robert Berni.
Z výhry se ale neradoval ani jeden z nich. Se soupeři si nejlépe poradil John Asbach, který za svůj úspěch vděčil především dvojici Tezzeret's Touchů.
A i tentokráte jsem si připravil perličku na závěr. Ve druhém dni se na jednom z draftů podařilo Benu Weitzovi nadraftovat třikaretní kombo pro infinite thoptery, po jejichž vyrobení následoval Time Walk. Mohla za to kombinace Gonti's Aether Heart, Whirler Virtuoso a Decoction Module.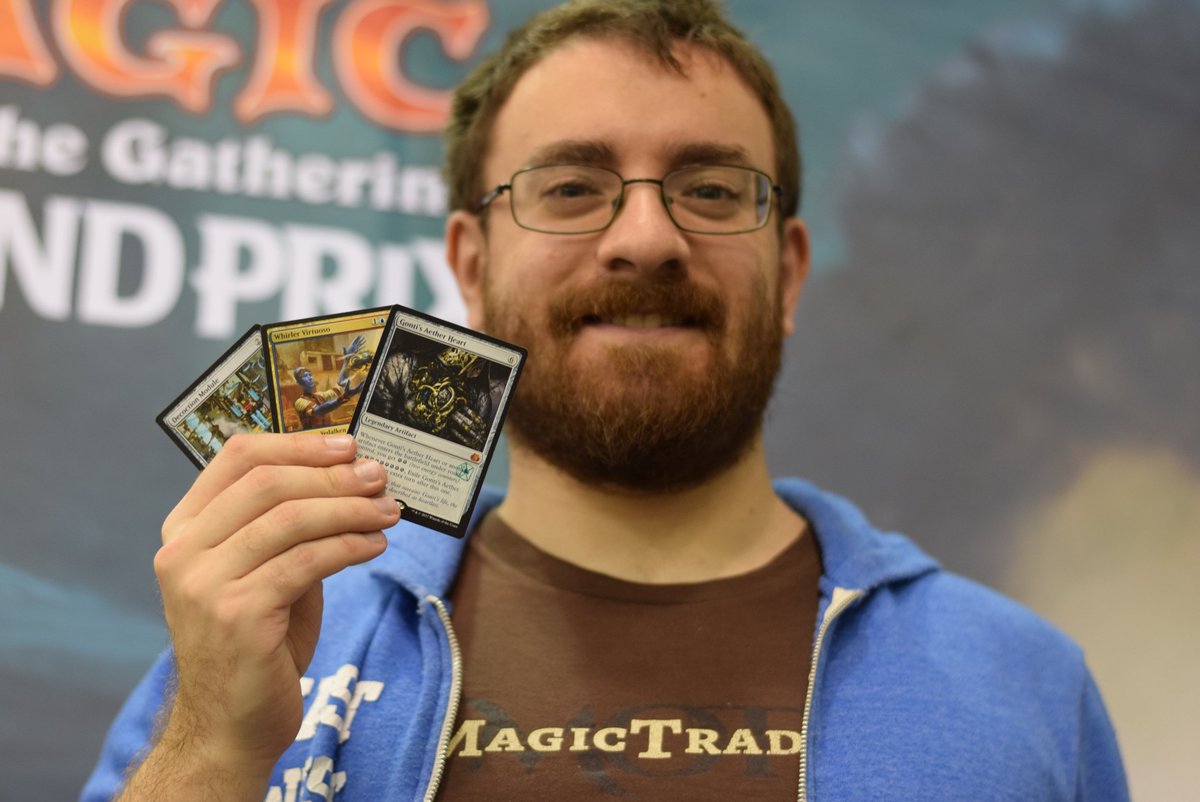 3. SCG Open Richmond (Standard)
Standard před PT je obvykle velmi rozmanitý a plný různých brew, ale tentokráte tomu tak nebylo, jelikož formátu dominalovaly dvě silné kombinace - Saheeli + Felidar Guardian a Winding Constrictor + Verdurous Gearhulk.
Saheeli a Constrictor decky dohromady zabraly sedm míst v top8 a 23 v top32! To je zdrcující dominnance. Kromě těchto dvou decků byly další nejúspěšnější decky kontroly s modrou, kterým vévodí Torrential Gearhulk. V top32 byly dva Jeskai Controly a tři UB Controly. Jeskai Control byl právě jediný deck, který v top8 nerušil dominanci dvou výše zmiňovaných komb.
Z opravdu zajímavých decků v top32 bych zmínil hlavně RUG Eldrazi s Metallic Mimicem a pěknou verzi 4C Saheeli, která kombinovala Saheeli kombo s delirium strategií, když měla několik one-ofů, které se daly najít pomocí Traverse the Ulvenwald.
Pokud by vás náhodou zajímalo, jak turnaj nakonec dopadl, tak vězte, že v top8 vypadly všechny BG decky a v top4 byly tři Saheeli decky a UWR Control. Z vítězství se radoval Dylan Donegan s Jeskai Saheeli, když ve finále porazil 4C Saheeli pilotovanou Jeffrey Ashkinem.
Celkový přehled top32:
7× Jeskai Saheeli
5× BG Delirium
4× BG Energy
3× 4C Saheeli
3× UB Control
2× Jeskai Control
2× BG Aggro (bez subtématu)
WR Humans
BR Zombies
RUG Eldrazi
UW Aggro
BG Delirium Control
4C Saheeli Delirium
4. SCG Classic Richmond (Modern + Standard)
Modern si zahrálo 140 hráčů, což znamenalo osm kol a top8. Na novou metagame se nejlépe adptoval Christopher Calhoun s Grishoalbrandem, který vydělal na tom, že po banu Grave-Trolla se hraje méně graveyard hatu. Do karet mu také hrálo, že deck je naprosto imunní vůči Fatal Pushi.
Top16 byla velmi rozmanitá, když v ní bylo hned čtrnáct různých decků:
2× Burn (RW, Naya)
2× Jund Midrange
Grishoalbrand
Jeskai Nahiri
Naya Company
WR Prison
UW Control
Melira Company
Grixis Delver
Ad Nauseam
Bring to Light Scapeshift
RG Zoo
Monoblue Extra Turns
Za pozornost stojí zajímavá verze RW Prisonu, ve které bylo minikombo Ensnaring Bridge + Peace of Mind, Narnam Renegadi v RG Aggru, nebo Baral v Monoblue extra kolech.
Standard classic mělo opět trochu nižší návštěvnost s 94 hráči. Stejně jako na Open byl turnaj ve znamení souboje Saheeli deckům proi BG deckům. Tentokráte se radovalo BG Delirium, se kterým zvítězil Todd Stevens.
Oproti Open jsme také v top16 mohli vidět dvakrát GW Tokeny, Mardu Vehicly s modrou splashí na Fevered Vize v sidu a RG Pummeler Aggro také s malou modrou splashí v sidu (na pár kántrspellů).
6. MTGO Power 9 Challenge (Vintage)
Lednovou online vintage challenge nejlépe vystihují dvě slova: Walking Ballista. Jak jsem předpokládal, tak Ballista byl na tomhle turnaji jednou z nejhranějších karet a v top4 to byly doslova orgie Ravager Shopů, když se tam dostaly ve čtyřech a plně ovládly finále.
Veřte nevěřte, ale když vyjde lepší Triskelion, který je ještě k tomu o čtyři many levnější, tak to formátem prostě musí zatřást (deck už předtím vyhrávál pomocí minikomba Ravager + Triskelion).
Co se týče konkrétních hráčů, tak na turnaji opět exceloval Rich Shay, který obhájil vítězství z předchozího měsíce. Hrál de facto nejpřímočařejší verzi Ravager Shopů, která hrála většinu nejlepších karet v playsetech.
Zatímco Rich hrál Foundry Inspectory, tak spousta hráčů volila další karty, které mají pěkné synergie s plusovými žetony, takže jsme mohli vidět i spoustu Steel Overseerů. Takzvaně "over the top" to vzal "Unrestrictbrainstorm", když dokonce hrál i trojici Animation Modulů, což je zajímavá karetní výhoda, skoro takový bezbarvý Mentor.
Turnaje se účastnilo 56 hráčů a z toho bylo dvanáct Ravager Shopů. Vysoká popularita Shopů ale zároveň přílákala i hodně Dredge (deset hráčů), což byl v top8 druhý nejúspěšnější deck se dvěma zástupci. Oba hráli stejnou verzi s kántrováním v mainu a s Dark Depths kombem v sidu.
Zbylé dva decky v top8 byly Paradoxical Storm a UW Stoneblade (se Spell Quellery). Po hodně dlouhé době nebyl v top8 žádný Mentor deck!
V top16 pak byly zejména další Stax decky Ravager Shopy s playsetem Fleetwheel Cruiserů, Car Shopy bez Ballistů, dvoje klasické Ravager Shopy a White Eldrazi (samozřejmě také s Ballistou). Kromě toho tam byl ještě další Paradoxical Storm, Dredge a jako osamocený zástupce "fair" decků UR Delver (bez další splashe).
6. LCV Vintage Series
První letošní turnaj španělské vintage série si nenechalo ujít 29 hráčů. Stejně jako finálový turnaj loňské série ho ovládl Alex Delgado s Grixis Pyromancerem, když ve finále porazil 4C Mentora (v decku byla navíc zelená kvůli Sylvan Library) Ferrana Relata.
V top8 dále byly dvoje Ravager Shopy (jedny navíc s Thought-Knot Seery), Esper Mentor, White Eldrazi, Junk Hatebeaři a klasický UWR Mentor (s párem maindeck Stony Silencí).
Mimo top8 byly nejzajímavější decky Tezzerator s Gifty a Paradoxical Storm s Oathy v sidu, které hledaly pouze Tydespout Tyrranty.
7. Bonus (Standard & Modern)
Na úplný závěr pro vás mám dva zajímavé decky. První je dvojkový UB Midrange s Tezzerety, se kterým skončil třetí na Standard Showdownu pořádaném Face to Face Games Tanner Rasmussen (bohužel chybí info o počtu hráčů).
Deck hraje zajímavé karty jako Scrap Trawler a Tezzeret's Touch, ale moje úplně nejoblíbenější karta je tu Metallic Mimic, pro kterého je tu jako tribal construct, což je prostě super. Zároveň se mi líbí, že deck hraje individuelně silné karty a nespoléhá se příliš na katry s improvise (například Herald of Anguish vás nutí hrát průměrné kusy jako třeba Servo Schematic, ačkoli můžete místo něco hrát Mindwrack Demona, který nevyžaduje takřka žádný setup a má o dost lepší poměr cena/výkon).
Druhý deck je modernový UR Storm. V jednom z předešlých článků jsem mluvil o tom, že ban Gitaxian Proby úplně odrovnal Storm, ale je s Baralem je možné deck hrát přes Gifty. A přesně to udělal "mrfrenchy", který s Gifts Stormem uhrál 5:0 v online competetive lize.
A to je pro dnešek všechno. Příště se můžete těšit na podrobný pohled na PT Dublin.
Kumano
Komentáře
Ok tak ze Gifty se hraji. Diky za odpoved.
0 hlasů
Na modernu? Těžko říct, uvidíme jak dopadnou GP ;)
0 hlasů
Přispívat mohou pouze přihlášení uživatelé. Pokud chcete vložit komentář, přihlaste se ZDE.