Novinky
Flash News #3/2018
V těchto Flash News nás čeká ohlednutí za dvojicí Limited Grand Prix, které proběhly před Pro Tourem Rivals of Ixalan. Dále pak obří týmové SCG Open, pravidelné turnaje na Magic Online a French Commander.
1. GP Londýn (Rivals of Ixalan Sealed)
Týden před PT se jako obvykle konala dvojice limited GP. Většina pro playerů chystající se na PT už byla v Evropě a na GP tak byla opravdu obrovská konkurence. Mezi 1 979 hráči samozřejmě nechyběli ani Češi, mainu eventu se jich zúčastnilo pěkných dvaatřicet!
Díky nabité konkurenci jsme po celý víkend mohli na předních příčkách sledovat známé tváře. Po prvním dni byli mezi neporaženými hráči Brad Nelson, Steve Rubin, či Andrea Mengucci.
Zajímavé bylo, že hned v pěti decích z osmi neporažených byla Profane Procession a (nebo) Tendershoot Dryad, zatímco obávaného Tetzimoca žádný z neporažených hráčů v decku neměl.
V top8 jsme nakonec mohli vidět Setha Manfielda (ten na PT Ixalan chytnul tak vynikající formu, že se zdá, že je pomalu každý týden někde v top8), Steva Rubina, Brada Nelsona (po jedenácti standardových GP top8 za sebou se konečně prosadil i na limited), Mark Jocobson, či Eduardo Sajgalik.
Jako nejlepší strategie se ve finálové top8 ukázala být co největší agresivita, když na všechny vyzrál mexický pro player, Marcelino Freeman, se velmi agresivními BR Piráty, kde měl playset Grasping Scoundrelů a pouze patnáct zemí. Mimichodem, jeho finálový soupeř byl Steve Rubin, který měl v decku obávanou kombinaci Forerunner of the Empire + Poplyraptor.
V coverage byla zmíněná i zajímavá perlička. Během druhého dne se podařilo německému pro playerovi, Christianu Hauckovi, nadraftovat naprosto brutální merfolky, kde měl pět Merfolk Mistbinderů a Kumenu. S deckem samozřejmě uhrál 3:0.
Několika pěkných výsledků dosáhli i naši hráči. Do druhého dne jich sice postoupilo pouze devět, hned šest z nich dosáhlo na pro pointy. Trojice účastníků pro touru, Lukáš Blohon, Dominik Prošek a Ondřej Stráský vyladila formu nejlépe, když skončila v top64, která získává finanční prémii. Lukáš byl třiadvacátý, Dominik pětatřicátý a Ondřej jednašedesátý.
Na pro pointy dále dosáhli Jan Ksandr (88.), Pavel Matoušek (117.) a Jaromír Kohout (219.).
2. GP Houston (Rivals of Ixalan Sealed)
Druhé GP bylo trochu zastíněné vysokou koncentrací pro hráčů v Londýně. Do Houstonu přišlo pouhých 887 hráčů a konkurence tu tak samozřejmě byla o dost menší, což ale neznamenalo, že bychom na nejvyšších příčkách neměli žádná známá jména.
Na druhou top8 na GP v řadě tu dosáhl Joe Demestrio, po dlouhých osmnácti letech získal svou čtvrtou GP top8 Robert Swarowski a povědomá jména (hlavně díky úspěchům na SCG turnajích) jsou i Bradley Yoo a Phimus Pan.
Finále tu bylo tak trochu deja vu, zvítězil totiž další mexický národní šampion, Axel Martinez Ocampo, když ve finále s agresivním deckem (Vampýři) porazil RG Dinosaury (ale tentokrát bez Polyraptor komba).
3. SCG Open Philadelphia (Team Constructed)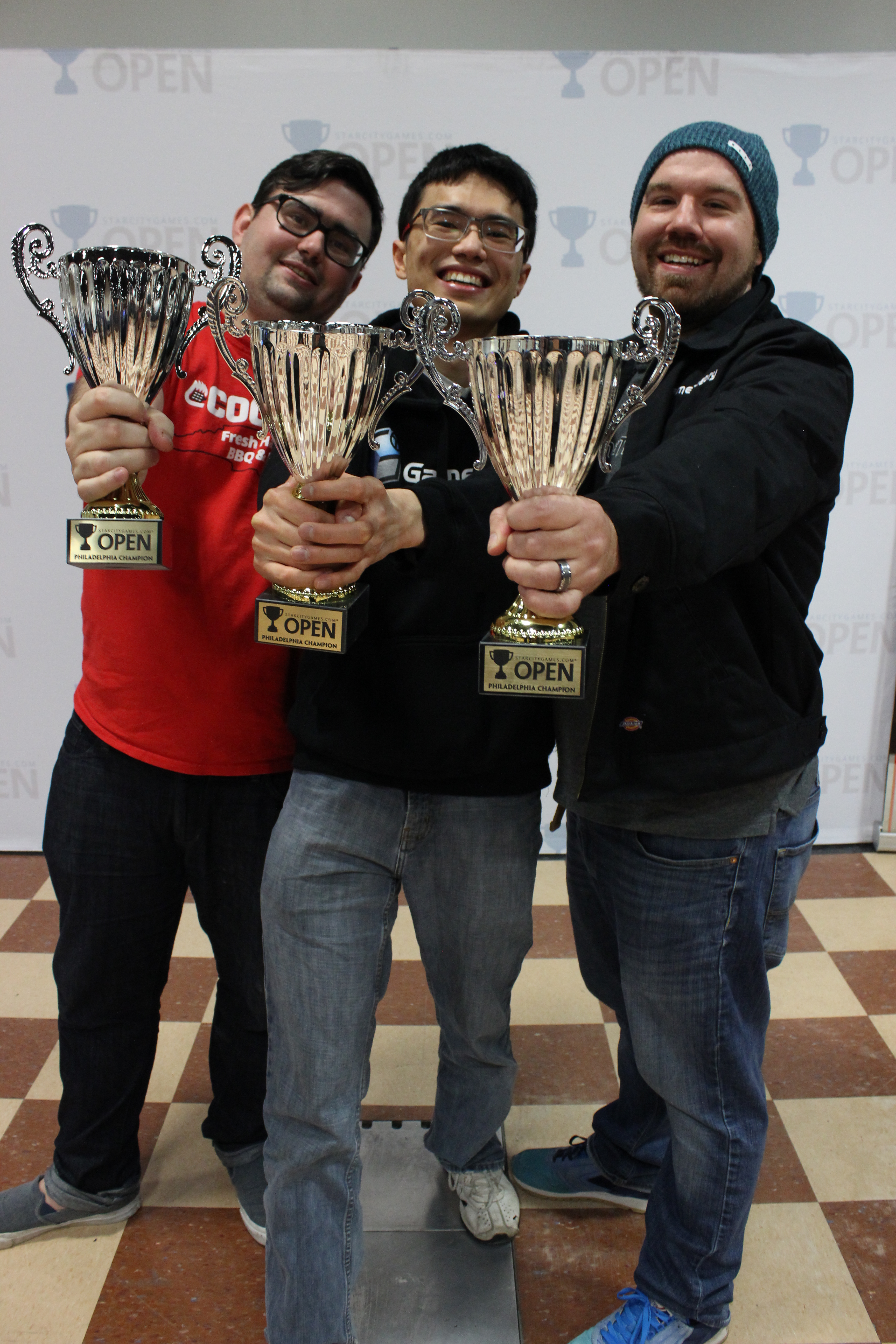 Skoro tisícovka hráčů přišla na další SCG Open v populárním týmovém constructed (hrají proti sobě trojice, kde má jeden hráč standard, druhý modern a třetí legacy).
Do prvního dne se přihlásilo 329 týmů, které měly neúprosný postupový klíč do druhého dne, kam postpopily pouze týmy se skóre 7:2 a lépe, což bylo pouze 25 týmů. Druhý den měl tak opět velmi komorní atmosféru, ale zase na druhou stranu bylo více hráčů v nedělních klasikách...
Z výhry se radovala naprosto neznámá trojice William Lo, Lucas Michaels a Jeremy Henry, když vsadila na kombinaci BUG Constrictor, Dredge a BG Depths. Za pozornost stojí, že v prvním dni začali 1:2, ale potom vyhráli deset kol v řadě. Ve finále navíc porazili velmi silný tým Brennan DeCandio, Caleb Durward a Tannon Grace.
Ze všech tří formátů byl opět nejzajímavější standard, kde se vlivem úspěchu na onlinu staly nejpopulárnjěšími decky Grixis Energy a Mardu Vehicly. Kompletní druhý den vypadal takto:
6× Grixis Energy
4× Mardu Vehicles
2× RW Aggro
2× GB Constrictor
BUG Constrictor
RG Monsters
Grixis Control
UW Approach
Merfolk
4C Marionette Master
UB Control
RG Dinos
UR Tower
WU Auras
Esper Gift
Nejzajímavější brew z tohoto seznamu je určitě čtyřbarva s Marionette Masterem, což je v podstatě BW Control, který využívá jako winkondici Marionette Mastera v kombinaci s Treasure Mapou či Tezzeretem, jenž v kombinaci s Masterem může soupeře zabít jenom s několika málo artefakty.
Další zajímavá brew byla RG Monstra s nižší křivkou, ve kterých byl playset Earthshaker Khenra a také dvojice Resilient Khenry, RW Aggro s Path of Mettle, které mělo modrou splash na Negate v sidu, Merfolci s maindeck Nissou a Deeproot Waters, RG Dinosauři s vyšší křivkou, která zahrnovala Carnage Tyranty a Buring Sun's Avatary, či UR Control se zapomenutou kartou v podobě Dynavolt Tower.
Za zmínku stojí například i UB Control s velkým počtem Moment of Craving v mainu, či UW Approach s chuťovkami jako Azor's Gateway či Nezahal, Primal Tide.
Na modernu bylo již tradičně velmi rozmanité herní pole, kde žádný deck nijak výrazně nedominoval. Čtveřice decků měla shodně tři hráče v top25 - Grixis Death's Shadow, Jeskai Control, Boros Burn a Affinita.
V top8 jsme mohli vidět osm různých decků - Dredge, Bant Spirity (specialita Caleba Durwarda), RG Ponzu s Madcap Moonem, Grixis Death's Shadow, Gb Tron, 5C Humany s Thraben Inspectory a Kessig Malcontenty, Jeskai Control a Boros Burn.
Metagame sice byla pestrá, ale mnoho neobvyklých decků jsme na předních příčkách neměli. Kromě Bant Spiritů se mezi zajímavé decky dali zařadit možná ještě UG Merfolci, Grixis Control, či BW Eldrazi.
Legačka se nám od minule obrátila vzhůru nohama. Zatímco minule byly nejhranějšími decky RG Landy a Death and Taxes, tedy decky, které se snaží mít co nejlepší matchup s Grixis Delverem, tak tentokrát už na Delvera nidko vyzrát nedokázal a se šesti hráči se stal nejhranějším decky. Krok s ním udržely pouze Miracly, které měly ve druhém dni čtyři zástupce.
Na druhou stranu jsme mohli vidět i celou řádku zajímavých decků. Hned dva hráči hráli zajímavý 4C Stoneblade s Leovoldy, opět se objevily i WR Death and Taxes s Dire Fleet Daredevilem, dále tu byl 4C Control s Kess a dvojice odvážných brew v podobě UB Tezzeratora s Thopter//Sword kombem (a ještě zajímavěji s Leyline//Helm kombem v sidu) a Rest in Peace Miracly, kde byla navíc Nahiri, která uměla zabít buďto pomocí Emrakul, nebo mohla najít Helmu do komba s Rest in Peace.
4. SCG Classic Philadelphia (Standard, Modern, Legacy)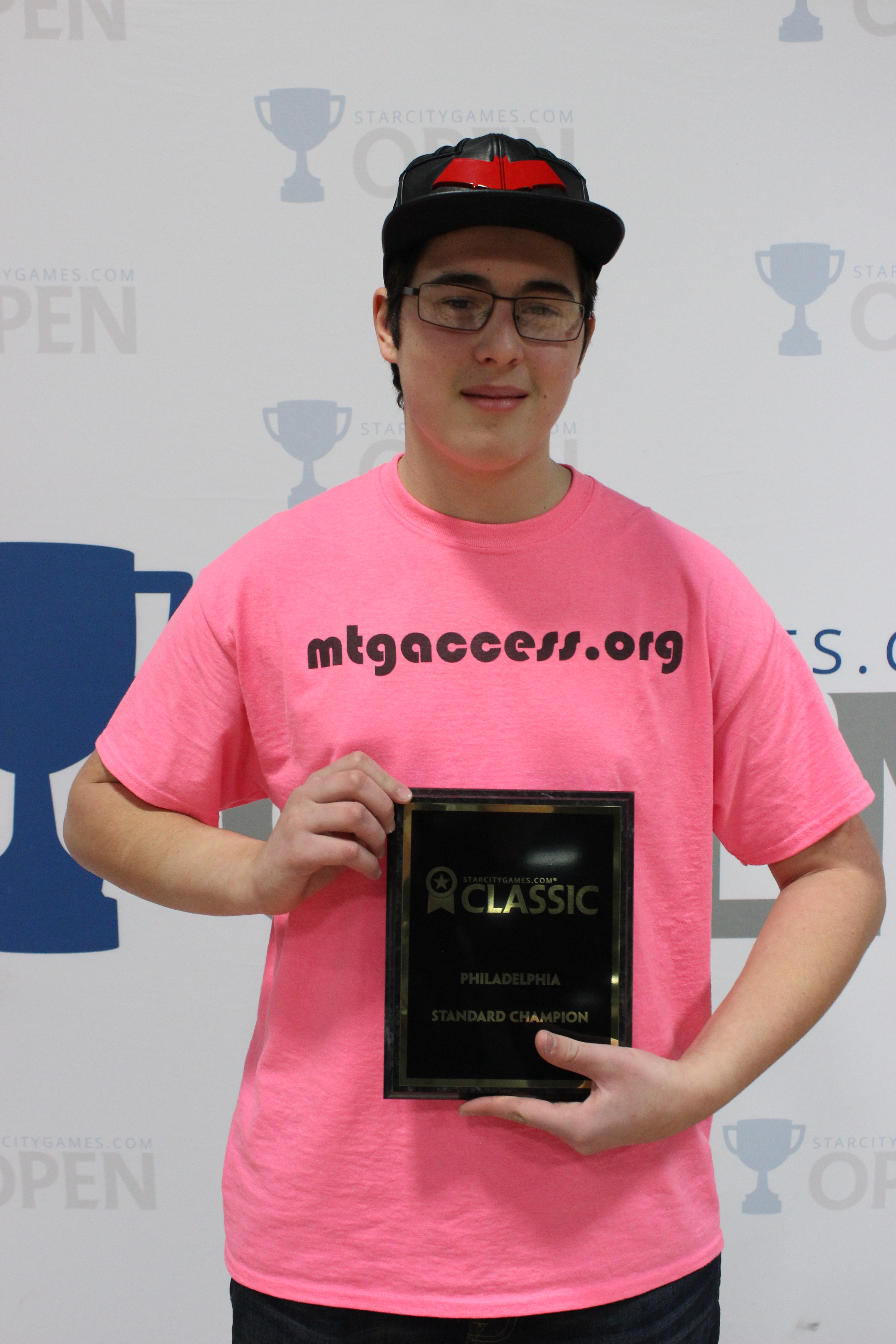 Výsledky nedělních klasik si projdeme chronologicky, takže začneme dvojkou. Tu hrálo slušných 167 hráčů, což znamenalo osm kol základní části + top8.
Výsledky byly velice rozmanité, v top8 bylo osm různých decků včetně několika pěkných brew. Z vítězství se radoval Aiden Brier, když s Monored Aggrem ve finále porazil Vehicly Roberta Stanleyho.
Na dalších místech byl UW Eternalize, což je deck, který mi dost připomíná UW Gift, ale s tím rozdílem, že místo Giftu hraje Annointed Procession, zajímavá verze Grixis Energy s Championy of Wits, Grixis Improvise, ve kterém mě zaujaly hned tři Battle at the Bridge v mainu, což je zajímavý způsob, jak se zbavit Hazoret, Jund Monstra, Grixis Control a UB Midrange s Treasure Mapami.
Velká rozmanitost pokračovala i ve zbytku top16, kde jsme mohli vidět agresivně laděný Jund Midrange, hodně kontrolní verzi Grixis Energy, dvojici BR Agger (jedno s černým a druhé s červeným základem), UB Control, či Monoblack Aggro.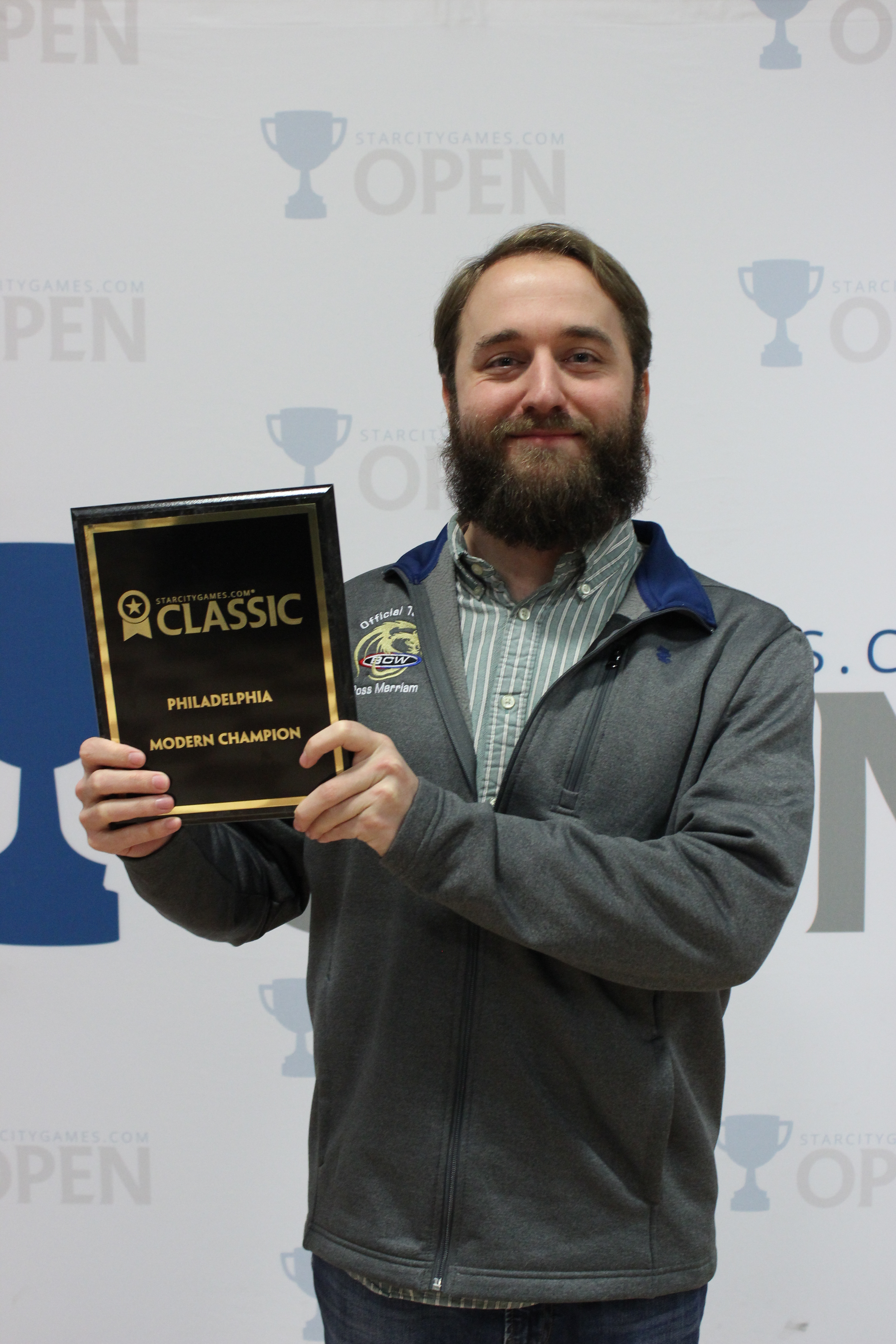 Modernu se účastnilo 325 hráčů, což znamenalo devět kol základní části. To je na side event hodně slušný výkon.
Stejně jako na standardu, i tady jsme měli v top8 osm různých decků. Zvítězil Ross Meriam, který svůj oblíbený Dredge vyměnil za 5C Humany.
Ve finále porazil divoké brew v Grixis barvách, které bylo založené na As Foretold. K tomu byl v decku Living End a Ancestral Vision, ale tím to zdsaleka nekončilo. V decku byly i Goryo's Vengeance s Griselbrandem a Jacem, Vryn's Prodigy. Třešničkou na dortu tu bylo Kiki-Jiki kombo, protože proč ne. Důležité je zmínit i Faithless Looting a Izzet Charm, což jsou asi nejdůležitější karty v decku, které zvyšují konzistenci a zároveň i enablují většinu komb.
Další decky v top8 byly Bant Company, Gift Storm, Affinita, All-in Red (verze, která se snaží co nejdříve locknout soupeře díky Simian Spirit Guidám a Desperate Rituálům), Dredge a Eldrazi Tron.
Mimo top8 mne nejvíce zaujala RUG verze Hollow One, která hrála Vengeviny a Hooting Mandrily a hrob plnila pomocí Thought Scourů a Chart a Course. Důležité je zmínit, že deck hrál Julian Grace-Martin, což je člověk, který vůbec jako první dostal tenhle typ decků do povědomí širší veřejnosti.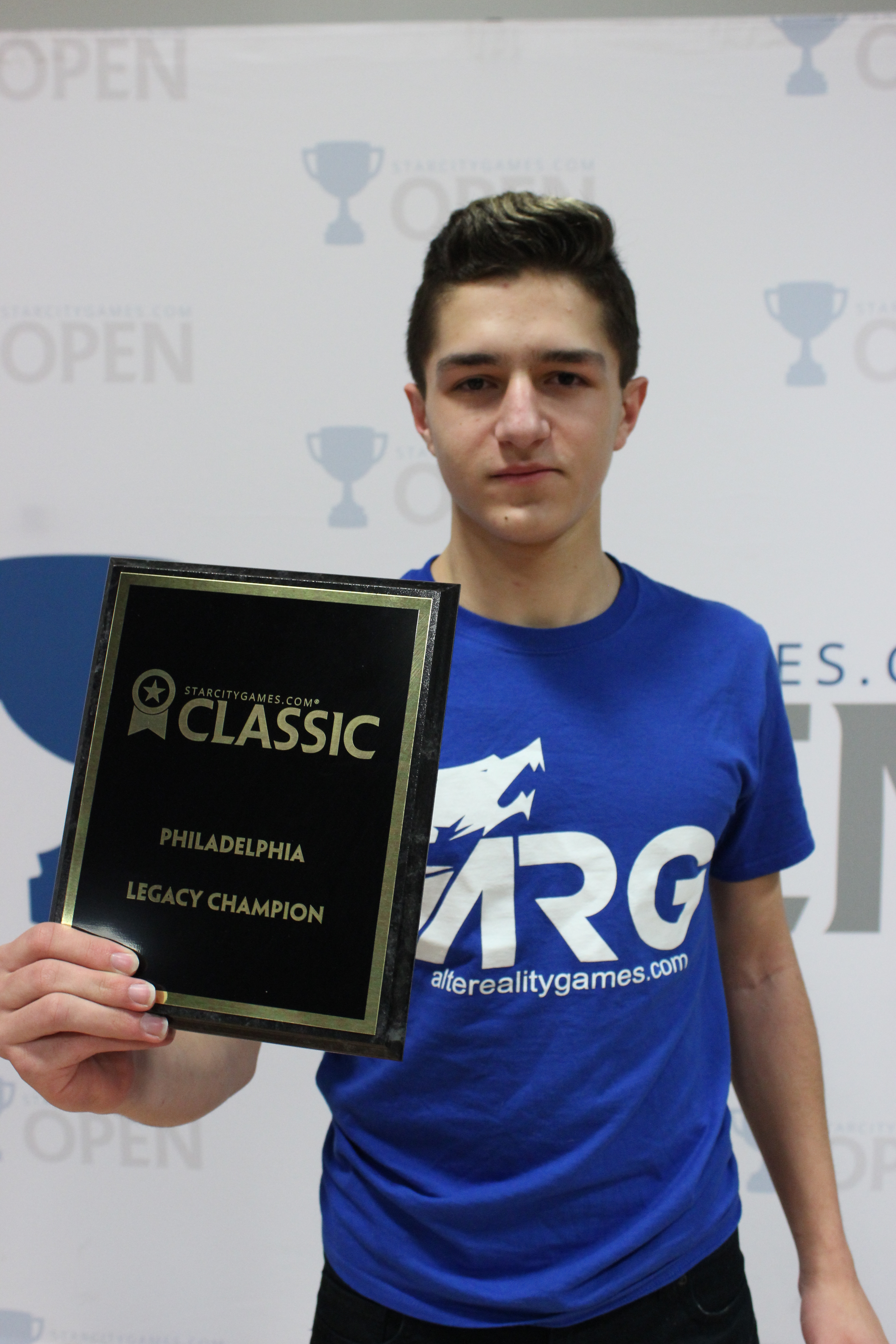 Velmi dobrou účast měla i legacy, která přesně o jednoho hráče trumfnula standard (tj. 168 hráčů). Na rozdíl od ostatních formátů zde ale samozřejmě nebylo tolik zajímavých decků.
Dva nejúspěšnější decky turnaje byly Grixis Delver a Elfové. Delver měl čtyři hráče v top16, ovšem z toho byli tři v top4 a Oliver Tomajko s deckem celý turnaj ovládnul, když ve finále zvítězil v mirroru.
Elfové obsadili zbylé místo v top4 a další dva hráče měli v top16. Nejlépe umístěnou verzi hrála Emma Handy, která měla maindeck Ruric Thara a Blood Moony v sidu.
Z ostatních decků v top16 mne nejvíce zaujal BUG Food Chain, kde nebyli Walking Ballisti, nýbrž starší způsob winkondice s Fierce Empathy a Emrakul, a také Men of Steel, kteří se pomalu zařazují mezi stálice formátu.
Zbylé decky na předních příčkách byly dva Stormy, BUG Delver, dvoje RG Země, Eldrazi Post a Czech Pile.
4. Standard Monthly MOCS
Na onlinu se konaly první letošní dvojkové MOCS, které se ale netěšily velké přízni hráčů, když se jich zúčasnilo jenom osmašedesát...
Do finálové čtvrtletní kvalifikace se tak dostalo pouze deset hráčů (pro tu je potřeba v osmi kolech získat alespoň šest výher).
Díky malému počtu hráčů neměl nikdo 8:0, ale trojice hráčů dosáhla na skóre 7:1 - elder088 s Grixis Controlem, yttymanthe2 s Monored Aggrem a WitchKling, také s Monored Aggrem.
Mezi dalšími úspěšnými klalifikanty jsme mohli vidět UR Control (bez Dynavolt toweru), UB Control, Grixis Energy, dvakrát BG Constrictora, Monored Aggro a Esper Midrange s playsetem Secrets of the Golden City.
5. MTGO Weekly Challenges (Modern, Legacy, Vintage, Duel Commander, Pauper)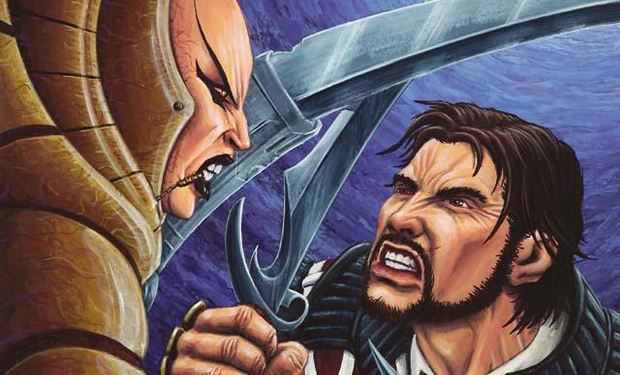 Přehled pravidelných online challengí jako obvykle načneme modernem, kde jsme tentokrát měli v top8 osmi různých decků. Ve všech případech šlo ale o klasické tier decky. Zvítězil Elfkid s Green Tronem a za ním se seřadil UR Madcap Moon, Lantern Control, Ad Nauseam, Eldrazi and Taxes, Boros Burn, Esper Death's Shadow (kvůli Lingering Soulům) a Grixis Death's Shadow.
Pár zajímavých decků jsme mohli vidět alespoň ve druhé polovině top16. Na jedenáctém místě byl Monoblack Midrange s Gray Merchanty, ve kterém byla malá červená splash kvůli Kolaghan's Commandu s Blood Moonům v sidu.
Třináctý skončil Amulet Titan s velkým počtem Azus a Explore, hned za ním byl RG Scapeshift s Huntmastery v mainu a se zajímavým midrange plánem po sidu se Scavenging Oozami, Tireless Trackery a Thragtusky. A na konec tu máme Krak-Clan Ironworks kombo s Whir of Invention (mimochodem nechápu, proč je ta karta pořád tak směšne levná) na šestnáctém místě.