Novinky
Flash News #34/2017
Dnes si se zpožděním zrekapitulujeme modernové SCG Open Louisville, MKM Series Hamburg, nebo druhou rundu národních mistrovství.
1. SCG Open Louisville (Modern)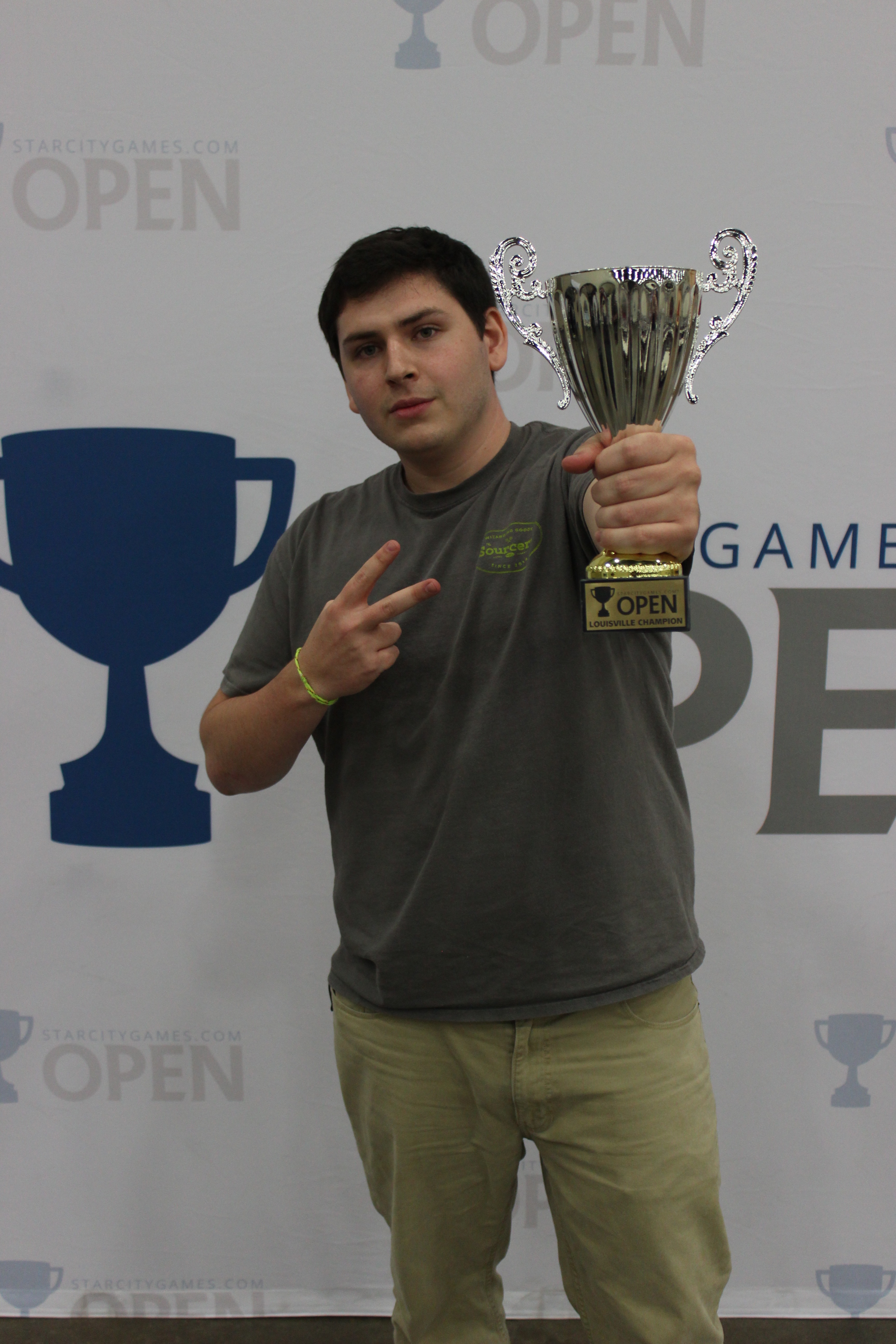 Ačkoli se tohle open hrálo v termínu některých národních mistrovství, tak šlo se 636 hráči o největší turnaj týdne.
Do druhého dne postoupili všichni se skóre 6:2 a lépe, což splnilo 149 hráčů. Mezi nimi bylo 46 různých decků, jímž vévodila dvojice bezbarvých creature hord.
První byli se sedmnácti hráči Eldrazi (Tron) a druhý skončila se třinácti Affinita. Překvapením byli Elfové, kteří měli shodně s Grixis Death's Shadow jedenáct hráčů ve druhém dni. Další populární decky byly Burn, Gifts Storm, různé varianty Jeskaie, nebo UW Control.
A byl to právě Jeskai, který zcela dominoval top8. Ve finále se utkali Harlan Firer a Brandon Dollaway s téměř totožnými verzemi Jeskai Tempa. Zvítězil 2:0 Harlan Firer, pro kterého to bylo druhé vyhrané Open, přičemž i to první bylo s Jeskaiem, i když tenkrát šlo ale o standard (kombo tokeni s Jeskai Ascendancy)...
V top32 bylo devatenáct různých decků, jímž vévodil Eldrazi Tron se čtyřmi hráči. Mezi nejzajímavější decky patřily 8-Rack, se kterým uhrál top8 Tom Ross a 5C Death's Shadow s BUG základem, které hrálo Traverse the Ulvenwald a splashovalo z červené Terminate a z bílé Lingering Souly v sidu. I tenlhe deck se probojoval do top8.
Další zajímavosti byly například Goblin Rabblemaster v Jundu, Glimmer of Genius v UW Controlu, Eldrazi and Taxes s odvážnou kombinací Dark Confidant + Reality Smasher, Merfolci s bílou splashí na Path a další karty v sidu, nebo budget verze Monogreen Elfů s manabází tvořenou sedmnácti baic Foresty...
Celý přehled top32 vypadá takhle:
4× Eldrazi Tron
3× Jund Midrange
3× Grixis Death's Shadow
3× Elves
2× Jeskai Tempo
2× Affinity
2× Gifts Storm
2× Boros Burn
8-Rack
5C Death's Shadow
Eldrazi and Taxes
UW Control
Living End
Jeskai Control
Ad Nauseam
RG Scapeshift
Esper Death's Shadow
UW Merfolk
Infect
2. SCG Classic Louisville (Standard + Modern)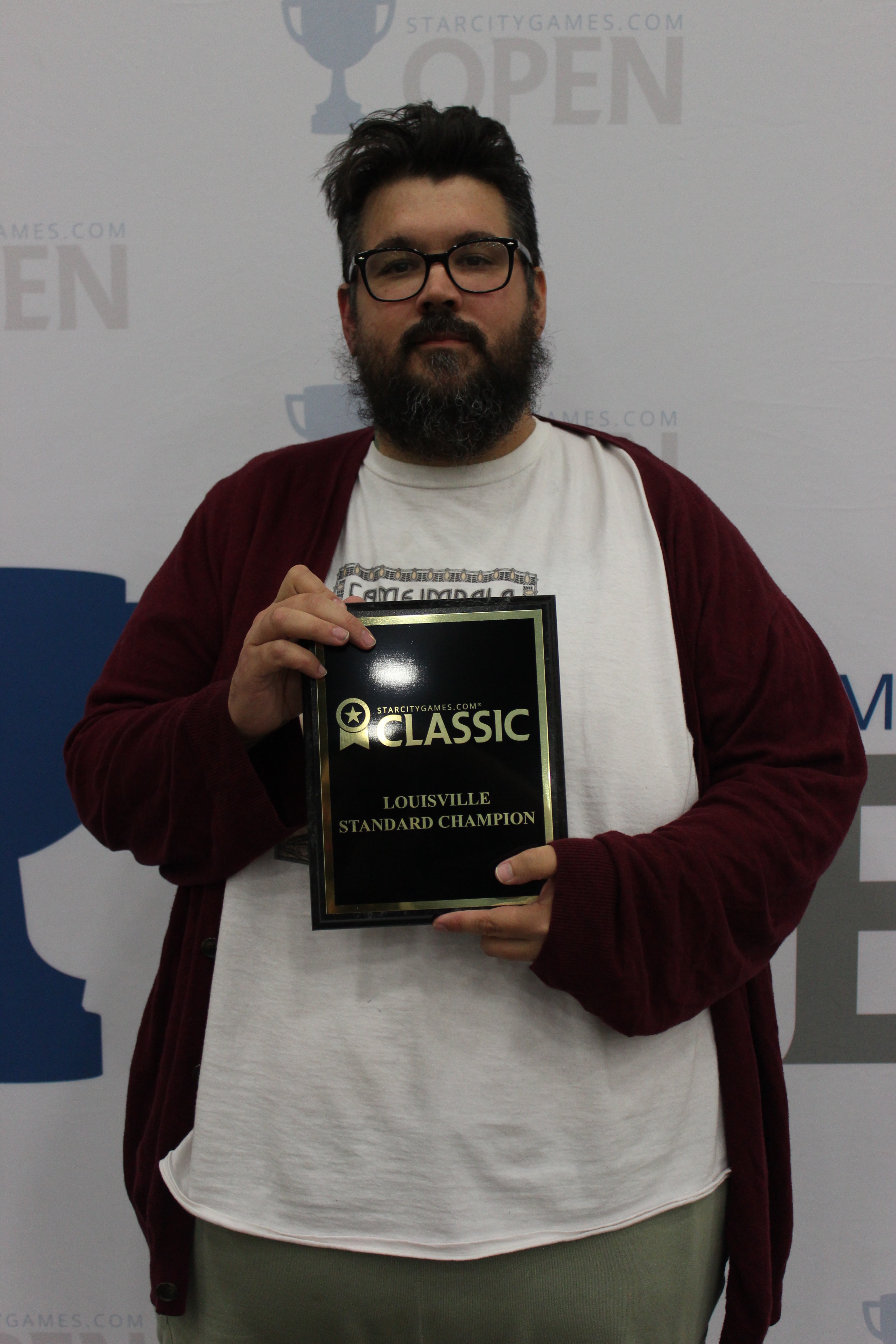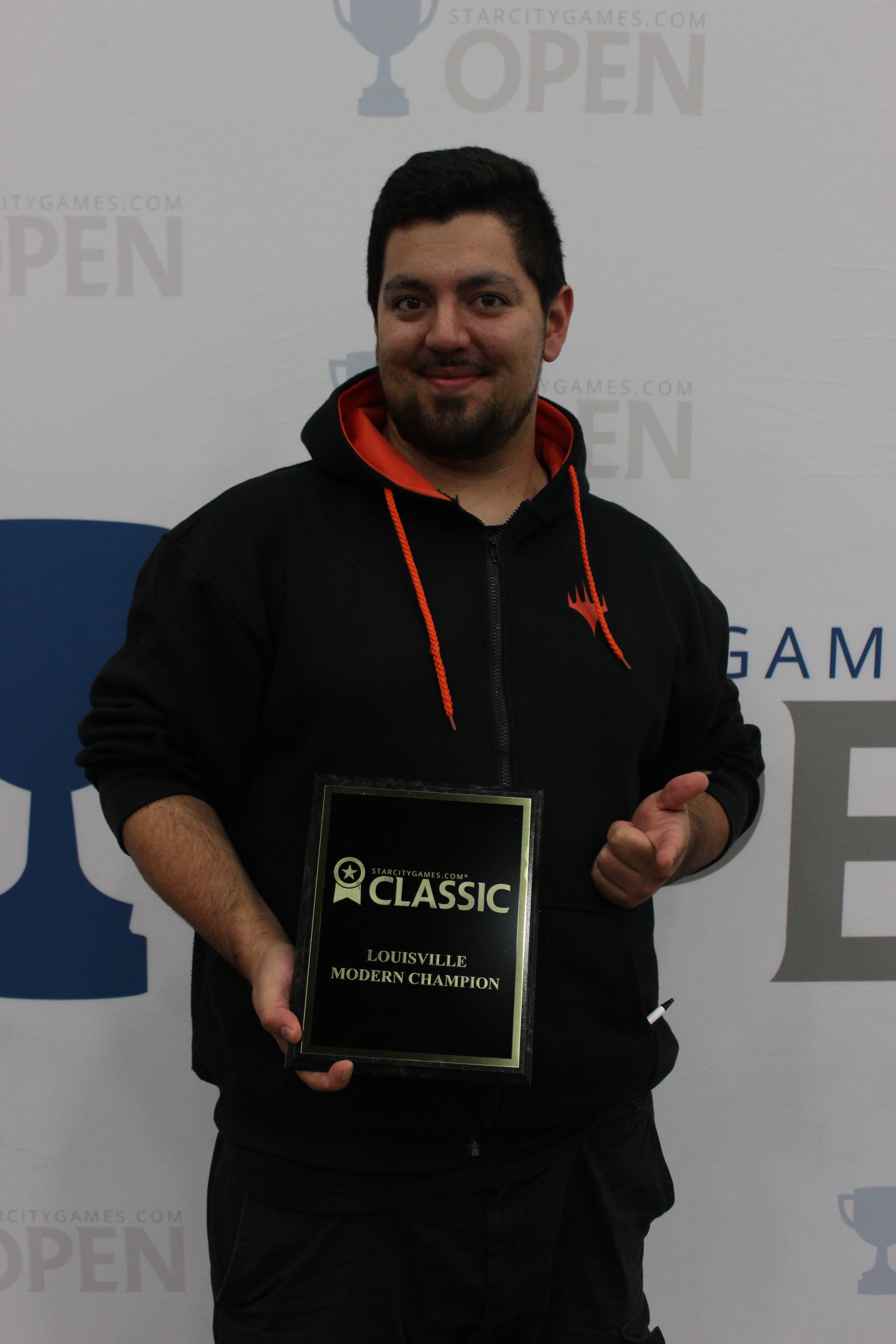 Z dvojice klasik byl jasně větší modern, ale napřed se krátce zmíním o standardu, protože si ani příliš dlouhý rozbor nezaslouží. Šlo totiž o poslední týden před rotací, kdy už dvojka hráče příliš nebavila, o čemž svědčí rekordní (v negativním slova smyslu) účast 54 hráčů, což dokonce znamenalo pouze šest kol.
Zvítězil tu Shaun Korb s Ramunap Redem, což byl se třemi hráči v top8 zároveň nejúspěšnější deck turnaje. Ve zbytku top8 jsme dále mohli vidět Mardu Vehicly, Jeskai Gift, UB Control, Jeskai Control (UR s bílou splashí) a GW Eldrazi Rampu.
Modernu se naproti tomu účastnilo hráčů 130, což znamenalo osm kol základní části.
Ve finále jsme tu měli souboj kontrolů, ve kterém Raymond Perez s UW Controlem porazil Jeskai Control Luka Purcella.
Na dalších místech byl Ad Nauseam, Goryo's Gifts, GW Hexproof, Affinita (se singleton Throne of the God-Pharaoh), RG TitanBreach, další UW Control, Grixis Death's Shadow, Gifts Storm, Jund Death's Shadow, zajímavý mix Abzan Midrange s Eldrazi, GW Company, RG Scapeshift, druhý RG TitanBreach a Vizier Elfové.
3. MKM Series Hamburg (Standard, Vintage, Modern, Legacy)
Po nepříliš vydařené zastávce v Praze (někteří stále čekají na připsání PWP) se MKM Series vrátilo do Německa.
Narozdíl od Prahy zde byla jiná struktura turnaje, kdy se hned v pátek hrály dva main eventy v podobě standardu a vintage.
Dvojku si přišlo zahrát 99 hráčů, mezi kterými byl suverénně nejpopulárnější deck RUG/4C Energy, po kterém sáhlo šestadvacet hráčů. O druhé místo se dělily Zombies s Mardu Vehicly, ovšem oba decky hrálo pouze deset hráčů...
Nejúspšnější deck turnaje byla ovšem GW Eldrazi Rampa - hrálo jí jenom pět hráčů, ale dva z nich se ostali až do top4 a Arne Huschenbeth s ní ve finále dokázal porazit Ramunap Red pilotovaný Jaminem Kaufem.
Další decky v top8 byly 2× Monoblack Zombies, 4C Energy, RUG Energy a Mardu Vehicly.
Na turnaji jsme měli české zastoupní díky Tomáši Márovi, který obsadil slušné jedenácté místo, ačkoli standard není zrovna jeho oblíbeným formátem...
Nejmenším sideeventem byla tradičně vintage, které se účastnilo čtyřiatřicet hráčů. Nejhranějším deckem tu překvapivě byli White Eldrazi se šesti hráči, což je zřejmě dáno tím, že deck je celkem konkurenceschopný i pokud nemáte Moxy a Lotus.
Další populární decky byly Dredge, Oathy, nebo BUG Control.
V top8 potvrdili pozici nejhranějšího decku White Eldrazi, jenž se tam probojovali ve třech (z toho jednou bez poweru).
Hlavní postavou turnaje byl ovšem Tom De Decker (vítěz z Prahy), který de facto zcela ovládl finále. Sám se do něj probojoval s mixem Paradoxical Stormu a Tezzeratoru, a proti němu se postavil Julian Knab, jenž hrál Ballista Shopy, které mu před turnajem vypůjčil právě Tom coby svůj rezervní deck. To Juliana ale ve finále neobměkčilo a Toma porazil s přehledem 2:0.
Ve zbytku top8 jsme pak mohli vidět Goodstuff s Paradoxical Outcomem, BUG Control a UWr Landstill.
V sobotu byl hlavní událostí modern, kterého se účastnilo 378 hráčů, mezi kterými bylo nejpopulárnější Death's Shadow (41 hráčů) následované Burnem (35 hráčů), různými verzemi Collected Company (33 hráčů) a UWx Controly (31 hráčů).
Podobně jako na vintage White Eldrazi i na modernu dokázal nejhranější deck v herním poli zúročit svou převahu třemi místy v top8. Ovšem ani jedna z verzí nebyla v klasických barvách grixisu. Dva hráči hráli raději bílou, než červenou (Lingering Souls a Path to Exile) a třetí hrál Jund verzi s Traverse the Ulvenwald.
Zbylá míst v top8 obadil Eldrazi Tron, RG TitianBreach, kde byla z nějakého důvodu one-of Nahiri s jednou Emrakul, Merfolci, Affinita (opět se záhadným one-ofem v podobě Bomat Couriera) a pětibarevný Kiki Chord, který měl trochu netradičně jako interakci playset Boltů (s deckem byl první po základní části Nacklas Krull se skóre 8:0:1).
Z vítězství se nakonec radoval Jonas Nieke s Affinitou, když ve finále porazil Esper Death's Shadow.
I tohoto eventu se účastnil Tomáš Már, který se skóre 6:3 obsadil 51. místo.
V neděli série vyvrcholila legačkou, které se zúčastnilo 298 hráčů. Nejpopulárnějším deckem byl překvapivě UWx Stoneblade (30 hráčů), který předčil největší favority v podobě 4C Controlu (27 hráčů) a Grixis Delvera (23 hráčů).
Dašlí populární decky byly Death and Taxes, Show and Tell, Storm, nebo Reanimátor.
Turnaj měl velmi rozmanitou top8, ve které jsme mohli vidět 4C Control, UWR Stoneblade, oldschool RUG Delvera s Nimble Mongoose a Stifly, BUG Food Chain, OmniTell, BUG Delvera, Eldrazi a BUG Control.
Převaha Deathrite Shaman decků byla drtivá, ale ve finále (či spíše už předtím v top4) se přece jenom musely sklonit před OmniTellem Dennise Zense, který tam porazil RUG Delvera pilotovaného Mariusem Benderem.
Ani na tomhle turnaji nechyběl Tomáš Már, který znovu uhrál 6:3, což stačilo na 31. místo.
4. Národní Mistrovství - druhá vlna (Standard + Draft)
Druhá vlna nationals byla vůbec tou největší s turnaji v devětadvaceti destinacích. Hrálo se například skoro všude v Jižní Americe (s výjimkou Brazílie), v Anglii, na Slovensku, nebo v Indonésii a Filipínách, kde jsou podobné turnaje tradičně hojně navštěvované.
Zde je přehled dat, které se mi podařilo nashromáždit:
Anglie: 390 hráčů - Autumn Burchett - 4C Energy
Argentina: Luis Salvatto - Monoblack Zombies
Dominikánská republika: 37 hráčů - Jose Alvarez - RUG Energy
Estonsko: 45 hráčů - Raul Kask - RUG Energy
Chorvatsko: 77 hráčů
Filipíny: 473 hráčů - Ryan Espano - UW Eldrazi
Indonésie: 161 hráčů - Tje Fei - Mardu Vehicles
Island: 40 hráčů
Jihoafrická republika: 135 hráčů
Kypr: 21 hráčů - Nicolas Papadopoulos - Ramunap Red
Lotyšsko: 17 hráčů
Lucembursko: 24 hráčů
Makedonie: 20 hráčů
Mexiko: Emmanuel Ramírez
Nizozemí: 198 hráčů - Kevin Grove
Rakousko: 158 hráčů - Elias Klocker
Rusko: 274 hráčů - Evgeniy Schetka - Mardu Vehicles
Řecko: 109 hráčů
Slovensko: 72 hráčů - Peter Snoha - Monoblack Zombies
Švýcarsko: Simon Leigh
Taiwan: 204 hráčů
Turecko: 46 hráčů
Venzuela: 35 hráčů - Daniel Fior - Ramunap Red
chybějící data: Hong Kong, Kostarika, Malta, Peru, Portoriko, Uruguay
5. MTGO Weekly Challenges (Modern, Legacy, Vintage, Duel Commander, Pauper)
Modernová challenge nabídla celou řadu zajímavých decků. Vítězem se tu stal Gobern se zajímavou verzí Bant Knightfallu, která netradičně nehrála do komba Kessig Wolf Run. Šlo pouze o minimalistickou verzi se Sejiri Steppe. Ve finále porazil Lantern Control.
Nezvykle vysoko umístěné jsme mohli vidět GW Aury, se kterými byl čtvrtý "GameOnSummerside".
Nejunikátnější deck v top8 byla ale neobvyklá verze Vizier komba, která se soutředila na co nejrychlejší kombokill. V decku bylo spoustu tutorů jako Summoner's Pact, Weird Harvest, nebo Traverse the Ulvenwald, ale i jiné zajímavé kusy jako Hall of the Bandit Lord (v playsetu) a Pact of Negation.
V top8 tradičně nechyběly ani Eldrazi decky, které tam byly hned ve třech - dvakrát v podobě Death and Taxes a jednou díky Tronu. Poslední místo v top8 patřilo UW Controlu, který tradičně pilotoval Gul_Dukat.
V top16 byli nejzajímavějším deckem Merfolci netradičně s černou splashí - na Fatal Push a Thoughtseiezu v sidu. Vidět jsme opět mohli i zajímavou verzi Kiki Chordu s Blood Moony a Fiery Justice, se kterou se docela často v popředí umísťuje "hotshot_162".
Na legacy jsme mohli vidět velmi pestrou top8 se sedmi různými decky. Z vítězství se tu radoval Alakazimdk s hodně kontrolními Topless Miracly, ve kterých měl ovšem v sidu playset Mentorů.
Poraženým finalistou byl Heibing s Esper Delvem, který využívá synergie mezi Thought Scourem, Gurmag Anglerem a Lingering Souls.
Na další místech byl k vidění 4C Control, Dark Bantblade, BUG Death's Shadow s Berserky, Colorless Eldrazi, Maverick s velkým Green Sun's Zenith toolboxem a druhý 4C Control.
Mimo top16 bylo složení decků velmi podobné - trojice dalších 4C Controlů, RUG Delver, BUG Delver (s Lilianou, the Last Hope), Death and Taxes, Dark Bant a Colorless Eldrazi.
Vintage se nesla ve znamení trojboje Ballista Shopů, Paradoxical Outcomu a UR Delvera.
Nejvíce štěstí měl nakonec Paradoxical Outcome, který v kombinaci s Mentorem a Vault/Key kombem zajistil prvenství lampalotovi.
Na dalších místech byly především tři výše zmiňované decky. Druhé a sedmé místo patřilo UR Delverovi, třetí a čtvrté Ballista Shopům, páté a osmé další Paradoxical Outcome deckům (jeden hrál navíc Maguse of the Future) a poslední místo v top8 uzmul klasický UWR Mentor.
Těsně za top8 skončil UW Stoneblade a v top16 jsme mohli vidět i UW Landstill. Jinak byly v top16 už jenom tři Ballista Shopy, Paradoxical Tezzerator, UWR Mentor a Shopy s Though-Knot Seerem.
V Commanderu bylo nezvykle finále bez Brey a 4C Tempa (Tymna + Kraumem). Utkal se v něm Jeskai Tapout Control s Narset se 4C Midrangem, kterému vévodila dvojice Thrasios a Bruse Tarl. Z tohoto souboje vzešla vítězně Narset.
Na dalších místech už ale byly samé klasiky - čtvrté místo ještě patřilo Monogreenu s Nissou, ale zbytek top8 obsahoval dvě 4C Tempa, Breyu a dva Baraly.
Podobné to bylo i v top16, kde byla dokonce hned čtyřikrát Breya, Baral, Leovold a 4C Tempo. Jedinou další inovaci představoval Monored se Zurgem.