Novinky
Flash News #37/2017
V těchto Flash News se podrobněji podíváme na 2017 World Championship a vybrané balíčky plus finále Team Series, které zde také proběhlo. Nechybí Online PTQ a bonus ve formě Commanderu.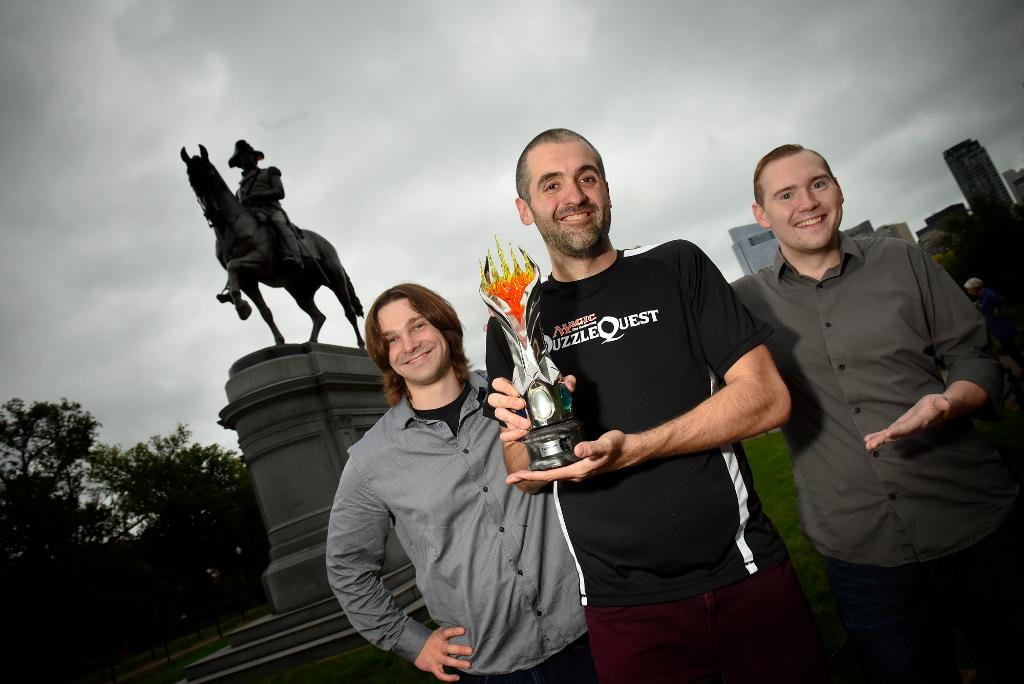 1. World Championship 2017 (Draft + Standard)
V Americkém Bostonu proběhlo minulý týden mistrovství světa jednotlivců (a finále PT týmové série), které se zúčastnilo 24 kvalifikovaných hráčů. Ani letos nebylo bez české účasti, když se mezi kvalifikované dostal Martin Jůza, pro kterého to byl návrat na MS po třech letech.
Turnaj měl stejný formát jako v posledních letech, tedy dvakrát draft následovaný čtyřmi koly standardu a poslední den finálová top4, kde se hraje standard.
Už na začátku prvního dne, po skončení prvního draftu, se bohužel navázalo na nepříznivou tradici, kdy se našim hráčům na MS příliš nedaří. Ačkoli se Martin Jůza kvalifikoval jakožto Pro Tour Draft Master, tak z prvního draftu měl pouze jednu výhru.
Nejlépe turnaj začala trojice William Jensem, Josh Utter-Leyton a Christiano Calcano. Pro standardovou část prvního dne byl už během prvního kola zveřejněn metagame breakdown a bohužel bylo jasné, že v takto prestižním turnaji nebude nikdo chtít riskovat, takže všichni sáhli po jednom z trojice decků RUG Energy, UB Control a Ramunap Red.
Pouze jediný hráč uhrál na standardu perfektní skóre 4:0 - byl to William Jensen (RUG Energy), který měl po prvním dni náskok dvou výher na své nejbližší pronásledovaltele, kterými byli Josh Utter-Leyton, Kelvin Chew a Seth Manfield.
Martin Jůza uhrál s Ramunap Redem pouze 2:2 a jeho šance na top4 už byly spíše jenom v teoretické rovině.
Ve druhém dni pokračoval v trháku William Jensen, když po dalším 3:0 na draftu měl náskok devíti bodů před Joshem Utter-Leytonem a jako první si zajistil postup do finálové top4.
Po draftu bylo jasné, že maximální počet proher pro postup do top4 bude pět, což znamenalo, že o zbylé tři místa bojuje ještě stále jedenáct hráčů, mezi kterými jsou mimo jiné i Reid Duke a Owen Turtenwald, což znamenalo, že by teoreticky mohl celý tým Peach Garden Oath hrát finále na MS.
V posledním kole mezi sebou hráli o přímý postup Josh Utter-Leyton s Owenem Turtenwaldem a Reid Duke s Kelvinem Chew. Všechno ještě mohl navíc zamotat Javier Dominguez, kdyby porazil Williama Jensena.
Peach Garden Oath měl nakonec dost velkou smůlu - Owen Turtenwald i William Jensen prohráli, což nakonec znamenalo, že Reid Duke i přes výhru zůstal na smolném pátém místě. Naopak Javier Dominguez předvedl heroický výkon, když pro postup do top4 potřeboval čtyři výhry v řadě, které nakonec získal!
V neděli konečně přišla na řadu finálová top4, která se nesla v duchu souboje UB Controlu proti zbytku světa. Josh Utter-Leyton (UB) hrál proti Javieru Dominguezovi (Ramunap Red) a Kelvin Chew (UB) proti Williamu Jensenovi (RUG).
První semifinále bylo velmi rychlé, když Javier zvítězil hladce 3:0. Ve druhém semifinále oplatil William Jensem porážku ze základní časti Kelvinu Chew (byl vůbec první za celý víkend, kdo dokázal Williama porazit).
To asi příliš nepotěšilo Javiera Domingueze, jelikož Ramunap Redu se nejhraje příliš dobře proti kartám jako Whirler Virtuoso a Bristling Hydra. Finále se vyvíjelo podle papírových předpokladů a William Jensem po výhře 3:1 vystřídal Briana Braun-Duina na magicovém trůnu a k tomu si ještě odnesl rekordní šek na 100 000$.
Díky tomuto triumfu se William dostal i do čela pořadí v souboji o titul "Player of the Year", kde má aktuálně náskok pěti bodů na Martina Jůzu, který nakonec se skóre 6:8 skončil šestnáctý, což mu vyneslo tři pro pointy a 5 000$.
Teď ještě zbývá se detailněji podívat na jednotlivé decky. Rozdělení na archetypy vypadá takto:
10× Ramunap Red
9× RUG/4C Energy
5× UB/Grixis Control
Podrodbněji nám z toho vyjde následující složení decků:
9× Ramunap Red
6× RUG Energy
4× UB Control
3× 4C Energy
1× Treasure Red
1× Grixis Control
Ramunap Red
Nejpopulárnější deck MS byl Ramunap Red, který těžil ze síly Hazoret a z nových karet jako Lightning Strike, Rampaging Ferocidon, či Rigging Runner. Navzdory tomu byly ale jeho výsedky dost špatné. Kladné skóre s ním měli pouze tři hráči a součet celkových výsledků byl 30:42.
Za zmínku stojí, že několik hráčů hrálo maindeck Harsh Mentory, kteří jsou dobří proti Energy deckům. A také zajímavá agresivní verze s playsety Rigging Runnerů a Rampaging Ferocidonů, kterou hrál Martin Jůza.
RUG Energy
Druhý nejpopulárnější deck byl RUG Energy. Většina hráčů se rozhodla zůstat u tříbarvy a proti Scarab Godovi bojovala pomocí karet jako Essence Scatter a Confiscation Coup. Tým Peach Garden Oath měl navíc zajímavý plán po sidu, který umožňoval přejít na kontrolní konfiguraci s kartami jako Torrential Gearhulk, Negate, Supreme Will, či Glimmer of Genius.
Výsledky RUG Energy byly velmi dobré - s výjimkou Kena Yukuhira s ním všichni uhráli pozitivní skóre a jejich celkový výsledek byl 29:19.
UB Control
Novinkou turnaje byl UB Control, který vystřídal UW Approach v pozici nejhranějšího kontolu na formátu (zejména proto, že Approach je špatný proti jiným kontrolům. Černá má navíc obrovskou výhodu, protože po sidu může mít až celý playset Duressů).
Klíčová karta v decku byla Search for Azcanta, která umožňovala hrát velké množství karet, jenž se se soupeřovými hrozbami mění jedna za jedna. Kvůli rychlému transformování Azcanty dali dostala dokonce Hierglophic Illumination přednost před Glimmer of Genius.
Další zajímavost byl Vizier of Many Faces, který se objevoval v sideboardech coby odpověď na Carnage Tyranta, kterého ale nakonec vůbec nikdo nehrál...
Deck nijak převratných výsledků nedosáhl, nejlepšího výsledku s ním dosáhl Kelvin Chew (6:2), který hrál vlatní verzi s Glimmer of Genius a Essence Extraction v mainu. Jako jediný měl také k dispozici sweeper v podobě jednoho Bontu's Last Reckoning v sidu.
Celkové skóre decku bylo 19:13.
4C Energy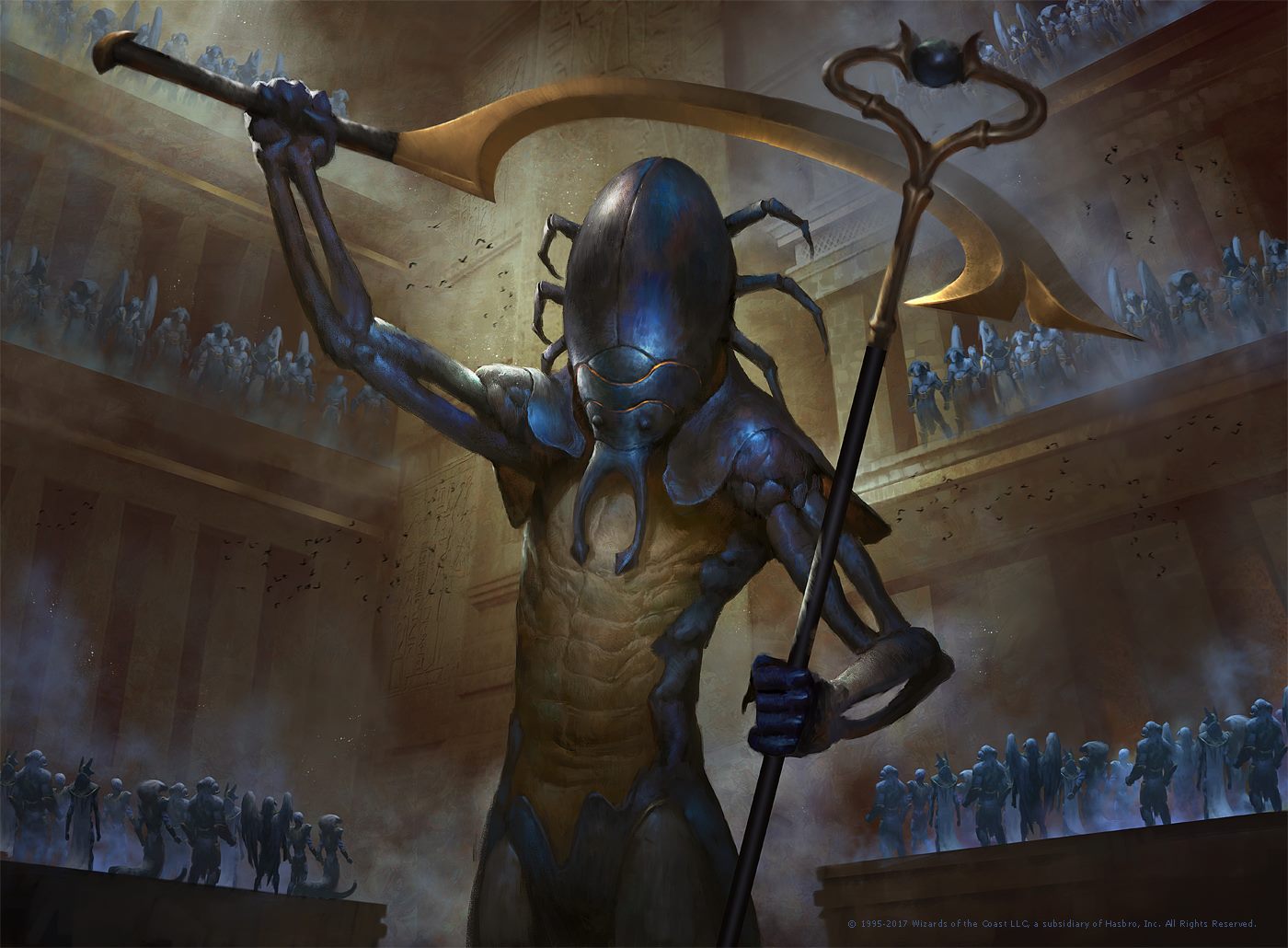 Na Scarab Goda byli všichni dobře připraveni, ať už šlo o Confiscation Coup, či Vraska's Contempt. Splahovat čtvrtou barvu tak bylo spíše nevýhodou. Co se mi ale oproti RUG verzím líbilo, byla Chandra v mainu, která byla opravdu dobrá proti všem kontrolům.
Deck měl podobný winrate jako UB Control a RUG Energy s celkým skóre 14:10.
Ostatní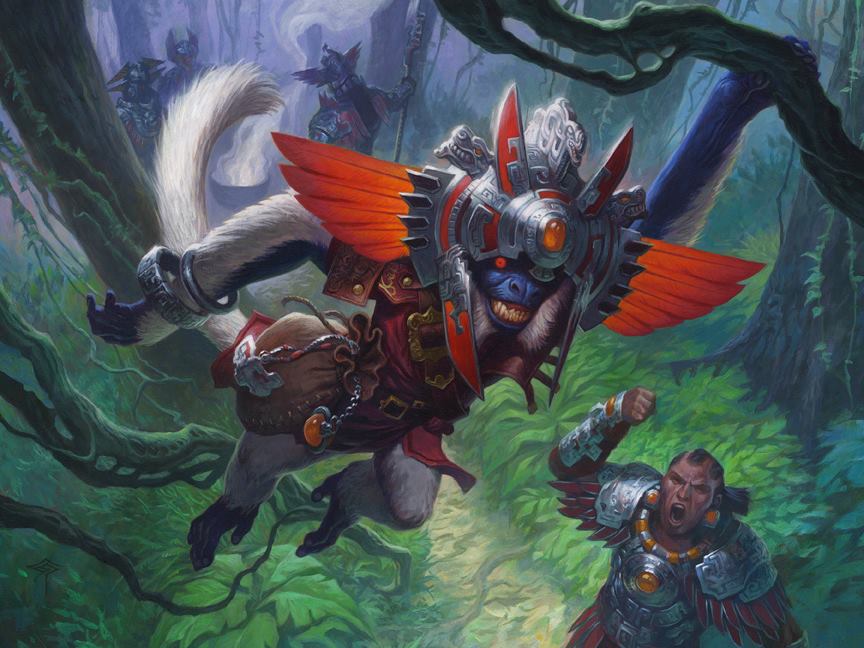 Pouze dvojice hráčů našla dostatek odvahy na to, aby se na turnaji ukázala s originálním deckem. Byli to Shota Yasooka, který stejně jako na PT Kaladesh vsadil na Grixis Control, a Donald Smith, který hrál Big Red s Capitan Lannery Storm a Wily Goblinem.
Na svoji kreativnost a odvahu ale bohužel oba dva doplatili, když shodně dosáhli pouze na dvě výhry...
2. PT Team Series Finals (Team Sealed)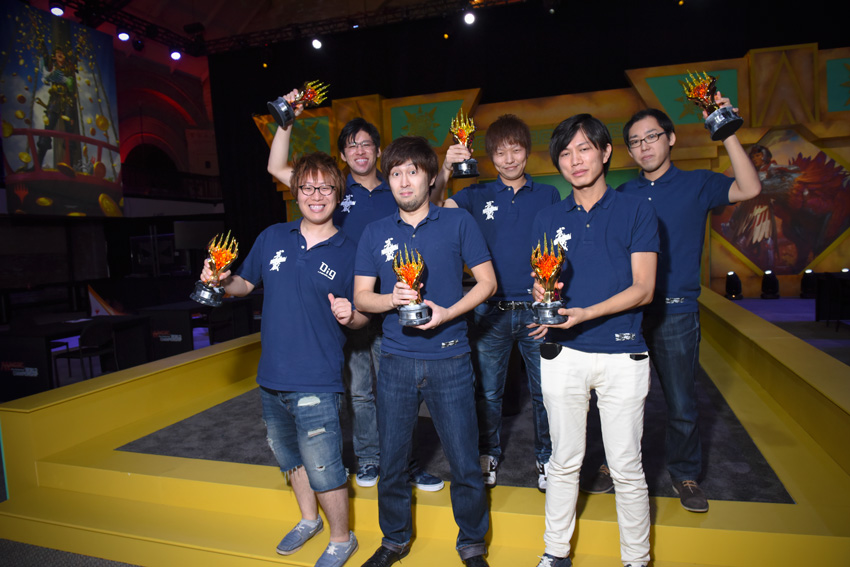 Součástí "worlds weekendu" byl i souboj o krále týmové série z PT, kterého se za tým Genesis účastnil i Lukáš Blohon. Formátem turnaje byl team sealed a pro vítězný tým bylo připraveno více než 100 000$.
Finálový souboj byl na programu v neděli před startem top4 jednotlivců. Formátem byl tým sealed trojic na dvě vítězné (oba týmy se rozdělily na dvě trojice).
První dva souboje měly různé vítěze, takže se rozhodovalo až ve třetím, kterého se účastnil i Lukáš Blohon. Bohužel, svůj zápas nestihl dohrát, jelikož oba jeho kolegové prohráli, což znamenalo, že šampiony v týmové soutěži pro sezónu 2016/2017 jsou Mushashi ve složení Yuuya Watanabe, Shota Yasooka, Ken Yukuhiro, Kentaro Yamamoto, Yuuki Ichikawa a Terurya Kakumae.
Upřímně řečeno, po přečtení jednotlivých jmen jejich vítězství moc velkým překvapením není...
3. Online PTQ (Standard)
Kvůli MS se nehrály žádné velké turnaje, takže primát za největší turnaj týdne získalo online PTQ s účastí 282 hráčů.
Turnaj byl již ovlivněn decklisty z mistrovství, čehož dokonale využil Watchwolf92, který zvítězil s RUG Energií, kterou hráli Peach Garden Oath.
Překvapením turnaje byly různé verze tokenů, které obsadily tři místa v top8. Mohli jsme vidět verzi se zelenou splashí pro Vrasku, UWb verzi s Jacem a Crested Sunmare, ale hlavně pěknou Esper verzi s Championem of Wits a Scarab Godem, která měla dokonce 9:0 v základní části.
Všechny decky ale mají společný základ s Anointer Priestem, Hidden Stockpile a Anointed Procession. Pokud se v nejbližší době chystáte hrát standard, tak bych rozhodně nešetřil na kartách, které se umějí vypořádat s enchantmenty.
Další zajímavé decky na předních příčkách byly WU Monument, BUG Energy, nebo UB Midrange. Nejhranějšími decky ale byly stále 4C Energy a Ramunap Red.
Zde je přehled decků se skóre 7:2 a lépe:
7× 4C Energy
5× Ramunap Red
2× RUG Energy
2× UB Control
1× BUG Energy
1× Esper Gift
1× Abzan Tokens
1× Esper Tokens
1× Sunmare Tokens
1× UB Midrange
1× WU Monument
4. Online Weekly Challenges (Modern, Legacy, Vintage, Duel Commander, Pauper)
V modernové challengi jsme mohli sledovat velmi neobvyklé finále, ve kterém UR Moon s Kiki-Jiki kombem porazil Esper Midrange, který hrál trojici Gideonů a ještě další walkery.
Na stupních vítězů je doplila stále populárnější verze Collected Company, která kombinuje 4C Humany s Retreat kombem.
V top8 dále byly čtyři Eldrazi decky - dvakrát Death and Taxes a dvakrát Tron. Všechno to na osmém místě doplnila Gr Devotion s Genesis Wavou.
Za top8 jsme mohli vidět další Eldrazi Tron, Boros Burn s maindeck Molten Rainem, Ad Nauseam, RG Ponzu, BR Moon s Demigody, dva Dredge a zajímavou kombinaci Death's Shadow, Dredge a Hollow One/Vengevine komba.
I na legacy jsme měli překvapivý vítězný deck. Ve finále zvítězil TonyMontana s Colorless Eldrazi, když porazil UW Stoneblade i přesto, že měl už v základu Back to Basics. Eldrazi k tomuto úspěchu navíc přidali ještě další umístění v top8.
Úplně nejvíce míst v top16 měly ale Death and Taxes, které tam byly třikrát (jednou ve WR verzi s Magusem of the Moon).
Ostatní decky v top16 byly Manaless Dredge, 4C Control, Storm, zajímavý "Chandra Tribal", ve kterém bylo minikombo Bottled Cloister + Ensnaring Bridge, dvakrát OmniTell, Elfové s dvojicí zajímavých karet v mainu v podobě Nissy, Vital Force a Crop Rotation, dva Grixis Delverové (oba hráli v mainu Stiffle) a odvážný mix UW Mentora s Reanimátorem.
Vintage konečně skončilo období nadvlády Workshop decků a mohli jsme vidět vemli rozmanitou top8 se šesti různými decky.
Vítězem se stal Oestrus s modrou variantou Dredge, která hraje Force of Will a Mental Misstepy. Za ním se seřadily Ballista Shopy, UW Landstill, URg Control, zajímavý Storm s playsety Show and Tellu a Bargainy, další Ballista Shopy, UR Delver a další Landstill.
Za top8 jsme mohli znovu vidět kombo-artefakty s Mirage Mirrorem, UWR Mentora, BUG Control, Oathy, nebo klasickou oldschool verzi Dredge.
Commander měl poslední velký turnaj, kde si hráči mohli zahrát Baral, Emrakul a silné tutory, které jsou už nyní na seznamu zakázaných karet.
Na turnaji konečně nezvítězila Breya ani 4C Tempo s Tymnou a Kraumem, nýbrž midrange verze Leovolda, která zajímavě nehrála žádnou s lock karet jako Geier Reach Sanitarium, Anvil of Bogardan, nebo dokonce Timetwister...
Na dalších místech už jsme ale mohli vidět pouze samé tier decky - hned čtyřikrát 4C Tempo s Tymnou a Kraumem, čtyřikrát se umístila i Breya, dvakrát Baral a jednou Narset a Nissa. Více hráčů už v šesti kolech na čtyři výhry nedosáhlo.
V Pauperu jsme ve finále viděli mirror WR Metalcraftu. Vedle něj bylo v top16 hned čtyřikrát Monogreen Aggro, klasický UB Control, dvakrát Monoblue Delver, UB Blink, zajímavý Esper Blink, Burn s Firebrand Archerem, Atog Affinita, UR Prowess s Kiln Fiendem a dvakrát UR Delver.
5. Bonus - French Commander
V dnešním bonusu se podíváme na výsledky commander turnaje ve formátu french EDH (na 20 životů). Turnaje se zúčastnilo 45 hráčů a šlo tedy o první větší turnaj po banu Edgar Markova a silných červených kusů jako Eidolon of the Great Revel, Sulfuric Vortex a Price of Progress.
Turnaj vyhrál Antione Rage s Doranem, ve kterém neměl s generálem žádné větší synergie. Hádám, že jde celkově o dobrého generála proti jiným aggrům.
I přes aktuální ban skončil na druhém místě Zurgo v klasické verzi s haste bytostmi a spoustou burnu.
Na dalších místech byl 4C Goodstuff se Saskií, UB Control se Scarab Godem, 4C Goodstuff pro změnu s Atraxou, Soul Sisters s Karlovem, Komborampa s Gitrog Monstrem a Monogreen Rampa s Titanii.
Vypadá to jako pěkný mix různých decků a strategií, ale bohužel na formát už většina hráčů kvůli neustálým drastickým změnám v banlistu zanevřela, což je škoda...
Top8 decklisty si můžete prohlédnout zde.
A to je pro dnešek vše, na viděnou zase u dalšího vydání.
Kumano
Komentáře
Přispívat mohou pouze přihlášení uživatelé. Pokud chcete vložit komentář, přihlaste se ZDE.