Novinky
Flash News #38/2017
V těchto Flash News se podíváme na výsledky poslední vlny Nationals, které doplní modernové SCG Open Charlotte. Nebudou chybět tradiční Online turnaje a jako bonus je připraven Commander.
1. Třetí Vlna Nationals (Draft + Standard)
Uplynulý víkend se konala poslední runda národních mistrovství, která čítala jednadvacet turnajů. Hrálo se mimo jiné ve Spojených Státech, Brazílii, Itálii, nebo Španělsku.
Decklisty jsou známy ze čtrnácti destinací, ve kterých hned šestkrát triumfoval RUG Energy, což je patrně aktuálně nejhranější a nejlepší na formátu. Celkem byl ve všech zveřejněných top8 jedenatřicetkrát, což představuje více než čtvrtinu herního pole.
Dobrá zpráva je, že zbytek byl celkem rozmanitý - čítal patnáct různých decků, včetně méně obvyklých kreací jako RB Aggro, UB Midrange, Mardu Vehicles, RUG Dinosauři, nebo UW Sunmare.
31× RUG Energy
18× Ramunap Red
13× BUG Energy
9× 4C Energy
8× Abzan Tokens
6× UW Approach
5× UB Midrange
4× UB Control
4× Mardu Vehicles
4× Esper Tokens
3× BR Aggro
2× RG/RGu Pummeler
2× Esper Control
RUG Dinosaurs
UW Sunmare
Grixis Control
Zajímavé je, že díky velké popularitě RUG Energy se hráči snažili přijít na nějaké techy pro mirror. V sideboardech jsme tak mohli vidět karty jako Nicol Bolas, Carnage Tyrrant, nebo River's Rebuke, což je i skvělá karta proti stále populárnějším tokenům.
Velkými favority na týmovém MS budou Američani, kteří k Reidu Dukovi získali další zvučná jména - nejmladším mistrem v historii se stal šestnáctiletý Oliver Tomajko, když ve finále porazil Gerryho Thompsona.
Podobně zvučný tým mají i Brazilci - k PVmu (ten byl mimochodem v top8 i na samotných nationals) se přidali Carlos Romao coby mistr a Lucas Berthoud.
Z Amerického mistrovství byly zveřejněny i další dva zajímavé decky. Desátý skončil Adam Biakowski s RW Midrangem, který obsahoval kombo Sunbird's Invocation + Approach of the Second Sun.
Devětadvacátý byl Colron Chambers s originálním BR Aggrem, které mimo jiné obsahovalo playsety Bone Pickerů a Rampaging Ferocidonů. Uhrál s ním perfetkní skóre 6:0.
2. SCG Open Charlotte (Modern)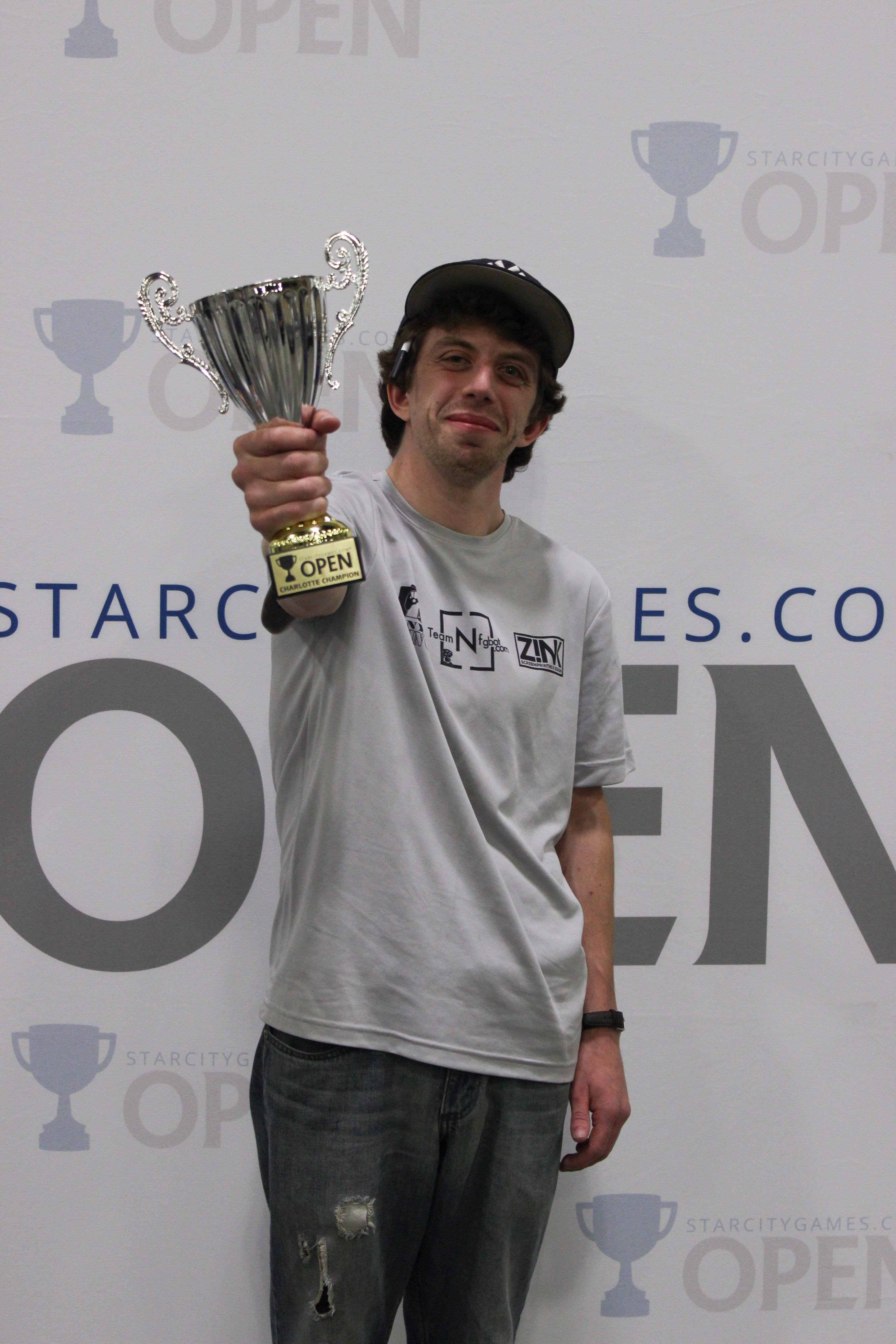 Návrat nationals byl ve státech populárnější než modern. Zatímco v Charlotte se sešlo 538 hráčů, tak nationals se účastnilo dokonce 601.
Typickým znakem modernu v posledních měsících je obrovská rozmanitost, která panovala i v Charlotte. Ve druhém dni bylo 128 hráčů, mezi kterými se našlo dvaačtyřicet různých decků. Stejně jako při posledním modernovém Open byly dva nejhranější decky Eldrazi Tron (15 hráčů) a Affinita (13 hráčů). Díky minulému úspěchu stoupla popularita UWR Tempa, které hrálo deset hráčů.
Překvapením pro mne byli i čtyři hráči s RG Ponzou a tři s 8-Rackem, který v posledních týdnech zpopularizoval Tom Ross.
Rozmanité výsledky byly i v top32, kde bylo čtyřidvacet různých decků. Nejhranější Eldrazi Tron úplně propadl, když jeho jediný hráč v top32 skončil na místě jednatřicátém.
Naproti tomu Affinita byla nejúspěšnějším deckem s pěti hráči. Zajímavé bylo, že hned několik z nich hrálo méně obvyklé karty (většinou jako one-of) jako Claim/Fame, Hope of Ghirapur, Hazoret, Dispatch, nebo Stubborn Denial.
V top8 si ale se všemi Affinitami poradil Paul Muller s Gifts Stormem. Vítězství Stormu je podle mě relativně nebezpečné, jelikož to rozhodně není deck, proti kterému si hru nějak zajímavě užijete. Vydání Barala a Optu možná nebyl úplně nejlepší krok.
Znepokojující je, že Paul Muller v top8 dokázal porazit Affinitu Pietera Tubigena, která byla speciálně upravená pro tenhle matchup. Pieter hrál v mainu Hope of Ghiraput, Stubborn Denial a v sidu dokonce i Thalii, Eidolona of Rhetoric a Stain the Mind.
Když odhlédneme od první pětky, kde byly dvojice Stormů, Affinit a Grixis Death's Shadow, tak zjistíme, že k vidění bylo plno zajímavých decků.
V top8 byl speciál Todda Stevense v podobě GW Comapny, pěkná verze RG Ponzy s velkým množství dobrých midrange bytostí jako Huntmaster, Tireless Tracker a Nalaarovi, nebo zajímavá UG verze Merfolků, která hrála zelenou kvůli dvojici nových karet - Kumena's Speaker a Merfolk Branchwalker. Deck má tak nižší křivku a měl by být více agresivní. A nesmím opomenout ani Kopalu, která v decku nahradila Kiru.
Mimo top8 jsme mohli vidět například zajímavou verzi Infectu s Jacem, Vryn's Prodigy, midrange verzi Eldrazi v BW barvách, Mardu Midrange s velkým množství planeswalkerů a Goblin Dark-Dwellers, nebo zajímavou kombinaci RW Burnu a RG Zoa.
Populární byly i různé multicolored verze Humanů, kterým vyšly nové posily v podobě Kitesail Freebootera a Unclaimed Territory (a do sidu Shaper's Sancuary). Zajímavou verzi s Abzan základem hrál například Brennan DeCandio.
3. SCG Classic Charlotte (Modern + Standard)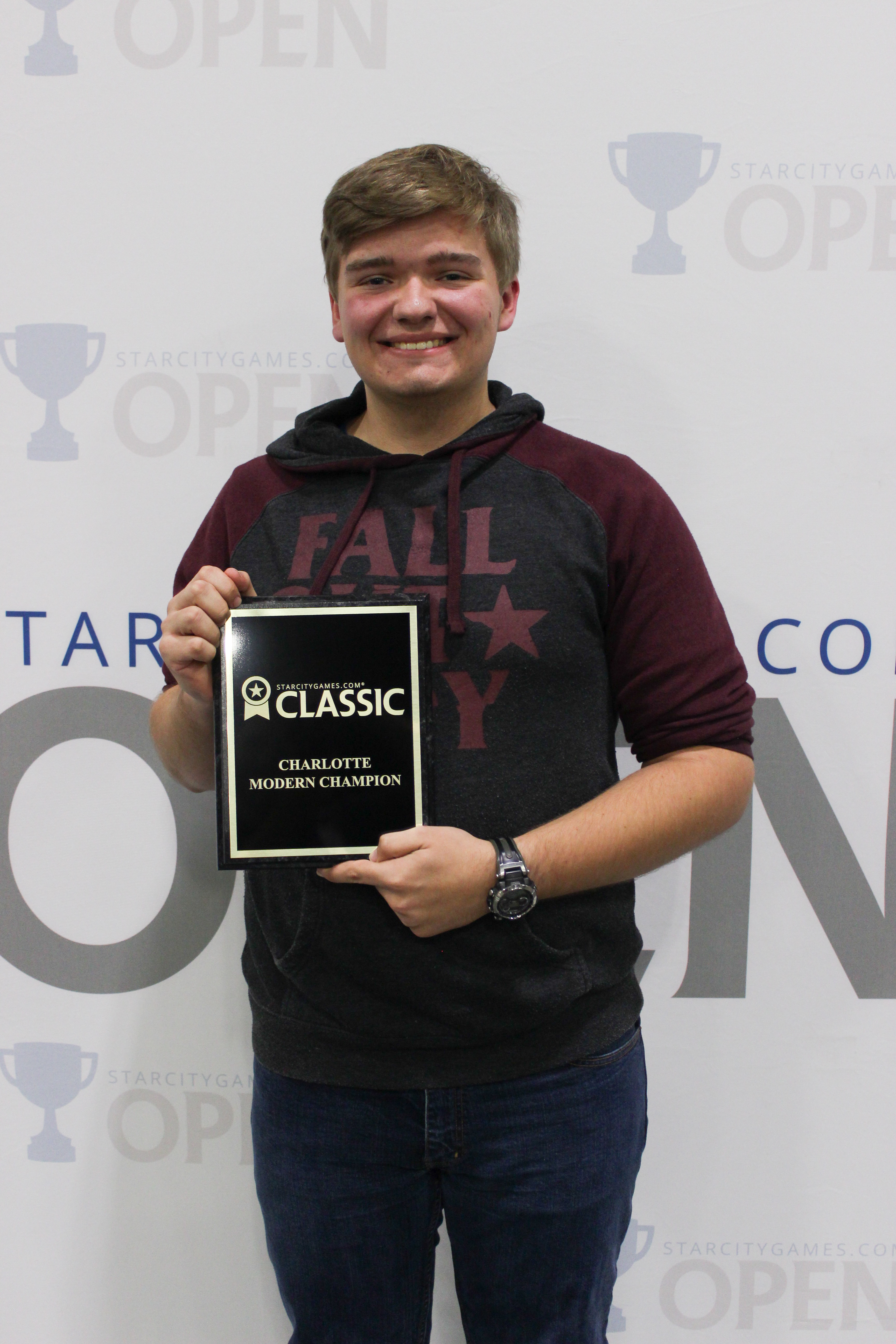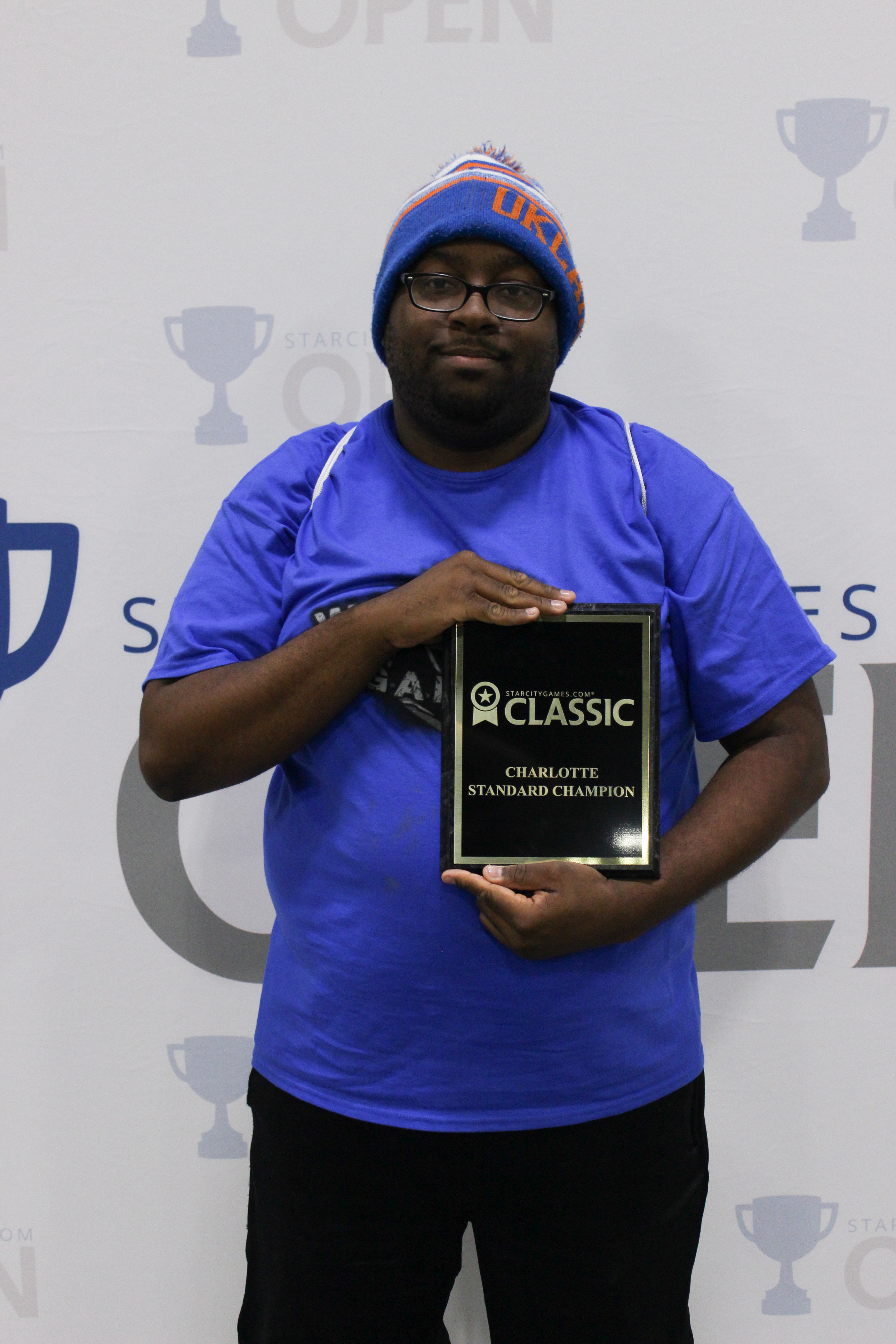 V Charlotte byly obě klasiky podobně velké. Modernové se zúčastnilo 103 hráčů, což znamenalo sedm kol základní části.
Ve finále se tu utkali Jacob Ballington s klasickou verzí Jeskai Tempa a Harlan Firer se zajímavým RUG Midrangem, který kombinoval bytosti jako Tarmogoyf a Huntmaster s tempo kartami jako Remand a Cryptic Command.
Na dalších místech byly dva Gifts Stormy, RG Scapeshift, Mardu speciál s Faithless Lootingy a Bedlam Revelerem, Jeskai Nahiri a zajímavá verze Kiki-Jiki komba s Eldritch Evolution, která zároveň obsahovala i Saheeli.
Mimo top8 byl nejzajímavější další mix dvou komb, což bylo Bant Company s Vizierem a Devoted Druidem, a Knight of the Reliquary s Retreat to Coralhelm.
Standard měl účast osmasedmdesáti hráčů, mezi kterými se překvapivě nejvíce dařilo Esper Giftu, který obsadil dvě místa v top4 a ještě jedno další v top16. Triumfoval s ním Justin Gregory, když ve finále porazil Ramunap Red.
Ramunap Red byl spolu s RUG Energy nejčastější deck v top16 - oba dva tam měly čtyři zástupce.
Ve zbytku pak bylo po jednom BR Aggro (s Bone Pickery), UW Approach, UB Control, Mardu Vehicly a netradiční Monowhite Aggro s vampýry a Oketra's Monumentem.
4. Online PTQ (Standard)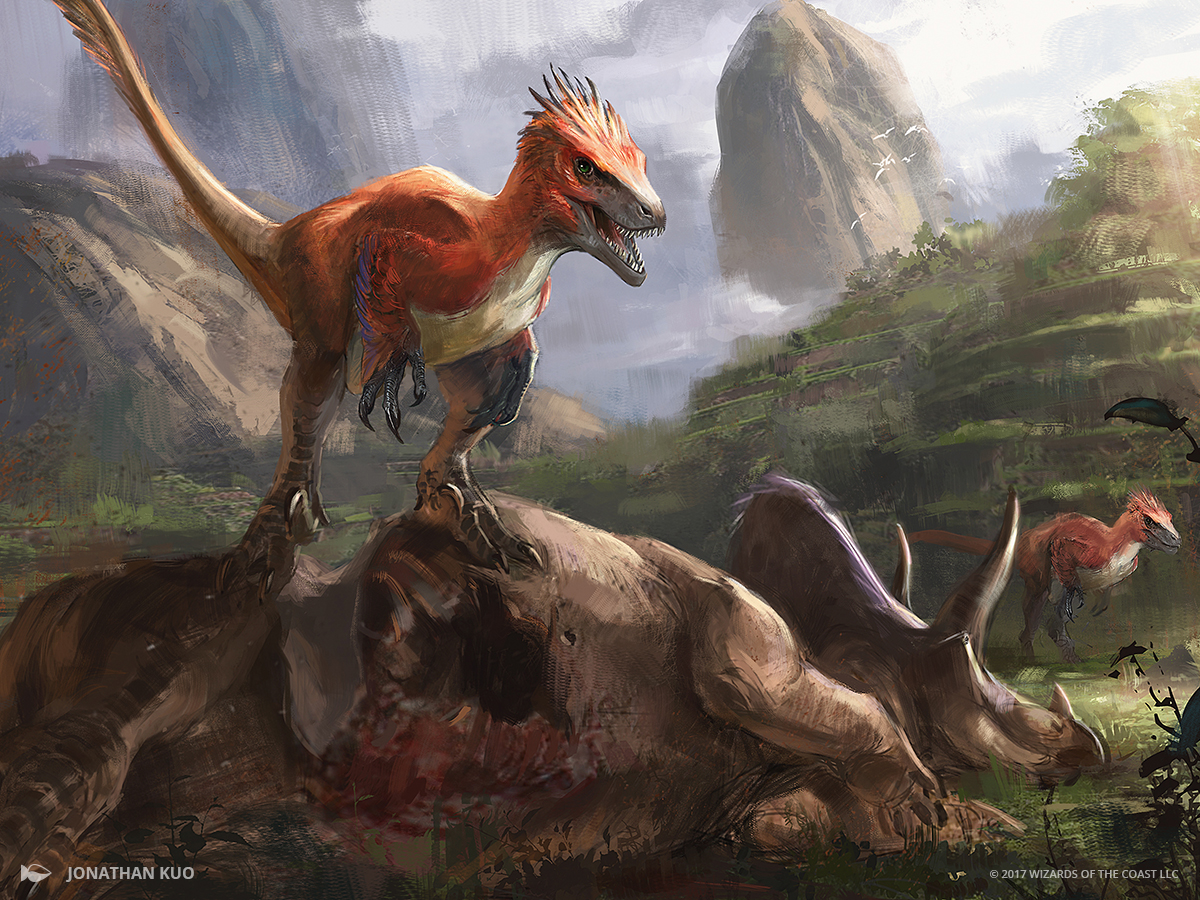 Vedle nationals se hrál opět i velký standard na onlinu. Udržel si velkou popularitu posledních týdnů, když se ho zúčastnilo 263 hráčů. Navzdory tomu se hrálo pouze osm kol, což znamenalo, že hned dvaadvacet hráčů skončilo s výsledkem 7:1 a lépe.
Nejúspěšnější deck turnaje byl Ramunap Red, který plně obsadil stupně vítězů a celkem měl šest hráčů mezi nejlepšími.
Na předních místech mě překvapily hned tři různé verze God-Pharaoh's Giftu (Esper, 4C se Servantem of the Conduit a UW). Další úspěšné decky pak byly stálice formátu jako RUG a BUG Energy, různé verze tokenů, či UB a UW Control. Zde je úplný přehled:
6× RR
4× RUG Energy
2× Abzan Tokens
2× BUG Energy
1× Esper Gift
1× 4C Gift
1× UB Control
1× UW Approach
1× UW Gift
1× BW Tokens
1× BR Aggro
1× Esper Tokens
Jako bonus zmíním zajímavý Tezzerator v esper barvách, se kterým obsadil třiadvacáté místo Conley Woods. V decku je minikombo Marionette Master + Spell Swindle, ale také tokenové synergie s Hidden Stockpile a Treasure Map.
5. Online Weekly Challenges (Modern, Legacy, Vintage, Duel Commander, Pauper)
Modernovou challenge si podmanily Trony. Vítězem se stal "vandrwll" s poměrně nezvyklou verzí, která byla až na pár zelených karet zcela bezbarvá. Namísto více hranějších Gb verzí ale v decku neměl Oblivion Stony, jež vyměnil za více interaktivní karty v podobě Dismemberů, Thought-Knot Seerů a Walking Ballistů, které dokonce hrál v playsetu.
V top16 byly ještě další Trony - jeden v klasický Gb variantě a dva Eldrazi.
Top8 se dále skládala z Jundu, který hrál hned šest Lilian, RG Scapeshiftu, 4C Humanů s Kitesail Freebooterem a Unclaimed Territory, Monowhite Death and Taxes, Jeskai Controlu, RG TitanBreache a jednoho z Eldrazi Tronů.
Na dalších místech mne nejvíce zaujaly dva Lantern Controly s Whir of Invention a RG Aggro s Vengivine a Hollow One.
Úplně nejzajímavější brew ale byly mezi decky se skóre 4:3. Pětadvacáté místo patřilo zajímavé verzi HollowVine Aggra, která byla zkombinovaná s Atarka Zoem. V decku byla i malá černá splash na sidovky v podobě Collective Brutality, Terminate a Rakdos Charmu.
O jedno místo za ním byla zvláštní UG verze Lantern Controlu, která hrála Utopia Sprawl a novinkové kusy v podobě Search for Azcanta a Sorcerous Spyglass. A s "mill rocky" je docela vtipná karta i Set Adrift, který byl v decku jednou na chuť.
Legacy se nesla ve znamení pestré metagame, když jsme v top16 mohli vidět jedenáct různých decků. Nejhranější byl Grixis Delver se čtyřmi hráči v top16, z nichž byl ale nejlépe umístěný na patém místě. Ve většině decklistů byl vidět trend, kdy hráči hrají méně Young Pyromancerů a více Snapcasterů a Stiflů.
Celkovým vítězem se stal "funkydude787" s BR Reanimatorem, ve kterém měl malou zelenou splash na sidovky v podobě Abrupt Decaye a Reverent Silence.
Na dalších příčkách jsme mohli vidět Death and Taxes s malou zelenou splashí na Qasali Pridemage a Choke v sidu, 4C Control (pilotovaný Petrem Sochůrkem), Food Chain, dva Stormy (jeden s Burning Wishi), Dredge, zajímavý UWR Control s Monastery Mentorem a Punishing Firy (avšak bez Dack Faydena), hodně divoký BUG Aluren s As Foretold a playsetem Ancestrail Vision a některými zajímavými one-ofy jako Magus of the Will a Tablet of the Guilds v sidu, druhý 4C Control, UW Stoneblade s Back to Basics a konečně Dragon Stompy.