Novinky
Flash News #39/2017
V těchto Flash News nás nečekají žádné Grand Prix turnaje, ale zato pořádná várka "těch ostatních" turnajů. Můžete se těšit na SCGO Cincinnati, obří várku informací z Magic Online, pohled na americký Eternal Weekend a zákusek v podobě French Duel Commanderu.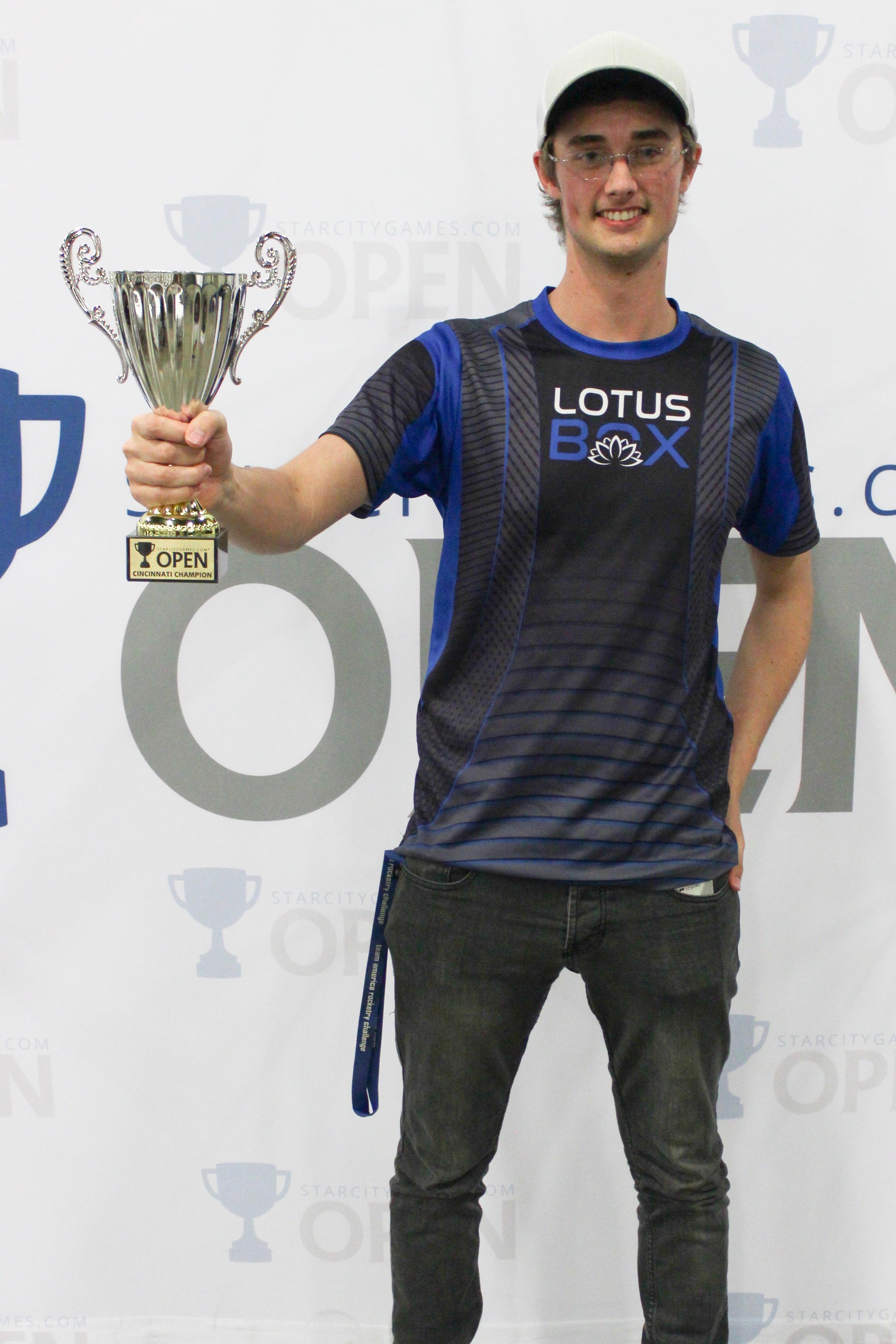 1. SCG Open Cincinnati (Modern)
StarCityGames před časem ohlásilo, že další rok bude hlavním formátem open série modern, což je očividně dobrá volba, jelikož do Cincinnati přišlo 773 hráčů, což je jedna z letošních nejvyšších účastí.
O to složitější bylo se dostat do druhého dne, na který bylo potřeba uhrát 7:2. To se povedlo 67 hráčům, mezi kterými jsme mohli vidět třicet různých decků.
Suverénně nejpopulárnější byly různé verze Death's Shadow a Collected Company, které hrálo deset, respektive devět hráčů. Další populární decky byly Gifts Storm, Elfové a překvapivě i Infect, za jehož popularitou zřejmě stojí dobré výsledky týmu Lotus Box na předchozím Open. Všechny tyto decky hráli shodně čtyři hráči.
Vítěz byl ale ze zcela jiného soudku - konkurenci naprosto převálcoval Collins Mullen s vlastní pětibarevnou verzí Humanů. Za celý turnaj prohrál jenom jeden zápas a ve finále dokonce efektivně zvítězil ve druhém kole, když proti stormu zahrál Meddling Mage na Grapeshot.
Jeho úspěch se skrýval v ideálním mixu disrupce a agresivity, když se karty jako Kitesail Freebooter, Meddling Mage, Reflector Mage či Thalia, Heretic Cathar skloubily s agresivními kusy jako Mayor of Avabruck, Champion of the Parish, nebo dokonce Mantis Rider, kterého mohl deck hrát díky trojici tribal landů - Cavern of Souls, Ancient Ziggurat a Unclaimed Territory.
Poražený nešťastník se Stormem byl Scott Simmons. Storm měl klasicky velmi dobré výsledky, ačkoli ho nehrálo příliš mnoho hráčů. Tři ze čtyř ve druhém dni se dostali do top16. Myslím si, že stormu ve větší dominanci brání hlavně fakt, že je to dost specifický deck, který není pro každého.
Další deck s dobrými výsledky bylo Collected Comapny s Vizier kombem. Nejlépe umístěný s ním byl na třetím místě Ben Ragan, ale nejhranější byla trochu překvapivě Bant verze, která už nehrála Relikviáře s Retreatem, ale pouze se soustředila na Vizier kombo. Raja Sulaiman byl dvanáctý se zajímavým buildem s Fauna Shamany.
Vidět jsme ale mohli i oldchool Abzan verzi s Melirou a Archangelem of Thune, Bant Knightfall a GW, které hrál tradičně Todd Stevens.
V top8 jsme také mohli znovu vidět UG Merfolky s posilami z Ixalanu v podobě Kumena's Speakera, Merfolk Branchwalkera, Kopaly a také Unclaimed Territory.
Překvapením byl určitě i Infect na pátém místě, kde nebyly žádné speciální techy jako maindeck Jace, Vryn's Prodigy, nebo Shapers' Sanctuar. Zato ale obsahoval alternativní plán v sidu, který zahrnoval playset Invisible Stalkerů.
Závěr top8 patřil Affinitě, Eldrazi and Taxes a Monowhite Death and Taxes, ve kterých jsme mohli vidět pár méně obvyklých kusů jako Eldrazi Displacer (v kombinaci se Shefet Dunes), Mutavault, nebo Smuggler's Copter.
Ze zbylých decků v top32 mne zaulaja zejména neobvyklá verze Grixis Death's Shadow, která nehrála Snapcastery a obsahovala pouze Death's Shadow a Gurmag Anglery, spolu s playsetem Stubborn Denialů. Větší množství jednomanových spellů pak bylo dobře využito v sidu díky Young Pyromancerům.
2. SCG Classic Cincinnati (Modern & Standard)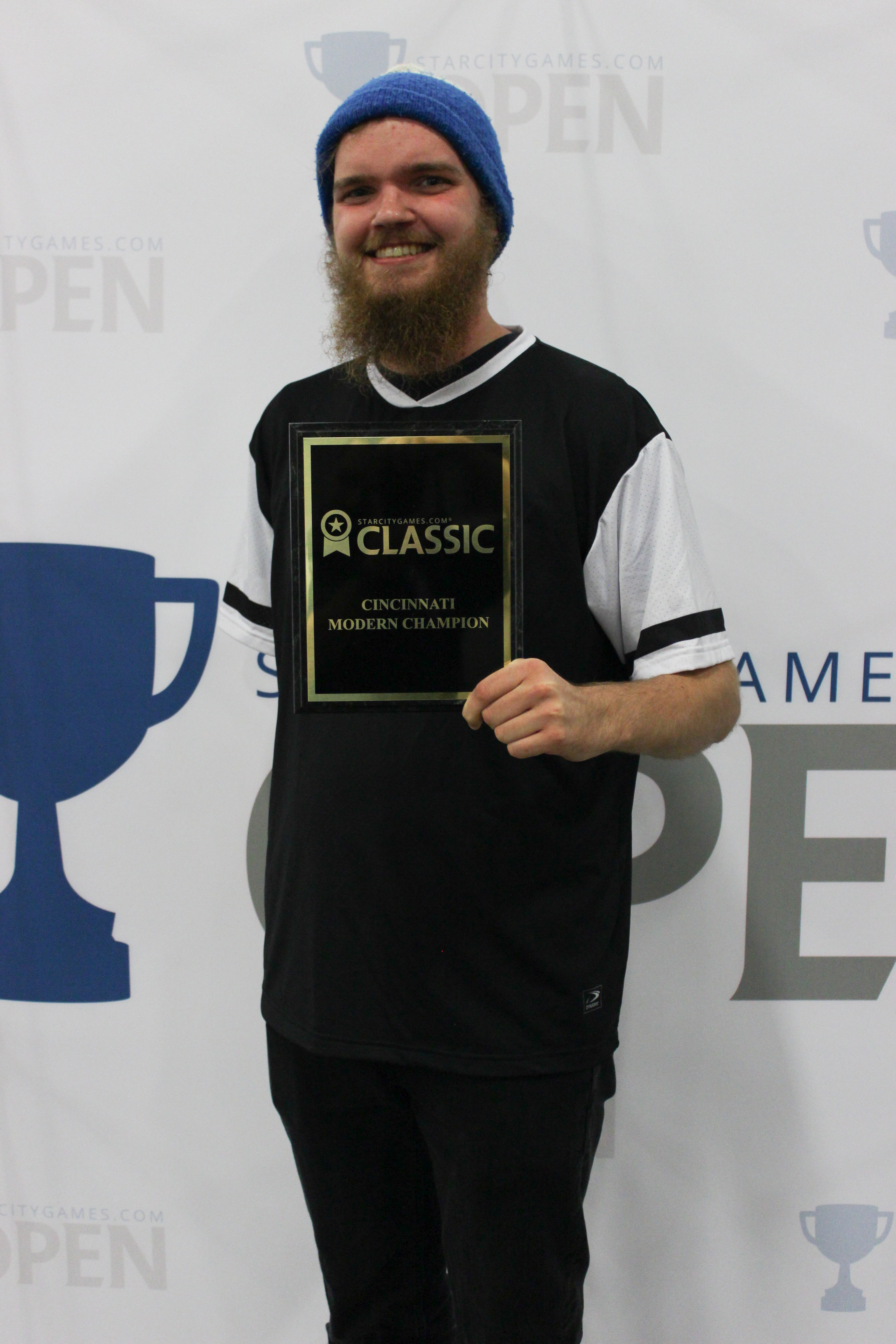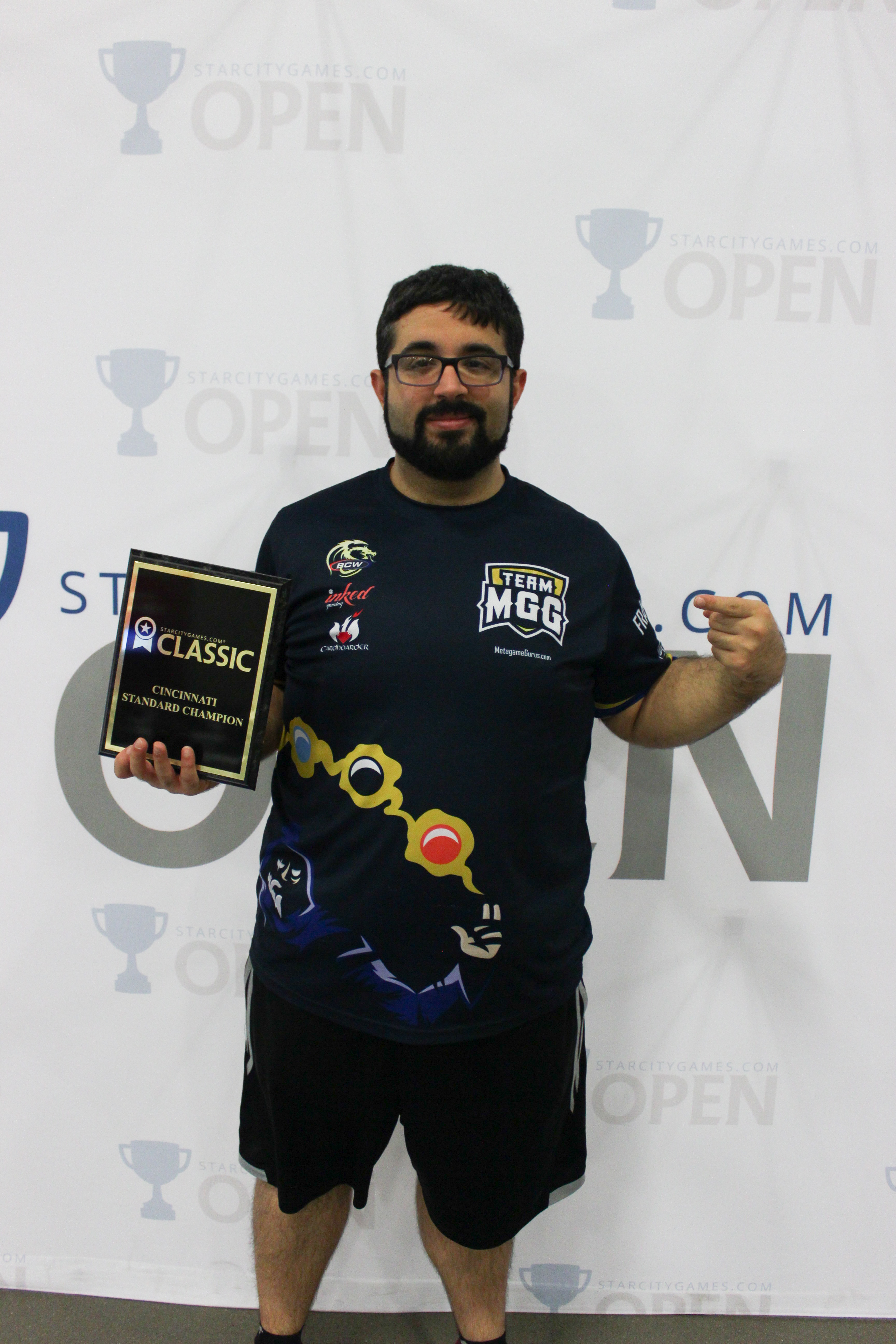 Velký main event sliboval dobrou účast i u klasiky, což se potvrdilo, když se jí zúčastnilo 206 hráčů.
Suverénně nejúspěšnější deck turnaje byla Affinita, která měla tři zástupce v top16 a hlavně mirror ve finále, ze kterého vzešel vítězně známý milovník tohoto decku, Pieter Tubergen.
Na předních příčkách jsme dále mohli vidět Boros Burn, Mardu Midrange s Nahiri/Emrakul kombem, Gr Devotion s velkým množství planeswalkerů, Infect s Jacem, Vryn's Prodigy, trojici Eldrazi Tronů, Gifts Storm, Green Tron, Abzan Company, Ad Nauseam, Grixis Death's Shadow a Jeskai Tempo.
Doplňkovou klasikou byl standard, kterého se zúčastnilo solidních 134 hráčů.
Většina hráčů ho zřejmě pojala jako testing na PT a nadcházející GP, takže jsme na předních příčkách viděli hlavně tier decky - v top16 bylo hned sedm hráčů RUG Energy, tři hráči Ramunap Redu a dále BUG Energy, Abzan a Esper Tokeni, Mardu Vehicly, BG Constrictor a jediné v podobě Jund Midrange, což byl vlastně BG Constrictor, se splashí na Chandru a Glorybringera.
Celkovým vítězem se stal Frank Skarren s RUG Energy, kterž ve finále porazil Mardu Vehicly. V jeho decku jsme mohli splatřit několik zajímavých techovek na mirror, zejména dvojici Carnage Tyrant a Nissa, Steward of Elements.
3. Standard Monthly MOCS
Na Onlinu se pro velký zájem konala hned dvojice měsíčních MOCS turnajů (osmikolové turnaje, kde se hráči se skóre 6:2 a lépe kvalifikují do čtvrtletního finále).
Prvního turnaje se zúřastnilo dechberoucích 356 hráčů, z nichž se hned osmačtyřicet dokázalo kvalifikovat na finálový čtvrtletní turnaj.
Decklisty jsou známy samozřejmě jenom pro prvních 32 hráčů, mezi kterými byly následující decky:
8× RUG Energy
5× Ramunap Red
3× BUG Energy
3× UB Midrange
2× Mardu Vehicles
2× 4C Energy
Abzan Tokens
UB Control
Monoblack Aggro
BR Aggro
UW Approach
RW Vehicles
UB Gift
UW Tokens
UG Pummeler
Nejhranější decky byly klasicky RUG Energy a Ramunap Red, což je ale dost kalmavé, v top8 totiž byl pouze jeden RUG (na osmém místě) a žádný Ramunap Red.
Zato tam ale bylo vakrát BUG Energy, Abzan Tokeni (spolu s jedním BUGem jediný deck se skóre 8:0), UB Control s Archfiendy of Ifnir v sidu, Monoblack Aggro s playsety Ruin Riderů, Bone Pickerů a Heart of Kiran, více rozšířené BR Aggro a agresivní Mardu Vehicly s Legion's Landing, které je tu opravdu ďábelské coby rampa do Hazoret.
Těšně za top8 jsme také mohli vidět zajímavou verzi UW Approache s Drake Haven v mainu, čistě RW vezi Vehiclů, 4C Energy s maindeck Nissou a se sidovkami jako Vraska a Nicol Bolas, nebo UB Midrange s playsetem Harsh Scrutiny, což je dobrá karta na Monored i Energy decky.
Ze zbylých decků se mi nejvíce líbil UG Pummeler, který hrál v playsetu One With the Wind, což je skvělá forma evasion.
Druhý turnaj se taktéž těšil velkému zájmu ze strany hráčů - zúčastnilo se jich rovných dvěstěpadesát, z nichž se jich třiatřicet kvalifikovalo do čtvrtletního finále.
Jako jediný dosáhl na čisté skóre RVNG pilotující BR Aggro. Top8 tu ale jinak přiliš rozmanitá nebyla - hned pět míst v ní totiž zabralo RUG Energy. Poslední dvě místa patřila UB Midrangi a Ramunap Redu.
Na dalších místech jsme mohli vidět docela pestrou směsici decků, ale příliš mnoho inovací se v ní nenašlo. Nejvíce mne zaujala zajímavá verze BR Aggra, které se hodně spoléhala na artefaktové synergie a mimo jiné hrála i Dhund Operative.
Top32 dohromady vypadala následovně:
14× RUG Energy
4× Ramunap Red
2× BR Aggro
2× Abzan Tokens
2× Esper Tokens
2× UW Approach
2× Mardu Vehicles
2× BUG Energy
UB Midrange
BG Aggro
4. Online Weekly Challenges (Modern, Legacy, Vintage, Duel Commander & Pauper)
Přehled pravidelných challengí začneme jako obvykle modernem, kde tentokráte zvítězil velmi neobvyklý deck v podobě UB Millu, jenž využíval novinku v podobě Fraying Sanity. Hráč s nickem "ToyBird" s ním dokonce uhrál čisté skóre 10:0. V top8 postupně porazil Jund Midrange s Rabblemastery, Eldrazi and Taxes a UW Control.
Kromě toho byly v top16 skoro samé tier decky - již zmiňovaný UW Control (s one-of Runed Halo v mainu), Eldrazi and Taxes, dvakrát Grixis Death's Shadow, dvakrát RG Scapeshift, méně obvyklý Abzan Death's Shadow (přesněji BG s bílou v sidu), Rabble Jund se šesti Lilianami, celá řada různých Tronů - Green, Blue a třikrát Eldrazi, UG Merfolci a BW Eldrazi.
Za zmínku stojí že kousek za top16 skončil ještě jeden UB Mill, kterému lepší umístění uteklo pouze na pomocné. Jedná se zcela určitě o nezvyklou strategii, na kterou většina soupeřů nebude vůbec připravena.
Na legacy jsme v top8 byli svědky souboje mezi vícebarevnými Goodstuff/Control decky a klasickými komby jako Show and Tell či Reanimace.
Vítězem se stal "JPA93" s klasickou verzí OmniTellu, když ve finále porazil specialitu hráče s nickem "Clashed", což je 4C Control s Dack Faydnem a Punishing Firy. Tentokrát do decku přidal Leovolda a další zajímavý one-ofy jako Liliana the Last Hope a Search for Azcanta.
Na třetím místě byl Grixis Control s Young Pyromancery a Gurmag Anglery. I v tom se našla pěkná chuťovka v podobě Abrade, což je dobrá karta do metagame se Stoneforge Mysticem.
Ve zbytku top8 byl Esper Deathblade, Tin Fins s alternativním sideboard plánem s Monastery Mentory a Fatal Pushi, další Grixis Control, který se více podobal klasickému 4C Controlu, 4C Control s Esper základem, ve kterém trochu zajímavě nebyl Stoneforge Mystic, a konečně 4C Control s Jace, Vryn's Prodigy, který pilotoval Petr Sochůrek.
Mimo top8 jsme mohli vidět dva další 4C Controly (oba taktéž s flipovacím Jacem), Grixis Delvera se třemi Stfly v mainu, Elfy, Colorless Eldrazi, 4C Loam, klasického Grixis Delvera s Young Pyromancery a Cabal Tharapiemi a Dragon Stompy ve variantě se třemi různými Chandrami.
Trochu nižší účast měla vintage, kde se v šesti kolech pouze dvanácti hráčům povedlo dosáhnout alespoň na čtyři výhry.
Na druhou stranu jsme mezi nimi ale mohli vidět snad všechny aktuální nejlepší decky na formátu - dvakrát Combo/goodstuff verzi Paradoxical Outcomu, se kterou triumfoval "Scabs", zajímavý Tezzerator hodně soustředěný na kombo Time Vault+Voltaic Key (hrál playset Trinket Magů a Steel Sabotage), trojici Ballita Shopů, z nichž jeden hrál trochu nahodile Vault/Key kombo bez jakýchkoli tutorů, UR Delvera, Punishing Oath, Grixis Theify, Sylvan Mentora, BUG Control a UW Landstill.
Problémy s malou účastí měl i duel commander, který se tentokráte hrál pouze na pět kol, ve kterých patnáct hráčů mělo skóre 4:1, nebo 5:0.
Po banu většiny silných tutorů se do popředí nahrnuly různé čtyřbarevné goodstuffy s dvojicemi partner generálů. V top8 jsme mohli viděl Tymnu s Thrasiosem, Kraumem a Bruse Tarla s Thrasiosem. Oobně považuji za dobrou věc, že nejlepší decky na formátu jsou vícebarevné midrange. Myslím si, že po banu fast many v podobě Ancient Tomby a dvojice Moxů by formát mohl být opravdu dobrý (Mox "on play" je tak brutální výhoda, že s tím jde jenom těžko prohrát).
Na předních příčkách nechyběla samozřejmě ani Breya a například hned dvakrát kombo Sidisi. Z méně obvyklých decků byla v top8 rampa s Maelstrom Wandererem, "Extra Turns" s Leovoldem, což je specialita hráče s nickem Sigaisen, a mimo top8 ještě Monored Aggro se Zurgem.