Novinky
Flash News #4/2017
1. PT Aether Revolt (Draft + Standard)
V Dublinu se sešlo 425 hráčů, aby bojovali o další titul PT šampiona. Nechyběla tu ani početná česká výprava, která tentokráte čítala hned devět jmen. K tradičním jménům jako Lukáš Blohon, Petr Sochůrek, Martin Jůza a Onřej Stráský přibyli Jan Ksandr (kvalifikace díky druhému místu na GP Sydney), Pavel Matoušek a Tom Ristovský (top4 na týmovém GP Kyoto) a Martin Hrycej s Pavlem Tvrzníkem, kteří se kvalifikovali prostřednictvím RPTQ.
Díky výsledkům na SCG byl před turnajem označován za nejsilnější deck Jeskai se Saheeli, což byl tedy veřejný nepřítel číslo jedna. Zatímco předchozí PT byl ve znamení castění 13/13 létajících mindslaverů ve čtvrtém kole, tak nový, lepší (po banech), standard byl ve znamení infinite damage ve čtvrtém kole. Jsem zvědav, co nás čeká příště...
Na minulém PT nejvíce překvapil kombodeck postavený kolem Aetherworks Marvel a díky kartám jako Inspiring Sanctuary a Paradox Engine bylo zajímavé sledovat, jestli se nějaký podobně překvapivý kombodeck objeví i tentokrát.
Žádné podobné překvapení se ale tentokráte nekonalo, situace byla nakonec přímo opačná. Ohromnou porci herího pole zabraly Vehicly a různé varianty BG decků. Dohromady tyto decky tvořily 47% herního pole v prvním dni. Konkurovat jim mohly pouze decky se Saheeli kombem, ovšem to jenom co do počtu hráčů, jelikož na kombo byli hráči velmi dobře připraveni a Saheeli decky byly velkým propadákem.
Zde je přehled decků, které v první dni hrálo alespoň deset hráčů:
95× Mardu/4C Vehicles (22,4%)
72× Jeskai Saheeli (16,9%)
66× BG Constrictor (15,5%)
31× BG Delirium (7,3%)
25× 4C Saheeli (5,9%)
15× UR Control (3,5%)
14× Grixis Control (3,3%)
13× Jeskai Control (3,1%)
11× GW Tokens (2,6%)
Do druhého dne postoupilo 266 hráčů, včetně osmi našich. Jediný, komu se vůbec nedařilo, byl Pavel Matoušek. Velmi dobře si naopak vedli Jan Ksandr, Martin Jůza a Lukáš Blohon, kteří měli skóre 7:1.
Celé pole hráčů pak v polovině vedli čínský Yuchen Liu a César Segovia z Panamy, který byl na svém vůbec prvním PT. Kvalifoval se na něj díky top8 na WMC a na standardu hrál jako jeden z mála artefaktové BR Aggro s Weldfast Engineery.
Bohužel, ve druhém dni se to díky špatným výsledkům Saheeli decků zvrhlo v docela velkou nudu, když většina feature matchů byla kombinace Vehiclů proti BG a mirror matchů...
Pro českého diváka bylo alespoň povzbudivé, že celou dobu hrála o top8 česká trojice Martin Jůza, Jan Ksandr a Lukáš Blohon. Lukáš měl bohužel trochu slabší závěrečná kola, ale Martin Jůza s Janem Ksanderem své zápasy o top8 zvládli. Pro Honzu to byla jeho první PT vůbec, a to byl teprve na svém třetím PT! "Juzám" se po dlouhých sedmi a půl letech dočkal své třetí PT top8, což by mu mohlo pomoci při další volbě do Hall of Fame.
Zajímavé také bylo, že oba naši hráči byli jediní z celé top8, jenž nehráli Mardu/4C Vehicly. Jan Ksandr hrál BG Delirium a Martin Jůza Jund Aggro vlastní konstrukce, což je opravdu skvělý počin. V dnešní době se moc často nestává, že by někdo slavil tak velký úspěch s "brew". I když minulý PT vyhrál Shota Yasooka také s deckem vlastní kontrukce, který na turnaji nehrál nikdo jiný...
Další účastníci top8 byli Marcio Carvalho, Lucas Berthoud, Yuchen Liu, Donald Smith, Eduardo Sajgalik a Paulo Vitor Dame da Rosa, který se svou jedenáctou PT top8 osamostatnil na druhém místě historických tabulek.
Oba naši hráči museli hrát už od první fáze čtvrtfinále a bohužel hned v ní oba skončili. Zbytek top8 už tak byl orgiemi Vehiclů. Jako naprostý mistr vehiclů se úkazal Lucas Berthoud z Brazílie, který ve finále porazil Marcia Carvalha. Na constructed měl 100% bodový zisk, když po perfektním 10:0 v základní části nepoznal hořkost porážky ani v top8 (respektive v top4, jelikož byl druhý po základní části).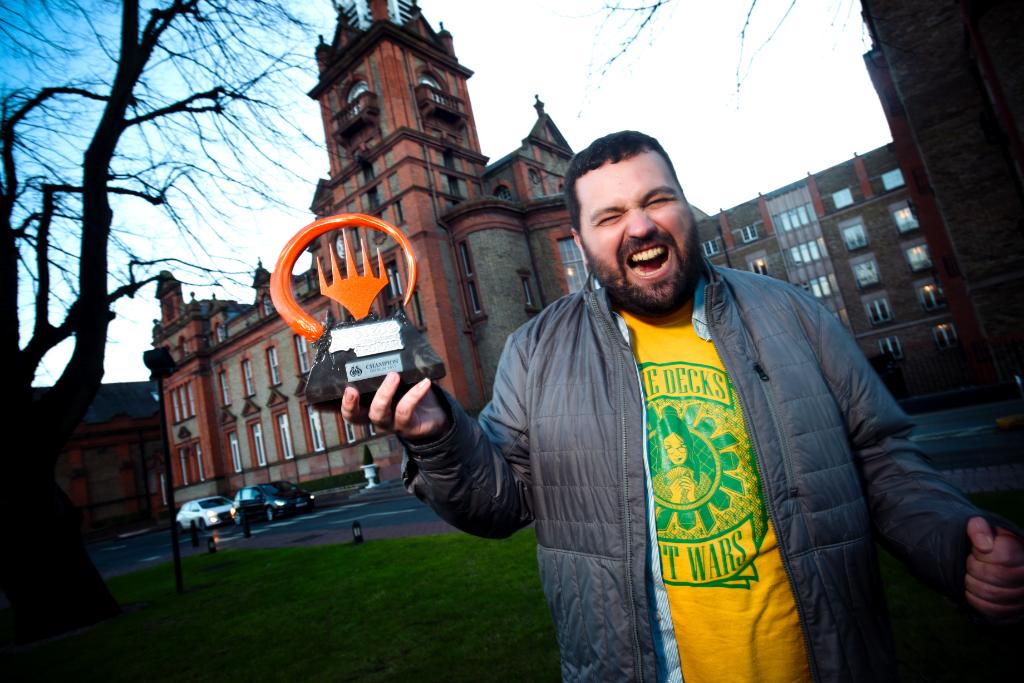 Ještě, než se podíváme na samotné decklisty, tak vám dlužím konečná umístění ostatních českých hráčů. Pro přehled uvedu výsledky všech i se získanými pro pointy a případnou finanční prémií:
7. místo - Jan Ksandr (12:3:1) - 15 pro pointů/5 000$
8. místo - Martin Jůza (12:3:1) - 15 pro pointů/5 000$
40. místo - Martin Hrycej (11:5) - 10 pro pointů/1 500$
49. místo - Lukáš Blohon (10:6) - 6 pro pointů/1 000$
72. místo -  Ondřej Stráský (10:6) - 6 pro pointů
120. místo - Petr Sochůrek (9:7) - 4 pro pointy
131. místo - Tom Ristovský (9:7) - 4 pro pointy
229. místo - Pavel Tvrzník (6:9:1) - 3 pro pointy
Skoro bych zaponěl zmínit, že od letošního roku na PT startuje týmová soutěž, ve které soutěží šestičlenné týmy. Za každý získaný pro point má tým jeden bod, pouze výsledek nejhoršího člena se škrtá. Na konci roku se dva nejúspěšnější týmy utkají ve speciálním finále, které proběhne v rámci MS, a ve kterém se bude hrát o více než 50 000$!
Týmovou soutěž zatím vede dvojice asijských týmů MTG Mint Card (Lee Shi Tian, Jason Chung, Huang Hao-Shan, Kelvin Chew, Eduardo Sajgalik a Nam Sung Wook) a Musashi (Kentaro Yamamoto, Yuuya Watanabe, Ken Yukuhiro, Yuuki Ichikawa, Teruya Kakumae a Shota Yasooka). Oba dva týmy mají shodně 49 bodů.
A nyní je čas se podívat na to, jak se dařilo jednotlivým deckům. Z pohledu top8 se zdá, že Vehicly jasně dominovaly, avšak mimo top8 to bylo celkem vyrovnané s BG decky. Zde je přehled deseti nejzastoupenějších decků ve druhém dni spolu s jejich celkovou konverzí do druhého dne. Všimněte si, jak velký propadák bylo Jeskai Saheeli, které dostalo pouze 36% jeho hráčů do druhého dne. Osobně si nepamatuji, že by jeden z předpokládaných tier decků na PT takhle vyhořel...
72× Mardu Vehicles (75,8%)
45× BG Constrictor (68,2%)
26× Jeskai Saheeli (36,1%)
23× BG Delirium (74.2%)
14× 4C Saheeli (56,0%)
9× GW Tokens (81,8%)
9× Jeskai Control (69,2%)
8× BR Aggro (88,9%)
8× UR Control (53,3%)
6× 4C Saheeli Aeterworks (75%)
Ze 266 hráčů, jenž postoupili do druhého dne, dosáhlo 119 hráčů na skóre 6:4 a lépe. Z toho bylo v podstatě pouze šest různých decků (114 hráčů), což demonstruje, jak málo rozmanitá je aktuální metagame. Těžko se ale nalézají originální a zároveň konkurenceschopné decky, když proaktivní karty jsou tak nekompromisní (Gideon, Heart of Kiran, Scrapheap Scrounger, Winding Constrictor, Walking Ballista, apod.).
43× Vehicles
39× BG Constrictor
15× Saheeli Combo
8× Ux Control
5× BR Aggro
4× GW Tokens
5× Other
Podrobný přehled nejúspěšnějších decků vypadá takhle:
28× 4C Vehicles
15× Mardu Vehicles
14× BG Energy
8× BG Delirium
8× BG Aggro
8× Jeskai Saheeli
4× GW Tokens
4× BR Aggro
4× 4C Saheeli
4× Jund Constrictor
3× 4C Saheeli Aetherworks
3× Jeskai Control
3× UR Tower
2× Inspiring Aetherworks
2× BGu Delirium
2× BGu Energy
Sultai Delirium Control
BR Zombies
Jund Energy Aggro
UB Control
Tamiyo Constrictor
UW Aggro
Grixis Tower
A od každého z nejúspěšnějších decků si dáme jeden decklist:
A z nových karet se nejvíce hrálo těchto deset:
10. Glint-Sleeve Siphoner (59+0)
Aktuální standard příliš nenahrává karetní výhodě typu Painful Truths, ale agresivně laděná bytost, která navíc spolupracuje s ostatními energy kartami, to je ideální karetní výhoda.
9. Aethersphere Harvester (64+24)
Nízký crew cost a schopnost vynulovat v kombatu Heart of Kiran dělají z Harvestera fajn kartu pro všechny decky s větším počtem bytostí. Lifelink je navíc dost fajn proti vehiclům, což je ještě o to lepší, když k němu máte Verdurous Gearhulka.
8. Metallic Rebuke (24+84)
Stačí pár clue tokenů a je z toho lepší Mana Leak! Ideální sidovka proti pomalejším deckům pro vehicly.
7. Shock (93+25)
Shock není nijak úžasný removal, ale schopnost zastavit Saheeli kombo z něj dělala vysoce ceněné zboží.
6. Rishkar, Peema Renegade (129+0)
Ideální parťák k haďákovi, který zároveň o kolo urychlí příchod Gearhulka.
5. Winding Constrictor (152+0)
Nejdůležitější karta ve všech GB decích, dělá o mnoho lepší všechny karty jako Nissa, Rishkar, nebo Gearhulk a celkem fajn je i s energy mechanikou.
4. Spire of Industry (159+0)
Vehicly měly v minulosti velké problémy se splashováním, ale tohle je ideální způsob, jak zlepšit manabase. Pár životů je přijatelná cena za perfektní mana base, která je teď ve vehiclech dokonce tak dobrá, že někteří hráčí hráli rovnou maindeck Metallic Rebuke (manu samozřejmě fixuje i Cultivator's Caravan).
3. Walking Ballista (174+3)
Enabluje delirium, je skvělý s haďákem a zároveň poskytuje ochranu proti Saheeli kombu. A navíc ho může hrát úplně každý...
2. Heart of Kiran (206+0)
Coptéry jsme se sice zbavili, ale tohle je více než důstojná náhrada. "Kombo" s Gideonem je opravdu nechutné a je to hlavní strůjce úspěchu vehiclů.
1. Fatal Push (151+147)
Fatal Push bývá nejčastěji zmiňován v kontextu modernu a legacy, a tak se tak trochu zapomíná, že je to i nejlepší removal na standardu. Nebýt Saheeli, tak by jeho počty byly ještě vyšší, ale kvůli tomu hrálo více hráčů vehiclu split se Shockem.
Honorable mention: Lifecrafter's Bestiary (1+40)
Kdybych měl nějakou kartu označit za překvapení turnaje, tak by to byl "Bestiář". Ten byl hlavní karetní výhodou v BG decích pro "attrition" matchupy, jelikož se na něj hledá daleko složitěji odpověď, než na planeswalkery jako Nissa, nebo Ob Nixilis (a také je samozřejmě levnější, takže se jeho efekt využije hned od prvních kol).
2. SCG Regionals (Modern)
Již tradičně se ve stejný víkend jako PT konaly SCG Regionals, kterých bylo celkem dvanáct. Formátem byl modern a šlo o první větší příležitost, abychom zjistili, jak konkurenceschopné jsou kombodecky bez Gitaxian Proby, Dredge s Trolla a zase naopak, jestli se prosadí nové decky s Fatal Pushem (Esper, Sultai), nebo třeba v poslední době hodně diskutované Puresteel Paladin kombo.
Ve zkratce řečeno - pro kombodecky to nedopadlo vůbec dobře, ve všech turnajích dohromady nebyl v top8 žádný Dredge, Death's Shadow, UR Prowess, ani Cheerios a pouze po jednom Infect a Storm. Stejně tak byl v top8 pouze jeden nový deck s Fatal Pushem, kterým byl BUG Delver.
Většina hráčů měla velmi konzervativní přístup při volbě decků, takže ve výsledku mezi nejúspěšnější decky patřily pouze samé stálice jako Jund, Bant Eldrazi, Fritka nebo Affinita.
Turnaje také potvrdily aktuální zvýšeonu popularitu Tronu a Melira Company, což jsou dva decky, které nejvíce profitovaly na posledním banování.
Zde je přehled všech decků v top8 (dohromady bylo k vidění 35 různých decků):
11× Jund Midrange
9× Affinity
8× Bant Eldrazi
8× Burn (5× RW, 3× Naya)
7× Melira Company
6× Grixis Delver
5× Tron (3× Gb, Gr,Gw)
5× RG TitanBreach
5× Elf Company
3× Ad Nauseam
2× RG Scapeshift
2× 8Rack
2× WR Prison
2× Abzan Midrange
Skred Red
BUG Delver
Abzan Evolution
Living End
Soul Sisters
Eldrazi Tron
Bant Company
Lantern Control
Infect
Bring to Light Scapeshift
Grishoalbrand
Amulet Titan
Naya Zoo
BR Moon
Merfolk
Gifts Storm
Jeskai Nahiri
Emrakul Stompy
UWR Tempo
Bant Retreat
Colorless Eldrazi
Pro nejvíce trofejí si trochu překvapivě došla fritka, která vyhrála tři turnaje z celkových dvanácti:
3× Burn
2× Affinity
2× RG TitanBreach
Abzan Evolution
Living End
Bant Eldrazi
WR Prison
Grixis Delver
Mezi vítěznými decky se nacházel i jeden z nejkreativnějších decků, jaký jsem na modernu za poslední dobu viděl. Byl to Abzan Midrange, který hrál playset Eldritch Evolution, ale ne jako kombokartu, ale pouze pro value. Pěkné value kombo bylo zejména Renegade Rallier + Voice of Resurgence.
Rallier byl vidět i v dalším originálním decku, kterým bylo Naya Zoo s landfallovou tématickou. Kromě toho, že Raliier umí přinést do hry Tarmogoyfa, totiž může vrátit i fečku, což je dost přísné se Steppe Lynx a Plated Geopedou.
Z dalších zajímavých decků bylo v jednotlivých top8 dále možné najít Colorless Eldrazi s Chalice of the Void, Smuggler's Copter a Eternal Scourge, ke kterému tu byl Serum Powder, jakožto zajímavá možnost, jak získat karetní výhodu, Affinitu s Walking Ballisty, BR Midrange s Blood Moony a Pack Rat, nebo Emrakul kombo, které dostávalo Emrakul do hry pomocí Goryo's Vengeance, Through the Breach, nebo Breaking/Entering, ke kterému tu byl navíc playset Kari Zev's Expertíz.
3. Face to Face Games Toronto Open (Modern)
Posledních několik měsíců se pokoušejí rozjet F2F Games větší pravidelnou sérii v Kanadě a jejich snaha konečně vynesla ovoce, když se v Torontu sešlo 180 hráčů.
Zvítězil tu Caleb Keung s balíkem, kterému sepřezdívá Eternal Command. Pokud sledoujete modern už od jeho začátků, tak asi víte, že je to deck, který postavil speciálně na MS jednotlivců 2012 Shota Yasooka, kde s ním skončil na druhém místě.
Jde o RUG Midrange, který se snaží získat karetní výhodu prostřednictvím kombinace Eternal Witness, Snapcaster Mage a Cryptic Command. K tomu je navíc v decku ještě playset Aether Viálů. Zajímavé je, že během pěti let v decku nastala jediná změna, kterou bylo přidání Spirebluff Canalu :)
V top8 tu byly ještě další dva zajímavé decky, kterými byl Esper Control s Mystical Teachings a Cheerios s velmi pěkným sideboard plánem v podobě Monastery Mentorů a Pathů.
A čistě pro úplnost - zbylé decky v top8 byly RG Scapeshift, Melira Company, Ad Nauseam, Grixis Control a pro změnu RG TitanBreach.
4. Duel Commander Sao Paolo
Kromě Evropy jsou dvě největší duel commander komunity ve Filipínách a Brazílii. V Brazílii se bohužel po několika razantních změnách na formátu účast na turnajích mírně zhoršila, nicméně 49 hráčů je stále solidní.
V top8 tu nechyběl ani jeden z aktuálně čtyř nejlepších generálů - Vial Smasher, Breya, Geist of Saint Traft a Zurgo Bellstriker. Finále byl souboj mezi Grixis Smasherem a Breyou (goodstuff verze), přičemž zvítězil Fernando Marinho s Grixisem.
Mezi nejúspěšnějšími decky jsme také mohli najít dva decky s Bruse Tarlem, což je aktuálně zřejmě nejlepší agresivní multicolored generál, ačkoli stojí čtyři many. První deck byl v kombinaci s Reyhanem a v podstatě šlo o Jund Aggro s lehkou bílou splashí. Druhé pak bylo artefakové aggro s Akiri.
Poslední deck v top8 byl Monogreen se Selvalou. To je velmi explozivní deck, který zneužívá karty jako Phyrexian Dreadnaughta, nebo Phyrexian Soulgorgera k tomu, aby velmi rychle zahrál jednoho z eldrazi titánů. Další pěkné karty tu jsou například Staff of Domination (kombo se Selvalou na libovolné množství many), Invigorate (v podstatě free mana), nebo Hall of Gemstone, která úplně zničí vícebarevné decky.
Na decklisty z top8 se můžete podívat zde.
5. Bonus (Standard)
Na úplný závěr pro vás mám dva originální dvojkové decky. První je synergický artefaktový deck v barvách Grixisu, který na PT hrála skupina jihoamerických hráčů včele s Willym Edelem. Deck vypadá docela zajímavě, ale jak už víte, tak nikdo s ním neuhrál lepší výsledek, než 5:5...
Druhý deck jsou bezbarví Eldrazi, se kterými obsadil čtvrté místo na online PPTQ (76 hráčů) "Dirge41". Jeho úspěch mě ani tolik nepřekvapuje, jelikož obsahuje de facto samé osvědčené kusy, kdy vedle nejlepších eldrazi máme stálice jako Scrapheap Scrounger a Walking Ballista. To všechno doplňuje dvojice nejlepšího černého removalu. A zajímavé také je, že jako jeden z mála decků na formátu má k dispozici hned dvojici utility landů (Ruins of Oran-Rief jsou extra vypečené s Ballistou).
A to je pro tentokrát vše. Na viděnou u dalších vydání.
Kumano
Komentáře
Přispívat mohou pouze přihlášení uživatelé. Pokud chcete vložit komentář, přihlaste se ZDE.