Novinky
Flash News #40/2017
V minulých Flash News nebyly žádné Grand Prix a v těchto jsou hned tři. Dále se mrkneme na velký Legacy event SCGO Washington, Magic Online PTQ a další zajímavé turnaje z online.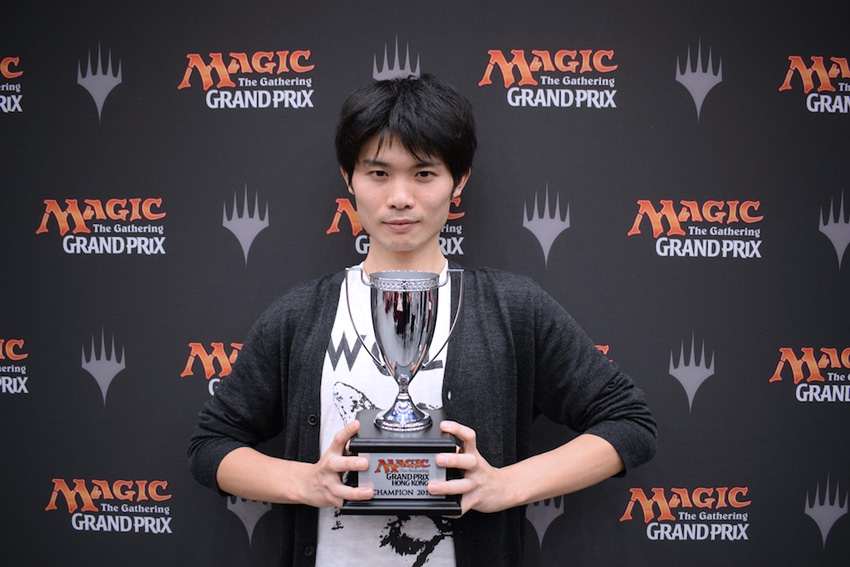 1. GP Hong Kong, Liverpool & Phoenix (Ixalan Sealed)
Týden před PT se jako obvykle konala limited GP, nicméně tentokráte to nebylo premiérové GP s novou edicí, jelikož už se hrálo team limited před mistrovstvím světa jednotlivců...
Nejskromnější účast mělo GP v Hong Kongu, kam si přišlo zahrát 727 hráčů, včetně většiny velkých asijských jmen. Šanci na domácí triumf měl dlouho Lee Shi Tian, který si zde připsal svou jubilejní desátou top8 na GP. Hned ve čtvrfinále dokázal vyřadit jediného dalšího pro playera v top8, Kazuyuki Nakamuru, ale nakonec neprošel přes semifinále.
Pro debutovou výhru si při své druhé GP top8 dokráčel Rei Saito, když nadraftoval UG Explore se splashí na Lurking Chupacabru.
GP se účastnil i jeden český zástupce, jímž byl Ivo Kratěna. Rozhodně nám neudělal ostudu, když s jednatřiceti body jedon o chlup utekla top64, která získává finanční ohodnocení. Za šestašedesáté místo si alespoň odnesl jeden pro point.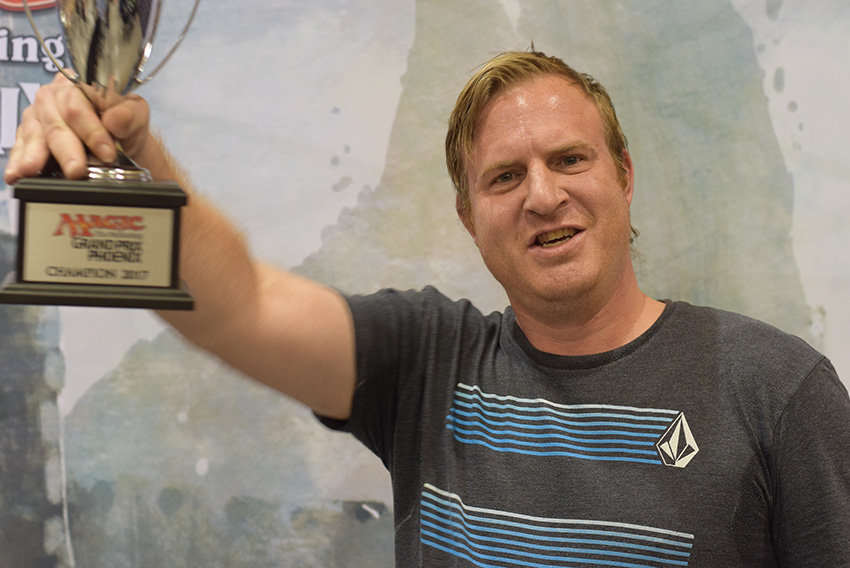 Druhá nejvyšší účast byla v Pheonixu, kde navíc byla nejvyšší koncentrace pro hráčů kvůli blížícímu se PT. Z našich hráčů se mezi 1 114 hráči našla dvojice Petr Sochůrek a Martin Hrycej, která ale bohužel na žádné úspěchy nedosáhla. Petrovi scházela jedna výhra na zisk pro pointů a Martin skončil už v prvním dni...
Podobně jako v Hong Kongu, i zde v top8 bylo několik známých jmen, ale z triumfu se nakonec radoval neznámý hráč. Zde to byl Sean Miller, který dokonce zvítězil hned ve své první top8 na GP. A aby toho nebylo málo, tak ve finále porazil Dukea Reida, pro kterého to naopak byla už třiadvacátá GP top8.
Z dalších známých jmen jsme v top8 mohli vidět například Christiana Calcana, Paula Deana, nebo Antona Jonssona, kterého budou znát spíše pamětníci. Mezi lety 2001-2005 nasbíral pět top8 na PT a býval považován za jednoho z nejlepších limited hráčů na světě. V roce 2011 se dokonce dostal do HoF, ale dnes už hraje jenom sporadicky. Rozhodně ale nic ze zvého umu neztratil.
Smolařem víkendu byl Shahar Shenhar, který první den začal s perfektním skóre 9:0, což byl fajn příslib na dobrý výsledek, který Shahar potřebuje pro setrvání v "pro players clubu" v následující sezóně. Během druhého dne sice dvakrát prohrál, ale když v posledním kole zvítězil, tak se zdálo, že nebude chybět v top8. Opak byl ale pravdou, a nakonec skončil o neuvěřitelné čtyři tisíciny procenta pomocného hodnocení na devátém místě...
Nejvíce hráčů se sešlo v Liverpoolu, konkrétně 1 201, mezi nimiž se našlo i dvanáct hráčů reprezuntujících Českou republiku.
Na turnaji byla trochu znát absence největších es, která se účastnila GP Phoenix. V top8 jsme tak neviděli žádná vyloženě známá jména, ačkoli Thoralf Severin už na svém kontě top8 z GP měl a Carmine D'Aniello dokonce dříve i na GP zvítězil.
Stejně jako v Phoenixu se ale výhry nakonec dočkal jeden z hráčů, který hrál svou první GP top8 - domácí Marc Purvis, jenž v top8 nadraftoval agresivní Boros (s Borosem zvítězil i Sean Miller v Phoenixu). Je zajímavé, že se svým finálovým soupeřem (Torsten Anders) se během celého víkendu utkal hned třikrát a pokaždé zvítězil.
Z českých hráčů se hned tři dokázali dostat do top64 - šestadvacátý byl Jan Ksandr, za což si odnesl 500$ a dva pro pointy, jednatřicátý s navlas stejnou výhrou byl Zbyek Panchartek, a sedmačtyřicátý skončil Pavel Matoušek, což mu vyneslo 250$ (je smutné, že taková výhra vám ani nepokryje náklady na celou akci) a jeden pro point.
Deset výher potřebných k zisku pro pointů měli ještě Jaroslav Bouček a Jaromír Kohout.
2. SCG Open Washington (Legacy)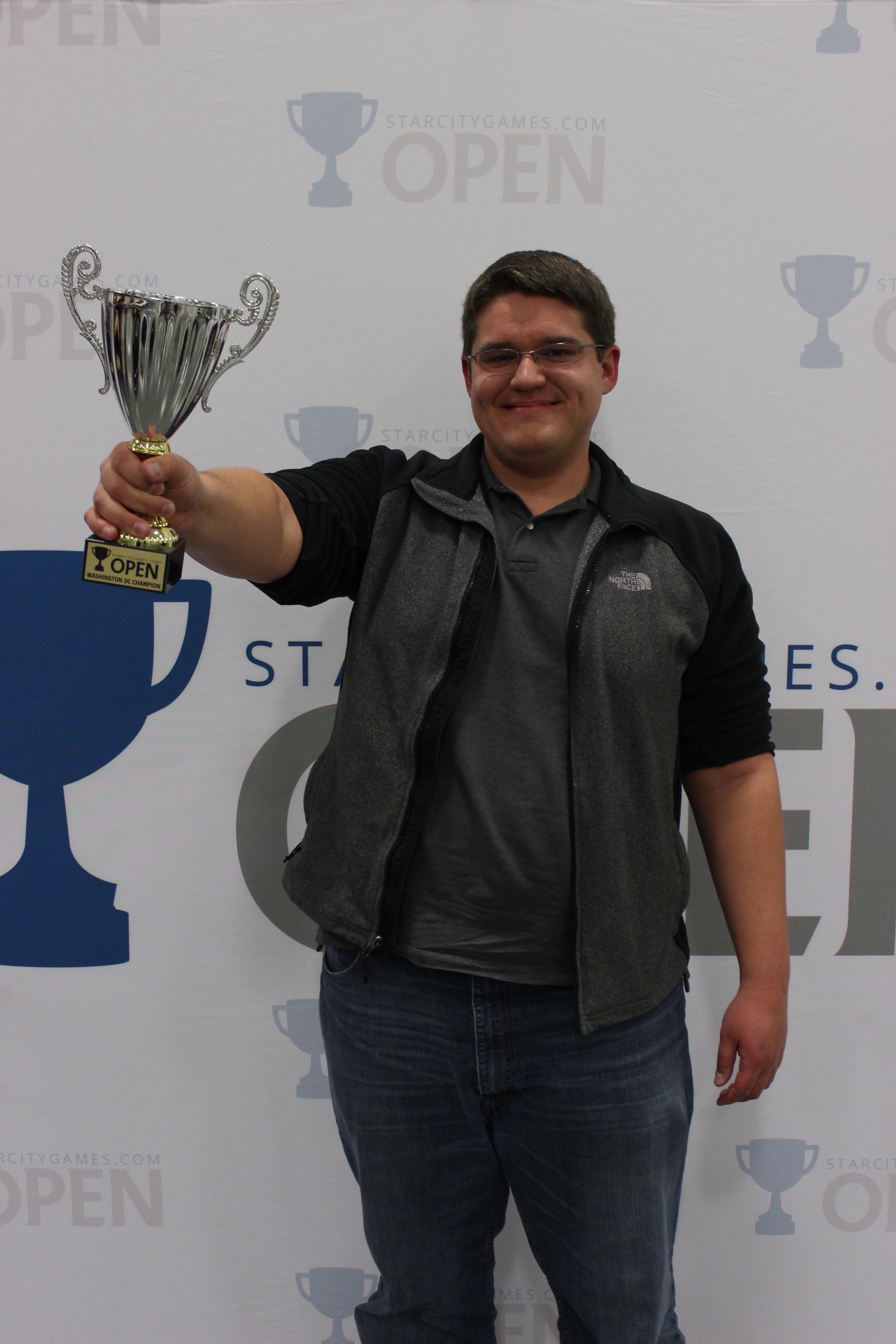 Týden po eternal weekendu byli hráči legačkou namlsaní, takže tohle byla ideální příležitost, jak si legacy užít ještě více. Nenechalo si ji ujít 537 hráčů.
Z prvního dne postoupili všichni hráči se skóre 6:3 a lépe, což bylo 123 hráčů, mezi kterými bylo hned pětatřicet různých decků. Nejhranější byl Grixis Delver se šestnácti hráči. Pouze o jednoho hráče méně měl 4 Control (Czech Pile), který ale překvapivě neměl žádného zástupce v top32...
Další populární decky byly Země (Lands - 9 hráčů), Storm, BUG Delver (8 hráčů), Sneak and Show (7 hráčů), Death and Taxes (6 hráčů), Elfové (5 hráčů), Aggro Loam a Colorless Eldrazi (4 hráči).
Nejúspěšnější deck turnaje byl zcela jednoznačně Grixis Delver, který měl čtyři hráče v top16 a dva v top8. Turnaj ale nakonec nevyhrál - jeho nejlepší pilot byl Bob Huang, jenž skončil třetí (v top8 byl i na eternal weekendu).
Ve finále se utkali piloti dvou čtyřbarevných goodstuff decků - Jon Goss se 4C Stonebladem a Matt Vook se 4C Loamem. Jonův deck měl mít teoreticky problémy s kombinací Wastelandu a Life from the Loam, ale jako daleko větší problém se ukázal playset True-Name Nemesis pro mattův deck. Zejména díky nim zvítězil Jon 2:0.
Top8 dále obsahovala klasickou verzi Colorless Eldrazi, Storm, oldschool RUG Delvera s playsety Nimble Mongoose a Stiflů, a konečně zajímavou verzi UW Miraclů se dvěma kusy Search for Azcanta.
Mimo top8 mě zaujal Esper Deathblade s Monastery Mentory a Cabal Therapiemi, pětibarevná verze Aggro Loamu, která hrála modrou kvůli Leovoldovi, Stax s Metalworkerem, kde byl mimo jiné playset Inventors' Fair, pěkná verze BR Reanimatoru s playsetem Show and Tellů v sidu a agresivní čtyřbarevný Stoneblade s playsety Noble Hierarchů a Daze.
3. SCG Classic Washington (Legacy + Modern)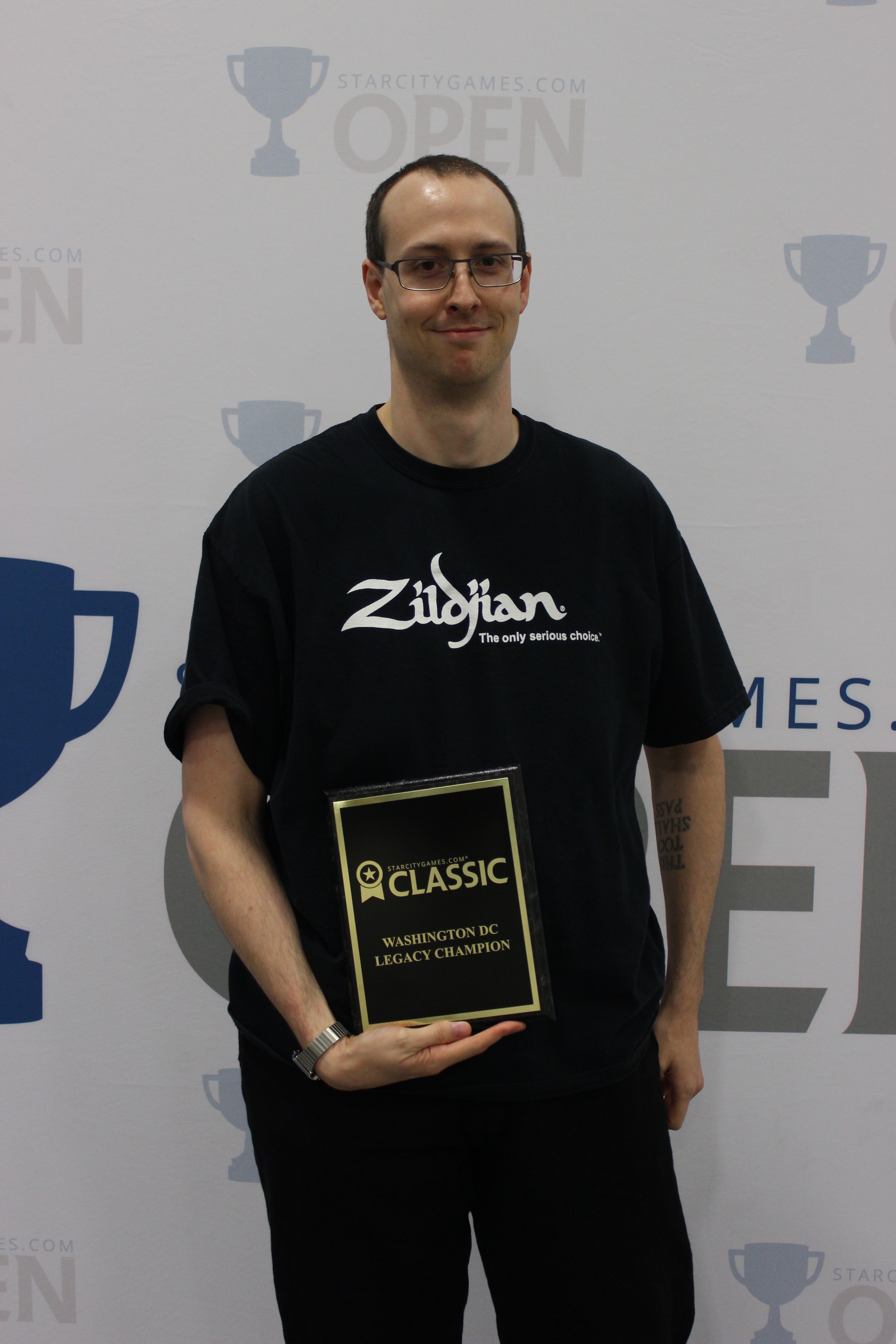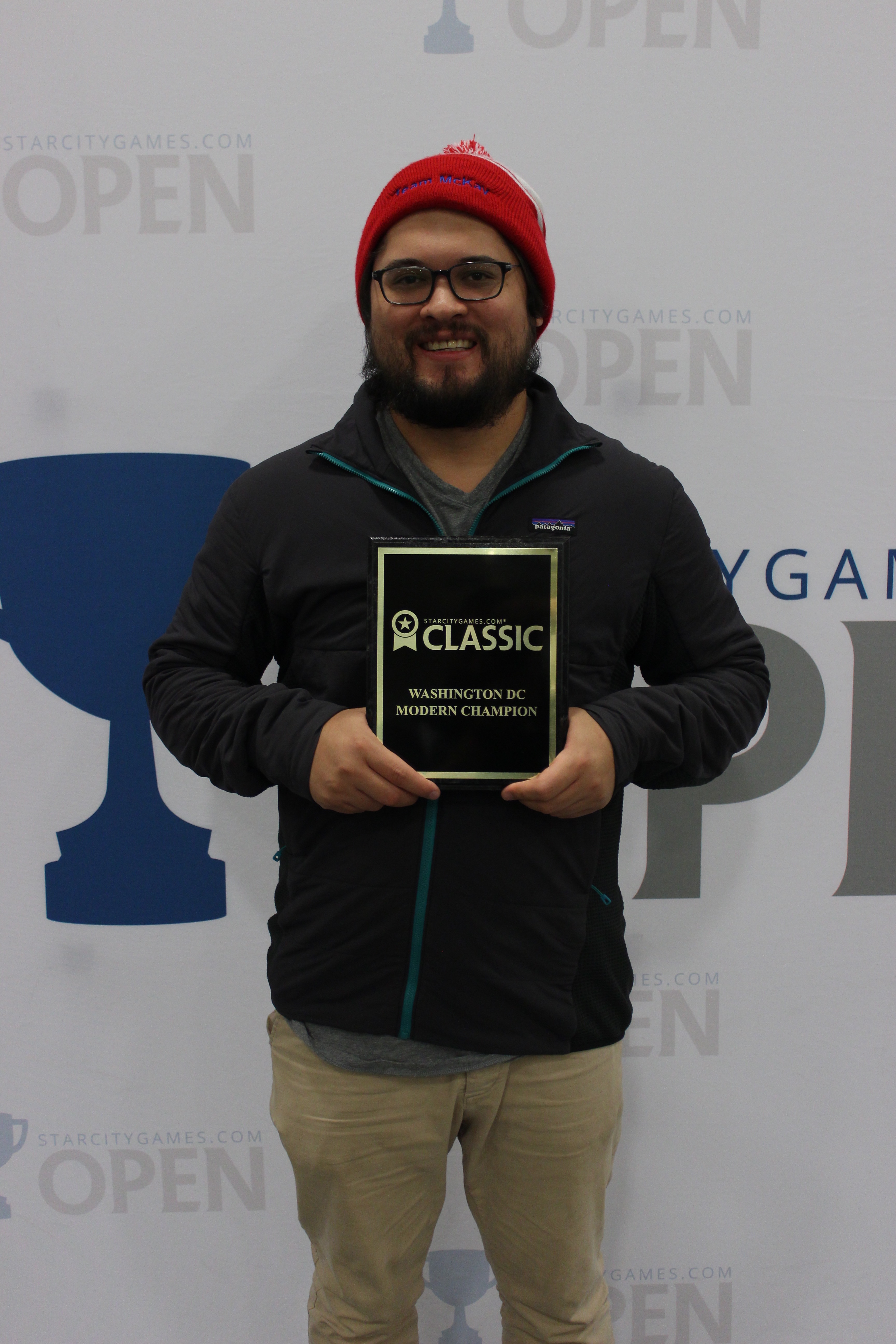 Legacy klasika se 119 hráči jenom těsně nesplnila limit pro osm kol (128 hráčů). Mimo jiné to znamenalo, že po 5:0 začátku stačily na top8 dvě remízy.
Turnaj měl velmi překvapivého vítěze, kterým se stal Terrence Comella s Fritkou. Určitě při něm stálo štěstí, když se v top8 dokázal vyhnout všem kombo matchupům. Postupně porazil UR Delvera (agresivnější verze bez karet jako Snapcaster či True-Name Nemesis), Aggro Loam a Země. Poslední dva decky jsou naprosto ideální matchupy, jelikož ve fritce je samozřejmě playset Price of Progress (ačkoli Loam umí zahrát Chalice za jedna v prvním kole).
Další decky v top8 byly Forgemaster MUD (s Uginy v mainu), Colorless Eldrazi, 4C Control a Infect s chuťovkami v podobě Jace, Vryn's Prodigy a Nissa, Steward of Elements.
Ve zbytku top16 byly nejzajímavější decky UWR Stoneblade, Naya Zoo s Punishing Firy a BUG Delver/Death's Shadow.
Standard klasiku výjimečně nahradil modern, který se 152 hráči strčil legačku hravě do kapsy.
Ve finále jsme tu mohli vidět dva méně obvyklé decky, když Matt Ling porazil s 5C "Vial Humany" UR Breach/Moon Mitchella Frosta. Oba decky byly v top16 hned ve dvou kusech (i když Breach Mitchella Frosta měl zajímavou možnost přesedlat po sidu na klasický kontrol s Young Pyromancery, Vedalken Shackles, či Pia and Kiran Nalaar).
Zbytek top16 obsahoval v podstatě jenom tier decky - 2× Eldrazi Tron, Gifts Storm, Affinita, 2× Infect, 2× Jeskai Tempo, Jeskai Control, WR Prison, Bant varianta Vizier Company a Gb Tron.
4. Online PTQ (Standard)
Na MTGO se konalo další ze série PTQ, které se aktuálně těší velké oblibě. I tentokráte se sešlo přes 200 hráčů (240), což znamenalo devět kol základní části.
Novinkou turnaje byla zajímavá verze 4C Energie, která měla BUG základ, ale nehrála Constrictora s Ballistou a splashovala červenou pro Virtuosa a Harnessed Lightning.
Mohli jsme také vidět velmi rozmanitou top8 se sedmi různými decky. Vítezem se stal Brandon Burton aka sandydogmtg, když v top4 a finále porazil dva různé decky s God-Pharaoh's Giftem - nejprve UW verzi s Refurbishem a poté midrange verzi v Esper barvách.
Další místa obsadila dvě BR Aggra, klasická RUG Energie, UB control s tajnou splashí na Bolase, zmiňovaná 4C Energie a Abzan Tokeni.
Od desátého místa dále (hráči se skóre 7:2 byli od šestého až po devatenácté místo) už byl k vidění pouze tři decky - BUG Energy, RUG Energy a Ramunap Red.
5. MTGO Weekly Challenges (Modern, Legacy, Vintage, Duel Commander, Pauper)
Na modernu se opět prosadilo několik zajímavých decků, a to včetně vítězného, což byl UB Tezzerator s velkým množství planeswalkerů a také Search for Azcanta.
V top16 jsme také mohli vidět zajímavou GW Company se splashí na Kessig Wolf Run (který hledal Knight of the Reliquary), Eldrazi and Taxes se zajímavými one-ofy jako Liliana of the Veil a Gonti, Lord of Luxury, nebo UR Control s Blood Moony a Madcap Experimentem.
Další decky v popředí byly Gifts Storm, dva Gb Trony, 5C Humani, Grixis Death's Shadow, Affinita, Dredge, Lantern Control s Whir of Invention, GW Elfové s Vizier kombem, druhé Eldrazi and Taxes, Jund Midrange a Abzan Compny s Vizier kombem.
Hned za top16 skončil zajímavý BW Smallpox s větším počtem méně obvyklých kusů, jako třeba Mana Tithe, Dark Confidant, či Aven Mindcensor.
Podobně jako modern, i legacy měa velmi zajímavého vítěze. Stal se jím Cartesian, kterého mohou online hráči legacy znát kvůli tomu, že neustále hraje Aluren. Jinak tomu nebylo ani tentokráte. Hrál klasickou value verzi v BUG barvách, ale nevyvaroval se několika vychytávek. V mainu hrál dvojici Vengeful Rebelů, kteří spolu s Cavern Harpy fungují jako "nekonečný" removal. Zajímavou vychytávku najdeme i v sidu - Tablet of the Guilds, který v kombinaci s Alurenem a Cavern Harpy přidá libovolné množství životů.
Méně obvyklé decky jsme mohli vidět i na ostatních příčkách v top8 - druhé místo obsadila Fritka, čtvrté Tin Fins, kde bylo navíc Necrotic Ooze kombo a v sidu playset Mentorů a Swords to Plowshares, pátý byl čtyřbarevný speciál s Dack Faydenem a Punishing Firy, šestý Esper Control s chuťovkou v podobě Quiet Speculation, která hledala Lingering Souls a Cabal Therapy, sedmý RUG Delver s "kombem" Nimble Mongoose a Hooting Mandrils a osmý Deadguy Ale se splashí na Deathrite Shamana.
Jediný obvyklý deck bez nějakých nestandardních karet v top8 byly Země skončivší na třetím místě.
Ve zbytku top16 byli tři Grixis Delveři, Forgemaster MUD, zajímavý UWR Delver, což byl v podstatě Burn, který splashoval modrou pro Delvera a Brainstorm a bílou pro hate karty v sidu, bezbarvá Eldrazi Rampa (deck je podle mě příšerný a nechápu, jak s ním může někdo něco uhrát), další Tin Fins (klasická verze s Child of Korlis a Emrakul), a konečně UWR Stoneblade.
Vintage se nesla ve znamení dominance Menotr decků, které obsadily čtyři místa v top8. Vítězem se stal "thepowernine" s klasickou UWR verzí s Mentorem a Pyromancery, když ve finále porazil agresivnější UWR deck s Delvery.
Na dalších místech byl kontrolní Oath s Emrakul a Griselbrandem jakožto jedinými bytostmi. Nechyběla tu ani oldschool záležitost v podobě Dragon Breathu, UWR Mentor se splashí na Sylvan Library, Goodstuff s Paradoxical Outcomem, UW Landstill a Monowhite Hatebeaři, kterým se na vintage trefně přezdívá White Trash. Primární plán decku jsou všemožní hatebeaři a až v sidu je možnost přidat do decku dobré kusy jako Stoneforge Mystic, Path to Exile, či Elspeth.
V top8 jsme tentokrát neměli žádné Shopy, které obsadily "pouze" tři místa v top16, kde je ještě doplnily dvoje Inferno Oathy, další UWR Mentor, UW Stoneblade a UR Delver.
Duel Commander měl tradičně o něco nižší účast, než předešlé formáty, takže se hrál pouze na pět kol základní části, ve které čtrnáct hráčů dosáhlo na výsledek 4:1 a lépe.
Nejpopulárnější deck mezi nimi bylo suverénně 4C Tempo s Tymnou a Kraumem, které hrálo hned šest hráčů, ačkoli až na jednu výjimku byli všichni mezi devátým a čtrnáctým místem.
V top8 jsme mohli vidět zejména rozličné kombinace partnerů a dva Leovoldy, přičemž s verzí, která obsahovala opravdu velké množství karet, jenž dokáží spolu s Leovoldem zalockovat soupeře, zvítězil Aldreen.
Partner kombinace v top8 byly Tymna + Bruse, Silas Renn + Kraum, Ludevic + Kraum a již zmiňovaný Kraum s Tymnou. A nesmím zapomenout ani na klasickou komboverzi Sidisi s Necrotic Ooze kombem, kterou již tradičně hrál "m0torhead".
Mimo top8 se dal v záplavě 4C Tempa snadno přehlédnout UR Wildfire Control s Keranosem, který se se dvěma variacemi Blood Moonů snaží "trestat" hráče za greedy čtyřbarevné manabáze.