Novinky
Flash News #5/2018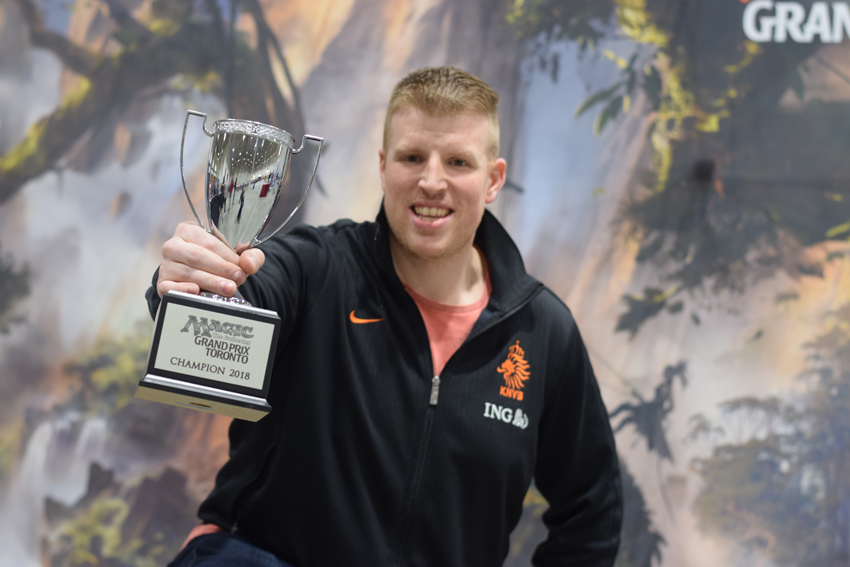 1. GP Toronto (Modern)
Týden po PT si přišlo modern zahrát 1 679 hráčů, což je velmi pěkné číslo, hlavně když zvážíme, že v Kanadě obvykle bývá nižší návštěvnost GP, než ve Státech. GP se bohužel neúčastnili žádní čeští hráči. Přece jenom ze Španělska cestovat do Kanady není úplně nejlevnější záležitost...
Před turnajem měli hráči trochu strach z Lantern Controlu, ale ukázalo se, že se není čeho obávat. Jediný hráč, kterému se s deckem dařilo, byl Brian Braun-Duin, který měl v prvním dni 7:1, když ho na feature matchi naprosto rozdrtil Seth Manfield s Tronem.
Výsledky GP krásně dokumentují to, co je na modernu nejhezčí. Týden po PT byl v top8 pouze jeden stejný deck a to Traverse Death's Shadow. A nejenom to, v top8 totiž bylo hned několik decků, které na PT naprosto vyhořely. Elfy a Grishoalbrand na PT téměř nikdo nehrál. A co takoví Bogles? To byl na PT jeden z decků s nejhoršími výsledky...
V top8 se nejlépe prosazovali ostřílení mazáci v podobě Daniela Warda s Bogly (Dan je známý tím, že Bogly hraje už spoustu let) a Jona Sterna s Boros Burnem (jediný deck, který měl v top8 dva zástupce).
Jon Stern také v top8 ukazoval, že je potřeba mít Burn nahraný a že to není úplně o tom, že dáte každé kolo soupeři za tři do hlavy. Zejména v top4 v souboji s Grishoalbrandem udivil všechny svoji sideboard strategií, když odsidoval všechny bytosti a nasidoval spoustu hatu jako Rest in Peace, Leyline of Sanctity a Ensnaring Bridge.
Ve finále se ale potvrdilo, že Boglové se svými Daybreak Coronety jsou pro Burn opravdu nepříznivý matchup a vítěznou trofej tak získal Daniel Ward. Deck s nejhoršími výsledky na PT tak o týden později zvítězil na GP :)
Pakliže úspěch Lanternu na PT příliě decku neprospěl, tak opačný účinek měl PT úspěch na druhý finálový deck, Mardu Pyromancera. Ten si získal řadu příznivců a pouze díky nepříznivému pomocnému hodnocení skončili dva jeho piloti na devátém a desátém místě.
Kompletní top32 vypadala takto:
1. Bogles
2. Boros Burn
3. Jeskai Control
4. Grishoalbrand
5. Vizier Elves
6. Traverse Death'S Shadow
7. Affinity
8. Boros Burn
9. Mardu Pyromancer
10. Mardu Pyromancer
11. Jeskai Control
12. Amulet Titan
13. 5C Humans
14. Jeskai Breach
15. RG Scapeshift
16. BG Midrange
17. BR Hollow One
18. RG Scapeshift
19. Gb Tron
20. Mardu Pyromancer
21. UR Pyromancer
22. 5C Humans
23. Boros Burn
24. Dredge
25. Gb Tron
26. Green Tron
27. Death and Taxes
28. Bogles
29. 5C Humans
30. BR Hollow One
31. BR Hollow One
32. Gb Tron
Jako zajímavé inovace bych vyzdvihnul one-of Hazoret v Mardu Pyromancerovi, Azor's Gateway v sidu v Tronu, nebo Auriok Championa v Humanech.
2. MTGO Quarterly MOCS (Standard)
Pokud nerozumíte této změti zkratek, takže vězte, že se jedná o prémiový turnaj na magic online, který se koná vždy jednou za čtvrt roku. Je pouze pro kvalifikované, kteří v šestici osmikolových turnajů dosáhli alespoň na šest výher.
Na turnaji se hrálo o kvalifikaci na Online mistrovství 2018 a o kvalifikaci na PT Dominaria.
Zahrát si přišlo 103 hráčů, kteří se utkali v sedmi kolech základní části a následné top8. Ta jenom potvrdila, jak je současný standard zábavný a rozmanitý, když v ní bylo osm různých decků! Ani nevím, kdy naposledy jsme mohli být svědky něčeho podobného...
Velmi suverénně si na turnaji počínal "kbol_", který s poměrně obyčejnou verzí Monored Aggra uhrál 7:0 v základní části a poté triumfoval i v top8. Pod tímto nickem se skrývá Marcio Carvalho, který skončil v loňském finálovém turnaji na čtvrtém místě...
Druhým kvalifikovaným se stal Ryuji, když hrál zajímavý UB Midrange s malou zelenou splashí na Vrasku.
Další decky v top8 byly zajímavý Grixis Midrange s Dusk Legion Zealoty, Mardu Vehicly, UW Approach, WB Tokeni, RG Monstra a BG Constrictor.
Na dalších místech (se skóre 5:2) bylo ještě k vidění RB Aggro, Grixis Control, Monoblack Aggro, WU Tokeni a UW Cycling.
3. MTGO Weekly Challenges (Modern, Legacy, Vintage, Duel Commander, Pauper)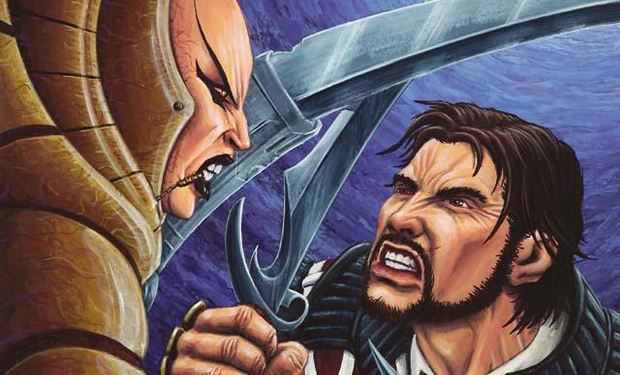 Poněkud nestandardní finále jsme mohli vidět na modernu, kde Rooney56 s Madcap Moonem porazil neobvyklou verzi Eldrazi and Taxes bez černé, ale zato s playsetem Chalicí a Copterami v mainu.
Třetí místo obsadil velmi netradiční RG Breach, který byl hodně midrange s Coursery a Huntmastery, ale zároveň hrál i Emrakuly a Summoning Trapy.
Na dalších místech byl Boros Burn, UW Control s maindeck Timely Reinforcements, BR Hollow One a dvojice Green Tronů.
Ve zbytku top16 už byly jenom samé zaběhnuté decky - 5C Humani, Grixis Control, Green Tron, Monowhite Death and Taxes, Boros Burn, Dredge a dvojice Living Endů.
Na legacy jsme byly svědky vítězství brew v podobě UR Controlu v tradiční kontrolní draw-n-go variantě jen s minimem winkondicí (žádný Pyromancer, pouze jeden Blood Moon v sidu).
Poraženým deckem ve finále byly WR Taxes s klasickou splashí na Dire Fleet Daredevily, Maguse a Piu a Kirana Nalaar.
Na dalších místech byla netradiční varianta Grixis Delvera bez Pyromancerů, ale zato s Thought Scoury a playsetem Gurmagů, Komboelfové, klasický Dack Control z dílny hráče "Clashed", Eldrazi Rampa s chuťovkou v podobě Azor's Gateway, Grixis Control s Young Pyromancery a BUG Aluren v hodně midrange variantě, ve které byli dokonce i Goyfové a Jace, Vryn's Prodigy.
V top16 už jsme mnoho takhle zajímavých decků neměli. Překvapil mne pouze UR Delver s dvojicí Magusů v mainu, a jinak tam byly tři Czech Pile, BG Depthsy, UW Miracly a klasický Grixis Delver.
Vintage challenge ovládl "Pirateofthesevenseas" s UW Landstillem, když ve finále porazil Inferno Oathy.
V top8 byly pouze samé tier decky (dvakrát Ravager Shops, další Inferno Oath, mix Mentora a Tezzeratora s Outcomy, 4C Control a Paradoxical Tezzerator), jedinou zajímavou inovací byly Smuggler's Coptery v Ravager Shopech na osmém místě.
Mimo top8 byl nejzajímavější deck mix Paradoxical Stormu a Griselbrand Oathů, ve kterém byly ještě navíc Burning Wishe.
A po delší době jsme na předních místech mohli vidět UW Stoneblade se Spell Quellery.
Duel Commander se nesl v duchu pokračování souboje mezi Vampýry a Breyou. Oproti minulému týdnu se misky vah převážily na stranu Brey, která měla čtyři zástupce v top8, zatímco Edgar Markov tam byl pouze jednom a jinak se musel spokojit pouze se třemi hráči v top16.
Populární nadále zůstala i Monogreen Rampa s Azusou, BUG Midrange s Leovoldem, 4C Goodstuff s Thrasiosem a Tymnou, Monoblack kombo se Sidisi a konečně 4C Control s Tymnou a Kraumem, se kterým celý turnaj ovládl "Punchilleno", když ve finále porazil Azusu, což mě docela udivuje, jelikož pomalejší decky to na rampu obvykle mají celkem špatné.
V pauperu sice zvítězilo Boros Aggro, ale suverénně nejhranějším deckem byl Delver, který v různých variantách obsadil osm míst v top16! Zajímavé bylo, že dvě verze z toho byly neobvykle s černou, jejíž hlavní přínos spočíval v Gurmag Anglerovi.
Další decky na předních příčkách byly UR Prowess, druhé Boros Aggro, Monogreen Aggro, dvě Atog Affinity, zajímavý Green Tron se spoustou eldrazi a také klasický Teachings Tron.
4. Duel Commander Praha (French Commander)
V posledním roce začala pražská duel commander série konkurovat do té doby suverénní hradecké sérii. Na poslední "french" tam přišlo solidních padesát hráčů.
K vidění byl velmi rozmanitý field, kde bylo nejhranější trio decků se třemi hráči. Byli to Baral, Leovold a Zurgo Bellstriker. Celekm bylo k vidění 33 různých generálů (či partner kombinací), což je naprostá paráda.
Ačkoli se změnila lokace, tak vítězem zůstal Vítězslav Šmíd, zvaný Kačer, jenž hrál 4C Control s Tymnou a Kraumem. Ve finále porazil Monogreen s Titanií pilotovaný Martinem Vlnasem.
Na dalších místech byl Animar (už ani nevím, kdy naposledy jsem ho viděl někde v top8), více agresivnější verze Tymny s Kraumem, Karlov (Death and Taxes), Jund Rampa/Kombo s Prosshem (taky už to bude nějaký ten pátek, co jsem viděl Prosshe v top8), další Titania a Burn se Zurgem.
Všechny decklisty z top8 si můžete prohlédnout zde.
A to je pro dnešek vše. Na viděnou zase u dalšího vydání.
Kumano
Komentáře
Přispívat mohou pouze přihlášení uživatelé. Pokud chcete vložit komentář, přihlaste se ZDE.