Novinky
Flash News #6/2018
V těchto Flash News nás čeká modernová várka informací díky Grand Prix Lyon a dvojici SGC Open turnajů. Na Standard nás vrátí Online PTQ a na post-ban Modern a další formáty se přesuneme díky Online Challenges.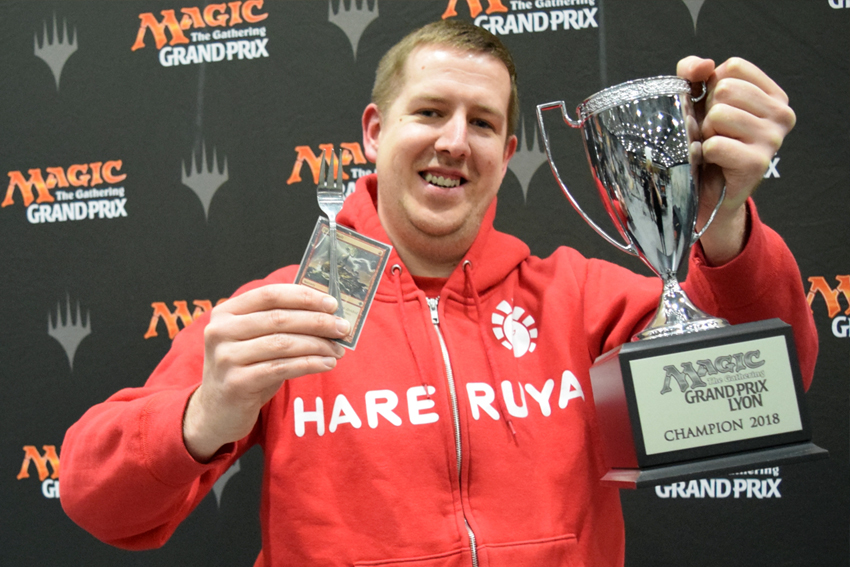 1. GP Lyon (Modern)
Poslední velký modern před vstupem Jace a Bloodbraid Elfa přilákal 2 071 hráčů, což je na evropské poměry parádní číslo. Nechybělli tu samozřejmě ani čeští hráči, kterých se tu sešlo čtyřidvacet.
V prvním dni nejvíce zaujal divoký deck Andrease Schulte se Soulflayerem, ve kterém mimo jiné byl playset Drogskol Reaverů a Zatalpy, Primal Dawn. Andreas dokonce začal 6:0 a ve druhém dni vyhrál v prvním kole feature match, kdy ve druhé hře porazil Leyline of the Void jednoduše hardcastnutím Drogskol Reavera. Poté se mu ale přestalo dařit a nakonec skončil se skóre 9:6 až ve třetí stovce konečného pořadí...
Druhý den byl krasojízdou zelených Tronů, které byly na turnaji velmi populární, jakožto ideální deck do interaktivní metagame s decky jako Lantern Control, Mardu Pyromancer, či Abzan Midrange.
Do finálové top8 nakonec postoupily čtyři a doplinily je tam dva Abzany (z dílny Reida Duka, tj. pouze s minimální bílou splashí pro Lingering Souls a Stony Silence v sidu), Jeskai Control a speciální brew Grzegorze Kowalskiho v podobě RG Eldrazi.
Nejvíce se dařilo dvěma nejzkušenějším hráčům v top8, což byli Marcio Carvalho s Abzanem a Grzegorz Kowalski, který předtím vyřadil dva Trony, když rozhodující match v semifinále stylově vyhrál poté, co přes Ancient Stirrings našel Crumble to Dust.
I finále se rozhodovalo až ve třetí hře, kde se přece jenom potvrdila nevýhoda Abzanu bez Path to Exile, což je náchylnost vůči kartám jako Matter Reshaper a Reality Smasher. Grzegorz Kowalski si tak na pátý pokus konečně připsal první výhru na GP.
Mezi decky na devátém až dvaatřicátém místě bylo několik zajímavostí - 5C Humani s maindeck Dire Fleet Daredevily a Venserem, GW Death and Taxes s "fun-of" Akromou, Angel of Fury (minikombo s flicker efekty), Abzan Aggro s Doranem (techovka prot Lanter Controlu), Naya verze Burnu s Wild Nacatly a Atarka's Commandy, bláznivý 5C Gifts Ungiven/Bring to Light midrange a dokonce i UB Mill.
Celá top32 vypadala takhle:
1. RG Eldrazi
2. Abzan Midrange
3. Green Tron
4. Green Tron
5. Green Tron
6. Jeskai Control
7. Abzan Midrange
8. Green Tron
9. Affinity
10. Traverse Death's Shadow
11. Green Tron
12. UW Control
13. 5C Humans
14. Boros Burn
15. GW Death and Taxes
16. Traverse Death's Shadow
17. 5C Humans
18. 5C Humans
19. Boros Burn
20. Mardu Pyromancer
21. RG Breach
22. BG Midrange
23. Affinity
24. Nacatl Burn
25. Green Tron
26. Abzan Aggro
27. Mardu Pyromancer
28. Mardu Pyromancer
29. Eldrazi Tron
30. RG Scapeshift
31. 5C Gifts
32. UB Mill
Závěrem musím dodat, jak se dařilo našim hráčům. V prvním dni to žádná sláva nebyla, jelikož potřebných šest výher pro postup do finálového dne získalo pouze osm hráčů. Druhý den se ale vydařil parádně - Petr Sochůrek až do posledního kola bojoval s 5C Humany o postup do top8 a nakonec skončil na třináctém místě.
Dobře si vedl i Pavel Matoušek, který obsadil devětadvacáté místo s Tronem. Dvojice Ondřej Havelka a Tomáš Čundrlík získala dva pro pointy za skóre 11:4 a jeden pro point si připsali Lukáš Blohon, Martin Scháňka a Martin Jůza.
2. SCG Open Indianapolis (Modern)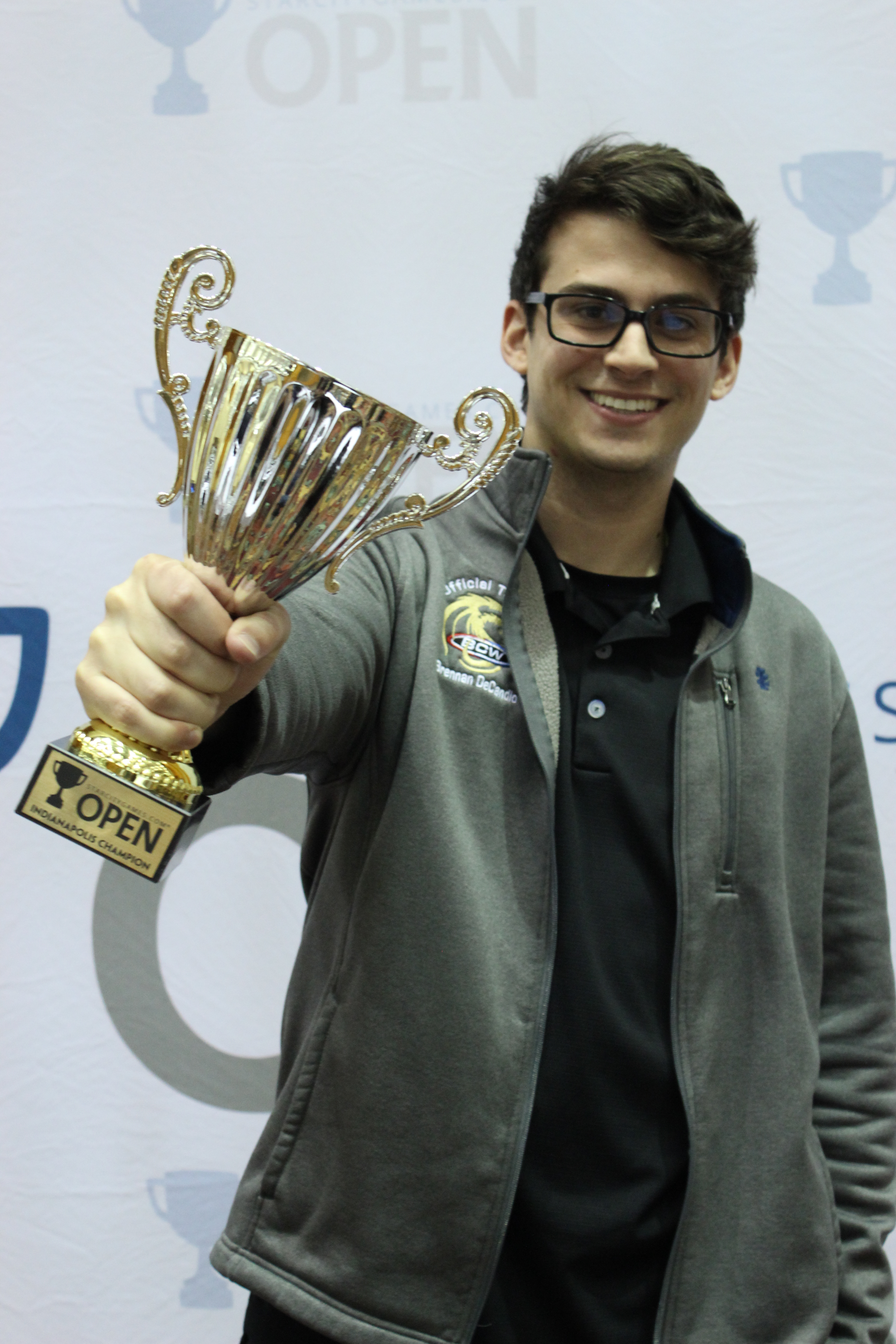 "Indy" byla v rámci SCG Open okruhu vžydcky velmi populární destinace a to se potvrdilo i tentokrát, když si přišlo zahrát rekordních 1 060 hráčů, čímž tenhle turnaj hravě strčil do kapsy nejedno GP.
Díky přísnému cutu ale i tak do druhého dne postoupilo pouze 90 hráčů, mezi nimiž byla celkem neobvyklá metagame. Nejhranější decky byly totiž UW Control a Green Tron s osmi hráči (asi to nebude úplně náhoda, že se dařilo decku s osmi kusy "landdestrukce" v mainu).
A velmi populární byl třeba i Boros Burn, 5C Humani, Eldrazi Tron, či Mardu Pyromancer. Všechny tyto decky měly shodně šest zástupců ve druhém dni.
Na popularitě nabralo třeba i RB Hollow One (čtyři hráči), a naopak celkem neoblíbený byl Grixis Death's Shadow, který měl pouze tři zástupce ve druhém dni.
Nic si z toho ale nedělal Brennan DiCandio, který právě s Grixisem celý turnaj opanoval, když si v top8 poradil s dvojicí Eldrazi Tronů a Monowhite Death and Taxes.
V top8 nechyběl ani Benjamin Nicolich se svým oblíbeným Jeskai Controlem a Dylan Doneghan, který je známý coby specialista s Grixis Death's Shadow. A top8 zkompletovali GB Elfové a UW Control.
Za top8 jsme mohli vidět dva další Eldrazi Trony, Eldrazi and Taxes, GW Company, Jeskai Control s Kiki-Jikim, 5C Humany, Affinitu a UW Control.
Nejzajímavější deck z celé top32 byl na sedmnáctém místě. Šlo o BW Walkery, kteří profitovali z toho, že v mainu nehrály žádné bytosti (pouze token generátory). Nevím ale, jestli bych si do metagame plné Tronů vzal podobný deck (zejména když uvážíme, že místo Ghost Quarterů jsou v mainu Tectonic Edge).
Druhé zajímavé brew v top32 bylo 4C Saheeli Combo s Lotus Cobrami, Eldritch Evolution a Oathy of Nissa. Vypečený je v decku zejména playset Renegade Rallierů, kteří jsou skvělí s Voice of Resurgence, ale umí zároveň vykopávat i Oathy, nebo přinášejí dobrou value coby kopírovací cíl pro Saheeli.
3. SCG Classic Indianapolis (Standard & Modern)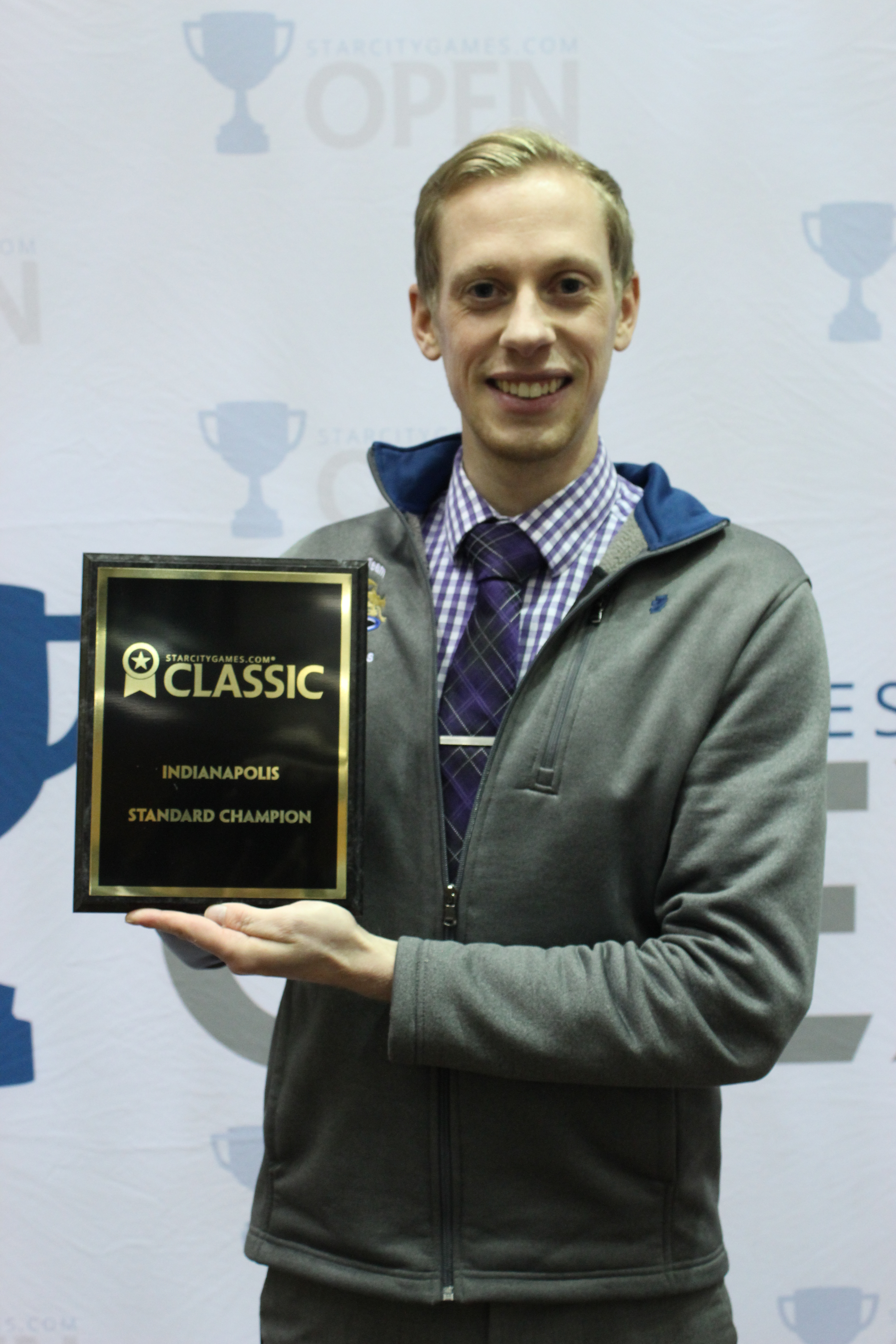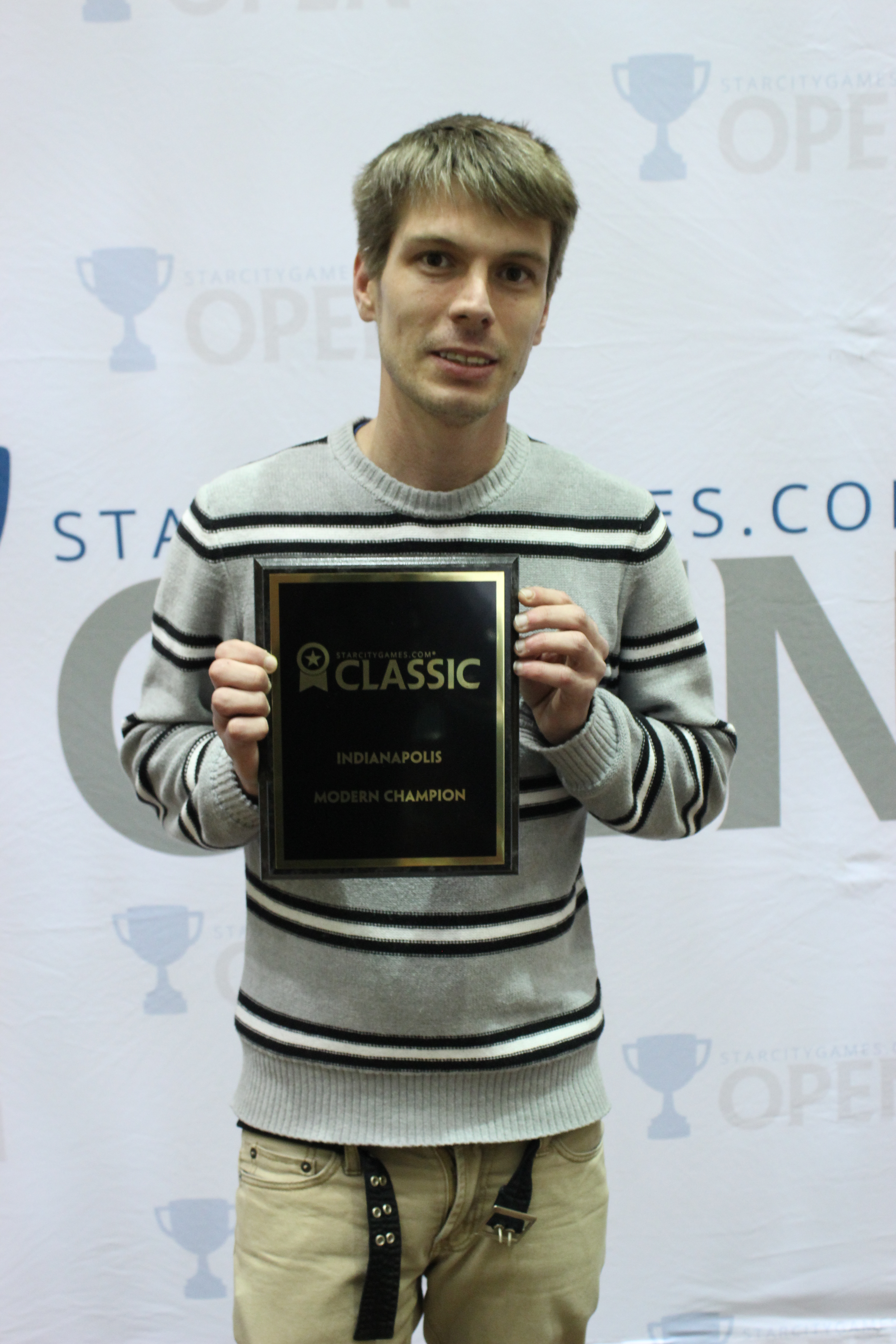 Už ze sobotní návštěvy nebylo těžké odhadnout, že i nedělní sideeventy budou velmi dobře zastoupeny.
Standardu se zúčastnilo 153 hráčů, což znamenalo osm kol základní části. Nejlépe si s konkurencí shoudou okolností poradil týmový kolega Brennana DeCandia, Todd Stevens, který s UB Controlem ve finále porazil WB Tokeny.
V top16 jsme mohli vidět i několik velmi zajímavých brew. Třetí byl Ali Aintrazi s GB Rampou, která byla založená na Hour of Promise a Mastermind's Acquisition. Díky Gift of Paradise a Cascading Cataracts byly v decku i malé splashe na ostatní barvy a v sidu jsme mohli vidět chuťovky jako Nicol Bolas či Zacama.
Další brew se tomuto samozřejmě nemohly v kreativnosti ani náhodou rovnat. Bylo to GW Aggro se Sram's Expertise a Appeal/Authority a UR Tempo s flying bytostmi a playsetem Favorable Winds.
Celkově vypadala top16 takto:
5× Monored Aggro
2× UB Control
2× Mardu Vehicles
2× Grixis Energy
1× WB Tokens
1× GB Ramp
1× GW Aggro
1× UR Winds
1× Grixis Control
Modernové klasiky se účastnilo velmi slušných 281 hráčů, což dokonce znamenalo devět kol základní části.
V top8 jsme pak mohli sledovat překvapivý úspěch dvojice méně obvyklých decků, když Greg Williams s RW Prisonem porazil RUG Midrange (s neobvyklými kartami jako Mishra's Bauble a Narnam Renegade) Roberta Meadowse.
Na další místech přitom byly standardní tier decky jako UW Control, Grixis Death's Shadow, GB Elfové (s one-of Growing Rity a Behemothem), Ad Nauseam, Affinita a Dredge.
Mimo top8 mne zaujal hlavně kombo Grixis s As Foretoldem, o kterém už jsem tu před časem psal. Jde o deck, ve kterém jsou různé kombo karty jako Goryo's Vengeance, Kiki-Jiki, či Living End. V decku je taky jako zajímavý enabler As Foretold, ke kterému tu nechybí playset Ancestral Vizí.
4. Online PTQ (Standard)
Online PTQ si jednak s 385 hráči udrželo dlouhodobě velmi vysokou návštěvnost, ale hlavně si udrželo si dobrou rozmanitost na předních příčkách.
V top8 sice tentokrát nebylo osm různých decků, ale i tak to bylo velmi zajímavé. Z vítězství se radoval "cwllc" s  Monored Aggrem s malou černou splashí pro Scroungery a Disintegrace, když ve finále porazil UB Control, ve kterém bylo několik zajímavých one-ofů jako Consign//Oblivion, Pull from Tomorrow, či Insidious Will.
Na dalších místech byli WB Tokeni, dvě Monored Aggra, UB Control s malými splashemi na Nicola Bolase, Vrasku a dokonce Carnage Tyranta v sidu. Poslední dvě místa v top8 obsadily dva Grixis Controly.
Mezi devátým až dvacátým místem byli hráči se skóre 8:1. Nejhranější deck na těchto příčkách bylo Monored Aggro, ale mohli jsme tu vidět i Big Red variantu bez Hazoret a agresivních jednomanovek, když dala přednost playsetům Chandry, Fénixe, Glorybringera a Treasure Map, GW Tokeny s playsetem Huatli, RG Monstra a RG Dinosaury, WU Tokeny, Grixis Energy, BUG Midrange (bez Constrictora), či Abzan Tokeny.
Zmínku si zaslouží také zajímavá verze GB Constrictora, která hrála velký počet explore bytostí a Wildgrowth Walkery.