Novinky
Flash News #8/2018
V těchto Flash News nás čeká sumář Magic Online Championship 2017 a další zajímavé Magic Online eventy. Nebude chybět legačkové SCG Open Worcester a bonus v podobě francouzské varianty Duel Commanderu.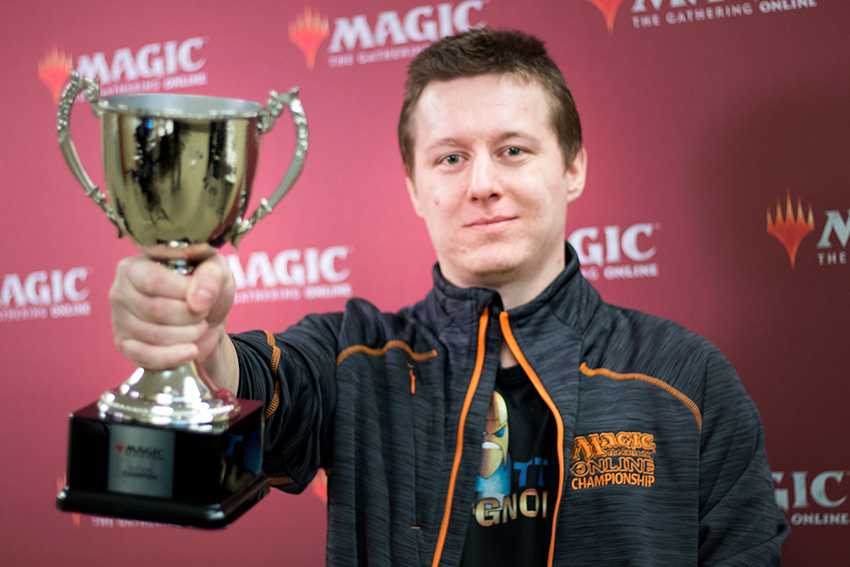 1. MTGO Championship 2017 (Draft + Modern)
Již tradičně se online MS konalo v sídle WoTC, kam bylo pozváno čtyřidvacet kvalifikovaných hráčů (leč dorazilo jich o jednoho méně - důvody absence jsem nezjišťoval).
Po loňském fiasku se standardem (turnaj měl skvělou coverage, ale formát byl nudný a většina hráčů hrála jeden ze dvou tier decků) se letos rozhodli WoTC obligátní draft doplnit modernem, což bylo zajímavé zejména z hlediska změny v banlistu (a další reklamy pro Jace a potažmo M25).
Na turnaji se ukázalo, že jako větší hrozba pro modern ve skutečnosti vypadá Bloodbraid Elf. Toho totiž může hrát celá řada decků od Jundu, až po Scapeshift či 5C Zoo. A právě Jund byl suverénně nejhranějším deckem turnaje:
7× Jund
3× Bogles
2× Grixis Control
2× BR Hollow One
2× Boros Burn
2× Domain Zoo
Mardu Pyromancer
WU Death and Taxes
Bant Midrange
Merfolk
Blue Moon
Zajímaví jsou Boglové, coby druhý nejhranější deck. Na formátu, kde převládají interakticvní decky s Bloodbraidem a Jacem je totiž deck s playsetem Leyline of Sanctity a hexproof bytostmi naprosto fenomenální volbou.
Po prvním dni byl na čele standingů Steve Rubin, jenž měl jako jediný skóre 6:1 (na modernu hrál Jund). Z ostatních hráčů se ale do finálové top4 mohl dostat v podstatě kdokoli.
Steve si své vydobité první místo už vzít nenechal a bez problémů postoupil do top4, kde ho doplnil Niklas Dahlquist (také s Jundem), Dmitriy Butakov (Bogles) a Lars Dam (vlastní verze Grixisu s Dire Fleet Daredevily).
V top4 se opět hrálo speciálním způsobem na dva vítězné matche. Dmitriy Butakov a Lars Dam měli šanci jako první v historii obhájit výhru na onlinovém MS (koná se od roku 2009).
Do finále se nakonec probojovali Dmitriy Butakov a Steve Rubin. Steve sice překvapivě zvítězil v prvním matchi, ale poté už mu Dmitriy nedal moc šancí a stal se jako první v historii dvojnásobným vítězem online mistrovství (a také získal platinum status a 40 000$). A to navzdory tomu, že dle svých slov nemá Bogly vůbec rád.
Na chvíli se ještě budeme věnovat decklistům. U Jundu a Boglů jsme se žádných překvapení nedočkali, ale měli jsme tu zajímavá brew v podobě již zmiňovaného Grixisu s Dire Fleet Daredevily, 5C Zoo s Tribal Flamy, které obsahovalo i super greedy package pro midrange matchupy v podobě Bloodbraid Elfa s Lingering Soulsy. Osobně se mi to líbí, ale hrát pětibarvu když má pomalu každý druhý v decku Ghost Quarter a Field of Ruin mi přijde hrozně riskantní. Na druhou stranu jsem si ale vždycky chtěl Bloodbraidem vytočit Mantis Ridera...
Úplně nejzajímavější brew hrál Gillaume Matignon. Šlo o Bant Midrange, který kombinoval planeswalkery (Jace a Nissa) s Time Walk efekty. V decku bylo také několik chuťovek jako one-of Sphinx's Revelation, či Emrakul, the Promised End. Nevím, nakolik vážně bral Giullaume tenhle turnaj, ale s deckem uhrál 4:4.
2. SCG Open Worcester (Legacy)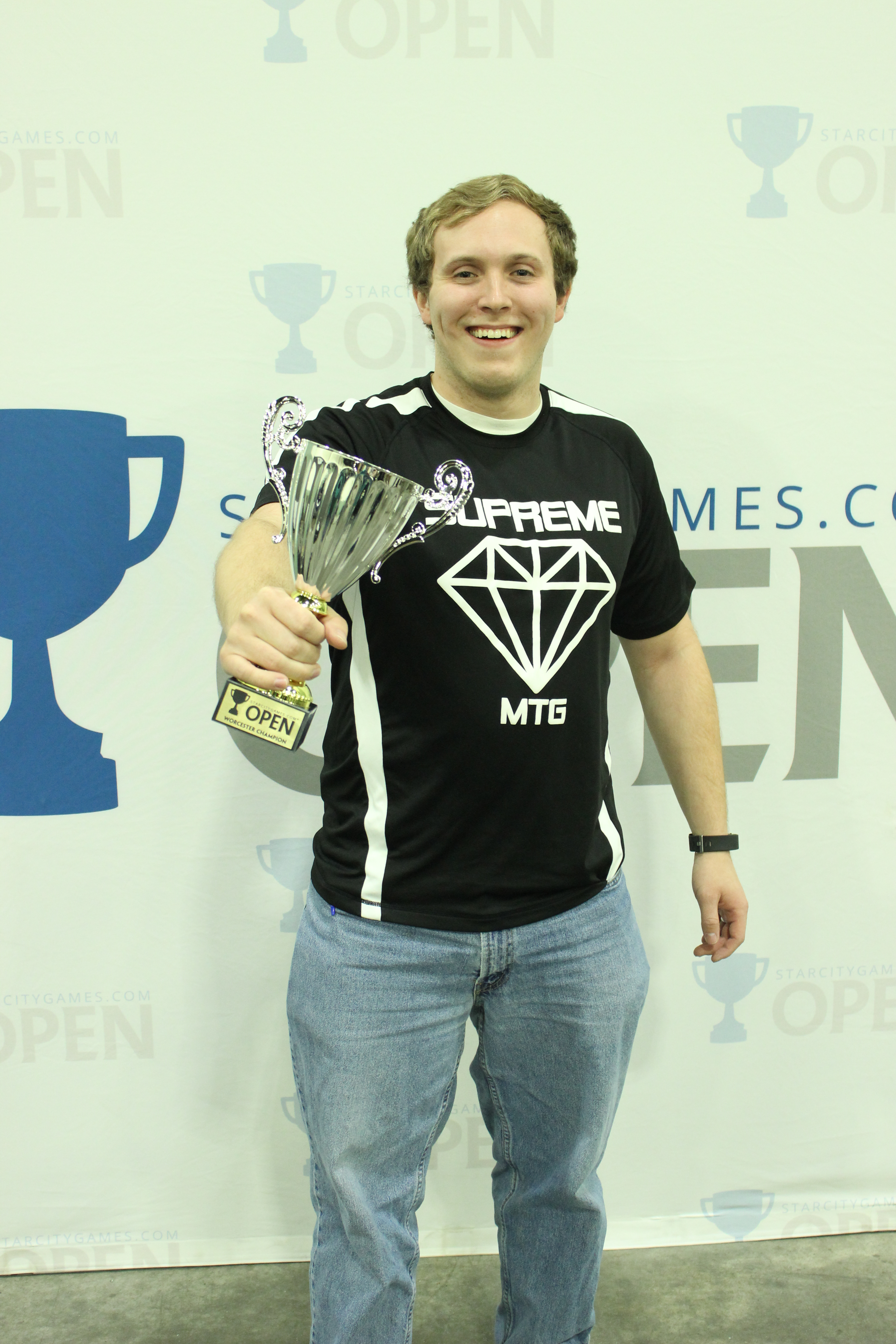 Po delší odmlce jsme měli na SCG Open legačku coby hlavní formát. To sice přilákalo 722 hráčů, nicméně z hlediska diváckého zážitku turnaj zase tak zajímavý nebyl...
Na turnaji totiž naprosto dominoval Grixis Delver, jenž nekompromisně trestal jakékoli pokusy o nějaké větší inovace.
Ve druhém dni bylo 71 hráčů, mezi kterými sice bylo osmadvacet různých decků (nejpodivnějším deckem bylo asi Soldier Stompy), nicméně hned osmnáct z nich hrálo právě Grixis Delvera, což mi nápadně připomíná předchozí dominanci Miraclů. Možná, že by ban Deathrite Shamana formátu opravdu prospěl... Druhý nejhranější deck byly Miracly, jenže ty hrála pouhá šestice hráčů.
Asi vás tudíž nepřekvapí, že se do top8 dostaly hned čtyři Grixisy. Ve finále v souboji Deathrite Shamanů dokázal Drake Sasser porazil Bena Feingershe s Elfy. Papírově je to pro Elfy velmi dobrý matchup, ale když má Delver dream-draw, tak se těžko poráží bez ohledu na papírové předpoklady...
Další decky v top8 byly Mentor Miracly s Back to Basics, se kterými si velmi zkušeně počínal Jim Davis, a klasické verze RG Landů a Colorless Eldrazi.
V top32 sice bylo dohromady hned jedenáct Grixis Delverů, ale dalo se narazit i na několik zajímavých decků.
V top16 byly Abzan Depthsy (bílé karty byli hatebeaři v sidu - Thalia a Gaddock), Dark Bantblade, BUG Delver, Grixis Tezzerator (Thopter-Sword kombo a Leyline-Helm kombo v sidu) a také Storm s Burning Wishi, který nehrál nikdo jiný než Bryant Cook (což je vůbec jeden z prvních hráčů, který na legacy začal hrát variantu stormu s Infernal Tutory).
Na dalších místech jsme také mohli vidět UWr Miracly s maindeck Counterbalancemi a Blood Moonem, WR Death and Taxes (navíc i s "tajnou" černou splashí na Orzhovv Pontiffa), Burn, BUG Control, Aggro Loam, Esper Deathblade, Czech Pile, Esper Mentora a 4C Maverick.
3. SCG Classic Worcester (Modern + Legacy)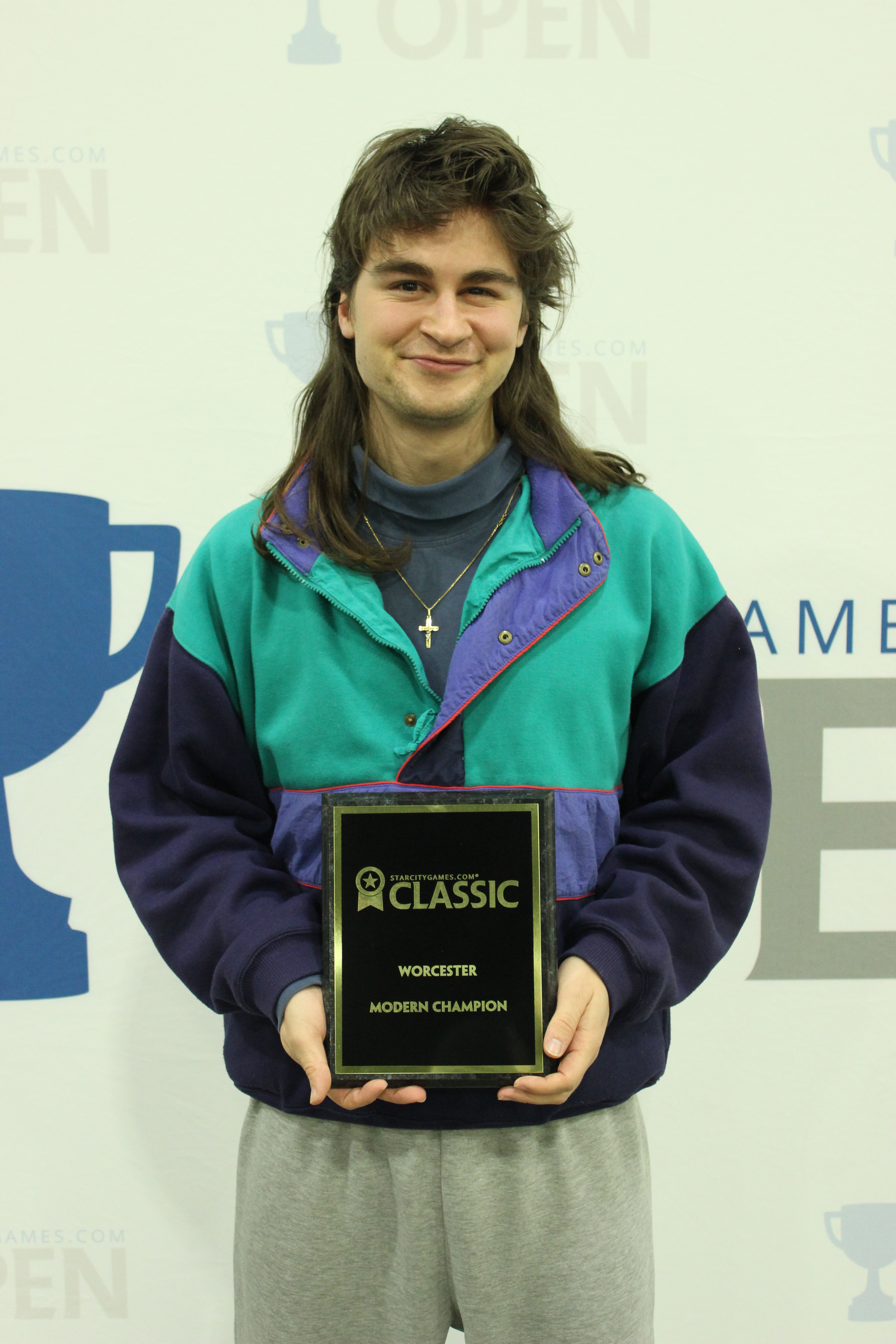 V neděli všechny překvapila modernová klasika. Samozřejmě se počítalo s velkou účastí, vždyť modernové sideeventy jsou velmi populární, nicméně rekordních 400 hráčů asi nečekali ani samotní organizátoři.
Další překvapení turnaje byl samotný vítězný deck. S devíti koly základní části a následnou top8 si nejlépe poradil Jordan Boisvert s Colorless Eldrazi, když ve finále porazil Gifts Storm.
Nejzajímavější na tom je, že v decku není vůbec nic nového. Až doposud byl párkrát v top16 na MTGO či právě SCG klasikách a najdednou zvítězí v turnaji se 400 hráči. To je ale prostě kouzlo modernu...
Další decky na předních příčkách byly Affinita, zajímavá čtyřbarva v podobě mixu Traverse Death's Shadow a Mardu Pyromancera, Bogles, Grixis Control (poctivá kontrolní verze tzv. "bez winkondice"), Amulet Titan (verze s Jacem), RG Eldrazi (vylepšení o Bloodbraid Elfa), Boros Burn, Jeskai Tempo (bez Jace), RG Ponza, Lantern Control, Green Tron, Bant Company (s Retreat kombem a Jacem), UW verze Time Walk decku (s Terminusem a Timely Reinforcements v sidu) a midrange verze Bant Company.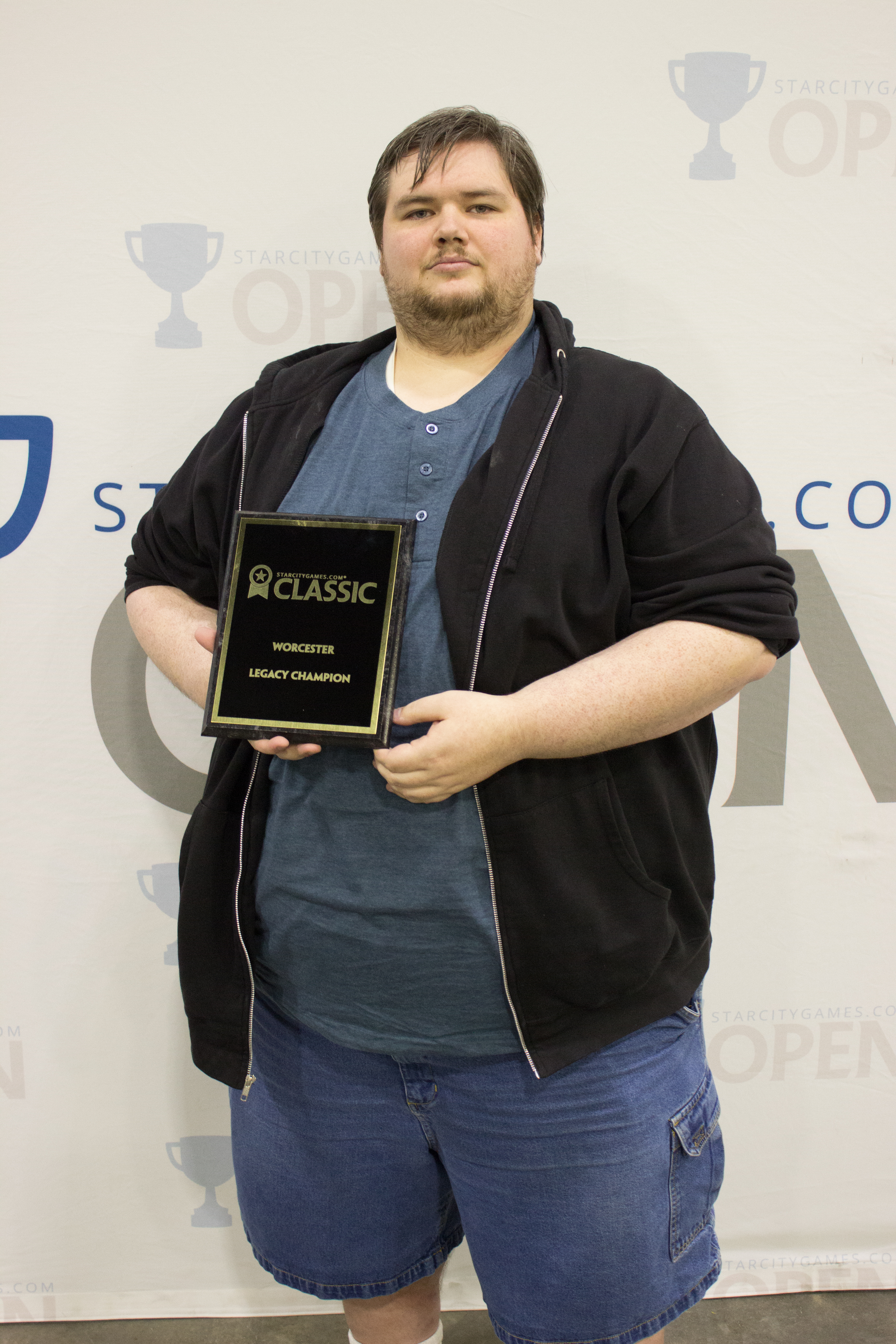 Legacy klasiky se zúčastnilo pěkných 206 hráčů a shodou okolností se i zde ve finále utkal Storm s Chalice deckem. A opět se z výhry radoval Chalice deck, konkrétně Monored Stompy pilotované Zacem Turgeonem. U Stormu stojí za pozornost Pack Rat v sidu, což je tech, který jsem zatím ještě v tomhle decku neviděl.
Nejvíce zástupců měl v top16 podle očekávání Grixis Delver, který měl dva hráče v top8 a další dva ve druhé polovině top16.
Po dvou hráčích v top16 měly RG Země, Death and Taxes a Colorless Eldrazi. Zbylá místa obsadil další Storm, Dark Bantblade, Aggro Loam a BR Reanimator.
4. Monthly MOCS (Standard)
Na měsíční kvalifikaci do čtvrtletního finálového turnaje na MTGO připadl v březnu standard, alespoň co se constructed týče.
Zahrát si přišlo 181 hráčů, z nichž šestadvacet dosáhlo na šest výher, což je hranice postupu na závěrečný turnaj.
Jediný hráč s perfektním skóre 8:0 byl "Daboyz", který hrál trochu překvapivě klasickou verzi UW Giftu, která byla velmi podobná té, se kterou Pascal Maynard dokráčel až do finále PT Ixalan.
Celková skladba decků mezi kvalifikovanými hráči byla následující:
5× UB Midrange
3× Grixis Energy
3× Monored Aggro
3× Hadana Constrictor
3× UB Control
2× WB Vampires
UW Gift
4C Energy
Mardu Aggro
Naya Monsters
GW Tokens
Grixis Control
UW Auras
Standard je sice pod mírnou nadvládou Scarab Goda, ale metagame je stále velmi rozmanitá, což dokazují některá brew, například WB Vampýři s kartami jako Champion of Dusk či Sanctum Seeker, 4C Energy, které kompenzuje ztrátru Attunu zařazením Channeler Initiate, nebo UW Aury s několika novými inovacemi (Slippery Scoundrel nebo Toccatli Honor Guard).