Novinky
Flash News #9/2017
1. GP Barcelona (Standard)
Do "Barcy" si přijelo zahrát 1 262 hráčů, včetně sedmnácti českých, mezi kterými nechyběly všechny hlavní hvězdy jako Martin Jůza, Lukáš Blohon, Petr Sochůrek, nebo Ondřej Stráský. Až na jednu výjimku se jim ale příliš nedařilo...
Turnaj byl ve znamení souboje 4C Saheeli a Mardu Vehiclů, což byly dva suverénně nejhranější decky ve druhém dni, které zároveň plně obsadily top8 v poměru 4:4.
Ve finálové top8 byla dva vleká jména - Marcio Carvalho a také náš Petr Sochůrek, kterému se skvěle dařilo se 4C Saheeli. Při své páté top8 na GP se dočkal druhého triumfu, když v top8 porazil třikrát Mardu Vehicly (Marcia Carvalha vyřadil v semifinále). Nejlepší kartou v těchto zápasech podle jeho slov byla Skysovereign, kterou plno jeho Mardu soupeřů vůbec nečekalo. Je zajímavé, jak se pozice jedné karty na formátu může během několika měsíců úplně změnit - pamatuji si, jak se krátce po releasu Kaladeshe mluvilo o tom, že Skysovereign není na formátu v dobré pozici a hráči Vehiclů o něm mluvili jako o nejslabší kartě v decku...
Kromě Petra Sochůrka se z našich hráčů dostal do peněz pouze Martin Hrycej, jenž se skóre 11:4 obsadil 44. místo. Potřebných deset výher k zisku pro pointů měli ještě Josef Živec a Arnošt Žídek.
Co se metagame týče, tak kromě 4C Saheeli a Vehiclů se v top32 vyskytovaly samozřejmě ještě BG decky s Winding Constrictorem, Aetherworks Marvely (viz. nepopulární deváté místo Marca Tobiasche) a Dynavolt Tower.
Mimo nich byl v top32 pouze jeden další deck, což byli BR Eldrazi japonského brewera, Toru Inoue.
12× Mardu Vehicles
7× 4C Saheeli
3× BG Delirium
3× BG Energy
3× RUG Aetherworks
2× Saheeli Aetherworks
BR Eldrazi
RUG Tower
Zajímavý mix mezi Saheeli kombem a Aetherworks Marvely hrál Branco Neirynck. Základní konfigurace jeho decku se tvářila jako 4C Saheeli, ale po sidu měl možnost hrál Ulamogy a Marvely "do plných". Osobně mám velmi rád kombodecky s transformačním sideboardem, takže pokud jste na tom podobně, tak rozhodně doporučuji tenhle deck vyzkoušet.
2. GP New Jersey (Standard)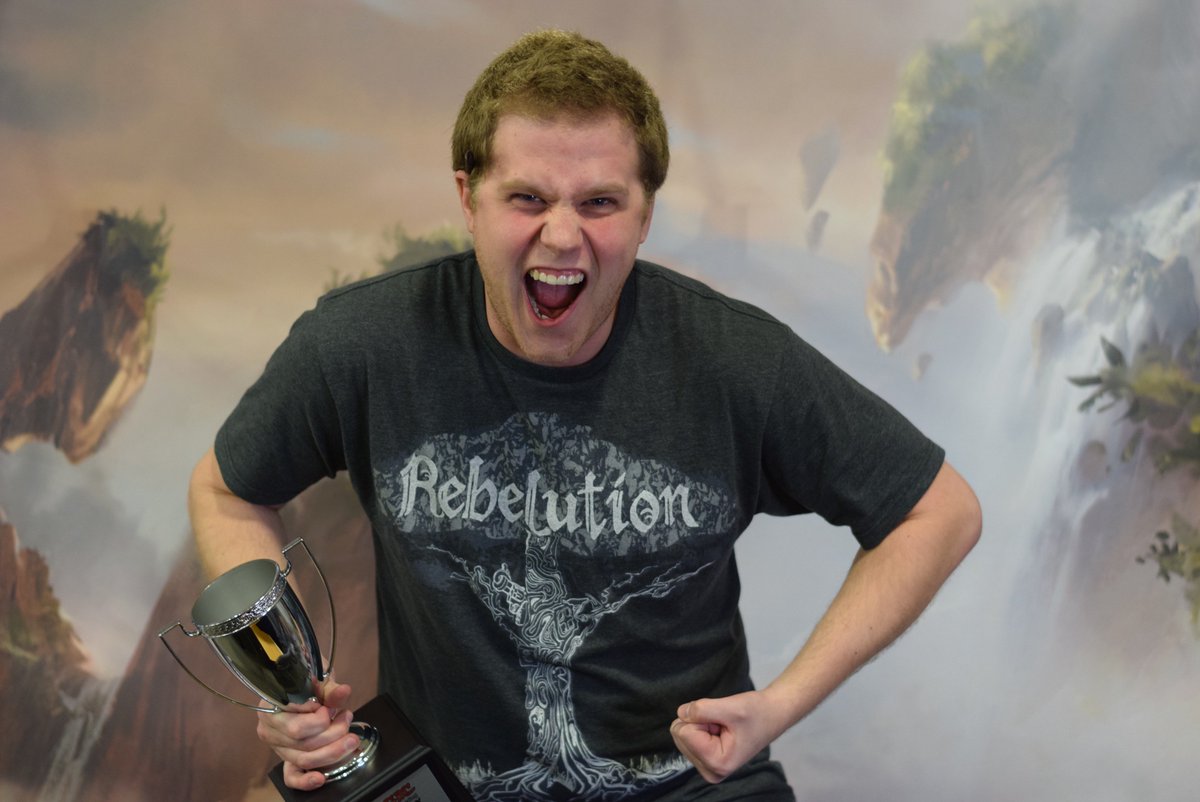 Do New Jersey si přišlo zahrát 1 622 hráčů (patrně bez české účasti) a na nejvyšších příčkách to byla po celý víkend opravdová bitva titánů. Po prvním dni byla mezi neporaženými hráči velká jména jako Ari Lax, Brad Nelson, nebo Paul Rietzl.
A velká jména byla i ve finálové top8 - Paul Rietzl, Ben Stark, Robert Lombardi, Ben Friedman, Jarvis Yu, nebo Corey Baumeister. To je dohromady 44 top8 z předchozích GP a také čtyři hráči s alespoň jedním vítězstvím.
V top8 byly zároveň dva docela originální decky - první bylo Jund Aggro Bena Starka, se kterým se dostal až do semifinále. V podstatě šlo o BG Energy Aggro, které splashovalo červenou kvůli Unlicensed Disintergation.
Druhý deck bylo 4C Saheeli kombo s delirium tématikou, kterou nejvíce podporoval Walking Ballista v mainu a také Traverse the Ulvenwald, který mohl hledat one-ofy jako Ishkanah a Tireless Tracker. S deckem se až do finále dostal Ben Friedman, kde ale nestačil na klasickou verzi 4C Saheeli, kterou hrál Corey Baumeister, jenž si tak připsal své první vítězství na GP.
Z dalších decků byl nejúspěšnější RUG Marvel, který zde dokonce přeskočil BG Constrictor decky, jenž měly v top32 pouze dva zástupce (i když kdo ví, tvůrci coverage totiž ztratili dva decklisty).
14× Mardu Vehicles
8× 4C Saheeli
3× RUG Tower
2× BG Constrictor
Saheeli Aetherworks
Jund Aggro
Esper Control
Stejně jako v Barceloně, i zde se v top32 našel jeden neobvyklý deck. Šlo o Esper Control s Dynavolt Towerem. V jádru to byl vlastně UB Control, kdem i jako nejdůležitější "bílá" karta přišla Shambling Vent.
Na decku je také zajímavý transformační sideboard s kartami jako Glint-Sleeve Siphoner, Spell Queller, Thalia, či Gisela.
3. SCG Open Dallas (Modern)
Do Dallasu přijelo pěkných 887 modernových nadšenců, kteří si to první den rozdali v devíti kolech, po kterých zbylo 73 hráčů se skóre 7:2 a lépe.
Našlo se mezi nimi 21 různých decků, včetně chuťovek jako BR Moon, 5C Zoo, nebo Gr Devotion. Nejhranějším deckem ve druhém dni byl Burn (většinou Boros verze), který následovaly Jund a Abzan verze Death's Shadow (deset a osm hráčů). Trochu překvapivé je i Revolt Zoo s pěti hráči.
Finálová top8 pěkně korespondovala s metagame druhého dne, když v ní byly dvě Fritky a dva Death's Shadow v barvách Jundu. Tyhle decky se nakonec střetly i ve finále, kde zvítězil Austin Bursavich s Death's Shadow. A to i navzdory tomu, že Trent Avera s Burnem byl na tento matchup dobře připraven, když měl v sidu hned tři Deflecting Palmy a playset Pathů.
Zbytek top8 tvořili Merfolci, Ad Nauseam, Bant Eldrazi a konečně speciál Todda Stevense, kterým bylo GW Company. Deck je na pomezí aggra a midrange a z nových karet v něm jsou dva Renegade Rallieři, ke kterým tu jsou Goyfové, Voice a Scavenging Oozy. Osobně se mi zde velmi líbí synergie Relikviářů s Cruciblem, Tireless Trackerem a Azusou. Pouze mne trochu zaráží absence Witnessek...
V top8 byly také k vidění zajímavé sideboardové techy u Boros Burnu a Ad Nauseam. V sidu Fritky jsme mohli vidět tři kusy Angel's Grace, což je velmi solidní sidovka proti kombodeckům jako Ad nauseam, Scapeshift, Goryo's Vengeance, apod. A u Ad Nauseam jsme zase mohli vidět Grave Titany, což je docela dobrý plán po sidu, jelikož to většina soupeřů nebude vůbec čekat a přes Spirit Guidy a Pentad Prism ho můžete dát už ve třetím kole.
Mimo top8 jsme ze zajímavých decků mohli vidět například RG Ponzu s Madcap Experimentem (velmi těsně na pomocné s ní skončil devátý Gordon Clinard), Boros Burn s Fatal Pushem v sidu (zřejmě kvůli velké popularitě Death's Shadow), Gr Devotion, nebo UW draw-n-go Control z dílny Alexe Mitase, který loni skončil v top8 na GP Dallas s Jeskai verzí decku.
4. SCG Classic Dallas (Modern & Standard)
Větší z obou klasik byla ta modernová, které se zúčastnilo 188 hráčů, což znamenalo osm kol a top8.
V top16 byl nejhranějším deckem Death's Shadow, který se tam v různých barevných kombinacích objevil hned čtyříkrát. V top8 měl jako jediný deck dva zástupce RG Scapeshift, avšak v top4 byly úplně jiné decky.
Z vítězství se radoval Jody Keith s Living Endem, když ve finále porazil Faerie Davida Daniela. Šlo o agresivní verzi s discardem, Lilianami a také s playsetem Smuggler's Copter!
Na třetím místě skončila zajímavá verze Melira Company, která hrála playset Viscera Seerů spolu se Saffi a Renegade Rallierem. Tenhle setup je velmi dobrý s Collected Company, jelikož je velmi pravděpodobné, že díky ní dáte vždy dohromady jedno z komb.
I na čtvrtém místě byla zajímavá verze jinak klasického decku. Šlo o Affinitu s playsetem Glint-Nest Crane, která decku dává větší konzistenci.
Mimo první čtyři decky byl nejzajímavější Grixis Deaath's Shadow, jenž skončil na devátém místě. Deck je vlastně kombinací klasického Grixisu a Death's Shadow Jundu, k čemuž navíc ještě můžete hrát chuťovky jako Stubborn Denial a Temur Battle Rage.
Dvojkové klasiky se účastnilo přesně sto hráčů, kteří změřily síly v sedmi kolech základní části a v následné top8.
Ve finále se tu stala velmi vzácná věc - ani jeden z finalistů nehrál 4C Saheeli, Mardu, nebo GB! Proti sobě stanuli Josh Newell s RG Pummelerem a Mac Blanchard s RUG Towerem. Zvítězil Josh Newell.
V top8 byly ještě další dva méně obkvylé decky, a to Jeskai verze Saheeli komba a Jeskai Control s Dynavolt Towerem.
5. Standard Monthly MOCS
Prostřednictvím magic online se hráči mohli zúčastnit další z mnohých měsíčních kvalifikací. Tenhle turnaj je přístupný všem, hraje se vždy osm kol bez top8 a hráči se skóre 6:2 e lépe se kvalifikují na "Quarterly MOCS", což je turnaj, kde první dva získají pozvánku na MTGO Championship 2017. Nejbližší čtvrtletní kvalifikace je mimochodem dvacátého května.
Aktuálního "monthy standardu" se zúčastnilo 154 hráčů, z nichž dvaadvacet hráčů dosáhlo na požadované skóre 6:2 a lépe. Z toho hrálo osm hráčů 4C Saheeli a šest Mardu Vehicly. Z dalších decků byly mezi úspěšnými tři BG, dvakrát RUG Marvel, RUG Tower, Saheeli Marvel a také BR Eldrazi (stejná verze jako na GP).
Osobně mě nejvíce překvapily hned dva kontrolní delirium decky s kartami jako Liliana, Ishkanah, nebo Grapple with the Past. Na druhou stranu je to ale celkem pochopitelné - když se mavhupy s Vehicly a 4C Saheeli po sidu často odehrávají spíše jako souboje midrange decků, tak je tohle nejlepší varianta BG. Na druhou stranu je ale zase mnohem horší proti kontrolům a Aetherworks Marvelu...
6. MTGO Legacy Challenge
Březnová legacy challenge byla ve znamení dominance Miraclů, které zabraly čtyři místa ve finálové top8 a zejména pak všechny tři místa na pomyslných stupních vítězů. Všechny úspěšné verze měly společné to, že hrály z bytostí pouze Snapcastery a veobecně hrály minimum winkondicí (2× Jace, 1-2× Entreaty).
Celá top16 vypadalo takto:
1. Miracles
2. Miracles
3. Miracles
4. Blue Lands
5. 4C Delver (Pyromancer + Therapy)
6. BR Reanimator
7. Miracles
8. Elves
9. Sneak and Show
10. BUG Delver
11. BUG Delver (Gurmag + TNN)
12. Storm
13. 4C Delver (Pyromancer + Therapy)
14. Monoblack Reanimator (Show and Tell v sidu)
15. UR Delver
16. Burn
Vidíte, že nejvýše umístěný nonmiracle deck je "modrá" varianta Zemí, což je verze s Intuicí, Cruciblem a Academy Ruinami. Zajímavé je, že u téhle verze nejsou v sidu klasičtí Tireless Trackeři, které nahradila Nissa, Vital Force. A za zmínku stojí i že pilot decku (Call1Me1Dragon) byl i v minulé legacy challenge v top8, ale s diametrálně odlišných deckem - Monored Prison (Dragon Stompy).
A když už zmiňuji předchozí legacy challenge, tak musíme dodat, že se i tentokrát dařilo Julianu Knabovi, který sice s Elfy neobhájil vítězství, ale znovu se dokázal dostat do top8.
Pokud bych se měl poohlédnout po nějakých inovacích, tak bych zmínil hlavně zajímavou verzi BUG Delvera s Thought Scoury a playetem Gurmag Anglerů a také Monoblack Reanimator s malou modrou splashí pro Careful Study a Show and Tell v sidu.
7. 4Seasons Winter Tournament Bologna (Legacy & Modern)
Italové jsou známí pro svou oblibu eternal formátů a ačkoli třeba tahle série mimo Itálii není vůbec známá, tak na legačku sem přišlo 183 hráčů, což je srovnatelné i s většími evropskými sériemi jako MKM Series, nebo Bazaar of Moxen.
Ještě zajímavější je, že v top8 tu nebyly žádné Miracly, ačkoli většina italských legacy profíků hraje právě tenhle deck...
Z vítězství se tu radoval Tommaso Pierfederici se 4C Controlem (Czech Control), ve kterém hrál trochu netradičně Daze. Poraženým finalistou byl Fabio Di Pasquale s agresivní verzí BUG Delvera s Dark Confidanty a Stiflem.
Celá top16 vypadala takto:
1. 4C Control
2. BUG Delver
3. Goblins
4. 12-Post
5. 4C Delver (TNN & Snapcaster)
6. OmniTell
7. Monored Sneak Attack
8. OmniTell
9. Mentor Miracles
10. Mentor Miracles
11. BRg Reanimator
12. BUG Control
13. Combo Aluren
14. Miracles
15. BRg Reanimator
16. Storm
Nejzajímavější decky byly překvapivě na předních příčkách. Největší překvapení pro mě jsou oldschool Goblini, kteří jsou obyčejně dost špatní proti kombodeckům a deckům s Deathrite Shamanem (což je tak 90% fieldu).
Obvykle mne překvapí i decklist 12-Postu, jelikož to je jeden z decků, kam se dá "nacpat" opravdu kdeco, což tady vidíme v podobě Terminusů a Trinket Magů.
Další méně obvyklé decky jsou Monored Sneak Attack (jeden z mnoha decků, který se spoléhá na Blood Moon nebo Chalice of the Void zahranou v prvním kole), nebo čtyřbarevná komboverze Alurenu s Recruitery.
Druhý main event turnaje byl modern, kterého se zúčastnilo 90 hráčů. Nejlépe se tu dařilo Tron deckům, které zabraly tři místa v top8 a také zcela opanovaly finále, kde Giuliano Benincasa s Eldrazi Tronem porazil Gb Tron Federico Cacciatorea.
Třetí Tron v top8 byl Monoblue s Mindslaver/Academy Ruins kombem.
Kromě toho byly v top8 k vidění další velmi zajímavé decky. Na třetím místě byl BR Midrange s Pack Rat a Goblin Rabblemastery, pátý byl Grixis Control s Chandrami, sedmý UW Control s Ojutai's Commandy a flipovacími Jacy, a konečně - osmý byl BUG Midrange s kartami jako Grim Flayer, Tasigur, nebo Ashiok. Poslední deck v top8 byly Bring to Light Scapeshift.
8. Show and Tell Paris Duel Commander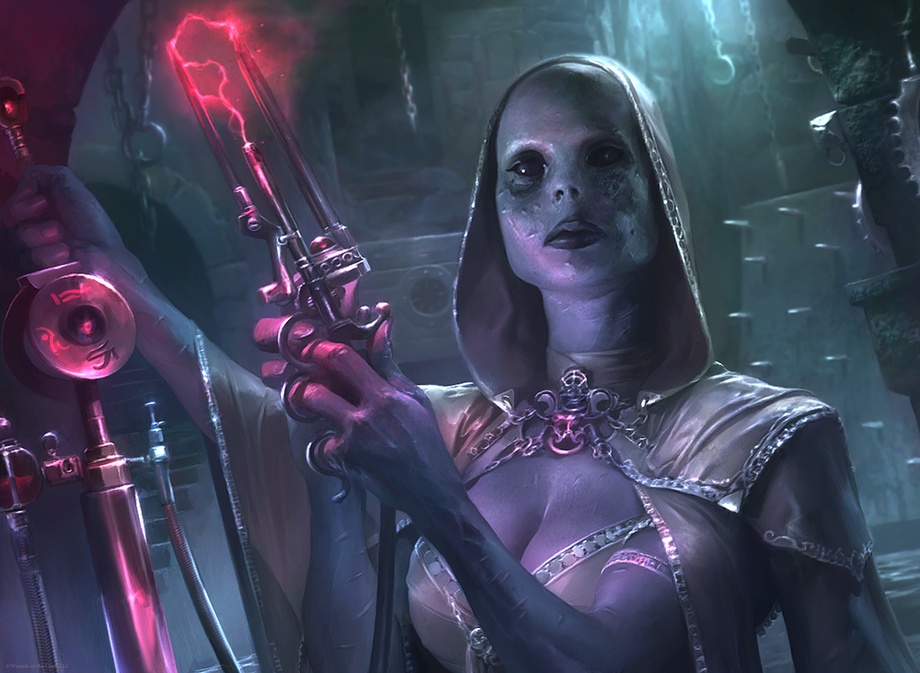 Na závěr se krátce podíváme na duel commander do Paříže, kde se sešlo 64 hráčů. Na turnaji dominovala Breya, která obsadila čtyři místa v top8. Moje nejoblíbenější verze z těchto čtyř byla určitě all-kombo, která mimo jiné obsahovala Auriok Salvagers + Lion's Eye Diamond, Grindstone + Painter's Servant, nebo Isochron Scepter + Orim's Chant.
Ani jeden z této čtveřice ale turnaj nevyhrál, jelikož všem vypálil rybník Yohan Blanchard s Ninem (Blood Moon / Splinter Twin kombo). Blood Moon je docela dobrý proti čtyřbarvě...
I zbylé decky v top8 hrály modrou - dvakrát High Tide kombo s Jacem a Geist of Saint Traft. Nezbývá než doufat, že oficiální varianta duel commanderu od WoTC bude trochu atraktivnější, než je aktuální "french" a leviathan.