Novinky
Flash News #9/2018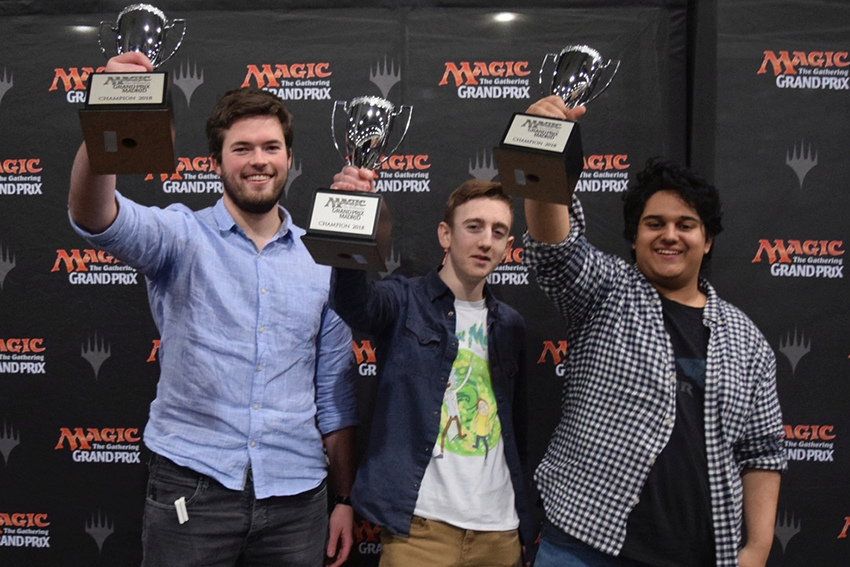 1. GP Madrid (Team Constructed)
V Madridu se konalo další GP v populárním týmovém constructed, což je turnaj, kde proti sobě hrají tříčlenné týmy, ve kterých jeden hráč hraje standard, druhý modern a třetí legacy.
Do Madridu si přišlo zahrát 353 týmů, mezi kterými se našlo i několik českých hráčů (potažmo i týmů).
V týmových eventech obvykle platí, že se tu nejvíce daří zkušeným hráčům, což se potvrdilo i tentokrát.
Mezi finálovou čtveřicí bylo plno známých jmen, například dánští Michael Bonde a Thomas Enevoldsen, švédští Joel Larsson a Elias Watsfeldt, či italští Adriano Moscato a Alessandro Lippi. A to nemluvím o tom, že na pátém místě skončili Andra Mengucci, Christiano Calcano a Javier Dominguez, kteří měli špatné pomocné kvůli dvěma porážkám v prvních třech kolech...
Jediný tým v top4 bez předchozích dobrých výsledků na GP byla trojice mladých Angličanů, Christoph Green, Ben Jones, Charles Eliatamby. A právě ti se nakonec radovali z výhry, když ve finále porazili dánské matadory. Jejich výherní kombinace byla Grixis Energy na standardu, Grixis Death's Shadow na modernu a Colorless Eldrazi na legacy.
V coverage byly zveřejněny decklisty prvních šestnácti týmů, takže se můžeme podívat na to, co byly nejúspěšnější decky na jednotlivých formátech.
Standardu stále vévodí Scarab God decky (vítězný tým měl v decku hned celý playset) - v top16 bylo pět UB Controlů a čtyři Grixis Energy decky. Modernu vévodí po odbanování Bloodbraid Elfa Jund, který měl v top16 pět zástupců. Na legacy to byla remíza mezi Grixis Delverem a překvapivě Monored Stompy. Oba decky měly po třech zástupcích v top16.
Grixis Energy // Grixis Death's Shadow // Colorless Eldrazi
UB Midrange // RG Scapeshift // Czech Pile
UB Control // Jund Midrange // Monored Stompy
Monored Aggro // Glorybringer Jund // Monored Stompy
Grixis Energy // Jund Midrange // BUG Delver
Hadana Constrictor // RG Eldrazi // BG Depths
UB Control // Green Tron // UWr Stoneblade
Esper Gift // RB Hollow One // RUG Delver
UB Control // Eldrazi and Taxes // Grixis Delver
UB Control // Jund Midrange // Grixis Delver
Grixis Energy // Jund Midrange // Lands
UB Control // RB Hollow One // Grixis Delver
UB Midrange // Living End // Storm
Monored Aggro // Green Tron // Monored Stompy
Grixis Energy // RG Eldrazi // BUG Control
Hadana Constrictor // UB Control // UWr Walkers
Pokud se soustředíme na méně obvyklé decky, tak na standardu můžeme zmínit pouze Esper Gift. Mnohem zajímavější to bylo na modernu, kde jsme hned v top4 měli Scapeshift s playsetem Bloodbraidů a Jund s vyšší křivkou, kde byli Confidanti nahrazeni Tireless Trackery a Glorybringery.
Mimo top4 jsme měli dvakrát RG Eldrazi, což je další deck využívající Bloodbraid Elfy, Monowhite Eldrazi and Taxes s playsetem Thraben Inspectorů (na modernu jde opravdu uhrát dobrý výsledek s lecčím), nebo zajímavou verzi UB Controlu s velkým množství discardu a s Jacem a Kalitasem coby hlavními finishery.
Na legacy bych kromě trojice Monored Stompy zmínil zajímavou verzi BG Depthsů s playsety Confidantů a Deathrite Shamanů (midrange plán byl dále podpořen Bitterblossomy a Tarmogoyfy v sidu), UWr Stoneblade, ve kterém byla červená pouze kvůli Blood Moonům a Blastům v sidu (pamatujete na doby, kde se hrály Bolty a Lavamanceři v mainu?), nebo zajímavý UWr Control s Humilitou a čtyřmi různými planeswalkery v mainu.
Závěrem nám zbývá ještě ohlédnutí za českými výsledky. Do druhého dne, kam postoupilo pětačtyřicet týmů, se dostalo pět českých hráčů. Nejlepší z nich byl Lukáš Blohon, který spolu s Enggaardem Larsenem a Martinem Müllerem obsadil patnácté místo. Zajímavé je, že si vybral legačku, kde hrál BUG Control.
Druhý nejlepší český hráč byl Ondřej Stráský, který v tradiční trojici s Ivanem Flochem a Thomasem Hendriksem skončil na sedmadvacátém místě.
Zbylí Češí byli spolu v trojici na sedmatřicátém místě. Byli to Jaroslav Bouček, Štěpán Dudešek a Matěj Belasta.
2. GP Santiago (Team Sealed)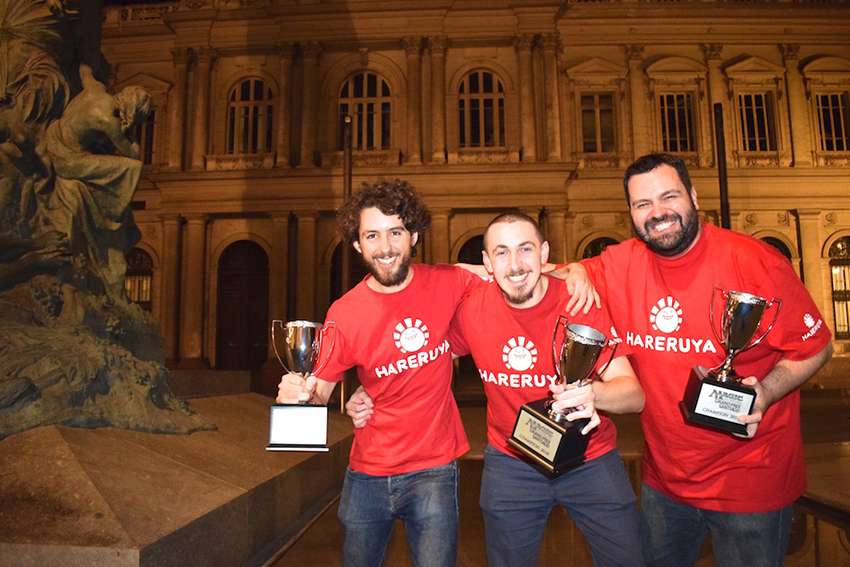 I dnešní druhé GP byla týmová záležitost, nicméně tentokrát šlo o klasické týmové limited (v nové formě, kdy se hraje v prvním dni osm kol a ve druhém šest).
Zahrát si přišlo 261 týmů, což je na Chile tak nějak očekávaný počet. Za pozornost ovšem stojí, že do druhého dne se tu dostalo více týmů než v Madridu, kde bylo opravdu hodně remíz (68 týmů v Santiagu a 53 v Madridu).
Na předních příčkách to po celý víkend vypadalo skoro jako někde na MS, jelikož v top4 jsme mohli vidět snad všechny nejlepší jihoamerické hráče - Paulo Vitor Damo da Rosa, Carlos Romao, Luis Salvatto, Willy Edel, Thiago Saporito, Lucas Berthoud, Guilherme Merjam, či Sebastian Pozzo.
Nakonec si i tyto dva nabíté týmy střetly ve finále, kde trojice Sebastian Pozzo, Luis Salvatto a Lucas Berthoud porazila Wiilyho Edela a Thiaga Saporita, kteří k sobě přibrali neznámého Juliana Souzu.
3. SCG Open Dallas (Modern)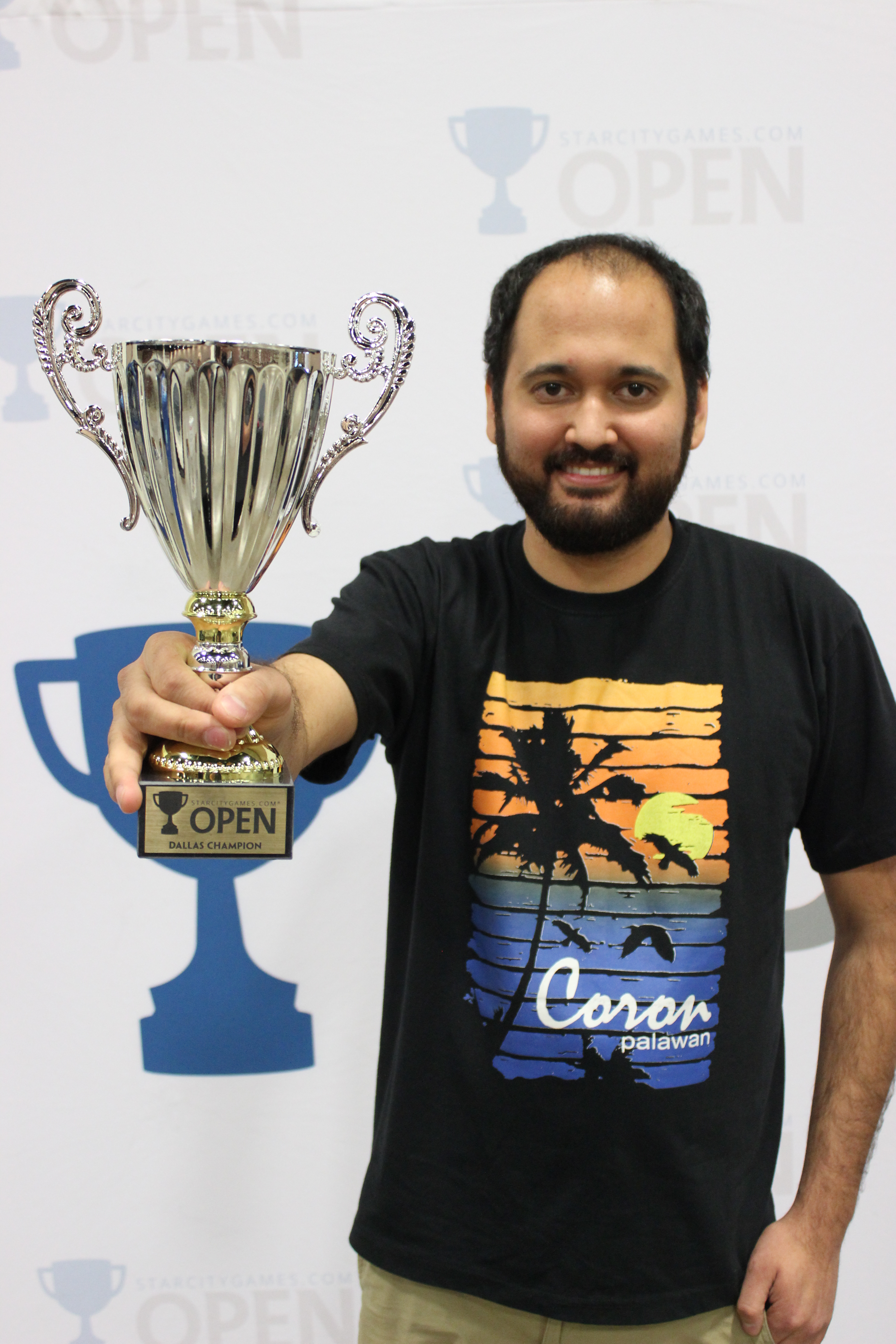 Na populární modern přišlo do Dallasu solidních 822 hráčů. Přísný postupový klíč v podobě sedmi výher z prvních devíti kol splnilo dvaasedmdesát, mezi kterými byl nejhranějším deckem Gifts Storm (sedm hráčů), Jund a Boros Burn (šest hráčů).
V top8 ale všechny překvapil zcela jiný deck - Andrew Wolbers zvítězil s RG Ponzou, když ve finále dokázal porazit Gift Storm, což je jeden z jeho nejhorších matchupů. Za úspěch vděčil zejména - asi už tušíte - Bloodbraid Elfovi, který dal decku úplně nový rozměr, jelikož ho přes Arbor Elfa a Utopia Sprawl můžete dát už ve druhém kole!
Kompletní top32 vypadala takhle:
RG Ponza
Gifts Storm
Gifts Storm
Infect
Jund Midrange
UW Control
Gb Tron
Eldrazi Tron
Jund HollowVine
Bogles
Colorless Eldrazi
UG Eldrazi
Jeskai Control
Abzan Company
Traverse Pyromancer
Gifts Storm
UB Tezzerator
Rabble Jund
Gifts Storm
Eldrazi Tron
Domain Zoo
Boros Burn
Blue Moon
5C Humans
RG Ponza
4C Company
Jeskai Control
Eldrazi Tron
Abzan Company
Gifts Storm
GB Company
UB Faeries
V top8 byl kromě vítězné Ponzy nejméně obvyklý deck Infect, ve kterém ale příliš zajímavých techovek nebylo (snad kromě one-of Wild Defiance v mainu).
Na dalších místech to už ale bylo mnohem zajímavější, mohli jsme vidět Jund verzi Hollow One s Vengevinami, zajímavé brew v podobě UG Eldrazi s playsetem Elder Deep-Fiendů, updatovanou verzi 4C Midrange s Traverse the Ulvenwald a Young Pyromancery (hlavní novinkou byli Bloodbraidi), UB Tezzerator s Thopther//Sword kombem (s malou zelenou splashí na sidovky typu Abrupt Decay a Maelstrom Pulse), Domain Zoo (opět šlo o zvláštní verzi, osobně bych hrál Hierarchy a maindeck Soulsy), Blue Moon se Stormbreath Dragony (a Madcap Experimentem v sidu), zajímavá 4C Company s Magusy of the Moon v mainu, ještě zvláštnější GB Company s Fulminator Mage a Lilianou, Heretic Healer, a konečně i zajímavá tapout verze UB Faerií (bez Cryptic Commandů, ale zato s playsetem Liliany).
4. SCG Classic Dallas (Standard & Modern)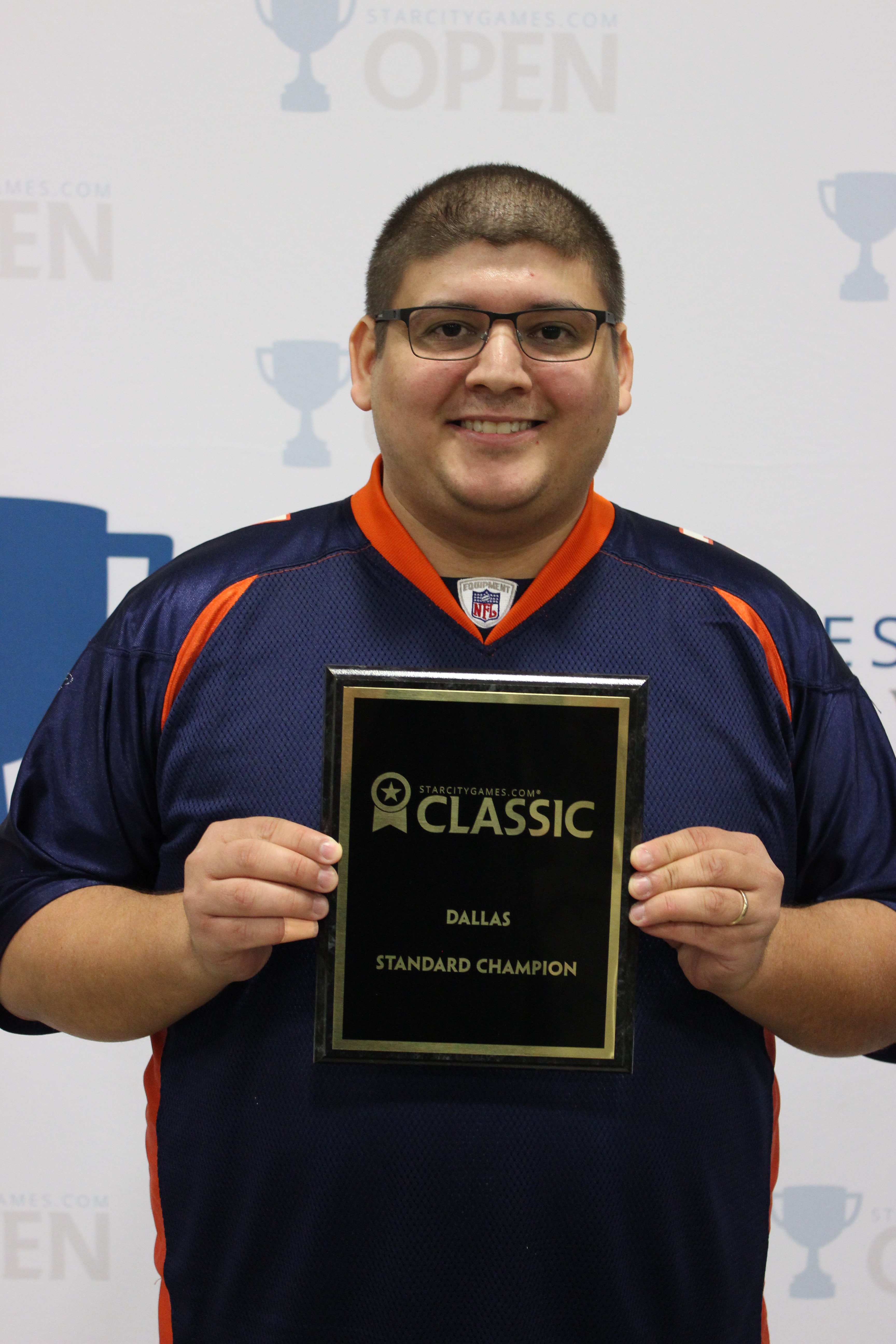 Na standard přišlo jenom 94 hráčů, což stačilo na pouze na sedm kol základní části, kde bylo do top8 potřeba 5:1:1.
S konkurencí si nejlépe poradil Andrew Funkhouser s Grixis Energy. Stejně jako v Madridu šlo o verzi, která měla hned celý playset Scarab Godů. Za zmínku stojí, že v top8 porazil tři Monored Aggra (celekm tam byly čtyři).
Mezi nejzajímavější decky v top16 patřilo Monoblack Aggro s Bone Pickery, Monored Aggro s modrou splashí pro counterování v podobě Siren Stormtamerů, Spell Pierců a Negaček (v sidu), GW Aggro se tokenovou tématikou (Sram's Expertise a Huatli) a Naya Monstra.
Ani modernová klasika neměla tentokráte tolik účastníků. Se 188 hráči to ale i tak znamenalo osm kol základní části.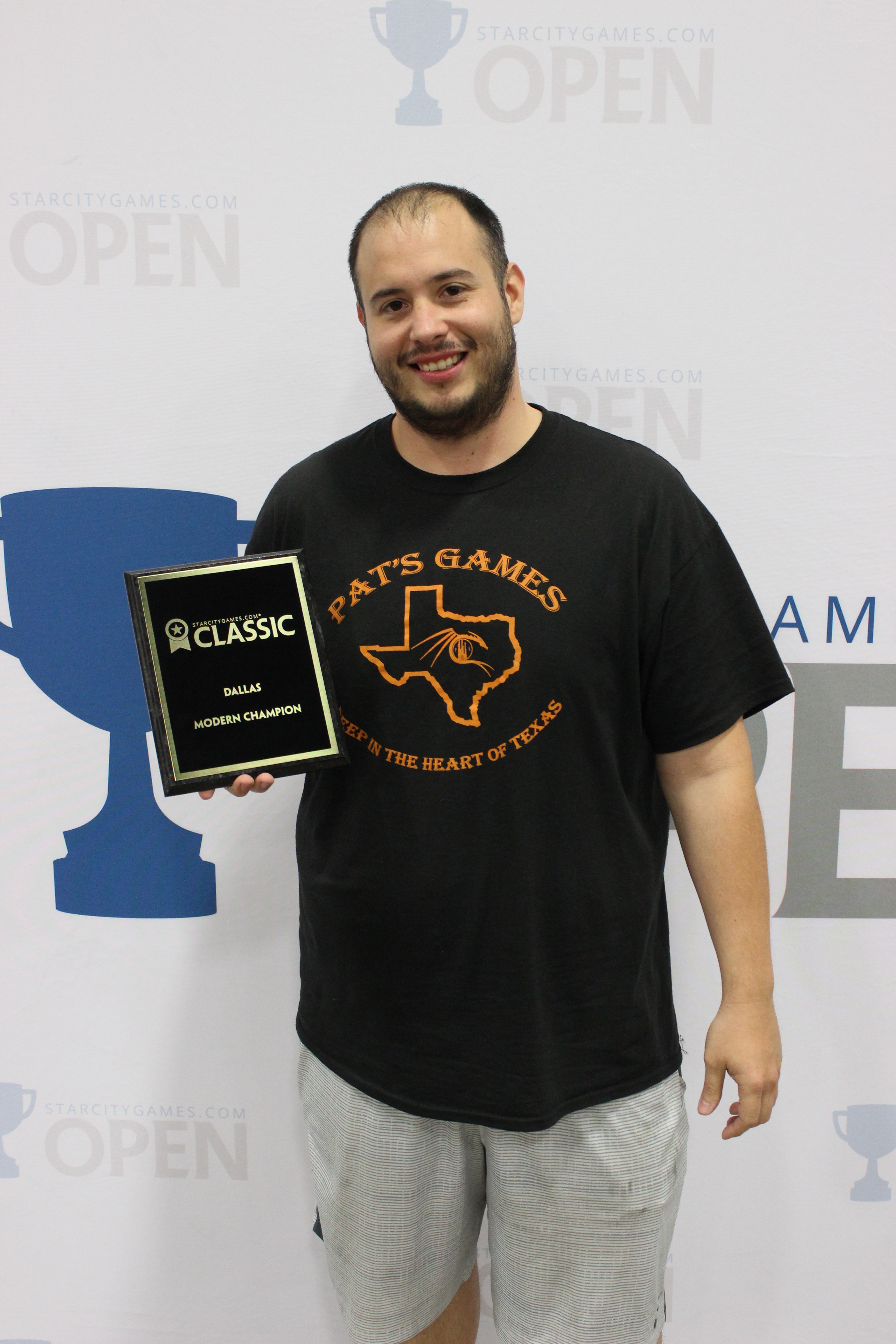 Ve velmi rozmanité top8 triumfoval Robert Berni s Dredgem, když ve finále porazil Jund Josepha Herrery.
Na dalších místech byl Boros Burn, Gift Storm, hodně netradiční UR Prison, který bych označil za variantu Lantern Controlu, která ale místo Lanterny a mill rocků hraje playset Chalice of the Void, Green Tron, 5C Humani s novoinkou v podobě Pii and Kirana Nalaar (konečně využití pro přebytečné Aether Vialy), Jeskai Tempo, RG Scapeshift (s Bloodbraidy), Esper verze Eldrazi and Taxes a až na jedenáctém místě byl první duplicitní deck v podobě 5C Humanů.
Kromě toho jsme ještě mohli vidět další Jund, Infect, BR Hollow One, ještě do třetice Humany a také Grixis Death's Shadow.
5. Online PTQ (Standard)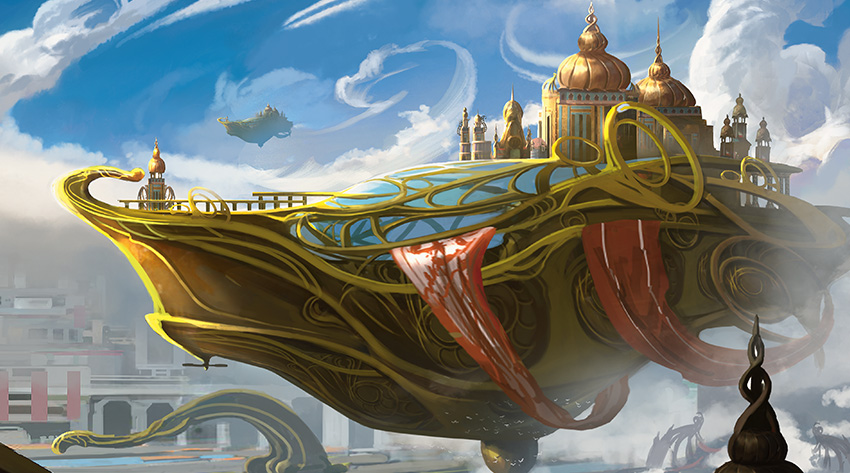 Dvojková online PTQ si stále drží velmi dobrou účast, tohle se mohlo pochlubit solidními 321 hráči, což znamenalo devět kol základní části.
V nich dohromady šestadvacet hráčů dosáhlo na sedm a více výher. Bylo mezi nimi třináct různých decků, což na první pohled vypadá docela rozmanitě, ovšem výrazný náskok před ostatními měl UB Midrange:
8× UB Midrange
4× Grixis Energy
3× GW Tokens
2× UB Control
Hadana Constrictor
UW Gift
UB Midrange s Vraskou
WB Vampires
GW Midrange
Grixis Energy s Vraskou
Monored Aggro
RB Aggro
Grixis Improvise
Ve finále se naštěstí utkaly zcela jiné decky. "lightdar" představil zajímavou verzi GW Tokenů s velkým počtem vehiclů, kde nejvíce překvapily hned tři Skysovereigny. Druhým finalistou byl Pat Cox s agresivní verzí BUG Constrictora s Hadana's Climbem. Z výhry se nakonec radoval lightdar.
V top8 byl dále UW Gift, UB Control, UB Midrange s Vraskami, WB Vampýři (s vyššá křivkou, která zahrnovala karty jako Sanctum Seeker a Champion of Dusk), zajímavý GW Midrange s playsetem Growing Rites of Itlimoc a klasický UB Midrange.
Menší ústup ze slávy zažil Grixis Energy, ale hlavně Monored Aggro, jekož nejhranější konfigurace s Eathrshaker Khenrou a Ahn-Crop Crashery na aktuálním fieldu není moc dobrá.
Naopak, po dlouhé době byl k vidění na předních příčkách Grixis Improvise s Tezzeretey a Marionette Masterem, se kterým uhrál 7:2 "JPike".
6. MTGO Weekly Challenges (Modern, Legacy, Vintage, Duel Commander, Pauper)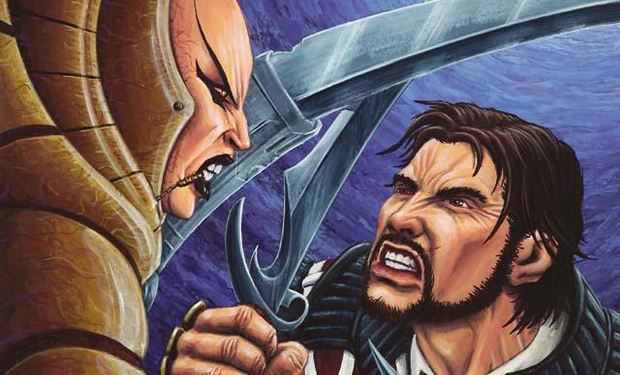 Na modernu se nejvíce dařilo aggrům, když se ve finále střetnuli Humani s Hollow One. Vítězně z tohoto souboje vzešli Humani.
K vidění bylo i několik zajímavých brew. Na pátém místě byli zajímaví "bezbarví" eldrazi s dvojicí emerge bytostí - Elder Deep-Fiend a Distended Mindbender, na osmém updatovaná verze Bant Midrange, kterou hrál Guillaume Matignon na MTGO Chsmpionship, jedenácté místo okupoval zajímavý Grren Tron s Thought-Knot Seery a Eldrazi Temply, dvanácté WR Taxes, ve kterých byl po legacy vzoru Dire Fleet Daredevil a Pia and Kiran Nalaar, třináctý byl UB Control opět v tapout stylu, ale tentokrát trochu rozpolcený s dvojicí Cryptic Commandů a konečně, patnacté místo obsadila zajímavá verze GW Company, která mixovala tradiční value karty (Tireless Tracker, Knight of the Reliquary) s Vizier kombem.
Zbylé decky v top16 byly Bogles, Eldrazi Tron, 5C Humani, Gifts Storm, Ad Nauseam, Grishoalbrand, Amutel Titan a UR Breach Moon.