Reporty
Report z EDH v Hradci Králové – 30.7.2016
Podařilo se celofoilovým elfům zdolat konkurenci v podobě 71 balíčků? To zjistíte v tomto reportu z obřího EDH v Hradci Králové, které proběhlo poslední víkend v červenci.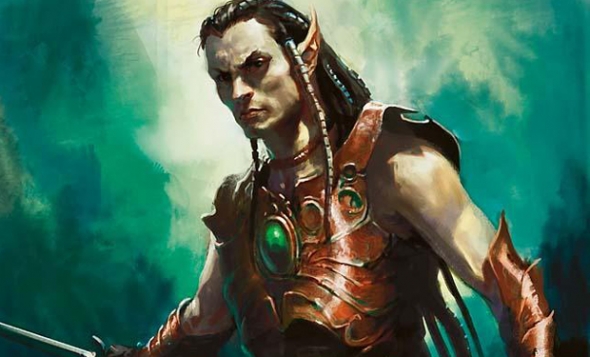 Zdravím, jmenuji se Kryštof Kopecký a kartám už se věnuji nějakou dobu. Když jsem se v mládí rozhodoval co dál dělat, Vintage a Legacy pro mě byla jasná volba :o). Takže jsme s kamarádem začali před x lety na Eternal formátech a účastnili jsme se Czech Vintage a Legacy Series a dokonce jsme byli na Bazaar of Moxen v Annecy  - odtud to by také poslední report, co jsem na CMUS napsal…
Po celkem zábavném období na Extendu (TEPS a Dredge, alias 2. kolo win rulez), po krátkém období na Modernu (banovalo se rychle a tvrdě, takže přes noc mi ze 4 postavených balíčků v plné parádě zbyl 1) jsem zakotvil v Commanderu, kde už jsem žádné velké výjezdy na turnaje nepodnikal, ale hrál klasicky s kamarády doma. Karet mám dost, tak proč je nevyužít. Nové kupovat nemusím… to jsem si aspoň myslel, dokud jsem nepoznal kouzlo FOILů, to už je však jiný příběh :o).
Na Commandera se scházíme čím dál tím méně, tak aspoň krátím čas foilováním Ezuriho a dalších Commanderů + EDH + Tiny Leaderů (Dareti, Nekusar, Selvala, esper EDH,…). Nápad mého bratra vyjet do Hradce Králové na turnaj se mi zamlouval – konečně elfíci rozšlapou i balíky co neznám a ukáží zač je toho loket. S chutí jsme tedy  30.7. vyrazili ve dvou z Chrudimi – já hrající  allFOIL elfball s Ezurim a Vojcek s  home made allFOIL  5C planeswalkery v  čele s Hordou.
V Hradci nás mile překvapilo prostředí a počet hráčů – sešlo se 72 lidí a já si už brousil zuby se zelenáčema na TOP 8. Dost předčasně…
Na turnaji byl i 1 judge a vše dokonce svištělo dle času, jak mělo. Místo turnaje, restaurace Satchmo přímo u divadla, nabídlo možnost objednat si jídlo, což bylo fajn. Mně se ale nic moc nelíbilo a tak jsem si objednal jen hrachovou polévku a spoléhal na svačinu z domu – měl jsem s sebou dvě housky se šunkou a sýrem, tyčinku Corny BiG a banán (údaje o jídle mi bylo líto vynechat, protože si pamatuji, že to byl základ starých reportů na CMUSu od Matese a spol. … :o)).
Hrálo se na dvou místech – venku na lavicích a u stolků a potom dole  v "Pitu". Ti, co se jim nedařilo, a propadali se herním polem, museli scházet do katakomb restaurace a hrát dole v díře. Hádejte, kde jsem strávil většinu turnaje… ale to předbíhám. Zatím jsem ještě na denním světle, na slunci a turnaj začíná.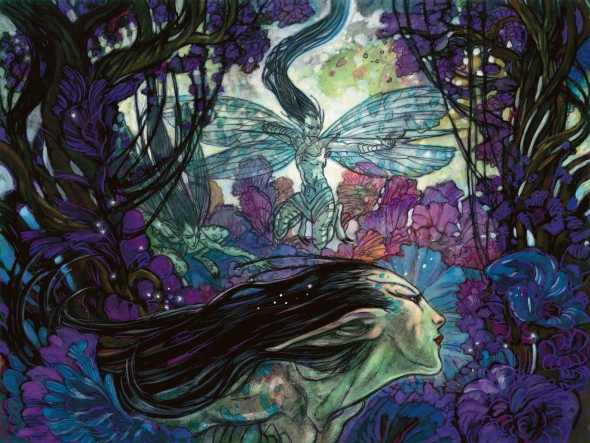 První kolo bylo s Janem Lomem, co měl generála monoB Braids, Cabal minion. První hra vypadala pěkně (krom mulliganu do 6). T2 knihovna, T3 Yisan a pak už Dismeber, Persecutor, útok, útok, obětování Persecutora  a byl konec :-D. Druhá hra pěkná fakt byla, ne jen vypadala – Worldly Tutor – Roffelos  a po pár kolech tahání elfů a Forestů šel Behemoth cca za 50 damage. Ve třetí hře se ukázal krutý lock soupeře. Kombo Braids + Resonator + Bitterblossom nebylo lehké překonat. U mě Roffelos + Ezuri + Farhaven elf + Mystic a začalo vše vypadat ok. Static orb mi však zhatil plány na  lethal a i když jsem nakonec vyprodukoval, přes sekání všeho do zdvojnásobené Braids, Behemotha za 25, tak probít soupeře jsem nedokázal a skončili jsme match remízou po nastavených kolech. Díky remíze však zůstávám i nadále na denním světle!
Druhé kolo a první kontrol – Marek Taris a Augustýn. V první hře klasika: elf, dvojelf, trojelf -  Wrata, pak Knot Seer od oponenta a můj Ezuri šel zase domů přes totem. Když soupeř kontrol, tak já taky kontrol – lovím Maze of Ith (na Seera) a tahám Winter Orb :-D. Po delším postupném vykládání  elfíků a útočením agrem (vše posíleno Joragou +2 /+2) se mi vrací Orb do ruky a Klika ho dává až na spodek knihovny :o(. Stále agřím, soupeř jde na 7 lifů a Elspethou zboří vše se sílou 4 a více (díky posílení Joragou - VŠE…). Syslím si na konec soupeřova kola  Collected Company a chytře si nenechám žádnou manu navíc. A co se stane? Counter – doplať 1 :-D. Hra končí Revelací na 5 a Elspeth to dotáhne. Druhá hra je ve stylu elf = counter, atd. …  až do konce kola. Takže prohra 0:1. Touto hrou jsem se měl nadobro rozloučit s denním světlem, i když jsem to zatím nevěděl a ani si to nepřipouštěl!
Po náročném sestupu do Pitu k dalším "lůzrům" (shame on us) hraji proti Lukáši Ďurďovi a bráchovi mého generála – Ezuri, Claw of progress. Tentokrát mulliganuji do pěti, pak wastuji Breeding Pool a z mého Ezuriho se stane špalek (Song of Dryad).  Snažím se rozjet agromód, ale po ukradení Warcalerky končím. Druhá hra je dle mých představ: Joraga – dvojelf (dá elfa, když přijde) – Ezuri – Crop Rotation na Nyktoš – zelený titán a lethal. V rozhodující hře opět mull, naštěstí jen do šesti a i když se vše skvěle rozjede, tak ukradení Ezuriho Sowerem a Jitta na stole znamená rychlou prohru.  Je třeba říci, že soupeř dost "cheatoval" s Priestem of titania na své straně od začátku hry, co mu nakonec dával asi 7 many:-D.
Naštěstí je po tomto kole pauza na jídlo a já se opět podívám na denní světlo. Čočková polévka a houska mi snad dodají sil :o).
Čtvrté kolo, opět v díře, startuji s Honzou Vlasníkem, který hraje Titanii. Song na Ezuriho, rychlá Argothia a Behemoth dokonají moji prohru. Ve druhé hře jedu dle plánu, ale 4. kolo Sylvan Primordial je trochu sprcha :-D. I když podskakuji a snažím se něco na stole vytvořit, tak nakonec prohrávám vlastní chybou. Zaútočím vším za 18 (Ezuri vše posiluje), s tím že soupeřův útok přežiju a další kolo ho dorazím. On si však v klidu na konci mého kola  Wastuje vlastní land a díky dalším elementálům mě v pohodě zabíjí.
Další kolo hraji s Dominikem Kudláčkem – super hry proti Mereen, kdy v první hře nemám šanci překonat kombinaci Argothia + Titán + potvora, co seká potvory. Druhou hru posílám rychlého Hoofa a v poslední hře to Ezuri prostě zvládne po křivce, jak to umí.
V šestém kole mě čeká znovu Mereen, kdy po ideálním startu: Joraga – Birchlore – Nettle, soupeř vyndá Jitte a je to. Druhá hra se tváří jako dokonalá:  manaelf – Ezuri – Promenáda – Archdruid a 5. kolo Behemoth cca za 50. Soupeř však po vyhlášení mého útoku tapne jednu volnou manu, convokuje potvory do Chordů za 1 a hle – je tu Fogžába! Tu už pak vidím přes Mereen každé kolo a i když bojuji, co to jde, už se z koloběhu Fogů a Shriekmawa nedostanu.
Takže výsledek:  1 výhra, 1 remíza a 4 prohry mě fakt moc nepotěšil, když jsem se viděl v TOP 8:-D.

Elfové se mi vysmáli, a i když se pěkně blyští, tak to úvodním rukám moc nepomohlo. Mulliganoval jsem skoro v 80 % her.  Také nemohu moc tvrdit, že bych to hrál přesně… :o) A bez Cradly to prostě není, co to bývalo…
Spravil jsem si chuť aspoň kaufováním. Poslal jsem dál Snapcastera a domů si přivezl FOIL Crucible of Worlds, FOIL Reflection Pool, FOIL Therespian Stage a pak nějaké šmuky jako FOIL  červený Sarkhan.
Turnaj byl super, parádně jsem si zahrál proti novým balíkům a už se těším na další hradecké klání. Možná s jiným balíkem. Či s překopaným starým? Mrkněte na decklist a doporučte, co se dá vyměnit, případně zda vůbec má smysl Ezuriho hrát… Uvažuji o Titanii, či Gitrgog Monster.
TOP8 balíčky z tohoto turnaje najdete zde.
Kryštof Kopecký
P.S. Chybí mi ještě ve foilu zelená cyklovací země, Cavern of Souls a Crop Rotation. Pokud máte a pustíte, napište do komentářů :o).
Komentáře
Přispívat mohou pouze přihlášení uživatelé. Pokud chcete vložit komentář, přihlaste se ZDE.